Helium 10 Buzz 10/19/22: Amazon Belgium Launch | Walmart Influencer Program
In this episode, we talk about Amazon's new marketplace in Europe, Walmart's new program for content creators and influencers, and cool tips for your listings and deals for the holiday season.
Originally published on: October 19, 2022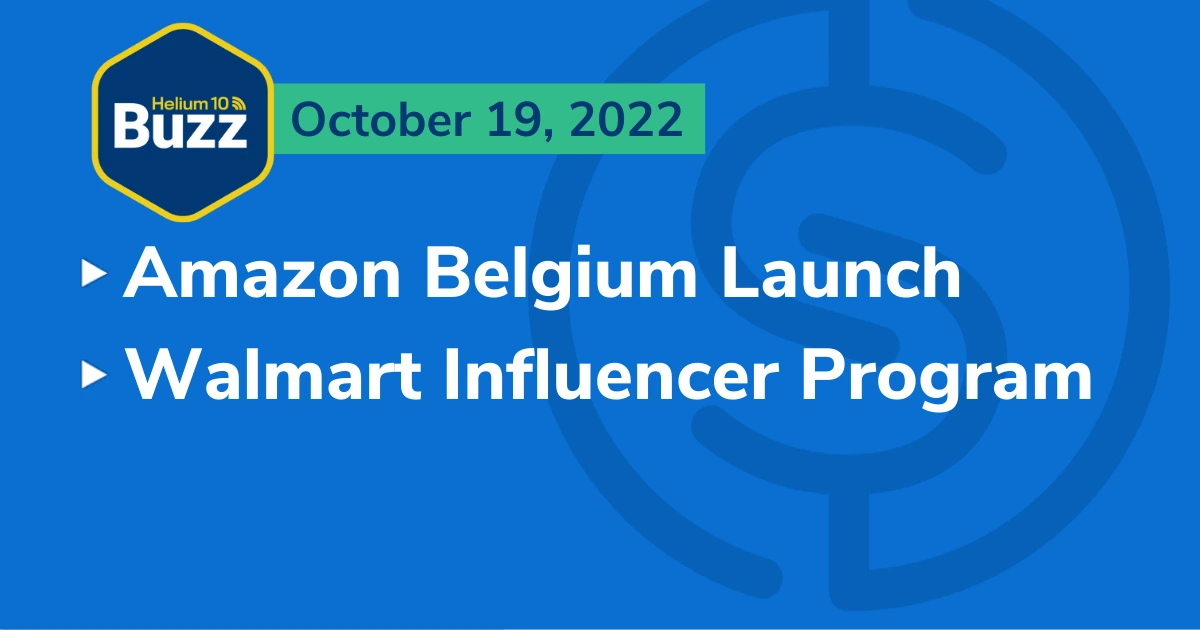 We're back with another episode of the Weekly Buzz with Helium 10's Chief Brand Evangelist, Bradley Sutton. Every week, we cover the latest breaking news in the Amazon, Walmart, and E-commerce space, interview someone you need to hear from, and provide a training tip for the week.

Amazon.com.be is opening its virtual doors. Customers in Belgium can now discover and shop from a selection of more than 180 million products in more than 30 categories, take advantage of low prices and fast delivery, and enjoy a shopping experience, including customer support, in their preferred language.
https://www.aboutamazon.eu/news/amazon-prime/amazon-com-be-launches-in-belgium

Walmart announced the launch of a new platform designed around creators. The program is called Walmart Creator, and it's a one-stop portal that makes it easy for creators to monetize shoppable products from the retailer. Walmart believes anyone can be a creator, and the product democratizes the tools and resources needed to do so.
https://corporate.walmart.com/newsroom/2022/10/18/walmart-launches-new-content-creator-platform

Make sure to catch Bradley on Amazon events in Singapore and Vietnam. Plus, some possible meetups in Korea, the Philippines, and Japan.

Our episode continues with Shivali's interview with Emma Schermer Tamir to talk about listing optimization for Q4 and how her business can help serious sellers at all levels. After that, we have our Freedom Ticket clip of the week, where Carrie and David show us how to set up great deals on Walmart.com for the upcoming holiday season. Lastly, Bradley closes out this episode by talking about the Free Helium 10 Academy and how you can be a certified Helium 10 professional.
In this episode of the Helium 10 Weekly Buzz, Bradley talks about:
01:00 – Amazon Belgium
02:50 – Walmart Creator
04:35 – Bradley's Asia Tour
07:30 – Interview with Emma Schermer Tamir
12:20 – Freedom Ticket Clip: How To Setup Great Deals In Walmart.com
15:50 – Visit The Helium 10 Academy And Become A Certified Helium 10 Professional
---
Enjoy this episode? Be sure to check out our previous episodes for even more content to propel you to Amazon FBA Seller success! And don't forget to "Like" our Facebook page and subscribe to the podcast on iTunes, Spotify, or wherever you listen to our podcast.
Get snippets from all episodes by following us on Instagram at @SeriousSellersPodcast
Want to absolutely start crushing it on Amazon? Here are few carefully curated resources to get you started:
Everything for your business on Amazon.
Find out more about our products by signing up or speaking with one of our
Customer Success representatives today. With us in your corner, you can enjoy
more sales and increased engagement from your Amazon business.
Chat with a Support Specialist