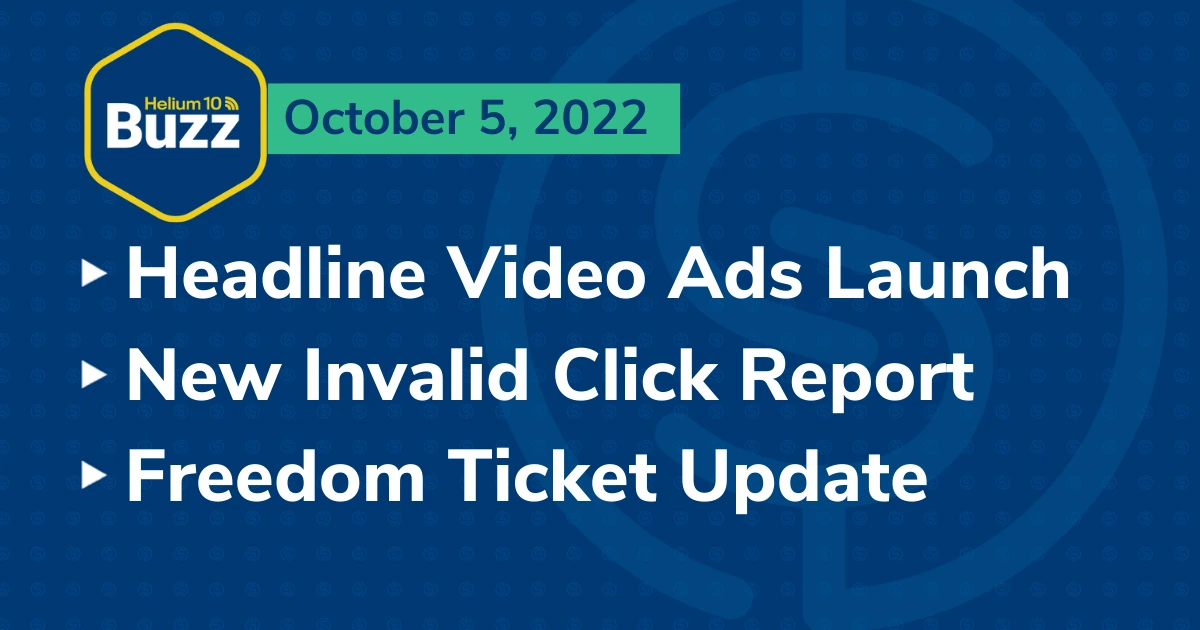 Helium 10 Buzz 10/5/22: Headline Video Ads Launch | New Invalid Click Report | Freedom Ticket Update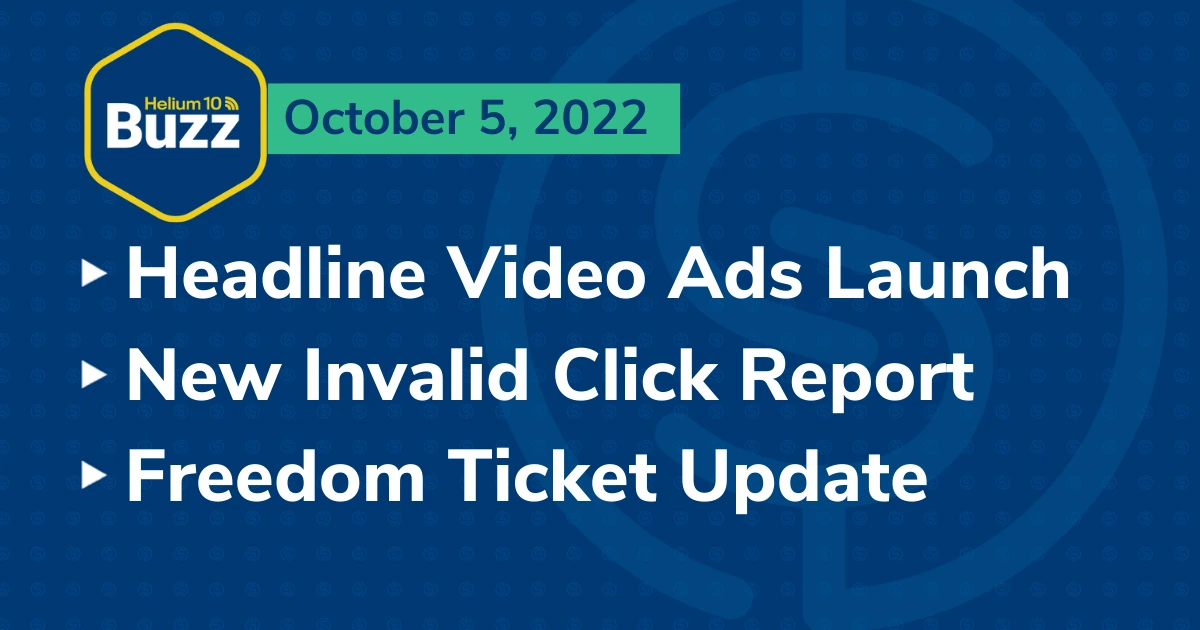 We're back with another episode of the Weekly Buzz with Helium 10's Chief Brand Evangelist, Bradley Sutton. Every week, we cover the latest breaking news in the Amazon, Walmart, and E-commerce space, interview someone you need to hear from, and provide a training tip for the week.
Amazon has launched QVC-style Livestream shopping in India. The retail group has rolled out the new service, called Amazon Live, bringing an army of more than 150 creators to host live streams and plug products in the videos. The idea is, influencers, with already a large following, will drive their fans to the shopping app and influence them into buying products. They get a cut each time they are able to make a sale.
https://techcrunch.com/2022/09/29/amazon-live-commerce-india/
You can enjoy the benefits of the Amazon Vine program at a discounted rate of $100 per parent ASIN enrollment (50% savings) until October 31, 2022.
https://sellercentral.amazon.com/gp/headlines.html?id=GQMQTX42EQ4UD6GN

Amazon is temporarily closing warehouses in parts of Florida as Hurricane Ian churns toward the state. The company on Tuesday shuttered sites near Tampa and Orlando, according to notices sent to employees and reviewed by CNBC. Amazon expects the facilities to remain closed until Friday, the notices state.
https://www.cnbc.com/2022/09/27/amazon-closes-some-warehouses-in-florida-as-hurricane-ian-approaches.html

Amazon Ads has launched a gross and invalid traffic report in the advertising console Reports center. This report can be created and downloaded for Sponsored Products, Sponsored Brands, and Sponsored Display campaigns. You can view metrics like gross impressions, invalid impressions, invalid impression rate, gross clicks, invalid clicks, and invalid click rate metrics in the report.
https://advertising.amazon.com/en-us/resources/whats-new/gross-and-invalid-traffic-report-in-advertising-console/
We continue with an interview with Craig Crowhurst, where he shares his story and tips for Amazon sellers. Carrie Miller is next to share the Pro Training tip of this week on how to use Listing Builder. Lastly, Shivali shares a clip from a new Freedom Ticket module with Burak Yolga about shipping and freight.
Bradley then closes out this episode to announce his Asia trip, where he will speak at Amazon events in Singapore and Vietnam. If you're a local seller from these Amazon marketplaces, make sure to register for these events!
In this episode of the Weekly Buzz, Bradley talks about:
01:18 – Amazon Live India
02:25 – Amazon Vine Discount
03:30 – Florida Warehouses Closed
05:05 – Headline Video Ads
07:20 – Invalid Clicks
09:30 – Lem Interview with Craig Crowhurst
15:00 – Pro Training Tip Of The Week: Analyze Your Competitor's Images
18:30 – Freedom Ticket Clip: New Shipping, Freight, And Logistics Module
24:20 – Follow SSP's Instagram: @SeriousSellersPodcast
25:00 – Meet Bradley Sutton At Amazon Events In Singapore And Vietnam
25:30 – Helium 10 Meetups In Korea And Japan
---
Enjoy this episode? Be sure to check out our previous episodes for even more content to propel you to Amazon FBA Seller success! And don't forget to "Like" our Facebook page and subscribe to the podcast on iTunes, Spotify, or wherever you listen to our podcast.
Get snippets from all episodes by following us on Instagram at @SeriousSellersPodcast
Want to absolutely start crushing it on Amazon? Here are few carefully curated resources to get you started:
Achieve More Results in Less Time
Accelerate the Growth of Your Business, Brand or Agency
Maximize your results and drive success faster with Helium 10's full suite of Amazon and Walmart solutions.