Helium 10 Buzz 1/26/22: Lunar New Year, FBA Fee Changes, & Keyword Tracker For Walmart
In this episode, we bring the latest news about the Lunar New Year, new FBA fee changes, updates from our product manager, and the Keyword Tracker for Walmart
Updated on: January 27, 2022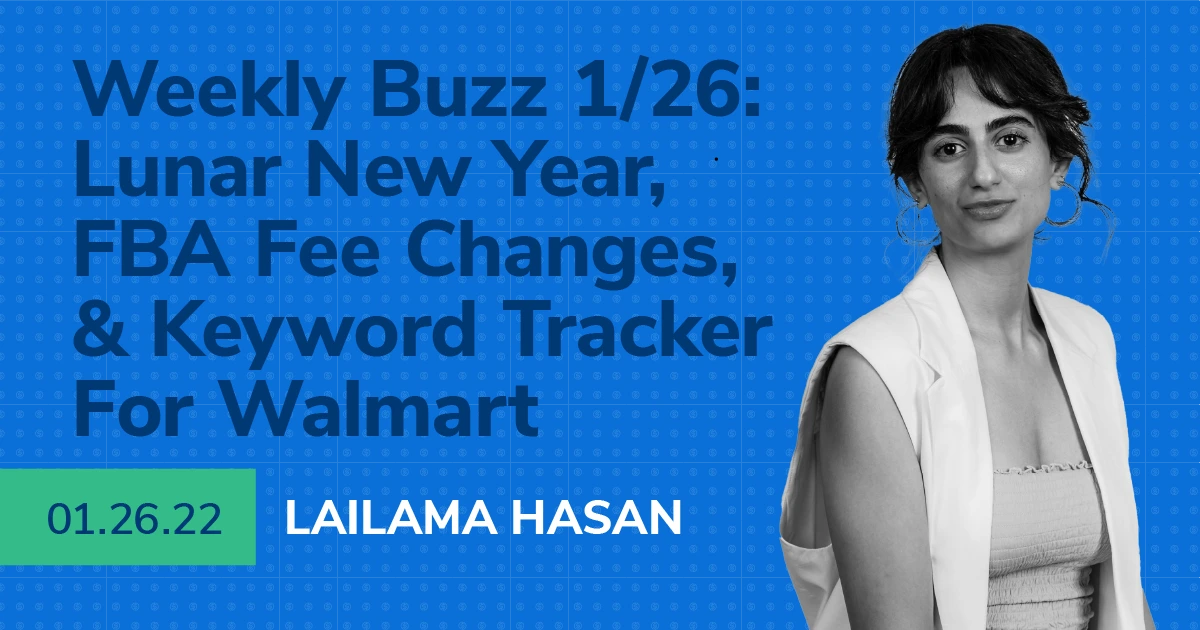 We're back with another episode of the Helium 10 Weekly Buzz with Helium 10's Brand Evangelist Lailama Hasan!
Every week, we cover the latest breaking news in the Amazon and E-commerce space, answer the questions you've submitted, and provide a training tip for the week.

Amazon's set to launch its first brick and mortar clothing store in Glendale later this year. It will be launched alongside a new Amazon Shopping app which will be used by customers while shopping in order to see sizes, colors, reviews, and more on all the products in the store. https://www.aboutamazon.com/news/retail/amazon-reimagines-in-store-shopping-with-amazon-style

A reminder to go on vacation mode within your Settings in your Amazon Seller Central if you plan to take time off for the Lunar New Year! You will still be responsible for fulfilling orders if you do not do so. https://sellercentral.amazon.com/gp/headlines.html?id=GAVYN4SL4LHZGU62

Amazon's implemented new FBA Fee changes effective January 18th, 2022! Amazon will now be using the greater of the unit weight or the dimensional weight to calculate the shipping weight for all: large standard-size units and all small oversize, medium oversize, and large oversize units. The greater of the two weights will be used to calculate the fees. These changes may translate into higher FBA fees for sellers. https://sellercentral.amazon.com/gp/headlines.html?id=GEF2KRNAFKR6588Z

We also interviewed one of Helium 10's Product Managers, Christy Do, about the new tool Pinterest Trend Finder and about Helium 10's Trusted Partner Directory! We get into all the details as to how this tool came about, its utility, and how it functions as a way for users to find new opportunities for products based on the latest Pinterest Trends.
Helium 10's Brand Evangelist, Carrie Miller, closes out the episode by getting into how users can utilize Keyword Tracker for their Walmart products and the specific nuances to keep in mind. Keyword Tracker is a brilliant tool that can track the organic rank or sponsored rank of your product for specific keywords you are targeting and that are highly relevant to your niche!
In this episode of the Weekly Buzz, Lailama talks about:
01:00 – Amazon's First Clothing Store Launch
02:15 – 2022 Lunar New Year Holiday Arrangement
03:15 – FBA Fee Changes
04:45 – A Deep Dive Inside The Pinterest Trends Finder
07:30 – Helium 10's Trusted Partner Directory
08:00 – How Can You Reach Out To Helium 10 For Tool Suggestions?
09:00 – Keyword Tracker For Walmart
14:00 – Use Helium 10's Amazon Anomaly Tracker – It's Free!
Transcript
Lailama:
Hello everyone, and welcome to another episode of the Helium 10 Weekly Buzz. My name is Lailama, and this is the show where we get you familiar with the latest news in the Amazon and e-commerce space. Interview people in the industry you need to hear from and provide a pro training tip of the week that will give you serious strategies for serious sellers of any level in the Amazon, Walmart, and e-commerce world. Let's see, what's buzzing this week. Today, we will cover a policy change in Amazon's FBA fees among other breaking news pieces. We also have an interview with Christy who is from our product team, and finally, we will get you familiar with the keyword tracker tool for Walmart. So let's dive right in.
Lailama:
Up first, the e-commerce joint announced on January 20th, that it is all set up to open Amazon style, its first Brick and Mortar clothing store in Glendale later this week. A huge part of this elevated experience will be the new Amazon shopping app with just one scan on this app, customers will be able to see sizes, colors, customer reviews, and product details, and to further streamline the process, the app's algorithm will generate recommendations that fit the style and preferences outlined by the customers. Shoppers can then add the item to a fitting or send it directly to the pickup center. Not only does this seem like an extremely personalized and convenient shopping experience, but it seems like one that would take care of all the obstacles that come with shopping in person. So question for you, are you currently selling in the apparel category? Okay. So our second use piece is an update on the lunar new year holiday arrangement. Something else to keep in mind. That was just announced last week in seller central is based on the 2022 lunar new year holiday arrangement.
Lailama:
And so whether you are thinking of taking time off or not for the lunar new year, it's a good reminder that if you ever do wanna take time off, remember guys, you are still responsible for fulfilling orders during this time unless you activate the vacation mode. So you can activate the vacation mode by going into the listing status section of your seller central account. On that note, a very happy new year in advance from all of us here at Helium 10 and let me know the comments below, if you will be taking time off selling this year for the lunar new year. Okay. And let's move on to our last piece for today. Amazon sent out a reminder yesterday about the new FBA fees that came into effect on January 18th. Amazon will now be using the greater of the unit weight or the dimensional weight to calculate the shipping weight for all large standard size units and all small oversized, medium oversized, and large oversized units.
Lailama:
In the past, as you may know, FBA fees were a flat fee per unit based on the size and weight of the product. However, now the greater of the two weights will be used to calculate the fees. So these changes may translate into higher FBA fees for sellers and from the reports that we've been getting, a lot of sellers have reported that even their small products that they thought would not be affected by things like dimensional weight actually have been. So make sure you go into Helium 10's Profits to see if you were affected as far as your Amazon FBA fees are concerned. Okay. So that's all the breaking news we have for today and let's move on to our next segment. And for this segment, we're going to be interviewing our product team, Christy Do, who's going to tell us a little bit about what's new at Helium 10. All right. Welcome, Christy. How's it going?
Christy:
Hi, Lailama. Good, good. Thank you for having me on. So excited to be here.
Lailama:
Lovely to have you on. Okay. So Christy, why don't you start by telling us a little bit about the Pinterest trend fighter?
Christy:
Yeah. we're super excited about this new feature that we added to the dashboard. Our team worked on a proprietary like algorithm that pulls in trends directly Pinterest, which has helped people find new inspiration for the next winning product. We typically see that you know, things that are trending on Pinterest tend to trend on marketplaces such as Amazon a couple weeks later. So a great add-on and hopefully people find it helpful.
Lailama:
Yeah. Pinterest, definitely ahead of the game. I myself have experienced going on Pinterest in and finding some amazing opportunities. So why did we make this tool? Like what was the purpose behind it at Helium 10?
Christy:
Yeah. Great question. We made this new widget because one of the challenges that we've heard from people before is that oftentimes sellers struggle during that product research process or phase in identifying their next like potential product. So with this new like widget on Pinterest, you know, we hope that that provides sellers with more inspirations, with products that become popular slightly earlier than products that are already on Amazon. And we wanted to make it fun for users. So we made the widget kind of like a slot machine that generated the key trends.
Lailama:
The slot designs. Definitely very interesting. I mean, I see myself playing around with it quite a bit. Okay. So Christy, what if they have been saying about this product? Did you guys get any feedback from outside?
Christy:
Yes. we've gotten really, really good feedback so far, we've seen over, you know, 7,000 people use this widget and we've heard of many success stories. I'm just sure if you search that up on YouTube, there's already a couple of YouTube videos of success stories on there. And I'm personally always interested in hearing about those or any feedback that users have. So if you're a user and you've already used this, you have a story to share, reach us out on any social medium and tell us about it.
Lailama:
Isn't it wonderful hearing about things that you've created to come to fruition and for people to like them. Okay. So what is the TPD? I mean a lot of people have been asking about the TPD as well.
Christy:
Yes. TPD is our Trusted Partner Directory. It's a comprehensive directory of professionals that help Amazon sellers build and expand on their business. So if you can think of anything from photography or fulfillment we have recommended vendors that users could reach out to if they're in search of a new partner for their business.
Lailama:
Okay. Wonderful. And lastly, how can people reach out to us for suggestions on our tools?
Christy:
Yes. This is one we hear about a lot, you know, as we're hopping on user interviews, like they're like, how do I tell you about this idea I had? And we always love to hear that. So one of the ways that you can tell us immediately is after you log into your Helium 10 account on the top right hand corner, there's a question mark. And when you click on that, there's a share your ideas button and that goes directly to PMs like myself. So yeah, anytime you have an idea, jump there and we'll be excited to read about it and we may reach back out to hear more about the details.
Lailama:
Thank you so much for taking the time out Christy. We really appreciate all the information that you've given us today. Thank
Christy:
You. Have a good one.
Lailama:
You too. All right. And the next segment is our pro trading tip of the week. And for this week's tip, this time around, we are going to have our brand evangelist, Carrie, talk about the Keyword Tracker tool for Walmart and demonstrate its use for us.
Carrie:
Hi, my name is Carrie and I'm a brand evangelist and customer advocate here at helium 10. Today, I'm gonna talk with you about one of our newest features for Walmart, and that is Keyword Tracker. Keyword Tracker for Walmart is very similar to our Amazon version, but there are a few differences. So I'll show you those. So this is actually Keyword Tracker. The first thing you wanna do when you get into Keyword Tracker is you want to go ahead and choose the market. So I chose Walmart already, make sure that you do this. It's actually defaulted on Amazon. So you're gonna wanna choose the drop down and choose Walmart. And then I have actually a product that I've already started tracking. And I'll show you that in a second, but I wanna show you how to add a new product. So adding a new product is very easy.
Carrie:
All you have to do is click on, add a new product. And what you're gonna do here is you're gonna find the Walmart URL or product ID. So I'm gonna use the product ID. And that is actually on this one, Walmart listing right here, it's in the URL right here, or you can pull the extension or the Xray extension and you can copy the product ID from that as well. So I'm just gonna copy that and then I'm gonna put it in this section right here. And then this is where you're gonna enter in the keywords that you want to track. So egg tray, egg holder, egg container. I'm just gonna start with those. You can always just go back and add more keywords later if you'd like, and this is walmart.com marketplace. So everything down here is all good. I'm gonna hit start tracking.
Carrie:
Okay. So then it says product added and you can just click. Okay. So you're not gonna see something right away. You are gonna need to wait a few hours. Sometimes it could take up to 12 hours to populate the actual information. So just be patient with that. And you're gonna wanna put all the keywords in, you know, as much as you know, from the beginning so that you can get those keywords tracked and get the history going. So I'm gonna go ahead and show you our 12 egg storage tray because we already have the organic rank for that. So the keyword just right here, you can add any notes that you want to right here. It shows the competing number of products. And then also right here is your organic rank and sponsored rank, it doesn't show anything for us because we're actually not advertising right now.
Carrie:
So we don't have any of that, but it shows you the time position as of this time. Okay? So you can also sort your organic rank. So you can see, you know, your highest step at top, and then you can all these. Now you have 250 total keywords that you can track. And that's because Walmart, you're usually gonna focus on a smaller number of keywords than Amazon. So you don't need as many as Amazon, maybe even just 20 per listing, because you wanna focus on those more general keywords. So I don't have that many in here for the 12 egg storage. Something else that you can do is you can actually do boosts just like on the Amazon version. So you have 25 boosts. And this basically means that you can check your rank every hour for 10 days. So if you are implementing strategies to get yourself ranked and you're doing a bunch of stuff and you wanna see what it looks like every hour, you can go ahead and do a boost and that'll help you to do that.
Carrie:
So that's basically it, other than you can export your results here. You can also edit here by adding keywords. You can, you know, mark things as more important, you can copy keywords to a clipboard. So anything else you wanna do is right here. And again, if you needed to add more or delete keywords, you could do that. You can add them here, or you can go, if you wanted to delete you can also hit this delete button right here. So that's not a big deal at all. And this is gonna help quite a bit because sometimes it's difficult to track your rank on Walmart and just figure out where you're at. But another thing is that if you are using, if you're running sponsored ads, you're not gonna see necessarily your organic grain, because usually what happens is you're gonna either on Walmart, if you're doing a sponsored ad, your only show up for the sponsored ad and not organically.
Carrie:
So that can be confusing sometimes. So it'll basically maybe show your organic rank as the last time it was checked. But sometimes it won't move up or down in, you know, when you're doing pay per click advertising, you do like to see your organic rank go up. So if you notice that you'll have to turn off your ads in order to see what your organic rank is. So keep that in my, that is a little bit of a trickier part to this. So that is all we have for Keyword Tracker for Walmart today. I hope that you love it and you start using it right away. It's definitely a very helpful tool. Thank you.
Lailama:
Okay. And to close out today's episode, I want to wrap things up by mentioning that if you see some kind of strange behavior, if you're on your listing as to sales going down by an irregular amount, or if you get the index for keywords your first step should be to go to the free Helium 10 Amazon Anomaly Tracker at www.helium10.com/asa to see if there is an ongoing issue that's been affecting many Amazon sellers. You can check that by taking a look at the anomaly chart, given on the page and see if the graph goes above the normal range on the page. We have also given you some information on these types of glitches, as well as some steps to take if you're experiencing an Amazon Anomaly. And this concludes the Weekly Buzz for today, and we will see you again next week, same day, same time. Thank you.
---
Enjoy this episode? Be sure to check out our previous episodes for even more content to propel you to Amazon FBA Seller success! And don't forget to "Like" our Facebook page and subscribe to the podcast on iTunes, Spotify, or wherever you listen to our podcast.
Get snippets from all episodes by following Bradley on Instagram at @H10bradley
Want to absolutely start crushing it on Amazon? Here are few carefully curated resources to get you started: