Helium 10 Buzz 1/11/23: Amazon Review Requests | Buy With Prime | Advertising Glitches
In this episode, we talk about the latest news on Amazon and Etsy. Advertising glitches, buy with Prime stats, award-winning ninja PPC hacks, and how to increase your review velocity.
Originally published on: January 11, 2023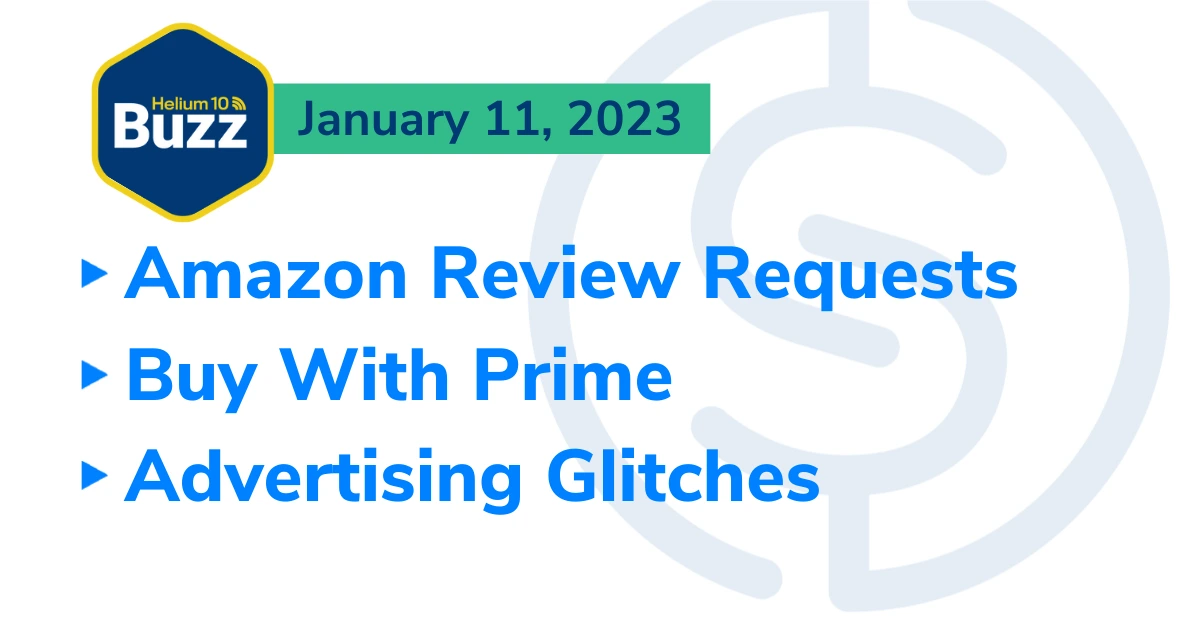 We're back with another episode of the Weekly Buzz with Helium 10's Chief Brand Evangelist, Bradley Sutton. Every week, we cover the latest breaking news in the Amazon, Walmart, and E-commerce space, interview someone you need to hear from and provide a training tip for the week.

An Amazon ad glitch ruined Black Friday for some advertisers, with reporting problems causing them to either underspend or overspend on important holiday ad campaigns.
https://www.valueaddedresource.net/amazons-holiday-ad-glitch-costs-add-up/

Etsy sellers report ads are going over the set daily budget limit, costing additional ad fees they had not intended to incur.
https://www.valueaddedresource.net/etsy-ads-overspending-over-budget/

Amazon is expanding a program that lets Prime subscribers use the company's speedy delivery service when shopping on other websites.
https://www.seattletimes.com/business/amazon-expands-prime-delivery-service-to-more-web-stores/

Amazon's Buy with Prime increases shopper conversion by 25% on average. No longer invitation only: Buy with Prime will be widely available to more U.S.-based merchants by January 31, 2023.
https://www.aboutamazon.com/news/retail/amazons-buy-with-prime-increases-shopper-conversion-by-25-on-average

It's time to build an e-Commerce business ready for exit. 90% of all business owners don't know the value of their business. Do you? Understand the value of your business with this step-by-step business exit strategy course. Learn the latest strategies and tactics from Scott Deetz from the expert business consulting company, Northbound Group, to get your business on the path to a premium exit. Go to h10.me/exitticket

We also shared a video from the recent TACoS Tuesday episode with Dr. Travis Zigler, where he shares his award-winning ninja PPC hack. Bradley concludes this episode with the Pro Training tip of the week, where he shows you how to increase your review velocity using automation inside Helium 10's Follow Up tool.
---
Enjoy this episode? Be sure to check out our previous episodes for even more content to propel you to Amazon FBA Seller success! And don't forget to "Like" our Facebook page and subscribe to the podcast on iTunes, Spotify, or wherever you listen to our podcast.
Get snippets from all episodes by following us on Instagram at @SeriousSellersPodcast
Want to absolutely start crushing it on Amazon? Here are few carefully curated resources to get you started:
Accelerate Efficiency with Insights Dashboard
The all-in-one customizable dashboard for sellers and brands, designed to accelerate decision making through the centralization of data, insights, and action. A bird's-eye view of your business with personalized suggestions to unlock growth.
Learn More about Insights Dashboard