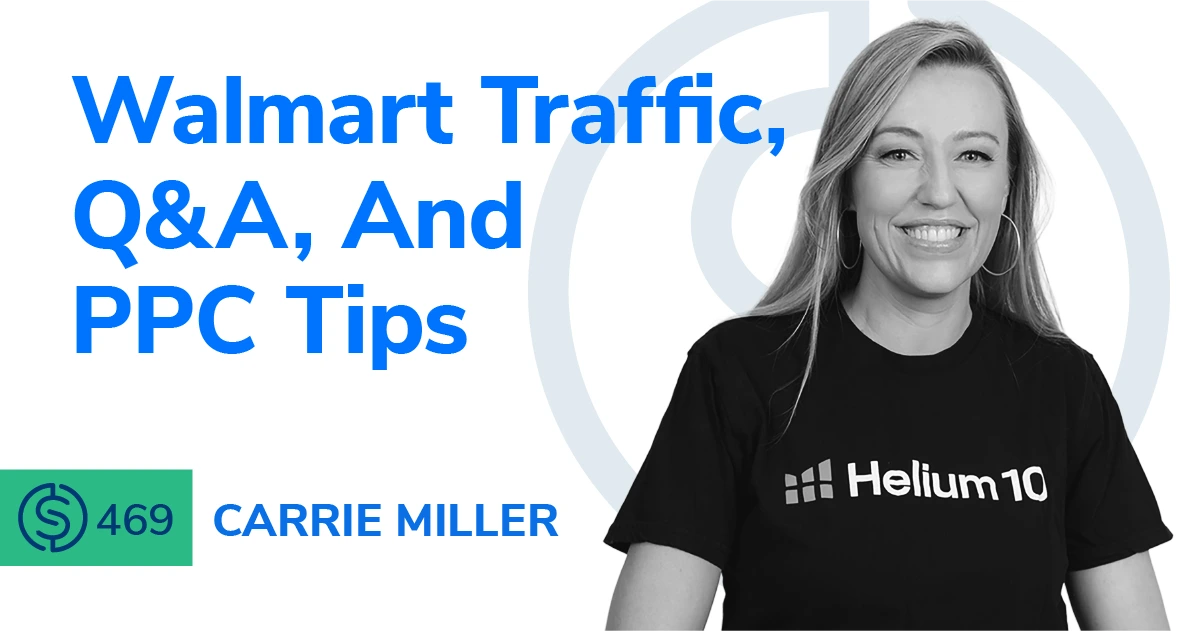 #469 – Walmart Traffic, Q&A, And PPC Tips with Carrie Miller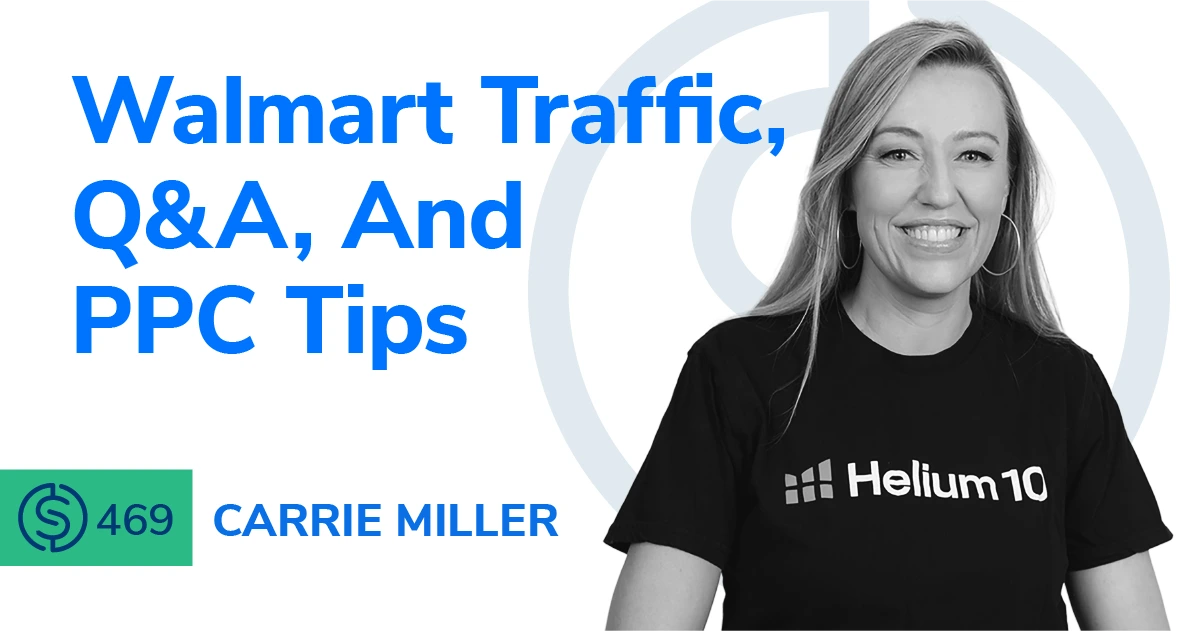 Video of the episode at the bottom
Welcome to this special Winning with Walmart episode on SSP. Today's host, Carrie Miller covers a wide variety of topics about selling in the Walmart marketplace. She talks about how Walmart sends online traffic to your listings to get more eyeballs and sales, how to get Walmart's Rich Media for free, and more! Additionally, she answers questions like what's the process of joining Walmart.com as a seller and can international sellers sign up on Walmart?
In episode 469 of the Serious Sellers Podcast, Carrie discusses:
00:51 – Where Does Walmart Get Their Traffic?
06:23 – How To Get Rich Media In Walmart For Free
07:37 – Take Advantage Of AMX Platinum Card
08:17 – Process Of Joining Walmart.com As A Seller
09:01 – Carrie's Blogs On How To Sign Up On Walmart and how International Sellers Can Now Sell on Walmart
09:21 – Helium 10 Tools That Work In Walmart.com
10:54– How Many Countries Walmart Is In?
12:19 – Does Walmart Accept Brand New US Business Owners?
12:48 – International Sellers Can Apply In Walmart Too!
13:53 – Does Walmart Accept PO Box As A Business Address?
14:17 – Let's Talk About Walmart PPC And Helium 10 Adtomic
18:09 – Why Walmart Is A Good Opportunity Right Now
19:30 – Get Adtomic For Walmart Demos From Carrie Miller
Transcript
Carrie Miller:
In this episode, we are going to be talking about all of the different ways that Walmart is sending online traffic to your Walmart marketplace listings so that you can get more sales. We'll also be answering all of your Walmart questions. How cool is that? Pretty cool, I think.
Bradley Sutton:
Want to enter in an Amazon keyword and then within seconds get up to thousands of potentially related keywords that you could research. Then you need Magnet by Helium 10. For more information, go to h10.me/magnet. Magnet works in most Amazon marketplaces, including usa, Mexico, Australia, Germany, UK, India, and much more
Carrie Miller:
This morning with Walmart Wednesday. I have some great stuff for you today, and I wanna talk to you a little bit about basically where Walmart gets their traffic. Okay? This is a kind of an interesting question because a lot of people wanna know, like, how can I get more customers on my Walmart page? Or how can I get more sales? And this is going to help you, I think, get a very good understanding of that. So the first thing is that most people are actually just shopping at Walmart. So there are, you know 90% of US households actually shop on Walmart. So if you can, you know, think about yourself, think about whether or not you shop on Walmart or if you go to Walmart you'll know that there's a lot of people already shopping at Walmart and they actually have an app.
Carrie Miller:
And many people, about 80% of people that are in the stores are actually using the app while they're in the store, which is really cool. So there's a lot of exposure there through the Walmart app where your products are. So that's number one way is just because there are a lot of, you know, Walmart shoppers. The next way is Google. So I don't know if any of you have noticed this if you're already selling on Walmart, but your products actually, even if you're not advertising, are showing up on Google. And the way that this happens is you optimize your listings for Google. And one of the ways to do that is to not keyword stuff. So on your title, if you're following the guidelines that Walmart has set up for you to do this is going to help you quite a bit because the less keyword stuff you do, the more these search engines are gonna pick up your title and your product.
Carrie Miller:
So for example, here, this one is a Walmart product, you'll see in the Google shopping, and it's absolutely incredible because you're not even paying for this and Walmart is, you know, doing this to help you get some exposure there. Also there are Bing searches. So not only Google searches, but anyone who's using Bing as a search engine, you're gonna be seeing Walmart ads there. So if you can see right here, we've got you know, a garlic press that's being advertised under Garlic Press on the Bing search. So you're showing up on Bing, you're showing up on Google. So sometimes when you look at, so in, when you're looking in Cerebro or Magnet for Walmart, which we have actual search volume on the Walmart app, you're not actually seeing complete traffic because maybe people are coming in through, through Google. So you're gonna, you know, see that 50% or so is what Walmart is saying is coming from outside traffic.
Carrie Miller:
So it's really important to make sure you're optimizing, maybe look up some Google Google Planner keywords, make sure you have some of those main keywords that are really related to your product, like in your title and in your listing so that you can actually show up on Google and bang for those. The next thing is something that's really new, which is really cool, and I've seen this myself because I am all over Instagram and TikTok. You actually can see now that there's a lot of people that are Walmart influencers. So if you search the hashtag Walmart partner or Walmart creator, you can see there's a lot of influencers. Now, back when I did this search you know, back in January, I think it was, there were probably maybe 2000 hashtags, but if you search it now, there's more than 11,000 hashtags for those those hashtag keyword searches on Instagram.
Carrie Miller:
So that's pretty incredible. And there's, there's actually a quite a few more on TikTok, so lots of really great exposure. These creators are getting a commission, a really good commission depending on the category that they're, you know, selling in kind of like Amazon. So you can see there's, here's some different you know, traffic, you know, creators that have shown their videos. So we have outdoor one, we had a Walmart summary, fines, a lot of clothing. I've seen a lot of clothing influencers really showing off Walmart stuff because people who are selling on Amazon are moving their stuff over to the Walmart marketplace. So there's higher quality in clothing there. Home fines are big, that's a big category. So you see a lot of home fines and there's makeup as well. So if you're in like the beauty categories, it's really perfect for you to use influencers for that.
Carrie Miller:
There was a Father's Day one recently that was just Father's Day this last weekend. And so you've see, you see all these things and they actually also have their own Walmart creator pages like they do on Amazon. So they're really kind of, kind up quite a bit in the creator space, in the influencer space. So there's a lot of opportunity with that. So, you know, search those hashtags. Maybe you can find some creators that can create some content for you if you send their products work out some deals that way. The next thing is Walmart+. Okay, so Walmart+ is basically like Prime, so they're gonna get the free two-day shipping. They're gonna get you know, a lot of different perks. And one of the main perks I would say, especially with this economy, is that you get gas discounts.
Carrie Miller:
So you'll see that you get, if you join the Walmart+ program, you get free discounts on gas, you get free shipping on two-day orders. You also get free delivery on grocery orders of there is a minimum purchasing it's $35. But another thing is I've seen them working a lot of different partner programs. Now I've seen more than just this one that I'm mentioning, but you'll see that this, this is the Platinum American Express. I was actually looking at getting this American Express card and one of the perks is that they actually pay for your Walmart+ subscription. So they're really doing a really great job of getting Walmart+ subscribers, which is just really helping to funnel more people to Walmart through the Google searches, cuz maybe they're looking at Google and searching for a garlic press and they're like, oh, Walmart, I get free shipping, why don't I just click on that?
Carrie Miller:
So there's a lot of really good opportunity here with Walmart and the traffic. So something else that that is new that you guys might not know, and you're listening now, so this is actually really good for you to be listing, is Rich Media. So Rich Media is a lot like a plus content and it is available now pretty much without having to pay. So Rich Media, you basically, you would have to go through kind of a provider and you would have to pay for hosting. You can still do that, but you actually can get it for free by going into your help center. So you're gonna go into the items category, and then you're gonna click on Rich Media. And then Rich Media, once you're in there, you can click on video and there's also a 360 image as well. So you can basically, it shows you how you can submit your videos for free so you don't have to pay for getting that rich media up.
Carrie Miller:
So video is really, really helpful for really, you know, giving more benefits about your product. So if you can do that, if you have some time and you have some little slideshow videos, I highly recommend going in to, you know, the, it's basically your contact support. So it'll go, you go to Contact Sport and you do items in inventory, you're gonna click on Rich Media, and then you're gonna go through all the steps to create your rich media. So that is an, you know, an a very, very easy thing that you can do if you're already selling on Walmart. Okay someone said, thanks for the heads up on the AmEx Platinum benefit. Yes. yeah, it's, if you have the AmEx Platinum, if you're a shopper, go ahead and just take advantage of that free membership to Walmart+, I know a lot of people have that card because you got a little lot of, you know, good perks and it's like, I think it's like $695 a year for that card.
Carrie Miller:
So one of the benefits is it, you know, pays for itself with all these different cool benefits and Walmart+ is one of those benefits. So make sure that you take advantage of that. Okay, so what is the process to join as a seller on Walmart? So for Walmart, you are going to want to basically go and apply. It depends on your your country. There's different requirements. I actually have a blog for this, and it explains the different countries. But you're basically going to go ahead and set up an account and you just apply, you put in your information and it'll kind of give you a login right away. That doesn't mean you're accepted. You have to put in your business information once you've logged in, and then you wait for them to confirm that you are accepted and then you can put in your payment information and shipping details.
Carrie Miller:
So it's really easy. It used to be a lot more difficult. You don't have to put a whole bunch of information in. They really can look up your business on their own. So I'll put the link to the how to, you know, sign up and then also the link to the blog article that really explains the different countries. So another thing that we do have that you guys may not know about is that we have some really great tools for, for Walmart. And so if you are a a Walmart seller already, there are Cerebro tools. So you can use Cerebro and do a reverse product Id search, and you can get all of the keywords. So for example, you have a competitor and you wanna see, you know, what keywords they're indexing for. You can put in their product id, which is the last numbers on their url.
Carrie Miller:
You can take that product ID number, you can put it in Cerebro, and they'll do a reverse search and it'll show you all the keywords that they are indexing for. So it's an amazing, amazing tool. We have Magnet for just searching phrases. So what you would do, say you have a garlic press, you can search garlic press and it'll give you a lot of keyword suggestions that are related to garlic press. We have we have Adtomic now, so I can do, I'm gonna do a, a demo later on for that. But we have Atomic for Walmart, so you can do your pay-per-click management through Adtomic on Helium 10, which makes it a ton easier to manage your pay-per-click. So if you're not doing pay per click advertising on Walmart, you definitely should be, that's a hundred percent the most important thing you would never launch on Amazon without doing pay-per-click.
Carrie Miller:
So we've got Adtomic we've got inventory we've got profits management we and we also have our X-ray extension. So let's see about some other questions. Someone said, how many countries is Walmart in? There's I mean in terms of the actual retail store, they're in quite a few countries, but availability, I believe it's five or six countries, but they're expanding constantly. So as you go to the signup page, you'll see which countries are allowed to join. So you wanna check that out. And there's definitely you know, a lot of expansion going on. They really want to get more sellers for sure. The UK, China, India, Hong Kong, Canada, Mexico, the us, those are all countries so far that are able to sell, but they, they have expanded to more recently. So they, if I didn't list your country, it may also be available. However, if you're a really, really big seller, you're selling millions of dollars you might have an extra a leg up to be able to go onto Walmart. So you could send me a DM if you are kind of a, like a seven figure, eight figure seller and you wanna get on Walmart and you might not be in one of those countries.
Carrie Miller:
Does Walmart Rich Media direct on platform allow you to use Rich Media template for formatting or just upload videos? You're just uploading the videos. They don't have, they don't have like the templates, but it's pretty easy. You can follow the process. You can see when you go onto the and also, it's nice to see you on here. You can, yeah, it, it's just an upload for the video. So they, they had a lot of really cool templates before, and I think that might be what you're referring to, but they're gonna, I think they're gonna be expanding that a lot more.
Carrie Miller:
All right, next question. Does Walmart accept brand new US business owners? I do believe they are accepting new business owners. You have to make sure that you have a business set up. Something I would recommend is maybe set up a Shopify account before so that you can kind of show yourself as you know, an established business and that you're serious. So yeah, I would, I would definitely not shy away from applying, even if you're a new seller. Okay, and then someone said, I missed when you spoke about international signups. So the international signups. So there are new, when we first started talking about Walmart, you really could only sell if you had a US business address, but now they've expanded to multiple countries. So you can you can apply if you're in the UK, if you're in Canada, if youre in India, China, I've written a blog on how all the different qualifications, because there are different qualifications for each country.
Carrie Miller:
So you're gonna want to, you know, take a look at that. And each one's different. So there's different kind of business entities and things like that that you need to to show when you're applying to Walmart. So it's, it's different for every country. And they are expanding countries constantly. They are that's their main goal is to continue to expand and open up to more sellers and really grow their marketplace. So that's pretty exciting for everyone who's international. And if you're not on the list yet, you know, definitely, you know, keep, keep a lookout. But if you are a really big seller, you know, sometimes they're allowing you know, it depends on your revenue. But if you have, if you're a high revenue seller, you know, in the millions, then you potentially could you know, get onto Walmart.
Carrie Miller:
So does Walmart accept PO Box as a business address? I don't believe they do. So you're gonna need a physical address. That's, that's the way it's been in the past, is you really need a physical address for your business. So you could use, some people use their home address. So it depends on where you have your business set up, but you don't wanna use a a PO Box that's not gonna, they're not gonna accept that they, they haven't in the past anyway, so that's a really good question. All right, any other questions?
Carrie Miller:
All right, I don't see anymore. But if you're not doing pay-per-click advertising, I wanna talk about that a little bit. Pay per click advertising is definitely a must. So we do have Atomic for Walmart and if you want to start utilizing Walmart Atomic, you can also send me a message on, on Facebook. Basically, on my product, I have the clicks I was getting on Amazon, were, you know, three and $4, and I was actually losing money on this particular product because the pay-per-click was so expensive on Walmart, it's actually about 35 cents, 40 cents, you know, max 50 cents per click. So I really recommend if you, you know, haven't started advertising on Walmart, it is a huge advantage if you start doing that, you're gonna start to rank better. You're gonna, you know, it's much cheaper clicks, you're gonna get more sales, and you can get all the way to the top of the search.
Carrie Miller:
So before about it's been about a year now since they changed it, but before you could only rank advertise as high, as high as your organic rank, but now you can literally pay to get to the top of the search, and it's not expensive. So I highly recommend, you know, taking a look at your category, see if anyone else is even advertising. A lot of times you might have a product and there's no one even advertising on that product. So it's really an amazing time to be on Walmart. It's a very basic pay-per-click, very easy. I am not a PPC expert and I do it myself. You can do that with Atomic. So it's a very, very helpful tool. So any other questions on here? I don't see any more questions, but I guess I have a question to see if anyone on here is already on Walmart or if you're in the, in the process.
Carrie Miller:
So if you are in the process, or if you've already started selling at Walmart, let me know in the chat. Just wanna see who's on here and if you have any more questions. But if you haven't taken advantage of the free Rich Media, do that 360 is available and you can upload a video. And then the other thing is, if you haven't started Pay-Per-Click advertising, please, please, please start advertising. Go onto Cerebro and Magnet and search for exact keywords. Okay? You're gonna find the exact search volumes, look for exact keywords, and you don't need to forget about the low search volume. I've actually found that even low search volume keywords I've been making sales on. And I think the reason for that is because we have Google traffic that's coming out like the Google searches, the Bing searches.
Carrie Miller:
So say, you know, the product gets, you know, a hundred searches a month or something like that, you're still getting a lot, a lot of sales on that because of the fact that there's a lot of outside traffic there and there's creators. Now, maybe they would pick up your product, find some of those influencers that are doing Walmart that are Walmart creators, and you can find them by searching the hashtag Walmart creator or Walmart partner, and you can find some great influencers. Maddie says, I'm in Walmart, but can't find a UK marketplace. Yeah, it's, it's mostly the, the US marketplace. So I would say right now the best opportunity for Walmart is in the US marketplace. They do, you know, have other marketplaces available, but I would say definitely if you can get into a Walmart fulfillment services WFS, you could ship your products in just like FBA. It's a great opportunity.
Carrie Miller:
All righty. I think that is it. If there aren't any more questions these revelations about the traffic, I think, you know, really hopefully sparked some, some thoughts in some of you to really optimize your listings for Google as well as Walmart. So you're gonna get your keywords for Walmart from Helium 10, but then you can look to see if there's any other keywords on Google Keyword Planner that might be really helpful for you to kind of rank for Walmart on Google. So if you have those lists already, you can, you know, utilize those. But definitely kind of think about what ways can I optimize my listing best? Look at the guidelines because on Walmart, they really don't like keyword stuffing. Look at your listing quality score. The higher your listing quality score, the more visibility you're gonna get and the higher you're gonna rank.
Carrie Miller:
So you're gonna get, if you have good shipping, you know, you're, if you have the pro seller badge, there's all these things you can do to optimize your listing on Walmart. Go to that listing quality dashboard and make sure you completely optimize your listing. And if you get, you know, 90 to a hundred percent, you're probably going to be optimized for Google too. So that's, you know, kind of a good rule of thumb, but Walmart I do have kind of a test product just to let you know about a revenue, my product that I'm, I really haven't paid too much attention to. I should pay more attention to it, but it's doing about, for one product, doing about 10,000 in revenue every month. I'm doing pay-per-click advertising and you know, I'm getting RoAS of, you know, between, you know, fours and $6.
Carrie Miller:
So really, really good opportunity right now for Walmart. So if you're not already doing the advertising, if you're not in there make sure you get in there and and start advertising. Utilize our Walmart Adtomic and I'll do some demos on that later on and show you how to set it all up and get you all started with Adtomic. So again, if you are interested in Atomics, send me a message and we can get you all set up with Adtomic so that you will be ready for my demo. Alright, and if that's it, I hope that you have a great rest of the day and thank you all for joining my Walmart Wednesday. Bye bye.
---
Enjoy this episode? Be sure to check out our previous episodes for even more content to propel you to Amazon FBA Seller success! And don't forget to "Like" our Facebook page and subscribe to the podcast on iTunes, Spotify, or wherever you listen to our podcast.
Get snippets from all episodes by following us on Instagram at @SeriousSellersPodcast
Want to absolutely start crushing it on Amazon? Here are few carefully curated resources to get you started:
Achieve More Results in Less Time
Accelerate the Growth of Your Business, Brand or Agency
Maximize your results and drive success faster with Helium 10's full suite of Amazon and Walmart solutions.