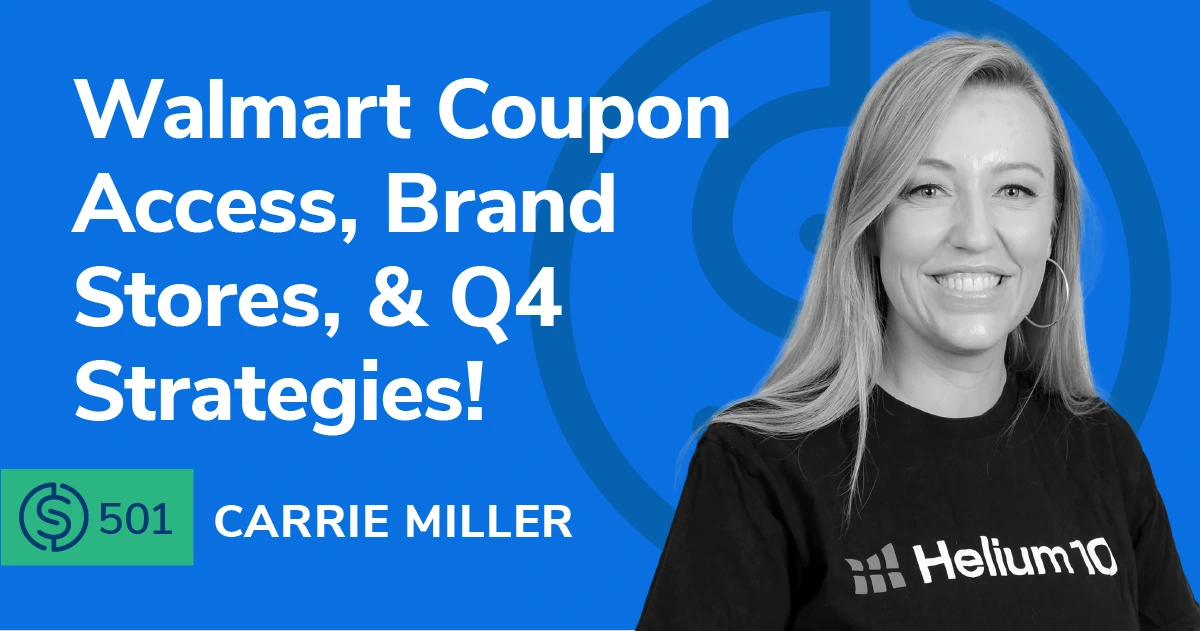 #501 – Walmart Seller Coupons, Brand Stores, & Ask Me Anything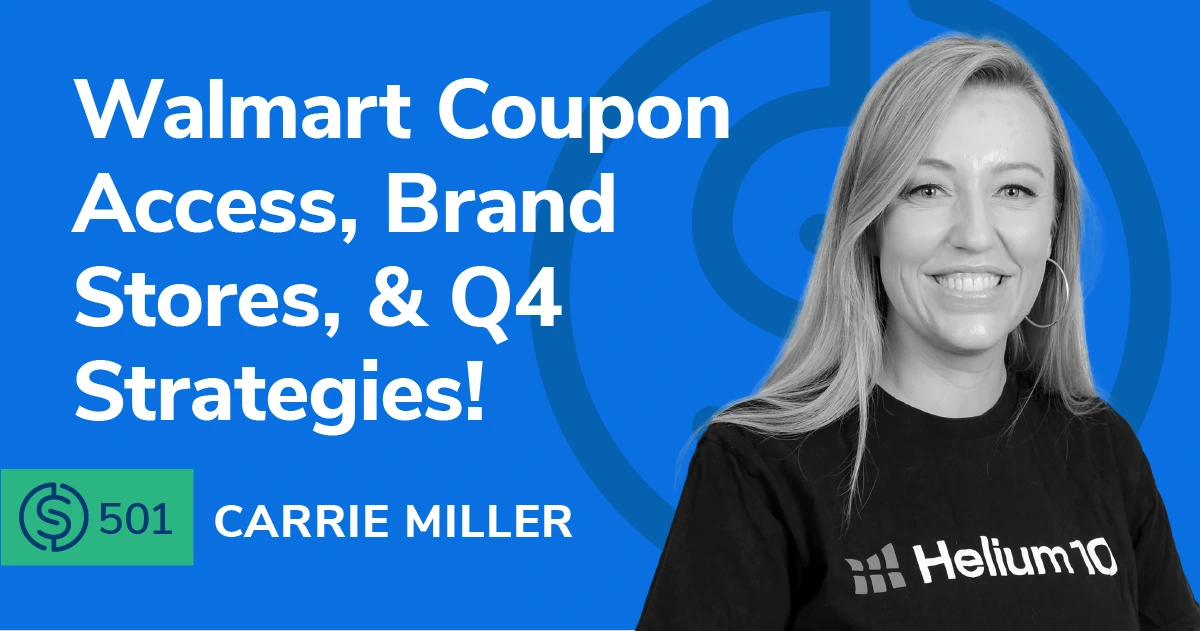 Video of the episode at the bottom
Listen in as we tackle all your burning questions about selling on the Walmart marketplace, from gaining access to coupons and utilizing brand stores to handling comp errors and deactivations. Discover why it's critical to get your inventory to Walmart as soon as possible before the end of October and learn the ropes on what metrics you need to focus on when aiming for the Pro Seller badge. We also tackle your questions straight from our Winning with Walmart Facebook group, so tune in for those insights.

Interested in the Walmart Influencer Program? We've got you covered! This episode also explores the ins and outs of the Walmart Influencer Program and provides key updates on when brand stores and video ads will be available to sellers. Listen in as we discuss the approval process for pesticide products on Walmart, the steps to register your trademarks on the platform to get the Walmart brand registry, and whether there is a request a review button in Walmart.

Did you know that Helium 10 has tools for the Walmart marketplace? We explore the nitty-gritty of product listings, coupon availability, and how to compete against first-party brands on Walmart. Plus, how to join the Helium 10 Winning with Walmart Facebook Group. Don't miss out on this Serious Sellers Podcast episode to make the most out of your Walmart selling experience!
In episode 501 of the Serious Sellers Podcast, Carrie talks about:
02:13 – Access to Coupons for Walmart Sellers
06:24 – Walmart's Review Programs and Opportunities
09:48 – Prohibited Items Approval
12:58 – Walmart Image Guidelines and External Traffic
17:39 – Solving Comp Errors on Walmart.com
19:27 – Seller Badge and Rich Media Guide
Transcript
Carrie Miller:
Today, we're going to be answering all of your burning Walmart questions. In this Ask Me Anything episode. We're going to be answering things such as when are coupons going to be available for everyone? When can I start utilizing brand stores, how can I deal with comp errors and deactivations? This and so much more.
Bradley Sutton:
How cool is that? Pretty cool, I think. If you guys would like to network with other Walmart sellers, make sure to join our brand new Facebook group called Helium 10 Winning with Walmart. You can actually just search for that on Facebook or you can actually go to h10.me forward slash Walmart group and you can go directly to that page. So make sure to join. You can tag me and carry with questions and ask questions of other Walmart sellers or even share your own experiences in that Facebook group.
Carrie Miller:
Hello everyone and welcome to another episode of this Serious Sellers podcast by Helium 10. I'm your host, Carrie Miller, and this is our Winning with Walmart Wednesday episode, where we answer all of your Walmart questions and we give you all of the latest and greatest information about selling on a Walmart. In this episode I'm going to answer quite a few questions that we've had in the Facebook groups. I asked quite a while ago if you had any burning Walmart questions, so I'm going to go over those questions for everyone today and give you some great answers. In addition to that, I wanted to remind everyone that we are in Q4 already, which is kind of crazy that we're already in the last quarter of the year. But start sending in your inventory now to Walmart, because WFS is already starting to take kind of a longer time to check in products and it's going to just get worse and worse as the holidays keep coming closer. So, just like Amazon, try to get your inventory in by the end of this October and just kind of do more than you're used to sending in. I know last year I actually ran out during the peak season of inventory to forever to get checked in and so I missed like three weeks of December, so it was kind of a bummer. So if you haven't done that, make sure to send in that inventory.
Carrie Miller:
I want to start answering some of these Walmart questions that everyone had and I think they're really good questions. I think they're going to be very helpful for just looking at these answers for all of you. So the first one is that I had on my list is that someone in the groups asked because they really wanted to know this from Walmart, and these are not official Walmart answers. By the way, this is just some research that I've done. It's no way connected to Walmart, but I did do the best that I could to find answers for all of you that had really important questions for Walmart. So the first question was Amazon allows access to all deals and coupons to every seller, regardless of their sales volume.
Carrie Miller:
When will Walmart give equal access to things like flash picks to Walmart sellers, equivalent to best deals seven days, and what they said is that deal parity right now does not exist on the Walmart marketplace. However, if you do have an account manager, then they actually can submit those coupons for you. So for those of you who are lucky enough to have an account manager and usually you have to have a certain number, a volume of sales per month in order to get one of these account managers. They actually can help you and they'll be able to submit based on the fact that if you have a you know good seller response rate, if you have good WFS metrics and you know a low number of refunds kind of use it basically in the pro seller range they'll be able to help you with coupons if you're not a one piece seller. So that is something to kind of keep a thought in the back of your mind If you, you know, do have an account manager, ask them about coupons, if you can get into those flash picks and they potentially could help you with that. So sorry, I don't have a better answer, unfortunately, but I think that is a good way, you know, at least for some of you, to get access to some of those coupons. All right, so I'll go to the next question.
Carrie Miller:
Let's see here when can you tell us more about the Walmart influencer program? So the Walmart influencer program is called the Walmart creator program and they are actually trying to do similar to what Amazon has done and they're recruiting a lot of influencers and I don't know if you've seen this, but I know I've seen this on Instagram because I follow a lot of the fashion deals pages, and they are promoting Walmart products in terms of clothing. Right now. There's a lot of cute stuff that you know Amazon sellers are now putting on Walmart, so these influencers are also promoting it on Walmart and they're getting commissions for it. They get a specific commission based on the category, just like Amazon, and so that is something that's really up and coming and something to keep an eye on. If you are in certain categories like home decor, fashion I think those are really good. You know areas to really utilize those influencers because they already have kind of the right audience for you, and so I would highly recommend kind of checking out. Go on to Instagram and search hashtag Walmart influencer or hashtag Walmart partner and you'll see a bunch of videos come up and you'll see you know whose accounts are really Walmart partners so that you can partner with them.
Carrie Miller:
Okay, so the next question is I saw that brand stores and video ads are in beta. When will these be available to sellers? Now? This is a question a while ago. Video ads are actually available now to brand registered sellers, which is really, really exciting. So if you have your brand registry all set up in the brand portal on Walmart, you have access, so you should be able to see on Walmart connect the video ads so you can do that. In terms of brand stores, they there isn't an ETA for brand stores, but I do know I've seen some sellers who are in the beta and they are testing it out. So I imagine it's the same as what happened with the videos. The videos were in beta not too long ago and they're going to start rolling out. You know the brand stores probably in a similar way. So that's pretty exciting and I hope it's soon.
Carrie Miller:
But they encouraged everyone in the meantime to take advantage of rich media. Rich media is like A plus content on Amazon and you can go on to the into the help section for rich media and you can actually get free hosting of videos and 360 images currently. So I would check that out. Otherwise, there are a bunch of agencies that do host rich media and you can get different modules that are really I think they're really great modules that you can utilize on Walmart. You just have to pay per skew, so it's a little expensive but worth it if you can see that conversion All right.
Carrie Miller:
The next question was Amazon has a request to review button that allows Amazon sellers to press a button on an order and Amazon sends a review request email to the to the customer on the seller's behalf. Will Walmart do something similar to help us get more reviews? So the answer of this is that there isn't something that's currently available but and there isn't a timeline for it to be able to get it to be available. However, Walmart actually does send a review request automatically after seven days to the customers on Walmart to request a review, so that's kind of an automatic thing that they already do. They wanted to also encourage all of the you know Walmart sellers to utilize the review accelerator program. So the review accelerator program if you have on your product five reviews or less, then you can pay $10 to ask your current customers for review. So it's actually, I think, different than Vine, because what it what it happens is that people are already buying your product and they'll send them an email and say, hey, we'll pay you $3 if you'll send in a review and then we pay. We pay Walmart $10 for this service, so it's actually really worth it. Up to five reviews, you can get verified reviews from your actual customers. So review accelerator it's in the growth opportunities tab, so check it out there If you have less than five reviews. There's also a review syndication where you can get your reviews copied and pasted, basically over from your website. So a lot of really cool opportunities for reviews, but they don't have any kind of timeframe for that request review button like Amazon has. However, I do think it's pretty encouraging that they're already sending those emails for us, so that's something that's that's great to see.
Carrie Miller:
So someone just asked how do you register a trademark on Walmart? So basically, you would take the same trademark that you have as an Amazon seller and you're going to go to the Walmart brand registry portal. It's a whole different website, so you can just Google Walmart brand registry portal and then you're going to apply there. It's very simple. You just put in your information there and you can. You can get accepted pretty quickly. So I would recommend go ahead and Google that and it should be pretty straightforward.
Carrie Miller:
What is the approval process for pesticide products on Walmart? We have 10 bestselling products on Amazon that we are simply not allowed to list on Walmart. The products have all the required government approvals with the EPA, et cetera. So the answer that I found on this is that there's an item report in Seller's Center and it's gonna have the reason code for why an item isn't published and so you can actually open up a partner support case, for all you know, for the web with whatever the reason code is. And then also, if the item status is on says item on hold, then the seller needs to either submit the required documents or provide the missing attributes to complete the submission. So it'll say what attributes are missing or what documents are missing, and you should be able to submit those. I will say I did kind of a case today you can find it on YouTube and we were uploading a hemp product onto Walmart and it has been quite a challenging process and you can actually see part of the process on YouTube. But I'm gonna give an update soon. But the update really is that they really don't want hemp products in WFS right now and I was able to get it approved to sell on Walmart. But it's been quite a challenging process so I'll go more into details about it. But the good news is we can sell seller fulfilled, just not WFS. So there is hope for any of you who are having an issue to get around that and do seller fulfilled if possible.
Carrie Miller:
Okay, so the next question is some of my products are not approved to sell via Walmart WFS but they are approved for seller fulfilled. So this is kind of similar to what I was just talking about in regards to the hemp. Is there any special program that I can apply for to get these hazmat products approved for WFS? And it says Amazon has something similar and we are part of the Amazon hazmat program. So the answer was that internally, wfs has recently actually launched an updated prohibited items handling solution across their fulfillment network, which this is actually very new. So, depending on the category, prohibited items are handled in three different teams under the specialty compliance organization hazmat, food safety and non-chemical hazmat. So this is going to hopefully help reduce the time where these products are actually just stuck and unable to be fulfilled with WFS. So definitely inquire about those if you're writing a ticket to kind of be directed to those teams and hopefully we can get some progress on some of those Cause. I know I've seen quite a few questions about this, so I would definitely want to continue to try to get you all more answers about this. So that's the amount of information I have right now. So keep messaging me on Facebook or sending those questions in on the Facebook group winning with Walmart, so that we can help you get those questions answered.
Carrie Miller:
The next one is my account was denied. What can I do to get approved after I was initially denied? So sometimes well, actually most of the time they don't provide a reason, but there's soft denials and then you can do an appeals process and then there's like termination, which is much harder. So you'll have to kind of usually I think sellcord.co. They are an agency. They have helped a lot of people who have been kind of denied. You can reach out to them. That's kind of the best answer I have. Or you can kind of reach out yourself, but I would kind of suggest contacting somebody who's really good at this, and I do believe SellCord does do a good job of helping people get their accounts. You know out of that status. So if you have had that issue, I would say contact sellcord.co. And that also includes you know if your account is suspended or termination is very hard. So you will definitely need you know, inside access. So I would definitely recommend contacting SellCord for that as well.
Carrie Miller:
What is Walmart doing to attract more customers to their online marketplace? And so this is a great question and I can definitely answer that they are doing quite a bit. So they have Walmart Plus, which is kind of like Prime, and if you go into the stores they have it advertised everywhere. They're giving discounts on gas, they're giving discounts on just all a bunch of different things within the Walmart programs, like just in store discounts and also delivery and groceries. You get those for free. So they're really pushing for, you know, just getting more customers into Walmart Plus. Now I also saw when I was looking at applying for an American Express Platinum card, that they have a free opportunity for free Walmart Plus If you have that card. So if any of you have that American Express Platinum card, you get free Walmart Plus. So something else to it's basically like a free Prime membership. So I definitely recommend taking advantage of it. But they're doing things like that to really increase the customer reach. Also, if you notice and I've talked about this in other presentations I've done they are doing a lot of external traffic through Google Shopping and they're also doing Bing Shopping. So you'll see your Walmart products show up in Google Shopping and Bing Shopping without even doing any ads. So they are really doing a lot of work to try to drive traffic that way. So hopefully that answers that question. So this might be college.
Carrie Miller:
This is another question from somebody. This might be common knowledge. But what are the best performing aspect ratios for images on Walmart? Should mean image and secondary images be the same aspect ratios? Is the answer category dependent, and there is definitely some. There are some differences on the different categories. So I would recommend that you go into the Walmart guides and you can look for image guidelines and you're going to be able to find exactly what the image guidelines are for your category. So go ahead and check those out.
Carrie Miller:
The next question I would like to know why the payment schedule for reporting is every two weeks and then why it sometimes I have to wait a third or fourth week. Now I've seen this question quite a bit in the groups and I don't know exactly what's happening, but it's just a common thread, like I've seen it quite a bit. So if you, if you've had this, you can put it in the in the chat or the comments, because I'd love to know. But basically, the payment should be every two weeks, but something if you're not getting it every two weeks, it should. It's probably an error and I think you should open up a support ticket to see what's going on with that, because that shouldn't be happening. So make sure you kind of figure out what the problem is so that it doesn't continue on. So that's what I would recommend. I don't think that that's part of the process. So it is supposed to be every two weeks. I have confirmed that. So take a look at that. And, yeah, just go into the support and ask what's going on with your particular account. And personally, I did see this actually happen, so it did get fixed. Additionally, when see when removing, when doing removal orders, when it shows on the payment summary, can we get a detail of what the removal order consisted of? So if you want to understand what the removal order maybe consisted of, you can go to the WFS dashboard and that will give you a breakdown and it's going to highlight what was in the removal order.
Carrie Miller:
Okay, so next one is it possible to allow for multiple SKUs to the same UPC code? Amazon allows this, albeit in one UPC code to one ASIN. So no, this is definitely no. Walmart uses UPCs as their unique identifiers for products. So you cannot have multiple SKUs associated with the same UPC, otherwise you're going to get a lot of errors. So this is really important to make sure you have you own your UPCs and then also that you have an individual UPC for each product. I know back in the day in Amazon you were buying second. You know basically barcodes from other you know third parties because they were more expensive but you can buy individual barcodes from GS1. And I highly recommend doing that to show that you own the UPC codes. Because if you do have somebody hijacking your listing or taking over the content, you can prove with owning UPC code as well as your trademark, that you own that product and the listing so you can get it back. I had a problem with this because one of our products for our Project X did not have a UPC code that was GS1 registered. It was kind of a bot as a third party thing a long time ago and I was unable to get that content back. So it was really kind of frustrating. So I know this from firsthand experience my own business.
Carrie Miller:
I've always had UPCs for each product because you want to kind of think when you're starting out with these products with the end in mind and growing your brand and business. Each product should have a UPC. We've always been wanting to know if Walmart has a honeymoon period similar to Amazon. Now I haven't had an answer to this. I do not think that it's as intense as it is on Amazon. So what I would recommend is to do your best to optimize start ads. Do whatever you do for Amazon on Walmart and I think that you will be successful.
Carrie Miller:
The thing about all of this is I noticed people. What they do is they'll open up and start a listing on Walmart and literally just copy and paste what they have on Amazon and they're not doing Walmart PPC or anything like that to help promote their product and they're like why am I not making any sales? Well, you would never launch on Amazon without doing PPC or optimizing for Amazon. Walmart has different guidelines to optimize their listings. So you know, make sure to follow those guidelines and I think that you'll be pleasantly surprised. The next one is what advice do you have to third party sellers to help them compete against first party brands on Walmart? So the answer to this is Walmart really isn't viewing the two as competitive against each other, but they recommend that you find kind of holes where first party sellers are not really, you know, filling in the gap and finding opportunities on Walmart where you can provide products that are not available via 1P.
Carrie Miller:
When I've gotten a comp error, it feels impossible to get help for this. What is the best way to solve issues dealing with comp errors and how can we find out what the error is so that we can fix it? So then the comp errors are very difficult, I will say, and sometimes what they're saying is that you can actually go into the item report and check the columns. When you upload via flat file or anything like that, you can check the columns, the life cycle status, and then it's going to say published, unpublished or system error, and then on the adjacent column for the, it's going to have an error code and it's going to say things like enhanced vetting, IP infringement, shipping or etc. And you can open up a ticket to get help with this. But in my experience I've noticed that it's usually a pesticide word like antibacterial, antimicrobial. So if you make sure that you don't use any of those illegal words that are, you know, banned on Amazon, then you should be fine, and usually if you kind of delete your listing and rewrite it again. Without those words it'll come up within 15 minutes. So that's been my experience with that.
Carrie Miller:
So another question here is when some someone first starts selling on Walmart, what can they do to get their products ranked? Is it all based on clicks and sales or is there a lot more weight given to the listing quality score? So they did. You know Walmart doesn't really give me a lot of information about ranking, but I do know, for example, if you get a high listing quality score, that does help with your ranking. So make sure you fill in all those attributes in the back end. You know you enroll in WFS, you have reviews to start out with, get your listing quality score 90% or above, and I think that that will definitely help you. You also want to start running pay-per-click advertising to get some sales and I think you'll start to see yourself ranking as that goes. But in terms of like you know state, you know something that they actually say. It's really quite challenging to really say.
Carrie Miller:
And then the pro seller was another question. How can a seller become a pro seller and get the pro seller tag on their listing? So you want to make sure that your products are delivered on time. So I recommend using WFS because it takes care of most of the categories that are required for a pro seller. The thing about pro seller badges is you can actually filter on Walmart for pro seller so customers can say I want to only buy from a pro seller. And I noticed when I got the pro seller badge that I was starting to get more and more sales.
Carrie Miller:
So I will say it isn't an important thing. So you've got. You know, at least you've got an on time delivery rate of 95% or above in the last 90 days. You have less than 1.5% cancellation in the last 90 days. You have a really good seller response rate, higher than 95% in the last 30 days. And then basically it's, you know, fast delivery. And you also have to have over 250 orders in the last 90 days and you have to have at least been active for 90 days. So when you launch your products, you know, do your best to get those 250 orders and get those fast delivery times in and you can get the pro seller badge within 90 days. I think it's really, you know, worth it.
Carrie Miller:
So I would say WFS is probably the most important thing to make sure that you get that and yeah, so, and then the next thing is what? Will rich media eventually be free to Walmart sellers, like it is on Amazon? So there are some modules that are free, and that is the video and also the 360 image views. You can go into the help center and click on rich media. You can find it there. So otherwise, if you wanted to pay for some in the meantime, you can contact an agency and they can help you with that.
Carrie Miller:
So let's see if I have any questions. All right, Nelson, hello. Nelson says I'm a new to Walmart, in the process of onboarding and we already established our stores at Amazon. Is the procedures from Amazon to Walmart going to be similar when it comes to brand name products? If we are able to get wholesalers offline in our city to sell as branded products so we can sell online, are we still allowed to sell them? Yes, you are allowed to sell wholesale products on Walmart and I actually met at the Walmart conference quite a few sellers who have done very well selling wholesale products on Walmart. I think it's a lot less competitive right now in Walmart. So I highly recommend you get in there and start going for those, those products and, you know, make sure that you get in the game now? Great question. All right, let's see.
Carrie Miller:
It looks like I think someone was asking about tools for Walmart. Helium 10 has some incredible tools and I would recommend that you check those out. We have cerebral, which is our keyword research tool for Walmart. Another tool for Walmart called magnet it's another keyword research tool. We have x ray, which shows you sales volumes for Walmart it's our Chrome extension. We also have profits for one, one to help you, Walmart, to help you manage your profits. And we have our ranked tracker. And for pay per click advertising, we have add atomic for Walmart to help you manage your pay per click advertising. So we have all those great tools to help you and support you on your way to selling on Walmart.
Carrie Miller:
Also, if you're a helium 10 member, we have freedom to get Walmart where we should. We walk you through a to z on how to sell on Walmart, so that's available to you free if you are a helium 10 member. So check it out. If you haven't yet checked it out, alright, so it looks like I don't have any more questions, so hopefully, if that was very helpful, thank you to everyone who submitted their questions.
Carrie Miller:
For me to answer it was really, you know took a little while to get the answers to some of those questions and maybe some of them. I still need to do a little more research and hopefully maybe digging to get some more details on some of those answers, but hopefully that helps you in the meantime, and if you have any questions, join our group. Helium 10 Winning with Walmart. All you have to really do is search in the Facebook groups Helium 10 Winning with Walmart and you can join our Facebook group and ask questions there. You can tag me, you have questions, or other sellers are in there answering questions as well, so love to see you there and we will see you then. Have a great rest of the day.
---
Enjoy this episode? Be sure to check out our previous episodes for even more content to propel you to Amazon FBA Seller success! And don't forget to "Like" our Facebook page and subscribe to the podcast on iTunes, Spotify, or wherever you listen to our podcast.
Get snippets from all episodes by following us on Instagram at @SeriousSellersPodcast
Want to absolutely start crushing it on Amazon? Here are few carefully curated resources to get you started:
Achieve More Results in Less Time
Accelerate the Growth of Your Business, Brand or Agency
Maximize your results and drive success faster with Helium 10's full suite of Amazon and Walmart solutions.