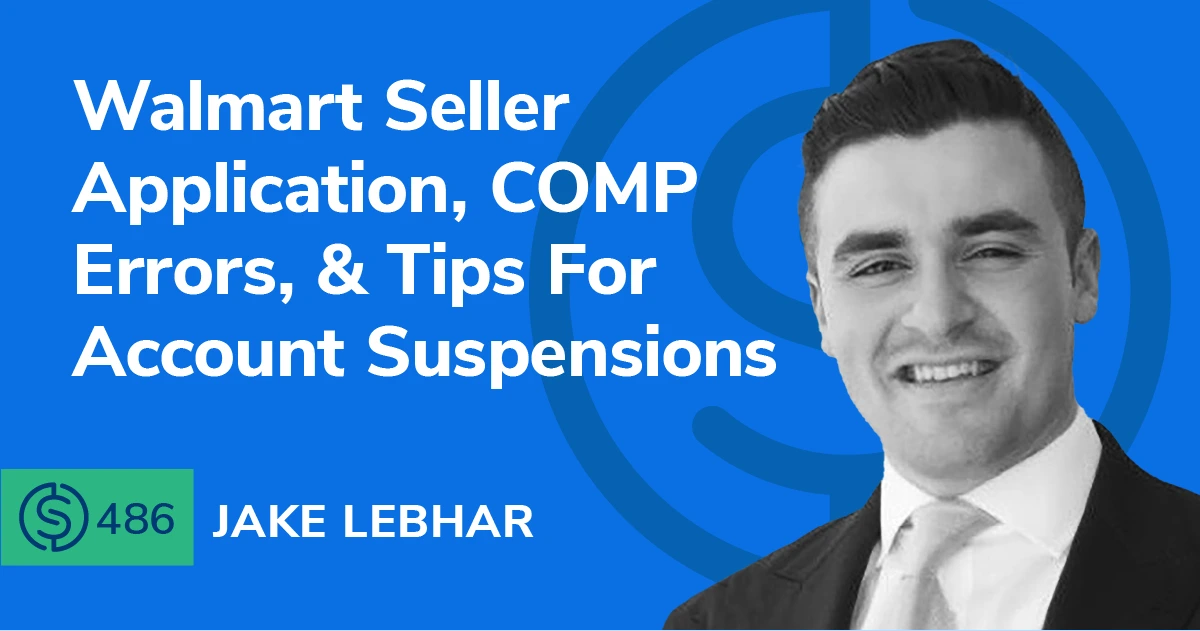 #486 – Walmart Seller Application, COMP Errors, & Tips For Account Suspensions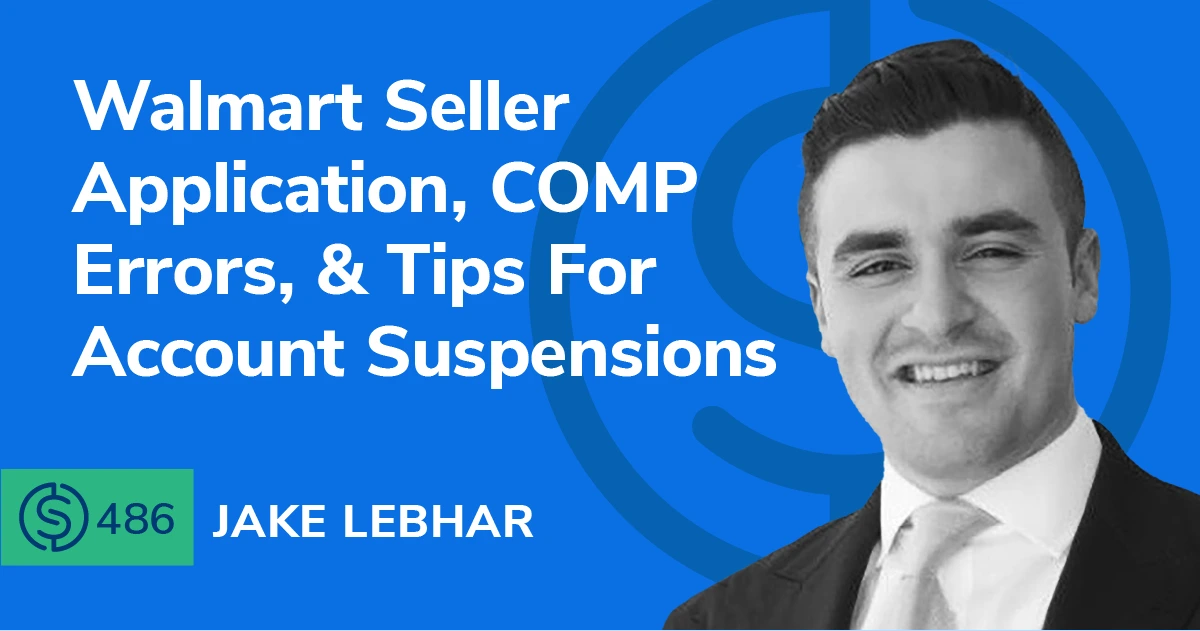 Video of the episode at the bottom
Let's dive into the world of successful Walmart-selling strategies with the latest SSP episode! Join Carrie Miller and her guest, Jake Lebhar Co-Founder and COO of SellCord, as we explore key topics such as his company's remarkable experience managing an impressive portfolio of 250 brands on Walmart, and the burning question: Is everyone cut out to sell on Walmart.com? Tune in for invaluable insights into navigating the application process, including expert advice for sellers whose applications face rejection and application tips tailored for international sellers.
Discover Jake's expert recommendations for launching a product on Walmart, unravel the mystery behind COMP errors on Walmart and gain a comprehensive understanding of dealing with account suspensions and compliance issues inside the Walmart marketplace. Don't miss out on Jake's personal journey and takeaways from the Walmart Open Call, as well as pro tips for using the Helium 10 Xray tool for Walmart. Learn about new advertising features and placements on the horizon, and dive into Jake's top-notch advice on conquering the Walmart marketplace. Wrapping up, find out how to get in touch with Jake Lebhar and SellCord, rounding out an episode brimming with practical strategies for thriving in the Walmart marketplace.
In episode 486 of the Serious Sellers Podcast, Carrie and Jake discuss:
02:13 – Jake Lebhar's Backstory
02:59 – Managing 250 Brands On Walmart
05:21 – Is Everyone A Good Fit To Sell On Walmart.com?
07:55 – Advice If Your Seller Application Is Rejected
11:42 – Application Tips For Sellers Outside The US
13:38 – Q: What Do You Suggest For Sellers Looking To Launch A Product On Walmart?
15:14 – What Is A COMP Error In Walmart?
18:46 – Talking About Walmart.com Account Suspensions
22:27 – Getting A Hemp Product Inside Walmart.com
24:20 – Is It Too Late To Sign Up For Walmart Open Call?
25:01 – Jake's Walmart Open Call Experience
28:03 – Helium 10 Xray Tool For Walmart
28:16 – Tips For Launching A Brand On Walmart
29:38 – New Advertising Features And Placements Coming Soon
30:07 – How Can I Deal With Compliance Issues with Walmart?
31:03 – Jake's Top Tips On How To Succeed In The Walmart Marketplace
Transcript
Carrie Miller:
Today on the podcast, we are talking with Jake Lebhar from SellCord, and he's gonna be sharing some strategies for sellers who maybe applied to the Walmart marketplace and got rejected. We'll also talk about COMP Errors as well as what to do if you get suspended from the Walmart marketplace.
Bradley Sutton:
How cool is that? Pretty cool I think. If you guys would like to network with other Walmart sellers, make sure to join our brand new Facebook group called Helium 10 Winning with Walmart. You can actually just search for that on Facebook, or you can actually go to h10me/walmartgroup and you can go directly to that page. So make sure to join, you can tag me and Carrie with questions, and ask questions of other Walmart sellers or even share your own experiences in that Facebook group.
Carrie Miller:
Hello everyone and welcome to the Serious Sellers Podcast, brought to you by Helium 10. My name is Carrie Miller and I'll be your host. And this is our winning with Walmart Wednesday show where we come live once a month and we answer all of your burning Walmart questions and we give you lots of great new up-to-date information about Walmart. Thank you all so much for joining me again today. I'm really excited 'cause we have a really special guest today from SellCord. His name is Jake Lebhar and he deals with a lot of of the questions that I get often about you know, count suspensions, COMP Errors, how to get your account activated if you were rejected from Walmart. So we have a lot of really good information coming from Jake today, so I'm really, really excited about that. So I'm gonna go ahead and bring him on.
Jake:
Hey guys, how are you Carrie?
Carrie Miller:
Good. How are you doing?
Jake:
Thank God. Easy. Wednesdays, this Walmart Wednesdays is perfect, you know.
Carrie Miller:
Yeah. I'm really excited to have you on today, especially because I've had you help me with some comp barriers and just some difficulties that I've had and I've also kind of referred a lot of people to you to help you know, get everyone going. So I'm pretty excited to talk with you about these things today. I'm gonna start with some questions. Maybe Jake, could you just tell us a little bit about yourself and, and your whole kind of Walmart journey?
Jake:
Yeah, I'm Jake from SellCord. I'm one of the co-founders here. I work with David Millstein and Michael Lebhar, which, you know, I'm sure the listener, some of them, you know, may have seen them. They have been on quite a few webinars and Freedom Ticket and whatnot. So yeah, I started in the e-commerce space when I was 13 years old as a seller. Up until 2018, we were just selling on Amazon. We ran into issues with one of our accounts with an account suspension on Amazon actually. And that part we weren't able to get solved, so we really moved to Walmart. At that time we had one of the first few, like 3P accounts, you know, in Walmart. So we just started spending all our time there and there were very few sellers we were sharing our sales with, like one piece sellers.
Jake:
We were selling fitness products. Covid came along and then it flew off the shelf. And yeah, ever since then we basically we started off managing a few, you know, relationships that we had in the space. We managed their Walmart accounts and in 2020 we just branched out, you know, started SellCord. And since then it's been a crazy ride, basically launching and scaling brands on Walmart. You know, currently we're managing over 250 brands on Walmart. You know, some clients, you know, are doing, you know, just 10% of their Amazon sales. But then we have, for example, a brand that does 750k a day on Walmart, just to give you an idea in furniture. Yeah, there's a lot of opportunity, there's especially a lot of opportunity for the 3P brands right now to come in and kind of take their share of revenue from all those one p sellers that have been on Walmart for a while.
Jake:
And I think that's what people really need to understand that yeah, Walmart isn't exactly where Amazon is right now, but there's so many markets where you can just come in and take your fair share and also establish yourself as an early settler on Walmart. So I'm always really excited and that's why I do a lot of sales every day and, you know, hey, telling people about the opportunity that there is on Walmart. I always wish I would've launched more products in Amazon in 2013, and that's kind of what I compare Walmart to right now. So that's a little background to me and what I spend my time with everything for my whole day spent on Walmart, and it's really exciting, you know, how quickly they're growing.
Carrie Miller:
Yeah. Did you say was it a 1P seller that's 750 K a month? No, this is Marketplace
Jake:
Actually. This is Marketplace.
Carrie Miller:
Oh, marketplace. So a third party, 750k a day.
Jake:
Yeah. Just to give people like the extended idea that there is, there are some categories like that, like furniture and stuff, which are massive in Walmart. And then there's also, you know, some categories which yes, in the average, like if someone would want me to give an give a number, it's usually about 10%. You know, like you'll hear around, it's usually about 10% of what you can make on Amazon, but that number is growing every month with how quickly. You know, Walmart's growing, so I can be sitting here next year and saying it's 30%. And I wouldn't be surprised literally if Walmart's growing, you know, that quickly. I'm very definitely very optimistic about it.
Carrie Miller:
Wow. That's very encouraging. 'cause People are always asking me about, you know, how much there, you know, opportunity there is. And I guess it really depends on the effort you put in. I think that's really the bottom line is how much do you wanna make on Walmart? That's where it is. So I guess that kind of leads me into another question is, do you think that everyone is a good fit for Walmart? And like, you know, who do you think has the best chance at success for, you know, doing, like, getting to the point where you're doing 750k a day? Like, what, what do you think, what have you seen?
Jake:
So there are more niche categories that aren't built out, you know, in Walmart, like they are in Amazon. I do think everybody is a fit, but some are more of a fit than others. Meaning that if you have a more niche product, you know, that, you know, the search volume isn't, you know, that high or you see that the category's just not, you know, it's not competitive. You just see, see a few sellers selling your product and then just random listings of other products not related. Yes, the category isn't that big in a Walmart for certain, you know, the niche products, but it's definitely worth listing the product. And for most products, even the more like niche products, you should be able to at least bring in a few hundred units in sales a month if you really launch a properly. And even if like for the main keyword, you know, you're not able to bring in a ton of sales, there's always other ways that you're able to bring in traffic through advertising.
Jake:
I think a lot of times people kind of limit the opportunity at Walmart by looking at just the search volume, by just the Walmart search volume. When really, and Carrie, I know you spoke about this before, there's a lot of searches that come from just Google and most of the Walmart searches come from Google, come into Walmart that way. So there definitely is, you know, opportunity for these niche products, even if it looks like, you know, sometimes the market isn't that great. And yes, for the more niche products, sometimes it can only be about five to 7% of your, you know, Amazon sales. You know, depending on, you know, how good your Amazon store is, obviously. But on the most part, you know, you always have a decent amount of potential to come in there with. And you never know, which niches pick up, you know, really quickly.
Jake:
I've seen some niches and I'm always auditing different, you know, products and everything like that, that have just, you know, grown because, you know, shoppers are just starting to get used to shopping those products on a Walmart and you know, obviously Walmart started off by like, you know, their grocery and that's what they're really known for. But once you know, customers and shoppers are starting, you know, getting used to, Hey, I can also find this and I can find this. And they're just seeing a lot more of a variety now those niches are opening up, so you never know exactly when it's going to like open up and when you can hit 10%, but if you could already hit 5-6% right now, or 5-7% right now, why not launch it and, you know, get yourself to the top of the page and it'll be a lot cheaper right now to get yourself to the top of the page. Yeah. You know, with your efforts and your advertising and everything like that. So yeah, there are, you know, there are more niche categories, but it's definitely worth for everybody to go, you know, into the game.
Carrie Miller:
Yeah, I agree with that. So what advice would you have? I know there, I get this question a lot, like maybe in the last two or three years somebody has applied to sell on Walmart, but they were rejected. What advice do you have for them and is there, is all Hope lost or like what do you recommend for them?
Jake:
So yeah, this is a subject that I'm very familiar with because I'm talking to a few sellers a day on this that, you know, have been, you know, rejecting a Walmart and we're probably getting like 40 to 50 accounts at SellCord accepted a month. So let me just explain a little more. Yeah, it's, it's crazy. And I'll just explain a little more of the background of how the Walmart application process works and what's going on, you know, in Walmart, so unlike Amazon where you could just easily open an account, everyone knows with Walmart there's a bunch of like nightmare stories where people have tried to open accounts and then, you know, for three, four years they just haven't been able to get in contact. They've tried getting new contact and they can, so I'll explain kind of what goes on, you know, behind, you know, the Walmart applications.
Jake:
So obviously Walmart's getting thousands of applications a day, like from Amazon sellers, right? Just this past year there's 40% more sellers on Walmart than there was last year. 40% more 3P sellers. So just to give you an idea of how many applications they're receiving now, they're verifying every business and there's a few things that they're looking into every business. But at the end of the day, any regular Amazon, or not even Amazon, any regular, you know, business has a good, you know, proper tags, documents that, you know, that everything matches their address matches and everything like that, they're able to get an account at Walmart. It's not like Walmart was a few years ago where it was, they were looking really into the SKU count, the amount of revenue that they're really not that like picky anymore. They're just taking on a bunch of sellers right now.
Jake:
They just wanna make sure that, you know, verified seller. Now there are different reasons, and I'm not gonna sit here saying I know all of them 'cause at end the day that is the trust and safety department, and there are, you know, different reasons why they will reject, you know, an account. Sometimes that information doesn't add up. There's one thing that they saw that looks a little off, and a lot of times they'll just end up just looking at the application, not approving it right away. So they'll put in the archives and then, you know, that's it. Once it's in there, there's no way to contact Walmart. You know, there's no way to get any information in it, and you're kind of just like left in the dark because they put your application in archive. I've seen sellers that make 30-40 million dollars a year and their application, there's an archive and you know, it's not like, you know, Walmart's a corporate company.
Jake:
There's a lot of people working there. It's not just like, you know, they're, you know, you can just reach out to somebody like, oh, you're a massive brand, you know, we'll take you in. You know, you have to, once the, once the once the applications are on the archive, it's kind of impossible to reach 'em. So you really have to work with one of the Walmart partners, whether it's myself or, you know, there are a few other partners that definitely, you know, have contacts with Walmart or Walmart directly. Honestly, if you meet Walmart or show Walmart directly, you can also, you know, speak to them. But with working with a Walmart partner like us, we usually, you know, have the contacts, you know, in Walmart that are able to take the application out of archive and basically show the trust and safety team, oh, here's the documents.
Jake:
And they basically find the issue that was in the application. So, you know, maybe this one was the address didn't master document they provided, or there was this, you know, they wanted to confirm that the business is actually operating out of this state, or one or two, you know, small things they need to confirm. And then, you know, they'll just approve it. And, you know, our applications, you know, when I get, you know, people coming to me with applications, we usually get them within that week just, you know, approved. It's just some back and forth information with Walmart and that's it. But that's just how the Walmart game works right now. It's kind of like having something on the inside just basically taking the application out of archive and making new live on Walmart. So yeah, it's definitely different than the Amazon process.
Carrie Miller:
Yeah. And I have sent some people over you to you who were rejected and they were able to get on, so that's true. You, you have to have somebody who has the access to Walmart to be able to get you back and reinstated or have your application reviewed again. So that's, that's really good information. And I know I've also sent some international sellers your way. So what advice do you have for international sellers who want to sell on Walmart? Any kinds of tips or insight information about international?
Jake:
So international, I know there's like, and I have quite a few people in my inbox that keep asking me like when their countries are gonna be added because you know, right now it's just like, you know, UK, China, India.
Carrie Miller:
Japan
Jake:
Japan, Canada, and then the other ones, there's one, there's one or two.
Carrie Miller:
Mexico.
Jake:
Yeah, Mexico. And then they are adding all other countries and hopefully, you know, within the next six months to a year, you're gonna see a lot more added on. Right now they just, you know, started like with the main ones. So you know, for those, you know, for those countries that you have obviously, you know, sign up, why not, you know, ready, you know, get moving with it. If we're talking about is the question also what sales are, you know, like Walmart, Canada sales or Walmart, Mexico, or are you just saying for those international sellers on Walmart.
Carrie Miller:
The international sellers on Walmart? I know you guys have helped somebody, I think from Israel who was like, he was selling millions on Amazon, but he couldn't get, his products were already on Walmart by other dropshippers, but he couldn't get on and you guys helped him.
Jake:
Yeah, because a lot of times the international sellers and those accounts, they'll get flagged because their IPs and everything like that, especially Israel being, one of them, Walmart's seen a lot of and that's my hometown, you know, just seen a lot of like, just activity that they don't like from Israel or just a lot of applications being submitted. So certain countries, sometimes they just, you know, they have a harder time, you know, accepting applications from those. So definitely, you know, you know that that's where you have to, you know, basically go through the back door and, you know, we have to go in there for you saying, Hey, you know, this is a good brand. We go to Walmart saying this is a good brand, they're serious about scaling, this is the brand, no questions about it, you know, let's get them going.
Carrie Miller:
Okay, very good. And I think this question kind of goes along with it. What do you suggest for sellers looking to launch a product on Walmart? Is the keyword research tool with Helium 10 a good start? Or like what do you recommend? I know you guys have launched some new products like just for Walmart, so what advice do you have?
Jake:
So I do plenty of audits you know, for new brands coming in, and I'm always using the Helium 10 tool, there's no question about it. Obviously there's that abstract traffic, which is, you know, hard to always, you know, to estimate, but I found un 10 very accurate. I've crosschecked it on multiple, you know, accounts that we manage and the X-ray tool's working well as well. So I can definitely speak for that. And I wouldn't if, I would've if the sales were off, but I definitely crosscheck it across many of our accounts and it's pretty much accurate. So you use the X-ray tool as well as the search volume tool. If you kind of like, you know, spend some time on on both of those tools, you'll be able to get a good idea of what your category really is like.
Jake:
And then, you know, part of it is obviously logic and, you know, common sense, like the larger products right now, you know, the, the more general products are gonna have a higher search volume, and that's what you'll find. So being that I've done like so many audits by now, I can kind of, you know, throw out a product to me, I can kind of tell you, you know, with just guessing around how much the search volume is and you know, how big, how many of the product, you know, you can sell on Walmart. So once you start really just spending a few hours in Walmart and, you know, using the Helium 10 tools, you kind of get a good feel of what categories are like, what the search forms, like, what the sales are like in comparison to Amazon. You know, all the tools are really there for you. So use the tools and you'll have an easy time figuring out what potentially you have.
Carrie Miller:
All right. And the next question I have for you is about COMP Error. So what, like, what happens if you get a COMP Error? What is it? What does that mean?
Jake:
Yeah, so Walmart's still trying to figure out their COMP Error, you know, process, and it's definitely not as quick as Amazon where they have, you know, internal SOPs of every single thing that's, you know, should be prohibited. And that's not like on Amazon, I'm sure if you list many products, you know, right away if you have the wrong keyword or whatnot, they'll flag you in a second. On Walmart, many times you can have your product listed for a few months and then out of the blue they'll give you a COMP Error just because the system, you know, found something all of a sudden. So because they're still building out their processes, this is just one of the annoying, you know, processes that, you know, affects accounts where, you know, they'll add in a few new keywords, may be into their you know, COMP Errors, you know, system, whatever it is that'll say, okay, you know, whoever has these keywords in their titled in their anywhere in their copy, you know, will get flagged and then all of a sudden a whole bunch of listings, you know, throughout Walmart will get flagged for those products.
Jake:
And then you have to, you know, take out some keywords sometimes, so there's no exact guide on, you know, which on what to remove or, you know, which keywords are flagged like internally at SellCord, we always, you know, keep a document of like, which, you know, keywords and everything like that can, you know, can be flagged and which products usually are the most common and everything like that. I think it's pretty much, I haven't checked Amazon's like comp, you know, process or prohibited products and everything like that, but I'm assuming it's pretty much similar to Amazon's. But yeah, what I do know is you just have to go back and forth with them and it, and it does take time to get a response from them sometimes to respond in a week or two.
Jake:
It's not gonna help bumping up the case 50 times because that's just Walmart's support right now that that team is growing and they're figuring it out. You know, they work hard at Walmart, it's just that they're growing at a rapid rate right now. So it's just, you know, certain processes, no matter how much money you have as a company, takes time to build out, right? So yeah, randomly you'll have listings that'll get flagged for compliance and you just have to play around. And also, once again, use common sense and try to figure out which keywords, you know, would be maybe the ones causing the issues and then re-upload and re-upload the listing or a lot of times it even works, you know, if you are able to use another UPC for the listing, just re-uploading under another UPC and a lot of times you won't get the error on that next listing. So first try taking out like some keywords that you think may be problematic after that, if that doesn't work, maybe even try listing the product again under a new UPC.
Carrie Miller:
Yeah, I know with, with mine it was a keyword that was forbidden and it's pretty much what I think you should do is if you take Amazon, there are some forums that have, people already have kind of discovered a lot of the forbidden keywords on Amazon. They're pretty much the same on Walmart. Things like antibacterial, antimicrobial, all those kinds of things. Like they're called like basically pesticides on Amazon. So what I remember what we did is we just deleted some of these forbidden keywords out of my listing and it just went live again within 15 minutes. So that is you know, something that they don't even tell you. So I was trying to open a case and open a case and I don't know what a COMP Error is, but and then when I reached out to you and you were like, oh, just take out those words, it went live immediately and you didn't, I just closed the case. So Yeah,
Jake:
A hundred percent. Yeah, I remember searching up the Amazon you know, the Amazon like you were and being like, okay, it makes sense, you know, if we have one of these, it makes sense, Walmart's going to, you know, shut it down as well.
Carrie Miller:
Yeah. so here's another question. What happens if your account gets suspended and are some account suspensions, you know, permanent? Like what advice do you have for account suspensions?
Jake:
Okay, so Walmart or like, I don't know what it is about like Sundays or something like that. Like in the be of the week, a lot of accounts will get suspended before Monday. I don't know if Amazon works that way as well. They have like, because they keep, you know, changing around their metrics and like, you know you know, really, you know, put, putting their foot down on different metrics. Obviously the most common ones are, you know, just being on top of your shipments, late shipments, invalid tracking rate and then like too many cancellations. Those are the most common ones. And then here and there you'll find like, you know, for like other reasons, but those are the most common ones. Walmart's a lot easier about their standards, their seller performance standards.
Jake:
It's not like Amazon where, you know, you have to freak out if you miss a message within 24 hours. And Walmart just started putting those metrics into place. But like, I haven't seen an account suspended, you know, because you know their response times and everything yet. So most accounts will get suspended just because they either have some API that's just shooting in a bunch of inventory that they don't have and they'll have a ton of canceled orders or their shipping templates aren't set up correctly. And they're not shipping orders in time and or just invalid tracking. A lot of times they're not uploading tracking if, you know, they don't have the right tool connected. So those are just the most common reasons and Walmart were to suspend accounts for those. So what to do when you have an account suspension you put an appeal together just like you would on Amazon, and a lot of times they ask for the invoice of the goods, just the invoices for the products, let's say that were canceled to make sure that you guys basically, that you have them in stock, make sure to always provide that on the first appeal.
Jake:
I was actually just on a call right before this webinar with an account that a suspended account and their, in their first appeal, they didn't include all the invoices. And now their second appeal is, is taking a lot longer for Walmart to look at. They will always look at your first appeal really quickly, and these days, in most scenarios, they'll respond literally the next morning. So you want to give them all that good information in the first appeal. If you don't give them all the information they need in the first appeal, it could take a lot longer to hear back the second time around. Once it gets to like the third appeal, meaning, you know, you're submitting something for the third time and they denied the past two. It just lengthens out the process and could take a while before you get your account back.
Jake:
You can always get a suspended account back. It's impossible to get a terminated account back. Terminations usually happen after, like an account is suspended for like four times, like four extensions or something like that. I haven't seen that many terminations 'cause it's very uncommon, but it does happen here and there. Or they've terminated a few accounts for like shipping products via Amazon fulfillment service and this and that. So I always warn people about that, like, people are still trying that funny business. It's like, yeah, it's like, no, you'll save a lot more money by just returning the goods from Amazon, paying Amazon for 35 cents or 50 cents whatever return fee and then chipping it into Walmart. Like, don't try that. But they're very quick on their suspensions. Recently it's like, you know, it used to take weeks to hear back from Walmart these days it's like seen many accounts suspended and you know, we, we have an account reinstatement service, so we've gotten many accounts like by the next morning they'll back in live on Walmart.
Jake:
So very important. You're just very careful about the first appeal, basically. Yeah.
Carrie Miller:
So if you, if you need help with that, you can reach out to cell cord and they can take care of that. I do know you've gotten some people up that have sent your way. So that's very helpful. Let's go ahead and get into some of these questions here. I think I'll go with this one first because, and I have a little bit of an explanation for this. Carrie's having a hard time getting a hemp cream of mine on Walmart. Even Walmart giving her the runaround. If you can help her get it on, I'll treat each Novo. I actually have made some progress in this. The hemp thing, once I put it on, I got a COMP Error for the hemp listing and then I was able to get past it and it was reinstated because I was able to prove, you know, there's other products just like this that are selling at Walmart. And then I tried to get it into WFS and it was kind of taken down again and they were like, no, you can't sell this product, you can't do anything. But I was recently able to get it so that I can sell it and so we can ship the product. So basically fulfilled by the, by merchant kind of shipping. We just can't fulfill it through WFS. Have you seen this kind of thing before?
Jake:
So you actually have more of an update than me on that. I've seen so many issues with hemp right off the bat. I was gonna say really hard to get a hemp product through. Yeah. I know that there are ones live and people always come back to me with that and I'm like, Hey, listen, you know, they may have listened to Walmart a little before and gotten it through. I think I even saw it in their guys specifically. It's like, no hemp products, but like you're saying, there you go, that's a wall. Great workaround that like, you know, try listing it. You're probably not gonna be able to send it to WFS, but like, you know, the fact that you gave them that was like good enough to push your listening through. And I'm not saying that'll even like work for everybody but I know they're very strict on hemp Walmart.
Carrie Miller:
Yeah, I was actually told by support to stop contacting them, they told me to stop contacting them, that was the final answer. So then I went directly to Walmart and they were able to give me the go ahead to sell it fulfilled by merchant. There are same products that are being sold on, on Walmart. So they're 1p I think mostly that's why they're shipped by Walmart. Yeah. Okay. So kind of a rough one. Okay, so another one, this is from Bradley too. Is it too late to sign up for Walmart Open Call?
Jake:
Yeah, I just ended like, I think it was someday last week.
Carrie Miller:
Are you guys going to open call again this year?
Jake:
Yeah, we're gonna be at Open Call and more importantly next week we're gonna be right next to you guys by Walmart Seller Summit. That's gonna be exciting.
Carrie Miller:
Yeah. Very, very cool.
Jake:
It's gonna be really exciting.
Carrie Miller:
Do you, can you share what products you're going to Open Call for? Or is it secret?
Jake:
Oh no, not at all. We have like fitness products and everything. That's how we got 'em, you know, originally Michael, my brother has a nutrition two by four nutrition brand that they got into Walmart stores nationwide, you know, after they launch a marketplace. So it's pretty cool. We've gotten a lot of brands recently, and it is why, you know, brands will come to us sometimes they don't even care about marketplace sales. They just want to get into Walmart store, sorry, Walmart stores. So it's a whole other side of Walmart. If you want to get into Walmart stores right now, you have to launch a marketplace and the buyer has to see that you're basically getting your products, you know, to the top of the page or optimized properly, and they'll notice your products. Like if you ask a buyer in the Walmart category, like, you know, if you tell 'em about your product and they've seen your brand a lot they've seen you sponsor, they'll be like, oh yeah, I know you guys.
Jake:
And that's a great way to get it into Walmart stores. And we, we have gone many brands in this past year and to Walmart stores, brands that are just mom and pop, Amazon shops and they've gone into Walmart stores, which is huge, right? So it's a really cool part of Walmart that, you know, Amazon doesn't really have where, you know, you're not looking, and again, there's no Amazon stores looking to get into, but Walmart retail's huge and because of their emphasis that they're putting on marketplace, you know, they're putting a lot on the line for that. So they're saying, Hey, you know, any new brands you wanna come into our stores launch a marketplace for us. So that's a really cool side of things.
Carrie Miller:
Yeah. Are you guys going in for the latest four by four product, or would that automatically get invited to the Walmart stores? 'cause I know that you guys just launched another four by four product.
Jake:
Two by four products.
Carrie Miller:
Sorry, two by four.
Jake:
That's Michael's that's Michael's brand. So I don't know exactly as much where they're holding on the launch. I don't know if every SKU's in or whatnot, I'll have to check with him on that. But I know we're always, like some of our clients are going down with their products you know, that they, they've launched a marketplace, let's say, for the past year or two, and, you know, they're going down with their products and, you know, presenting them as well.
Carrie Miller:
All right. Let's see, let's go down here. So we've got Jake, are we saying SEO needs to be more optimized in a way to pull the right SKUs and volume to show it during a search that a shopper lands on the, I don't know exact, do you know what he's saying?
Jake:
Tell me if I'm wrong, but I think he's just saying that you need to, and you need to optimize a Walmart listing for– It's basically even for, for some main keywords that you could find in the space, even if it's not directly like, related to the product. So sometimes we'll do that where we'll give up a little on like, you know, exactly what we wanna say the product is in order to get it in a larger space. So you know, let's say Bamboo cutting board, you wanna put in the regular cutting board space? Well, you're technically gonna have the cutting board keyword, but I can give an example off the top of my head, but yeah, sometimes, and I think this is his question, but you want to find whatever keywords, you know, are somewhat relevant to the product to, you know, get in that space because it is, you know, easy.
Jake:
Right now, it's relatively easy to launch in some spaces in Walmart where even if you know your product isn't exactly related to the, to the main keyword, you can still make a lot of sales off that. So it's really case by case. You have to know, I guess, which product it can be like too irrelevant or else, you know, just, it's gonna be, you're gonna have a low conversion rate, but here and there, yes, we will like, use a larger keyword that's maybe not exactly like the product, but, you know, maybe bring in some extra sales.
Carrie Miller:
All right. Somebody else said, is there a way to get the X-ray tool for Walmart working to the Platinum plan? We do, I think have some uses of, for the Platinum plan, but mostly Diamond is where you're gonna get full access to, you know, unlimited access to the Walmart tools. So if you do wanna sell on Walmart, I would recommend going to the Diamond Plan. David, ask any tips for launching a nutrition brand on Walmart?
Jake:
Yeah. Launch sooner than later. That's really, I mean, we could talk from today to tomorrow about all the Walmart tips and everything like that, but there's just, like I said, there's 40% more sales on Walmart this year, and there's thousands of sellers coming in every day, literally into Walmart right now. So we know how competitive this space is in Amazon. And right now Walmart is, you know, not even a quarter of that. So you want to get in for nutrition specifically because, we've seen how quickly the nutrition game came up with Amazon, where, you know, in the be, you know, 2014, 2015, you had like–
Carrie Miller:
Yep.
Jake:
Nutrition brands, and now every day there's a new one coming out. So yeah, get a head start, basically. If you wanna go more into details, yeah, it's just more, you know, it's starts with the listing optimization advertising. Everything has to be strategic because there are a decent amount of sellers in the nutrition space already that are putting in the proper work. So, you know, you wanna basically get ahead of the game right now. And there's new advertising tools that are, you know, coming out constantly, sorry, not tools, but just like Walmart's offering, you know, like video ads, you know, it's coming out and there's a few more, you know, a few more ways, especially nutrition brands can use to, you know, to advertise on Walmart. So launch now, basically. Yeah.
Carrie Miller:
Do you know when the video ads will be available to everyone?
Jake:
They say by the end of this year, so Okay. Anytime within the next few months hopefully. Yeah,
Carrie Miller:
I saw that there's also brand stores as well in beta.
Jake:
Yeah. Brand. Yeah, that's the most exciting one. Yeah, but also search brand ads, right? SBA search brand ads, you know, that's also, but yeah, nutrition, you gotta launch ASAP because ASAP just being more competitive. Yeah, it's a competitive space.
Carrie Miller:
All right, last question here. How can I deal with compliance issues causing my listing to get unpublished?
Jake:
Oh, that's David over here. Look at that. Yeah. How can I deal with compliance issues causing, okay, so this, David, you should have been there at the beginning of this. If they're getting unpublished once again, just like the compliance issues that we were, you know, talking about before you have to number one, you know, try to find the certain, the keywords that are wrong, just to recap your, trying to find the keywords that, you know, maybe causing it, you know, to, you know, to get 'em published. And then, you know, if after that, and if you're trying for a good, you know, I would say two months, cap it at about like two months of going back and forth with Walmart and not finding out which keyword it is, then try a new listing. For now that's what I would do.
Carrie Miller:
All right, perfect. All right. I think we're about done for this episode, but I was wondering if you had any last tips or anything that you wanted to say to the people who are listening. We have about quite a few people listening right now. So any tips or anything that you didn't get to say that you wanna tell people?
Jake:
Yeah, sure. I mean, let's talk about Walmart in general. We see the traffic that's coming into Walmart now. You know, I'm gonna be meeting Carrie by the show next week where Walmart is coming down with their whole executive team, I mean the CEO of Walmart, CEO of Walmat US, head of e-commerce in Walmart marketplace, just to show. And they're all coming down for this show. It's called Let's Grow. Just to show you how much they're putting in behind their marketplace. So when a company that big like Walmart shows you, you know, that they're putting that much behind their marketplace, you know, that they're spending whatever ad dollars to get more shoppers on the marketplace, you know that they're fixing up their platform in whatever ways to get more shoppers. So they had, they grew 28% in overall sales this past year, which is a nice number.
Jake:
They're the fastest growing marketplace, and by next year, they're definitely gonna even beat that number. So we're looking at, you know, the next few years of tremendous growth from Walmart. I know Walmart has been around technically as a 3P marketplace since 2018. And here and there, I'll get a settle. It'll be like, yeah, Walmart tried, it didn't work. It's very simple. This is the first time they're actually putting proper effort into it. Before they were trying to, like, they started off maybe using Jet and Shopify, they realized none of that will work, and they're just taking their own approach and they're handling everything themselves. And that's why it's been working right now. And this past year it's seen tremendous growth and it's just gonna be crazier from here. So I remember, like I said, back in 2013, I was watching the first YouTubers putting out their Amazon content.
Jake:
So this is it right over here. You know, this is the first like Walmart content, and I know there's a reason Helium 10 is investing a lot, lot in it, because the earlier you get in, you know, the more opportunity there is, and it doesn't cost a lot to launch a Walmart right now. You know, take a bit of that Amazon revenue, you know, profit that you're making and launch it into Walmart, and you're setting yourself up to be one of the top sellers in whatever category you are, whether it's niche, more, you know, really competitive category. If you are just detailed and on your game and optimizing listings, optimizing your ads, figuring out the new Walmart ways, you know, the new Walmart promotions that may be eligible for you, just doing all the, like the nitty gritty stuff, that's how you're going to, you know, get to the top of the page in Walmart, be one of the top sellers.
Jake:
If you're like the other 90% of sellers of Walmart, they just list their products and wait for it to sell and don't put any work behind it, nothing's gonna come of it. And then you're just gonna have that same outlook on Walmart. Oh yeah, just, I make, you know, 2% of my, of my Amazon sales. There's no point to spending any time in it. Just like Amazon took time to build up. Walmart's gonna take time to build up. So final tip, put in the work, now's the time. All opportunities are in the timing right now, so now's the time and, you know, start, get down and dirty. You know, with the, with the Walmart stuff, which aren't that easy, we know how much errors and issues could come up. So if you're one of the few sellers that fights through that, you know, then you're gonna, you're gonna win, right? If it was easy, everybody could do it. Spend the time and now put in the effort now, and I guarantee you'll see results and especially over the next few years as Walmart grows that, you know, the numbers will just keep scaling.
Carrie Miller:
That's really good advice. Yeah, I definitely agree. Put the effort in now and start now. So, well, thank you so much for joining us. I think you gave a lot of really good insights for questions I get all the time. So I'm really glad we were able to do this episode and talk to you since you're an expert in these areas. So thanks again for joining us and we'll see you. I'll see you next week at the Walmart conference.
Jake:
I'll see you then. It was a pleasure being here.
---
Enjoy this episode? Be sure to check out our previous episodes for even more content to propel you to Amazon FBA Seller success! And don't forget to "Like" our Facebook page and subscribe to the podcast on iTunes, Spotify, or wherever you listen to our podcast.
Get snippets from all episodes by following us on Instagram at @SeriousSellersPodcast
Want to absolutely start crushing it on Amazon? Here are few carefully curated resources to get you started:
Achieve More Results in Less Time
Accelerate the Growth of Your Business, Brand or Agency
Maximize your results and drive success faster with Helium 10's full suite of Amazon and Walmart solutions.