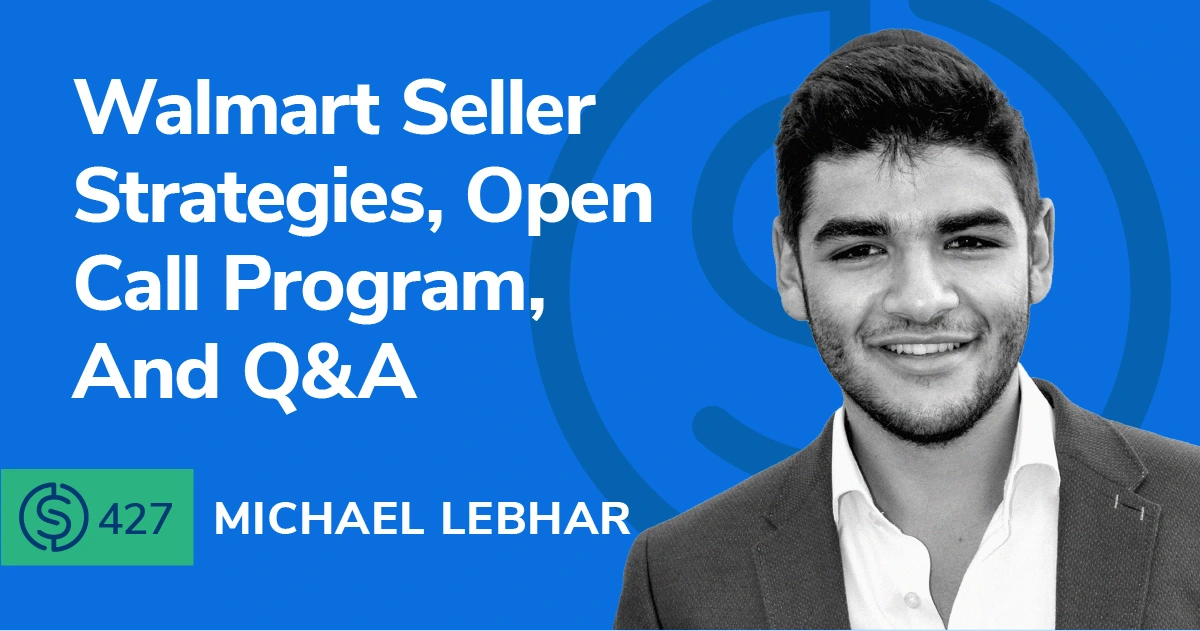 #427 – Walmart Seller Strategies, Open Call Program, And Q&A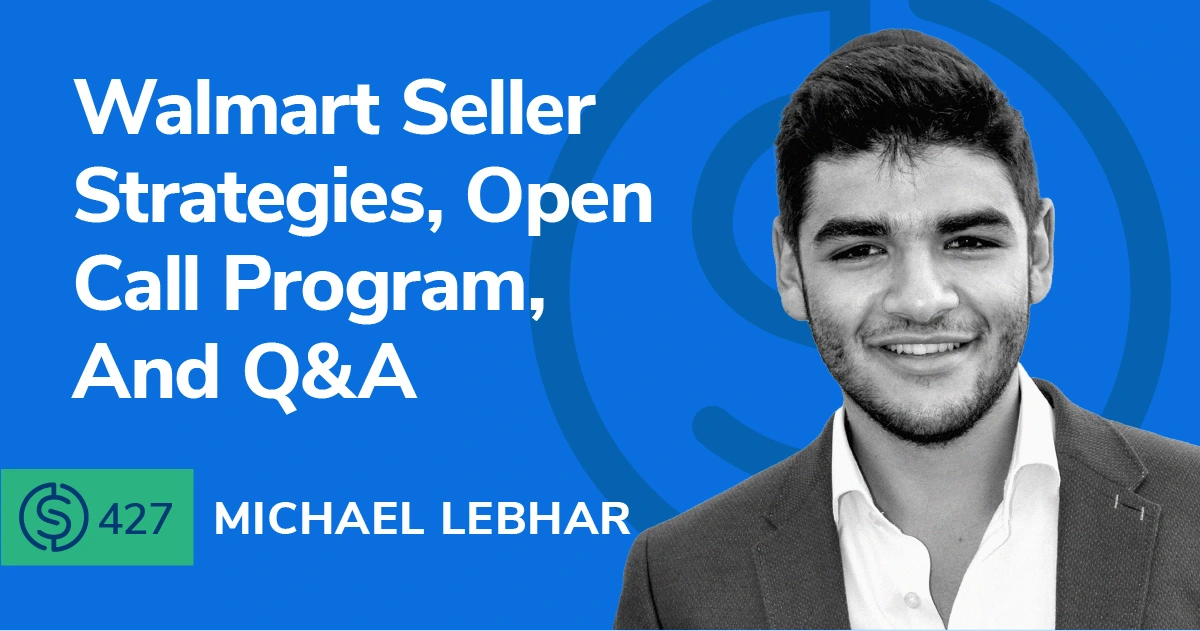 Video of the episode at the bottom
Join Carrie Miller and Michael Lebhar of Sellcord for this month's Walmart Wednesday program! In this episode, he shares his insights and experiences selling on Walmart, the benefits of starting on Walmart as an Amazon seller, how to get invited into Walmart retail stores, and much more! Plus, hear about Michael's Walmart PPC strategies, Walmart Canada, and how to fix issues with Walmart's content ownership scale. Don't miss out on this valuable information to help you succeed at Walmart!
In episode 427 of the Serious Sellers Podcast, Carrie and Michael discuss:
01:20 – A Quick Story From Bradley About Selling On Walmart
02:30 – Helium 10 Tools You Can Use For Walmart
05:00 – Michael Lebhar's Back Story And How He Got Started
08:10 – Why Should Amazon Sellers Start On Walmart?
12:20 – Getting Invited Into Walmart Retail Stores
13:40 – Let's Talk About Walmart's Open Call Program
15:50 – What Are The First Things You Are Looking For On What To Sell At Walmart?
17:30 – How Fashion Influencers On Instagram Are Showing Walmart Products
18:15 -Is Walmarts More Suitable For Wholesale Rather Than Private Label?
19:20 – Approximately How Many Units Was An Initial Walmart In-Store PO?
22:00 – Walmart PPC Features And Strategies
24:15 – Walmart Canada: Is That Even Worth It To Consider?
25:00 – How Does BuyBox Work On Walmart?
27:00 – Will WFS Ever End The Disincentive To Buyers For That Shop For Items Less Than $35?
28:45 – Walmart's Content Ownership Scale And How To Fix Issues
29:30 – Words Of Advice From Michael Lebhar
30:30 – How To Get In Touch With Michael And Sellcord
31:30 – Join Our Winning With Walmart Facebook Group
31:45 – Check Out Our Complete Walmart Selling Course Inside Freedom Ticket
Transcript
Bradley Sutton:
Today we're gonna talk to somebody who's been selling on Walmart for years and has sold millions of dollars, and he's gonna answer all of your top questions about advertising launch and much more. How cool is that? Pretty cool I think
Bradley Sutton:
We know that getting to page one on keyword search results is one of the most important goals that an Amazon seller might have. So track your progress on the way to page one and even get historical keyword ranking information and even see sponsored ad rank placement with Keyword Tracker by helium 10. For more information, go to h10.me/keywordtracker. Hello everybody and welcome to another episode of the Serious Sellers Podcast by Helium 10. I am your host, Bradley Sutton, and this is the show that is our monthly Walmart Wednesday show. Once a month, Carrie interviews an expert in the space all about selling on Walmart.com. If you're not selling on Walmart yet, don't tune out. If you're selling on Amazon, you should be considering to do later. And if you haven't sold on Amazon yet, this is still should be something that is gonna be on your roadmap to do in the future.
Bradley Sutton:
You know, just a personal anecdote here, there's on the Project 5K account that I do, I totally wasn't even paying attention. And one of the products I had went out of stock you know, online, on Walmart Seller Center, and I just, by putting it back in stock, I don't know what happened. I didn't even do anything. I'm actually now selling more of that product on Walmart than I am even on Amazon. So you never know what kind of opportunity there is at Walmart, and that's why we have this monthly show. Cause it's really a marketplace that should be on your roadmap. Now, Michael's no stranger to this show. He's been on the podcast a few times before, but he's been selling since he was an early teen and now he's just crushing on walmart.com and he also even sells in Walmart stores. So he's a great person to listen to. So here is the episode with Carrie and Michael.
Carrie:
Hello everyone and welcome to Winning with Walmart Wednesday. We have a really special guest today Michael Abar. But before we actually get to Michael, I wanted to show you some tools. Some of you might not know that we actually have tools for Walmart from Helium 10. So I wanted to just kind of go through those a little bit so you're aware of what we have. So I just chose my three top tools. We actually have five tools. We've got Cerebro for Walmart, we've got Magnet, we've got Keyword Tracker, Xray, which is the Chrome extension, and our profits tools. But I'm gonna just highlight three today. So the first one is Cerebro for Walmart. And Cerebro for Walmart is one of my favorite tools because it's a great way for you to spy on your competition.
Carrie:
You can go ahead and you can do a reverse product. I search your competition and you can see what keywords they're targeting. My favorite thing to do is sort by sponsored ranks so I can see what they're doing in any advertising. Some of them might not be doing any ads at all but just see where those placements are and then also just what keywords they're using to get more ideas for keywords. So that's Cerebro. It's, it's one of my favorite tools. The next one is Magnet, and this is where you can just search for keywords. So you can put in a search term and then it'll come up with a bunch of different keywords that are very similar to what you typed in, along with the search volume. So I love, love Magnet.
Carrie:
And then last but not least, keyword Tracker. And I've been using this a lot lately, just getting my products ranked on Walmart, and it's our keyword tracker. And keyword tracker is great because it shows your rank over time. It'll show you the search volume so you can prioritize what's most important in terms of keywords, and it'll show you your rank on your organic and sponsored. One of my favorite things to do though is to push this boost button. You'll get about 25 total of those per month at a time. So you want to just push that boost button if you want it checked every hour on the hour, and I like to do that, especially when I'm doing some ranking techniques. So you can just click on that boost button and it'll check it for you every hour so you can see up-to-date information on where you're ranked on that keyword.
Carrie:
So, all right, so that, those are some of our tools. And what I would like to do now is I'd like to introduce Michael Lebhar, who is from SellCord. He's been selling for a while, and he is a Walmart expert. He's done lots of, he's been really successful on Walmart, so I'm gonna go ahead and bring him on. So, hi Michael, thanks again for joining. And I wanted to give you an opportunity to just share your story a little bit because I think, I don't know if a lot of people would know that you started when you were 14 and just wanna just tell everyone how you got started and then how you got started on Walmart and how you've done at Walmart, basically.
Michael:
Awesome. Yeah, so I'll give the quick story of how I started so early in high school. You know, I knew I wanted to I was always trying to keep myself busy doing different odds and ends things to make some money and keep myself busy. And my school was pretty busy. Like, it kept me pretty busy, but still, I always like making money. So I always did sorts of small businesses and chores and you know, pretty early on there was brothers in my community who were selling a lot online, and I'm like, I just need to learn what they're doing and I need to get part of this. So you know, I just started researching, asking a bunch of questions, and I started off by just reselling products on eBay and getting my feet wet as I started doing product research.
Michael:
And then I was just consuming whatever content I could, trying to understand how this all works. And I got into my first product was in workout gloves, and you know, from there we started selling them on eBay, and then we start, then we moved it over to Amazon and shortly after, right, I launched that on Amazon. Really, Amazon became my f my full focus for years throughout high school. And then even after I graduated high school, just really focusing on building out a what was really interesting is the first real product that we launched was in the fitness space, and I was working with my brother and me and my brother are very enthusiastic about, we're very enthusiastic about fitness. So it was really interesting to be able to build around the brand around that.
Michael:
And so we grew that a lot. And then we were really interested in diversifying our revenue and build expanding our brand more. So we started expanding to other marketplaces and we listed on a lot of different marketplaces and online retailers, I would say online retailers, people are such as like Target, QVC you know, Walmarting on online marketplace and thing, things like that. And we started just listing on a lot of these different marketplaces. And what we noticed is that we started coming into trouble with Amazon. We were in a very competitive space and got in a lot of people attacking our listings and attacking our account. And something interesting was Walmart sales were just picking up with very little focus behind it. So I decided that's really interesting. I'm gonna dive into Walmart, and what if we put the same amount of focus and energy into really figuring out Walmart rather than just listing our products?
Michael:
So that's what we really did. I think that's probably been like four to five years ago. We really dove into it and I started really figuring out what Walmart wants, how to structure Walmart properly, and we were able to grow our brand, a lot of Walmart, we able to launch multiple other products on Walmart, and we've just been working and then we, it just became so much of the main focus that we just really dedicated to becoming Walmart experts. So that transitioned and you know, we're still, we grew our brands on Walmart a lot, and now expanding into Walmart retail. And around two years ago was when we decided to launch our agency, which is focused on helping brands launch on the Walmart platform really manage their Walmart experience. So that's like the synopsis of, I guess my story.
Carrie:
Very nice. Okay, so my first question for you, Michael, is why, why do you think that Amazon sellers should be selling on walmart.com as well? I have a lot of people who are kind of dragging their feet that I talk to all the time, and they're like, I don't know if it's worth it. Why should they be selling?
Michael:
So I think there are a few different instances, and depending on your brand and your business's position, I think different reasons might apply to you. And you know, there's obviously some instances where it probably doesn't make sense for some brands, but for the brands that it makes sense. I think number one, to diversify your revenue you know, I think it's a really good channel to diversify your revenue. I think you can add, especially in a lot of categories, there's a lot of opportunity. The marketplace is growing. You could add in revenue with pretty minimal investment. And I think it's one really the only marketplace platform that really has enough revenue brought to it now where it could, it could justify the amount of work needed to be put in and you. And so that's number one. Number two is really, which I think is very exciting, is being able to build your real estate on a platform that is growing really fast and be able to have that at low cost and be able to really get that.
Michael:
And I always say like, if only I would've launched more products on Amazon back in 2015. So it's sort of like that with Walmart. It's like, right now it's pretty minimal effort and cost to really launch your products, rank them high on Walmart, and you could just reap the rewards as the platform grows. So I think that's another reason why it's really important to move your brand over to Walmart. I think number three, which is personally what I'm very excited about with Walmart is the opportunity to be able to get your product into mass retail, bigbox retail through Walmart. And something we could talk more about. People don't talk about it that much, but there's a really big opportunity of being able to get your product into Walmart retail and brick and mortar through you know, through selling on.com. And what's really interesting is most big box, brick-and-mortar, they won't even look at you unless you have a lot of data behind your brand.
Michael:
It's called IRI data showing that your brand's actually been selling at other retailers. And a lot of times they might be interested if you show them your online revenue, but at the end of the day, what they look at is your retail revenue. But being able to get into the biggest retailer without that is so important and is really interesting. And I think because of what Walmart's been making available through the platform, it's really possible. So for those of you who don't know, Walmart actually merged their buying teams. It used to be a different buying team that was in charge of the.com and in charge of the in-stores, but now it's the same buyer. So the buyer's in charge of fitness is in charge of fitness products that are on shelf and fitness products on dot com.
Michael:
And Walmart's also launch initiatives such as Open Call and different programs like that to be able to actually get smaller brands and newer brands, emerging brands, the opportunity to get into Walmart retail. So I think that's another big opportunity that might interest some people. So for some brands you you might not be interested, you're not looking to try to diversify your revenue with another dot com platform or more you know, the extra amount of Walmart revenue doesn't excite you. But you might be interested in potentially getting your products into mass retail, and it might make sense for you for that. For some brands you might not be interested in mass retail, but you could be interested in diversify your revenue. So I think there's different reasons why Walmart could be the right fit for you, but I think overall, there's just so many reasons why it makes so much sense for Amazon sellers specifically to adapt.
Michael:
And one of the biggest things is, as an Amazon seller, you have a big advantage for almost anybody else coming on the platform because although Walmart has a lot of its differences in a lot of ways, it's the same and the way the approach for how you Amazon sellers really approach in dominating search results and dominating conversion rate metrics, they're, that's the same approach. If you have that at Walmart, you'll succeed and you'll succeed over these big, big national brands, and that's who the big national brands are scared of. So to say. It's the, the Amazon brands, the Amazon sellers, the tactical sellers who are dominating search results.
Carrie:
Yeah, and I don't know, do you wanna share a little, I know you've been invited into the retail stores. Do you wanna give a little insight on how that's gone or like?
Michael:
Yeah, so we could talk about that. So I think what's important to understand is and we could talk about one of my really two of my brands that this happened too. You know, we launched our products on dot com you know, and what people don't realize is like the revenue I'm doing dot com is, let's say, so small comparison to what products do at retail. Like why would they attribute your.com sales for if you're gonna do well at retail. And for them it's really important. And what we have to understand is, like, for Walmart, it's really important that their dot com grows. So they're looking for brands who, who, who really invest in making their.com listings good. But also it shows a proof of concept that the Walmart customers are resonating with your products, even if you know, the sales your products will do on dot com is a percentage point of what it would do on shelves.
Michael:
So when we really build our listings properly on.com, we really invested in Walmart advertising, we, and we really dominated this the space, and really that what allowed is that the buyer kept seeing our listings and we were doing much more sales on other channels, but for Walmart.com, it was a lot. And the buyer noticed our brand. And we really built somewhat of a presence there and good listing quality scores, good listing optimized listings, I'm bringing in sales. And then Walmart has this program called, so the buyers are already aware of us, and Walmart has this program called Open Call. And what Open Call allows is you could actually apply to have your brand accepted into Open Call. And the point of Open Call is, it's a program where the Walmart made a commitment to purchase a certain amount of products made in the USA.
Michael:
So they kind of tied in that commitment with wanting to work more with smaller businesses and smaller brands, and it doesn't have to be made in the usa it could be made or assembled in the USA. And actually one of our brands, the products that we had weren't made or assembled in the US but we developed a new product that we pitched them that would be made or assembled in the US. So even if your products aren't, there's still that opportunity and we pitched to be a, to be accepted to Open Call. We got accepted for two of our brands, a brand in the fitness space, and a brand in the supplement space. And we really prepared for that Open Call meeting. And you know, there's over a thousand brands that are on Open Call and Walmart's actually planning on growing Open Call much more.
Michael:
So I think we're gonna see Open Call growing, but what it is, is you get invited to two days, you go to Bentonville, Arkansas, one day is speeches, you hear the CEO of Walmart, you hear some other people speak and then the next day is pitch meetings and you have 20 minutes, or actually I think it was 30 minutes with the buyer to really pitch your brand. So that was really interesting. And you know, we're gonna be on shelves nationally with four of our products from our supplement line start on June 3rd, you'll see our products on shelves. So it was really interesting experience. Yeah, and you know, I think the buyers really they want to work with new brands, but there's challenges of working with new brands. Are they gonna know what's needed to really succeed at Walmart in regards to logistics, in regards to marketing? Are they really addressing.com properly? And if you are able to answer those questions, you put yourself in a good position and just coming there with the dot com performance is one of the biggest things you could do.
Carrie:
All right, well, you do have some questions here. So Jonathan asked Michael, what are the first things you're looking at whether or not to sell on the marketplace such as Walmart? So is there any data that you're utilizing or what do you think like would be the most successful types of products is probably another good?
Michael:
Yeah, so that's a great question. When you're thinking about the type of products that do well on Walmart, you're thinking about products that general health hold items, things that people are really looking for very specific needs to solve. They're not looking for necessarily exploring cool gadgets or things of that nature. Things that do best in Walmart is necessary household gadgets. And what you're thinking is like, they're going to Walmart specifically to buy an extension cord. You're right, maybe they lean towards buying one from a certain brand, but if you show up on top of that brand, even if they never heard of your brand and you're listing structured, well, you could gain that sale. And there's a lot of volume done around those sales. There's a lot of volume done around the products that were are commonly purchased in store. And now because Walmart has pickup and delivery, so a lot of times people are searching for those items and then they'll find your right in.
Michael:
So think of general household item, think of not niche item. Think of, think about the products with the largest amount of market space. Think about products that are very competitively priced. So I think there's that consumables do really well on Walmart. So whether you're selling food grocery items, those do really well. You know, toys are great category on Walmart. Apparel are great category, but it comes with a lot of its challenges. So apparel as a brand wouldn't usually won't make as much sense because the amount of variations you have to deal with and the amount you know, the price, you're gonna really have to get your price, drive your price all the way to the bottom. But household items are really good. So that's a long short of that.
Carrie:
I've been noticing a lot of, like I follow a lot of fashion influencers on Instagram, and a lot of them are starting to show really great items on Walmart that are also sold on Amazon, but you know, they're, they're still a good price. They're probably like $30 maybe somewhere up to 40 depending on what it is. And they're, they're, they seem to be, they're actually really cute and people, people are starting to notice Walmart for fashion. So I thought that was pretty interesting as well.
Michael:
Yeah, Walmart's actually been investing a lot more in their influencer initiatives, so you're gonna see people a lot, they're gonna be hiring a lot more influencers. They're working on restructuring their affiliate program a lot. It's gonna be a lot more people and influencers specifically just on driving people to Walmart.com.
Carrie:
Yeah. All right, so I have another question here, Michael. The thing I've noticed that Walmart is more suitable for wholesale rather than private label. What's your take on that?
Michael:
So Walmart's really moving much more to, to really support the private label brands. And then what I would say about that is that there's more, much more recent, it used to be much harder for private label brands to succeed on the platform. There, there, there's Walmart's making a lot more programs available to help these private label brands succeed. So whether it's some of their review programs they've been launching, whether it's WFS, whether it's their brand portal, all these different things help to really private label succeed as, and it's gonna be harder for wholesalers. So I'm personally of the opinion that it's much, it's much better for a private label because you're investing and building up your own listing when it's very cost affordable to do that so that's why I think Walmart's so interesting for new products. On Amazon, there's so much of investment needed to launch new products and compete there. So that's what I would think for
Carrie:
That. All right, let me see. I think we have some more questions in here. Gina, hello Gina. She says, approximately how many units was an initial Walmart in-store po Are they net 30? Do they require, I don't know what co-op money return and Cs and marketing dollars?
Michael:
So something that's really interesting about Walmart there's a lot of different questions in that question and it's, I could go on about it for three hours, but something that's really interesting about Walmart is they don't have a lot of the fees that are associated with selling at a lot of other retailers. So one of the biggest concerns brands have with retail is slotting fees. So usually when you get accepted to a new retailer and a lot of retailers, there's something called slotting fees where the first, whether it's one to three to four amount of units that they take per store you get charged for those. So that could add up to a lot. We launch our products in CVS, there's a slotting fee associated with that. We have to pay three unit three, we have to pay for three units for each store per skew.
Michael:
So we have seven that got accepted to CVS at a thousand stores, you have to pay for every one of the for, for three units per store per skew. So that could be a lot. Walmart doesn't have those fees. Walmart in general is really good to work with. They work with US partners. Drugs, drug chains really squeeze you. Walmart really wants you to succeed, so they work with US partners. That being said, there is a lot of fees associated if you don't deliver on time, there is things to make sure that the one thing you want to make sure of is otf, which making sure your orders are fulfilled in full as long as you could accomplish that, you should be fine and you shouldn't be getting a lot of fees or any fees at all. You could work with a consolidator, which actually takes care of shipping into Walmart, so that way you never have to worry about your shipments coming late. I'm getting any of these fees. So Walmart is net 90 from PO date, if I'm not mistaken, but you are able to ha you are always able to get earlier, like net 30 and give some sort of discount. So yeah and there isn't marketing dollars required behind it. So in general, Walmart's really good to work with for that. You just have to be a good partner. So that's a much longer conversation. If somebody wants to reach out to me about it, I could have a long conversation with them about that.
Carrie:
Yeah, I think there's a lot of questions about the in-store stuff. So I'm gonna just go on to the next kind of in-store question. It's kind of long. But having a presence in physical stores, advertising Walmart is really tough. We are selling a consumable item and we notice that items in the prime position in our category were known brands and also selling in Walmart stores, they offer or have badges like EBT eligible and Walmart pickup in their listing. What is your recommended strategy for this type of category? Doing manual exact campaigns, targeting long tall keywords, utilizing bid modifiers seems to be not working.
Michael:
So that's a great question. You know, one of the big challenges, especially in categories where a lot of the products are pickup and delivery, also because they're shipping their prices will show a lot less because there's no shipping cost. So it's sometimes really hard to compete with those. I think things to notice about that is you're gonna really wanna do whatever you can to try to get the click. So a lot of times adding on coupon tags onto your listings high reviews will a lot of times help you get the click over that listing. But yeah, with advertising, you're gonna want to be strategic with your advertising for those sort of campaigns when you're running across those challenges. What you'll notice a lot of times is that a lot of the big national brands that are running their ads, they're much less targeted.
Michael:
So like you're saying there is open holes where you could really find really good return on with specific keywords or very specific sometimes placements that they're not advertising on where you succeed on. So a lot of times the buy box placements will work really well but that's a longer discussion as well. I think with advertising right now with Walmart, there's a lot more you could do because now they launched variant advertising, so you could really, a lot of time you could run ads to multiple variants and you're gonna want to just be as targeted as you can with your ads. So you could just spend more So you know, be very specific about what"s you're targeting, what placements you're targeting, and you know, the ones that you know are converting, you could just spend more than them on because a lot of times, times tho the big brands, they're, it's being managed very loosely, so you'll be able to really out outperform them in a lot of different areas. If for this placement and these keywords, you perform really well, you can make sure you win the bids on those. And that's usually what we try to do. We try to find the white spaces with what some of the advertising opportunities and really focus on those.
Carrie:
For Project X and Project 5k, I keep getting emails lately inviting me to do Walmart Canada. Is that even worth it to consider?
Michael:
That's a great question. We get that question from our clients all the time. I would suggest no, the volume there is so minimal and with Canada you have to deal with, there's some regulatory stuff and things like that. If you are already selling in Amazon Canada, you have logistics set up with Canada in general, and you have a really large catalog, let's say it's thousands of SKUs, you potentially could make some money there, but I would ignore those for now. It's sort of like for most people, walmart.com didn't make sense five or six years ago it would be so minimal the amount of revenue you can make there. So for Walmart Canada, I would ignore that for now.
Carrie:
All right, let's go to the next one. We've got a lot of good questions coming up here. How does buy box work on Walmart? However what is your recommendation? I don't know if what, maybe just talk about buy box, I guess. WFS fulfilled. Okay.
Michael:
Yeah, so I guess the easier part of the question is WFS or seller fulfilled no-brainer, WFS, Walmart Fulfillment Services, which is the equivalent of Amazon Prime six months ago. If you hear any me talking about it, I would say it's a nice plus. You should definitely do it. Get in on it early on. Now it's basically a necessity with our clients who have troubles logistics-wise or they're not ready to do WFS yet. It's always very challenging. It's challenging to get your products ranked. It's challenging to perform well with ads. So it's just, I would strongly, strongly suggest WFS and before you invest a lot of efforts into Walmart and into advertising, make sure your WFS is set up for buy box on Walmart. There's a few important things to just note about buy box number one, make sure your pricing is on Walmart is the same as Amazon.
Michael:
If your pricing is lower on Walmart than it is on Amazon, you can lose your Amazon buy box, which you don't want to happen. And vice versa. So that's number one. Number tw,o about buy box is who, who will get the buy box if there's a few people on it. WFS has an impact who's gonna own the buy box. But it ultimately the biggest weight is box is your pricing. There is certain weight put on the quality of the seller and some other details, but in general obviously price is gonna be the biggest indicator.
Carrie:
All right. Next, will WFS ever end the disincentive to buyers that shop for items less than $35? If you're not Walmart plus Walmart charges the buyer for shipping, which differs from white FBA ha for what FBA has. I think that's FBA.
Michael:
Yeah. Yeah, that's a great question. Also, I haven't been told anything that they're gonna change that. I'm assuming that there is going something in the works bag cuz a lot of people have been complaining about that, so I'm assuming there will be some changes to that. Walmart's been making changes pretty quickly but that's a great question. I'll ask you, talk to our Walmart reps to try to get an update on if there's anything going on there. But yeah, that's a great question because for that is does become challenging for a lot of products.
Carrie:
All right. So we established our product initially on Amazon. We have noticed that some retailers were selling our product on Walmart. We tried filing a ticket, but Walmart advises that we have to coordinate with them, we cannot beat their listing. And it seems that it's not sponsored. Do you know how Walmart prioritizes listing retailers versus brand owners? This happens a lot where people basically get on to Walmart and their brand is already all over Walmart. So do you have any?
Michael:
Yeah, so that's a great question. There's something, there's like the content ownership scale within Walmart internally, and basically the way it works is there's an owner of the content and then the owner of the listing, the levels of it is at the highest is Walmart themselves. So if Walmart makes the changes to the listing, if Walmart that then them, they're the Walmart, they're the owners, second to that. And the highest the highest second to that is the brand owner. So as a brand owner you have the highest one. Now, even though you're the brand owner, a lot of times there's gonna be other people on your listings and they have comp ownership rights. Even though it's supposed to be that you have it, that's an issue and it's one of the biggest issues we come across with Walmart. Something that you have to do for that is number one, make sure you're sign up for brand portal, make sure you're using GS1 bar codes.
Michael:
If you're not using GS one, it's gonna be very difficult to win that case. Then what we usually do with our clients is we have a process where we open up cases with Walmart to actually become the content owners of that listing. Once we become the content owners of that listing, we take over that listing. So it's really important for that. There's other details to that, you can reach out to me more about it, but content ownership is a really big thing with Walmart. You just have to stay on top of it. Sometimes it takes two days, sometimes it takes a few weeks till you gain your content ownership, but it's just part of the process. A lot of people get stuck at this stage and then they give up on air. They don't focus on those listings, but as long as you put the effort into it, you could get your ownership back on those listings.
Carrie:
I think that's all of the questions. So do you have any last words of advice or anything you wanna end with?
Michael:
Yes, everyone. So I guess you know, a few things is that Walmart, we see it every single week. There's things changes, it's growing. We understand for a lot of brands you don't have the time to really set your brand up properly. But every single week or month that goes by that you're not really, and I don't mean just live on the platform, that your listings aren't optimized, getting ranked on the platform you're losing out and it gets harder and more expensive. So our agency is really structured so that it becomes very affordable for brands to launch on the platform, but also to have their, their brand managed at the highest level. Meaning having experts that are experts in attributes and aver in Walmart specific advertising conversions for Walmart and account management for Walmart. There's so many different touchpoints. And you know, having doing that in-house takes a lot of time, effort but also the costs a lot of times won't make sense for the amount of revenue you bring in the beginning.
Michael:
So urgency is structured different where it makes, it helps it make sense for a lot of brands to initially it might not have made sense for them to do it or to have it managed and to pay an agency to have a management. So that's how we're structured and we've been able to grow a lot of brands and it's been really fun. So yeah, if you're interested, just reach out to us sellcord.co, and yeah, we're one of the Walmart's agency approved partners. We work directly with Walmart. So you know, if you have issues getting your account approved or getting an account launched or listening to your products, just reach out to us and we'll be sure to help out.
Carrie:
Yeah, that's a big one. I get people asking all the time, like I didn't get accepted, what should I do? And I definitely recommend just reaching out to SellCord cuz you'll have better insights on how to help them with that. So it's a great. But end it. And maybe we can, we'll try to add your your website at the bottom, so sellcord.co for people who wanna contact them. And thanks again so much for joining us. I think there was a lot of really good people ask a lot about getting in stores and some of the other questions I think were really helpful for a lot of people. So I appreciate you joining us. Hopefully you'll be able to come again and answer questions and yeah. So thank you so much and we'll see you again next time.
Michael:
Awesome. Thank you.
Bradley Sutton:
All right guys. Hope you enjoyed that episode. Whether you guys are selling on Walmart or not, don't forget to sign up for our Facebook group. So we have a Walmart Facebook group that you can ask Carrie questions and other people, other sellers in there. It's called Winning with Walmart. So make sure to sign up for that on Facebook. And if you want a complete course on how to sell on a Walmart, Michael and Carrie did that within Freedom Ticket. So if those of you Helium 10 members who have access to Freedom Ticket, that's, that's pretty much all paid plans, have access to that. Go into your Freedom Ticket and then you'll see the last week is all about selling on Walmart. So check that out. Don't forget to use the Helium 10 tools for Walmart such as Magnets, Cerebro, Profits and more. And I wish you guys the best of success on your Walmart selling journey. We'll see you in the next episode.
---
Enjoy this episode? Be sure to check out our previous episodes for even more content to propel you to Amazon FBA Seller success! And don't forget to "Like" our Facebook page and subscribe to the podcast on iTunes, Spotify, or wherever you listen to our podcast.
Get snippets from all episodes by following us on Instagram at @SeriousSellersPodcast
Want to absolutely start crushing it on Amazon? Here are few carefully curated resources to get you started:
Achieve More Results in Less Time
Accelerate the Growth of Your Business, Brand or Agency
Maximize your results and drive success faster with Helium 10's full suite of Amazon and Walmart solutions.