#358 – Walmart Open Call & Amazon Product Launches
Today, we welcome Carrie and Michael Lebhar to talk about some exciting things happening to the Walmart platform, some new Amazon launch strategies and more!
Originally published on: July 5, 2022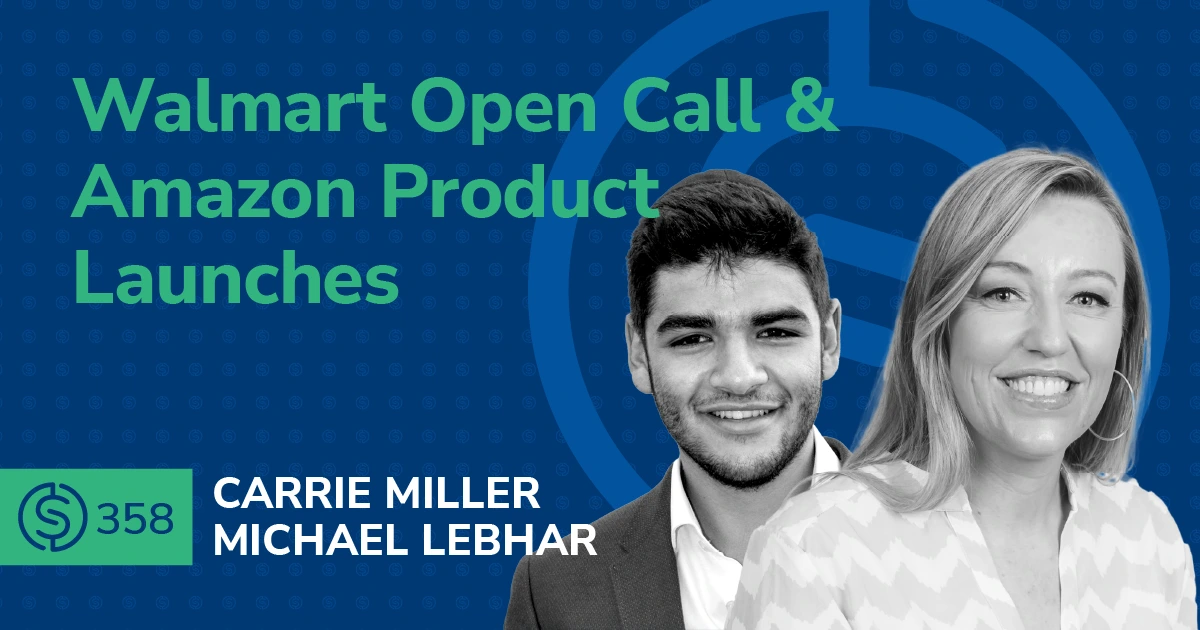 In this episode, we welcome back two of the most knowledgeable experts in the Walmart e-commerce space to talk about the Walmart Open Call program, experiences, and why is it a big opportunity for e-commerce sellers. They also share some business updates and tips on their Walmart and Amazon businesses like Helium 10 tools that you can use to optimize your Walmart listings, how to create successful Amazon product launches using PressX Live, and how the Post Purchase Pro strategies helped them to increase their sales.

They also gave a bonus peek into their respective Sell And Scale Summit topics so make sure to listen to the very end!
In episode 358 of the Serious Sellers Podcast, Bradley, Carrie, and Michael discuss:
02:45 – What Is Walmart Open Call?
04:30 – Michael Shares His Experience With Walmart Open Call
07:50 – Walmart Business Updates From Carrie
09:50 – Keyword Research For Walmart Listing Using Helium 10 Tools
11:00 –  Launching Products And Getting To Page One In Walmart
16:00 – Successful Amazon Launches Using PressX Live
18:30 – How Do These Types Of Launches Work?
23:10 – Amazon Business Updates From Carrie
24:00 – Using Post Purchase Pro Strategies
26:15 – Carrie's Favorite New Features In Helium 10
28:15 – Sell And Scale Summit Topic Previews From Michael And Carrie
30:30 – Michael's 30-Second Tip
31:30 – Carrie's 30-Second Tip 
Transcript
Bradley Sutton:
Today, we're talking to the two most knowledgeable experts for walmart.com to talk about some exciting things happening for Walmart sellers, as well as some new Amazon launch strategies and more. How cool is that? Pretty cool I think.
Bradley Sutton:
You wanna see the size of your niche or your market, maybe how much sales overall is it generating and more importantly, how the size of your piece of that pie changes over time, or maybe you want to know when there's a new mover or shaker an up and comer in your niche that you need to be on the lookout for. You can monitor these things and more with Market Tracker by Helium 10, find out more information at h10.me/markettracker. Hello everybody, and welcome to another episode of the Serious Sellers Podcast by Helium 10. I am your host Bradley Sutton, and this is the show that's a completely BS-free unscripted, and unrehearsed, organic conversation about serious strategies for serious sellers of any level in the e-commerce world. and representing the Walmart part of the e-commerce world, we've got a couple of serious sellers here, Carrie and Michael. Welcome back to the show guys.
Carrie:
Thank you.
Michael:
Thanks for having us.
Bradley Sutton:
All right, Michael, you are traveling all over the place. You're like in a shopping mall or something right now, trying to come on here. We've been having a heck of a time getting you on but were you out there visiting your fiance or this is a work trip?
Michael:
Yeah, so I'm actually out here visiting my fiance, but I was gonna, it was partially work because I have to fly to Arkansas to meet with Walmart and Sam's club on Monday and from LA there's no direct flights. So it takes like nine hour, I think there's sometimes, but they're also out. So it takes nine hours to–
Bradley Sutton:
Bentonville?
Michael:
Yeah. Bentonville. Yeah. So it takes nine hours to get those.
Bradley Sutton:
I remember those days when I would go out there. I mean, it's like the middle of nowhere, but like where half the population all works for Walmart in that little small town.
Michael:
Exactly.
Bradley Sutton:
All right. So let's actually talk about that because what you're attending is something I believe called "Open Call." So if you can explain like what that is and why, cuz this is something I've been preaching for, like ever like of why Walmart getting on walmart.com is important, cuz it's like a gateway to like what I think is the holy grail in retail, but why don't you talk about what Open Call is and why it's such a cool opportunity for walmart.com sellers?
Michael:
Yeah. So Open Call is something that's really exciting because it's so different. And you know, you've, you are starting to see this with Walmart is they really want to grow their.com. So they're leveraging a lot of what they have in place already to work on leveraging their.com. So now, you know, they have their stores, they're using them as distribution capabilities. They have a lot of brands that sell in their stores. They're forcing them to spend money on walmart.com and list on walmart.com. So one of the things that they're doing is they're incentivizing brands to sell on walmart.com by telling them that they have the potential if they sell on.com to be brought into stores. And it's really interesting because what you know, Open Call is in general, the main concept was they want to support like American jobs, American opportunities, American brands.
Michael:
So they committed 350 billion to buy from these brands. So it's not necessarily, they're looking for the largest brands or the biggest companies who could deliver the largest POS. Here, they're looking for something different, which is us brands, entrepreneurs, they're looking for that, but what they, they, they specifically outlined and they've been saying, and this is how they chose people for Open Call is if you sell on.com and you do well on.com or even if you just put the effort to.com, there's a very big chance. They'll choose you for Open Call. And what's really, people are like what? I only sold a few thousand dollars of my SKU on walmart.com. Why would that mean that they would meet with me and potentially give me a few hundred thousand dollars PO or anything like that? And for them it's because what they're looking for is two things.
Michael:
Number one, to incentivize sellers, to sell on the platform because they know that's how Amazon grew and they know that's what the lifeblood of their platform is. But also even though it's small, it shows a proof of concept because their website obviously doesn't have as much volume. It shows proof of concept that their customers purchase with you, that you fulfill your orders, that you do good business. And that's why they've been choosing that. And we've been seeing a lot of brands get, accept Open Calls. So it's a really interesting opportunity where you fly down, you have an in-person, 30-minute meeting to meet with the buyer and pitch them your products and pitch them why you're a great fit for Walmart. So it's a really interesting opportunity. It's an opportunity for maybe your product to get into five stores, a hundred stores, a thousand stores, or a few thousand of their stores. And you know, that they'll be making decisions based on, but it's great to see that. And it's, I think it's a really exciting opportunity for, you know, small brands and entrepreneurs, because you don't usually get those opportunities.
Bradley Sutton:
How many of your products are, are you presenting? What's like, do you have a feel of if you're like pretty confident that at least a couple of them are gonna get picked up?
Michael:
Yeah. I'm actually really excited about it. So for our supplement brand, we've been preparing, we're pitching, I think, 13 SKU for Walmart and what we came into it is Walmart chose one of our products that they want us to pitch, but Walmart wants to see an assortment they're very into the assortment. So instead we're like, you're right. Maybe we'll get in because we're a good brand. You know, we're an American company. You know, a lot of these things we did do good on.com will probably get in, but these products are not necessarily products. That'll move off the shelfs at Walmart because they're not the right price points. They're not marketed specifically for walmart.com customers. So instead what we did is we designed a full new line of SKUs that are packaged and price point specific for Walmart. So that way we have a much better chance of getting in, but also doing well if we get in and getting much larger store placements.
Michael:
So that's for Walmart, for our supplement brand. And then for my fitness brand, we're actually pitching seven SKUs. And the reason why we're pitching a lot of skews also is we're, we're positioning them as like working within a system. So it's like a workout system. So each one helps cross-sell each other, which is great because Walmart's really looking for a soit. And then we have a meeting with Sam's club, which is owned by Walmart. It's part of their and Sam's club has like a different type of offering. They're looking for, you know, in different type of offerings, you know, bigger bottles, bigger things. So we designed specifically for them, SKUs that will work really well for them. So it's gonna be really exciting. I'm excited to see how it goes. It's 30 minute in person. You don't have to work with a broker. It's really it's. It just, it's like a real relationship. You know, they ask everybody to submit videos, 30-second videos about you, about your company. So like you get to see who's posting, you get to see these brands, what they're posting, and it's a lot of just American companies, small brands. So it's interesting.
Bradley Sutton:
Okay. Now, any of these your walmart.com action that you've been doing has any of it been on the vendor side? Like, cuz I know there's a difference, you know, you can use Amazon or you can use Walmart, just like people use Amazon as a third party seller where you just put on your own offerings and you fulfill it yourself or you fulfill it through WFS. But then like on Amazon sometimes you know what they call Vendor Central, you know, Amazon will reach out and then cut POS and it's like shipped and sold by Amazon, but it's really your product. Walmart has something similar where they would like buy the product from you. And then it's like, it's kinda like shipped and sold by Walmart. Are any of your skews done like that or is everything still kind of like, you know, you are the, the seller of record for it?
Michael:
So we have still a couple skews that were like that you're saying, but the thing is Walmart's actually pushing sellers to sell themself and sell through WFS they don't, they're moving away from DSV and 1P for just specifically.com. So like on new products, they'll always say we'd rather you sell on WFS and honestly it's better for your margins and everything. We actually had a product that was 1P with Walmart and Walmart told us, let's switch this over to WFS really, it's not, even though they make more money by 1P it's, they really wanna, have this ecosystem of sellers who are really promoting their products, managing their products, pushing their products and really growing the platform like that. So it's interesting that they're moving away from that.
Bradley Sutton:
All right, let's go ahead and switch gears now to to Carrie. So Carrie, what about you? You've been running a big Amazon and Shopify business on your own and you've been gradually getting things set up on Walmart. Like what percentage of your Amazon catalog do you now have on your personal accounts like actually live on Walmart?
Carrie:
I just have a smaller percentage. I'm still in the process of getting some stuff shipped over to, you know, WFS, so let's see, I put my biggest skews on there for now. And then I have some smaller ones so that I would say, let me just calculate, I don't know the percentage, maybe 50%.
Bradley Sutton:
Okay. Okay. Now, once you got things on Walmart did you do anything as far as, you know, heavy PPC or search find buy or something like that in order to get on page one of the main keywords that you're targeting?
Carrie:
I'm still working on some of them for the keywords. My, my product's a little bit more niche and I was thinking that I wouldn't get sales for some of the niche keywords, but actually that's where I'm getting a lot of the sales is the niche keyword. So there, how do you there is that because I'm doing ads on, I'm doing pay-per-click advertising and so I can see where I've been converting. But yeah, I, once you get into WFS, you'll see a huge boost. So not only like I was doing PPC ads for one product that I hadn't sent into WFS yet, and they just weren't converting at all. And then once you put them into WFS, they start converting way, way better. So there is that whole piece of it, but yeah, so I've got a good amount in there and the pay-per-click ads really help now that we are able to get to the top of search. So I've been able to get to the top of search for some really big keywords, which is really exciting. So I'm still working out the details on pay-per-click advertising and you know, trying to refine it all, but it's been pretty, pretty good, especially for one product that wasn't selling as well on Amazon. I put it on Walmart and even act even before WFS it was selling without even doing any ads or anything.
Bradley Sutton:
Now, when you did your research for your listing optimization, your keyword research using Helium 10, you know, obviously you used Helium 10 for yeah. For your Amazon product to know what the most important keywords are. I'm just curious when you did that same thing for your Walmart and you used Helium 10, you know, which has the accurate search volume on walmart.com. Like, was it the same keywords you found were the main keywords or was it slightly different or a lot different
Carrie:
They're slightly different, some overlap and some are more, more general. And they're not as difficult to, you know, cuz I don't really go into the general keywords on Amazon for my niche products because it just doesn't make sense for me cuz it'd just be way too competitive. But on Walmart, I can. So I've been experimenting that there were some, I did a PPC campaign where I had some really big volume. Like there was like, you know, 150,000 searches a month on some of these keywords, like that kind of range. And I just started losing money on those cuz I'm just going against some big people, but I was, it was, it was a good try though, you know? But I probably wouldn't even show up for those on Amazon. So at least I had that.
Bradley Sutton:
Okay, cool. Yeah. You know, on the same subject of launch and getting to page one, you know, Michael, you have, you know, more experienced than almost anyone cuz you have so many clients that you help you know, get onboarded onto Walmart and help them out. So like what's, what's working for you guys, like what's your, I'm sure you have different strategies for different people depending on their size and stuff, but what's a general strategy of people who are just getting launching their products on Walmart, how are you getting them to page one of their main keywords?
Michael:
That's a great question. So, you know, obviously, you know, we deal across most categories, so every category has a little bit of specifics, but across the board, it's really just a few fundamentals it's we won't start doing any work on an account or for listings unless we're fully recreating the listing. And what I mean by that is fully restructuring the listing. So that means everything from like, and it doesn't matter. People tell us, oh, I already have my listings made and all that we go from the beginning where it's, we'll rewrite do the proper keyword research, obviously leveraging Helium 10, you know, there's so many, there's so much accurate data on which keywords to pick and you could spend all this time and you know, on be convinced because you know, Amazon so well that there's certain keywords that are really important.
Michael:
And you know, by just, you know, taking a little bit of time to check the search volume on some of these on Walmart, you'll realize on Helium 10's Walmart tool you'll realize which ones are important, but we'll properly structure the title descriptions key features specifically for Walmart's best practices, encountering like keeping in mind, you know, Walmart's best practices in regards to what they say they want. And then also what the algorithm wants. And sometimes it's two different things, you know? Because Walmart will say they want certain things, but the algorithm will favor certain things. And Walmart's working on trying to make everything that they want be what the algorithm wants. So to say, but basically keeping that in mind and then properly structuring the back end of listings are, is so important for Walmart. What I mean by that is all the attribute fields, making sure that all the categories are right.
Michael:
There's a few levels of categories within Walmart. There's like product type category, there's category paths. You know, a lot of times your listings don't get put in the optimal ones and you have to open up cases to switch those. So we'll make sure the listings are structured really well and really high listing quality score. That's really important. So we'll make sure it has really high listing quality score from there. We'll make sure that the conversion rate touchpoints are addressed because Walmart's algorithm is very strongly based on conversion rates. So if you're making sure that you're addressing the conversion rate metrics, then you're gonna be in a good position. So making sure you're WFS badges there, making sure, you know, and even if you don't have WFS you have fast shipping badge, you know, so two day shipping is showing up, making sure your price point, you know, sometimes we'll do cross like we'll do either clearance or a reduced price that helps with your conversion rate, your click through as well as obviously reviews, pro seller badge there's different levels.
Michael:
You could go into conversion rate, but we'll address whatever we can with conversion rate from there with very, very just strategic advertising and not even too much, you could usually rank for most of your top keywords really quickly. So that's our base strategy. Now with certain categories and certain products, you're gonna need to be more aggressive, right? With supplements six months ago, you didn't need to now you need to be more aggressive with it. So we might add some very specific search, find, buys. We might, you know, upfront invest a little more in reviews. And that depends category by category, but to not overcomplicate it's really just making sure your listings are structured correctly. And from then on you're in a really good position. Otherwise, you're finding an uphill battle, which you're just eventually gonna lose or eventually have to, you know, or you're gonna have to spend more money and time and effort on every effort you're trying to do.
Michael:
So that's really, really been working really well for us. For us, it's like we try to get ranked for all those keywords that really matter that bring in sales, but also those keywords that are important that are not bringing enough volume yet. What's great is we've been able to see that we've been able to rank for these keywords to maintain rank. And then even though they're not bringing big volume as the platform's growing or as seasonality grows, things like that, we're maintaining those positions and we're gaining those sales and gaining traction there. So it's very important for us to maintain those organic positions in the stronghold and to Carrie's point. There's a lot of times in catalog, we'll have onboard a new client, they'll have like a few hundred skews and they'll be like, I really want you to focus on these SKUs.
Michael:
These are my top selling skews and we'll tell them, you write, those are your top selling skews on Amazon, but like there's a ton of opportunity on these other skews, which you might have not had any chance to launch on Amazon way too competitive price, whatever the case might be. And there's sometimes a lot of opportunity for those, or sometimes there's a lot of search volume around those. So, you know, really by just spending time on the platform and just even shopping, searching around, you get an understanding of it and you're able to really see how to best position your catalog.
Bradley Sutton:
All right. Excellent. Now we'll come back to Walmart in just a little bit, but I wanted to switch gears Michael, a little bit to Amazon now. I talked about this in episode 350, the Maldives episode launch. And I said that I was gonna be trying like a sample, a run on this, but can you talk a little bit about the success you're seeing with Press X Live and some of the success stories, you know, I talked a little bit about in the episode, you know Alina had told me a couple of stories that I shared about some, some crazy traction, but explain the concept behind this kind of new-ish method of launching, like why it works and then a little bit of how it works. And then maybe some couple you'll have to say the specifics of what product they had, but a couple maybe success stories you can talk about.
Michael:
Awesome. Yeah. So, you know, I've always felt this with Amazon is that there's always, you know, there's always been tactics for launching products and when the platform was newer, tactics lasted for longer, but I've always tried to find things that fundamentally made sense because those stay and you're able to really scale those. And there's so many different advantages you get from them. So, you know, press is very interesting because if you think about the challenges where Amazon is the challenges with launching, and there's some stuff that just come to mind, it's like number one, launching a new product, you don't have reviews, no matter how much money you have and how much thing you really can't scale reviews at the pace you need to. We launch our supplement brand. We had a large budget that hundreds of thousands dollars dedicated to try to really launch unproperly, but you can't scale the amount of reviews that you need to get to fast enough.
Michael:
So that's one big issue. We know that Amazon's, you know, been favoring, external traffic a lot. We know that a lot of the tactics of actually launching products and a lot of the, the, so to say Gray Hat tactics, and the just the, I guess you could say the hack tactics, they just started working less and less. So they just they haven't been feasible. So the way press is, and I think it really addresses those touch points. So the way press is with Press X is basically you, you pitch your product Press X, pitches it to publishers, right? Different publishers who wanna actually write about your product. Now, by them writing about your product. The reason why they do it is normal press. The way it works is, is, you know, different authors people with connections reach out to different authors, different writers, try to get them to write about a product.
Michael:
The writer's a lot of times, not really interested in writing about it, but also the publication's not really interested in promoting it, right, because why would a publication promote a product that, you know, they're not gonna really make you sales from where they're making very small affiliate sales. It wasn't so advantageous for for publications. So even when you get an article written in a lot of times, it wasn't driving a lot of traffic. The way this works is you pitch it to the publication. The publication writes about it and they get paid per click. Now they don't get paid per click for clicking on the article. They only get paid per click when the person clicks on the product that's within the article. So the publication writes an article about your product, which is in essence, usually a review. And what's great is, you know, your product really well.
Michael:
So you could tell them specific things that you want them to try to include and talk about the product, and then they'll write their own messaging around that, but a lot of times they'll include those things. You could even send them different images, different UGC you have. So, you know, if it's good, they might include it in the article as well. And what happens is they read an article. So let's say for example, women's health picks it up. So they read an article about your resistance bands, let's say. They read a whole review. They'll off the writer. A lot of times they'll use the product before they write it from there, from, you know, their experience. They'll also, you know, bring in reviews that they'll see on Amazon or from, from your site or whatever, you know, it sounds really trustworthy.
Michael:
So now somebody off you know, a customer comes or a reader comes trust women's health. So there's a certain level of trust there. You're reading this whole article. It's a sales pitch in essence, but there's also coming from a review. So there's another level of trust there. So they're sold on the product, the product benefits, and trust. So now when they click on that product, they're very, very inclined to purchase. They don't need a bunch of review. They're not shopping like the Amazon shopper, that's looking for a thousand reviews or 2000 reviews, or what has more reviews they're already sold on the product and trust the product because the author, but also because of the publication that put it out and they understand the benefits of the product. And if they want the product, because that'll be included in the article. So when they come to your product, number one, it's external traffic, number two, it's high converting traffic because they're not gonna click on it unless they're actually somewhat interesting in purchasing.
Michael:
And number three is they're not shied away by the amount of reviews you have because you know, a lot of that is overcome really in the article where they address that. So it's really been–, and you don't know have to pay unless they actually read through the article. So I think it's a very interesting way to launch products. And I think it's the future for, you know, launching products for a lot of different reasons. And, you know, it allows you to really get, you know, get authentic customers, customers who also, especially if you're in spaces that are competitive, like beauty and supplements, but have repurchase rates, these just type of things where you're spending money on those acquisitions. But those are really good customers that are gonna probably come back and repurchase, you know, as opposed to giveaways and things of that nature.
Michael:
So it's been really interesting. We've been doing some tests and we saw how like for certain beauty product that we were doing it on how not only the sales grew so exponentially during that period. And it was actually profitable during that time, which I wouldn't expect it always to be profitable, like on, on that initial purchase, but on these initial purchases, it was profitable anyway, but not only that, our BSR increased like crazy. Then we got to number nine in beauty. But then also what happened was we got a ton of subscriptions. And what I saw the subscription rate from those customers were higher than the subscription rate from customers purchasing on Amazon, cuz I think they were just less skeptical. So a lot of times Amazon customers will purchase and then they'll subscribe here. We saw a really high repurchase rate then. And not only that, the really cool thing is, and I'm Jewish, I always like a little bit of free extra money.
Michael:
With Amazon ads, new brand referral bonus program, they actually give you 10% back for any external traffic you're driving. So what you do is you could actually use that link and give it to the public within press you submit that. And that's what the publication uses to actually promote your product. So not only you could track the sales and sometimes attribution doesn't track accurately, but for any of the sales that it tracks, you're getting 10% back too. So that's great as well. So, and you get to see, you know, clickthroughs conversions and things of that nature. So I think it's really interesting. I think there's a big opportunity. Our consumer brands are gonna start doing this as well, but Amazon brands get so much more out of it because it's like, you're getting that rank. You're getting that external traffic, you're getting, you know, these really loyal customers. So I love it.
Bradley Sutton:
Cool. All right. Well we, we gotta get that, you know, make sure to reach out Michael, we gotta get Press X into the Seller Solutions Hub, hub.helium10.com. So make sure to reach out and let's get that in there. But in the meantime, you guys wanna check out more information, go to pressx.live, and then I'll be trying to do a case study on that for a Project X or Project 5k. So I can show you guys how it works in, in the near future now back to Carrie, like on the Amazon side, what about you? How's your Amazon business going? You know, how have you been dealing with, with, you know, shipping price increases and things like that what's working for you, what's not working for you on the Amazon side?
Carrie:
Well, I actually am getting ready to do Press X Live, so I'm, I'm gonna be doing that soon. So I'm excited for that. Yes. But Amazon we've been steadily growing, so over the years we've just been really steady. And just continuing to grow and our brand is expanding. And so in terms of what's working, I think is just consistently, like I actually updated some images. I realized some of our best selling products had terrible images on them. And I updated the images and that's helping quite a bit, but I mean, I'm really just doing the same things we're doing were consistent with pay-per-click advertising. Just consistent with making sure that we're always in stock. We actually had to raise our prices because of inflation. So we didn't go that much higher. We only raised them about a dollar. So we're kind of continuing to look at that. But I also did some post-purchase pro strategies and we got some sales that way by just following up with customers and getting them to reorder on Amazon, which was really helpful.
Bradley Sutton:
How did you capture their–, is this only the Shopify customers or are you talking about some Amazon customers, you were able to be able to follow-up as well?
Carrie:
Amazon customers. Yeah. So we did some follow-up.
Bradley Sutton:
So you have an insert card or how did you get the info?
Carrie:
An insert card. And then we have a coupon code that goes with that. So we kind of tracked it that way. So when people use the coupon code, you could see that that's where they got it from. So it's, you know, it's a slower build, but it definitely is something that over time I know is gonna work because we weren't doing that before so we were kind of leaving money on the table and I'm pretty excited about that. But yeah, I'm really excited for the Press X stuff, you know, just trying to send some outside traffic. And our Shopify has been doing pretty well too. We've been upping our ads, our Facebook ads, and we've got a lot of repeat, repeat purchasers on our Shopify site. So we've been growing and focusing on that too because it's just easier to control the customer journey there.
Carrie:
And we didn't really focus on it as much before, but it's definitely adding quite a bit of revenue every month and we're really happy with that focus as well. Okay. But I really am diversifying everything we're on Walmart, Shopify, and Amazon, so we're really, you know, not making it so that we're stuck on one platform and that I think is important. So yeah, I mean, we just really do basic stuff. I mean, we're not really doing any kind of hack other than just basic things and being consistent with them. And I know some people are down, but we've been growing consistently. So that's pretty good for us
Bradley Sutton:
Now, remember guys, a lot of the stuff that Michael and Carrie just mentioned, you know, be at the attribution link so that you can get the bonus and, and Carrie's talking about insert cards, so you can capture customer's information stuff, you know, remember Helium 10 has all this stuff. Now, a lot of people don't realize they're paying other services or trying to figure out how to do it in Seller Central, but we've got all this, you know, and part of some of these have been recent updates in our Bigger, Better Launches. Now, Carrie, what about you? You know, you're not just a Helium 10 employee, but you're, you're an Amazon seller. You're a Walmart seller of the things that we've launched lately. What would you say is other than the Attribution tool, like what are some of your favorites that, that you've been using or that you think you're gonna use?
Carrie:
Well, I love Cerebro, the One Click Filters I just went in there cause I did some serious manual research months ago and kinda like really went through every single word that came. And I was looking for those opportunity keywords and I utilized the One Click Filter and just found a few more. And I haven't been the best at doing my own PPC, but we launched another brand and I'm doing the PPC for it. And I started just with those keywords that I found. I did manual exact campaigns with the keywords that I think are gonna be the best. And we've been doing pretty well, like with the conversion and I'm seeing sales, you know, going up pretty well with just using the words from Cerebro that I see as opportunities that maybe people are missing and putting 'em into different campaigns.
Carrie:
So Cerebro has always been just my favorite tool and constantly redoing back in there and checking those keywords, I find more. I think the last time I did the keywords was two months ago when I checked last. And then I found more because the summertime people use this particular product for camping stuff. And so those camping keywords are coming up more now than I didn't see before.
Bradley Sutton:
So that's important. Yeah.
Carrie:
So keyword research, I think being consistent with your keyword research is going to help with pay-per-click and just, you know, optimization in general. And I think a lot of us kind of fall on that, especially if you have a lot of skews, but that's something I'm focusing on. And with the One Click Filters, I think that's probably yeah, the best, the best tools that we've launched in a while in my opinion, I love that cuz it just saves me a lot of time.
Bradley Sutton:
All right, now let's switch gears now. You two are gonna be on stage together at the Sell and Scale summit that is coming up in September. And so what I've been doing, Is having different speakers at that event, come on here and give, you know, not to give away their whole presentation or anything. But if you can just give one little tidbit of some information that you're gonna give out in your presentation to show people the value and the level of coolness that they're gonna be able to experience if they come to Sell and Scale, which actually coincidentally, not coincidentally, but it is sponsored, you know, our principal sponsor for this is Walmart itself and they'll be there in person answering your Walmart questions in your WFS questions. They'll have representatives right there, so that's a reason enough to go. But, but Michael, first of all, can you give us like one little thing that you're gonna talk about in your presentation at Sell and Scale to kind of wet the appetites of the attendees?
Michael:
Yeah, so we have a few different ranking tricks that I'm definitely gonna wanna drop there, but something that you know, I think is gonna be really valuable for everybody is there's a few key things that you could focus on that next year, you'll have a very, very, very high chance of getting your product accepted to Open Call. And we had a lot of clients that by just properly structuring a few things and paying attention to a few things, we're able to get them into Open Call and they'll actually be there with me at Open Call this year. So that's gonna be how I'm gonna finish it off. And there's a few really interesting things there that people aren't paying attention to that I've heard directly from our contacts at Walmart. So yeah, I'm excited for it, but we're definitely gonna wanna try to cover a lot of fundamentals that people are don't don't know, and that people don't think are important. And you know, showing different case studies and how, you know, you could see different changes make so much of an impact and which changes, cuz there's so much stuff you could focus on Walmart, but like showing which things and which changes are the ones that make the impact. So that's what I'm, we're gonna wanna focus a lot on.
Bradley Sutton:
Cool. What about you, Carrie? What's something on your part of the presentation that you can give out now that you're gonna be talking about?
Carrie:
Yeah, well, I'm working on just testing some different ranking strategies and I've got a lot of different products going in. I'm gonna be sharing my results as well. I know Michael has some case studies, but then it'll also be kind of interesting for everyone to see, you know, just from a normal seller, what it's like putting these strategies into place and what the outcome is. And you know, basically, I'm gonna just share what I'm doing and how it worked. And I think it's gonna be really good. So yeah, working with Michael on that, I don't wanna give too much away cause I want people to come, so strategies and using our tools to your benefit. So.
Bradley Sutton:
All right. Excellent. Excellent. All right. Let's go ahead and close it with our, you know, 30-second tip of the week. It could be about Walmart could be about Amazon Michael, what's your "TST", what's your TST of the episode.
Michael:
There's so many different ranking tactics you could do, but if you're gonna be investing money and ranking, you might as well invest in these channels and these sort of say tactics and strategies that actually build your customer base. And I know it sounds obvious, but with the spending the same amount of money and just thinking through on customer acquisition and actually good customer experience, you're able to actually build really solid ranking strategies and really solid ranking groups so.
Bradley Sutton:
All right, Carrie, what about you? What's your 30-second tip of the week?
Carrie:
Yeah, mine is to think kind of long term and to just always focus on the basics because I know I have kind of fallen off the wagon with it, with the basics. Like I was mentioning before, you know, doing keyword research every few months, finding those opportunity keywords. Now it's super easy to do that, but also investing in strategies off of Amazon, like, you know, Press X and just, you know, blog writing. There's a lot of different–, there's a lot of information out there on how to kind of keep building your brand outside of Amazon so that you can have a presence all over the place. And I think that that's kind of what I've been thinking of more is how can I build this outside of Amazon while also, you know, building it on Amazon. So it kind of all works together. Blog, writing, influencers, what's what's your long term thought, not just some sort of next hack or like I'm gonna just, you know, quickly do this or that, but just thinking about the long term and just doing the things every single day and making it a point to continue to grow your business. So those that's my tip. It is basics.
Bradley Sutton:
All right. All right, guys. If you're interested to see and meet in person Michael and Carrie, see them on stage interact with them party with them at the Nelly concert make sure to sign up for Sell and Scale h10.me/s3, h10.me/s3. And the discount code to save a hundred dollars off is S3BS100, S3BS100. So make sure to attend there. I'll see you guys there. And I'm expecting both of you to be in my Zumba class that I'm doing on the first day so that we can be dancing it and and be able to eat and drink as much as we want, because we burned all the calories. In the morning. And one last bit of trivia, you guys won't know this, but I wanna see if anybody who's watching this on YouTube, I'm wearing a very unique hat here.
Bradley Sutton:
And little tiny H you can see, which is why I'm wearing it, there's like a Helium, but this is not a Helium H anybody know what team this is. I'm gonna give like a Helium 10 backpack, maybe to somebody who puts the right answer on our YouTube version of this podcast. Cuz I love wearing hats that have the H obviously for Helium 10, but this is a very unique team right here. So anybody know what this logo is. Anyways guys, thank you for joining us and we'll be seeing you in September.
Michael:
I'll see everybody at the show. I'm excited.
---
Enjoy this episode? Be sure to check out our previous episodes for even more content to propel you to Amazon FBA Seller success! And don't forget to "Like" our Facebook page and subscribe to the podcast on iTunes, Spotify, or wherever you listen to our podcast.
Get snippets from all episodes by following us on Instagram at @SeriousSellersPodcast
Want to absolutely start crushing it on Amazon? Here are few carefully curated resources to get you started:
Everything for your business on Amazon.
Find out more about our products by signing up or speaking with one of our
Customer Success representatives today. With us in your corner, you can enjoy
more sales and increased engagement from your Amazon business.
Chat with a Support Specialist