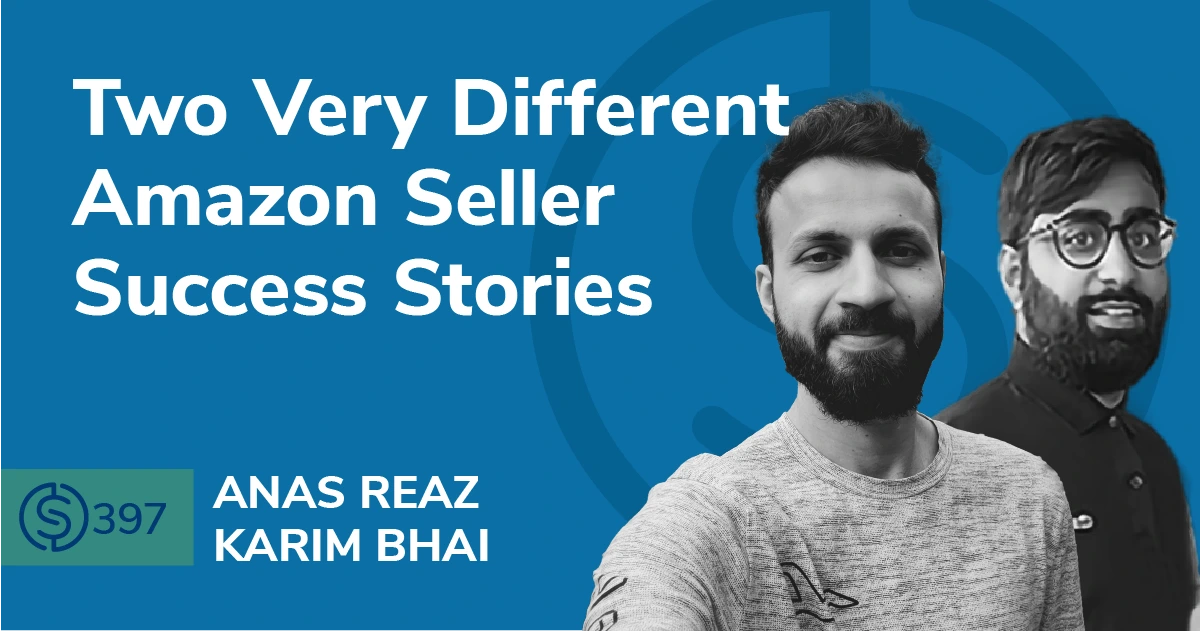 #397 – Two Very Different Amazon Seller Success Stories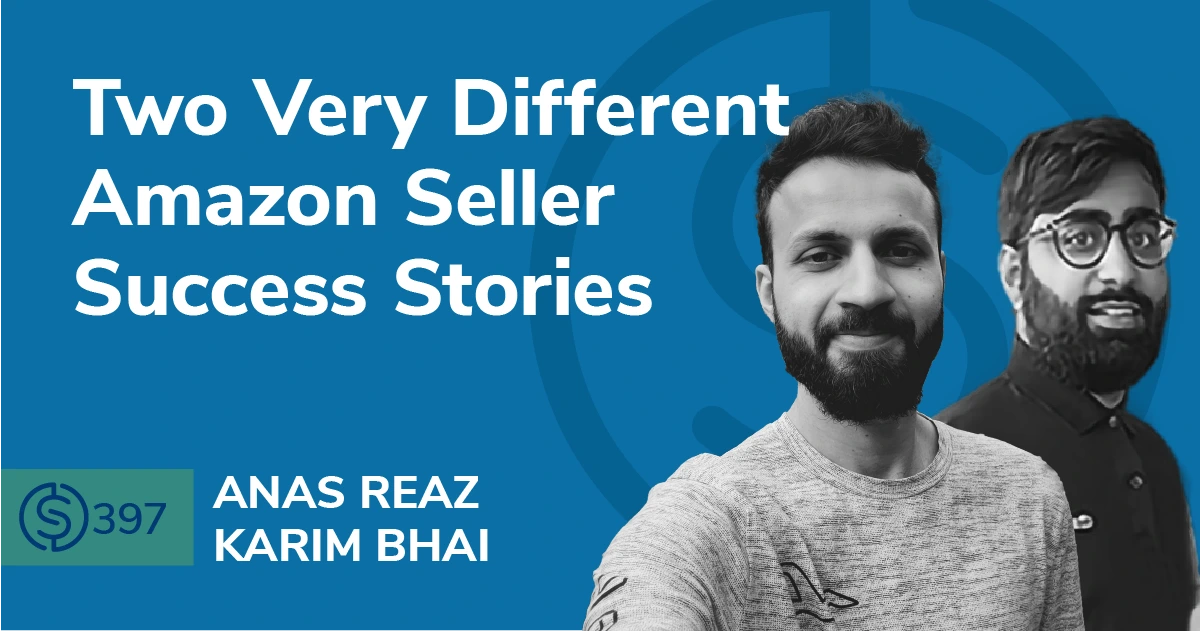 We have a very cool episode today as we speak to two sellers. Anas Reaz, Digital Marketing Director of AMZ Onestep, is a new seller who started selling 30 units daily from day one in his venture. Our next guest is Karim Bhai of Umbrella Fund, an advanced seller estimated to sell $20-25 million in gross sales this 2022. Listen to their journey, tips, and strategies that all Amazon, Walmart, and E-commerce sellers of all levels can appreciate.
In episode 397 of the Serious Sellers Podcast, Bradley, Anas, and Karim discuss:
02:30 – Anas' First-Ever Product Launch
04:00 – His Product Research Strategy
07:00 – Figuring Out A Brandname And Getting Brand Registry
08:30 – Anas' Sourcing And Shipping Process
10:00 – Business Registration, 3PLs, And Initial Orders
12:00 – Getting Initial Launch Momentum
16:00 – Selling 30-40 Units Per Day Consistently
18:00 – Should You Slow Your Sales Down When Running Out Of Stock?
19:00 – Tweaking Prices And Other Pricing Strategies
24:30 – Karim's Backstory And How He Got Started In E-commerce
26:20 – Estimated To Make $20-25 Million In Gross Sales
27:00 – Buying, Growing, And Scaling Amazon Private Label Brands
27:45 – Biggest Pivots His Team Did Because Of Amazon TOS Changes
30:00 – Karim's Tips On How To Grow And Scale Your Business
33:20 – Talking About The Amazon Search Shuffle
34:50 – Outside Traffic Through Google Ads
37:15 – What Should Be The Frequency Of Reoptimizing Your Listings
39:03 – The Amazon Death Spiral Encounter
41:00 – Karim's 30-Second Tips
44:30 – How To Get In Touch With Karim Bhai
Transcript
Bradley Sutton:
Today we've got a cool episode as we've got two different sellers at the opposite end of the spectrum, both having different levels of success. First up, we've got a brand new seller who started selling 30 units a day from day one. And then we've got another seller who actually is gonna be selling 25 million dollars this year on Amazon. How cool is that? Pretty cool I think.
Bradley Sutton:
Are you browsing a Shopify, Walmart, Etsy, Alibaba, or Pinterest page? And maybe you see a cool product that you wanna get some more data on. Well, while you're on those pages, you can actually use the Helium 10 Chrome Extension Demand Analyzer to get instant data about what's happening on Amazon for those keywords on these other websites. Or maybe you wanna then follow up and get an actual supplier quote from a company on Alibaba.com in order to see if you can get this product produced. You can do that also with the Helium 10 Demand Analyzer. Both of these are part of the Helium 10 Chrome Extension, which you can download for free at h10.me/extension. Hello everybody, and welcome to another episode of the serious seller's podcast by Helium 10. I am your host Bradley Sutton, and this is the show that's a completely BS free unscripted, and unrehearsed organic conversation about serious strategies for serious sellers of any level in the e-commerce world. And we are having a couple of guests today. Anas, how's it going?
Anas:
Good Bradley, how are you?
Bradley Sutton:
Pretty good. Pretty good. Now I just got back from Asia, I'm here in California now. Where in the world are you right now?
Anas:
So I'm actually in Edmonton, Alberta. It's darn cold. so you're probably enjoying California, but it's pretty freezing here. It's about the negative, like, I think 20 degrees outside.
Bradley Sutton:
Goodness, gracious. That's pretty cold. I've see you all over the world, be it in Germany and Pakistan and here in the United States. But we haven't sat down and talked shop and I was talking to Saddam a couple of weeks ago, and I was like, "Saddam, you heard any cool stories lately about one of your clients or one of your team who's got something to say. I'm looking for some fresh blood for the podcast and I want to hear some cool strategies." He's like, "Hey, Anas had this like, really cool launch." And I'm like, "stop there. I don't wanna hear anything else." I like to hear this stuff first, so I know nothing except that you were involved in some kind of launch now. Is this for like, your own product or one of your clients, or what happened here?
Anas:
So it was my own so basically what I've been doing, at AMZ Onestep is I like the digital marketing director, but I've been doing everything like outside of the Amazon space, so I know when you started off you said like, serious sellers, this was my first launch and it was, was my personal launch. And I can start from scratch.
Bradley Sutton:
Well, hold on. So was it like, you know, you've been working with AMZ Onestep and seeing like clients just like make a gazillion dollars, having success and you're like, "wait a minute, I want a piece of this action." Is that kind of like how you got inspired or what?
Anas:
I also wanted to like dip my toes into some of the Amazon stuff cuz I was doing everything outside of Amazon. I typically just do Shopify stores and Google ads and Facebook ads and everything respective to that. And basically, we had been launching products for some of our clients over the past year or so, and I was like, if our team's doing it, I wanna launch my own product as well. So how it started off was like, this was about eight months ago, so it took us probably around eight months to do a full launch, which is a really long time. Typically it's a lot shorter. But this was a third product that we actually got samples for and–
Bradley Sutton:
Are we talking about the US market or Canada or where?
Anas:
for the US market?
Bradley Sutton:
Okay. What was your product research method?
Anas:
So Helium 10 was being used primarily. and basically, I've been a lot on like the back burner essentially the team was doing a lot of the heavy lifting. I honestly don't know half of the stuff. All I know is you have to find a product you have to use your–, for criteria method. How we differentiated as part of that was, um, when we actually looked at the products, they found the product niche that I went in, it was like kitchen products there were still some, like a lot of competitors selling that had like 25,000 reviews, right? We're entering into the same market and it was very hard to–
Bradley Sutton:
You're doing exactly the thing that we teach you not to. So I'm sure maybe there was something that gave you an idea though that you might have success. So I'm just wondering about your thought process there.
Anas:
Yeah, for sure. That's what I was saying, they had tons of reviews, and there were a lot.
Bradley Sutton:
We're supposed to have serious strategies. That's not serious. Everybody's like, "oh, I gotta go find a market where everybody's got 25,000 reviews if I'm gonna be successful." What are we teaching people out here now?
Anas:
Yeah. So the difference between like our launch and what they were reselling was the number of like kind of bundled products as part of it. So we had a set of three. And we saw that people were selling single units. So we upped the game and we did like a set of four and nobody was really doing that.
Bradley Sutton:
There we go. So let's pause here. I was just busting his balls a little bit there, but I knew it had to be something like that, like I've said before like you gotta think like a buyer guy when you're trying to get ready or look for an opportunity. And then like me personally, if all things are equal and I see, you know, five products or 10 products on the top of page one that has 10,000 reviews and a brand new product I've never heard of and has zero reviews, why would I ever wanna get that zero you know, that one that has five reviews or zero reviews. Well, there's a chance though, if you're able to differentiate or if you have something that nobody else has where they're like, you know what? This doesn't have reviews, but I really need a red one and if everybody's got blue then the reviews don't matter. Or, you know what, I really need four. I don't want three. This one has no reviews, but I'll get it. So just remember guys don't always just completely disregard a niche just because of the review level here. We have a great example of how you can overcome that. Alright, continue the story, please.
Anas:
Yep. And then the second thing that we did was when I was searching for a brand name, again, this is like a brand new brand, I kind of like, I was like, "Okay, what, what can I do that will make me look like a very, very big brand?" And we did a spinoff of like KitchenAid respectively. I don't wanna say my brand name, but it was very close to that. So it kind of just put that emphasis that this is not like a random brand that just is after my name or something like that. So I feel that also has an impact. And somebody just says–
Bradley Sutton:
Did you get the Brand Registry?
Anas:
We did, yeah, a hundred percent.
Bradley Sutton:
So you must have got a trademark for it.
Anas:
We did, yeah.
Bradley Sutton:
In what country did you get the trademark? Canada or US?
Anas:
Just because of my experiences, like outside of Amazon, what I always do is make sure that a domain name exists. So I know a domain name exists, which means that not a lot of people are actually there as well as you don't have to fight battles afterward. Like when you think your brand's gonna launch extensively. So I think that was one more piece that I felt really helped in like, kind of showing the product.
Bradley Sutton:
Okay. Let's take a couple of steps back though. You got a brand registry and everything, but before then, how did you source, tell me about your sourcing before you even got to that step. Cause like you said you had to get samples and vet it. Like, did you only look at China? Did you look at any other countries? What was your sourcing process like?
Anas:
We looked at China primarily. We used Alibaba. And basically, we got a few samples from suppliers and the highest quality. We didn't want to like just get the cheapest product. We wanted to focus on quality because we wanna build this as a brand and not just like once the reviews start flowing in, you can see that like we have within one month, we've gotten about 10 reviews already.
Bradley Sutton:
Okay.
Anas:
So, they've been pretty phenomenal.
Bradley Sutton:
10 written reviews or ratings? Are you talking about the number or you actually have 10 people who actually wrote something?
Anas:
So we've got about, from what I can see, again, I'm not an Amazon expert.
Bradley Sutton:
We have a lot of listeners who are exactly in your shoes, so don't feel bad at all. This is good.
Anas:
So what I see is I see 10 on when I go on the listing, and then when I look in the backend and I can actually see text, there's about five or six
Bradley Sutton:
Okay. That's about standard, about half. Because nowadays, people can just leave a star and then not write something. And actually, that's a little bit high actually now that I think about it. You know, I think my ratio might be four to one. So that's actually a good sign if half the people actually wrote something, that means they really like the product. Alright, cool. So you sourced in China, and got the product in, now I'm just wondering how does that work? Are you a Canadian citizen?
Anas:
I am. Yes.
Bradley Sutton:
So when you registered on Amazon USA, did you like do it on Amazon Canada first and then like USA is like your second marketplace? Or did you register as a Canadian business, or what did you do there?
Anas:
So yeah, we registered as a Canadian business and you can sell on Amazon USA through that, so.
Bradley Sutton:
And then I'm assuming, did you ship your inventory directly to Amazon or did you go to a 3PL first and then drip some in,
Anas:
directly to Amazon? So we just had an inspection in the middle basically.
Bradley Sutton:
So was it 500 units?
Anas:
It was a thousand.
Bradley Sutton:
A thousand. Wow. A thousand units on your very first order. So yeah, that takes some confidence there. Okay.
Anas:
And we were almost sold out, so I just yesterday put in the order for air shipping we ordered 3000 more units. So I dunno if you want me to jump into it, but basically–. So for the first month, we started off at a price of $9.99, and I have some stats here. So we started off at $9.99, and we were making about a dollar profit. then we increased the price and we went over to $10.99, at that point–
Bradley Sutton:
Now, hold on. Let me ask you something though. Like, this is for whatever it was, the ones that are all three that have thousands of reviews, what was the retail price for those about?
Anas:
They were about $12.99.
Bradley Sutton:
Okay. About $12.99. Yeah. So that's the strategy. I mean, honestly, I would've done that even if I lost money. You said you were still making a dollar, but usually, when you launch it's like, "Hey, you know what? I'm cool with losing money. I'm gonna have like this sales price just because I wanted to make it a no-brainer for people to buy." But they see three for $12.99. Four for $9.99. Seems like it worked for you. In the beginning, though, you know, before you start getting momentum, what was your strategy in order, I'm sure you had to use Helium 10 to like target the keyword. "Hey, I found out with Helium 10, this is the keyword that I need to get on page one for." So was it like just some heavy PPC bidding or how did you get that initial momentum?
Anas:
So all we used was Cerebro, right? So starting off with the listing, we made sure all the keywords were in the listing properly optimized. And again, the team completely took care of that. We made sure that all the images were very, very high quality. We didn't cheap out on non-model kinds of images. We went–
Bradley Sutton:
Did you do it at your Chinese studios?
Anas:
We did, yeah.
Bradley Sutton:
Actually, I don't know if you heard, but I've always used US or Canada, I've used, you know, the AMZ Onestep Canada Studio for some Project X things. But then when I found out that you guys had the Chinese studio, I was like "that's actually a pretty good idea because now I don't have to send air freight samples back and forth and it could get stuck in customs." So I'm actually doing a test right now at probably that same studio that you did yours at to just kind of like show people how, how it works. But that's pretty cool. So your images you feel are like better than the competition?
Anas:
I think so. because most of the competition, they're like bigger brands. So most of these bigger brands. Typically don't even invest in like–. They just don't. So for us, we are focused on Amazon, they're just listing it as one of their other channels. So for us, we did like photography with models and in our Chinese studio, we actually have Caucasian models as well, so it doesn't look like you're getting it done from China. Then we also did a video as well, even though it was like a lower-end kind of price point for a product, but I wanted to make sure it was the best that I could do. And I think that really, really helped. So making sure that whenever somebody comes in, the conversion rate is through the roof.
Bradley Sutton:
Yeah. But then that's my question though, cuz like you can have the best, most amazing listing in the world, but if you're stuck on page seven, nobody's ever gonna click on your listing. So like how did you get those initial views? Like, how did you get your product in front of customers?
Anas:
So I think, and again, the team managed everything. What they did was they did a lot of heavy PPC initially.
Bradley Sutton:
That's what I figured.
Anas:
Yep. So they set up all types of campaigns from my understanding we basically, so from the numbers it, the first day we did about like 35 units sold.
Bradley Sutton:
On the first day?
Anas:
In the first day with zero reviews, that was very, very consistent. And basically, we started ranking really, really fast, and 70% of our sales were organic. So even though we were doing heavy PPC, I don't know how it was happening. That's why like, you know, we were like, what happened here?
Bradley Sutton:
But I bet you they were using some of the Maldives strategies we talk about where they probably had–, I mean, you don't have to tell me, but do you know what your main keyword, like your top one or two keywords are, like the highest search volume and like, most important to your listing?
Anas:
Yeah for sure.
Bradley Sutton:
Are those keywords in your title?
Anas:
Of course. Yeah.
Bradley Sutton:
There you go. If you've got the main keyword or keywords in the title and you've got a brand new listing in the honeymoon period and you push that PPC hard, you could get organically ranked even from, um, from day one, sometimes very interesting. Okay, cool.
Anas:
Yep. And we were in the top seven. So starting off, we were in the top seven respectively, and we were basically getting about 30 to 40 per day sold consistently. And then we were like, we're gonna run out of stock like a thousand units will run out in less than a month. We have 25 days for the supplier to actually make the product. If we sea ship it, it's like another 30 days. So that's two months out. So what we decided–
Bradley Sutton:
What's the size about?
Anas:
The size of the?
Bradley Sutton:
Like this water bottle or like a coffin shelf or?
Anas:
No. It's like it is a pretty light product.
Bradley Sutton:
So then it's like you're not gonna lose a lot of money if you airship, in other words, because it's, it's smaller on the smaller side.
Anas:
Yeah. So we just air-shipped it. We got about, it was $9.73 cents per kg for air shipping. I don't know if that's expensive. It was like seven times more expensive than sea shipping. So we just sent over like, um, about 500 units via air shipping and a thousand via slow sea and then a thousand via like the faster sea. So that way it likes, kind of splits it out. But that was like my biggest piece that I didn't comprehend or understand. Cause it's like two months when you order something, it's gonna take two months, so your inventory has to be ready and you like, kind of don't know how much it's gonna sell for a new launch. So you have to be like, ready respectively. So the way that we countered it, we were like, we have to slow down sales even though we're making a profit, we have to slow it down respectively. So we don't run out of stock.
Bradley Sutton:
I don't like to slow down sales. I'll tell you that right now. I tell people, yeah, I'll sell out if things are going crazy. The natural reaction actually is to want to, slow it down cause you don't wanna run out. But at the end of the day, the danger in that– Now it doesn't sound like that happened to yours, and there's not a one size fits all thing here, but most of the time the danger in trying to slow sales is because now all of a sudden you're conversion is down, your page views are down and you start losing organic rank. That being said, if a product, I have seen this before, if a product's in the Honeymoon period, sometimes you don't even–, you might start, you know, you literally might start in slowing the sales down, which normally on a mature listing and would make the rank go down. But if it's in the Honeymoon period, sometimes it doesn't go down. Is that what happened in your case? Like even though you were slowing sales, the keyword rank stayed, or what happened?
Anas:
So the keyword rank did stay, and again, the first week it was all 30-35. And we hit like 40 plus as well some days with like zero reviews. What we did throughout the month was, we could close down the listing as well. And I know that doesn't impact, um, from my understanding, it doesn't impact the actual ranking. We just felt like we need to test out different points as well. This was the first–
Bradley Sutton:
Different price points?
Anas:
Yeah. And kind of see like what FBA fees has become, how much are actually selling. So then we can go out, you know, with proper inventory and then have a good pricing strategy. We put it at $12.92, not $12.99. I don't know if that makes a difference, but we put it at $12.92. Our sales are still like 20-25, and we're still really happy with what's happening because our strategy was initially we were like, we'll close the listing, but then we were like, you know what, why? Let's just spend more money to get it out there. So it's already airship now as of yesterday. And, you know, we expect not to lose or not to finish our inventory. And then at that point, we can kind of decisions we're making about $2.34 cents per unit.
Bradley Sutton:
Okay.
Anas:
I think netted about $700 for the–
Bradley Sutton:
Even after PPC and everything else,
Anas:
After it was close to negative 300. So we spend–
Bradley Sutton:
Okay. I was about to say, like, to be profitable in your first shipment, that that's kind of crazy when you're launching. That's actually pretty decent to only "lose $300 on a launch is pretty impressive."
Anas:
Yeah. And I think going forward, just because our rankings are there our profit margin has significantly increased to be able to spend more on PPC. That's a combination of like the old price, the middle price, and obviously the other ones. But now we're at the stage where each unit, including PPC, costs on a daily basis, we're actually profitable.
Bradley Sutton:
Okay. So I mean, this is your first product and selling 25-30 a day. Something we learn here, guys, is sometimes one of the things is now we see why the keyword rank didn't go down. It wasn't just the fact that it's in the honeymoon period, which sometimes helps, but it's also their sales, you know, didn't really go down much. Their velocity stayed the same. And that's important. Like sometimes we, you should think about raising the price, you know, you don't always have to be the cheapest. especially if you have more value, and you should always test as they did. Take the price up 50 cents, take it up a dollar, you know, AB split testing, different things.
Bradley Sutton:
Amazon has that now. So, sometimes Amazon sellers think they have to always be the cheapest or just have some rock bottom price. But that's not always the case. So, very interesting things. Now, what's your plan– Obviously you are rushing shipments left and right, like, are you already starting to look at other products you might be able to sell under this new brand that you guys started, or are you just trying to double down on this for a while? Or what's your plan going forward?
Anas:
So I think both we're trying to make sure that this kind of product still maintains its sales velocity as well as we have enough inventory as well as we're trying to like, split it up. So a lot of competitors have like single units, so we're trying to see if we could enter that market. We looked at other marketplaces as well, so Canadian as well as the UK side, but there weren't enough sales respectively to like go in yet. From what I've heard as well as what I've seen brands last versus just a single product, right? So if you could have a brand and like multiple products there, I think it just helps respectively to like creating that brand. And they usually last longer time versus just having a single product that could be anything that could happen in terms of seasonality or respectively for that.
Bradley Sutton:
So in a year or so, I wanna reach back and let's see who knows, maybe your price will be 1499 and you guys are selling 50 units a day, I'd be curious to see how's it going. But hey guys, if you're out there and, and you're brand new to Amazon, jump in, he wouldn't have had this if he gave up, after the first couple of samples, he didn't like it. He could have just given up. Some people do that, but he is like, no, I'm gonna do this. I'm all in, I'm getting a thousand units, and let's go. And so you guys sometimes need to just take that leap of faith after, of course doing the proper research and everything. And when you do that, you know, it's not guaranteed you'll be successful every single time, but you're putting yourself in a position where you can be successful. If you don't even try to launch a product you're not even in the game. So, we can see that, you know, it can definitely work out. So honestly, thank you so much for joining us. And let's see, maybe we'll link up in Peshawar or somewhere else in the world soon.
Anas:
Sounds good. Yeah, thanks Bradley, for having me. And looking forward to kind of like, I'll share some things with you afterward as well, just like, please do. Yeah. And as the launch kind of keeps on going, I'll share more on how it actually went after a few months.
Bradley Sutton:
I love it. Alright, we'll talk to you later.
Anas:
Awesome. Alright. Take care.
Bradley Sutton:
Alright. So next up, we've got another guest here, um, more experienced as far as I know I've never really talked to him, you know, much in-depth, but Karim, how's it going, man?
Karim:
Pretty good, man. How are you doing today?
Bradley Sutton:
I'm doing alright now. Where are you located?
Karim:
I'm in Houston, Texas.
Bradley Sutton:
Houston, Texas. Okay. I'm in Southern California, so maybe around this time of year, it's kind of similar weather. Summer gets a lot hotter in Houston. Is that where you were born and raised?
Karim:
Yeah, I was born and raised in Houston, Texas. Been here my whole life. Can't complain.
Bradley Sutton:
Excellent, excellent. Now, what was your original career goal before you went on this path of e-commerce?
Karim:
So originally I think I was like a lot of brown people. We wanted to be doctors and lawyers. That's what we kind of really wanted to do, and that's what we kind of went to. And then I actually got my degree in finance instead, so I went the banking route.
Bradley Sutton:
Okay. And then how did you get turned onto e-commerce then? Like how did you switch gears?
Karim:
So I was working in banking and then I went into a kind of tech job and I was doing more systems. I became a Systems Analyst, and then I was just going through Facebook and I came across the wholesale formula. So that's kind of how I got into it. I ended up buying that class and learning everything from there.
Bradley Sutton:
What year was this about?
Karim:
This was about 2016, so I was about a year outta college. I was doing my corporate life and I really did not like it. Doing that nine-to-five was just not that much fun. so I kind of switched gears got that program and did that for about a year and a half. And then I was kind of hesitant to get, get into the private label business. And then with my brother and my sister-in-law, I actually we launched a private label business on Amazon and I was still doing my wholesale stuff and we started to shop on Etsy too. So we were kind of going full force on all marketplaces.
Bradley Sutton:
When was this?
Karim:
This was 2017
Bradley Sutton:
Also just a year later after you started.
Karim:
Just a year later.
Bradley Sutton:
Now fast forward to 2022. Like, what do you think you're gonna end, with however many accounts you're associated with, what do you think you're gonna end this year in gross sales, would you say?
Karim:
About 20 to 25 million this year.
Bradley Sutton:
And is it all private label now or is it still mixed with wholesale or what?
Karim:
So it's all private label, so about in 2020, so I, my brother, and two of our friends that also sell on Amazon, some of them have had exits and they haven't actually been selling for 10 years. We kind of got together and we're like, "man, we're pretty stupid for not working together and kind of doing our Amazon stuff together since we have so much experience." And we actually started Umbrella Fund, so we started buying businesses at that point and kind of growing and scaling those. So it's all of them together we're gonna be doing about 20 to 25 million.
Bradley Sutton:
So how many of that, if any, like, are ones that you just started on your own as opposed to ones that you took over?
Karim:
So about four brands are the ones that we started on our own with my brother and my sister-in-law.
Bradley Sutton:
Okay. Are any of them still around from like when you first got into it in 2017?
Karim:
Yeah, they're all still around, still doing 4 or 5 million a year in revenue growing those, and actually adding to a couple of those new brands as well.
Bradley Sutton:
Okay. What to you is like some of the biggest changes that you've had to pivot on since you've been selling since 2016-2017? You know, some of the things that come to my mind that have changed, you know, like incentivize reviews, you know, search, find, buy, two-step URLs, inventory issues. There's been a lot of either TOS changes or just general changes that have affected the way Amazon sellers have to deal with things. What are some of the biggest ones that you'd say have affected you and your team's operations?
Karim:
I think the biggest one is actually FBA fees. So I was reading some stat the other day that FBA fees have increased 30% since just 2020. So I know a lot of sellers are hit pretty hard this year, including us was the change from regular weight to dimensional fees. So we have a lot of large items that don't weigh much. So that kind of hurt us quite a bit. And that's kind of when we started focusing more or a lot more on our packaging and kind of condensing everything into smaller packaging and trying to get more stuff in small standard, small might, regular standard and doing a lot of those changes. And it's kind of, we're reaping a little bit more of the benefits in this quarter by implementing it earlier in the year. Cause Amazon had their increase in picket back fees for Q4 too.
Bradley Sutton:
Okay. Oh, in those niches where you're doing that, what are your competitors doing, if any? Like are they just, you know, business as usual, or do you see them reducing their package size at all to stay competitive or what's going on?
Karim:
So some of them have started to, but a lot of 'em have just started hiking up their prices. So to compete with that decrease in FBA fees, they just had to go up in their prices and kind of, not really, rework their whole packaging. So a lot of it we gotta condense using bubble mailers using thicker boxes. So one of the biggest things was using thicker boxes so there wasn't that bulge in the box, which Amazon, the Cubi Scan usually picks up and then has a bigger either dimension one or the other way.
Bradley Sutton:
Okay. What other things are you doing that you would say, like for example, you weren't listening in, but before you, I was just interviewing somebody, um, who was doing their first ever launch. They'd been working for an Amazon company but, or an Amazon agency, but they had never launched their own product and they were just, you know, going through the things that a brand new seller would go through and a lot of sellers out there, you know, might be new or new-ish, that are just doing some of the standard things. To get to the 25 million mark, even though it's growing your own brands, whether it's purchasing others, you don't get there unless you're doing something that's a little bit unique and a little bit higher level than just the common Amazon seller. What would you say are some of the things that you guys are doing differently that's allowed you to scale to this kind of number?
Karim:
I think one of the biggest things that people really overlook is doing keyword tracking. A lot of people aren't doing that and we use the Helium 10 keyword tracker and we kind of use those rocketships to kind of on our main products and our main keywords to keep track of those. Cause there are a lot of people who don't really notice that or take even take that into consideration. And then whenever they see their sales, um, go down, they don't know exactly where it's going down. And a lot of times it's maybe a new competitor came upon a certain keyword or somebody's bidding a lot more. And as you know, especially in the past two years, PPC has kind of gone a little crazy and gone 2x what it usually is 2-3x what it usually is.
Karim:
So you gotta be really competitive and um, use your budget and the right keywords. and then I think one of the other things is kind of updating your content all the time. So we've been using Signalytics to do a lot of our content and rework a lot of our content. When we buy, um, brands, a lot of times the content has never been worked on. And that's one thing, especially nowadays more of the images are for the customers. Cuz I think half of probably more than half of us never even read the bullet points anymore. We just look at the images and probably go to the second or third one and after that, we decide if we're gonna buy the product or not. We usually don't even get to the sixth or seventh image. And also make sure you have your videos there are a lot of brand videos that are converting quite a bit. They might not be helping you as much in sales rank or keyword rankings, but they are helping you in sales and getting your brand out there a little bit more.
Bradley Sutton:
So like going back to what you were talking about like Keyword Tracker. So so what are you focused on? Where you are ranking organically sponsored or both?
Karim:
So it's a little bit of both, right? So you wanna make sure you're not necessarily spending all your budget on a keyword. You are already number one organically on, you would wanna spend it more on ones that you're kind of trying to fight for. And also in the keyword tracker, you can tell the search volume. You don't wanna be spending a hundred dollars a day on a keyword that only has 50 search volumes a month. It doesn't make sense. unless it has 50 conversions on those 50 searches, then you definitely do. But knowing that search volume, the competing products, and kind of going after those specific ones that are gonna help you gain the most momentum, gain, the most rank in sales.
Bradley Sutton:
Have you noticed recently, actually the only people who notice this are the people who do use Boost, which is that rocketship that he was talking about? But every couple of years it seems like there's a big wave of what we call the ASS, the Amazon SearchShuffle where I don't know what goes on, but since Helium 10 is not just checking like one address and one browser, when we have boosts on, we're checking different states and different addresses and different browsers and something, but then usually nothing ever stays the same across the board. That's why me, maybe you're looking on your browser, you might see rank 10 and but Helium 10 might say 13 or something. But kinda like around there. But then recently, at least me, I've been noticing some of the stuff I've had Boost and some of the other customers where that shuffle is happening where all of a sudden, Amazon is throwing me on page two and three sometimes. Is anything like that happening on your side?
Karim:
Yeah, so we've been noticing that, especially this past weekend. I don't know if you've noticed when Amazon took away the reviews, I think they were trying out something new and took away the reviews, I think in the health and household category. That kind of threw a lot of that keyword tracking and the boost off. so what I usually do, and our brand managers do is, um, look at it on their own browser, try three or four different zip codes, and then also, um, as we all know, most of your sales come on mobile, not even on your computer. So making sure to look at that on a mobile device and using different zip codes over there really gets you that feeling if you're there or not.
Bradley Sutton:
Are you doing any kind of outside traffic, like Google ads or influencer marketing, or things like that?
Karim:
Yes, and we have seen a boost in some of our keywords and our products since doing that. Some work on some it doesn't. And we're trying to build out our influencer platform a little bit more and are kind of working on that, especially for Q4. And doing some Facebook ads and using Amazon attribution links on those Facebook ads to see if we can get some more traffic on there.
Bradley Sutton:
So, you know, what's like, what's your targeting strategy? Like, do you try and target the words in Google that are like your main keywords on Amazon, hoping that there might be some residual rank juice that happens? Or do you just like to follow data only on what you see in your Google Analytics?
Karim:
No, so we actually use our Google analytics keyword tracker, and a lot of times what we've kind of noticed is a lot of people still go to Google and put in like the caskets Amazon. I know you always bring up those caskets though. They always put Amazon still even when they're searching in Google. Yeah. So we've been targeting a lot of those specific keywords. So we have like different campaigns that are specifically a keyword than Amazon, um, as a separate one and then one that's just the keyword.
Bradley Sutton:
Okay. That's interesting. So, and then you, you know, similar to what you do at Helium 10, you're using some kind of tracker like, "Hey, let me make sure my ad is showing up on page one of this Google result." Interesting. Okay. It's different metrics we use, some people use TACoS some people use RoAS, some people use ACoS, and things like that. But for the layman out there, if you were to compare, you know what it cost to get a sale on Google compared to PPC, do you just try and make it kind of even or, or do you find it's way more expensive to get the conversions on Google or vice versa?
Karim:
I actually find it cheaper on Google, especially if you have the targeted keywords. But again, a lot of the time our goal is not necessarily to have a very good conversion on there. It's more to help our ranking on Amazon. Cause Amazon loves that external traffic. So if I can see my BSR getting better and better as I do more ads, then it's beneficial to me.
Bradley Sutton:
Okay. So, earlier in this you mentioned, I dunno if you used the word frequently, but updating the listing. So my question is what is the frequency of whether you're doing it, whether you're using Signalytics to change images and change copy? You know sometimes in my opinion, like, you know, people ask me, I was just on a call, matter of fact, like an hour ago I was on like a one-on-one call with a Helium 10 Elite customer and, and they were asking about updating the listing. I'm like, well, you don't want to like change your listing every week because, you know, sometimes it takes the algorithm a few days to recover and if you're doing it every week, they don't know what, you're gonna screw things up. But do you guys have like a sweet spot where you're like, you know what we need to kind of reoptimize our listing every six months or every three months or once a month, let's take a look at it. Like what's your cadence?
Karim:
So, um, I think it, we usually try to at least do some AB testing every six months. But it also depends on how the product's performing. Like if our conversions have gotten better, if they're starting to dip or if our PPCs not converting as much, then we really wanna hone in on that. And we have our weekly like-brand calls for each brand. So we go through the brands and see which products are declining, if they are, and which ones are improving, and see if we did experiments on those. And if they are declining, then we kind of analyze do we need to do an experiment and we'll get an audit done by Signalytics and see if we can see kind of what's going on and pinpoint it and see if it actually is, maybe it's not our image and maybe it's our price point and the market's kinda shifted.
Bradley Sutton:
Okay. You've had some brands that have been around for five-plus years. There's something that Casey, a few years ago I remember like at Billion Dollar Seller Summit or something had talked about. It was like I forgot what was called, Amazon Death Spiral. I think he coined it where sometimes he said it seemed like when he was at Thrasio there would be mature products that just like hit a wall for some reason. Like you can't get it, like it used to be always top of page one, and now it's like still on page one, but it's like 13-14. But no matter what you would do like it just can't go back up to like the top five. Like with any of your mature products, have you ever kind of like hit a wall like that where even though you're converting like crazy maybe in PPC, the organic ranks just don't seem to be responding?
Karim:
Yeah, we've had some brands or some products that do that and it's just kind of making sure, and that's when you do a little bit more of the AB testing and see if that helps you out. Cause Amazon does like that and making sure you're hitting those keywords like exact, maybe at the front of your title, that's when you're trying to change your title and make sure that that's indexing a little bit more using that ranking juice, like we were talking about, making sure you have that all the ranking juice in there so that Amazon picks it up. But there are sometimes when I wish we knew more and more about Amazon's algorithm, but at some point if you're converting and it's still making money and still doing, it's sometimes it's okay not to be at the top of the page, but you also know if it is converting near the same amount and people are scrolling down far enough on the page to get there.
Bradley Sutton:
Okay. Excellent. Excellent. The point is that you know, people shouldn't just give up. There are different things you can try, and you know, just make sure you're, you're doing everything you can, I think it definitely helps that you're sending the outside traffic and also trying different things. But some people just give up and they're like, "oh, I guess this product is done." Don't do that.
Karim:
And sometimes you can do virtual bundles, you can do, you can pivot it, add something to your product, as a variation or it might be simple as there are some new colors out there and you just need to try some new colors.
Bradley Sutton:
Okay. Yeah, that's a good point too. We do this thing that we call the TST 30-second tip. Like, let's say if you can do knock out two of them, you know, like what's something, you know, you've been talking some general strategies here, but what's something specific that one or two that you could say in 30 seconds or less? Not both of them, but each one is 30 seconds to a minute. Like that again, like I'm looking for stuff that you think that you do that you know, maybe 90% of sellers might not be doing.
Karim:
Yeah. So actually one of 'em is probably, I'm gonna hit back on that FBA fees thing. A lot of people aren't going back and repackaging their stuff, they're just trying to make the packaging look prettier. But when you're making it look prettier, make sure that you're condensing that product as much as you can to get that lower fees. Even a quarter of an inch can take you down a dollar and that's gonna kill you. That's gonna improve your margin so much and it's gonna make you better than your competitor. Go out, buy a couple of your competitor's products and just see what they're doing, and how they're packaging, or use the FBA fee calculator and see if anybody is lower than you on their fee. If they are, then you know that they're doing something better than you and they're making more than you.
Bradley Sutton:
And do you have alerts, Helium 10 Alerts activated for your products?
Karim:
Yeah, so we have Helium 10 Alerts that are kind of on there and we use the Helium 10 Profit Tracker to look at our sessions and conversions. We use a lot of almost every Helium 10 tool.
Bradley Sutton:
Well, I specifically ask about the alerts after you mention the dimensions. Like, have you ever noticed where Amazon will just randomly change one of your dimensions and make it big and then all of a sudden it puts you into another tier? Or maybe you're paying more money than you, you should. Has that ever happened to you?
Karim:
Yeah, so that happens all the time. Cause Amazon does the Cubi scans and a lot of times they don't even pick up your new packaging. So it's good to make a separate SKU with your new packaging so that you can differentiate which one is the new packaging and which one's an old one, or else you're gonna get stuck in that cycle. Cause you have one item that's left over in the old packaging. Amazon just for some reason, it's just bad luck and they keep scanning that one item over and over again when you have this whole new packaging that can save you a dollar or two. But yeah, doing the regular re-measurements if something spikes up, use the alerts from Helium 10, keep track of 'em. If it goes up, remeasure it and hopefully, you'll get back to your lower fee. Especially right now because fees have gone up another 5%.
Bradley Sutton:
Okay. Yeah. So, guys, I don't know what the number is, but 50 to 75% of listeners probably already have Helium 10, at least the Platinum plan, if you guys have the Platinum plan, you all have full access to Alert. So you're leaving money on the table, guys. If you're not taking advantage, it's literally free. If you're already paying Helium 10. He's got 25 million worth of sales. He's got numerous ones where Amazon is changing dimensions. It happens to me. I'm a lot smaller seller and that happens to me all the time. Turn Alerts on cuz you don't know how much money Amazon might be taking based on maybe a wrong dimension. One more tip or strategy for us.
Karim:
One of 'em is probably something that you guys have been using a little bit more is using the Brand Analytics with the search terms that Helium 10 has kind of moved into Magnet. So I've been actually paying attention to that a lot more since those keyword data you can actually get. So if your product is not doing as well as last year, or if you're seeing some spikes, make sure to go into your Brand Analytics, look at those keywords, and sort by your searches or your purchases. So you can see that maybe there's a keyword that you don't even know. It's a random keyword that you've been hitting and you're not even advertising on it, and you're in the middle of the page and do a put a high bid on there and gets at the top of the page. And that can make or break your product.
Bradley Sutton:
Awesome. Awesome. All right. If anybody wants to maybe, you know, reach out to you or see what your other, you know, your, your other company does how can they find you on the interwebs out there?
Karim:
So I'm on LinkedIn, Karim Bhai, or you can just email me at [email protected].
Bradley Sutton:
Awesome. Awesome. Well thank you so much for joining us and sharing your knowledge and look forward to, you know, seeing you at another Helium 10 event or social or something maybe Prosper next year. Will you be there?
Karim:
Yeah, yeah. We'll be at Prosper, and probably be at Sell and Scale again too.
Bradley Sutton:
Awesome, awesome. I'll see you at prosper then and then Sell and Scale in the fall. Talk to you later.
Karim:
Perfect. Thanks so much, Bradley.
---
Enjoy this episode? Be sure to check out our previous episodes for even more content to propel you to Amazon FBA Seller success! And don't forget to "Like" our Facebook page and subscribe to the podcast on iTunes, Spotify, or wherever you listen to our podcast.
Get snippets from all episodes by following us on Instagram at @SeriousSellersPodcast
Want to absolutely start crushing it on Amazon? Here are few carefully curated resources to get you started:
Achieve More Results in Less Time
Accelerate the Growth of Your Business, Brand or Agency
Maximize your results and drive success faster with Helium 10's full suite of Amazon and Walmart solutions.