#276 – Five Hours a Week, or Full Time? Two Amazon Sellers Tell Their Stories
There really isn't such a thing as a typical Amazon seller. Two entrepreneurs from opposite ends of the spectrum about e-commerce in 2021.
Updated on: September 2, 2021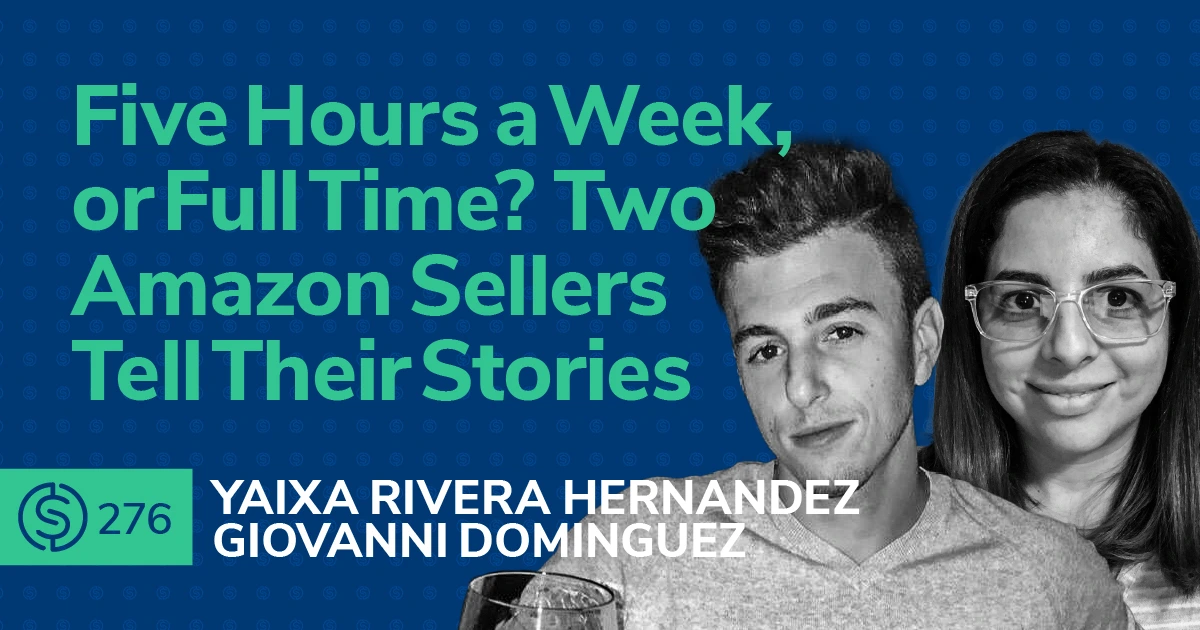 One of the things that's so refreshing about e-commerce is the fact that there isn't just one way to find success on the growing number of online marketplaces. Do you want to sell wholesale, or through online arbitrage? Are you going to try Amazon, Shopify, or maybe Walmart? And finally, are you attempting to achieve "quit my job" income, or dedicate a few hours a week to the marketplace of your choice to make a little "fun money?"
In this episode of the Serious Sellers Podcast, Helium 10's Director of Training and Chief Evangelist, Bradley Sutton welcomes two sellers who couldn't be any more different. Yaixa Rivera Hernandez is an engineer with a family who says that over the last few years she's put in five or six hours a week to maintain her six-figure Amazon business. Giovanni Dominguez left school to build his rapidly growing seven-figure Amazon business. Still single, he's a full-time online seller.
Where they intersect is in their commitment to Helium 10's software as their preferred e-commerce tools. Listen in to hear about their current strategies and as well as how they have each adapted to the changes on Amazon (and in the world) over the last year.
In episode 276 of the Serious Sellers Podcast, Bradley, Yaixa, and Giovanni discuss:
03:45 – Snowboarding Trips Sounded Better Than the Office
07:15 – Yaixa is Drilling Down in Her Niche
10:00 – The Pandemic Really Blurred the Lines Between Personal and Business
11:30 – For Giovanni, it's Amazon All the Way
14:15 – Giovanni's Keyword Research Allowed Him to Expand His Marketing Efforts
16:15 – The Serious Sellers Podcast Helps Yaixa Keep Moving Forward
19:30 – Managing the Rising Shipping Charges in 2021
24:00 – A Move to a California-Based 3PL Helped Shrink Supply Times
26:15 – With 300 – 450K a Month in Sales, Giovanni Plans to Double His Growth
28:30 – Forced to Make a Pricing Change
31:30 – Toy Certification Has Created Another Hurdle
34:00 – Putting Exact Phrase Strategies and Aggressive PPC to Work
37:00 – How Review Insights Helps Identify Top Sellers
40:15 – Giovanni is a Big Fan of Helium 10 Elite
Enjoy this episode? Be sure to check out our previous episodes for even more content to propel you to Amazon FBA Seller success! And don't forget to "Like" our Facebook page and subscribe to the podcast on iTunes, Google Podcast or wherever you listen to our podcast.
Want to absolutely start crushing it on Amazon? Here are few carefully curated resources to get you started:
Transcript
Bradley Sutton: Today, we talked to two sellers at opposite ends of the spectrum. One's a full-time engineer with a family who's got only five hours a week to work on Amazon. And the other is a single college dropout whose main income is Amazon. Find out about their inspiring stories that have resulted in over a million dollars worth of sales. How cool is that? Pretty cool, I think.
Bradley Sutton: Really quick guys. I am doing an episode that's actually going to feature all of you. You guys know how I ask our guests for our TST, 30-second tip. I want your best Amazon or Walmart 30-second tip strategy or hack. Now these have to be completely white hats. Alright? No black hat, no shady stuff, but prepare what is your best tip. And we're going to pick the best ones to actually be on this podcast. So, prepare for it. And then you're actually going to give your voice to it. You're going to record it by going to H10.me/SSPsubmit, right. Again, that's H10.me/SSPsubmit. You'll record your tip right there. And if you're picked, we will go ahead and put it on the podcast and you guys are going to be heard by over 80,000 people that listen to this podcast monthly. So, I look forward to hearing your 30-second tips.
Bradley Sutton: Hello, everybody. And welcome to another episode of the Serious Sellers Podcast by Helium 10. I am your host, Bradley Sutton, and this is the show that's a completely BS-free, unscripted and unrehearsed organic conversation about serious strategies for serious sellers of any level in the Amazon or Walmart selling world. We've got a couple people here who I know are Amazon sellers. I'm actually not even sure if I saw them at Walmart or not, but we're going to ask them that. Yaixa and Giovanni, how's it going guys?
Yaixa: Awesome. Good afternoon.
Giovanni: I'm doing well, Bradley. Thanks for having me.
Bradley Sutton: Alright now, Yaixa, this is not the first time, guys, that she's been on this episode. If you want to get her full backstory, make sure to go back either on a helium10.com/podcast, or you can just search for it if you're on Spotify or your Apple podcast player, or whatever podcasts device that you have. Go back to episode 127. It was about a year and a half or so ago. We had her on and we entitled that one $180,000 on six hours a week. We had hyped her up because she's like basically a rocket scientist here. That's our main job, or was her main job at the time. Then she was only working like six hours a week on Amazon, and started out as a hobby kind of like for fun, and was profitable on it. It was a really cool story. Guys make sure to go back and listen to her full backstory, but this is the first time we're meeting Giovanni here. I thought we'd just start with you a little bit. You're actually– I think you're in Miami, but is that where you were born and raised?
Giovanni: Yes, I was raised in Miami, Florida.
Bradley Sutton: Okay, cool. Upon graduation from high school, did you go to any local college around there?
Giovanni: Yeah. When I graduated high school, I went to Florida International University.
Bradley Sutton: Okay. What was your major?
Giovanni: My major was Finance.
Bradley Sutton: Finance, so exciting. Oh my goodness. Now, when you graduated, did you get right into that or what did you do after that?
Giovanni: So, I didn't graduate. I actually left school to start my Amazon business.
Bradley Sutton: I like it. So, guys, it might sound like I set that up and I literally had no idea about that. So, that's cool. I love to hear that. So, you're in college, spending, I don't even want to know how much you or your parents were spending on that. At what point is it like I need to start looking for something else or did Amazon just happen upon you or were you just actively looking because you're just frustrated with college life or what happened there?
Giovanni: Sure. So, I was in school, I was in my fourth year, I was actually close to graduating and I was interning at Scottrade at the time, which is a retail brokerage for stocks and all that, which they eventually got bought out by TD Ameritrade. But I'm interning at this finance office. I'm in college and I'm really not liking just the business in general. I love the stock market, but I wasn't enjoying the office life, being there from eight to five. And so, I was doing a little digging and I had a buddy who had a Shopify store. And this guy, my buddy, which eventually became my business partner, he was going on snowboarding trips and he's 21 and he's living this free life. And I'm in the car before I go to the gym with one of my business partners, Paul, which you met at the Prosper conference as well. And I told him, I want to live the life that Tommy's living. I don't want to be in an office eight to five, the rest of my life. And one day we're in the car and we're like, why don't we start an Amazon business? And he's like, let's sell those water packs that they saw at those festivals and right there, that's how the idea was born. At that moment I went all in. I went right for it.
Bradley Sutton: Wait. Hold on. That's not natural to think that Amazon has an opportunity. How did you guys know that that's even a thing? Like, I would say the average person, obviously everybody buys from Amazon, but I think the average person probably thinks that it's all Amazon products. How did you guys know that that's even a thing? Did you guys see YouTube ads or something?
Giovanni: No, we didn't see YouTube ads. It was mainly my business partner, Tommy. He was in e-commerce and Shopify since he was 18 years old. And this is when we're 22. So, he's been in the business for four years. And when we told him about the idea that we wanted to sell e-commerce, he's like, why don't you guys try Amazon? People are doing it. It's a great opportunity. People are selling tons of products making millions of dollars a year on Amazon. If I was to do e-commerce, I would go with Amazon. So, me and my buddy Paul were like, okay, let's go for it.
Bradley Sutton: Okay. That makes a little bit more sense that it came from your buddy who was already in e-commerce. I was like, that's not exactly a normal conversation. Yeah. Let's just sell on Amazon. Usually, somebody has to know about it first. So, Tommy was the one. Now it's very funny that was the niche you went into, you know, for those who listened to the podcast, like two and a half years ago and stuff, I actually was like, "Hey guys, I'm going to launch these backpacks because one of my best friends is the EDM DJ, Slushii." He's the one who actually makes the intro music that we have here on the podcast. He's been on the podcast before, and I had this whole plan. I was like, you know what, I'm going to make these hydration backpacks. And then I'm going to have him do some kind of licensing on it. And he's on the marshmallows in the same group. And all these big stars are all in the same group. And I could have gotten, hopefully all of them, to be honest, I had this big plan, but I was so busy with Helium 10. I never got around to it. So, you went, I know you didn't steal the idea from me, but great minds think alike, I guess. Huh?
Giovanni: Exactly.
Bradley Sutton: Let's go ahead and switch back to Yaixa before she thinks that we forgot about her. Now, I remember the last time we talked and obviously I have intimate knowledge of some of your products, because I was storing them in my warehouse for you for a while. But you were mainly like in the toy kind of niche, has that continued or have you branched out to other niches as well?
Yaixa: No. Right now, that's exactly what we are doing, we're still in toys.
Bradley Sutton: Hey, I like it. If it ain't broke, why fix it? So, I don't remember that $180,000 figure. Was that your 2019 sales or what exactly was that? Can you remember?
Yaixa: I think that was 2019, yeah.
Bradley Sutton: Okay. How did you do last year?
Yaixa: 230, more or less.
Bradley Sutton: Okay. So, it increased. Could it have been more if there weren't COVID issues, did you get hit with inventory things and issues?
Yaixa: Yeah. We got ahead with the inventory problems at the last quarter actually. We launched a product, a seasonal product for Halloween, and we got hit. I'm very bad with the limits. So, that was the limiting factor on that one. And then during the holiday seasons, it was the rest of the limitation that Amazon posted.
Bradley Sutton: Okay. All right. So, it could have even been more. Now, throughout all of last year, were you still working your full-time engineering job? So, it was still we're talking like five, six hours a week only you had to dedicate to Amazon?
Yaixa: Probably less, because when we were thrown into COVID, everyone kind of lost their support system. So, that's exactly what happened to us. We were working full time, actually more than full time on our engineering jobs, husband and I, plus taking care of the kiddo, plus working on trying to manage the townhouse plus working on the business. So, probably less than six hours a week.
Bradley Sutton: And that townhouse, we're talking about, um, what we had talked about in the last show where you bought a property in Florida for like Airbnb using your money that you had gotten from Amazon, right?
Yaixa: Big portion of it.
Bradley Sutton: Yeah. Okay, cool. Cool. All right. So, just out of curiosity, for those who didn't, who are skipping ahead and didn't listen to your last episode, you were juggling a full-time job, you've got a family. You only have one son.
Yaixa: One kiddo, yeah.
Bradley Sutton: Yep. All right. So, one son, and you want to be able to spend time with your son, how was it for a full year juggling the COVID situation and full-time work running the Amazon business, being a wife, being a mother. I mean, I can't imagine doing that.
Yaixa: Horrible. It is, well, we are blessed. We had jobs, we didn't even really suffer. No one really got sick. So, we are blessed where we're counting that on, but on the other side, it was very stressful. My routine changes every single day. You have no separation between your personal life and your professional life. And if you are in the middle of a call with a customer, with a supplier, or are we someone important, you have to kind of put that on pause because your kiddo needs to go to the bathroom, or he's hungry, or the dogs are barking. So, it was very hard. And we were adjusting and the entire world was adjusting. So, Amazon was changing policies and restrictions and limits every single day. So, I had problems making promises with the forwarders, with the freight forwarders. And plus on the engineering side, we had lay ups and we had coworkers getting sick. So, it was very, very, very challenging for sure.
Bradley Sutton: Let's talk about the flip side for somebody who doesn't have familial responsibilities and is not working 40, 50 hours a week at another job. What's your typical days? And don't worry, Yaixa's not going to get mad at you, or anything like that or jealous, everybody has different circumstances. Go ahead. And I mean, is it non stop partying or what's Giovanni doing every week?
Giovanni: Oh, no. There's absolutely no partying for me and I live in Miami. So, there's this idea that when you live here, it's all beach and partying, but it's not like that at all. Especially when you're trying to work and you're trying to make something of yourself, but no, my typical day is, wake up, and immediately just get into Amazon and check everything, check the health levels, check the eyes. I am the one who does the PPC on the account, and gets together with the business partners in the morning. We have a warehouse head over there, get some meetings in and it's mainly focused around Amazon. I mean, we do sell on a Walmart Shopify as well, but a majority of our time is spent optimizing everything around Amazon.
Bradley Sutton: Okay. What were your 2020 sales like on Amazon?
Giovanni: Sure. So, 2020 was our breakout year. In 2019, we had done 230,000 in sales and then 2020, when COVID hit, it absolutely blew up. We went 5x and we had sold 1.3 million at the end of the year. And that was with us being out of stock for a little more than half of the year.
Bradley Sutton: How did that happen though? Because it's like for, I mean, like there's no festivals, there was no EDC, there's no ultra festival, like there's no concerts and stuff. So, was it mainly like maybe bicycle writers, or something like that, buying your product?
Giovanni: Exactly. It was a combination of everything being closed and everyone being forced to go outside. So, it was during that time during peak lockdown, when you go outside and you've never seen any of these neighbors before. Everybody is walking and biking. It was incredible. And I assume those were the people that were buying hydration packs.
Bradley Sutton: Okay. Interesting. Now, before COVID and all this even happened, did you already have your listing, be it images, be it keywords kind of optimized for that market or once COVID started happening, did you guys go back into your listings and do some keyword research on like more of these non-festival type things that might attract people?
Giovanni: No, I think towards the end of 2019, around December, we had already started to notice that our listing was really taking off and we were starting to grab those top four organic positions. And we were close to that bestseller badge, which once you get the bestseller badge, I mean, falling doesn't crease and you start getting a lot more of the conversions and sales. So, when COVID started, it was just extra rocket fuel for the spaceship. We were almost there and then 2020, we just absolutely blew up with COVID.
Bradley Sutton: So then, even though your initial idea, way back in 2017 was kind of like my idea about going after the festival and concert goers, you guys had done the keyword research from even before to like, make sure that you were at least still indexed for these other use cases, not just festival, be it bicycling, be it backpacking or mountain climbing or whatever, right?
Giovanni: Oh yeah. In the beginning, we were focused on, okay. There was a similar company at the time called vibration and they were mainly focused around festival packs. But after we got together and we discussed a lot more, we decided that we wanted to target the broader side of the outdoor industry. So, we changed from being mainly focused on festivals to hiking, cycling, running, anything to do with outdoors that you use this for the hydration pack
Bradley Sutton: Yeah. That's important. I hope everybody's listening. I've talked about this before. You might have an idea for what your use case for your product is, but don't get so laser-focused that that's all you market to a good example is everybody or not everybody, but a lot of people are familiar with our Project X case study that we did on YouTube. And one of the products we launched was an egg tray and the traditional thinking might be, Hey, I'm just going to research all the egg related keywords, but that would be a mistake because there are people we found in our research that use egg trays for different things that we never would have thought about. Let's go back up to Yaixa a little bit. Where were your sales from last year, pretty much on the same products that you had been already selling, like in 2019, or did you launch any new products last year?
Yaixa: Just one was new. Well, yes and no. One was new, which is the Halloween item that we had, and another one that we launched in December, but both were kind of received with trouble because of the limitations that we had with inventory.
Bradley Sutton: Okay. Now, fast forward to 2021, you sent me this message, which was like, oh my goodness, trying to bring a tear to my eye here, but you were in a bad place. And then actually somehow the podcast actually helped you. Obviously, I do this podcast to help people, but it was something a little bit different than the normal person just learning strategies. Are you okay to talk about that a little bit?
Yaixa: Yeah. It kind of hit my heart. It kind of hit home. It was like something that I needed to hear at that moment. When you were talking about the launches and the strategies and everything. So, it was kind of re-grounding me, if that makes sense.
Bradley Sutton: Yeah. Because you were considering, like possibly even giving up Amazon, right?
Yaixa: Yeah. It was re-grounding because at that moment I had– it's quite interesting, because at that moment I had the opportunity to basically get a different job. And if I took that job, I would have to basically give up on the business because it was something that was going to be great for my engineering career. But it was not compatible at all with the business. So, it was quite challenging. I didn't get that. Honestly, I didn't actually get that job. It sounded, I was like, it was going to be a done deal at the end of the day didn't happen. But I actually got another offer from another company for a very interesting offer that I'm still thinking about. And if I take that one, that one it's going to let me work on the business here. So, at the end of the day, everything kind of levels it.
Bradley Sutton: Yeah. Because didn't you take a sabbatical or a leave of absence from your main job that you were doing last year?
Yaixa: Yeah, I'm still on it. Yeap. I'm working half time on engineering and the rest of the time is trying to work on the business and re recover from 2020.
Bradley Sutton: Yeah. Yeah. Now, how does having more time, more than four hours a week, help you or has it helped you at all? Or is it pretty much the same?
Yaixa: It showed me that I was making a lot of mistakes by automation, if that makes sense. Learning that there are a lot of things that I'm not doing that I should be doing. Being able to identify those, being able to work on the listings on the backend, being able to connect dots and being able to really understand that there's a process and there's a method to this madness. So, it is helping for sure.
Bradley Sutton: Okay, excellent. Since the last time we talked in early 2020, let's talk about your biggest failure and your biggest win. The failure, first of all, like not necessarily a failure on your part, but an obstacle, like what was it the inventory thing, or was there– did you ever get suspended? Did you get a product suppressed? Did you get a Hijacker? Did you make a mistake on a coupon code? Like what can you think was the biggest negative in the last year and a half?
Yaixa: I'm going to say was the limitation on the limits, on the allowable space that we had.
Bradley Sutton: Is that the newer one, the one that it's not the actual number, but it's like– which one?
Yaixa: No. That was the one for last year. Not the one that we have this year.
Bradley Sutton: Oh, okay. Okay. So, the one that is this year, it hasn't affected you?
Yaixa: No, it affects me on prime day. But right after prime day, I increase my limits. So, right now, I'm pretty good.
Bradley Sutton: Okay. So it probably affects that– for those who don't know, Yaixa lives in Puerto Rico. So, it's not like you're sending, like me, I send my product to my house here in California, and I have a warehouse here and I just send it to Amazon as I need. You don't exactly have that ability. I'm assuming most of your product, you're trying to send to Amazon directly from your factory, right?
Yaixa: They are right now. There's a story at a 3PL in California.
Bradley Sutton: So like you had to make that adjustment. Two years ago, you didn't have to do that pretty much, right?
Yaixa: Exactly. Two years ago, everything went in– everything went through directly into Amazon.
Bradley Sutton: So, then that was your big obstacle. And then can it be said, then that the way you got around that was just the waiting game plus using the 3PL, or did you do something different to try to get around that obstacle?
Yaixa: It was a combination of using the 3PL, sending smaller batches, and I'm also sending stuff to the house that we have in Florida. So I have a small storage, so I was able to send a couple of items here and there. But it is expensive. It's more expensive than a 3PL.
Bradley Sutton: Yeah. Okay. Well, how have you dealt with rising costs of manufacturing, rising cost of shipping that so many Amazon sellers have seen over the last six to eight months, or so?
Yaixa: Increasing the price, there is [inaudible].
Bradley Sutton: There you go. Hey, that's a valid answer right there. I mean, what else can you do? Have you done anything differently though? Like maybe you were air shipping sometimes and you haven't, or opposite, or you're trying to order more to keep shipping costs down or anything like that?
Yaixa: No. Not really. Since we were limited last year, we had inventory to run for a couple of months this year. So, that really helped us. And we were able to put all of our orders on time and not have a schedule. So, we didn't really, we weren't really hit that hard with shipping at the initial stage of this craziness. Now, all of our inventory for the holidays, it's already on a ship. But that was expensive. And my understanding is that it's going to get worse. So we kind of were able to get it out a little bit earlier.
Bradley Sutton: Okay. What about your biggest win of the last year and a half or something unexpected, like maybe, influencer, YouTuber just happened to review your product and sales went up or you had a really successful launch or you found some new PPC strategy or, or something you learned from somewhere, and then you implemented it and then it had a direct influence on you're a positive influence on yourself. What was one of the positive things that happened for you?
Yaixa: Honestly it's like nothing super major. It's more like being able to adapt and adapt and being able to make sure that you move ahead and that you do not stay on one side, complaining about all of this is too hard. It's just making sure that you adapt and you move, and you take decisions and you trust your gut. So, I'm going to say that I learned to trust my gut.
Bradley Sutton: Cool. I like it. I like it. Now, with your extra time, have you been doing some more product research into potential new products?
Yaixa: Yeah, I do. I have two new products under work and I have a list of other products that I want to launch.
Bradley Sutton: Awesome. Awesome. All right, let's go back to Giovanni now. You mentioned you have a warehouse now, did you have that in place even before COVID started? Or did you kind of like, because of the COVID and the inventory restrictions that was when you guys went and got your own warehouse?
Giovanni: No. So the warehouse house was owned by my business partner where he had the Shopify store where he had been running that Tuesday team. He had the warehouse there where he was storing all of his items for his other business.
Bradley Sutton: So then that worked out well, because, I mean, you were selling too much, so you probably ran out of stock, but then, as far as the inventory, you weren't screwed over like the people who didn't have 3PLs and they couldn't even ship their products from China because they had nowhere for it to go. So you were able to ship your products to your warehouse and then kind of like what– drip it into Amazon then?
Giovanni: Yeah. In the beginning, we actually, we're using our warehouse to store our stuff, but the biggest problem with that, and we eventually moved to a 3PL in California was that it takes 45 days to get from China to Miami. And it only takes 14 days to get to California. So, we made the move to California, probably in the middle of 2020.
Bradley Sutton: Okay. Okay. So, you're not still using your partner's warehouse or it's split between the two?
Giovanni: We're there. We've made our FBM operation out of there. So, if we get a Walmart order or Shopify order, or someone orders through FBM, we have a product stored there where we go ahead and send it out ourselves. But the majority of our items or units are in California at the 3PL.
Bradley Sutton: Okay. Now, Walmart and Shopify, you mentioned, I think Amazon was something like 1.2 million or something like that, but what would you say your gross sales were last year for Walmart and Shopify?
Giovanni: So Shopify, it sits at around 100k a year. That's where Shopify sits at and Walmart has been our lowest performer. We maybe get like five or six sales a day there. It's not too much. But at the same time, we haven't gone into it and done the research and do ads and all that. So, that's probably the platform that we've spent the least amount of time researching for.
Bradley Sutton: Okay. You saw what– I mean, I know you're a Helium 10 elite member, right? You saw what you guys have access to as of a couple of weeks ago, right?
Giovanni: Yeah. That's the– there are now Walmart tools available.
Bradley Sutton: Yup. Helium 10 now has Walmart tools. We talked about that with Carrie on the podcast, if you guys are listening to this in order here. So, hopefully that'll be able to help you guys out. Now, I'm just looking at Helium 10 right now. I'm at x-ray. Is it okay to say you're brand or no?
Giovanni: Sure. Go ahead.
Bradley Sutton: Okay. So I'm looking here. Giovanni's brand has a water buffalo hydration pack, and it seems like you're going to be a lot more than 1 million this year.
Giovanni: Yeah. We're going for double of last year.
Bradley Sutton: Okay. Because I'm looking at the estimated 30 days and, and I'm seeing it's probably 300, $400,000. It seems like you guys may have done it in the last 30 days.
Giovanni: Yeah. That's when summer starts, that's usually where it sits around 300 to 450 a month. And that's for this year, for last year, it was going north of 600k a month. And that was for June, July. June, July are the hottest months, May and August are the semi hot months of summer.
Bradley Sutton: Okay. Now I notice, since that first successful product, you've launched a couple other ones that haven't taken off as much. Are you guys promoting those at all? Or what do you think is the difference? Why is one product doing like 10x the others?
Giovanni: Sure. So, a funny story is we actually started with three products at once with $30,000. Two of them failed. And the hydration pack that you see today is the one that was successful. As for the two products that we just recently launched, one of them is running at around breakeven and the other one, which is a hydration bladder, our brand is mostly focused around hydration products at the moment, that one is running. It's very efficient. It's profitable. It's only been a couple of months and we're very happy with that one.
Bradley Sutton: Okay, cool. Now what about– we talked about the negatives. What was your biggest win? I mean, obviously the, I would say, we already talked about your biggest win was just the fact that everybody and their sisters and brothers were all going out and bike riding and doing all these outdoor activities. And so that just organically increases your sales, but what else, either on the strategy side or PPC side or something that you guys did differently and something just took off, you worked for the influencer. What other wins did you have in the last year?
Giovanni: Sure. So I'd have to, it's kind of funny. I'd have to say the biggest win of 2021 would be the complete opposite of 2020. It has to be the biggest one being, staying in stock the entire time, and really not losing any revenue to waiting for these containers to be loaded into the ports and just taking advantage of every single day.
Bradley Sutton: Okay, cool. Now I'm just, again, I'm in Helium 10, I'm on your page. I noticed you've been raising the price.
Giovanni: Yes. And that is due to logistics, just being all over the place.
Bradley Sutton: But I'm looking at the BSR and it hasn't– it's staying pretty steady. I think, in June and July, I think naturally it's pretty high, but it doesn't look like it's not like your sales are tanking because you raised the price.
Giovanni: No, it's not. And that was something that me and my business partners had been very afraid to do in the past. But we had never been forced to make a decision. So, we were happy sitting at the 24.95 mark, where we eventually raised it $3 to 27.95 to offset the profit margins being lowered from just the whole debacle with the container crisis going on. And I think that sellers shouldn't be afraid to experiment with their prices because nothing has happened to us in the sense where we thought it would tank and yeah, it's been pretty steady.
Bradley Sutton: Okay, cool. Cool. Now, let's switch back to Yaixa for a couple of minutes here. Yaixa, I have a question for you. I've never personally sold in like the toy market, but usually the kind of things that we've been doing as case studies in Project 5k, Project X, it's very specific, like it's a coffin shelf. And then the main keyword is coffin shelf. It's that kind of, that kind of thing. But I imagine toys, it's like a different story, like sure. Maybe if it's a fidget spinner, people are searching for fidget spinner, but are you having to do some heavy research to try and find the kind of generic words that would apply to your product? Like toys for six year olds or something or something like that, or how does it work in the toy category?
Yaixa: It's Helium. It's really great there. So, you can see it very, very easily. What's going to be difficult is you get this massive list of generic keywords, but try to reduce the amount to make it fit your product, but they're still going to be generic. If that makes some sense. It's going to be toys for girls, four to six, for example, and that it's quite different from toys for girls, 10 to 12.
Bradley Sutton: So, what you did is you used Helium 10 Cerebro to look at the competitors that were similar to you and where they were ranking high, and then made sure to kind of optimize your listing around some of those?
Yaixa: Yeah, I make sure that you are in that age group. With toys, the age group it's quite important. So you have to make sure that you are hitting those ones.
Bradley Sutton: Do you see any activity like PPC, or just organically for like Spanish keywords or other language keywords for any of your listings?
Yaixa: For Spanish. We see them in Spanish too. And something else that I wanted to mention is that with toys, you need to do your testing. So, once you do your testing, you get your age group, and then you have to put that in your backend and Amazon needs to pay a lot of attention to those age groups.
Bradley Sutton: What do you mean by testing?
Yaixa: The testing for the toys, for the products. So, to make sure that they are safe to kids that they're not having metals, that the flammability that–
Bradley Sutton: Oh, it's like a certification that you have to get?
Yaixa: Certification for every single product that you do. So, you have to get that. And then you have to put all of that information. Amazon is requesting all they have been requesting that information for years, but now they're more strict about it. So if you put in your backend, if you put your age group on wrong, and they are doing an investigation on your paperwork, they're going to send you an email. And they're going to ask you to fix that. If they see something that you're testing, for example, above four, above three, or something like that. And you put something else in your listing, they're going to tell you, go ahead and change it.
Bradley Sutton: Interesting, interesting. Now, this kind of testing or certification, is this something you can do at the factory level in China, or you have to wait until it comes to the United States. How do you do that?
Yaixa: It's up to you. It got to be an approved lab, so you can do it in China. I worked with a lab in China and they do it in China, and it's actually cheaper in China, but you get a BA certified lab.
Bradley Sutton: Interesting. Interesting. All right. We talk about this part of the show. We do 30-second tips, TSTs. But let's start with you Yaixa since we're with you, like what's some tips or strategies, it doesn't have to be 30 seconds, but maybe we can talk a couple of them, something that works for you, something that changed that gave you good increases. It doesn't necessarily have to be a strategy about Amazon or PPC. Absolutely could, but, maybe it's a life hack. I think a strategy in itself is, Hey, if you have a day job and you're getting burnt out, instead of just burning yourself completely out, take a leave of absence, take a break or something like that's a strategy in itself. But what else, other than that, can you talk to us about.
Yaixa: Do not get stuck, keep moving. Really, right now everything is changing. Everything is different. And expect change, expect that things are going to get more difficult, but do not sit and complain, move and adapt and make the best that you can out of the situation.
Bradley Sutton: What about Amazon's strategy? How have you used any of those, or have you tested any of the Maldives honeymoon strategy or any other things as far as launching or anything else that you can talk about that worked?
Yaixa: I did. For one of the products, I use the SAC phrase, like you said in the first, in the title and I ran some PPC aggressive PPC, any rank, right. I'm going to say, I don't know, six or seven days after it to spot number one. And we got out of stocks. But yeah, that one works.
Bradley Sutton: Cool. What's your goals for the rest of this year? Like, do you think you'll be higher in gross sales than last year since you're going to be in stock and stuff?
Yaixa: Yeah, if we don't get limitations again, we should be able to do way more than what we did last year. Something else it's I get up, make sure that I put my SOP together. Because I was basically running this hour here and there, and that's not the right way to run a business. So, that's one goal and make sure that I have my SOPs.
Bradley Sutton: Now, you've been six figures for a while. Did you hear about the Serious Sellers Club?
Yaixa: No.
Bradley Sutton: Aha. We have something called the Serious Sellers Club. It's kind of like for the people who have hit certain milestones. So, what I want you to do, Yaixa, is after we get off this call, I want you to apply for it to make sure that you get the recognition. The link is H10.me/ssc.
Yaixa: Wow.
Bradley Sutton: S like serious. S like sellers. And then C like club. Serious Sellers Club. H10.me, And then you're going to get some free stuff. And then also getting like a cool badge for your Helium 10 account stuff. But, Hey, you hit six figures, even despite struggles, you should be recognized for that. How about you, Giovanni? Did you apply for the seven figure Serious Sellers Club yet?
Giovanni: I have not applied for it. I heard about it. But I was very excited when I heard about it. I have to go ahead and sign up for it.
Bradley Sutton: Yes. We want to send you out some swag. So H10.me/ssc. Same goes for anybody else out there. Now, Giovanni, I want you to say something. You have your sales pulled up on your seller central account for the last two months.
Giovanni: I do.
Bradley Sutton: Okay. This is not necessarily a Helium 10 function, but one kind of like strategy or hack I give to people to try and like, guess which item is the best-selling like if there's variation, because for everybody who knows how Amazon seller tools like Helium 10 work is that Amazon only gives a BSR for one variation family. So, we have the same sales estimation for every single child item. It doesn't mean that that's what the sales are, but it means all the child items put together are around that amount. But the one little hack I give is I tell people, Hey, you use the Chrome extension, hit review insights for like the last two months. And then just at least see the breakdown of how many reviews each color or each size or something has. And usually one of them kind of stands out amongst the rest. So, obviously I'm not looking at your sales right now. I don't have access to your account, but I just ran review insights on your page, on your hydration pack. And it's telling me that you had the most reviews for the black. Is the black your bestseller?
Giovanni: Oh yeah. By far.
Bradley Sutton: Okay. And then it seems like, there might've been a slight, like the other three are not very far off, but like the blue, maybe a little bit more, but blue, red, white, and the Arctic blue are like less than half each of the black, but kind of close to each other or are they way off from each other?
Giovanni: No. So of the four variations, the black is the leading color. That's the one that we run the ads through. It is the flagship of the colors. And then the other three are, they're very similar in sales. I had to have to say, yeah, almost identical in sales, the red and white would be the worst and the Arctic blue and the light blue are very close to each other.
Bradley Sutton: Okay, there we go. So, guys, this is not an exact science, but it just shows that it works. Because I'm looking at review insights of the last two months reviews from his product. And it told me that the black had like almost 50% review share. And in my mind I'm like, well that means if that has the most reviews is probably getting most of the sales and then the other three were kind of distributed somewhat evenly. I see here, it says like 1480 and 20%. Now, this does not mean that this is you take this figure and then you multiply it by the sales. And that's exactly what the sales are. But guys, if you're ever wondering on how much or which variation on a listing is selling the most, since the x-ray really doesn't tell you that necessarily, but here's a little tip that you guys know. Use review insights as you guys just saw. It's pretty close. So, that's pretty cool. Anyways, Giovanni, what's the rest of the year looking like for you? Are you going to launch more colors, more variations, more products? What's going on?
Giovanni: Okay. So, in the pipeline for the future of the year, so the next six months, what we're basically doing is we're tightening up the business. We're making sure everything's running our eyes, for the products that we just launched, one of them being the bladder and the other one being a water bottle cage, we're actually in the process of launching three more variations for the bladder.
Bradley Sutton: Now, I remember the last time I talked to Yaixa, her profit margins was pretty high. It was around like 30%. You guys have a– you probably don't have your accounting software right in front of you, but about what your profit margins are?
Giovanni: No, our profit margins are less than that. About 10% less. So, we operate around a 20 to 22% profit margin.
Bradley Sutton: That sounds about standard. Yeah, that sounds about right. Okay, cool. Now, like we said earlier, have been a Helium 10 elite member for a while and you're usually one of the ones– actually do you know we have another quarterly workshop Friday. I hope you've set aside some time for that, but how has Helium 10 elite members helped? Because a lot of people like, man, that's $400, $397 a month. Yeah. I get Helium 10, and I get more access to the tools, but your benefit, I would imagine your benefit from being a Helium 10 elite member is not because now you get more keywords to track and you get more uses of X tool, but it's probably more on the educational side. Would that be an accurate statement?
Giovanni: Oh yeah. I mean, and this is an event on my end, my two business partners were not on board with wanting to go to Helium 10 elite. I actually put that on my personal finances. I paid for it myself out of pocket to go to Helium 10 elite and I can vouch for it right now. It is incredibly worth it. And it's from the educational side of the high value guests that you have speaking on the show. It's incredible. It blows my mind to the information that you get on the Helium 10 elite side.
Bradley Sutton: All right. Hey, Yaiza you heard that?
Yaixa: I did.
Bradley Sutton: That's how you and I met. You and I, Yaixa, like in 2016, met in one of these mastermind groups and you might need to consider joining Helium 10 elite with Giovanni.
Giovanni: Yeah. I'm not advertising for Helium 10. I'm telling you this is. It changed the game for me, finding Helium 10 took the business to another level, but signing up to Helium 10 elite, took it to another level above that. It's worth it. I would advise everybody to get it.
Bradley Sutton: Awesome. Awesome. All right. Now, let's talk about some tips. Now, don't give any like super high level strategy that was only for the elite, that came in one of those, a lot of those are our NDAs, but what about some general strategies as far as something PPC, you said you're the PPC master at your company or ranking anything, that you can give us as our TSTs or, 30-second tips.
Giovanni: Sure. So, for a general tip aside from PPC, and this is for people that are– I have a couple of buddies that are just starting an Amazon business and they're getting into e-commerce. And I tell everybody all the time, I mean, when I first started this business, I didn't have Helium 10. I didn't have any information. On my path to where I am today. There were so many roadblocks. If you're just starting out, I would advise you to get the freedom ticket, get on Helium 10, listen to every Serious Sellers Podcast, even go into the old AM/PM Podcast when Manny coats was the host. Get as much information as you can before you start the business. And then, start to move forward with that.
Bradley Sutton: What about something specific? I mean, obviously PPC, I think has changed more than anything else in the last year and a half on Amazon. I mean, everything changes on Amazon, but opening up, you mentioned a couple of them sponsored display, and then sponsored brand ads and sponsored videos, which newish aspect of PPC has really helped you guys or been successful for you would you say?
Giovanni: So, I'd say for the hydration pack, I mean, it's very old school, but its keyword targeting for the hydration pack has just been the bread and butter for the business. Two to four keywords drive, most of the revenue for the business. The sponsored videos, they haven't been as profitable as the keywords product targeting is fantastic. I would advise everyone to go ahead and find those products that you're going to be able to target. Display targeting hasn't been as effective for us either. It's mainly been keyword targeting and product targeting. The one thing I would advise everybody to do is get some defensive campaigns out there and make sure you're targeting your brand.
Bradley Sutton: Okay. And just for those who don't know what that means, defensive campaigns, targeting your own brand, can you specify a little bit more?
Giovanni: Sure. So, in my case, my brand is water Buffalo. When I was– what I would do to target defensive campaigns is I would go to my keyword targeting campaigns first, and I would put everything from water buffalo hydration, water buffalo hydration pack, water buffalo hydration packs, anything that has your brand in it. And you can do that for display targeting as well for product targeting as well. Just try and get your product advertising on itself so that you don't have your competitors going in there and snagging sales from you.
Bradley Sutton: Okay. Excellent. Excellent. Alright, Yaixa and Giovanni, thank you so much for joining us. You two don't know each other in person, I don't think, but it'd be great for all of us to link up at a future conference now that the world is semi getting back to normal. It was great to reach out to you and very inspiring stories, guys. You guys know how I roll here on the podcast. I don't have any influencers or gurus or famous people. I do have those people because they're important and they bring a lot of value, but I love interviewing people who are just average. I call average Joe's and average Sallys. We got average Giovanni's and average Yaixa's. They're they're not average in what they do because I consider all my guests like Superman and superwoman, but I hope you people out there can relate to them. They didn't come from some humongous, e-commerce background. Giovanni was a college dropout, which is not a bad thing. It's not a bad thing if you, I like how he was able to pivot right away. And on the opposite end of the spectrum, we got Yaixa who is a mechanical engineer. And so, it doesn't matter what background you guys come from. Anybody can be successful on Amazon and with completely different circumstances, whether you're a bachelor in Miami or you're a husband or wife with kids in Puerto Rico or some other place, guys, anybody can have success on Amazon. And these two guests have definitely shown that. So, Yaixa and Giovanni, thank you so much for coming on, and we'd love to reach out to you in 2022, and let's just see how you crush those goals by the end of this year.
Giovanni: All right. Thank you so much for having me.
Yaixa: Thank you.