#251 – How to Turn Social Media Followers Into Paying Customers – Wilfried Ligthart
Building an online following is more than just posting content to social media regularly. This marketing expert is giving away all his secrets!
Updated on: January 3, 2022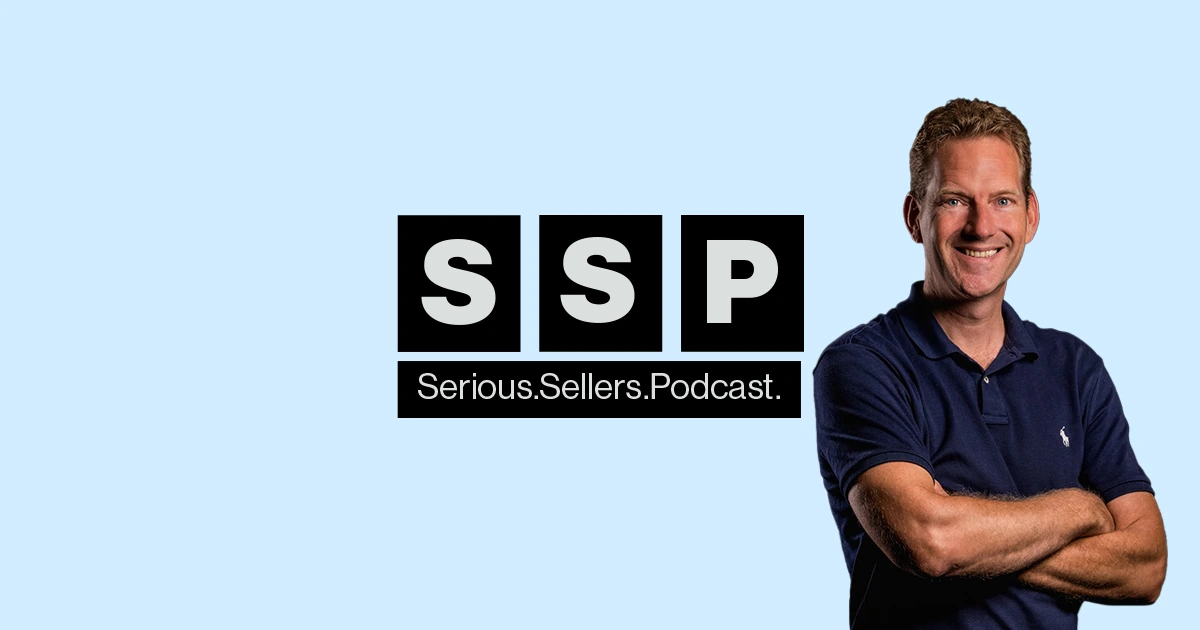 There are 3.8 billion people using social media today. Don't blink, because that number is moving upwards fast. How are you supposed to be everywhere your audience is all the time?
As our way of doing business continues to shift, the concept of "quality content" has become so much more than a glitzy e-commerce buzzword. Who better to tackle the tenets of monetizing a following than Wilfried Ligthart? Wilfried is the Founder and CEO of Digital Blacksmith, a digital marketing agency specializing in social media marketing. Combining his experience leading a multi-million dollar media company in The Netherlands with a (very handy) pair of Master's degrees in finance and communication, Wilfried has become a marketing magician, turning social media followers into paying customers, and in the process, turning "just another brand" into a tribe of die-hard fans.
On this episode of the Serious Sellers Podcast, Bradley and Wilfried dig deeper into what it takes to connect with an online audience in 2021, finally figuring out just what in the world you're supposed to be posting in the first place, and best of all… how to turn your buyers into your salesforce.
In episode 251 of the Serious Sellers Podcast, Bradley and Wilfried discuss:
03:15 – The Evolutions of Social Media… by the Numbers
05:00 – Using Quality Content to "Sell a Feeling"
08:40 – Five Steps to Connect With Your Audience
11:20 – "What in the World am I Supposed to Post?"
13:00 – What Does the Perfect Blog Post Look Like?
17:10 – Building Your Off-Amazon Audience & Email List
24:30 – Turning Your Buyers into Your Sales Force
25:40 – Quick Wins for Amazon Sellers to Explore TODAY
29:00 – Don't Put All Your Eggs in One Basket
31:40 – Amazon Expansion in the Netherlands
33:05 – Alternative Amazon Marketplaces in Europe
35:50 – Success (and Failure) Stories Worth Sharing
39:35 – How to Find Wilfriedn & Digital Blacksmith
Transcript
Bradley Sutton:
Today, we've got back one of the world's foremost experts on organic social media strategy, Wilfried is going to talk about all kinds of tips to help you up your Amazon game and how with one of his clients, he got to page one for a top keyword without even a single giveaway. Thanks to Google traffic. How cool is that? Pretty cool, I think.
Bradley Sutton:
Hello everybody. And welcome to another episode of the Serious Sellers Podcast by Helium 10. I am your host Bradley Sutton, and this is the show that's a completely BS-free, unscripted and unrehearsed organic conversation about serious strategies for serious sellers of any level in the Amazon world. We've got somebody who hasn't been on the show, I think since 2019 probably, Wilfried come into us from Holland. How's it going?
Wilfried:
Very well and Bradley. And the funny thing is, or maybe also the saddest thing is the last time I flew to the United States was actually the elite setup from Helium 10.
Bradley Sutton:
Wow. That has been a while now.
Wilfried:
And before that, I flew the world twice. I've been in China, Fiji, all around the place, but finally good to be back. So it looks like we're going back to normal though.
Bradley Sutton:
I think so, like, how are things going on and in your part of the world, there are, I mean, these restaurants open and things like that.
Wilfried:
Yeah, well, they have a five-step process and we're in step three now. So, you're not allowed to eat, but you can sit on the terrace drinking and beer and that's why we're touched good at that. So we will manage.
Bradley Sutton:
There we go. There we go. Okay. How is your beloved Ajax doing these days?
Wilfried:
Yeah, very good. And it's funny that you ask, I think you're one of the few Americans that actually loves soccer. So people wondering in the US what the hell is Ajax, but yeah, it's our soccer team and they did well over champions.
Bradley Sutton:
The European cup?
Wilfried:
Almost. We managed to miss the penalty and yeah, we had the chance to come back two-zero in two games, but it didn't work. So, unfortunate.
Bradley Sutton:
Anyways, we're not here to talk sports. We want to talk what your specialty is. And one of them is definitely– we're going to talk about some different things today, but I remember the last time what we talked a lot about growing your organic social media following and how that helps Amazon sellers, like just in the Amazon world, I know the social media world evolves and changes. So, just since the last time we talked, I think I'm pretty sure it was like the end of 2019. What are some things that you can talk about that have evolved or changed as far as maybe the way that you manage accounts, or the way that you've seen clients manage, how have they had to adapt due to changes?
Wilfried:
Yeah, well, it's a good, and the funny thing is also about my own business, Digital Blacksmith, that we don't onboard clients currently, so I'm not selling anything and I'm all about sharing my knowledge and that's why I can give away all my secrets as well.
Bradley Sutton:
I like to hear it.
Wilfried:
Yeah. I like to start with some numbers there because it gets perspective. And currently, there are 3.8 billion people on social media, and Facebook is still the market leader with 68%. If you look at the generations, even 45% is 65 and up. So basically every generation is online. And yeah, it's a very positive consumer experience because 71% recommends friends and family on social media. So, especially for Amazon sellers, our reviews are the most important thing almost. It's like the old days when your neighbor says, oh, that's a very good grocery store or a bakery, whatever. Now it's online. And 71% looks at positive user experiences. Average time today is two and a half hours. We spend on social media and 73% of old market say, it's very effective to be running ads and that kind of stuff. And I'm not here to promote Facebook. In a minute, I will also show you tips and tricks to do it for free. Yeah. I'm part Dutch, or actually, I'm full Dutch, but I feel like an American sometimes. And yeah, what's also is funny that 54% they rely on influencers to help them find their brands. And yeah, that's one of the things that grows rapidly. I talked about it in 2019, but even now with days, that's why we sometimes make the joke. Having a lot of followers on Instagram is like being rich and monopoly and back in the old days, because if you are an influencer, you can push people all the different ways. And yeah, with your permission, I'd like to continue on what you need to do now is a real time one-on-one communication with your audience. And it seems so easy, but a lot of people are, they're just in your face selling their products, but people need to know you when, and you need to draw on the main with quality content, and then you will get social engagement and social reach. And when that happens, they will trust you. And yeah, before you know it, then your loyal customers will be your salespeople.
Wilfried:
And that's what a lot of brands– what I see happening is that they forget about that particular piece. And yeah, first what you need to do. Of course, before you start selling on Amazon, haven't have a product that's worth making. If you have something incredible, and of course, all Amazon sellers that are listening now have something incredible. Otherwise, why bother if you have that, tell a story worth telling maybe you have a product that's more expensive but show the audience. Why? Is it more sustainable? Is it something that has a legacy in it or whatever? If you can tell that story, people won't mind paying a little bit more and yeah, contribute the word we're talking about this. So if you talk about just sustainability, put it also in your content. And if you have your story design and build in a way that a few people will actually benefit from it and care about it. So you need to have your target audience right in your, say in your face but in your mind, you must know exactly who you're targeting for. And yeah, what you need to do then is spread the word, of course, easy. Decide your story. But yeah, I'm here to tell you then, and also a little bad news, the good news is anyone can do it. The bad news is it's a lot, a lot, a lot of work, and there is no shortcut, never use any automation tools. Of course you can use some like a Hootsuite or are posting tools and that kind of stuff, but never, ever use anything black hat, or buy links, or buy likes because, yeah, you want to connect with your real target audience. That's what's important. So you need to show up regularly, consistently, and generously for years and years and years to come and you can grow faster. Now that you start now, when in five years you will see some results, but people don't want what you make. They want what it will do for them and how they make them feel.
Wilfried:
So you need to sell, feelings, status, connections instead of a task and stuff. And that's one of the biggest things I see, that goes wrong with businesses. They say, this is an amazing bike and you can ride on it. Well, that's great. You can also say, this is your one-time changing life experience because it will benefit your health. You will be outside, you will meet other people, whatever. And it's still the same bike, but it's told in a very different story. Yeah. And yeah, those things are very important. And again, with your permission, I'd like to chat. I like to talk. I was actually at the Amazon HQ the other day and had a seminar for seven hours. And even then I was not done talking.
Bradley Sutton:
I'm surprise you still have your voice. Good. Well, this is that Amazon in Hollander?
Wilfried:
London. In London headquarters. So, I was talking there, but the five steps you should do is define your audience. I talked about it a little, but how old is your target follower? Where do they live? What kind of jobs do they have? What are the challenges, how, and when they use social media? Wanting, it's also important. What is the next big trends? Because you want to rank for keywords, but if there is a keyword that's related to your product, but it's not a totally trend, or you can find them on Google trends on breastfeed or Reddit on Quora, be there as well, talking to your audience. And what you need to do then is set goals. What are you doing? Are you generating leads or when do you want to increase your conversions on your website? Or do you want to improve your customer services? So, what is the reason that you go online? Basically, if you know what your goal is then, yeah, you need to plan your content makes. Air quality, as I said is not longer sufficient, but figure out the story your customers tells themselves and open the door to that possibility. I find them bill and earn your story with client testimonials with thank you gifts, have a picture of your product is delivered to your customers. Unboxing videos are still amazing and yeah, use images and content that your audience can easily engage with rather than focusing solely on the selling element. As I said, I don't have video right now, but I always show a picture of a guy with a megaphone in somebody's face and saying, buy my product. And there are so with our hands back and say, oh, I don't know you, so why should I buy?
Wilfried:
And why should I care? And as I said, I bring you good news and bad news because it's a lot of work. But if you do it the right way, for example, if you post 80% value, if you post inspirational quotes, if you interact with your fans, if you balance your posts, if you ask questions, if you hold a contest, you run a poll, all those different things. Then you will see that the audience will actually start to like you. And on Facebook, the algorithm, they don't care about how many likes you have. It's about the user experience, how many people are talking about you. And the more people talk about you, the more reach you will get. And as I said, if you provide quality, then your audience is growing, right? Like rapidly, I would say wildfire, but it's a season again, I guess, I were told the fires going on, so I will not use that language. But yeah, that's so important. And sometimes I use the metaphor, it's like a bouncer in the nightclub, let's say your competitors and you are going to party. The bouncer says to you, you're allowed to go in because you post quality content or you provide a service. And the other people are only there to sell the products and you're allowed to party with the girls and all the other competitors are left outside. And we see that happening a lot with when we post online, I always say, if you post something, is it something you would share yourself? Or you would like yourself? And if not, don't post it. And if you do not know what to post, what I always say, like everything your competitor does, because every time their post will show up in your feed and you know exactly what they are doing, and you can also see what's working for them. And don't copy it. That's one thing I like to talk about in a minute about Google and SEO, but the algorithm see everything. They know if you have copies or it's not unique and everything should be as unique as possible.
Bradley Sutton:
It's kind of like Amazon like you don't need to– you don't want to just a hundred percent copy your competitors' products, but see what they're doing and what people like about what they have and what they don't like, and make something better. So, it sounds like you did that needs to go to your social media strategy as well.
Wilfried:
Absolutely. And what I always say for Amazon sellers as well, also create a website where you can put on your content. Of course, your content should be quality and original. And here are some other nuggets. The audience can use, the optimum blog post should be around 600 to 800 unique words. You should have around five to six images, incorporate in your text two to three frequently asked questions because they will also show up in your feed. If people Google, then you will see also frequently asked questions and use around five reviews in your text as well. And if you have an article like that, yeah. Then, you will see amazing things happen. And we had a client the other day and he sold vacuum cleaners and we got them page one before Amazon in four days. So, that's actually something ever very, this is very addictive for us, the reach and how fast we can grow. But again, if you provide quality, you do a better job than your competitors, then amazing things will happen. And how did we outrank Amazon for example? Amazon normally only ranks one product. They don't bundle product because every product is a page, but if you bundle your products, let's say we talked about cycling gifts for people that loves to go cycling or something like that. You can put maybe 10 products in one blog post, and then you will outrank your competition as well because your article is more unique and has more quality to it. So, yeah. Use all those different things.
Bradley Sutton:
All right, guys, quick break from this episode for the BTS, Bradley's 30 seconds. Here's my 30-second tip. We've been talking a little bit about building your off Amazon audience, be it social media, or just your email list. And one of the great ways to do this as was in using Portals. But one thing that people don't realize is with within Portals, you can do insert cards. And this isn't just about Helium 10. I mean, if you have your own way to make insert cards, by all means do it, but making insert cards is not against Amazon terms of service. Now, of course, there's different ways that you can make it against terms of service. Like if you're trying to incentivize reviews, but within Portals, we've got some great kind of like different templates you could use for the insert cards. Some of them that come from people who have been here on the podcast, such as Norm Farrar, Paul Baron, and others, and take a look at those templates because there's different things that have been proven to work that work really great for converting people and getting them on your email list or into your social media, such as offering extended warranty or the one gray one is Paul Baron's $10,000 insert. If you're wondering what that is, get into Portals and take a look at that template, but we kind of make it easy for you guys. All right. So don't forget about the importance of building your off Amazon traffic and audience, and a great way to do that is by doing insert cards. And if you don't know graphics, or you don't know how to create insert cards, just hop into Helium 10 Portals and use one of those templates, put your own picture there, put your own link there, and you are good to go.
Bradley Sutton:
Now you mentioned briefly about your website and things like that. And sometimes what happens with Amazon sellers is we get like tunnel vision and only just focusing on Amazon. And they don't understand about the value of building your brand off of Amazon or bringing even outside traffic. So, a lot of people do that through funnels, or through other ways, we even have our own– since we've talked, we have our own tool now called Portals, which is kind of like brings you into these landing pages before going to Amazon and helps customers build their off Amazon list because a lot of people don't realize especially new sellers, Hey, you don't own your customers on Amazon. They're Amazon's customers. You're not allowed to talk to them at all outside of the purchase of the product and you can't advertise to them, can't do anything. And so the more you can build your off Amazon audience, be it through social media like you've talked about, or through your own website, that's so much better. So what about now, now I'm building my, I'm acquiring an audience off of Amazon. Some people just nah, I'm just going to have them follow my social media. Some people will have elaborate funnel techniques. What do you see nowadays that's working for– not talking about social media, but just building your off Amazon audience or email list.
Wilfried:
Yeah. For that purpose, you need, of course, your website because you can target them there. You can host your products there and yeah, you need to capture them of course, in your email list if possible or in your messenger list. But one thing that's very important and the Jerry V also talks about that a lot, create an omnipresence, be everywhere where your target audiences is as well, and you plant the seed in their brain almost. And if they see your six times almost different things, then, Hey, you must be important or interesting enough, check it out. Yeah, when you have a website and I love to give this as an example, let's say I sell flee and tick collars. We go into tools in this case, I use Serpstat, it's a free tool you can use. You put in the search on Google 3,600 people actually look for that particular keyword. And the keyword difficulty is very easy because it is eight out of 100 sort of means that there is hardly any competition to always go for the high volume, low competition keywords in your particular niche, or let's say this is flea and tick collars. Then I write an article about the five flea and tick treatments that don't work. And I post that on my Facebook page. And sometimes you need to feed the beast a little. I say you need to spend, let's say $50 on that particular topic to promote it on Facebook. But if a lot of people click on it and they will, because people see, Hey, flea and tick treatments that don't work. I don't want my dog to have fleas. They click on it.
Wilfried:
And what now happens and we call it a snowball model. People go from Facebook to your website and all those big tech companies. They look at each other, right? Because they don't want to miss out on the next best thing. So Google will send you traffic. You will rank higher on your keywords for flea and tick treatments. Facebook sees that you do an amazing job because everyone clicks on it. So that will give you a better high quality audience and Amazon, the all-seeing eye, they see as well that you are ranking high on Google and you rank high on Facebook and they will also help your rankings and a good friend of ours. How were tied? He told me the other day that he ranked a product page one on Amazon without one sale and without one review. And how did he do it? He ranked it number one on Google. And that's the proof in the pudding that you will see that all those big tech companies, they look at each other and spent a lot of time doing research. Yeah. And before you start, and maybe it's not too late, what is useful in your industry? What's interesting? What's trending? What's relevant? And if you know exactly what your target audience is doing and what they like, then you need to create a planning and strategy, objective targets activities, and only then can you start sharing and creating content. I see a lot of people that take pictures and they posted online, but, yeah. Is that interesting enough? Is it useful enough? And another big thing that goes wrong, a nine out of 10 is the timing, people go to the office, let's say nine o'clock and oh, I need to post something online.
Wilfried:
They take a picture and they post it. But the audience is normally online between one and 4:00 PM. So, those are your optimal hours. I like to say that our company is that a driven, we only look at numbers and don't fall in love with your product that much. If you take a picture out of it and you post it online and nobody reacts to it, there is something wrong then with either your picture, or your time, or whatever. And yeah, there are amazing tools out there to find out as well. And even within the Facebook of the business manager ad, what's happening with your posts? What are your best posts? And yeah, if it's because the timing then only posts between one and 4:00 PM. So yeah, there are a lot of things you can find out, but again, it's a lot of work. And one thing we also do is when someone likes your post, you can invite them to like your page. And it's a tedious job. I never use any automation, but you can hire a VA to do that. And you can do it all the way up to 100,000 likes. And what happens if people click on the particular button, they like your page, they will see your second post. And that's why your second post needs to be as amazing as the first one they liked. And if they liked that one again, then as I said, they will show up in the first 10 feet of their page. When the moment you share something new and another thing that's overlooked as well is if someone shares your content, what we're doing, we go in and we literally say, let's say you share my post. I say, Hey, Bradley, you're amazing. You shared our posts and you think what's going on here.
Wilfried:
That's a brand that actually reached out to me then that's nice. And most of the time we get the hard back and they say something like things you for the enlightenment. And again, you have a happy customer. Other customers see that you really care and the most important thing, the all seeing eye, the algorithm, they see everything. And they clearly see that you take the extra mile and you will get a lot of more reach that way. And those are my free organic, growth tips. So yeah, be out there and talk to your clientele. And what I normally see a lot happening is is when people ask a question, either in Facebook messenger or whatever, they don't get a response at all. And that's also killing for your business because if I want to know something about shipping, or expenses or whatever, or maybe the size of the product, then I want to have an answer instantly. And that's what I said in the beginning, our community should be real time, one on one communication with your client, you have to fight for every client. And as I said, if they are your loyal ambassadors, they will be your salespeople. That's also one thing you can do is create groups, private groups. And we did it also for a client the other day and somebody, yeah, they talk bad about the rent and all the others that jumped on him and they say, oh, you're crazy. This is an amazing brand high quality. And so you, as a brand owner, you don't have to do anything that moment. It's the other people that will take care of your brand that way. And yeah, that's very powerful.
Bradley Sutton:
Interesting, interesting. Now, you've mentioned some– you have like catchphrases sometimes, and you're good at titling presentations. And one thing I've heard you talk about before is turning your buyers into your Salesforce, is something you've mentioned before. So like, at face value sounds really sexy, I think, to an Amazon seller. So I was like, why don't even turn my buyers into my Salesforce. So, are you referring to kind of just like them sharing your products, or actually making some buyers like micro-influencers, or what do you refer to when you say that?
Wilfried:
They need to almost promote your product and say to their clientele that this is amazing and product reviews and that kind of stuff. And they need to breed, sleep and eat your brand almost. They need to be so fan about your product that they will share it and they will interact with other people and all kinds of things.
Bradley Sutton:
Okay. I like it. For the rest of this episode, now, I want to go into like, sending out some specific strategies that, that you have that kind of like we usually do on the show, something called the TST, 30-second tip, but instead of just one. I want to just do like some rapid fire words, just a quick wins, not like an overarching initiative, but for the average Amazon seller out there or e-commerce professional, what are some quick wins that people can start doing that are definitely– it's not going to change their business overnight, but if they keep stacking these up, it's definitely long run going to help them out. You haven't, you've already given us a few, but let's do some quick hitters now.
Wilfried:
Yeah, absolutely. Well, we see Facebook life is back in favor. So, as I said, go live with unboxing videos, for example, or new product releases, or go to your whole portfolio with all kinds of products, with different sizes, different shapes, different colors. What's very hot and happening right now is augmented reality. Yet even within Amazon, they have something you can use for that purpose. And people don't know whether it is the easiest way to tell it is that you see my face, I put some bunny ears on my hat or something like that, but you can also use it with your phone, too. For example, if you have some furniture, you can put your phone in a particular corner, and then you will see the couch you want to buy. If you sell couches, then you see how the couch will look in your living room. And those things are very powerful. Facebook video marketing is still something that we see growing. So, spend a lot of time on creating good quality videos. As I said, private interest driven communities create your own community with your loyal followers, create VIP evenings, or 10 minutes shopping experiences. It's a little bit harder, of course, when you sell on Amazon though, but maybe you can do something with discounts or whatever.
Bradley Sutton:
So, like the private communities, like private Facebook groups, or off?
Wilfried:
Yeah.
Bradley Sutton:
Well, okay. So, then it gives people kind of like the sense that they're special, kind of like you're talking about where they have exclusivity.
Wilfried:
Yeah. Exclusive access. And let's say, Black Friday is coming in a few months, create one day earlier, some kind of discount or whatever shopping experience for that particular clientele. And I'm not sure if people are familiar with CAMIO, there are a lot of celebrities on there. Hire someone to do the shout out. What I also love to use, for example, is a tool called King Sumo. You can do a giveaway and in that giveaway, people can have more entry tickets if they share it on Facebook, if they like your Twitter account, if they like your Instagram account. And we did one the other day for a client of ours, we got 1600 signups, and those 1600 people, they shared our content 30,000 times, and it's also free organic. And our prize was $350 worth of in this case, it was a cryptocurrency $350 worth of cryptocurrency. And we got 30,000 shares for $350. I also have some security nugget as well. And it happened to me. I had a glitch on Facebook. I think it happened two weeks ago and 48 hours, I have my account back, but somehow one of my big pages was– I was no longer an admin on that page. And what you also should do is have two or more admins on your Facebook page. It's something you think, oh, yeah, we'll do that at the moment. I think about it or something like that, but because I was the only admin the page was without any admins. And luckily we have a good understanding with Facebook. So I have my page back, but it was 120,000 likes on it. And we work on it for two years.
Wilfried:
It's very hard when some technical glitch will make sure that your page is going that. So, on the security side also do whatever it takes. And on that perspective, diversification is very important. I normally say, spend 20% of your time on Facebook, 20% on Instagram, 20% on YouTube, 20% of LinkedIn, if it's viable for your business, that's more B2B, but don't put all your eggs in one basket and spend all your time on Facebook. And tomorrow your Facebook page is gone because you said something about COVID or whatever, or some politician they didn't like. So, you should always be careful on that perspective. And another thing is what I see happening a lot is people don't do anything about brand reputation management. There's two out there, and I'm sure it's free, but I use it a lot of scope. aworio.com. You can put in your–
Bradley Sutton:
How do you spell that?
Wilfried:
aworio.com. And you can put in your target name, or maybe even your competitors, and it will scan the whole internet 24/7, the moment your name pops up, they will say, if it's good or bad, if it's bad, you can immediately take action before it becomes an oil stain, and everyone is talking about it. If it's good, you need to go in and say, oh, you're amazing. You're a top fan. And we love you so much. And that's, again, the VIP that's making your Salesforce or your loyal customers, your Salesforce, if they something say something nice on Twitter. And one hour later, the brand itself says, you're amazing. You're a top fan. Yeah. That will actually make people reach out even more. So, yeah, those things are very important.
Bradley Sutton:
I like it. Before we get into a couple more strategies here, just in general about e-commerce in the Netherlands, how I think it's almost been a year since Amazon Netherlands has come out like, is a bowls, is it called? Right? That was the biggest one over there?
Wilfried:
Yeah.
Bradley Sutton:
Is that still pretty much dominating or is Amazon closing the gap or what do you see amongst consumers in your country there?
Wilfried:
Yeah, well, they are closing the gap, but most of the products are still from Deutschland. It's very close and Amazon DE, and that's a very big one. I think it's the second one, the worldwide. So yeah, that's very powerful, but it's a beast that Amazon and if they want to dominate the Dutch market, they can actually do it. And the prices are lower than bowl. And in time, I think you will see a shift there from bowl to Amazon if they don't take the precautionary steps. And that's what you see happening. A lot of brands 10, 15 years ago that are no longer with us because they thought we're doing an amazing job. We don't have to renew ourselves or rethink about our marketing strategies. And especially now go online. What's the thing like you need to see what's going on and act upon it. That's very important.
Bradley Sutton:
What other marketplaces are emerging in Europe that you can see? Because I think last year that the e-commerce just around the world kind of changed the landscape and people were discovering buying online and it was an opportunity for some marketplaces to say, Hey, like we're not, it's not just Amazon and like here in the United States, we say, Hey, don't put all, like you mentioned, don't put all your eggs in one basket. Sure. Definitely sell on Amazon, but start considering Walmart if your product is, can be considered handmade, consider Etsy. Don't forget about the old ones like eBay, there's new egg, there's all these marketplaces. In Holland we talked about, okay, there's bowl or there's Amazon, but just in other, just in general, in the EU, what would you say are like the top, I don't know, four or five marketplaces that sellers should consider selling on other than Amazon?
Wilfried:
Well, Europe is a little different there because every country has its own language, but also their own rules and that kind of stuff. So world of European, if you look at that, yeah. The one thing is of course, Shopify, then you take control in your own hands. So there is not really like in America, Walmart or something like that. And still, people ordered a lot from Ali express, straight from China. So it's a little harder, but you can still do an amazing job on Amazon. But what I see as a strategy, what is very important and that's basically Google 2005, so people pay attention and that's the rise of voice commerce. And you can still dominate that market because hardly anyone is doing it. But if I want something, I say, Hey, Siri, or Hey Alexa, what is the cheapest bicycle I can buy online. And a lot of people that don't strategize that particular purpose, but if you bring number one, air force commands are definitely related than just the ordinary search online. Then you will see a lot of sales. So, that's certainly something people should take a look at the voice commands.
Bradley Sutton:
Interesting. Okay. All right. What's some cool tidbits that you can give us about– you've been talking a lot about different strategies and obviously it's based on what you've been doing with your clients, but what's the results. So what are some results you can give us like, Hey, yeah, this one thing I mentioned, one of my clients did this and they spent $50 and got this many sales, or they got this many likes, you mentioned a couple of those cool things, but it's always fun to actually understand what is the end result if our listeners start implementing some of these strategies?
Wilfried:
Yeah. Well, as I said that the vacuum cleaner, we got to ring the number one and there are 10,000 searches online for that particular one. And I think he sold around 300 more vacuum cleaners and the price of that particular and that it was an Amazon seller as well. I think the price is around a thousand dollars. So he was very, very happy with what we did. And yeah, other than that, we still have pages that do 30 million reach every month on Facebook without spending hardly any dollars. And of course in the beginning you should feed the beast, but focused on quality, that's something I like to emphasize a lot. And normally I share my slides, but it's podcast, of course, but we have a client. We had to pay for 18,000 to people when we started, then we posted three times a day quality content. A week later, we paid for 10,000 people. And again, three times a day quality content and our audience grew like crazy. And then we only paid for 5,000 people. So you see it's the same with Google is the same or Facebook. If you provide a service that people go to Facebook to have a good time. And I go to Google because I want to find something amazing. And if you are that one that's amazing, then they don't want your money. They will take the money from somewhere else. And that's also something I like to show as well when I'm on stages, the technique behind the ad spent on Google, for example, the higher the quality of your website is the lower the ad spend. And you can also outrank anyone with your own website still, while you're selling on Amazon.
Wilfried:
Now you can put your Amazon links on your website. And as I said, the higher the quality and quality is based upon usability of your website. But speed is also of the essence. I had a website, I forgot about the name right now, but that website that had 1 million views and it went back to 5,000 because Google changed their algorithm. And that's why you need to be knowing what's going on almost a daily basis. And it's crazy, but that's the way you want to do with. And, I see, I have that particular website here. And when that happens to you, it's crazy. It's gearhungry.com. And I think it's an affiliate website, but they dropped from 1 million views to 5,000. And because Google didn't like what they're doing, they have a different set. They look at quality for your content that you look at usability and you look at speed, original content. And if you do not have that, then you can drop out from 1 million to 5,000. Then again, I said it in the beginning, that's why I need to diversify as well. Be on all kinds of different things. And even when you're selling on Amazon, think about, maybe I should also do something else, or would you say the Walmart's or Etsy or whatever you want to sell.
Bradley Sutton:
Wow. All right. That's good. Anything else? Last tidbit that you want to give out and then if not then, obviously, like you said, you're not taking on clients now, but is there a way that people can follow you in social media or maybe just like getting your radar to just in case you do open up your client list, or you do open up to take clients one day again?
Wilfried:
The website is digitalblacksmiths.io. And I need to do more with posting myself, but luckily I have a name Wilfried Ligthart and it's not that many people have the same name. Actually, in my village, there is another one with the same name as me, but he's not that famous online. So, yeah, if people want to ask why ask me questions or whatever, or they want me to look at their social media pages or the website or whatever, I'm fast as lightning as I always say, so I can do it in five minutes almost and see what's going on. So, I definitely like to do share tips and tricks, and I'm not sure, you also have a group and maybe we should do ask me anything session.
Bradley Sutton:
Oh, we should. Absolutely.
Wilfried:
Those are also very powerful because then people could say, Hey, this is my website. Then you take a look at it and I can break it down and destroy it in two minutes.
Bradley Sutton:
Yeah. People need to– you need to have thick skin in this game, but you can't be just so married to what your strategies are and not be open to change. So I hope people take you– are open to that kind of thing. So that's good. All right. Well, Wilfried, I know we talked about you coming, you haven't been out here since early 2020, or late 2019, I forgot exactly when it was, but hopefully, we'll see you in person at one of these events now that the world is opening up again.
Wilfried:
Yeah. I actually booked my tickets. So, in two months I will be in the states since one half year. So I'm very excited. I'm going to Texas first then we will see where will we go. And yeah, I bring my family with me, so we will be there for a whole month and I'm looking very forward to it. So maybe we can drink Heineken again.
Bradley Sutton:
Let's do it. All right. Well, Wilfried, thank you so much for coming on here and we'll definitely bring you back. Hopefully, it won't take another two years to get you back on the show, but maybe sometime in 2022, we'll love to talk to you again and get some of these great strategies.
Wilfried:
Awesome. Looking forward to that as well.
---
Enjoy this episode? Be sure to check out our previous episodes for even more content to propel you to Amazon FBA Seller success! And don't forget to "Like" our Facebook page and subscribe to the podcast on iTunes, Google Podcast or wherever you listen to our podcast.
Want to absolutely start crushing it on Amazon? Here are few carefully curated resources to get you started: