#375 – Travel Hacks For E-commerce Entrepreneurs
In this episode, Bradley shares his top 30 travel hacks that Amazon and e-Commerce entrepreneurs should be using.
Originally published on: September 3, 2022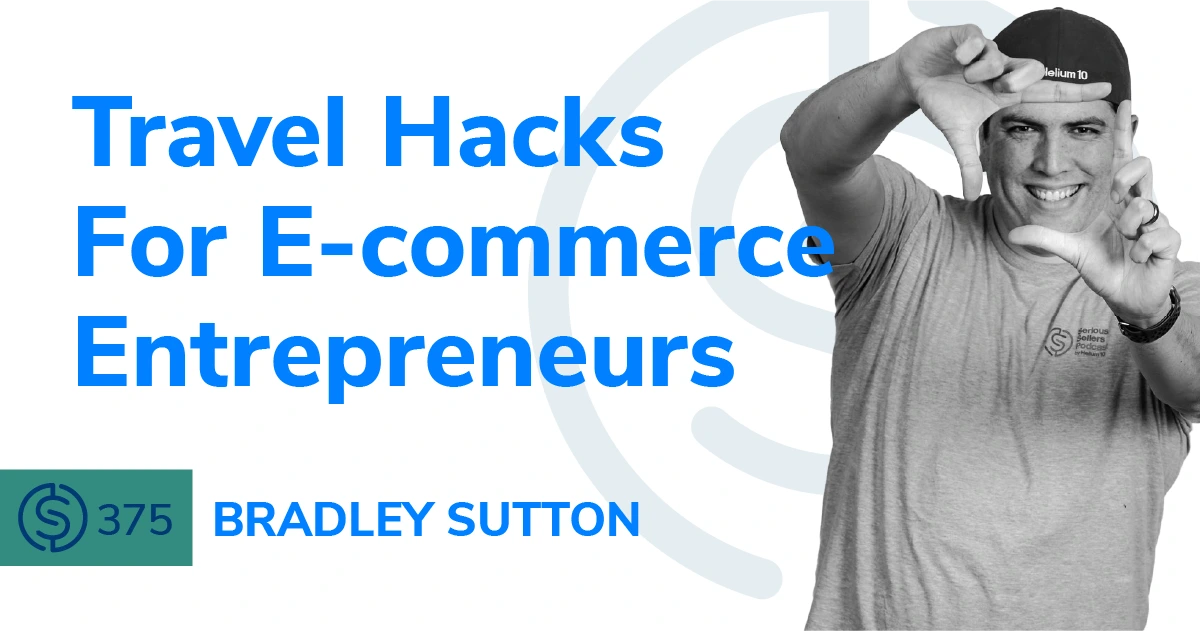 As Director of Training and Chief Evangelist of Helium 10, Bradley needs to travel a lot around the world. How does he stay organized and make it a seamless experience? In this episode, he shares his top thirty travel tips and hacks that can benefit Amazon sellers, E-commerce professionals, and all entrepreneurs. He even shares some cool advice on how he gets $10,000 worth of accommodation in the Maldives for free! So make sure to tune in and listen until the end.
In episode 375 of the Serious Sellers Podcast, Bradley discusses:
02:40 – The Advantages Of Having Founders Card
04:00 – Get Global Entry + Clear
06:50 – What Are The Best Credit Cards
11:30 – How Much Does It Cost To Stay At The Waldorf Astoria Maldives?
12:00 – The Power Of Hilton Member Points And Free Night Certificates
15:15 – Getting A Priority Pass Is A Must
17:20 – Get Status On Your Preferred Airline
21:10 – The Round The World Award
22:50 – Currency Conversion Tip
24:50 – Upgrading To Business Class Tip
28:00 – Check Reviews For Your Airplane Seats
31:00 – Cross-Border Express Hack
31:45 – Try Not To Check-In Luggage
33:15 – Utilize TripAdvisor And Souvenirs Tip
35:00 – Google Yelp Top 100 Of This Year Or Previous Years
36:30 – Make Sure To Get Adequate Sleep
37:45 – Google Flights Or Kayak To Find Nonstop Airplane Trips
39:00 – Browse Flights Using Incognito Mode
41:00 – Airport Parking Hack
42:00 – Finding Good Travel Deals
45:20 – Travel With A Portable Monitor 
46:50 – See You At The Sell And Scale Summit In Las Vegas!
Transcript
Bradley Sutton:
Today, I'm gonna be giving you my top 30 travel hacks that entrepreneurs should be using that allow you to get things like a $10,000 Maldives to stay for free. How cool is that? Pretty cool I think.
Bradley Sutton:
Are you an agency enterprise-level seller or an eight or nine-figure seller and need advanced analytics? Market Tracker 360 might be the product for you to get a demo of Market Tracker 360, go to h10.me/mt360. That's h10.me/mt360. Hello everybody, and welcome to another episode of the serious seller's podcast by Helium 10. I am your host Bradley Sutton, and this is the show that's a completely BS free unscripted, and unrehearsed organic conversation about serious strategies for serious sellers of any level in the e-commerce world. Something that is a serious strategy for serious sellers is travel hacking. I think as entrepreneurs, especially those of you who are e-commerce, you know, which is what this podcast is all about is you guys are, are somewhat uniquely able to just travel the world and you can run your Amazon or Walmart business from anywhere.
Bradley Sutton:
And so I wanna talk a little bit about the things that allow me to kind of like live beyond my means. You know, maybe sometimes you think, oh, Bradley must be independently wealthy. Cuz look at him, going to the Maldives and Pakistan and all these countries all the time. And I know Helium 10's not paying for him to go to the mall. These which is true, Helium 10's not how does Bradley afford it? So I'm gonna give you guys some of my best travel hacks that you entrepreneurs can use. And that's actually why those of you watch on YouTube. You see I'm using a green screen today. I'm using my Maldives backdrop of where I filmed one of my recent episodes. But anyways, let's go ahead and hop right into it. All right. The first thing I wanna talk about is the FoundersCard.
Bradley Sutton:
Now the FoundersCard, I think Tim is the one who first turned me onto this. It costs like $500 a year, but you get like tons of benefits. All right. So some of the ones that I've done is like I did a status match once for United Air. Now what happens with FoundersCard is they have United Air, sometimes Americans, Singapore, et cetera, where you can like get a fast track to get status, and status guys is super important. I'm gonna talk a little bit about United Air status in a little bit, but also this website gives you like 20% off Caesars Palace and all these things that save you way, way more money than you pay each year. I save on my rental cars. I save on about five different airlines, one by one.
Bradley Sutton:
I save on hotels, you know, it gives you status matches sometimes or status competitions to get status on Hilton. That's how I originally got my Hilton diamond status. So guys check out founderscard.com. Definitely take a look to see if you know the different things that are available. There are worth it for you, but I have used this to get thousands and thousands of dollars of benefits. The next thing I wanna talk about is Global Entry. All right. So, for anybody who is traveling either domestically or internationally, I would suggest getting Global Entry. And the reason is first of all, the Global Entry also includes TSA, and precheck. All right. So most of you guys know what TSA precheck is. It's where you can kind of like skip ahead of the line when you're at airports. And you don't have to take off your shoes.
Bradley Sutton:
You don't have to take off your belt. You don't have to take off your jacket. You can keep your laptop in the bag. I mean, that by itself is worth a lot for me. I mean, when you guys are going through airports, you know, no, you don't wanna have to take off your shoes and you gotta take out your laptop and your iPad and this and that. You don't have to do a TSA. Now, global entry includes that, but there's some extra bonuses too. Like when I come back from out of the country or from a cruise or something like that, I just put like my eyeballs on this one machine coming in, I don't have to show my passport. I don't have to do anything. It's like seconds. I get approved and I can go through customs that way, coming back into the country.
Bradley Sutton:
In addition, for those of you who live near a border crossing in the United States, like I live near the Tijuana border crossing here near San Diego. It's a long, long line to get across the border. If you're walking like maybe an hour, or two hours, sometimes with global entry, I go to the very front of the line and just go right through, takes me like a few minutes only depending on who else has that. So global entry guys, if you want to look into applying for that, see bp.gov is where you can apply for that. And a lot of actual credit cards sometimes allow you to apply for that for free. Like if they notice a charge from what it costs to get that they'll reimburse you. And so it was really kind of free to do it. You have to go through an interview at one of these locations and then you're kind of like setting.
Bradley Sutton:
Another thing that I want you guys to think about is Clear. All right, Clear is what I have in addition to my global entry. And this allows me to like double skip the lines at airports. So Clear is a separate service. And you guys have probably seen this domestically United States at airports where you can go through the Clear line. And again, you don't have to take out anything. You just put your eyeballs on this thing. And then what they do is they walk you right through the TSA line. So if you have TSA or Global Entry plus Clear, you just walk across the security in minutes. And this is sometimes when there's like an hour-long wait for security. And then you get to go ahead with TSA probably anyways if you've only had TSA or Global Entry, but sometimes that might take a good 10, 15 minutes cuz now a lot more people have TSA, but once you have Clear, you just like, skip ahead.
Bradley Sutton:
All those people, they hand walk you up there. One of the best investments I've made guys get Clear, you can get more information on that on clearme.com. Now let's talk about the kind of like the meat and potatoes here of one of the biggest things and that's credit cards. All right. So the first thing is Chase Sapphire credit cards. I have both the Chase Sapphire Preferred and Chase Sapphire Reserve. Now I think the Chase Sapphire Reserve might not be available anymore at the time. Like I didn't have great credit. So I actually just like piggyback on one of my dad's accounts. I use his credit in order to get it in my name. You know, you could do that too. If you have a family member who has better credit then you just get it in their name and then just get cards that are in your name that are like subaccounts, where they don't care really too much about your credit.
Bradley Sutton:
That's what I had to do. But there are just tons of benefits of Chase Sapphire. Now, one of the things I like about it's not necessarily tied to a specific airline. So example, you think, Hey, I always use United or I use American, let me just use those credit cards and that's cool. You know, you can do that, but then you're kind of like locked in to only using those airlines, right? For the benefits, the miles only apply there. Sometimes they'll allow you to transfer miles from here and there, but, but usually not right, but with Chase Sapphire, it just gives you points. Now you can use these points as money for a lot of things. Like for example, right now I just used a whole bunch of points. So I only have like 70,000 points in my one account and it's equivalent to $1,031 of travel.
Bradley Sutton:
So I go into their travel thing, which is run by Expedia actually. And then let's say, I want book a flight on Emirates Airlines to Dubai, or I wanna book a flight on United Airlines to Paris, France, right? The prices come up in dollars just like it would the same price that you would if you're using Expedia or Google flights or anything, it'll be like $800. But then I use my Chase Sapphire points as money. All right. So it doesn't matter if I have status with those airlines or if my points are in that airlines, I actually use it in that Chase app as money. All right. So it's really cool. And the cool thing about this is if you're trying to get status on those airlines, it counts as a regular cash purchase. Those of you who use points on airline to redeem, like I have United Air, right?
Bradley Sutton:
So I have like 150,000 United air points that could probably get me a couple of round trip tickets. Right. But if I use points United Air points, mileage plus points in order to redeem a flight, like I don't accumulate points. It doesn't even count kind of like towards my points, like for our future. But if I actually use my Chase points to purchase this, I'm still technically getting it for free, this flight, but it's as if I paid full price for it and I get, I get, I get a credit for that. So it's really cool. In addition, like let's say that I'm close to getting a free upgrade or something like that, actually on one of the airlines, I can transfer those points on a one-to-one basis to those airlines or hotel points. Like let's say I have got Emirates and I've got my own Emirates points and I need 90,000 points to upgrade and I've got 83,000 points in my Emirates account.
Bradley Sutton:
I can go and transfer instantly 7,000 points for my Chase Sapphire card and I'll put it in my Emirates and it'll show up in my Emirates. And now I can go ahead and upgrade using that full 90,000 points. So super cool guys for the points way of doing things on Chase Sapphire. Now, the other thing that you get benefit on Chase Sapphire is they have like these partnerships. So you really gotta make sure that you follow. Like, for example, I, I connected my Chase Sapphire to my Lyft. So Lyft, I get 5x points on any Lyft rides plus a discount. That's exclusive to chase Sapphire members DoorDash I've actually just recently deleted DoorDash because it's, it's one of the reasons for my big weight gain. So it's too simple, too terrible. You get like 10x points I believe on DoorDash and you get like the automatic–, I forgot what it's called, like DoorDash plus or something like that, where it's free delivery if it's over $12 and this and that.
Bradley Sutton:
So you get a lot of extra benefits. And like I said, usually, you'll get some free benefits, like a priority pass membership, which I'll talk about a little bit later or they'll reimburse you for travel. Like you get up to $500 where they'll reimburse you for that which covers the kind of like your yearly fee or actually towards like a TSA pre-check or global entry or things like that. It's actually $550 I believe that it costs per year for some of those Chase Sapphire, but it's like the best credit card. Absolutely. A hundred thousand percent recommended. Now another thing that I want to talk about is how I go to the Maldives all the time, and yes, I have done free flights, you know, you know, using my Chase Sapphire card on Emirates to get to the Maldives.
Bradley Sutton:
But the more expensive part of going to the Maldives is the hotel. So like for example, if I were to go on hilton.com in order to stay at some of the hotels where I stay, it's actually like $2,000 a night. So if you look here to stay in a hotel some of these Hilton hotels that I stay at in the Maldives, you'll see right here of those of you watching this on the internet Waldorf Astoria, $2,120 a night. But what I'll do is I'll use my Hilton points that I get from my Hilton American Express card. And it's 120,000 points per night. So let me just illustrate how game-changing this is, first of all, when you sign up with Hilton, you get like a hundred thousand bonus points.
Bradley Sutton:
And then like, after you hit your certain amount of time with the certain spend, you'll get even more points and then they give you like free night certificates too. So first of all, I'll get a free night certificate. Now here's the tip here. If you ever get a free night voucher or what's called a certificate through Hilton, don't just use it at Hilton Vegas or something. It counts as a standard room anywhere. So I always pick them all to use because these are $2,000 or anywhere from $600 to $2,000 night rooms. And then I get more bang for the buck for that certificate. But another pro tip regarding if you're paying cash or using points is if you're like a Hilton member, you get the fifth night free. So if you book for four nights or book for five nights, actually you're only paying for four nights.
Bradley Sutton:
So here's one of the things I did. Like I took my entire family to the Maldives once. And what I did was I booked for five nights, but I only paid for four nights and I'm only paying the points. So it is 120,000 points per night. If I'm booking a standard room and I actually did two rooms, I even got my kids' separate rooms here. So I did two of those. So it costs like, like 500,000 points, you know, which takes it takes a little bit of time to, you know, like a few months to build up but think about the value there, two different rooms. I spent a total of maybe a million points, on two different rooms at $2,000 a night. That's like, what? $20,000 worth of hotel nights I got for completely free. And then if you're a diamond member, which had that Hilton American express helps you get diamond member status, you get tons of benefits and free upgrades.
Bradley Sutton:
You get free breakfast, you know, when you got the Waldorf Astoria in the Maldives, the average meal is like 80 to a hundred dollars. A person is ridiculous. So there's like this buffet, all you can eat, which is probably the best buffet I've ever been to even better than the Vegas ones, especially for breakfast. And it's just like load up on that for in the morning and it's free. And then I'm good until dinner, but guys, I mean, $20,000 I did, I was able to take my family and I got free flights for them and free hotel. It's really insane guys. And again, I owe that one to the American Express Hilton now for these cards, like, I'm gonna see if I can get some links. Like these aren't even my cards.
Bradley Sutton:
Like I said, I'm using my dad's. So I think if you use this link that I'll put in the description on helium10.com/podcast, you'll be able to get a hundred thousand points. I think my dad is gonna get like 20,000 points. I'll see if he'll let me steal the points. But either way, you could just use the link that you see here, or just sign up yourself. And those are the two go-to cards that I use, especially for like my PPC. And I use to maintain a whole bunch of wholesale business in order to be able to spend about, you know, 20, 30, $40,000 a month using these cards. And then with that, I can get just so many points. All right, let's keep it going. Now, the next thing outside of credit cards is Priority Pass.
Bradley Sutton:
And to me, this is a must like there are these cards like the United, like a credit card where it's like, you get to go into the United Clubs. I forgot what it's called, but I don't do that. It's expensive and they're not in every airport, but if you travel a lot and you're in airports, sometimes you have layovers or you want to go early, you wanna go to a lounge we're entrepreneurs, we gotta be checking our Seller Central. We gotta be checking our Helium 10, right? You don't wanna do that just in the benches. So you wanna go into a nice place where you can get free food, free alcohol, et cetera. Well, I go for the Priority Pass. I forgot how much this costs I think is pretty much free for me because the Chase Sapphire card gives this to me for free the Chase Sapphire Reserve.
Bradley Sutton:
But regardless, if you have to pay like a hundred or 125 bucks, this is like the most worth it thing that I've done over 1,300 airport lounges around the world. It has. And the standard one is actually a hundred dollars a year. And the standard plus is $250 a year. But I mean, I use this maybe 30 times a year. And sometimes it's like just a kind of laid back lounge where you gets some like hors d'oeuvres and stuff like that. But sometimes they're in sit-down restaurants where you get like $40 free credit, and you can buy anything on the menu. And sometimes they're really nice lounges where you've got showers that you could use and just hard liquor and, and full, you know, hot meals and made to order.
Bradley Sutton:
I mean, it's crazy. The value you get, cuz people would have to pay like $50 to get into these lounges without it, or some of these lounges you can't even get in, you can't even pay, you could only get in if you have like business class or something, but Priority Pass guys is an absolute must. I mean, I've been in airports in, in Pakistan where I could get in. I've been to airports in Mexico. It's really all over the world. Like I said, over 1300 lounges at all the airports. So there are very few airports that don't have a Priority Pass. Funny enough, one of the ones that don't is my local airport, San Diego, like come on San Diego. Like how do you not have a priority pass lounge? But anyways guys, Priority Pass is another one of the tips.
Bradley Sutton:
Another tip is trying to get status guys on the airline that you use the most. So for example, the one that I got turned onto like I've been a Skypass member for years, that's Korean Air, but obviously Korean isn't fly domestically. I mainly use that when I used to travel back and forth from Japan, like all the time with my family. But I got turned onto United by rich Goldstein. Who's been on this podcast, you know, a lot of times and he's like, try and get premier one case status. All right. So Premier one case status is like one of the highest levels that you can get with United. Like there's one more, that's high it's so high. Like they don't even put the requirements of what's needed, but you can get tons of benefits.
Bradley Sutton:
The number one benefit probably is what's called Plus points when you get Premier one K. You get 280 plus points for the year. Now, what you use you do is you use these two upgrade economy flights. So it costs like 20 points to upgrade an economy-like domestic flight from like like, let's say I'm gonna travel from San Diego to New York City. Well, I'll buy an economy ticket. And then I could almost immediately upgrade by using 20 plus points, or sometimes you have to get on the waiting list. If I fly economy from LA to like direct flight to the UK, to London, right? It only costs 40 points to upgrade. Now, this is a pretty much incredible deal cuz sometimes the price for this flight is like, let's say $2,000, one-way business class, right?
Bradley Sutton:
And maybe, $700 one-way economy. Well, I just have to use 40 points. Remember I got 280 a year. I can use 40 points and then I can upgrade. And this isn't just for me like I can just upgrade anybody's flights. Like they don't even have to be on the same flight. Like, let's say my friend is going to travel. Let's say, Shivali or something is gonna travel from North Carolina all the way to London, which she went to last year. Well, if she gives me her flight confirmation number, I just put that in and I'll put in 40 points, and then she's upgraded to business class, you know, potentially for that. So super cool to have this kind of status, you get the first boarding, and guys that I can't stress how important it is to try and be the first to board.
Bradley Sutton:
Even if you have to like upgrade seats or things like that nowadays, they really restrict like overhead bin space and everybody's using carry-ons. So if you're not one of the first to board, sometimes you might not even get overhead space and they'll force you to like check in your bag, which is a big hassle. So when you're Premiere one K you get to board before almost anybody like sometimes you get to even board before first class if you're a Premier one K, but you, you might not be able to travel enough to maintain that kind of status, but just try and use one of those travel matching things sometimes like the FoundersCard where you can just get in or one of the credit cards where it's easier to maintain your status. But once you get that, just hold onto that status because that like, not only do I get benefits on United, but for example, let's say I'm gonna take a Singapore Airlines flight to Tokyo or something, right?
Bradley Sutton:
It's not, it's not even on United, but since Singapore and United are on the same team what is it called? I forgot what it's called, but whatever team that they're on, now, I get to board first because I'm like a premier, you know member of one airline. So all the team airlines, I get a lot of the benefits as well. So try and get especially if you like United try and get that premier one case status and you'll be able to like really reap the benefits there. Another thing, like I said, I was or I still am a SkyTeam member or it's part of a Skypass, which is for Korean air. And I've probably got like 800,000 points on there. They have something unique called the round the world award.
Bradley Sutton:
So it basically allows you to take like around a world trip. And for example, for any economy, it's only 140,000 miles, and there are a lot of rules on how this works, but for example, you could start in Korea and then go to LA New York, Paris, Hong Kong, and then back to Korea. And that's like one round the world, you gotta continually go in one direction. And then 220,000 only miles for business class. So like right now I have enough to like pay for my whole entire family to take the around-the-world trip in business class. And so this is a lot better bang for your buck, as opposed even if you have a lot of points of paying for them one by one, cuz if you had a business class trip on Korean air, it's probably like 120,000 points by itself. So for only 220, I can go around the world.
Bradley Sutton:
And so it's a great way to save up and then take a cool family trip or your own trip. You know, just, it can be like a month or two months, as long as you're traveling in the same direction, it counts and then you don't have to, it doesn't have to be only Korean air it's any of the SkyTeam Alliance Airlines you would be able to get flagged. Now it's very limited to, to get this and I still haven't done this yet. So I'm hoping to do it maybe next year, but SkyTeam around the world. That's the reason maybe to go there instead of like the United one that I talked about earlier another tip you know, people ask about, Hey, should I exchange money in my home airport or in the airport that I'm going to, or when I'm on vacation, neither.
Bradley Sutton:
As far as I know, the best way still to do it is to use an ATM card, all right, pull money out from the ATM. And that you're gonna get a better rate than if you're to use one of those counters where you're trying to exchange money. Now, if you're trying to go backward, well, you're kind of screwed. Like, like let's say you, you pulled out a whole bunch of 500,000 yen and then you spend like 400,000, you got a hundred thousand yen left. So like a thousand bucks, you know, you can't like a stick that backs into an ATM machine and deposit it like right there in the airport. So you kind of have to use a currency conversion place. But if you're just pulling cash out and you, and you can do it well use ATM.
Bradley Sutton:
And one thing that I do is I have–, a lot of you guys are big ballers out there for, for eCommerce. You make a lot of money, you have a lot of money in your bank account, and you would qualify for something called Chase Private client. So I've gotta Chase private client accounts. I don't even know how I qualify for this. I think again, I was probably like, you know, a sub-user in my dad's account or something, but if you have Chase Private client, you don't pay any ATM machines, any ATM fees, whether it's in the network, out in the network, whether I'm overseas, you know, like use an ATM machine in Vegas, right? You get like an $8 charge, right? If you use it in Dubai you're gonna get like a $5 charge plus a foreign transaction fee.
Bradley Sutton:
Well, you'll still be charged all of that. But with my Chase Client account, my ATM card, it reimburses 100% of that hundred percent. So it's as if I was using a Chase ATM and a chase bank, like right here in San Diego. Right. So if you have Chase Private client, use your ATM card anywhere, even if you don't have Chase Private client, it's still better to take out money with the ATM card instead of trying to like transfer cash and get that converted. Another travel tip. Let's say you wanna do business class now this is one of those few things in my life that I'm super bougie on. And it's only been in the last few years, but I'm very frugal. I try and save money no matter what, but one of the few things it's like, I almost have to, like these days travel business class and I hate sounding bougie like that, but there are a couple of reasons there's number one, I'm super tall and it's really hard.
Bradley Sutton:
Like airplanes are so cramped these days like you know, I need leg room. Right. and then just like I get claustrophobic these days. Like I like, especially since my heart attack, like I heard that's a side effect, but like, I get really claustrophobic for whatever reason. But even before my heart attack, I was getting kind of like cramped on airplanes, but that's the one thing like I have to travel business class as much as I can. Now that being said, Helium 10, I'm not gonna ask Helium 10 to pay for business class. That's ridiculous. And of course, Helium, 10's not gonna pay business class for me to travel around. So I gotta pay it on my own. So if I'm buying my own flight, well, that's easy. You know, I could just use my points.
Bradley Sutton:
Right. But like, let's say I don't have enough points necessarily to upgrade. Well, what I do is I'll buy an economy flight first. So like, for example, let's say I'm going from here to Dubai on my way to the Maldives, right? That's like a thousand dollars flight in economy on Emirates Airlines. If I were to buy it on business class, it's $4,000. Don't do that. Don't do not do that. So what I do, and sometimes this is taking a chance, but it doesn't work on all airlines, but I'll, I've done this like four out of the five times I've flown Emirates, I'll buy the economy flight. And then I wait to see if there's an upgrade available with my points. And sometimes there are only 77,000 points to upgrade. Or if they give me offers like if there are a lot of seats available, they'll sometimes email me an offer.
Bradley Sutton:
Like, Hey, would you like to upgrade for a thousand dollars? Or would you like to upgrade for this many points or what I've also done? I've done this for Turkish Airlines. I've done this for Singapore Airlines. I've done this for Emirates is I'll buy the economy and cross my fingers. And then when I get to the airport, I'll get there super early. And then I'll be like, do you have any upgrades available to business class, how much would it be? And like the most I've ever paid is like $1,100 for that. Now, if I paid for economy class for free, let's just say it for example. Right. because I use my Chase card, so it's a thousand dollars flight and I get it for free basically. Cause I'm using Chase cards. Basically. I'm only paying $1,100 for that business class because I'm just paying for the upgrade because they want to fill the seats.
Bradley Sutton:
And so they're like, yeah, we'll do it for like a thousand dollars or $1,100. So for a ticket that would've cost me $4,000. If I just bought it initially in business class, I'm only paying a thousand dollars. And even if you consider the points, cost something and still basically only $2,000. So that's like a really good way for that. Now domestically, I really don't care about business class too much because it's not that great. The only time I like business class is like international, cuz I like to like lie down and stuff like that and have the bed and everything. But domestically here's a tip is sometimes business class is not even the best leg room. Do you guys remember how you see on my Instagram used to do this, this hashtag leg room check always?
Bradley Sutton:
Well, I'm like an expert or where is the best, like rows in order to get business class. And the way to do that is by I use this website called Seat Guru. All right. So seatguru.com, and then what it does is it, you put in the flight and then you pick which airplane you're using. And then it knows exactly, it gives reviews on every single seat in the plane. So for example, like here's a United, I'm looking on seatguru.com right now at a United flight, a domestic one. And then you could see these pictures right here. And it's showing green for seven. Now, if I were to go on United and I had to pay cash for a business class, it's probably like 1500 bucks or something like that or a thousand dollars.
Bradley Sutton:
But these see caries like maybe $200, right? But a lot of times this economy is better leg room. Like here's a picture. And so what you do is you go at Seat Guru and look at the pictures where this is like way more space than even the business class because it is the front row of economy. So look at the pictures and then also look at the actual seat. Like here, I can see seven a is green. So let me search on this page for the reviews for seven and then here, it says, Hey, this is great bulkhead seats. However, the divider curtain was bothersome. Like you can get like detailed information on what's going on for each airplane, like regardless of where it is in the world. So for me, on most of my domestic flights, I'll actually not go into business class unless it's a free upgrade or something because I get more leg room using an exit row or using that first row.
Bradley Sutton:
But you've gotta know which ones it is. Cuz sometimes that first row in domestic, it's called the bulkhead or something that you go straight down where you can't even put your feet underneath, but sometimes there's way more room there than even business class. So if you're a taller person like me, don't always just assume that you have to go business class with your domestic international. Yeah. Business class is almost always the way to go. But regardless, even if you're using business class on an international use Seat Guru and there's these little tricks where like they not all business class even is created equal. So sometimes the bed is longer or sometimes you're next to a bathroom and it has bad smells. They'll like say these things. So that's a great website to use another tip. Like let's say you're living in Southern California or some border towns and like Texas and things like that.
Bradley Sutton:
And you want to take a trip to Cancun or Mazatlán or these other kinds of like resort destinations in Mexico. Don't fly from like the US, fly from Tijuana or these other border towns. Like for example, if I were to go right now and fly to Mexico city I would just go over the border and I use something called Cross Border Xpress Like you don't even enter Mexico. You park your car on the US side in San Diego, you go over this thing, a bridge it's called Cross Border Xpress and you end up right inside the Tijuana airport, that flight to like Cancun direct flight or Mexico City is like 60 bucks, 70 bucks, 80 bucks. If I were to take that same flight from San Diego or Los Angeles, it's like $250 each way. So that's just like a cool way to kind of save money and also save time because like you literally just park your car on the US side and then you just hop right over the border and you're inside the airport. Cross Border Xpress is what it's called.
Bradley Sutton:
So check if your local countries have that. And then when you come back into the country, if you've got that global entry instant as you get back over through customs in like two minutes. So super, super cool. Another general tip is if possible because you're staying less than a week. Try not to check in luggage. I mean, how many horror stories have you guys heard of people getting their luggage delayed or their luggage lost? Don't even worry about that. Just try and pack one backpack and then one carry-on that you can really fit a lot of things in, and then try and be one of the first ones on the plane. So you can always use that overhead bins. All right. Like I almost never have a check-in now and so it's super fast. I get to, I get to go later to the airport.
Bradley Sutton:
You know, if you go early, if you check in you gotta go one or two hours ahead of time is the rule, right? And then plus you gotta wait like forever to get your bags. If they even put the bags on the right plane, right? Forget all that stuff, try and pack everything you can into a carry-on like a roller small suitcase carry-on, and a backpack. Like I've, I've sometimes stayed a week and a half and I'm totally fine with those two things. So one of the things that help as far as that goes is how you pack your bags. All right, hold on. So one thing is rolling your clothes instead of folding them. Right? So I'm showing on YouTube right now. Some pictures of rolling in order to pack your bags here, but you can actually save a lot of space if you roll it.
Bradley Sutton:
So the way you do it is by like, let's say, I'll take all my shirts, right? And then I'll lay it flat. All my shirts, just, you know, my shirt's flat on the bed. And then what I do is I fold it over once and then I roll it really tight. It actually helps from wrinkling. And you could pack a lot more in your bag that way. So I put all my pants separate, my shirt's separate, and I make it into these like cylindrical rolls. If you guys can picture that if you're listening to this on the podcast and then I'm able to always pack like a full week's or even more worth of clothes into just my carry-ons. Another thing that can help entrepreneurs. Another tip is I use Trip Advisor when I'm in kind of like foreign places, but even domestically.
Bradley Sutton:
And so I'll go to Trip Advisor. And this is why I suggest to people when you're going on business trips or recreation, doesn't matter, always try and get some kind of like sight scene. It's super cool. You know, have a hobby by the way, complete side note, this is another tip, have like a hobby to collect something at every airport you go to. Right. So for me, for always, it's been a couple of things, a shot glass from the airport. And then one of those like refrigerator magnets is what I do in all the airports. And now my refrigerator is like full of these magnets. But anyways, when you're traveling another kind of tradition that I have, is I wanted like hit up some of the top tourist attractions. So like for example, a few weeks ago I took my family to Nassau in The Bahamas.
Bradley Sutton:
We were on a cruise and then I go to Trip Advisor and then I type in things to do in Nassau. And then the important thing is to sort it by travel favorites or traveler ranking, and then see what's near where I'm staying or where I'm going. So like, in my last trip, I was only there for like maybe six hours from a cruise ship. Right. So I was able to go to the queen staircase, which is the number four thing out of all things to do in The Bahamas. And then I went to also the pirates of Nassau Museum, which is the number nine thing to do in all of Nassau. And it really makes sure that you're like hitting the top kind of like touristy places in order to get the most bang for your buck in the little time that you're staying there.
Bradley Sutton:
Cause it's like, you're like going to an Amazon conference or something like that. You know you want to be able to hit at least one or two things. You don't have too much time. Well, this allows you to make sure, like, you're going to the top thing, so Trip Advisor. And also, you know, domestically, I recommend looking at Yelp obviously for, for like restaurants, but Yelp doesn't have a lot of coverage overseas. So TripAdvisor, for some reason, the restaurants, it shows a lot of restaurants on Trip Advisor. Now another thing speaking of restaurants, you know, if you're a domestic, one thing I do whenever I go to any city is I look at some of the Yelp's top 100, alright, I don't just look at Yelp, but I'll Google this. I don't use the Yelp app.
Bradley Sutton:
It'll take me to the Yelp app, but I will Google "Yelp top 100 2022." And sometimes I'll go back in previous years because it's always different restaurants that make the top 100. So like, for example, this year Yelp's top 100 us restaurants, 2022 the number one place is in Phoenix, Arizona. So like, if I'm going to Phoenix, I actually have the chance to go to the number one restaurant of Yelp in the entire country. Right. So I always look at the top 100 and then I do a control F on this page. And then I see like, I'll do a control F and like, I'll see, Hey, are there any in San Diego? No, there's none in San Diego. I was in the Billion Dollar Seller Summit in Austin last week. The number five restaurant in all of America is in Austin. It's called the Bird Biscuit.
Bradley Sutton:
All right. So I, if I would've done this when I was there, I didn't have time. Cuz there are so many events at Billion Dollar Seller Summit. I could have gone to a number five restaurant that was voted on by users of Yelp. So another cool travel tip. See if there are any top 100 restaurants. If you're a foodie like me, this is, is a good tip as well. Another tip are you taking a Red-eye? Red-eye means like, for example, I'm going to the west coast to the east coast. I take off at 10:00 PM and I arrive like at 6:00 AM. So I take off in the night, arrive in the day, try and time your sleep. Right. So you're really sleepy. Like maybe even don't sleep or sleep like a couple of hours less than you would the night before.
Bradley Sutton:
So that you can try and make sure that you sleep on the plane super important guys, cuz who wants to go on a trip and the first day you're just like recovering and jet lag and things like that. Now, if you're going to a place that is in a different time zone like the Maldives is 13 hours time difference. Right. So it's kind of hard to like get ready. So I just wanna make sure I sleep on the plane again. I won't sleep too much the night before, so I'll be really sleepy for that airplane ride or if there's a time zone difference, I'll try and like the couple days before I go there, I'll try and get a little bit my sleep on the schedule of the time zone that I'm going to, in order to when I land, I feel refreshed already cuz I slept in the airplane and then I get sleepy the time that I'm supposed to be sleeping anyways, instead of like working through the night because it takes a couple of days for my, my body to recover another travel tip, Google Flights and KAYAK are probably what I use the most.
Bradley Sutton:
Like I know there are better ones out there. But I don't go wrong with flights.google.com. Now one cool thing about flights.google.com is that it's got this kind of like thing where I could see, maybe I don't know exactly where I'm gonna go, but like for example, I'm going to the Maldives again for episode 400, probably in a couple of months. And I wanna know where the top like non-stop places I can travel to and from the Maldives. So maybe I can go somewhere else on my trip. So what I'll do is I'll go here to flights.google.com I'll type in the Maldives here or Malé the airport and I'm not gonna put a destination and leave that blank. And if you do that, here's this thing a lot, not a lot of people know about this.
Bradley Sutton:
I hit search. It's gonna show this map of the world and all the flights that are from the Maldives, right? So what I do is I go over here to the filters and I'm going to say, flights only, I'm gonna put stops. Non-Stop only right? And I'm gonna go ahead and put like flexible dates and I'm gonna do this in November. So I'm gonna hit November. Now, all of a sudden, based on where this map is, I can see all of the different cities that have direct flights to and from the Maldives I see London, I see Vienna, I see Rome, Istanbul Bangkok, Singapore Mumbai. And now I know exactly where I can just have a non-stop flight to, or from Maldives. So again, flights.google.com for that another travel tip is to bring a power converter when, when you're going overseas, you know, sometimes as Americans, we think everybody uses the same plugs as us.
Bradley Sutton:
Nope, that's not the way it works. Buy one of those power converters, like 30 bucks. And then you don't have to worry about, your plugs, not going into the walls in different countries. Another one if you're using those websites, I mentioned, you know, flights.google.com or kayak or things like that. Then maybe this is an urban legend, but it doesn't hurt to do it is doing in incognito mode because if you keep doing one flight, sometimes they'll raise the price on you. I actually have seen that once where I did it and it was like $200 and I did it like an hour later and all of a sudden it was $225 when I was ready to purchase. So one way to keep it from them, seeing your cookies and stuff, just do it in incognito mode.
Bradley Sutton:
Another thing is parking, like let's say you don't get a ride or you don't take an Uber maybe. It's, you're going far away. Like sometimes I'll do my international flights from Los Angeles. That's like an hour and a half each way or two hours each way from my house. If I were to Uber, that's like 200 bucks or 150 bucks at least. So I would usually drive to the airport. Now, if you notice here, I'm showing you guys the LAX airport, all right? Everyday parking is the minimum. If you're parking a little bit farther away in one of the terminals is $30. If I'm at the airport, the max, another one is $50 max daily rate, $50 a day, right? That adds up like if I'm staying away for two weeks, I mean, we're talking hundreds of dollars in parking.
Bradley Sutton:
So what do I do, I go to rakuten.com. Another, way to go there is ebates.com. And by the way, guys, this is just an amazing website Ebates, you know, allows me to get cash back on a lot of the transactions I do online, but I go to rakuten.com. I got my account and then I'll type in airport parking. And then usually I'll go to this website that says shop without adding and it's called airportparkingreservations.com and I'll get 10% back on whatever I pay. But even without that, the one that I use for LAX parking is called VIP Parkings, and this is the same. You can enter this at any airport in the United States. It's $9.95 a day guys, and I get a free shuttle and everything, $9.95 a day. Remember what lax parking was at the airport?
Bradley Sutton:
It's $30 a day, so I could stay away for two weeks. And we're talking like, you know, barely like 120 bucks as opposed to $400 for parking. So there's another tip for you guys go to ebates.com, set up your account, and then type in airport parking. And then once you shop on that website, you get super cheap rates. Plus you get 10% cashback. So I would've gotten $14 back on the $140 right there. Another tip is sometimes this is for just regular travel wait for good deals. So like there are tons of websites, even better once they have to pay for, but I just do the free websites. Like there's this one, I go that's called Travelzoo. And Travelzoo, I sign up for the week's top 20 deals and there are always crazy de deals here.
Bradley Sutton:
Like here the number one dealer of the week is going to Milan, Italy. You get a tour, you get the hotel, and airfare from the US is $699. All right. Here's another one, Mexico and Caribbean cruises for $179, Waikiki beach, for $600. And that includes airfare and includes staying at a Hilton. One thing I did with my family, including my parents, was like three years ago, I got for $399 a person, cuz this is subsidized by the Chinese government round trip tickets to China, plus six nights in hotels. And I found it on this Travelzoo website, which is completely free. So travelzoo.com and sign up for their top 20 weekly deals. You always find good stuff there. Another just random thing, especially if you check in late, see if they have, you know, they'll give you a free upgrade.
Bradley Sutton:
Now, I have a Hilton diamond. So I automatically get free upgrades if they have them available, especially if I ask for them. But you never know. One time I check in really late at a hotel in Vegas and they booked up most of the rooms. So they actually upgraded me to a 1500-square-foot suite in Vegas. And I was staying by myself just because they were kind of full and, and I asked, so it can't hurt to ask. And the funny thing is I found this from–, I took a CPR class recently and the guy gave this, I don't know why he's giving travel tips, but when you ask, I don't say, Hey, could I get upgraded? You know, cuz it's easy to say no use psychology on it and say, Hey, would it be unreasonable for me to ask if you can upgrade me to a suite because I saw that you have some available it's like, would it be unreasonable for me to ask?
Bradley Sutton:
And it's like, well, no, it's not unreasonable. So like, it's just like a little psychology play right there. So here's a little tip. I tried that the last trip I went to when I didn't have Hilton and sure enough, I got upgraded, so it kind of works random thing. You guys, if you guys don't wanna bring toothbrushes and toothpaste when you travel most Hiltons and most hotels, all have it at the desk. They don't give it to you automatically and it's not in your room, but you just say, Hey, can I have a toiletries set? You know, you have a toothbrush and toothpaste and they'll give you a toothbrush and toothpaste at the desk. You don't have to worry about it, packing it in your bag and then worrying if it explodes and getting toothpaste all over your clothes and stuff.
Bradley Sutton:
So there's another little random trick. Only a couple more here guys. I like bringing an HDMI connection with my laptop and then allows me to do two things, either connect to the flat screen monitor in my hotel room as my secondary monitor, if I'm doing work or if you wanna stream like local stuff, like, you know, you downloaded some movies or you wanna watch Prime video or wanna watch Netflix and things on the big screen, just connect it via HDMI. Another thing you can do or, or I also do regardless if you're traveling, maybe you're not gonna be in a hotel that has a big screen TV. I actually travel with a portable monitor. The one I have is called Arzopa. I got it from Amazon for like 160 bucks where it's the size of an iPad and completely folds up really flat, really small, and lightweight.
Bradley Sutton:
But it's like you're able to have a secondary monitor. You know, most of us who work on our Amazon businesses, don't just work off a laptop. We probably have a couple of monitors, right? So this allows you to have that feeling you can have your slack on one monitor and your regular stuff, but you're not bringing humongous monitors with you. It's just like carrying an iPad, an extra iPad with your laptop. Another thing you know, maybe you wanna record podcasts or you wanna record videos on the road and you don't want to just use the like air pods or have some bad quality. I use an actual condenser mic. Cause the cheapest one, I found it. Got it on Amazon. It's called the Samson Go Mic. All right, Samson Go Mic is $29 on Amazon.
Bradley Sutton:
Super, super tiny. And when I go to the Maldives, this is what I record it on. So, you know, it doesn't sound as good as the microphone that you're listening to me on right now, but it's still a pretty good microphone, Samson Go Mic. All right guys, you know, I'm not a travel expert like there are websites out there, like The Travel Guy or The Points Guy or something like that it's called and there are a lot more advanced people, but everything that I've done here, this is just regular stuff. Like I'm just a regular guy doing this stuff. I'm not like travel hacking for a living. Like some of these people do, it has saved me thousands and thousands, tens of thousands of dollars using these tips and tricks. So I hope you guys take advantage of some of these. Use some of them for the upcoming selling scale. You know, if you're traveling to Vegas, how many of these can you use to come to Sell and Scale So if you guys don't have your tickets yet, don't forget. Go to h10.me/s3. Use the coupon code, S3BS100. And I want you to come up to me at the show and then let me know which of these travel hacks you used or you're planning to use. I hope this episode was able to help you and we'll see you in the next one.
---
Enjoy this episode? Be sure to check out our previous episodes for even more content to propel you to Amazon FBA Seller success! And don't forget to "Like" our Facebook page and subscribe to the podcast on iTunes, Spotify, or wherever you listen to our podcast.
Get snippets from all episodes by following us on Instagram at @SeriousSellersPodcast
Want to absolutely start crushing it on Amazon? Here are few carefully curated resources to get you started:
Everything for your business on Amazon.
Find out more about our products by signing up or speaking with one of our
Customer Success representatives today. With us in your corner, you can enjoy
more sales and increased engagement from your Amazon business.
Chat with a Support Specialist