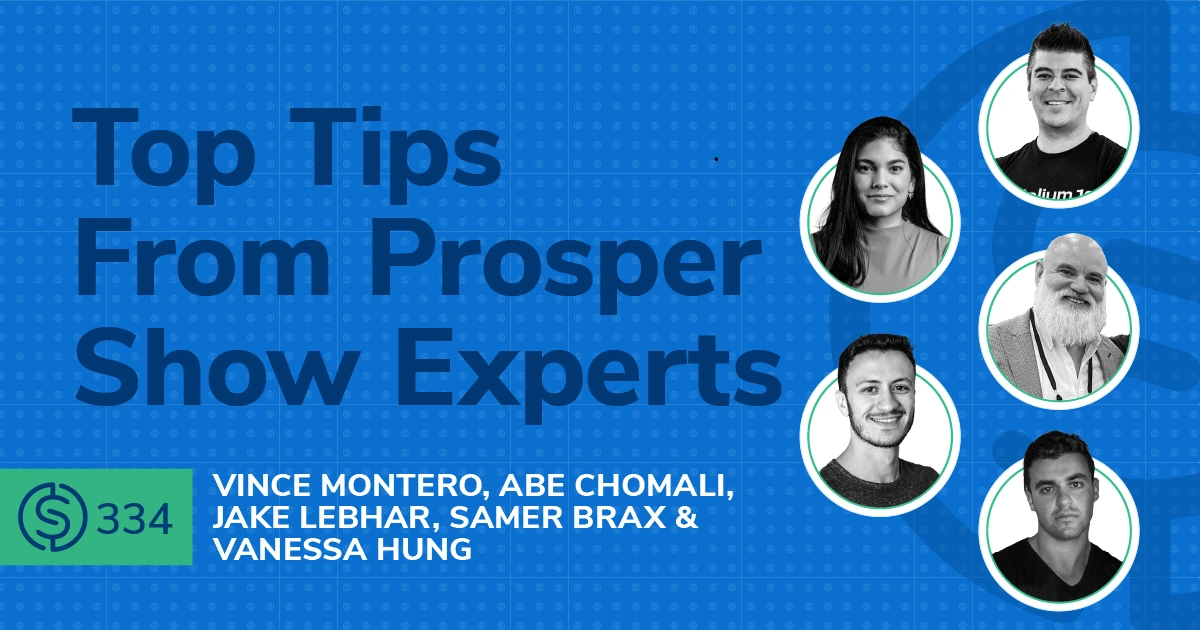 #334 – Top Tips From Prosper Show Experts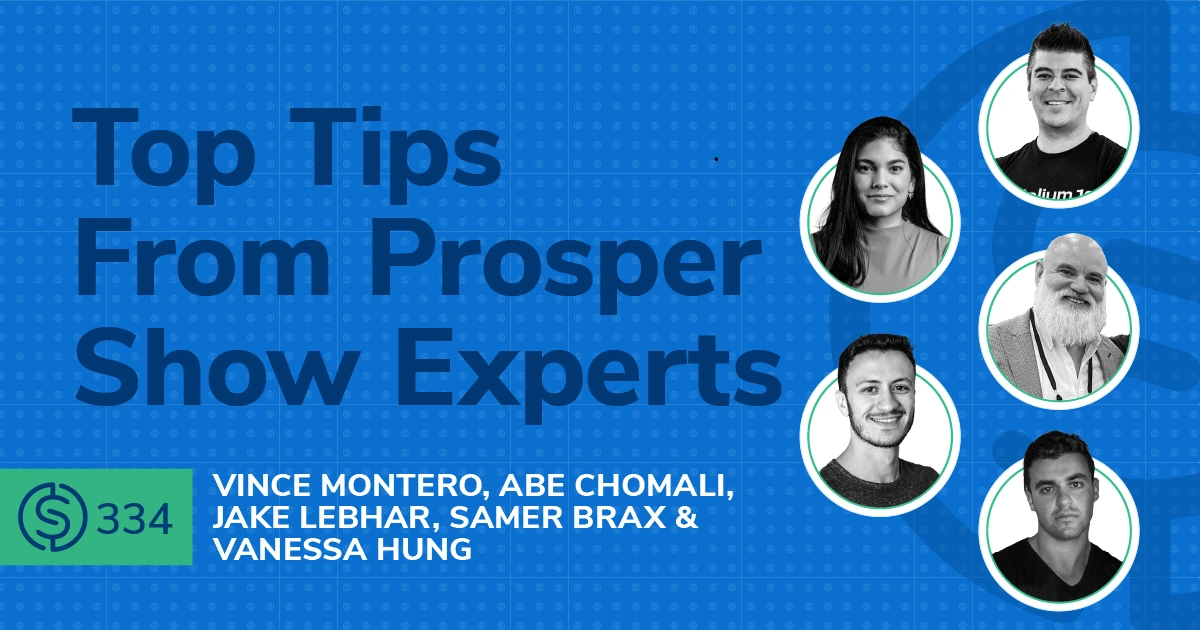 In this episode, Bradley brings his podcast studio inside the Helium 10 booth at the Prosper Show in Las Vegas and talks with some of the top sellers and influencers in the industry. Now that the world is coming back to normal, it is great to network at these events! We speak with Vanessa Hung, Abe Chomali, Jake Lebhar, Samer Brax, and Vince Montero to discuss everything from their unique stories to their best tips and strategies for you to crush it this year.As a bonus, Bradley also interviewed the speaker behind the Prosper crowd's most favorite tip and shares that tip in this podcast, so make sure that you listen until the end!
In episode 334 of the Serious Sellers Podcast, Bradley, Vanessa, Abe, Jake, Samer, and Vince discuss:
01:00 – It Was Great Meeting You Guys On The Prosper Show Event
03:00 – Bradley Shares His Motivation For Creating This Podcast
04:00 – See You At The Sell And Scale Summit In September!
05:20 – Vanessa Shares The Prosper Crowd's Most Favorite Tip
14:30 – Abe's Backstory And How He Got Started In E-commerce
17:00 – Engage With Amazon Account Reps That Connect With You
20:00 – Jake Started His E-commerce Business When He Was 15
21:45 – Projected Sales Of $40 Million This Year
23:00 – There's A Big Opportunity With Walmart
25:00 – When Is The Best Time To Quit On A Product?
29:00 – Don't Get To Attached To Your Products
32:30 – New Updates On Helium 10's PPC Tool – Adtomic
35:00 – Stay Tuned For Vince And Bradley's Workshop Webinar
37:00 – Insights About Walmart Advertising
38:00 – Get Early Bird Tickets For The Sell And Scale Summit  
Transcript
Bradley Sutton:
Today, we're gonna get some cool strategies and tips from sellers that we met at the recent prosper show in Vegas. These are some strategies that you've never heard before on the podcast. How cool is that? Pretty cool. I think.
Bradley Sutton:
Are you a YouTube blogger, blog writer, course creator, or other kind of influencer or educator? Maybe you just have a network of people interested in e-commerce. Did you know that you can earn commissions of 25% for life for everyone that you refer to Helium 10? We've got many partners in hundreds, even thousands of dollars monthly in commission from Helium 10s partnership program. If you'd like to join our affiliate partner program, please go to h10.me/crushingit and tell them you heard about it from the podcast. Hello everybody, and welcome to another episode of the Serious Sellers Podcast by Helium 10. I am your host Bradley Sutton, and this is the show that's a completely BS-free unscripted, and unrehearsed, organic conversation about serious strategies for serious sellers of any level in the Amazon or Walmart world. And we just spent a few days in Vegas meeting sellers of the Amazon and Walmart world.
Bradley Sutton:
It was great to meet a lot of you guys there. So we're gonna go to some clips that from some live recordings that we did there, but before I just wanted to talk about a few things, first of all, just in general, you've heard me say it a million times. It is so great to be able to network at events like this, especially now that the world is getting back to normal. One thing that was cool was I got to meet up with my old Zon squad buddies. That was the old mastermind that we had years and years ago, way before I worked at Helium 10. And a lot of us, you know, had met originally at a conference that was in 2016, I believe. And you know, some of us, we hadn't seen each other in years. And there was like eight of us at Brandon Young's party there at top golf.
Bradley Sutton:
And it was just cool, like these people and just realized that, yeah, we connected through a conference years ago and, and we've stayed in touch, you know, since then. And, I guarantee some of you guys who went to this Prosper Show and you met people, you're gonna be in the same situation in like five years. You may have a little mini reunion or something, but you are gonna stay, hopefully, I'm encouraging you guys to do that. Stay in contact with these people that you meet in the Amazon world so that you can help each other through the struggles, through the wins, support each other. It's just really great having a support network of other Amazon sellers. So that's what I got out of this last conference and all the conferences I go to. And those of you out there let me know if you had that experience too at this prosper.
Bradley Sutton:
But they really did a great job this year at the Prosper Show and we had a great party, it was great to meet so many of you, it was really, you know, like humbling it to hear some of your stories and how, you know, the podcast is, what introduced you to Amazon? You know, I heard some of you say, and how you basically only had Freedom Ticket and Project X and the podcast. And that was how you learn to sell on Amazon. I mean, that's guys, that's why I'm doing this. You know, this is like, that's what I live for to know that we're making a difference out there with the message that we're trying to get out, you know, here at Helium 10. And it's really great to be able to actually meet some of the you guys in person. And to have you guys say, you know, how the podcast episode, how a certain podcast episode, or how something in Freedom Ticket get kind of like change your life and allowed you to get on your e-commerce journey.
Bradley Sutton:
So thank you so much for coming up to me and you know, saying hi and introducing yourself again, how cool is it that we didn't have to wear a mask for the first conference? And I don't know how long it was just really great. So before we get into those strategies, I want to announce something that we've been talking about a little bit now, it's the Sell and Scale Summit. So mark your calendars guys, September 20th to the 22nd is our first ever Helium 10 hosted huge conference. We're trying to make this the biggest conference in the history of Amazon and Walmart conferences for online sellers. And we were expecting over 2000 people. And hopefully, everybody who's listening to this episode can make it to Vegas. So if you guys want to get early bird tickets, the early bird tickets prices are gonna go up soon, go to h10.me/s3 and you can get your tickets.
Bradley Sutton:
We've got some amazing keynote speakers that the first one we just recently announced, Gary Vee are you serious guys? Like that was like my dream speaker. If I were ever to like go to a conference, I've never been even been able to see him talk in person, and to now maybe I'm the one who's gonna be able to introduce him on stage. I mean, that's like surreal guys. I mean, he will get you motivated if you're on the fence about getting into, e-commerce just listen to a talk from Gary Vee and he'll get you motivated. So that's our first keynote speaker. There's gonna be other keynote speakers that we're gonna announce soon as well. I'll be speaking there, you know, Kevin King, Tim Jordan a lot of the previous podcast guests that you guys know and love.
Bradley Sutton:
We're gonna try and bring them so that they can speak on different tracks and different focus groups and different things that you know, can help you at different stages of your journey. Whether you're a nine figure seller already, or whether you're a seller who is just starting out, you're find different speeches that are going to be helpful to you. And I swear, I've said the word different about 17 times in the last two minutes, but I apologize about that. That's what happens when you record these at 1:30 in the morning, but anyway, I digress Sell and Scale Summit 2022 guys, this is gonna be the event of the year for are Amazon sellers. We're gonna have networking. We're gonna have, you know, great keynote speakers. Like I said, we're gonna have an amazing party, actually, parties celebrity musicians that everybody knows is going to be performing live.
Bradley Sutton:
Like if you guys went to our Prosper party, you guys got to see Sugar Ray's Mark McGrath perform, which was amazing for those of us who were, you know, young adults. Let's just say in the, in the nineties when, when his music was popular. So it was really cool to see him and we're gonna take it to another level with our next musical guest. So it's gonna be we're cool. I want you guys to come out h10.me/s3 lock in your tickets now because the early bird prices are going up as we get closer to that date. But anyway, let's go ahead and hop right into these, on the spot interviews that we did. What I did was I went outside the Helium 10 booth and I do to start pulling people in to come.
Bradley Sutton:
And one of these strategies that we're gonna get into was actually voted the number one strategy for the Prosper Show. We're really thankful that she came on and, and is gonna share that with us. And so this first guest is Vanessa. All right. So our first guest here is a no stranger to the, a podcast. Vanessa hung. I forgot what what number your episode was?
Vanessa:
259.
Bradley Sutton:
259. That's crazy. How'd you know that, and you were like one of our first guests on our Spanish podcast as well, with Adriana. So we're here at the Prosper Show and we were on this panel today. Where's like, Hey, what's your best kind of strategy? I think they kind like copied that from the 30-second tips that we do, very similar, but anyway, there was 10 of us up there and your strategy actually won as far as the crowd's favorite tip. And it was something that you didn't really talked. That it was before when you were on the podcast, you didn't talk about this, cuz I think it's a newer strategy that you have. So can you go ahead and give us your strategy about, about the Spanish language in Amazon USA listings?
Vanessa:
Yes. Okay. Where to start, first of all, I discovered that there is a way to change the copy in your Spanish translation in amazon.com. So hear me out, you may think that, oh, it's a different listing. I need to create a new ASIN in Spanish and da, da, da. This is not what I'm talking about. I'm talking about the fact that Amazon already have Spanish experience in their website and in their app. And there are millions of people in the states and on all over the world that are using their website on their completely in Spanish. So I mean the whole website is in Spanish, not only the listing. So what happened here is that Amazon started translating that in 2017. At that time, the translation service, it was not great. So they translated that and it's terrible.
Vanessa:
Imagine like a Google translation kind of thing. So it was serving the purpose of course we have content now in Spanish, but it's terrible. So the reason why most of the times we are here in the space, like hear people saying like, oh, you need to input Spanish keywords in your backend, or you need to advertise in some Spanish keywords. And I also heard people saying like, whoa, but that's not a lot of search. That's not a lot of conversion. There's not a lot of returns, and I'm gonna tell you why it's because the listing is terrible. The listing is not designed to convert people. The listing is just designed there for Amazon to say, like, we have a Spanish experience, but that's a terrible experience. So I found a loophole and I hope at some point it's no longer like a backend door, but more like a process that we can do on Amazon to fix that is the translation team.
Vanessa:
So there is a like kind of secret or hidden contribution translation team on Amazon that is in charge of that translation. So what you would do, if you go now to your Sellers Central account and you go into your listing and, and change the experience to Spanish, you will see probably that your listing is missing some information. So I seen listings missing bullet points, description, like title is completely terrible or the name of your brand. It changes to. So, you know, a brand name is a brand name. You don't change it.
Bradley Sutton:
So, your brand name could be like brain foods or brain supplements. It'll be like Cerebro supplements.
Vanessa:
Yes. (speaking in Spanish). Yes. So, so that's what the system is. Wasn't designed in 2017, for that they're using a legacy system in 80% center of, of the catalog. And, and this is where it gets very interesting. And we can have like a long talk about it is the hidden algorithm be behind that. So when you search keywords in Spanish, on amazon.com, the results that you are getting are completely different to the search results that you're getting into your English list, like keywords. So, guys, this is like something that we are not seeing. There are 69.9 million Hispanic-speaking consumers in the states with $2 trillion spending a year, and we are just neglecting them. So this is the hack. And I took, and I take that hug very personally because the story behind it is my mom came to visit during the holidays. And she was like, looking for stuff on Amazon and she couldn't find it. And I'm like, what do you mean? And I learned that she was looking for, she was doing the searches in Spanish, so, okay. Oh, this is interesting. So I started like researching that I changed it in accounts. I was able to change the SEO the way I wanted into a Spanish experience. So we were seeing a 1.2 conversion rate before in a Spanish keyword, and now we are seeing 12. So what does that mean for you in your PPC? Yeah. So that's amazing. I mean, we, and we are missing out.
Bradley Sutton:
Yeah. So, guys, the point of the moral of the story is, you know, you, you can optimize your listing for the right keywords in English, and yes, Amazon does translate it, but that doesn't mean that it's an optimized experience. And you guys know what it means, cuz those of you who are Americans and native English speakers, you always know when there's a listing maybe that was made by a foreigner. You know, a lot of people say, oh yeah, this listing obviously was made by a seller in China and maybe they just use Google translator. Something like doesn't even make sense. It's like it's English, but it doesn't make sense. Well, that's the same way, you know, in Spanish too. Sure. Maybe if it's got the keywords there, but they're not in the right context, it's just that you is if you use a Google translate.
Bradley Sutton:
So the customer experience is not gonna be good. So that's great. You know, we had given that strategy too about making sure your, A+ Content is trans is translated. So that would be another thing we should test is, is, you know, if you select an Amazon will also automatically translate your A+ Content to Hebrew or Spanish. But I bet unless that's a newer, you know, algorithm or newer translation software, it might come into the similar things where it's not that great of a translation. So that then the question is, well, can we do the same thing with A+ Content? Can we like?
Vanessa:
Yes, we can
Bradley Sutton:
Have you tested that before?
Vanessa:
Yes.
Bradley Sutton:
Yes. Oh, okay. So there you go. Your regular listing and your A+ content listing guys, 69, almost 70 million Spanish-speaking customers out there. Yeah. And you guys see it in Helium 10 the search volume. One are thousands of people who are using either English or Spanglish, like one of my favorite keywords, 20,000 search volume colágeno for women. Right. That's the keyword. So it's like collagen for women. So it's like Spanglish. So there's a lot of Spanish-speaking people out there too.
Vanessa:
Yeah. And the other thing also is that this is not only for the Hispanic community in the states, but a lot of countries in Latin America are used to shop on amazon.com and ship to those countries. So if we start to together those numbers, we're talking about millions and millions of people that we are not serving well, and this is the thing like we are leaving money behind, like on the table. And also, our customers are hungry for products, so they're there already buying. Awesome.
Bradley Sutton:
Awesome. Well, thank you again for coming on here, Vanessa. Like I think your turn to have a full episode will be probably in a few months. So we'll definitely have you back and probably you'll have some more hacks. I'm gonna give you some (speaking in spanish) some homework. Right? Okay. I want some, I know it's not necessarily your expertise, but start giving us some getting ready for some Walmart strategies going.
Vanessa:
I'm working on it.
Bradley Sutton:
You're working on it. Okay. So in a few months, come back and know all about, you know, is there such thing as flat files for Walmart or not?
Vanessa:
Yes, of course.
Bradley Sutton:
Oh, there is. I didn't even know that there we go. All right. So we're gonna get into that with the flat file queen herself, Vanessa. All right. Thank you so much for coming on. All right. Next up. We've got somebody who has not been on the podcast before Abe. How's it going?
Abe:
It's awesome. I'm loving this show and it's really great to be in Vegas. It's really great to communicate with, or to meet up with all the sellers that I see all the time and speak to and just to get in touch with you, you know?
Bradley Sutton:
Yep. Absolutely. Now it is funny that one of the first times we met, I remember like, what was it like you were actually working at WeWork? But it was in a building that I actually used to work in like 20 years ago in New York, right.
Abe:
Yeah. As, as soon as we got on that video call together, you're like, I recognize that background. Where are you? Are you, are you in downtown Brooklyn? I'm like, yeah. And I told you the address. And you're like,
Bradley Sutton:
That's crazy.
Abe:
I think I used to live there. I think you said you like either you lived there or worked there.
Bradley Sutton:
One of the buildings that was connected where I lived. And then I worked in that building right there.
Abe:
Right. That's I'm like, oh my God, you might have been sitting in this exact seat four years ago. It was fantastic. Like, just thinking about that as I went to work every day was gave me a kick.
Bradley Sutton:
Oh, okay. Okay. Now you're taking a little bit too far there, but anyway, you know, since you haven't been on the podcast, we'll have you on the podcast for a longer episode later, but why don't you give us your two to three minute backstory of how you got into e-commerce.
Abe:
Oh boy. So I got into e-commerce because that became the way to sell. So I started selling period in 1991. I would work for a mail order house in which we would advertise products in the back of camera magazines. We, there was no internet. We'd have like a big phone number on the top of a page in the magazine. And we'd get phone calls from people who wanted us to send products to them. So we did that for a bunch of years, all the way up until about 1997, 1998, and then the internet came along. It's just, there was no internet before that. Emails came around in 95-96, and websites became a way to sell in 97-98. There was no Amazon, there was no Google. Even at that time, we started off with a Yahoo store. We did a lot of business on that Yahoo store.
Abe:
That faded a little bit, Google became the main way to sell products with our own website, did that for 10-12 years in between our own website and Amazon being dominant, eBay had like a hot minute where it became really the place to buy a lot of product. And then from like 2007, 2008, I was selling on Amazon almost exclusively, primarily came to be 2017, 2018. I was seeing a little bit of a stall in the growth. It wasn't growing the way I would've liked it too, I was looking for an interesting opportunity or maybe a pivot, and the opportunity to help a couple of other sellers came up. I looked into their accounts and said, Hey, the things I realized from my own account work in someone else's account too, in different product categories. From there, I said, I think I like this. It was, you know, advertising was always the part of the business that I ran in my businesses and the opportunity to do advertising exclusively and to help drive sales and drive growth without the other parts that were more challenging to me or less intuitive. That was something which I decided to build on. So I've been doing it for three and a half years now. I've got several dozen clients trying to make it several dozen more and it's been an interesting ride.
Bradley Sutton:
Awesome. Awesome. All right. Now, one thing we do on this show is we say we ask for somebody's "TST" what stands for TST, 30-second tip. What's a quick hitting strategy that somebody can implement now that you think maybe not a lot of people know about.
Abe:
So the thing that I'll suggest is that it might not apply to every seller, but more than you might think. A lot of sellers have Amazon account reps reach out to them and they almost treat it like spam because they think that they're gonna get recommendations that are just intended to give Amazon more ad money. There is a reality that if you engage with those people that connect with you, you can get two pieces of value that are tremendous. The first thing you can ask for, if you're a private label seller is a comparison. It's an anonymized comparison, but you can get a comparison of how you do against some of your top competitors. Amazon can run reports in which they tell you you're doing in terms of how much you're spending on ads compared to your competitors, what your ACoS looks like, what some of your conversion metrics.
Abe:
And it's almost like a hack in which you see whether you're doing better compared to your competition, or whether there are places where you can improve a lot. A lot of times we operate in a sort of a silo where we don't know how everyone else is doing compared to us. We don't get a lot of data about that. So Amazon reps can give you that. The other thing an Amazon rep can do for you is create product videos. Video ads are very much an underutilized opportunity it's growing and it's well, it's getting better known, but creating videos. Isn't easy for a lot of sellers. There's a lot of cost to it and Amazon has resources in which they can create videos for you. And those videos have gotten a lot better over the past six months. They've got tons of templates. If you do need an Amazon rep to coordinate it for you. That's why I mentioned the caveat that somebody has to reach out to you first. But if they reach out to you, send them a reply. Yes, I'd like to work with you. And during that first call for help with videos,
Bradley Sutton:
I love it. All right, Abe. Thank you so much for joining us here and enjoy. Coming to our party tonight, right?
Abe:
Oh, of course, I wouldn't miss
Bradley Sutton:
It. Right. Excellent. All right, we'll be in touch and then let's bring you back for a long episode where we can get more into your strategies.
Abe:
Looking forward to it.
Bradley Sutton:
All right. We'll talk to you later.
Abe:
Thanks.
Bradley Sutton:
All right. So next up now we have somebody whose last name might look familiar, Lebhar here. So Michael has been on the podcast many times. He's also been in our freedom ticket training for Walmart. This is his younger brother, Jake coming for the first time on the show. Now we've mentioned Jake before, because I remember like I interviewed Michael like, you know, years ago and he was saying how his brother was of like in the game now when you were still in high school, right?
Jake:
Yeah. Yeah. That's when you tried setting him up with that girl.
Bradley Sutton:
You all know about, Hey, everybody knows that sounds kind of suss, but what happened was I had Michael and another seller who I met here at the Prosper Show, like a couple of years ago. And it just so happened. You heard about that, right? They were born on the same year, but the same day. And they were the exact same age there. I just completely found them randomly. And then I was, I was like hoping to have the first Amazon marriage come from the Serious Sellers Podcast. That didn't work out.
Jake:
Listen, you gotta try, keep trying.
Bradley Sutton:
How old were you when you started working with your brother in, in Amazon and eBay and things like that?
Jake:
I just turned 15.
Bradley Sutton:
So you were like freshman, sophomore in high school. I
Jake:
Was in middle of high school. I was just ditching. So then I decided like, if I'm either leaving, like running, I'm playing basketball, I might as well do something productive.
Bradley Sutton:
So what did it entail? Like what were you doing at that?
Jake:
Well, at that age, we didn't like, I didn't really have much, so the only thing I could have started with eBay, but I still wanted to start with like, you know, some like product lines. So we started with our workout accessories. It was like, it is an easy product to source cuz it was from Pakistan. So I didn't need to order container or anything like that.
Bradley Sutton:
So at 15 years old you were the one who was like sourcing it and things like that.
Jake:
Yeah. So I just started getting on Alibaba. Like we saw I'm sure my brothers spoken about it in the past, but we saw a few brothers that have done, you know, that did in LA and were like, if they could do it, why can't we? So like, we're just as aggressive as anyone. So, we got in this space and we just, yeah, we started selling from there. We started, you know, we started bringing in, you know, a few boxes and then it just started getting into our RAs house and then warehouse, in high school, I would leave every day in like in like 10th grade I had a warehouse like illegally like I had it under someone else's name. We owned a warehouse right next to my high school and we would just manage from there. Like, there'll be full-time employees that were working there.
Bradley Sutton:
Making more money than your teachers and everything.
Jake:
Yeah. And I would like run outta school, be like, yo, I have to go to my warehouse. Just like fly over there. But yeah, thank God. That's where it started. It's like–,
Bradley Sutton:
Now, fast forward now, 2022. I know you guys just launched a couple of brands like it's super early, but if you were to project, what your gross sales across all your platforms and Brick-and-Mortar and wholesale are gonna be in 2022. What, do you think?
Jake:
Okay. Okay. That's a big one. Total revenue numbers. I think it's at around like 40 million.
Bradley Sutton:
40 million.
Jake:
Yeah.
Bradley Sutton:
And it all started when you were in high school. I mean, your brother was still in high school. I mean he's only a couple years older than you, right?
Jake:
Yeah, he's one and a half years.
Bradley Sutton:
Yeah. So he must have been in high
Jake:
School too. He was in high school. I was in like ninth. He was in like 11th grade.
Bradley Sutton:
Now one thing we do on this show, we'll have you back on the show for like a longer time here, but we always ask Michael and everybody else to give their "TST" or their 30-second tips. So what is something I know you talk a lot, so maybe you can go out over 30 seconds, but.
Jake:
I'll go over 30-seconds.
Bradley Sutton:
Like, what's a strategy that you think some sellers are not using, could be about. Walmart could be about Amazon, could be about we know you're very good at going to clubs and getting people go, but we're not gonna talk about that kinda stuff right now,
Jake:
He just exposed. I'm gonna have in the front,
Bradley Sutton:
You've been exposed 4k right now
Jake:
Exposed right
Bradley Sutton:
All right, go ahead.
Jake:
Okay. I was telling this to everyone today, honestly, because as you know you know, the Walmart agencies, you know, really picking up, I remember in 2015 and I know, thank God everything's going well. But I said I would've been a billionaire in 2015. I would've saw the potential that there was in Amazon. I launched one of the first, I think it was the second listing of fabric resistance bands. If you look at those on Amazon right now, there's hundreds of sellers making hundreds of sales a day. And I just didn't have the money. Like I didn't think like, oh, you know, let me put a few hundred more bucks into, I was too cheap then. I didn't do that and I still look back at it. I'm like, why didn't I take advantage of the opportunity? We know we see the opportunity in Walmart right now and I'm trying to push people.
Jake:
It's like, you see the opportunity in Walmart that. They're the only name that at the end of the day is gonna be able to stand up to Amazon. There's no random name out of the blue. That's gonna come. They have a big name. Yes. They're known a little below pricing, but they're changing that structure right now. And the amount of stuff that they're doing that literally shows how they're imitating Amazon is crazy. And if people don't take that look right now into the other side and be like, okay, this is the next place where it's gonna be then just missing out a big opportunity.
Bradley Sutton:
Yeah. So in other words, it's like, Hey guys, start on Walmart, and it's not just moving your Amazon products to Walmart. I know you guys have a number of Walmart only SKUs that you're not even selling on Amazon. Right?
Jake:
Yeah. It's going great honestly. Like people think, oh, I'm only making 10%. My sales. It's like, yeah, you just transferred over all your Amazon data. Walmart. It's a completely different algorithm from A to Z. We don't have to go into the details, but what do you think? They just build out their platform and said, okay, we're gonna do exactly like Amazon. They have so many different, they have so many different copy. Starting from there, you know, to the last process. It just it's completely different. The amount of education and training you've taken on Amazon. You're gonna need to start putting focus into that, you know, for that on Walmart.
Bradley Sutton:
All right. I love it. If you guys want help, he references an agency, go to directory.helium10.com/sellcord, right? Is the name of.
Jake:
SellCord. Yeah.
Bradley Sutton:
Cord check it out. SellCord. Just like his shirt right there. So check out, SellCord they're in the directory and they can help you out. Yeah. Here, check the back to. Are you selling on Walmart marketplace? I like, I like it. All right. There we go.
Jake:
There we go. That's a wrap
Bradley Sutton:
Advertising. Advertising 101. All right. That's right. Jake. I'll be seeing you tonight at the party and on a podcast.
Jake:
Yeah, we will. Yes. Bradley. We're gonna go crazy.
Bradley Sutton:
All right, let's do it.
Jake:
All right, let's go.
Bradley Sutton:
All right. Next up. We got Samer Brax. He's been on the podcast before now. On the flip side. So you know, a question that some people ask is, Hey, when should I, maybe I don't wanna say, give up on a product. You know, like Amazon is not necessarily doesn't mean you're a quitter or something, but there is an appropriate time sometimes. Like, you know what, I'm just gonna go ahead and let this product run out. And a couple of yours, you actually have reached that stage. So can you talk a little bit about what led you to this decision? Like, Hey, you know what this product I'm just gonna sell out and then I'm done with that product.
Samer:
Yeah. So that product was doing well. But I started in 2018, December 2018, selling resistance bands, fabric resistance bands. And that was a small niche back then. And then COVID happened March 2020 Jims closed. And then we went from doing 1-2k of profit a month to doing 14K of profit in that one month. And that was awesome, but also scary. Like I turned off ads, I increased prices and we were still selling, so we ran outta stock, but then I had an order that was coming in luckily. So that came in, also ran outta stock. So then I ordered a bunch of inventory so I can not run outta stock anymore. I ordered variations and I ordered a new product and the combination of ordering too many units and a new product that, you know, wasn't, there was no proof of concept yet. And I ordered a lot of those units and delays in shipping and everybody started selling these bands. I didn't have enough of us differentiation for that big of a market. It's like, I went from selling in a niche, small niche to selling with the big whales. And I just wasn't prepared for that. Yeah. So all that and ads went up all that you know, over the course of a year, year and a half, it was just not profitable anymore. I tried to rerun, I didn't have enough money to keep it up. Yeah. And eventually, I'm like, yeah, I can't do anything anymore. So–,
Bradley Sutton:
So then when you made that decision, like how many units left did you have left in stock?
Samer:
I had a couple thousand.
Bradley Sutton:
Okay. Yeah. And then what's your sales velocity at that time then?
Samer:
It went down to like, I don't know, from 16 units a day down to like five, maybe even less.
Bradley Sutton:
Then how are you gonna get like our, just paint some storage for all of them?
Samer:
Yes. Yeah. And then what I did was I liquidated a bunch of them. There's like when you click on disposed inventory or return or something like that, one of the options is to liquidate. And if someone buys it, you get like a couple of dollars per unit. So that takes time. It doesn't happen right away.
Bradley Sutton:
Why did you choose that as opposed to maybe, I don't know, trying to sell it on eBay or trying to sell it off Amazon or something like that or doing like some really ridiculous, heavy discount on Amazon?
Samer:
So I tried that, I tried discounts. I tried PPC. I didn't try the eBay routes. I don't have much experience with that, but it got to a point where I'm like, I'm sick of this. Just take it, let me go. And yeah, that was it. And I'm still waiting to liquidate the rest of them until now. Cuz it takes time. But what I realize is as soon as you click on the liquidate button yeah. They don't charge you for the long term fees anymore for some reason. So now I'm just waiting.
Bradley Sutton:
So even if somebody doesn't pick it up now though those fees stop,
Samer:
I'm hoping that I'm not, you know, fooled in some way, but it seems like that's how it is. Yeah.
Bradley Sutton:
Okay. All right. Cool. So then, you know, I mean hindsight is 2020, but you know, looking back, there's no way you can predict what the peaks and valleys of COVID would've been. And so, I mean, you probably did the right thing. Like, Hey, you're running into the stocks was like, Hey, I gotta order more. But then everybody else, you know, started coming in. So sometimes Amazon sellers, we get like very emotionally attached to our product, right? Like, Hey, I developed, this is my baby. You know, did you have that, those kinds of feelings, and did that make it difficult to make that decision?
Samer:
Yes, that delayed the decision because I had like a thousand reviews on one of the listings. I had a lot of influencer marketing content, Instagram, like a following, and people cared about the business. I'm like, I have all these cool videos from influencers. I was excited to run more ads with them. Connected with a lot of influencers. And I'm like, ah, it's like all ending. I don't wanna stop it. Like, so that, that was the thought process behind it. But eventually, it's like, it doesn't make sense.
Bradley Sutton:
Yeah. All right. Well, guys, that's important. You know, we can't get so attached to a product that we're just gonna start losing money, you know, at the end of the day, that's why we're in this, you know, like we're trying to make money. So if you're not gonna make money, you gotta kind of stop it. So, that was probably a good decision, and you're still helping people, other people also with your Amazon knowledge, and also you still got your, the community that you're running. Yeah.
Samer:
So I have the Facebook group, the YouTube channel, and I've been working at an agency with Incrementum Digital. They're agency running ads there. I realized at some point like I have all these skills, I'm not gonna just stop Amazon completely. Right. So let's make some money with ads.
Bradley Sutton:
You ever gonna consider getting back in with your own product in the future?
Samer:
Not soon, but I know how to do it. Yeah. So maybe one day, but not soon. All right. I'm focusing on other things right now, but if I'm gonna do it, I'm gonna have to differentiate big time.
Bradley Sutton:
How about a last-second 30-second? Tip now. I mean, this whole thing has been a strategy about how to liquidate, but, can you think of something you haven't mentioned here on this podcast before?
Samer:
Maybe what I just said about differentiating, like you really have to stand out back in the, like, what I differentiated with was a bundle. Was the bands and the core sliders and that worked for a while, but eventually, it wasn't enough of a differentiation. Anybody could do it, anybody did do it. So if you can really stand out, be different. And then what really worked for most of it was influencer marketing and like building a community around it. That's something that I've just, I enjoyed doing and I'm kind of good at, so if you can do that, that works out as well. That's good.
Bradley Sutton:
What were you doing in Dubai when I saw you there?
Samer:
So I have friends there. I have some family there and I was there for a wedding. And then I found out that you would be there.
Bradley Sutton:
What are the, what were the odds of that? That's crazy.
Samer:
I was there not for the event and apparently, there was an event.
Bradley Sutton:
Yeah. That's awesome. That's awesome.
Samer:
I have a lot of points from running a lot of ads. So I was traveling there with points.
Bradley Sutton:
Same here.
Samer:
That's also another thing where I'm like, I don't wanna stop running ads. I love these points.
Bradley Sutton:
Yes. You gotta have the cash flow. But guys, you know, I talk about here at conferences, like here at Prosper, how it's important to make, you know, network connections. And then you meet across the world, you know, 16 hours away from where you live at other places and it's a familiar face? Like, it's hard to do that if you don't start building your network and keeping in contact with, so Samer, it is great for you to tell your story and, and maybe a year or so, like once you've started again, if you started again, or you can just, come on the show and, and talk about some strategies you've learned working as a consultant, I know when I was a consultant, I almost got more strategies because I was working with so many different accounts. You have a lot more opportunities to learn things and, and try out different things. So we'll have you share your experience later on.
Samer:
Yeah, of course. Right.
Bradley Sutton:
Thanks a lot, man.
Samer:
Thank you.
Bradley Sutton:
All right. So now we have a very familiar face. Mr. TACoS, Tuesday at,
Vince:
Sir TACoS.
Bradley Sutton:
Sir TACoS, not Mr. Vince Montero here, Vince. How's it going?
Vince:
Good. Very good. Loving the new booth we got it's amazing.
Bradley Sutton:
How many prosperous have you been to?
Vince:
This is my third.
Bradley Sutton:
Now the first one I met you at, like when I was at Helium 10 Social. Was that a prosper?
Vince:
No, that was Seller con.
Bradley Sutton:
Seller con. Okay.
Vince:
Yeah. Seller con 2019.
Bradley Sutton:
At one of our helium 10 socials, which.
Vince:
That's right.
Bradley Sutton:
We're gonna have another one tonight. It's always one of the best parties at Prosper, but anyways, we're not here to talk about parties
Vince:
Everyone's talking about everyone keeps coming up to me.
Bradley Sutton:
Hold on my headphones on here–,
Vince:
Everyone keeps coming up to me. Can I get into your Helium 10 party tonight? I'm like, ah, I'm not a long person to ask.
Bradley Sutton:
Right. So how do you get on the VIP list at Helium 10? That's another topic right there too. Let's talk some, some Adtomic. We've been rolling out this new kind of like interface redesign. Yeah. Redesign. So, so what are some of the features are the main things that you like about?
Vince:
Yeah, so it's pretty cool. All of our Helium 10 tools is, you know, are getting a redesign. So we're starting it with Adtomic. There were a lot of things that we wanted to do with atomic since launch. And we just decided, you know, why don't we just wrap it up in this re-skin, this redesign. So the biggest thing that users will notice is our filters. So our filters have become much more prominent and more easy to use. You can do things like phrase matching, like a keyword. If you're looking for, if it contains this word, you can look for it. Different instead of just Min's and maxes, you can look for ranges. Like I want to see something ACoS between 20% and 40%, right. So it's got a lot more functionality. It's got a new crispier cleaner look. It's actually out right now, still under beta. So we'd love people to give feedback on the current form, but just keep in mind that over the next whatever 30, 60, 90 days, that kind of new re-design, new reskin is actually gonna be through that whole tool.
Bradley Sutton:
Okay, excellent. So what about just in general, what are some trends that you're seeing, you know, that doesn't have to be Adtomic related, like in PPC can, cuz I mean, I don't know about you, but in the last year and a half, it seems that Amazon has added so much more visibility and functionality and different things to their PPC platform. They're really making stuff available to just the everyday seller that in the old days was only available to like, you know, like vendors and things like that. So what are some things that you're seeing, you know people that you talk to in your network, like using and having some good results from
Vince:
Yeah, the biggest thing right now is, you know, Amazon's doing a lot with video. I just came out of aroom talking about posts and they're doing video and posts and things like that. Lives you can do record lives and put them in, in your storefront. It's a lot of cool functionality coming up, but for the average seller, definitely get some. You can take advantage of these video ads that we're talking about here. Do video ads, standard keyword, video ads still perform really, really good, but they're also Amazon's right now, beta testing, video ad placement on detail pages. So on product detail pages, you're gonna start seeing typically towards the lower portion of the PDP. You're gonna see videos of, you know, other products similar to the one that you're looking at. So the early results that I've seen from those are also really, really strong. Again, Amazon's still beta testing, like placements and things like that. Cause sometimes I can't even find them, but once they do figure out that formula, you know, a new placement, like that's just gonna skyrocket.
Bradley Sutton:
Okay, cool. Now we got some exciting things coming to Adtomic and there's gonna be a webinar that we're gonna be doing where we're gonna talk about our workshop.
Vince:
Yeah. As a consultant, before coming to Helium 10, it was always valuable to know your organic ranking, right, as compared to–,
Bradley Sutton:
That's like, that's huge too
Vince:
And see where you are against your sponsored. Right.
Bradley Sutton:
That's so important nowadays, because now the launch, like, all I do is now PPC for launch. Cause you can't do a search, find, buy, and things like that. And so I'm strictly using, you know, one of these methods where I lower the price, I put a sale price and I get product up there on the top of the page. And I have to know, you know, like where I'm ranking. So I know the bid because like more than ever, tho those Amazon bids suggestions are kind of useless because it's, it depends so much, I've done the same exact product in two different accounts and literally 100% different, the suggestions. So yeah.
Vince:
Those suggestions are just a snapshot in time. Like it's the moment you happen to be looking at your campaign that snapshot in time is where the suggested bids and all Amazon does is say, what's the lowest bid right now. What's the highest bid and it tells you the middle. So yeah. It's not the most it's intuitive, but it's also not, not the full picture.
Bradley Sutton:
Yeah. Yeah. So like, you know, had one as a $1.50, but then I go in a Keyword Tracker, I'm like, I'm on page two for sponsored. I said, oh, I better, I better raise it. So, it's important to know where, where you're ranking, so correct. Make sure to sign up. This will be mainly for if you're already a Helium 10 users. You'll probably get the most benefit from this workshop,
Vince:
I believe so.
Bradley Sutton:
We're gonna, we're gonna go over a lot of strategies and Adtomic, we're gonna go over for some other strategies that maybe you're not using, like Walmart and different things like that. Speaking of which last thing here, what have you been seeing in the world as far as, you know, I know how Helium 10 doesn't help with that yet, but Walmart advertising what have you heard about like, I've personally I've heard, it's a lot more difficult to control than Amazon.
Vince:
Yeah. It's still a little bit a wild west on the Walmart platform. It's like the early, early days of Amazon. You know, in the early days of Amazon, you could actually launch products without doing any PPC. Right? Yeah. So on Walmart, it's still kind of like that. So ads is coming, but I don't see Walmart putting as much effort into it right now, as in just doing things like ensuring placements and what their listings look like and things like that. So there's definitely more focused on those foundational things than building out their ad platform. But, you know, I keep my ear to the floor on that. So as soon as I hear that they're gonna be making more of an investment into Walmart ads, whatever that looks like it's active right now, but what I'm saying is it's not really as necessary right now as Amazon PPC. So you know, once it does get bigger, it's definitely something we're gonna also be able to add to our arsenal.
Bradley Sutton:
Awesome. Awesome. All right. Well, Vince thank you so much for joining us. Don't forget. There is still TACoS Tuesday at least once a month make sure to subscribe and turn on notifications on our YouTube channel so that you will know exactly when those are, and you can ask him live. Yeah. Whatever your questions on PPC
Vince:
First Tuesday of the month at 10:00 AM PST.
Bradley Sutton:
All right. You gonna gimme some extra drink tickets tonight? I don't have any.
Vince:
Sure.
Bradley Sutton:
All right. Thank you.
Vince:
I've got tons.
Bradley Sutton:
That's important. All right. We'll talk to you guys later. All right, guys. I hope you love those interviews. As much as I did. Some of those tips and strategies were really great. We had some guests that we've had on before in the Serious Sellers podcast. And as you guys saw, we had some guests that we've never had on this podcast before. So let me know if you wanna see any of those new ones have like a full episode where we go a little bit deeper into their strategies, but the point I want to take you guys to take from the Prosper Show and these interviews is that when you go to events like this, you are gonna run into people who have this kind of strategies. All I did was I ran up and down the aisle and I would just pull people, Hey, you wanna give us some strategies on this podcast?
Bradley Sutton:
And they came, but you could just go and meet these people and say, Hey, can you, can you gimme a strategy for Amazon? You know, are you successful? What's your top strategy. This is the kind of value you can get when you go to conferences. And don't forget the biggest conference of the mall coming up September 20 to 22, Sell and Scale Summit, S3, Sell and Scale Summit at the Virgin Hotel in Las Vegas, Nevada, I will be there. Gary Vee will be there. Kevin King will be there. Tim Jordan, Shivali, Carrie, Lem, the rest of the Helium 10 team is gonna be there. We're gonna have celebrity guests, and I hope you are gonna be there as well. So make sure to get your ticket now, h10.me/s3. Anyways, guys, we'll see you in the next episode, have a great week.
---
Enjoy this episode? Be sure to check out our previous episodes for even more content to propel you to Amazon FBA Seller success! And don't forget to "Like" our Facebook page and subscribe to the podcast on iTunes, Spotify, or wherever you listen to our podcast.
Get snippets from all episodes by following Bradley on Instagram at @H10bradley
Want to absolutely start crushing it on Amazon? Here are few carefully curated resources to get you started:
Achieve More Results in Less Time
Accelerate the Growth of Your Business, Brand or Agency
Maximize your results and drive success faster with Helium 10's full suite of Amazon and Walmart solutions.