#332 – TikTok Marketing Strategies For Amazon Brands
TikTok is the hottest social media platform right now. Learn how to utilize it to grow your Amazon business through organic posts and paid ads.
Originally published on: March 22, 2022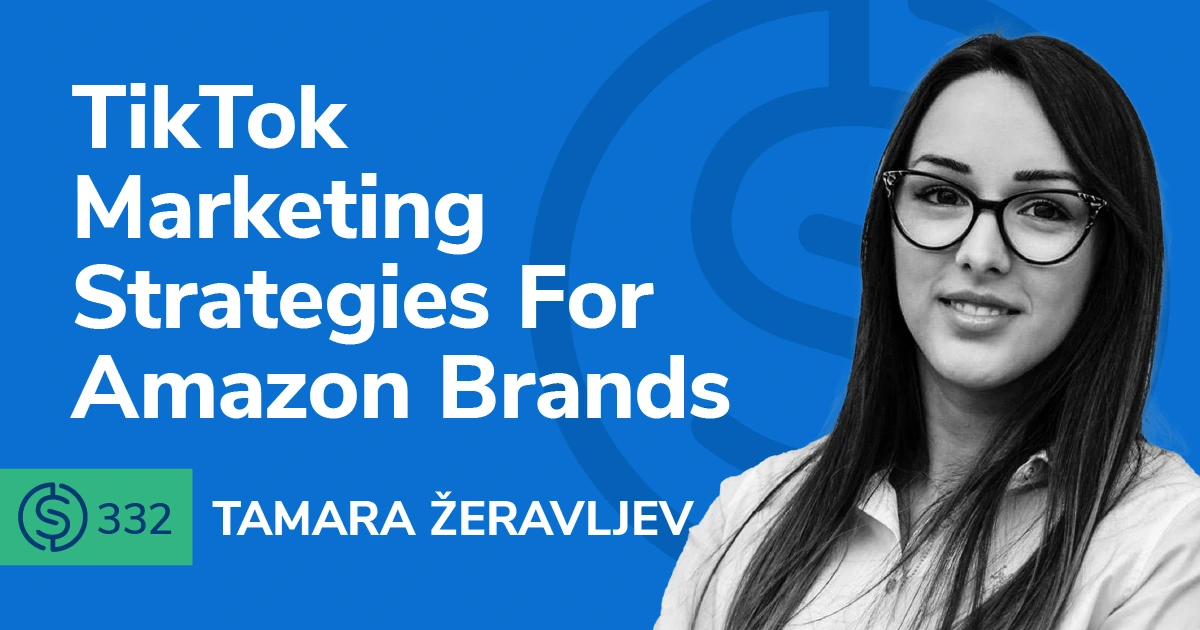 In this episode, Bradley speaks with Tamara Žeravljev of Sellers Alley to talk about TikTok. How big is the social media platform, and how to properly use it to enhance your marketing efforts for your Amazon brand. They also talk about the power of organic content plus running paid ads for an influencer's post, how to determine your marketing budget, what is the best metric to measure the success of campaigns, and more!
As a bonus, Tamara also shares success stories from their current clients and her travel tips and recommendations for entrepreneurs.
In episode 332 of the Serious Sellers Podcast, Bradley and Tamara discuss:
03:00 – How Tamara Got Started In The E-commerce Space
06:45 – How Huge Is TikTok As A Social Media Platform?
09:00 – TikTok Advertising And Guidance For Amazon Sellers
11:10 – How To Start Running Paid Ads On The Platform
15:30 – Promoting Your Products Through Organic Posts
17:00 – Organic Post Strategies For Your Brand
22:10 – Paid Ad Strategies For Your TikTok Content
27:00 – CPA Is The Go-To Metric In TikTok Ad Campaigns
30:00 – Success Stories From Their Clients
34:00 – Recommended Budget For These Campaigns
35:30 – Travel Tips And Recommendations From Tamara
37:45 – Tamara's Thirty-Second Tips
39:00 – How To Get In Touch And Get A Free TikTok Advertising Consultation From Sellers Alley
Transcript
Bradley Sutton:
How can Amazon sellers take advantage of the hottest social media platform out there, TikTok? Today, we're gonna talk to someone who's gonna show you exactly how to get started on this platform without having to do any viral dances or lip-syncing. How cool is that? Pretty cool I think.
Bradley Sutton:
Want to enter in an Amazon keyword and then within seconds, get up to thousands of potentially related keywords that you could research. Then you need Magnet by Helium 10 for more information, go to h10.me/magnet. Magnet works in most Amazon marketplaces including USA, Mexico, Australia, Germany, UK, India, and much more. Hello everybody, and welcome to another episode of the Serious Sellers Podcast by Helium 10. I am your host Bradley Sutton, and this is the show that's a completely BS-free unscripted, and unrehearsed, organic conversation about serious strategies for serious sellers of any level in the Amazon or Walmart world. We've got somebody from the other part of the world today who is gonna help us maybe both with Amazon and Walmart if we're selling on either of those platforms on a certain kind of facet of social media. Maybe we'll just ask her some other questions to Tamara. I just was practicing saying, say it again the way you said it.
Tamara:
Tamara. Hi, thank you for having me
Bradley Sutton:
All right now, first off before we get started here, I know I asked you this a long time ago, I have a bad memory. How is it that you speak Portuguese again? Because obviously you're from Serbia and it's not a typical thing, you know, like, oh, people from some country, oh, they speak English and they speak this, but it's like, that's not a typical thing where Serbians speak Portuguese, right?
Tamara:
Yes. Right. Because like, usually in school, we are learning English and maybe like some few European languages, but the Portuguese is not that common, but I have some family and cousins in Brazil. Like they moved to Brazil like a few years ago, actually like maybe 15 years ago. So I have been there studying the Portuguese and working a little bit in Brazil, so that's how I actually learned it.
Bradley Sutton:
Okay, cool. Good to know now. Let's, we're not here to talk about Portuguese things, although we could probably have a whole episode about Brazil and different things like that. It's on my bucket list to go for sure. I want to talk to you about–, let's first talk about just PPC in general. Just maybe a quick hitter because that's how you started and then we're most of this time, I definitely wanna talk about TikTok cuz that's one of your, your specialty, like at advertising on TikTok. But the reason why I know, you know, a little bit about PPC or you know, a little bit about PPC is you work for Sellers Alley and as those of you podcast listeners out there know we've had the CEO of Sellers Alley multiple times here, this podcast Lazar from Serbia and Sellers Alley here. So, so just in general, like tell us how you got started in this space. Like, like was Sellers Alley, your first introduction to Amazon advertising, or did you come from a background of e-commerce?
Tamara:
Yeah, I actually started like with like event or organizer, but later on I realized that the marketing is like something that I really liked working that. So I started to like research of some marketing jobs and then I started to work for Google, Facebook, and Instagram in one agency. And I was there for one year in something until Lazar did and text me on LinkedIn and was like, Hey, do you wanna work with me? And it was just like maybe seven people at Sellers Alley. And today there is like more than 150 people working here in just two years. So I'm working at Sellers Alley for two years now and I have been working for on Amazon platform and TikTok currently I'm leading the TikTok department at Sellers Alley, but as you have said like we are focused really on Amazon also and we started with it. So it will say forever. I think my passion because Amazon is the best I think.
Bradley Sutton:
Okay. So let's talk about that. You know, somebody who comes from the outside of the Amazon world, like you said, you were doing Google and other things. What was a couple of your biggest surprises or shocks when you started working at Sellers Alley and started diving into customer accounts? Like what, what impressed you most about the Amazon opportunity for people?
Tamara:
Yeah. Amazon is like totally different than any other platform, like totally different. Maybe it's created, I mean, it's created based on Google and every other platform before it, but it's totally different and it's totally fun for me. Why, because there is so much analytics job and you can be creative in a way you have to think about different strategies for different kinds of sellers and different categories. And it's not, you know, some job that you're doing the same job every day and it's totally different for each client, each category and everything. So the first thing that was great for me like that I liked a lot is that it's totally different like each day with each client. Yeah. So that's amazing but yeah.
Bradley Sutton:
So what kind of thing before you started, you know focusing on the TikTok platform, what kind of things with Amazon accounts were you particularly handling or involved in?
Tamara:
Yeah, I have started like maybe with the smaller accounts, I think as every beginner, but later on, as I really get into it, like I still have like few clients that as I was managing them became like seven figure sellers and one also became like eight figure sellers, but started with like just four or five. But it's amazing that you can see like what you can do with your account in just two years. And it's, it's really, really impressive to work on accounts like that. And to have like full freedom to optimize those campaigns. So yeah, that's basically, I'm gonna say the range of the accounts that I was working on.
Bradley Sutton:
Okay. Now you know, TikTok, it doesn't take an Amazon expert to understand that TikTok just as a platform is obviously huge, but I personally don't know, you know, some of the facts and figures, I'm not sure if you have it handy, but like, are there some like inspirational things that you could just talk about just the TikTok platform, like, you know, how many users it has or the growth or something like that to explain how really huge TikTok is in social media, cuz you know, in the old days old timers they think, oh yeah, Facebook and Instagram. Which is true, Facebook, Instagram are big, but how does TikTok kind of like compare with all these other social media platforms here in 2022?
Tamara:
Yeah. So I will explain to you why did I actually started on to work on TikTok because it's really something new and it's really growing fast, like crazy, as you said like some data is that actually, TikTok overtook Google as the most popular website at the world. So you can just imagine how big the platform is. And like over 1 billion people worldwide now came to TikTok every month to be like entertained and to see some new creators, music, videos and everything. So the TikTok app is actually where the people are actually just scrolling like crazy and looking for the different contents. It's created for to see like different kinds of dances, different kinds of creatives that people are filming. And of course with the audio as is the focus is on audio too. It's really new platform. But as I said, fast growing and really, really engaging because you can like on each video that pops up, you can like share you can live a comment, you can even interact with it, you know, to have like cooperation with the different creators.
Tamara:
And it's really, really creative platform and really good for e-commerce actually, even if, as you said, some people are thinking TikTok is not a good platform, but it actually it is because the data says that more than actually 60% of people on TikTok are 18 plus years old. So they tend to buy a lot on TikTok.
Bradley Sutton:
Okay. Now, when you at Sellers Alley, you know, I don't know too much about the details of what you do, but I'm just curious, like, when you say you, particularly like work on TikTok, is that 100% you are working on just TikTok advertising and advertising that goes in there or you are all so like guiding people in their strategy on just like organic content that helps their brand.
Tamara:
Yeah. Here at Sellers Alley, we are doing only the PPC part. But of course, we like to advise our clients on how to do their organic part, like what is a good fit for them, to advise them on creatives on, to find the influencers for them. That is also what we are doing like a part of PPC. So yeah, we're basically doing the PPC part, advising, and scouting the influencers.
Bradley Sutton:
So then it's not just necessarily PPC, but it's also like paying influencers to generate organic content that ties back to the Amazon sellers platform or something.
Tamara:
Yeah. Right. So we are scouting. Like it can be like we start scouting the influencers, like based on the category that the client is selling. And when we find the influencers, they're creating the content for them, and then we can advertise their content or if the content is posted on the client profile or they don't even need to have the profile actually in TikTok to advertise that video. And it can lead to their Amazon product page. It can go also to the store, but our recommendation is to go to product page as when it goes to product page, you are creating the Amazon attribution campaign where you are following all the purchases and you can also follow it on TikTok and it's better because when it's leading to the store, you just see the purchase, but not which product is purchased. So that's it. But you can of course lead to your desired website of course.
Bradley Sutton:
All right. Let's focus first on the PPC side. So let's say I want to start running paid ads on the TikTok platform. Do I need like a regular user or company TikTok account, or I can just do this where I can just register as an advertiser on TikTok?
Tamara:
Yeah. When it comes to that sellers is official TikTok partner, and we have our business center, and going with that, we will create your new business account through our business center. But of course, if someone already has it, we can just link it with hours or transfer the campaigns to our business center and we can start from that. But each client has its own like business account in our business center.
Bradley Sutton:
Okay. So walk me through what exactly even is a TikTok ad. Like I'm scrolling through my four year page feed or whatever, and then like an ad comes up and I mean, I'm just more used to Instagram, you know, reels. I don't use TikTok much and I know if I'm going through Instagram reels and then all of a sudden, maybe like an ad will show up, but it looks like a regular Instagram reel. And then if I want more information, it'll like, have me swipe up or something or at the top left, I click on the actual you know, account. Yeah. That, that does. Is that similar on how TikTok works or is it different?
Tamara:
Similar, let's say similar, but as you said, when you're scrolling for you page you will see like totally organic posts, but on like down left corner, you will see CTA button, like CTA button like download and buy now, learn more and usual, like you have seen on the Instagram and other platforms and with the collection ads, you can see like little collection of your few products, like three products. And when you click on it, you will see like new landing page where it's your six to 12 product that you can advertise on. And basically, that's it, like, as I said, it totally looks organic, but you will have like CTA button with like really, really tiny little letters sponsored. And people are not like usually see the sponsors, just the CTA button and that's it.
Tamara:
And it's really engaging because it looks totally organic. And I think the TikTok model is don't make ads make TikTok because on TikTok, if you're having like usual advertising video, like commercial, no one will click it. They would just continue to scroll and try to find something organic. So if you post like organic and advertising organic way, it'll for sure be successful. As I said, because it's really engaging and also there is a type of opportunity on TikTok advertising that you can add to your videos, people to engage more to vote like yes or no, something like that. You can have like also countdown if you're having some discount, like that is also an option. So it's really engaging and people are really interacting with your ads on someway. And also I wanted to mention, as you have mentioned, the Instagram, like similarity to it is something like boosting posts on Instagram.
Tamara:
You can let's say boost your posts or influencers posts. So let's say for example, we are scouting for you some influencer, he does the posts and he sends you like some kind of the code of that post that we can advertise, and it can lead still to your Amazon page, or it can lead to your website. And it's the same with your organic post. Like you are posting something organically on your TikTok profile if you have it. And then we can, like, let's say boost it do the spark ad for it. And the new thing, like really cool and really engaging and hip like shown like really amazing results in our clients is collection ads plus spark ads. As I said, like the collection ads are showing more products than one that we are usually advertising and it's like total organic through spark ads and people are going crazy about it these days.
Bradley Sutton:
Okay. So you said like more organic posts. So that means like regular TikToks, like it's like a person doing something, you know, trendy or fun as opposed to like a product video or an animation or something like that.
Tamara:
Yeah. So it needs to look like totally organic as some person was posting, like maybe unboxing it or on some way, interacting with it, like showing how the product looks like in everyday use and you don't need to actually have like some high technology, you know, cameras or something. You can just film me with your phone, like follow the trends, see the trending hashtags, see the trending songs moves dances. Like when I mentioned the dancing a lot of advertising when coming to, to us and sellers think like they need to dance in order to create something on TikTok.
Bradley Sutton:
I think a lot of people are worried about that right now, as they're listening to this, like, wait a minute, like, I am not gonna do these–' What's that person Charli D'Amelio or whatever you know, level of videos, like, I'm a nerdy Amazon seller, sorry for stereotyping us all. But you know, like yeah. So how do we do organic once if we're not exactly dancing client or we're very shy and things like that?
Tamara:
Yeah. As I said, like, you can do like some unboxing, but don't forget to have like maybe voiceovers and some effects on it just to be, you know, like more colorful and fun and to catch of the user. And of course, you can do, like, maybe for example, if you're selling some clothes or shoes, you can do like some transactions like from one clothes to another and things like that. So, yeah, basically you don't need to dance. I actually, but if you love it, do it for sure as it is cool, you know, and of course as unique like brand and you want to stand out, like, you don't want to be like for sure, copycat and do what everybody else is doing in your competition. Like, try to think out of the box and think, what do you want to represent as a brand? You know, like, what do you want to show your audience? What do you want to achieve with the campaigns and with your like actually organic profile, like find something that is cool for your audiences and make your own trends, like, think about your own hashtag and your trends, you know, and it will work for sure because you will be unique on TikTok and create something cool with the cool sound. And as I said you can add a lot of different, cool things on your ad to be more engaging.
Bradley Sutton:
Okay, cool. Now, are you familiar personally with our Project X, the Helium 10 Project X coffin shelf that we did?
Tamara:
Yes. I have seen.
Bradley Sutton:
Okay. So, you know, I just put a link for you in the little chat that we have here, just in case you wanted to bring it back to mine, but let's say this is me, I've got this product and, and now, you know, 2022, I want to get started. So my first step, you know, go to you guys and you guys would help me set up a business account for my, let's just say this brand is, you know, the Manny's Mysterious Oddities. And what would be my first advertising? Would you suggest for this kind of product it's, I need to find some influencers, like send them some free units and then have them do some fun organic posts. Should I start with a simple paid ad? What would be your first move for this kind of niche, this spooky kind of niche that we're in?
Tamara:
Yeah. Like as you probably know, like your kind of let's see best selling time of year is, of course, Halloween as you represent for your product, but to sell before it, of course, there is a fun and creative things that you can do on TikTok. Like, I would say, like start first with your TikTok organic profile and start to post organically. Like then at the same time you will need to find like some influencers that are maybe doing like a reorganization of homes, like creating homes, like maybe recreating some old furnitures or something like that can actually like, do something with your with products for example, like this one. They can show it in a fun way, like where to put it in the house, like how they can use it, flip it what they can put in it, like what they can do with it.
Tamara:
Like maybe to paint something on it, put some cool things on it. And wwhen they create those type of video else, we can do like spark heads and lead to your product page. Like I just gave you a few tips, like what it is you can actually create on this, but that's like usual, let's say product when you are a seller. So you, you actually don't need to create the TikTok profile, but if you want to be on TikTok, like a hundred percent, our advice is to create TikTok profile, go the way that I explained before. But if you don't have it, like, it's totally fine. You can just go with the influencers and someone will create your content, and you can just boost it and create ads on TikTok.
Bradley Sutton:
So then for that first, just the very first one, should it be which one, you know, those, you just said, you gave a lot of tips there, but let's say, Hey, I'm new to this. I don't wanna like, you know, do 17 different campaigns or all those things at once. Eventually, I want to get there, but what's the very first thing that like, for somebody who's new, like, which one of those things that you mentioned, should I for sure. Start with first?
Tamara:
Yeah. It's a spark ads for sure.
Bradley Sutton:
Okay. And the spark ads means somebody else is doing an organic one and then I'm boosting it.
Tamara:
Yeah. As I said, it can be someone else. You are boosting someone else's post or your own, if you have the account, that's the thing too. But let's say the best practice of it is like one more tip to share with you. The best practice is to actually like have one campaign with a few different kind of ad groups, but in each ad group, like our recommendation to everyone, and what we are doing at Sellers Alley is adding at least three videos as group. And why is that? It's because one video will not show to one person more than three times. So it'll start to, you know, if you add just one video, it will underperform after maybe two weeks, because it will start to, you know, stop to show to the TikTok audiences. And because of that, it's three videos. And eventually, like every seven or 10 or 15 days, top you will need to add more and more videos to existing ad groups and to create more ones. So for the beginning, it's for sure. One spark ad campaigns with at least three videos. So that's the thing.
Bradley Sutton:
So let's say I make three videos and I just do it, my myself, or I have somebody do it. And now I've got these three videos on my own TikTok profile, and then I guess I run spark to boost them. So what does the anatomy of spark campaign look like? Like, am I targeting keywords? Am I targeting demographics? Should I have had certain hashtags in my original organic post? Like what are some best practices here?
Tamara:
Yeah. Here, it will be amazing if you have put maybe some hashtags and point out in the description, like what is your product like some best things that you can point out of the product, but as when we are launching these spark ads, we cannot change the description of it. So it'll remain the same as organic one. So that's the first thing. And when it comes to targeting we like to start broad. Why, because audiences on TikTok are totally different than Facebook, Google, and every other platform. And we are just targeting the audiences, not keywords, like on Amazon, not like competitors and similar. So let's say it's 90% similar to Facebook as a platform. So we like to start broad to just collect the audience, to see how they interact with your ad. And then we start to create more ad groups with targeting, like maybe some interests, gender, or the cool thing about TikTok is that you can target people based on which device they're using, like the price of the device and maybe the network they're using in such a thing. So it have like a lot of different things that you could target people on, but that it's actually based on interest behaviors and the things that I have mentioned.
Bradley Sutton:
Do you guys ever use, like the Brand Analytics data, you know, where it shows the people, you know, the kind of demographic that people is their main customers on Amazon and transfer that to TikTok? Or is it so different that you just ignore the Amazon customer data?
Tamara:
Yeah. Amazon customer data can be useful, like, just to see if it's more male or female or both of it, but let's say it's totally different, as I said, and we like to start fresh on TikTok as the audience is behaving totally different than on Amazon because on Amazon there to buy something, you know, to look something, to buy and TikTok, they just came for fun. And if they find something cool for them, they will buy it. So you need to have like very impactful video in the first two, three seconds. And if it's not, you will scroll it. Like if you have actually like TikTok account, you know by yourself, like, if it's not interesting, you will just continue to scroll. So, so it's totally different audiences than on Amazon, but we like to consider, you know, data from Amazon. And if it's maybe leading to your website, we like to see your Google Analytics data just to see what's the audience. And we can test because for some sellers look like audience from Google Analytics can help you, but sometimes it's totally different. So it's cool to test the audience is on Amazon, how they act and how they act on Google and see how they worked on TikTok. But as I said, it's totally fresh.
Bradley Sutton:
All right. So again, we, we're going with our fake scenario here. So I've got my three organic post ready. They're posted. I started three campaigns and I picked my target market now what's like for a beginner, what's like a suggested daily budget. And then talk about how, you know, is it like cost per click or, what should I expect in like that first week? How much would I expect to pay and how many people, you know, actually might have, have clicked or done something based on my ad?
Tamara:
Yeah. So at the beginning, we are usually doing like brand awareness, like, you know, in the first 7 days or 15 days algorithm is learning and is collecting the audience, as I said. So first phase is actually like really brand awareness and it goes like broad. And then after it, like it collects you know, as I said, collect data and we can create a lookalike audience, retarget ones with based on behavior and interest and everything. But the main metric on TikTok is actually CPA. So CPC, something that we are of course looking at, but the CPA is go to metric to look at. But when it comes to Amazon, like we can immediately, even if it's brand awareness campaign, you can also an Amazon attribution campaign follow the purchases. So on Amazon, I can say, you can do it both ways. Like even if it's brand awareness campaign, people tend to buy and you can see the purchase of, so at the first beginning, I was said, take a look at your CPA and follow the attribution campaign for the beginning. And later on, we are going from upper funnel to over funnel. And after the view content and brand awareness and everything, we are going to add to cart and then, of course, complete payment.
Bradley Sutton:
So what, what should be like the length of these campaigns? Should it be just, you know, like when we start on PPC, sometimes we put no end date or, should there always be like a start and finish when I start a TikTok ad campaign or spark campaign
Tamara:
And the beginning as I said, you, the depends of the brand, what is advertising in the, how the video looks like as the video is like at least 50% of a successful campaign. And if it can be like in, for 7 days, you can collect all the data. And then after it starts you know add to card campaign, like new one and after 7 days complete payment, but for Sams, usually, like I can say it two weeks or three is a top, like for a brand awareness, you know? So it depends of the seller and what he is doing and everything, but no ending for sure. Of course, except if it's a Black Friday or if you have some offer, you know, limited offer or something like that, I would limit it to specific thought.
Bradley Sutton:
Okay. All right, let let's, you know, this is great for, for getting started. Now, let's fast forward to the end. What are some, like, you know, examples you can give us of clients, of course, you know, like I always say you don't have to tell us the exact customer or what they did or who they are, but just something that you think if you tell the story about what they did and they started from zero and then this is what they accomplished? Like, it'll inspire the people out there to say like, Hey, yeah, I need to probably start advertising my products on TikTok.
Tamara:
Yeah. So basically as you said, I will not mention the client, but we have, have like few clients that we have, like done actually our case studies and white paper and TikTok. And the, one of it is like selling food and beverage it's from food and beverage category. And we started like, first of course, as I said, with the brand awareness and we wanted just to leave, like, you know, of the cold traffic to the Amazon product page. And it start as I said, broad audience, and we have like three videos just, you know, just to check it out, how we'll go. And as the videos were amazing with the influencers that we have found for them it was like after two weeks, I think for sure we have seen really engagement really high engagement and already purchases on attribution campaign.
Tamara:
So immediately we have start, you know, with more interest targeting and behavior targeting. And we have seen like, after it really growing the account, like on organic way on PPC as we were doing, you know, also the BC campaigns on Amazon. So we have seen like really, really it was like around at the first month as I remember, it was around 20% growing, you know PPC and around 25 to 30 organic sales. So it really impacted this brand. Why, because people had gotten to know on TikTok about the brand. So organically, they boosted their sales. Everyone wanted to see, like, what is that brand search for them searched the website and Amazon. And the good thing about this brand is even if we advertise only Amazon, we have seen also their growth on Google Analytics, like coming, you know more and more as the campaign on TikTok was going.
Tamara:
So in about like three months, we have seen like higher engagement on Amazon and on Google. And of course increase in sales. I wanted to mention just CPA here on this client as it was a really good example. I think Lazar was measuring it like in a few conferences that he has like last month. But the cool thing is that this CPA always starts with the higher CPA. And then after you are creating more and more groups and target things, it starts to lower. And it can be like around 10 to like from five, 10 to $15. And it started for around 50 and 70. And when I said 50 and 70, everyone are like, whoa, it's a lot, you know, but at the beginning, you know, it needs to be like that. And just like for the first week, and it starts to lower, like, as I said from 50 to five, so it's a lot. And everybody start, you know, for the seven days, 10 days and they think, oh, it's not working. It's expensive or something like that. But believe me, just leave it for two weeks at least. And you will see like amazing lowering the CPA in the amazing growth on your Amazon product page.
Bradley Sutton:
Okay. Now when trying to figure out what my budget is like, is there something we correlated to like, does it go based on what my gross sales are on Amazon? Is it based on what I currently spend on Amazon? Like, why am I putting an accent on the end of Amazon? What is that? Huh?
Tamara:
Maybe Serbian on Portuguese.
Bradley Sutton:
Yeah. Like I'm speaking a different language all of a sudden, is it well now see, I forgot what I was gonna say. No, but is it based on what my Amazon PPC budget is? Or is it just random? Like how do you decide what you should be throwing at these campaigns?
Tamara:
Yeah, so the minimum budget that you can add actually on campaign on TikTok is $50. And on ad group is $20 per ad group. That's like a minimum that you can put, but our recommendation is $100 per campaign and at least $50 per ad group. And we, why is that? Because as I said, the CPAs is at the first week higher and then start to lowering. So after the algorithm learns something, you can of course lower the budget, like as I said to the minimum, but our recommendation here is like one tip that we can, we have tested and seen that it works is not put like the limit on the campaign as you can set no limit, but to limit it on ad group. And it works really, really well.
Tamara:
I don't know like exactly why to tell you, but it's something on the TikTok algorithm that works. So yeah, that's it about the budget. Yeah. And the minimum, let me give you like one more tip. I think it's cool for sellers on Amazon to know is that our recommendation like month, but monthly budget is if you wanna, you know, go all in and to test everything and to have a lot of videos. And for sure to have impact impactful campaign is to start like, or from $5,000 per month. So that's like something that we advise people on.
Bradley Sutton:
Okay, cool. Now we're gonna get back to like your, your top strategy or, or 32nd tip as we always do on this, but quick things I know, you know I haven't been traveling much, so sometimes I live vicariously on your Instagram because you travel a lot too. Yeah. I'm in Europe, now that the world is opening up again, what are some go-to places that somebody should do? That's, not the typical like go to the Louv in Paris. So, of course, everybody knows that or see Big Ben or, you know, whatever, but either in Serbia or around there, like I went to Belgrade, I love Belgrade. I went to a smaller town called Niš, loved it there. But in Serbia or surrounding places, what are some like hidden gems that you suggest as we start traveling again in your neck of the woods over there?
Tamara:
Yeah, for sure. In Serbia, I need to start with it. You need to visit Tara the mountain and go in May, just for rafting. It's amazing. And you can have like really active and cool experience there. Like try amazing food, like old food that I can say from the grandmas and everything in such a cool experience. But of course I need to mention Brazil and the amazing place falls Iguazuit's Iguazu falls. Maybe someone already heard about it, but I think it's amazing and you need to visit it.
Bradley Sutton:
What's the nearest major city to that?
Tamara:
Next to falls Iguazu. Yeah, Foz do Iguaçu I think it's maybe the closest biggest.
Bradley Sutton:
But right. I've never been to resolve, so I'll try and make sure that's the first time I think my last trip, I went to some I dunno if it's a mountain or something, but it's like it's called devils something or other where it's like, it's like, see these crazy rock formations I went to in Serbia. I just love it. It was an interesting tour. But anyways,
Tamara:
But you will see it, like when you Google, like what too is in survey, you will see it for sure. But as I said, something, like you said, hidden gem is a mountain for sure in Serbia.
Bradley Sutton:
Okay, cool. Cool. All right. Good to know. Definitely gonna go back. I was like, man, I wanna buy a house here in Serbia the last time I was there. Like, I love it so much.
Tamara:
Come on, we are waiting for you.
Bradley Sutton:
Awesome. All right. Now let's go back to our strategies. You've been giving us a lot of strategies today, but what's your 30-second tip. We, we call it our TST or "TST" something. You can say like minute or 30 seconds or less an actionable strategy that people advertising Amazon sellers advertising on TikTok should do.
Tamara:
Yeah. First start with the spark ads, find your best influencers that you can find. And of course, try collection ads and don't limit yourself only to Amazon try with the website traffic also. So this is the quickest tip I can give you, but let me try it and make, or organic videos. Don't make ads, make TikTok
Bradley Sutton:
Love it. All right. Well, Tamara (Speaking in Serbian), (Speaking in Portuguese) there's the two languages I know how to say thank you. Thank you so much for coming on here. I know TikTok is rapidly evolving and changing things. So I definitely wanna bring you back maybe in 2023 next year and see, you know, what's the latest trends. And I hope to see you out here in the state soon, maybe in September for our big, I don't know if Lazar told you we're having a big Amazon conference here in Las Vegas. So hopefully you can come out here, we can meet in person and then see Lazar and, the whole team, maybe you guys will have like 200 employees by then. So I'll never forget. I always made fun of Lazar when I saw him in Serbia last I was like, oh yeah, you know your employee Tamara, I didn't say your name right in those days. Maybe that's why he didn't know, but you know, has been helping us out on learning about TikTok. And he's like, who was that? I was like, okay, you know, you have a big company now, when I give you one of your main players and you don't even know who I'm talking about. So make sure to give him a hard time.
Tamara:
I'll talk to him about this one after we finish it.
Bradley Sutton:
There we go. All right. So thank you so much for joining us. Now, if people wanna find you on the interwebs out there I think you guys are in our partner directory at directory.helium10.com, but, but maybe you can give us some direct links as well, and let us know how we can maybe get some more help with TikTok.
Tamara:
Yeah. Thank you. You can find us on sellersalley.com and all of your listeners from your podcast can get a free consultation. Just put the subject Helium 10 podcast and email us on [email protected]
Bradley Sutton:
[email protected] All right. Thank you so much for coming on here and we'll be talking to you soon.
Tamara:
Thank you very much.
---
Enjoy this episode? Be sure to check out our previous episodes for even more content to propel you to Amazon FBA Seller success! And don't forget to "Like" our Facebook page and subscribe to the podcast on iTunes, Spotify, or wherever you listen to our podcast.
Get snippets from all episodes by following Bradley on Instagram at @H10bradley
Want to absolutely start crushing it on Amazon? Here are few carefully curated resources to get you started: