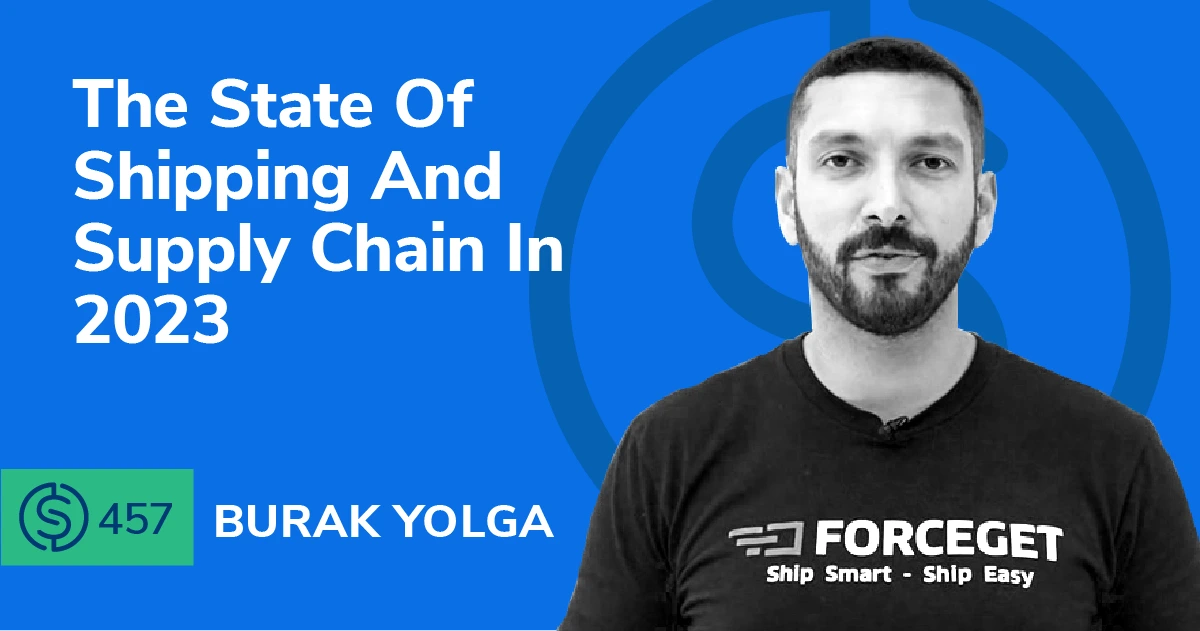 #457 – The State Of Shipping And Supply Chain In 2023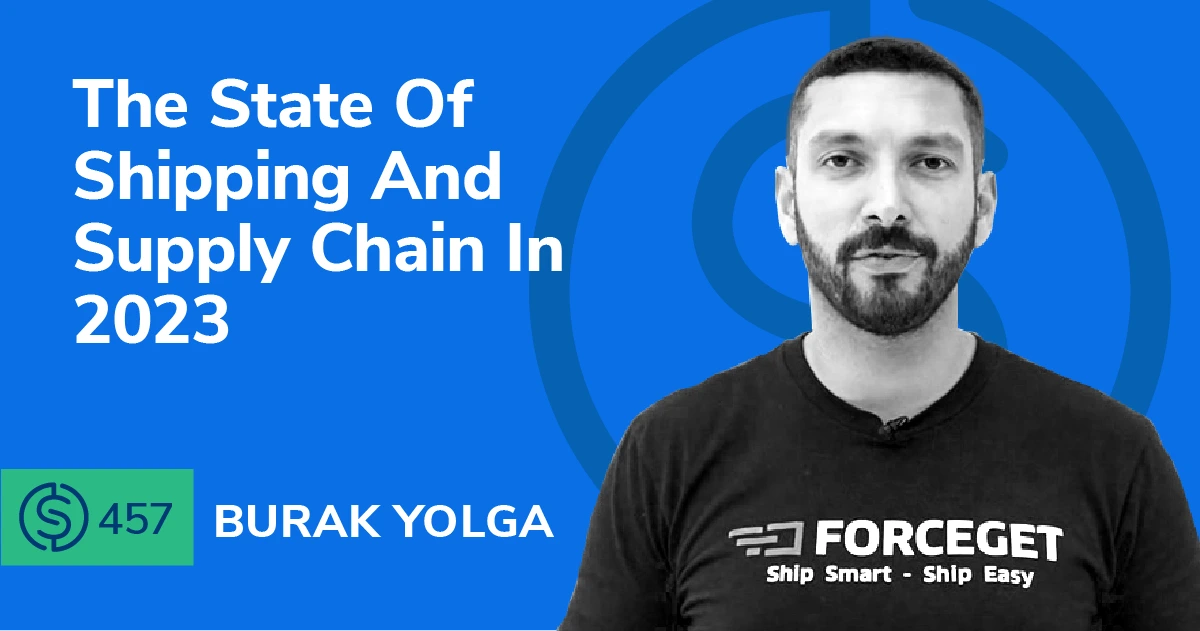 Video of the episode at the bottom
In this episode, we welcome back Burak Yolga of Forceget to talk about the dynamic realm of shipping and the supply chain. Dive into key topics and latest updates such as Amazon warehouse space bidding, China manufacturing, 3PL service rates, optimizing Amazon fulfillment, shipping methods comparison, international logistics, freight forwarder fraud prevention, leveraging HS codes, global freight prices outside China, and other exclusive insights and strategies from Burak. He also shares his top money-saving strategies that you can utilize on your next international shipments. Tune in now to stay ahead of the game!
In episode 457 of the Serious Sellers Podcast, Bradley and Burak discuss:
02:09 – What's New In The Shipping Industry In 2023?
04:00 – Bidding For Extra Space In Amazon Warehouses
06:30 – Updates And Issues On China Manufacturing
09:40 – Current Rates For 3PL Services
11:11 – Sending To Multiple Amazon Fulfillment Centers
12:45 – UPS Shipments Or LTL Shipments?
15:13 – The International Shipping Process
17:15 – How To Make Sure Your Not Getting Ripped Off By Freight Forwarders
23:25 – How To Use HS Codes Properly To Save Money
25:30 – Freight Prices From Other Countries
28:40 – It's Time To Visit Your Chinese Supplier
30:11 – Burak's Healthy Habits And Hobbies Outside His Daily Work
32:25 – Learn More About Shipping Inside Freedom Ticket 3.0
33:00 – Burak's 60-Second Tip
35:00 – How To Reach Out To Burak Yolga And Forceget
Transcript
Bradley Sutton:
Today we've got back on the show. Somebody who knows all there is to know about freight forwarding warehousing and much more, and he's got some tips that could save you hundreds or even thousands of dollars. How cool is that? Pretty cool I think
Bradley Sutton:
Black Box by Helium 10 House is the largest database of Amazon products and keywords in the world outside of Amazon itself. We have over 2 billion products and many millions more keywords from different Amazon marketplaces, from USA to Australia to Germany and more. Use our powerful filters to search through this database for pockets of opportunity that you might wanna get into with your first or next product to sell on Amazon. For more information, go to h10.me/blackbox. Don't forget, you can save 10% off for life on Helium 10 by using our special code SSP10. Hello everybody and welcome to another episode of the Serious Sellers Podcast by Helium 10. I am your host, Bradley Sutton, and this is the show that's a completely BS free, unscripted, and unrehearsed organic conversation about serious strategies for serious sellers of any level in the e-commerce world. And we've got for the second time back on the show, Barack from Fork. How's it going, man?
Burak:
I'm great, man. Thank you for having me again. Now,
Bradley Sutton:
Where are you at right now? Are you in Miami or where are you?
Burak:
Yes, I'm in Miami after so many different Amazon events this year, you know, January, February, March, finally back to Miami. And then a little bit enjoying the time and weather.
Bradley Sutton:
Awesome. Awesome. Well, it's good to have you back. We're not gonna go too much into your backstory. Let me, let me give everybody the the podcast number that you were in before. So if you guys wanna find out more about Brocks origin story go to episode 324. So h10.me/324. Let's just hop right into it, you know, now we're, we're in the middle almost of 2023, you know, kind of covid is a thing of the past, you know, even China's opened up now again, but what, what are like the main kind of topics in the shipping industry? Prices been pretty steady? Any predictions you have? What's going on here in 2023?
Burak:
I think, you know, 20 21, 20 23, we had 2021 and 2022, we had so much conversation about you know, shipping prices, the delay, the congestions, and so many people had really good sales numbers, actually. So they brought lots of inventory in, and as suddenly with inflation, things slowed down. Right. So mainly last two years we talked about, you know, the congestions in Los Angeles part. Some of the containers had to wait maybe two, three months until it was you know, off the dock and then, you know, delivered to the destination. But recently what we were talking about is mainly cash flow inventory management, which is part of the supply chain, which is part of the international logistic, which is part of the successful Amazon sellers because you know, last two years they, we had so much money in the market, so people could go and borrow as much as money they want with a very low interest rate, and they brought loss of inventory.
Burak:
So since the sales is down, a lot of people cannot move the inventory. So they start liquid liquidating, they try to get back some money, and then I think re restructure so many different things. So I think shipping is now also in our company, we're trying to put everything like, you know, puzzles together, not only the international shipping, but now we have different layers like inventory management, international shipping three pl and the last mile lower to Amazon. So now it seems like getting more complicated because it's not only about finding the cheap prices or trying to book in advance now, it's about like how you manage your inventory and how you manage your money.
Bradley Sutton:
Okay. So now, you know, it's been a couple months since that new inventory kind of system has gone live in Amazon, the one where you kind of like get a heads up as far as, you know, when you're gonna be outta space. You know, that was one thing that I think a lot of Amazon seller complained about the last couple of years, is they could go to sleep on Sunday and have maybe, you know, 5,000 units of storage available. So hey, all right, Monday I'm gonna go ahead and make my order your or my inventory transfer order and send in. They wake up Monday morning and it's like, no, you are a 10,000 units overstocked. You can't send any units in. So, so Amazon kind of like, we'll give you more of a heads up, but at the same time, there's this new whole system where if it does seem like you're gonna be out, you know, you can do some bidding for, for extra space, maybe you'll get money back. So it seems like it's complicated thing, but you know, since you, you store a lot of product for, you know at your three pls for a lot of Amazon sellers, what can you say about how this has been affecting your customers, if at all?
Burak:
Actually you're right. It seems Amazon also thought maybe this is not very, it's not really fair to, you know, go to overnight, and then the next day you wake up and then you cannot even send, I mean, you have so much overstock, some items are not selling well, but your best selling items is almost run out of inventory. So they're not, they don't used to go like single by like SKU by SKU. They are looking at your overall performance, but you might have some products has been sitting there a long time, and then, you know, you'll have like a really best one or two SKU running, so you had to query, or you had to take it back that inventory is not selling. So it started, it costs you a lot of money. So that's why I think last six months to one year, whenever we go to the events, I mean, you also do a lots of you know, in-person events like big events like Prosper.
Burak:
Now we are gonna meet actually next week in Irwin for the LA workshop. So, so many companies, they had confusion, but right now it's even kind of getting worse because they, they think that they can kind of make a strategy, but they don't have the right prediction because still the market is not very clear what's going on, like, you know, the buyer strategy buyer's expectations. So it is very hard. That's why so many people are more cautious right now to place the larger orders. And you know, we have so many friends now traveling to China. The main private label production is still, you know, dominated by Chinese manufacturers. And even they complain so much that they don't have enough orders. And last two trees, we saw so many fan manufacturers, they moved out of China to go to countries, like I'm talking about not the buyers, but actual the factory owners in China, they start opening like another plants like in Vietnam, Thailand say, avoid this, you know, the tariff additional 25% China tariff.
Burak:
But now even those companies regret big time because now they have additional plant that they cannot fulfill the order. So I think this is causing both seller and supplier side, like some problem with the stability. So this is causing brands to make you know, planning issues like inventory management issues. And it's not anymore like, you know, I think we all talking about this, and it's not anymore just to put your brand on a product and then ship it to Amazon seller, that is over, right? You have to do so many different. Amazon is also encouraging to become like a brand for the sellers. Like, you know, they encourage outside traffic, they encourage other type of new advertisement changes. They encourage sellers to use the influencers. Basically Amazon, Amazon is also changing. Its its business model. Absolutely. That's why they started this new product called like a w d, which is Amazon warehouse distribution.
Burak:
So you can store some of your not good selling product instead of like fulfillment centers. You are kind of storing them in a different location and Amazon transfers it. Obviously some people test it, it's not the best operation rise because, you know, there's so many legs between the fulfillment centers, AWD or the inventory management systems are not a hundred percent accurate. So a lot of sellers, they have this kind of problems, but Amazon is also trying to change their business model. And, you know, the other big brands, other big marketplaces are also coming into the market like more aggressively. You know, we think we're talking about like, you know, Walmart they become like very active in the events. They become like really active. But more importantly other e-commerce size, like TikTok, they're talking about like, you know setting up like a bigger marketplace for third party sellers to be more flexible.
Burak:
So similar to Shopify. So I think they're giving, there's gonna be some change in the market. Obviously, like, you know, it's very hard for the end users to change their habit to buy on Amazon. And now, you know, also, like they change their refund policy. So now not everything is like a hundred percent free to return. So I think this is gonna change some of the different things because the Amazon fees have increased so much for the sellers. So people start looking into the new marketplaces or new solutions, like how they can reduce the cost. Shipping costs went down, absolutely, but then, you know, the, the sourcing prices are higher. Three pls are very expensive, especially in California area. So I think people save in one part, but then their cost still increase. I think eventually.
Bradley Sutton:
What is the current going rate for like three pls? Like as you know, for somebody who's never used one before out there the basic, the basic fees are probably, you know, per pallet storage per month. And then also like, you know, in and out fees, like, you know, there's, there's checking in your shipment and then, and then maybe, you know, the, the fees to actually prepare the shipment and send it to Amazon. What are, what are the main fees now in 2023 that a seller needs to keep in mind if they're considering using a 3PL?
Burak:
In, in California, you're looking at PT per month storage fees, something between 30 to 40 US dollars. Oh, wow. Yeah. And you know, one of the, one of the, the things actually increase, like the pallet supply fee, actually the buying the physical pallet, 40×48 40 inch times 48 inch pallet, we used to pay before covid $5, $4, even $6 sometimes for great B and C, like the pallets are also like a different quality, but regular size, like not overweight, we used to pay like five to $6, maximum $7 during the covid. We start seeing the numbers like 20 to $25. So that rate stay there and square feet in California, you know, you know that it's just really expensive. The labor cost is very expensive. So this, this adds up, you know, not only storing but inbound and outbound and so many times.
Burak:
Amazon is also, if you have even a full container. One of the issues that we see recently, Bradley, is that if you have a full container order to Amazon, Amazon generally don't allow you to send them to one fulfillment center. So it means that you need to have a prep center to bring the container in, unload it, palletize them ship to three different Amazon fulfillment centers. This cost is really high. So if now you wanna deliver a full container from channel to Amazon, if it is in the west coast, you're looking at include everything, you know, the custom clearance, the interest, the ocean freight and track is around $4,000. But we had a case that Amazon asked the seller to separate the sh three different location. It cost them at the end like 10 to $12,000. So when the sellers, I think we were gonna do like a one maybe tip, you know, for the sellers how to, how to save money.
Burak:
They, they prefer, they, they should be using a location close to where they wanna ship them. We know when you create like a ship from when you create a shipping plan in your Seller Central Account, they're asking you ship from address. I recommend sellers not to use their, their supplier location in China. If it is overweight, oversized, it's definitely giving you the East coast. But if it is a regular product, it might give you more than one place. But people can contact us and get our location information in Los Angeles, and they can use their ship from address our location, Los Angeles and Amazon might give them a location nearby. So this could help them to sell, save some money.
Bradley Sutton:
Okay. Now, you know that's actually caused a lot of issues. I heard lately the, the new send to Amazon flow that even even LTL shipments, you know, not even using the, you know, like UPS partner carrier, but even LTL shipments, you, you used to create it and it would all go to, to one location. Are you seeing that more that since that new send to Amazon went live that Amazon is making sellers send to, to multiple, multiple warehouses more now than, than they have in the past?
Burak:
Yes, absolutely. I think one of the reason is also they, they see that, you know, the running the business in California is really getting expensive. So I think they wanna like move more like a Midwest or like Texas area. However, you know, the 40% of the entire United States import comes through Los Angeles port, so it'll never change. You know, the shipping to Los Angeles now costs like 16, $700 versus New York is like 3000. So you're looking at like 40% higher. So Amazon is changing that. Yes. And one of the issues that we see is with the Amazon partner carriers, they're they have just so much to handle. So they miss so many times the pickup appointment. So if you book like an, I mean, UPS is really expensive if you ship what we realize is in our company, if you are shipping anything within California, 300 kilogram is the optimum kilogram that you should be using ups.
Burak:
So if you have anything up to 300 kilogram, it's still okay to use the UPS and the check-in process is much faster. If you have anything more than 300, 400 kilograms, if you have anything more than like two tree pallets, yes, LTL shipments, are fast cheaper. However, there are a couple of problems in here. Number one, the, the transit time, the transit time, by the time the carrier comes and picks it up from the, the 3PL on delivers. It's not a direct truck. So it means that they take from, they collect the pallets from different location, they bring it to distribution center and they ship it into Amazon. So there's no timeframe that it's currently. So, you know, we are already middle of the year, so lots of companies are actually planning their fourth quarter orders from China or domestic or from South America, Turkey.
Burak:
They, they already consider what to order from China. But also when the shipment comes in, it's very important to send products to Amazon in the right way so it can check in very fast. So, you know, so many times when we do even the Freedom Ticket 3.0, when we record that, I explain in one of the episodes the international shipping process. So many people, whenever they request the price from China, they only ask what is the transit time between port to port? But so many people, they forget that there's a long process from the time we contact the supplier, get the shipping documents until we pick up, until we load container, it takes seven to 10 days. The same store. When the shipment arrives to the destination port, it takes three to four days to clear the custom at the destination waiting.
Burak:
The containers become available in the terminal, and Los Angeles port still has a problem. We sometimes cannot find an appointment to go and arrange the pickup. So a lot of people who are not in the industry, maybe they think that, what do you mean with making the appointment with the terminal? So you cannot just show up to it like a container terminal saying, Hey, where's my container? It doesn't work out that way. You need to track every day the status of the container. If it becomes available, then we need to make an appointment. When are we gonna go pick it up? So sometimes it takes seven to 10 days until the container becomes available. By the time the container comes into our warehouse, we, we do the prep center, send it to Amazon, it takes another 15 days. So, so many people, they think that, oh, I have enough time.
Burak:
So one of the questions we always hear, when is the best time to book my shipment? We always talk about like, you know, two weeks prior, one week prior at least. So they can save in that time that we are planning this international shipping better. So as I mentioned, we used to talk only about international shipping time because, you know, the main problem was like, oh, it take three, two to three months to, you know goes from one port the airport, but now they're like more other elements coming in such as the new way Amazon is shipping services like LTLs used to go one location. Now you need to use the two different, three different locations LTL. So this is like really hurting people's budgets, honestly.
Bradley Sutton:
All right. Now speaking of budgets and, and, and shipping costs and things, you know, like I know if somebody books with you got very upfront pricing, very transparent, you know, I've used you for multiple, you know, Project X, Project 5K shipments, but, but whether somebody's going to use Forceget or whether somebody's using, you know shipping company they find from Alibaba or, or maybe their supplier finding, let's, let's talk some strategy here about how a, an Amazon seller can make sure they're not getting ripped off. You know, so like, what are the questions they need to be asking? What are the red flags? You know, like, like I remember one time I showed you how there's this one company without even knowing the, the invoice price of, of the shipment was already giving, like, you know, quotes and things like that. Well, that's a red flag because how in the world could they give you know, a door-to-door price when they don't even know what the invoice, you know, of the products? What are some red flags? What are some red flags people need to watch out for? What are the questions that sellers need to ask? What are some things that they need to kind of like make sure about, to make sure that they're getting a, a good deal in shipping?
Burak:
Honestly, we always talk about like, do not use your suppliers freight forwarder in the same way. You will not use your freight forwarder to source product, right? Because it's not their core business. So they can help you maybe with that one day, but eventually when you face a problem with the quality problem or you know packaging problem, you are not gonna go and complete your freight forwarder. You need to have the direct relation with the supplier. So same thing, whenever you have any issue with your shipping you know, maybe the product is damaged. So you need to like have the direct communication with the freight forwarder. I think one of the things, what we see is right now that is with us custom, what is going on right now. I mean, if you're selling in US marketplace last two, three years, there was like a huge volume coming from the Asia.
Burak:
And because of the covid, the restrictions, the map, like we didn't, I mean the US custom didn't have maybe enough sources to have the regulate all this common shipments because the volume was almost like double, right? So this year in, in like 2022 December, we received a new regulation from c from the custom border protection that every invoice needs to have the product picture and every invoice needs to have product material. This was not a requirement in the past. So this is exactly what you mentioned. Like if you, if the freight forwarder doesn't know what's the product, what is the material made of, what is the HS code, how they can actually give you all in DDP price because they don't even know what's the tax rate. So the rat flag is one of them is, I think you should be asking the freight forwarder if they're NVOCC licensed, which is like official international freight forwarder license, that they're responsible.
Burak:
You know, in USA when you work with the freight forwarder only based in China, if you have any problem in the custom, if you have a problem with like product loss damage, you'll not have any authority to go and actually looking for your money, right? This is number one. I think number two, so many freight forwarders they're asking, they're charging you insurance, but they never share the insurance policy. If you wanna ship something, the insurance is cheap, you should edit like 20, 25, $30. Sometimes it's only, it's less than 1% of the cargo value. If they're asking you the insurance, ask for the insurance, yes, but collect your insurance policy. If there's something happens, then they'll be like, oh, you know, we forget to do the insurance because insurance is something they can do backwards up to third days. So if something happens, you have to like deal with that, that's important.
Burak:
So I think the MUCC license is one of the most important thing, your insurance policy and upfront payments you should deal with negotiation with, negotiate with your freight forwarder that at least ask for the payment when the shipment arrives to the destination port. So many times we saw like cases that people come to us and say, Hey, my freight forwarder wants to charge me the destination port charges cuz they said there's an extra fees, this and that I paid upfront. So if you pay upfront, you don't have any power to negotiate because you already paid, let's say 2000 and I asked like another 300, $400. And also I think like, you know, the social proof and then the, the reviews there's so many like non-name companies that you should be careful about. There's one thing that also I always mentioned, like people's like private label products are like your baby, right?
Burak:
You probably band night, you work on your product with your supplier, you pay the deposit, you take the pictures, and then when it comes to finally after two, three months when it comes to the shipping, you're like, okay, yeah, you can just ship my product. But I think that you should be like more careful because either you might delay your launch if product get damaged or, you know, get lost or it's delayed or you have to pay extra fees or you might be running on of inventory in one of your best SKUs. So there are a couple of things that you should be careful about, and I think there are like more information now about training. You know, what is the best way how to ship from Alibaba if you're a new seller. If you're a larger seller. Now, I think when it comes to shipping from China, it's more about like payment terms and, and then the right, right tracking, I think digitalization is getting important in the industry that manages supply chain.
Bradley Sutton:
Okay. Now, you know, we've been talking some, some strategy and you've given some tips about, you know, saving money when you have a shipment to try to try and, you know, set your origin address. What are some other strategies and tips, you know, whether it's about utilizing 3PLs, whether it's about shipping, whether it's about taxes, any, anything at all. What are some strategies some more strategies that you can give sellers that will help them save money or potentially make money even?
Burak:
Right, I mean, in first get we ask, we actually provide free audit free international shipping audits. So if people send us their, like previous shipments, we can give the code, we can match them if it is possible, or we can tell them how the freight forward can offer such price. I think one thing that people should be careful about the HS codes, HS code is one product, HS code is if people don't know that it is every single product has a special code that is globally registered in the customs. And one, one of our customer, we recently had this issue, they order doormats and the HS code the factory uses in the export documents in China should be different than the one you use it for the import. So one of them has 25% tariff, and that is 7.5% the tariff.
Burak:
So imagine the amount of tax you'll be paying if the, the shipment is worth of $50,000. It's almost like eight to $9,000 different. So you can always ask your freight forwarder or supplier if there's an alternative HS code. Most of time suppliers don't really tell you the difference because they wanna use the high HS code for them to get the tax refund in China. We talked about that in the last time, you know, when we were in Las Vegas, but so whenever the Chinese manufacturer, they have a finished product, they can get the VAT back from the government in China. So they're using, so Chinese products also has domestic different tax value. So it could be 5%, 10%, 15%, they always use the higher tax to get the money back from government because they do export. But when you import the new country, that HS code can have a very high tech. So that's why whenever you collect, especially if you're shipping a full container, ask your freight forwarder, ask your supplier to look for an alternative HS code so you can really save money on the duty and tax and which can create couple of different dollar difference in your lending cost. So I think this is the one thing that you should be focusing on checking your, excuse me, checking your HS codes to see if there's any alternative.
Bradley Sutton:
Okay. You know nowadays people are, are wanting more, I would think to like maybe diversify where they get their products from. So what can you tell me? Let's say I'm selling in the USA. What, what is the difference of pricing about for if my suppliers from China, or if I'm shipping from India perhaps Vietnam is maybe number three, I think more popular. What I hear about, you know, Pakistan what are the differences in pricing that, that you're seeing on freight from each of these locations? Is China the cheapest because of the volume that that happens? Are the other places getting cheaper? What's going on?
Burak:
Actually, that's a very interesting question. We, I had this conversation one of the members was asking about they wanna ship from India, but then when we calculate the shipping cost, it was not a full container. It was less than full container. And because China has so much bigger volume for the shipping versus India, the shipping cost is much cheaper actually from China. And because in China, like MUCC licensed freight forwarder like us, we can consolidate different cargo into one container so we can read and lower the cost. In India, such service doesn't really exist. So that's why we need to ship each seller's cargo individually. So their extra charges adds up, such as origin fees in the destination, port fees, the, the logistic fees. So when we did the calculation, even if they find the product a little bit cheaper, the freight went up almost 30 to four, 35%.
Burak:
So I'm not saying don't go, don't look into India of first just do that, but make the freight calculation before you place the order. So in that case, the person already placed the order from India, alternative Chinese supplier, then at the end they ended up paying actually more for the landing cost. So planning is great, but same thing we see with the Mexico because the truck fees from Mexico to US is not cheap at all. So that's why so many people, they try to source from Mexico, they go look into the states, yes, it's great. Maybe they can scalable, you know, the supplier is also the size of the supplier. I think Bradley, like, I mean, you know, sometimes you work with a supplier in China and you wanna expand to Shopify, you wanna expand to Walmart or it's a great idea.
Burak:
You should be expanding to Amazon, Canada, for example, you're not selling it yet, or Amazon, eh, has great programs now to do the cross border like globalization. And they want you to go to different marketplaces. They give you, they make your life easy now. And if you wanna expand to these markets, then you will maybe have like more volume. But you need to make sure look, you know, where is your where's your source? How are you gonna ship it? Do you have enough money? All these things are like really important. So before you go start sourcing, make the calculation of what's the freight cost, what is the HS code from that? So maybe you buy something from China, it has 25% tariff, like, but you go back to India, it has 0%. So even if you pay 20% more to your product plus the shipping, you still save like 5%.
Burak:
And I think it's a really good idea. And since China has opened big sellers, Elite sellers, Elite members, they should go back to China, discuss with you know, suppliers, what happened. Cause China, like Chinese suppliers, they had very tough lost three years. They had very strict code restrictions. They couldn't travel outside of China, they couldn't go to the trade shows, you know, the people like buyers couldn't go to China. I think it's very important to rebuild the relationship. Even if you cannot travel to China, if you buy like 50,000, a hundred thousand dollars, you know, per month, you should invite your supplier to come and visit you. So you can sit down, renegotiate the prices, see what else you can add your, you know, production line. Amazon comes up with lots of different new features like, you know, frequently added, frequently returned so you can actually see what you can create with your supplier and that can help your business and ask for better trade terms.
Burak:
Like better, better pricing. Not anymore, like anyone's paying 30% down 30%, you can easily get like 10 to 15% down payment and you break down into like another 30% to 40% before shipment and then remaining maybe one month after delivery or upon delivery so you can get better terms. So I highly recommend if you're selling like above like $57,000 per month or even buying that much, you should go to China and visit your suppliers. Just see what's going on in the market and then try to add a couple of other suppliers in the market. Everybody is hungry right now for more business actually.
Bradley Sutton:
Okay. Alright. Well we'll get into your last couple of strategies in a little bit. But you know, something, I'm doing this year on the podcast is ask a lot of people their, their health habits. You know, like health is my theme for, for this year. And when I talk about health, it's not just, you know, physical health, but, but mental health too. So one thing that I always highlight is hobbies. That's why at the beginning of, of all these podcast videos, I show my main hobby, which is traveling, you know, around the world. So first of all, what are your, your hobbies? You know, the things that you do to, to kind of like take yourself away from you know, your, your day-to-day work and, and relax your mind. And then what are some of your physical health habits that, that you're also doing to, to keep healthy? You
Burak:
Know, like people like us who live in a very big time zone difference with our main office, China, like 12 hours, it's very hard to slow down, but that's something I also start to feel like, you know, with the events, the Amazon events, you go travel a lot, you always stay in the hotels. I think the sleep is something really important, especially for men. Men's health, men's mentality. I actually start to listen more TED Talks, you know, like they are short 20 minutes, 25 minutes. You can learn lots of different things. I love CrossFit. I'm very lucky. I live in Miami Beach, so lots of people dating that I could work like 1:00 PM go to the pool, but it's not really happening. I generally have like 7:00 AM, 7:00 PM thing, but I go workouts, I have a motorcycle, I get some air.
Burak:
I'm actually thinking to get a bicycle. I think I like doing outdoor stuff. It's very important. And man, we spend so much time with our phones and computers. I try to disconnect from my phone at least 30 minutes before I go to bed. That gives me like, you know, a better, maybe I go for a walk a little bit. I try to read a little bit more. I always had the excuse I travel too much. So, and more importantly I I I start cooking. I like actually disconnect with a glass of wine or a beer after the workout. Do like meal prep? Only the downside is the dishes, but.
Bradley Sutton:
Yes. Little bit less DoorDash, a little bit more home cooking is also I think very healthy there. Okay, interesting. Now, now guys, I if you wanna get more info on, on the A to Z of shipping and all the terms and everything you need to know you know, Burak mentioned it, but, but check out week six in Freedom Tickets. So, so if you're a Helium 10 member, you guaranteed you have access to Freedom Ticket. Go to week six. There's multiple modules in there where he goes everything from, you know, international shipping, step-by-step and, and freight quote breakdowns and FBA packing requirements and this and that. Anything you need to know, you know, it's right there in Freedom Ticket. He did most of the modules there, but maybe something that's not in freedom ticket or something that's that's new in the last, you know, couple months or just something that you think that sellers need to be aware about. What is a strategy or a 60-second strategy or tip that you can give our sellers? You know, you've given us a number of them already in this episode. Is there anything else you can, you can do to educate us?
Burak:
The one thing comes to my mind that we don't really speak in supply chain on Amazon is the digital tracking. I think that's gonna be the future because if you don't know when your shipment is gonna check in you cannot really manage your PPC budget. You cannot manage your coupons, deactivate, activate it. I think you should be find a way to see, have better visibility on international shipping. Not because we are the only company doing that in the industry, but I think it's really important because every time we go to the Amazon events, people talking about, this inventory issues or they place too much order or they're short running, they have some products on the water, they don't know when it's gonna come to Amazon, they stress out. Same thing like, you know, when I wake up my supplier, my office in China, they're sleeping.
Burak:
And by the time you brush off like, you know, small things from your table when it comes to sit down and work one or 2:00 PM you cannot really do planning. I think planning is like the most important thing right now. The inventory management and managing your money good. I think having a good visibility on your inventory planning and supply chain is the key to success because so many people are working on the team margins right now this year cuz of the all the price increases. I think that's the most important thing. I think managing your inventory, understanding, checking how much the keyword search volume increase or decrease compared to last year and what should be the, this year's orders. I think that's very important to read in the data and connect the puzzles. So it's not anymore just keyword research. It's not only checking the keyword performance, it's not only the cheap shipping, but I think it's time to like put everything together and could put in the right s sop for your business.
Bradley Sutton:
Okay. Now if somebody wants to get more information from you or possibly reach out, you know, for a quote for shipping or for warehousing or other services you provide, how can they find you on the interwebs out there?
Burak:
It's forceget.com and sales.forceget.com. I normally used to, you know, wear my Forceget t-shirt, but this time I changed to Sell and Scale. So forceget.com, they can find us and we have free consultancy 15 to 30 minutes for each you know Helium 10 members as well as the podcast listeners. We love them all and we can do free audit, especially the, you can send us the HS code and we can give you alternatives if there's any in the custom system.
Bradley Sutton:
Awesome. Awesome. Well look forward to seeing you at our helium 10 social and elite workshop that we have coming up and then of course at future events. It's been great to have you on here and we'll be seeing you soon.
Burak:
Thank you so much, Bradley, for having me here.
---
Enjoy this episode? Be sure to check out our previous episodes for even more content to propel you to Amazon FBA Seller success! And don't forget to "Like" our Facebook page and subscribe to the podcast on iTunes, Spotify, or wherever you listen to our podcast.
Get snippets from all episodes by following us on Instagram at @SeriousSellersPodcast
Want to absolutely start crushing it on Amazon? Here are few carefully curated resources to get you started:
Achieve More Results in Less Time
Accelerate the Growth of Your Business, Brand or Agency
Maximize your results and drive success faster with Helium 10's full suite of Amazon and Walmart solutions.