#376 – The Latest Updates For Selling In Amazon UAE
In this episode, we talk to two sellers who live in Dubai to talk about selling on Amazon markets in the gulf region and how one seller scaled up to $250,000 sales without software.
Originally published on: September 6, 2022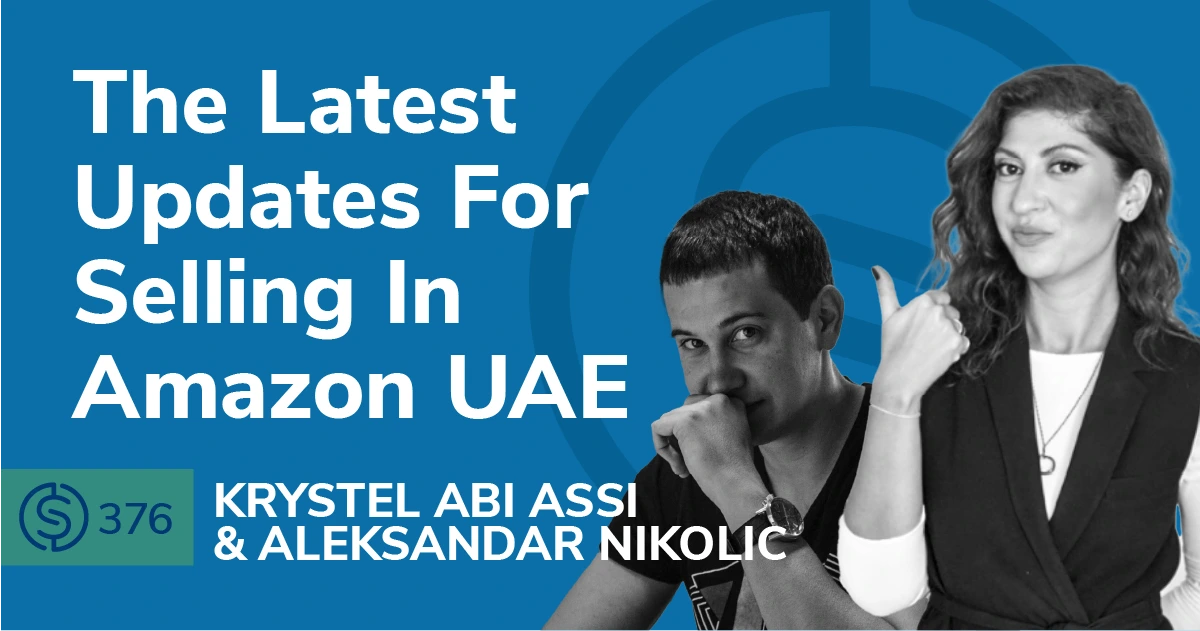 People always ask us, does Helium 10 work in the UAE? The answer is yes! Helium 10 tools are now available for the Amazon UAE marketplace. In this episode, we welcome Krystel Abi Assi and Aleksandar Nikolic to talk about selling in the gulf region, what are the advantages of selling on Amazon UAE, and why you should consider expanding to this market. We also hear Aleksandar's story on how he got started on his Amazon journey and how he is able to scale his business to $250,000 in sales without using Amazon tools in UAE! Make sure to listen to the end, this will be a good one!
In episode 376 of the Serious Sellers Podcast, Bradley, Krystel, and Aleksandar discuss:
01:25 – Helium 10 Is Now Available In UAE (United Arab Emirates)
03:00 – How Important Are Tools For Amazon Selling?
05:30 – 25,000 Sellers In Amazon UAE
06:51 – It's Easy To Get Started To Sell On Amazon UAE
09:46 – Operating Amazon UAE And KSA FBA Separately
12:54 – No Income Tax And Corporate Tax In The UAE
15:40 – Other Languages And Translations Available In Amazon UAE
17:10 – Cool Stories From Amazon Sellers In The UAE
18:57 – Krystel's 30-Second Tip
20:48 – Amazon UAE Seller Story: Aleksandar Nikolic
24:54 – Learning How To Sell Online
29:18 – Importing Duties And Taxes In The UAE 
31:00 – Making $250,000 This 2022 As A Part-time Seller
32:18 – Starting To Play With Helium 10 Tools For Amazon UAE
32:50 – Bradley's Helium 10 Tools Recommendations For Sellers In Amazon The UAE
34:43 – How Does He Rank His Products To Page 1?
36:53 – Getting Brand Registry For Amazon UAE
39:11 – How He Finds His Main Keywords Without Using Tools?
41:28 – Helium 10: Amazon Tools For UAE Market
Transcript
Bradley Sutton:
Today, we're gonna talk to two different people who live in Dubai about all the latest on selling on the fastest growing Amazon marketplace, Amazon UAE, including how one seller scaled up to $250,000 without even using any software. How cool is that? Pretty cool I think. Hello everybody, and welcome to another episode of the serious seller's podcast by Helium 10. I am your host Bradley Sutton, and this is the show that's a completely BS free unscripted, and unrehearsed organic conversation about serious strategies for serious sellers of any level in the Amazon or Walmart world. And speaking of the Amazon world, I wanna talk about one of the latest marketplaces that Helium 10 is working in and on. And so we're bringing back Krystel to the show. How's it going?
Krystel:
Hey, Bradley, how's everything, you know just a, just a preface. We had a meet-up for anyone who doesn't know, we had an in-person meet-up in December of 2021. And you were there in Dubai and everybody kept asking you, so when is Helium 10 gonna be available for the middle east and notably, mostly in the UAE? And you kept on saying, well, in a few months, you didn't really give a number, but you were saying in a few months, and everybody was really excited. And then a couple of months rolled by and I started getting messages, like Bradley said, it's gonna be a few months, and then fast forward to today and we're here perfect. Very excited.
Bradley Sutton:
Yes. Yes. You know, we've always said at Helium 10 that we launch a lot of stuff for customers and it's because of the feedback and you know, every month we now have our Bigger, Better Launch that we talk about the new features that we come out with. And remember guys the features come from how many requests we get from our users. So a couple of years ago, the one that we didn't have that everybody was asking for was Australia. We came out with Australia and then fast-forward a year later, and the one that everybody was asking for was Amazon Japan. We came out with Amazon Japan. So now, it's time to come out with UAE, cuz that's what everybody was asking for.
Bradley Sutton:
There are still a handful of Amazon marketplaces that we don't have functionality for Singapore, maybe Brazil Israel, et cetera. But we always prioritize based on demand and your community and a lot of others outside of your community even have been asking for Amazon UAE support. So I wanted to bring you back now that it's been out for a number of months now. I'm just curious, you know, how are things going? What have you seen in Amazon UAE? Is it still growing over there? Is there a lot of excitement? Are people making money? What can you tell us?
Krystel:
It is actually growing. And ever since we had our last conversation a lot of people, especially people who didn't really have Amazon, the middle east, especially the UAE on their radar. A lot of people were now curious, maybe the block that most sellers, especially established sellers were having was the fact that you weren't able to predict anything cause you didn't have incredible tools like Helium 10 to help you. And you know, we forget how important tools are because we just take it for granted but it's a very valuable piece of the strategy for you as a seller. So you really do need a tool to help you make concrete risk-free. Well, to a certain extent decision. So with that being said, to answer your question, yes, we've seen the market growth over the past year.
Krystel:
We've seen a lot of new brands come into the market. A lot of new brands are being established on Amazon, potentially from incredible entrepreneurs in the region as well. And with the introduction of Helium 10 because it was a step-by-step rollout. So each and every feature was being rolled out week after week. So I've seen a buildup for it, for sure. And I've seen a lot of excitement cuz people are like, okay, now I have no excuses. I have a tool and now I can start selling.
Bradley Sutton:
In your experience. Obviously, you don't have access to Amazon's database, but, but with who you see in the field. What percentage would you say like of the people who are just based in the area who are selling compared to people selling from Europe and United States in UAE? I mean, I would imagine of course it's easier for somebody based in there, but then that's, that's the beauty about Amazon. You don't have to be living in the country where you're selling it. So is it like 50-50, 80-20, 90-10? Like what's the breakdown that you've seen?
Krystel:
So according to Amazon's statistics, we have about 25,000 sellers on Amazon UAE. So that's a very small number compared to the US. However, the UAE has a population of 10 million. So that's quite a good number for such a small marketplace. 25,000, 70% of those are based in the Middle East and North Africa region. And 30% are based overseas. 30% is not a small number. However, I would've expected it to be a little bit higher. I think one of the major problems was because first of all, Amazon do have an international marketplace team where they do reach out to large brands and businesses and tell them, look, you have an opportunity here. Why not come to the Middle East? I know they do it for India and they're also doing it for the middle east as well. But of course, brands are hesitant because of the fact that you don't really understand what the demand is on marketplaces like the UAE, because you don't have any tools well up to now, now you do so that's it, but also I think 30% is also a good number for such a new marketplace.
Krystel:
Bradley, I think the reason why it is it is that high is that it's quite easy to get started on Amazon in the UAE. So we've talked about this in the past, but just to remind everyone, you don't really need to have an entity here in Dubai. You can get started with your SLLC or your UK LTD or your European-based business and just open an account here and just get started. So entry to the market is quite fast and easier than in other marketplaces.
Bradley Sutton:
Okay. Now, what about inventory? Because you know in America volume is high, right? So if my minimum order for my factory is like a thousand units or something that should be no problem. I'll send it all to FBA and go through it in a month or two, depending on my sales velocity. But then obviously in other marketplaces. UAE, it's growing rapidly, but it's still very small compared to like the US. So what are sellers doing? Like, are most sellers that there are almost all selling on other platforms? And then what they're doing is they make a big run at their factory. They send the majority to Germany or to the USA if they're selling and then smaller packages go to UAE or are there people having success where they are only selling in UAE and they can, they can afford to make a, a big 1000, 2000 piece factory and send it all to UAE.
Krystel:
So I'm a business strategist. And if you look at the size of the market, it wouldn't make sense for you to operate the same way that you operate in a marketplace like the US. What you need to do in a marketplace. Like the UAE is you need to diversify. So rather than having one very successful product where you're selling thousands of units, the population isn't there, the numbers aren't there. So what you need to do is have three or four different products that would provide you the same sales that you would with one product in the US, and diversification is also important with product categories as well as marketplaces. So in the UAE and in the Middle East, in general, there are other marketplaces other than Amazon. They're competing with Amazon. So let's say they're equally as loved by users and as a seller, you wanna be everywhere and anywhere. So yes, they're not as easy to start selling on them. So there's that thing, there's that little problem. That's what happens is you get started on Amazon, you start rolling out your products and your brand on Amazon, and then you move on to other marketplaces, cuz it just makes sense for you to diversify your costs and your selling strategy,
Bradley Sutton:
The closest geographic Amazon country. Would it be Amazon Saudi Arabia?
Krystel:
Yes.
Bradley Sutton:
And is that completely separate or do FBA and UAE also ship out things to Saudi Arabia or that's a completely separate marketplace, completely separate FBA? I have to operate them separately.
Krystel:
Unfortunately, it is separate. The reason why I'm using the word, unfortunately, is because in the Middle East there's a kind of partnership between Gulf countries called the GCC, the Gulf Cooperation Council, which is very similar to the EU. So with that being done, you know, it wouldn't make, why is Amazon operating separately, from these marketplaces? So in the middle east, you've got three marketplaces, you've got the UAE, you've got Saudi Arabia, which is a much bigger population of 33 or 36 million. And you've got Egypt, which is the biggest.
Bradley Sutton:
I forgot about that. Yeah. Egypt.
Krystel:
Egypt is not part of the GCC, so that's okay. That's fine. It's okay for it to be, you know, naturally maybe a separate entity, however, KSA and UAE, sellers aren't able to understand why they're not operating. Like they should operate, however, they are not. So to answer your question, yes, they are operating separately, Amazon though, a year ago released in the UAE released saying from the UAE, you'll be able as a seller to sell all over the middle east, not just in the UAE and we're getting started with this it's in beta testing, we're trying to figure it out. They still haven't–
Bradley Sutton:
So is that like there's no Amazon Austria, but then I'm an Austrian. I was trying, trying to think of a typical Austria name would.
Krystel:
Order–
Bradley Sutton:
My name is Hans and I live in Vienna. I go to the Amazon Germany website. I order something from there and they ship it to me in Austria. So you're saying, Hey, maybe I'm somewhere else in the middle, I'm in Oman or Jordan or something. I can go on like one of these on UAE or KSA websites, and then it'll ship to me, but it's not, is that what you're saying? And then number two is you're saying that's not ready yet.
Krystel:
That's what they said, they're gonna do. So that's the press release that they released almost a year ago. And they called it the Amazon middle east FBA exports program. So yes, exactly. So it's UAE is gonna be operating like Amazon Germany in Europe, whereby all of these smaller countries can order from the UAE versus having to order from the US. They're still trying to figure it out. So when that happens, because it would, wouldn't be ideal if it doesn't, when that happens. Now, you're selling to a much bigger community or, or country or a population of people. Yeah.
Bradley Sutton:
Okay. So, but it sounds like, you know, it's gonna be, be originating from, from UAE as opposed to KSA or Egypt. So would it be safe to say like in that region, Gulf region there and I'm interested I'm, selling Europe, I'm selling in Asia, I'm selling in the US, whatever, but you know what? I wanna get my foot in the door. I probably should start with UAE first. Is that correct?
Krystel:
For multiple reasons. One of the major reasons is it's the easiest country to get started in being with laws, regulations, and importing capabilities, the UAE in general is a hub for importing and exporting products from Europe to Asia. So it's very well connected. And at the same time, you're gonna find not to say that other countries don't, but I think the UAE is a little bit slightly elevated when it comes to shipping partners, logistics, partners, every single service provider that you would need in order to carry out this project,
Bradley Sutton:
Just like you said, you know, you don't have to have a UAE-based company or residency to sign up there. And actually, I did that. I'm not selling UAE, but what I did was just so I can get into Seller Central and start poking around and experimenting, you know, with one of my accounts, I signed up for UAE and it probably just took me a couple of days. It was, it was really easy, you know, and I just, you know, did everything with my US corporation. Is there any benefit though, if I did have a corporation that was based in UAE, or I had a business partner based there and I used their information, or is it pretty much the same either way?
Krystel:
The benefit depends on obviously what's, your situation is as a business where you are located because in the UAE, in particular, we don't have any income tax at the moment. So as a company operating in from the UAE or a company based in the UAE, you wouldn't pay any income tax corporate tax either. And you do have a runway of VAT registration whereby it's mandatory to register for VAT when you get to around a hundred thousand US dollars in sales per year. Whereas you don't have that runway when you are an international seller, you need to get, you need to register and start filing for your VAT, which is 5%, by the way, from zero, when you get started, the disadvantage would be Bradley that, you know it is, it is actually now because of 2020, it is quite easy to register a business previous to that.
Krystel:
You would have needed to come to the UAE. Now you could do it all online. So it's quite easy, but it is in comparison to other countries like the US, it is expensive to register a business. So it's not that expensive, but it is. It's gonna set you back about a thousand to $2,000 per year, just to get that a business entity. So that might be a hurdle for someone thinking of, I just wanna test out the market. That's why I'm just suggesting, just get started, test it out and then you can maybe incorporate,
Bradley Sutton:
I remember you said last time that in UAE, the main language that the website is in English, but then just like in America, the main language is English, but then the dropdown options I believe are Spanish and maybe Hebrew, I'm not sure, but in UAE is the, the other option that people can view the website is in Arabic or, okay. And then to have that active, I don't have to submit in the back end, like a separate translation of my entire listing in Arabic. Amazon is doing that for me, or I can actually make a different translation?
Krystel:
Amazon is doing it as soon as the product is active within maybe seven days, it just translates automatically. And the translation to be quite honest is pretty good. It's not Google translate. It's Amazon translate, maybe. So it is actually pretty good. And the important thing is keywords. So we don't find, even though I'm pretty sure that a lot of people actually use Amazon in the Arabic language there's a huge expat community in the UAE, of course, but there is a huge Arabic-speaking ex-pat community as well and you've met a lot of them. So a lot of people use Amazon in Arabic yet. I don't know why at the back end, we find very few keywords in Arabic, so yeah English is, is potentially the language to focus on for now.
Bradley Sutton:
Okay. Now, you've gotten us somebody we're about to interview next, who's a successful seller, but what are some other just like maybe success stories of locals or overseas? You don't have to mention their names if they want to keep them private or you don't have to say what they sell or anything, but just to let people know of what the potential is, you know, cuz sometimes people think of these other marketplaces that they'll be like, oh, Amazon Australia I'm only gonna make, you know, like $1,000 a month maximum there, and they have these preconceptions that maybe the market is tiny and while it is smaller than the US, I'm sure there are still some successful sellers that you know of. So like what are some like cool stories maybe of some sellers that you've heard of in your community?
Krystel:
We've seen recently this year, that a lot of people come to Amazon from different backgrounds, being able to create brands, not necessarily the beauty of it, not necessarily being an expert in that brand. So I love that. So I don't want anybody to think that if you need to sell, I don't know, yoga products, you need to be a yoga instructor. No, you need to just have a genuine passion to create a brand that can solve people's problems. You've heard this before. This is not new information. And a lot of people have been able to do this year. And a lot of people in our community have been able to expand their businesses beyond the UAE. So the idea would be, be to create a genuine connection, a genuine product to showcase that you are a brand to add your brand story and then start expanding rather be it with your product line or be it via operating in different marketplaces. First of all, opening from the UAE over to KSA and then Egypt and then potentially Europe and maybe the US as well.
Bradley Sutton:
All right. Now, before we switch to the other interview, you know, just like we did last time if we can end with a TST, our 30-second tip. So some kind of a quick-hitting strategy about selling in Amazon UAE that, that you can give our community out there.
Krystel:
I definitely need to say this again. I think I said it last time, but the most important thing is selling a product that people want. So in business in general, and this is not just e-commerce a large percentage of companies, service providers, anything and everything, even brands fail because they end up selling a product that people just don't want. So try to do your research and try to figure out if this is a product that people want they're looking for. And that's especially important in a smaller marketplace, like the UAE.
Bradley Sutton:
Excellent. Excellent. All right. Well thank you for coming back and it'll be interesting next year to see not just in UAE, but in that whole region there, you know, how the markets have grown because they've definitely grown a lot in the last year. So thank you so much for coming on again.
Krystel:
Thanks, Bradley.
Bradley Sutton:
All right. So next up, we've got Aleksandar now. And Aleksandar, I've never talked to him. I don't know who he is. I don't know anything. I don't even know where you are, but it's it's late in the night here. So I'm assuming maybe are you in Dubai also?
Aleksandar:
Yeah. Yeah. In Dubai it is.
Bradley Sutton:
Okay. So what is it? Morning time for you?
Aleksandar:
Yeah.
Bradley Sutton:
Okay. Excellent. All right. So now what I did, was I told Krystel, Hey, I was like, I wanna talk to somebody who has had some kind of success there selling in, in Amazon UAE, and just understanding how it's going. So, before we get there, tell me a little bit about yourself. I've never talked to you before four minutes ago. So where are you from, how long have you been in Dubai, et cetera?
Aleksandar:
Yeah. Yeah. So originally I'm from Serbia and I came here almost two years ago.
Bradley Sutton:
Where are in Serbia, are you from?
Aleksandar:
I am from Požarevac its a little city, like one hour from Belgrade, but I was studying in Belgrade and working. So like I spent half my life in the Belgrade half, like in the city, and yeah.
Bradley Sutton:
I've been to Belgrade a couple of times. I have been to Niš. I really love Niš over there in Serbia.
Aleksandar:
Yeah. Yeah. Cool.
Bradley Sutton:
All right. So grew up in Serbia and then keep going with the story.
Aleksandar:
I'm a developer which is my main occupation. So, but my, myself, I also went for some kinda work in travel to the USA. I was in Miami for six months because I want to experience, I mean, the US also, and to see Miami and yeah, cause of all the like Will Smith other things and some nice experience. My goal was to somewhere that is hot. That is like good weather.
Bradley Sutton:
I was literally about to say that if you ended up in Dubai, your goal must have been to go somewhere super hot.
Aleksandar:
Yeah. Yeah. I mean, I didn't want to go to super hot but heat is like–, I want hot, so I got it. So that's an interesting part. So yeah, I move here like almost three years ago, and yeah.
Bradley Sutton:
Had you ever sold online before you started selling on Amazon UAE or when you opened on Amazon UAE? That's your first e-commerce?
Aleksandar:
Yeah, so basically because my parents were entrepreneurs, so I got debt, I guess, from them. So for example, I was selling like bubble gum when I was in in in school. So that's how I started because I was watching my parents, how they did. They had some stores. And so I learned from them, I guess, cause the children just, yeah.
Bradley Sutton:
So what were you doing for work when you got to Dubai? Did you just keep doing like, you know, programming work like freelancing, or what were you doing to support yourself?
Aleksandar:
Yeah, because I'm working remotely, so I'm flexible. So that is, that is good. Good part. So mainly I want to go to Spain because of its good culture and Spain is really cool because my girlfriend is Spanish. So I was like, okay, let's take our car. We go to Spanish to Spain, I'll work remotely. You'll find some, some work and we can yeah. Continue afterward. So we'll see what is what we're going go. And that was like in June, like two years ago and my friend just call me and he says, okay do you want to come here in Dubai? You're looking for a personal trainer. And we decided to go to Spain in September, means the summer is like end.
Bradley Sutton:
Did you say, personal trainer?
Aleksandar:
Yeah.
Bradley Sutton:
Like a personal trainer as in, you know, like helping somebody work out or personal training them, how to program?
Aleksandar:
No, do work out in the gym. So yeah. We were like, okay, let's try. So that is how we came to Dubai. So, interesting thing. Before that we travel a working remotely, we went 4 months to Asia, we went 2 months in the Philippines. We went to Singapore, Thailand, and that was my wish from earlier that I can do the work remotely and I can just travel. So that was really good part of the–
Bradley Sutton:
All right. So at what point, when, and how did you find out about the opportunity to sell online then?
Aleksandar:
Yeah, so when I came here, I'm just browsing YouTube and I saw the Krystel video and I didn't know anything about eCommerce online selling at anything. So I was like, okay, just, I just started watching the videos and I like it. I subscribe to her course, and we have some telegram groups there as well. So that is how I started to learn about the Amazon and FDA and everything. And I started like from zero, I don't have anyone from my closest friends that did it. So I just started. So I didn't speak with anyone about this one. And I just said, okay, I will try this, not try, I want to do it. And let's, let's figure out how to do it. So I ordered some products from Alibaba. I didn't know how to create a shipping plan or anything. So I was like, just asking the questions and reading the video tutorials.
Bradley Sutton:
Well, tell me how did you find the product in the first place? Because in those days, for example, you know, Helium 10, wasn't working for Amazon UAE yet. So how did you even find the product you were looking for? How did you find your keywords? Like what did you do for that?
Aleksandar:
Everything manually, that's hard work, I guess, but Amazon came here, I think four years ago. So I started like maybe one, one and a half years after Amazon came here. So it was really new. So, I did the first product. I did what I shouldn't do. I go with the product. I thought it was a good product and it's a cool product. And I know that that's a mistake, but I was so sure about that one. I was so passionate about that one. So I only like just like 200 pieces and I mean, it was bad so in the end, I left like 50 pieces at my home and I just realized that it's not a good product. So after that, I tried other products, which was also something that I taught it's cool.
Aleksandar:
I know it's a mistake. So I did all the design, everything prepared, the logo, everything, everything. And before I make the order, I got the samples, I pay a lot for the samples. And I realized when I track the sales manually with 999, which is like all old way to do it, but some sellers don't limit it. So I realized that it's not a good idea and it's better to stop now than to order and try to do some. So after that, I do a lot of research manually and I found–, my budget was like $3000 to start. So I already burned like 2000. So I, I was like I was doing my research. I found one interesting product. It was a little bit before the Chinese new year. So I was thinking they're getting the, I think middle of the Chinese New Year.
Aleksandar:
And later on, I ordered, I dunno, 100 pieces. And I got lucky because I was selling like, when UAE it's a lot when you sell like 30 pieces per day. So in one day, I made like quite like $600, $700 for one day, which is like here, like a lot of money. So I get some hope and I was like going down my first failed the other one, like a lot. And that is something that boost me and just continued my research and watched videos. The good part is that I did it not I watched the course and all kinds of videos, but I did it my way. I didn't blindly follow all the steps that I should do because it's a new market. So I was just browsing Amazon and tracking the other sellers, what they're doing and just do it some kind of my way following some kind of the rules.
Bradley Sutton:
Now going back actually to the beginning though, like you being Serbian, you know, not you know, UAE passport or anything. Tell me about whether was it super simple to sign up for an account there. And also my other question is how does that work for taxes or like, is there import duties that you have to pay? You know, when it comes into the country, that's different than if somebody lives there. Talk to me a little bit about that kind of thing.
Aleksandar:
That's the best thing here because a lot of people, all around the world come here and open companies because it's heaven for online business there and any kind of business. So basically here you can sell up to, I think $70,000 per year, and you don't need to pay any tax, you tax-free, and you can start as an individual seller. So you don't need the company in the beginning because you are tax-free and you can sell, it's not like Amazon, you can do it. So you have some flexibility that you need to, you don't need to burn money at the beginning for the opening the company and like registry, maybe trademark cause it's a new market here. So that's a good part here because you can also open a company for around $4,000 and you also have like a visa for two years, and it's only 5% the VAT, but you're paying the VAT on the profit. So you're not paying like in Serbia, you pay 20% for the tax and then you can deduct some tax from the government. But here, if you import something for 1000 and you sell it for 900 and you made a profit of 100, only you pay tax only on 100.
Bradley Sutton:
So it's $5 in that situation.
Aleksandar:
Yeah. So that part here is like heaven, I guess, so right. It's easy to open the company and for the tax it's really, really good.
Bradley Sutton:
So, now fast forwarding to 2022, that was when you started, like what do you think you're going, I know it's kind of early in the year still, but what do you think you're gonna finish 2022 as far as your gross revenue in 2022?
Aleksandar:
So yeah, it should be around $250,000 or more or less. We'll see how it'll go.
Bradley Sutton:
All right. And about profit, what's your profit margin? Approximately
Aleksandar:
Around 30%.
Bradley Sutton:
Yeah. Wow. That's pretty high. So have you then stopped your programming and personal training and other jobs like that and Amazon, your only income, or are you still doing the other things?
Aleksandar:
I'm still doing my full-time. I'm full-time developer and I'm doing this on the side, so yeah.
Bradley Sutton:
So how many hours a week are you spending on your Amazon business?
Aleksandar:
I spend maybe every day around two hours, I guess it depends.
Bradley Sutton:
How many products do you have?
Aleksandar:
Around 15. Yeah.
Bradley Sutton:
15. All right. So have you gotten Helium 10, since we got the new tools there, or are you still doing everything just by yourself?
Aleksandar:
Everything manually. I tried a few days ago. So what I did earlier, I was doing all, everything manually. So I guess I'll wait a little bit more just to like Helium 10 to collect all the data and to be sure that everything is right there, but yeah, the data is the big, big, big thing. So yeah, I started a few days ago, honestly, so yeah, I would just track how it'll go.
Bradley Sutton:
Yeah. I guarantee that if you got to this level without it, I mean, you're gonna be able to go even higher. Like, the number one thing I suggest you start with is Cerebro, you know, putting in your own product and then comparing it either cerebral or listing analyzer, either one you could use, but comparing your product to maybe your top competitors and see where they're ranking for on certain keywords that maybe you didn't even realize were important. So the fact that you can get to this level without it. Yeah, it's kind of like, it was six years ago in, in the United States for Amazon USA, there was no Helium 10 or other tools around there. So you just kind of had to do it on your own. And, you know, the UAE market is, is similarly brand new. And so everybody was kind of doing it on their own which is fine. But then now you're gonna have an advantage over your competition because you're gonna start utilizing the research tools from Helium 10 and, and, you know, getting some competitive advantages. Now, have you looked at all into maybe expanding to, to America or to Amazon Europe with your products?
Aleksandar:
I was thinking about that one, but I'm a little bit like scared to do it right now. So I will continue with UAE for now, but I think I will do it later on, I dunno, maybe in one or two years maybe. So you need to take a step, but yeah, you don't need to be afraid, but in this phase, I'm afraid because yeah. I didn't use any tools and US, like it's a huge market and so much opportunity there, but yeah, it's also a lot like competitors, but here it's, everything is different. So I am used to this market, but yeah, it's a matter of time before I decide to go to some other market maybe Europe, or I don't know, I will see, but I will continue with the UAE for now.
Bradley Sutton:
How did you get to like page one of your main keywords? Like how did you, was it just through PPC or what did you do?
Aleksandar:
I do a lot of PPC and I mean, recently I'm just trying to reduce it a little bit. So in the beginning, PPC is really important to get ranking and optimize the listing with the keywords. So you need to put a lot of keywords in the title and description. And find a good keyword to really main thing to do. I mean, there are a lot of main things to do regarding the listing, but yeah, I mean, the keywords are, yeah, so important, but PPC is really important to rank yourself and but when ranked, you need to use also use PPC, maybe use a little bit, so yeah, just to be the first page and not to lose the track.
Bradley Sutton:
Like I heard in UAE, the cost per click is still very low, which is probably one of the reasons why you've been able to have such a high percentage, like some of your main keywords, what are you paying per click about?
Aleksandar:
I mean, it's around $1 or–
Bradley Sutton:
Ah, that must be nice.
Aleksandar:
One or two maybe, or maybe half is dependent on the product, but also the product targeting is really good because that's really, really cheap. And that's the thing that you need to go. So I did a lot of like product targeting and I realized that I mean, in some of the products that I was targeting, it was bad reviews, but that product is not selling well. And somehow I got lot of traffic from this product. So, the BSR was not good, nothing. It was so okay for this product to target, like hard, but I just explore and I realized that somehow I got like 80% of the product targeting traffic from this, this one. So you need to experiment and test it.
Bradley Sutton:
Do you have a Brand Registry?
Aleksandar:
Yeah.
Bradley Sutton:
So then are you running like any sponsored, do they have sponsored brand ads, sponsored displays, and sponsored videos in UAE?
Aleksandar:
They launch it recently for being able to add a video so that was a really, really, really good feature, but yeah, it's good because the market is small expanding a lot, but yeah. Yeah. I mean, there are a lot of opportunities. Some people say that it's overcrowded, but I mean, it's not, so you need to do your homework and research and just to see what you would like to see. Not just to follow the pattern and just download some and there, and just do a lot of work, a little bit of work there. So you want when someone comes to see your listing to see, and like, like, I want to buy this product, so you need to spend money on the images and not just to like, use some other images that everyone is using. So you need to pop up from your competitors.
Bradley Sutton:
And do you store all of your inventory in FBA or do you use a third-party warehouse or does it go directly from your manufacturer all the way to Amazon?
Aleksandar:
I don't have any warehouse here, so I'm managing somehow to do all directly to the Amzon FBA here for the warehouse. And I think I will have a warehouse here, it can help me a little bit. It can, it'll be easier, I think to organize everything, because if you keep it's hard to track and to make the orders in the right time and something got delayed. So I did some order, like two weeks ago and the supplier didn't communicate with the freight forwarder and the Yiwu warehouse in China were closed cause of COVID. So my product overs staying there and they'll send it like, I think tomorrow. So that can happen. But if I have a warehouse here–
Bradley Sutton:
Or my last question, it's kind of like, you know, this could be like your tip of the day, but I know you're gonna start using Helium 10 and, and doing some keyword research that way, but all these years you haven't been using a tool, but, but at the same time you've been mentioning, Hey, it's important to have the right keywords and listing optimization. So tell me, how does somebody, you know, without using a tool how do you know, what is some of your strategy of knowing what your main keywords are like? Is it strictly from brand analytics and PPC data, or what techniques were you using where it's not utilizing an outside tool?
Aleksandar:
I mean, all of them, so, but manual work, what we did, what we are doing here is also important. So you can just I know to experiment, you can also open like a lot your competitor listing and just to I mean, checking the keywords and also putting in the search bar, you open this private window and just try to their keyword so it was a lot of manual work and from the report from the Brand Registry. All three of those. But I did a lot of manual work. It takes time, but you just need to explore.
Bradley Sutton:
Yeah. Yeah. All right. Well, I mean, you're gonna be so, so shocked, especially as a programmer, you'll be able to appreciate more, once you start using Cerebro, and then all of a sudden you put in your competitor product, and within five seconds, you're gonna know all of the 3000 keywords they're ranking for and what position they are. You're gonna be like, oh my goodness, where has this been? All my life but Hey, it's right. You know, some people don't have tools and it's important that they do what you do. You know, it's not like, oh, I'm just gonna throw whatever keywords I want on the listing. No, no. Even without a tool, you've gotta do the keyword research. There are still methods available. So
Aleksandar:
I'm just imagining my face when I do like this keyboard research. And when I realize that I can get everything, like in one page that I did like for like how many hours manually. So I'm just imagining my face. And my smile like man this is so easy.
Bradley Sutton:
All well, thank you so much for coming on here in Serbian, I guess I should say Havala, right? For the show and one of the other reasons to use Helium 10, one of our executives since the early days is from Serbia. So that's how I know a little bit about Serbia over there. His name is Bojan. So you know, when you come out here to America, I'll, I'll introduce you and you guys can talk in Serbian about living in 120-degree weather in Dubai.
Aleksandar:
Okay sure.
Bradley Sutton:
Aleksandar, thank you so much for joining us. And you know, I was in Dubai a few months ago. I hope to come back again and maybe I'll get to talk to you and see, see how you're doing with your Amazon business then.
---
Enjoy this episode? Be sure to check out our previous episodes for even more content to propel you to Amazon FBA Seller success! And don't forget to "Like" our Facebook page and subscribe to the podcast on iTunes, Spotify, or wherever you listen to our podcast.
Get snippets from all episodes by following us on Instagram at @SeriousSellersPodcast
Want to absolutely start crushing it on Amazon? Here are few carefully curated resources to get you started:
Everything for your business on Amazon.
Find out more about our products by signing up or speaking with one of our
Customer Success representatives today. With us in your corner, you can enjoy
more sales and increased engagement from your Amazon business.
Chat with a Support Specialist