#364 – The Latest Tips From Expert Tomer Rabinovich
For the first time in two years, Tomer is back on the show to share his hard-hitting tactics and strategies that helped him and his clients sell millions on Amazon.
Originally published on: July 26, 2022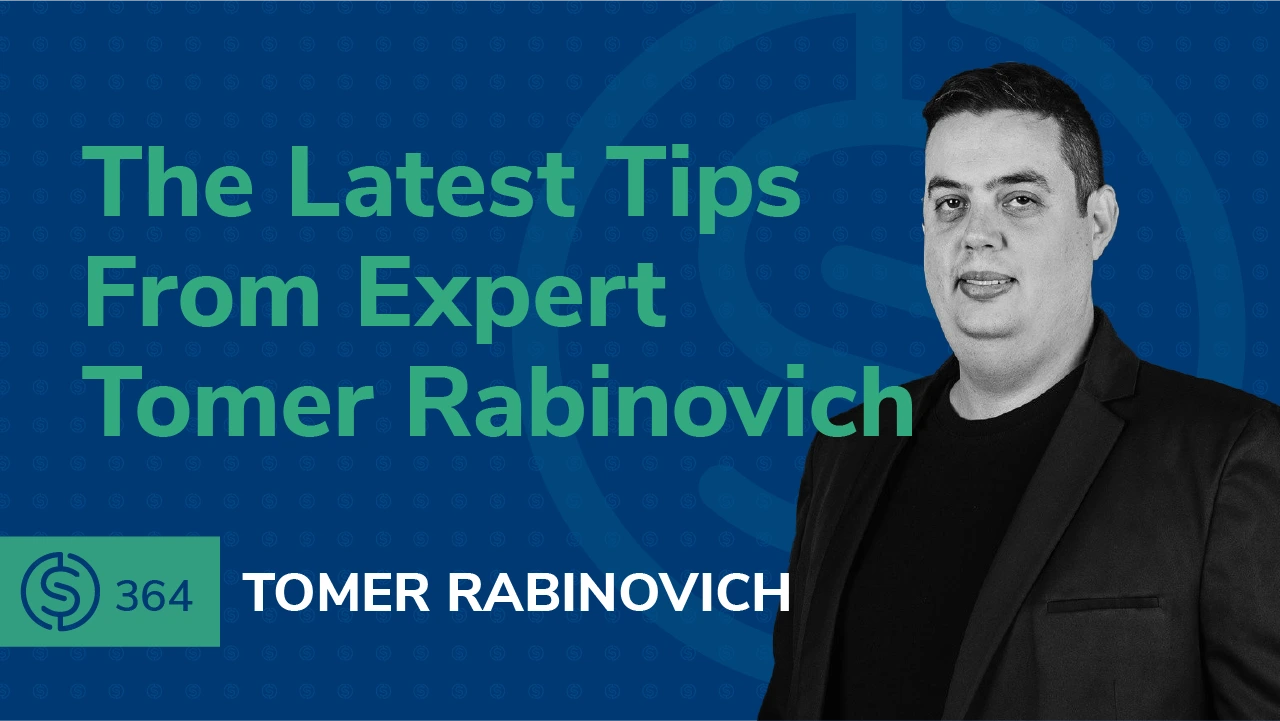 In this episode, we welcome back Amazon selling mentor and expert Tomer Rabinovich to talk about all the strategies that helped him and his clients crush it on Amazon. We also talk about his new book, Ride The Amazon Wave, which talks about the past seven years of his life. From starting his journey as a seller, being a consultant for hundreds of 7-8 figure sellers, and speaking to thousands of sellers on stages worldwide. This book is a must-read for people who want to ride the Amazon wave and crush it!
As a bonus "peek behind the curtain," Tomer shares his keynote topic for the Sell and Scale Summit and why you should attend this big event for Ecommerce sellers!
In episode 364 of the Serious Sellers Podcast, Bradley and Tomer discuss:
02:30 – Tomer's Newest Launch Strategies
07:00 – Let's Talk About Listing Optimization Strategies
10:00 – Your Main Image Needs To Standout From Your Competitors
11:00 – Make Sure You're Using Helium 10's Listing Analyzer
11:45 – Let's Talk About Tomer's New Book
14:40 – How To Get A Copy Of Tomer's Book
16:30 – Catch Tomer Rabinovich At The Sell And Scale Summit!
18:00 – Tomer's Story And Why Should Attend This Event
21:00 – The Latest Strategies From Tomer Rabinovich
26:00 – Product Research Strategies
28:40 – PPC Strategies
36:00 – How To Get In Touch With Tomer
Transcript
Bradley Sutton:
Today, we've got for the first time in a couple of years, Tomer Rabinovich, one of the most favorite guests by listeners. You do all of his hard hitting tactics and strategies that have helped him and his clients to sell tens of billions of dollars on Amazon. How cool is that? Pretty cool I think.
Bradley Sutton:
Black box by Helium 10 houses, the largest database of Amazon products and keywords in the world. Outside of Amazon itself, we have over 2 billion products in many millions, more keywords from different Amazon marketplaces from USA to Australia, to Germany and more use our powerful filters to search through this database for pockets of opportunity that you might wanna get into with your first or next product to sell on Amazon. For more information, go to h10.me/blackbox. Don't forget you can save 10% off for life on Helium 10 by using our special code SSP 10. Hello everybody. And welcome to another episode of the serious seller's podcast by Helium 10. I am your host Bradley Sutton, and this is the show that's a completely BS free unscripted, and unrehearsed organic conversation about serious strategies for serious sellers of any level in the e-commerce world. We've got a super serious seller here coming from Israel I believe, are you in Israel right now?
Tomer:
Yup.
Bradley Sutton:
We've got Tomer on the line here. This is the third time he has been on the podcast. He was actually one of the original, like three or four episodes we ever did, and still to date, one of the more popular episodes that we've had, because he's always so full of strategy and excellent tips for you guys out there. So first of all, it's been a while, it's been probably almost two years since you've been on the show, Tomer. How have things been going for you?
Tomer:
Yeah. Yeah. Very well, thanks, Bradley. Yeah, you actually wanted me to jump on a podcast. I think exactly one year after the last one. And I told you, look, I'm writing this book, let me finish the book and then I'll jump on and just took forever to get it done. So, yeah.
Bradley Sutton:
Yeah. Well finally, we're here. The book is ready to go. I haven't had a chance to read it yet, but I've been hearing some good things on it. We'll definitely get into that, but the first thing since it's been a while, since we've talked, the first thing I wanted to talk about was launch like, you know, but I, I don't know how much you used back in the day of different services or like search, find, buy, or two-step URLs or different things that we were using. But a lot of these things that a lot of us were using and it wasn't against necessary terms of service. A lot of these are now explicitly against terms of service. So for the last, I don't know how long it's been now, you know, but it's been a minute since we've had to switch strategies for you and your clients, what kind of launch strategies are you using in order to get to page one?
Tomer:
Yeah. So seems like everything is against ToS these days. Right? so one thing that I can say about Amazon is that one of my favorite questions to ask and ask is like every major seller out there is how do you think Amazon wants us to launch products? And they all say, I don't know, or they don't care or whatever. I think all they really want is outside traffic. Like they just want more eyeballs in Amazon. So if you have any sort of following on Instagram, Facebook, TikTok, whatever, all of that can help. I'm personally not doing any of that. But if you have any of that, that's great. What I'm doing is I'm actually leveraging my own inserts to launch products. And this is something that I don't really think I talked on any podcast before, but basically what I am doing is when you have an insert in the old days, what you would do is you would offer a warranty or watch a video or whatever, and then maybe you ask for a review after that, right?
Tomer:
That's like a way to get reviews. And you wouldn't really do anything with your audience that you're building. So what I'm doing is I'm just continuing the flow. What I mean by that is, imagine that someone signs up for a warranty and then I stop, right. And even if I ask for a review, they leave a five star review and then I stop. And if you think about it, they just spot a product for me, full price sign up for the warranty, left a review, which is probably five stars. And then they stop the flow. So what I'm doing now is I'm just telling them, "By the way, we just launched this new product. Do you want it for free? Do you want it for 50% off?"
Tomer:
Or I tell them, look there is a steep green coupon on the listing right now. Go ahead and buy it. And the way we do that is we use Typeform. I don't know if you're familiar with Typeform, but it's basically like a dynamic form that you can fill out when they sign up for the warranty. So basically it's a dynamic form. What it means is that if they answer A, I can send 'em to B and if they answer C I can send 'em to D sort of thing. So depending on what the answer I can send, 'em different ways kind of like Manychat basically, but I don't really wanna do messenger or Facebook or any of that stuff. I just wanna do something like off of anything really, and it just my own thing.
Tomer:
And that's been working really well. So if you think about it, let's say you have a hundred sales a day for your brand. Let's say that's like what you have, and you have a 5%, 10% opt-in on your inserts. So if you have 5%, you have five people opting in every day on your inserts. And if you have one or two of them going into that offer, that means one or two sales a day, every single day for the new product you're launching. And that end of the funnel that end of the flow, I can always go in and change it.
Bradley Sutton:
So then let's say, what if this is new to Amazon brand? Like, it's a new client who hasn't built up, maybe the brand is not new to Amazon, but he hasn't built up a list and he hasn't put other inserts in, and so he is never used this, or maybe it's somebody who's just launching their first product on Amazon, or it's somebody who's launching a new brand to Amazon. How do you get that initial traction? Because the inserts thing is kind of like after the fact, if you build it, they will come kind of thing. Like they have to have purchased it to even see the insert. So how do you leverage these strategies?
Tomer:
Right. So I mostly, as consult bigger sellers, like seven, eight figure sellers, and some of the aggregators in the industry as well. For newer sellers, they think they just gotta hustle. You know, they just gotta go to, again, all the social media platforms, wherever their customers are, depending on their niche and their audience and just target those people, just message them. What I used to do on Instagram is I just built a very small following, just using the same hashtags as like the biggest in my niche used. And then we started doing surveys on Instagram and we said, do you want this product for free? Yes or no. And all of those that commented. Yes, yes, yes. You just reach out to them and after my PayPal rebate to buy your product, so again, those are like pretty much the only thing you can do.
Tomer:
Now, if you wanna be completely with compliant, you don't wanna do any rebates or anything. We are now using a lot of the green coupons. So we will tell them, look, instead of $25, it's only $15. There is a $10 coupon right now. If you buy it, send me the order ID and I'll send you a free gift or I'll send you another product for free, you know? And then when they send the order ID, then we can message them again a week later asking for that review and for their honest feedback on Amazon.
Bradley Sutton:
Okay, cool. Cool. Let's just completely switch gears now and talk a little bit listing optimization, your very first episode, and even before then when you and I had talked you had told us about this strategy you were using about when you're getting ready to like give the direction to your graphic designers, photographers, etcetera, for their image stack, you kind of like print all of the images of the competitors and kind of list it all like on a Google sheet or Google doc or PowerPoint. So they can kind of see the layout and see the trends in different things. I know you're still using that strategy and that's why we implemented it in Helium 10. I know you do your own tools too, and you even have that in your own tool stack.
Tomer:
It's just like a methodology. We even do it before we think about what it is that we want to do. If that makes any sense. Like, if everyone has a picture of how to install the product, we are gonna have that already. We don't have any thought process before that, you know, that's, that's where the thought process starts. So we get all, everything they've done. We try to improve it and we try to come up with their own images as well. And that's how I do everything. So if you think about the product, right? So the product that you brought to Amazon is actually a better product than your competitors, hopefully, right? That's what we are all trying to do. But then when it comes to like building your title, Bullet Points, images, creating your listing, what we're doing is most sellers are just starting from scratch, right?
Tomer:
They're just scrambling through. So they might even use Cerebro or Magnet or something to kind of try and come up with keywords. But instead, what they should also be doing is they should look at the titles of their competitors. They should be looking at their Bullet Points. They should be looking at what are the main benefits? What are the five benefits that each competitor is mentioning in the images, in their Bullet Points and list all of those out and then see, which are the benefits that are crucial, right? Maybe it doesn't break. Maybe that's like a big feature of that product, right. Or it will last a lifetime is a benefit of that product. That's one thing you wanna play with and mention. And if all of them are mentioned in the Bullet Points and not in the images, we are gonna have an image about it probably. And that's how we improve the images, and vice versa with the Bullet Points. And the image is obviously huge, right? Especially like main image. So the main image, you really wanna do your homework on the competitors, because you really need to stand out from the competitors. I always say that you don't have to be the best listing on Amazon. You just have to be better than your competitors on Amazon.
Bradley Sutton:
Yeah. So, guys, this is something that I think is one of those evergreen strategies. You know sometimes strategies on Amazon like we were talking about launch strategies and stuff has to adjust over time because Amazon changes terms of service, but this is one of those that is never gonna be irrelevant, and that is looking at not just the existing competitor's keywords, I think, you know, five years ago, not everybody was doing that nowadays, you know, with Helium 10 Cerebro, like, like Tor said, like everybody knows, like, okay, yeah, let me reverse engineer my competitors' keyword strategy by using cerebral and looking at what they're focusing on PPC and things like that. But what a lot of sellers still, even to this day, don't do enough is really analyze the rest of the listing, not just the keywords, but where they have it in their listing and also the images.
Bradley Sutton:
So if you're wondering what tool I was talking about, there is in Listing Analyzer. If you have a diamond plan and above you use the Media Comparison button. So when you put a whole bunch of ASINs into the Listing Analyzer, you hit media comparison, and you'll see all of those images laid out there. Now we're gonna get back to a lot of strategies that you have for us, but I wanted to take a minute here to talk about the new book. Like you've literally been planning this for what probably almost two years now, right?
Tomer:
Yeah. Yeah. I just checked actually been like over a bit over two years, like two weeks over two years. Yeah, here it is. I don't know. I assume some watching on video, so I just got it first copies yesterday to my house, so, yeah.
Bradley Sutton:
Oh, wow. So did you use like a KDP account in order to have it, and then now Amazon as the publisher? Or did you use an outside publishing house for this?
Tomer:
No. So I have my own account in KDP for this. Yeah.
Bradley Sutton:
Okay. All right. How many, how many pages is it?
Tomer:
It's a bit over 300.
Bradley Sutton:
Whoa, very nice. Now, this is not audible here, so we can't just recite the whole book if 300 pages would take a number a bit of time. So can you give us some tidbits from the books? Like why would I as an Amazon seller be interested in buying this book?
Tomer:
Yeah. So, you know what, when COVID started, I was speaking like right before that I was speaking at so many events, like I did every month or every month and a half, I spoke at an event all over the place. And then COVID hit and I was like, what am I gonna do? I have all this free time. Right. I'm not gonna travel anywhere. And I knew it's gonna last for a while. So I thought I'm gonna take on a big project. And I thought I can do a podcast at YouTube channel. But then I thought, what if I did something that I don't think anyone in the industry did, which is write a book for the industry. So it's not a book on like how to sell an Amazon. It's a book that if you have a product two or three, or even if you sold your business, even if you are a seven, eight figure seller, this is a book that you wanna read.
Tomer:
So basically like the first part, the first part of the book is about the fundamentals. So everything from product research until you launch. And then after that, it's about launching PPC, supply chain KPIs, basically how to run the business while you have some products live. And then the last part of the book like a quarter of the book is about how to grow this into an actual business that can run entirely, almost entirely on its own, which is what I've built for myself, with my team in the Philippines. And that's what I've been teaching sellers for the past, like several years. You know, most sellers are doing everything on their own. Not really delegating. Maybe they have like one or two VAs and that's it, but they're not really able to remove themselves from the business.
Tomer:
And a lot of sales kind of struggle. And then now they have an out with selling their business, but a lot of them don't really wanna sell it. So more even if they do wanna sell in the growth further they cannot do that while kind of burning themselves out. So that's what the last part of the book is about. I also talk about exits a bit, my experience with aggregators, and a lot of personal stories as well about myself. And I think it's like if I were starting out and I already had one product live or I wish someone like told me all of this when I kind of started out.
Bradley Sutton:
Yeah. All right. Cool. So how, how can people find the book and how much does it cost?
Tomer:
Yeah, so it's just on Amazon. So if you're listening to the podcast as like when it just came out then as Bradley, kindly to kind of post it on that day of the launch, which is July 26th, and then on Kindle, it's gonna be just 99 cents during the launch week. And after that, it's just gonna be like a, a standard price. And we're gonna have an audiobook version in like two months after the launch, I think. So that's coming out as well at some point. So as you can just buy it on Amazon, basically.
Bradley Sutton:
So you don't want us to do any kind of search, find, buy a keyword to find it, or you're gonna give us a two step URL, are those allowed on KDP or how can we find it? What do we type in other words?
Tomer:
You can type in whatever you want. It's called Ride the Amazon Wave. So you can just type that in or my name in and okay. And that will kind of find the book out. One of the things I did is actually, I think in the third or fourth chapter, I ask you for a review on Amazon and I give you a link to leave from a review on Amazon inside the book. So I don't think of that until Q4.
Bradley Sutton:
Actually in the book?
Tomer:
Yeah. Actually in the book.
Bradley Sutton:
That's pretty cool. So then if I'm reading it on Kindle, I almost have the link right there. Huh?
Tomer:
Yeah. You have the link, you have a QR Code as well. That sends you to the listing to basically write a review.
Bradley Sutton:
I love it. I love it. All right, guys, there, you have it go, go find that book for 99 cents, like for 300 pages from one of the world's most foremost experts on Amazon, like can't beat that. So make sure to, if you're listening to this the week of July 26th, then make sure to take advantage of this during that launch. All right. One more thing is you will be speaking at Sell and Scale Summit in Vegas, in September. Do you know yet what your topic is gonna be like? Maybe you do. I literally don't know, cause I haven't been involved in that.
Tomer:
Yeah, I'm basically gonna talk about how to automate your business, that's gonna be my topic. And I consulted with so many sellers over the years and I can say that the earlier you start the better, because I helped even eight figure sellers that are doing almost everything on their own. And for them to implement stuff is a lot more difficult because they have so much stuff going on. But if you are just starting out or even if you are maybe six figures or something, and you're doing kinda okay, you should already start thinking about how can I take two weeks vacation if I want to which again are the things that sellers don't really think about. And don't really dedicate time to kind of sit through and think what needs to happen. So they can work less while profiting more and launching more products at scale. Those are things that they don't really think about.
Bradley Sutton:
Yeah, absolutely. That's gonna be important, you know, like a lot of us know Tomer for his keyword research listing on optimization product research, but this is another aspect that can have an even bigger impact on your company. So guys make sure if you haven't gotten your tickets yet, go to h10.me/s3 "S3" that's Sell and Scale Summit, and then use the code S3BS100, S3BS100 in order to get a hundred off of your registration.
Tomer:
Sure. Yeah. One funny story about this event. So I'm one of the consultants for the event as well for Helium 10. And they asked me like, who do you want to speak? And what do you think we should do at the event and stuff like that. And I said, well, if you bring Gary Vee that would be nice. You know, and two days later they emailed me back and said, just close Gary Vee. So that was nice. And I was shocked to know that Gary Vee is coming to speak. And honestly, like they took a lot of my recommendations to heart as well as some other consultants for the event. So I know it's gonna be an amazing event because they really wanted to build an event for the industry, not for Helium 10, so and that really shows when they kinda talk to me and consulted with me and I really appreciated that as well.
Tomer:
So I really, and I tell all the sellers that I talk to, they should definitely come to that event. I think if there is like, you know, my, I had another baby girl just being born last week. And I have two, two other small kids at home, and this is the only event I'm probably gonna be traveling to this year. And I already booked it like so much time in advance and I knew all of this is gonna happen. So I really believe this is the one event to go to this year.
Bradley Sutton:
Awesome. Awesome. Really appreciate those words, and I'm definitely interested to see you speak on that subject. Now, coming back to the strategies, back in the day, in their first couple times we used to save like the 30-second tip of the week that's "TST" towards the very end, but I wanna spend the last 10, 15 minutes here with just a lot of strategies like you don't have to keep it to 30 seconds. Don't be like Kevin King and take 15 minutes per strategy. But if it's a really good one, then go ahead and do it. But it could be about any topic you want. It could be about what you were talking about. Like maybe it's a preview of what you're gonna be talking about at Sell and Scale, or maybe it is keyword research. Maybe it is product research. Maybe it's launched, maybe it's PPC, but let's hear what your quick hitters are.
Tomer:
Sure. So you just mentioned product research. So there is one thing I think that is missed by a lot of sellers when they do product research. And like it's no secret if just getting more and more difficult, right. With time on Amazon, it's not getting any easier. But it's also getting a bit different, I would say, like you need different tactics to succeed on Amazon these days. So one of the things that we've done for a long time now, and I've been preaching that to a lot of Amazon sellers over the years as well, is that we take saturated niches and we basically look at the keywords in those niches. And then we basically launch products to those keywords specifically. And I can give one example or even two examples of that.
Tomer:
So one example is I typed in cutting board on Brand Analytics. Okay. You can also type that in Magnet or whatever. And then I saw that I, I basically scroll down in bronchitic you just see like very low SFR, right? Very low SFR to see if anything pops out. And I saw a cutting board for a toaster oven. Right. And I'm like, what is this thing? So I click on it. And then I see Amazon, the search results are basically one seller, seven figure seller selling four or five different types of the same product for different toaster ovens, which is just like a cutting board on top of the toaster oven, just to place some stuff on it. Like herbs and stuff like that. Just on top of the thing. So basically if you think about it, and it's all also serves as a cutting board, obviously.
Tomer:
So if you think about this stuff, like if you think about any product in the world, doesn't matter what it is. It can be a car. If you think about the car you had, the Ford car was the first one only black color, that's it, that's all you can get. Now you have any type of car for any type of audience because when demand grows when you have a saturation of demand, you just have different options of supply. You will just have sub niches popping out all the time. So if you have bath bombs, right? So you have bath bumps for women, obviously, but then you had bath bumps for men. You had bath bumps for kids. You have sub niches popping out because the demand is so high, that there is enough demand for bath bumps for men to make a profit with that. And when you learn something with like a scotch scent or whatever it is, then you don't really need to target bath bumps for women anymore, right.
Tomer:
Or maybe even not bath bumps as a keyword, you just focus on those gifts for men, for bathroom or those type of keywords. And that's really enough to make a profit that really makes a difference with PPC. You don't spend that much on PPC anymore. You really kind of come into your own world of your niche. And you can really build, like that example of that cutting board is like a seven figure brand with nothing, really just one product, simple design, like maybe it's patent design or something, but very very simple thing to do. So product research, that's huge, I think, and I think that's misspelled, be a lot of sales, especially beginners. That's the only like if I would do one thing as a beginner, that's the one thing I would do with like a limited budget, and limited resources. I don't know much about Amazon, how to compete, stuff like that. That's the one thing that will set you apart. If you choose the right product this way, it will really make a difference.
Bradley Sutton:
Okay. That's interesting be before we continue with the strategies, there was one question I wanted to ask you what you said kind of reminded me of it, but you had mentioned, you know looking at Brand Analytics now, since the last time we talked, Amazon has released so many different data points. That's really cool to help Amazon sellers, there's Product Opportunity Explorer, there's the Search Query Performance and Search Analytics, and a lot of new things in PPC of the new things that Amazon has made available to regular Amazon sellers. Some of these were kind of available to vendors before, but which ones are you like on the regular using to manage your businesses and your client's businesses?
Tomer:
Honestly, we're not doing much with that. Yet I think we are still researching everything, still looking into everything, but we are not doing anything excessive yet. We are using Cerebro a lot in Helium 10 for different things, and Brand Analytics is mainly used for product research, but not and Black Box as well, but that's pretty much it for like product research.
Bradley Sutton:
That's good to know, Hey guys, you hear it there. I mean, I've always said it too. Like, I love these new data points. I definitely use it a little bit, but, but for the most part you're still okay with using Helium 10 and here we have from one of the experts here that you're still good with Helium 10, but it is cool that Amazon is making more things available, cuz the more things that they make available then actually Helium 10 can even make our tools a little bit better as well. All right. Back to the strategies. Do you have maybe keyword research, one you gave us product research, one, you have a keyword research strategy could give us?
Tomer:
Yeah. Well, one thing that is missed with keywords, I feel is the title, the title is obviously a critical point. So one of the things that I call is like the variation in the title. What I mean by that is like the color, the size, and the quantity of the product that you're selling. Where do you place that in the title and how do you write it? Like, do you write pieces in pieces or do you write "pcs"? Do you put it with a space with the number of units without the space? All of those kinds of question marks that I have. So what we started doing is it just depends on the product. So again, we take all of the titles of the competitors, copy all of them put 'em in a nice like war document, like a Google document.
Tomer:
And then we just start coloring things inside of it. So we start coloring the keywords that repeat themselves. So all of like, let's say yoga mat, so you color yoga mat all of the places. But then with the pieces we are looking not just how they write it, cuz we wanna write it the same way. We also look at where they place it in the title. Because if it's like a first aid kit you probably want to have at the beginning like the number of pieces, that's critical for them to know how many pieces come with this first aid kit, 350 pieces, 200 pieces stuff like that. And if you think about usually color, for example, like a red yoga mat, that will probably be at the end of the title, like the color red will be at the very end.
Tomer:
So you don't really need to start your title with like "Red Yoga Mat", but again, that I think like with the title, I think that's a lot of times missed and a lot of sellers kind of have like, and when we do this exercise, we did it so many times you see so many sellers are just like off point completely with like five keywords that shouldn't be the title because no one else has them doesn't have any ranking relevancy or anything of that. So that's one exercise everyone can do right now. And you will just get more impressions. Like if you have a better title, it just means more impressions, more relevancy, and just take your competitor titles and just improve it slightly. That's all we really do. And I think a lot of sales are starting with cerebral just to kind of see what are the top keywords and then build their title from scratch instead of what they should be doing is they should be taking their top 10-20 competitors, take all their titles, come up with something that seems better and then check that in Helium 10 Cerebro and see if they missed any important keywords that they don't have yet.
Bradley Sutton:
Okay. Cool. All right. I don't think you've talked before on the show much about PPC on that side. You know, we have PPC specialists who come in, but obviously part of what you guys manage is tons and tons of PPC accounts. So you guys have access to a lot more data than the average person what's working for you these days as far as PPC goes?
Tomer:
Yeah. So I honestly don't wanna go too much into PPC cuz I think it's a kind of worms, to be honest. I think if I talk to 10 PPC experts I'll get 10 different opinions and they will just fight it out. I think this is the only topic I never spoke about on stage. Cause everyone have their own way of doing it. And I think that's a good thing. I don't think that's a bad thing on how to do PPC. One thing that they will say and this is to everyone listening. I know that PPC is a heavy topic and it's difficult to do and a lot of beginners or even advanced, those just wanna outsource that to an agency or to a software and just kinda, I don't wanna deal with it, but at the end of the day, like PPC is your second biggest expense after inventory.
Tomer:
And you must have someone on your team that understands PPC on a deep level, if you don't have anyone it's you, that's just how it works, you know? So I have one PPC person on my team. We use a software for PPC. We use agencies in the past, but I will say that you have to understand PPC on a good enough level to kind of do it yourself with software, even if an agency takes over what happens if sales go down, you're gonna go 10 steps back. If that happens, right? Your business can go under like PPC is so critical and important. So to answer a question like one thing that they think is missed with a lot of sellers is to basically again, take the main benefits, main features of your product.
Tomer:
And also the main target, the main keywords you're targeting. So let's say you are selling a product that is giftable for Christmas, right? So we are really doing like unique headline ads and unique video ads for those different times of the year. So we will buy like stock videos, of like a two-second video of someone gifting, some, someone else like a gift or something. And then that will be a part of the video ad for that specific keyword. And also the headline ad will help like someone gifting, someone else that gift. But you can be even more granular with that. You can be like, let's say a major keyword is a "non-slip yoga mat," right? Let's say that's like a major keyword with a few different keywords under it as well.
Tomer:
What we will do is we will have in that video, like text flying in and out it's non-slip and we only focus on that one keyword, so I think everything will become more granular over time with this. And we just put everything like different. We call it different buckets of keywords and just target very specific keywords for video ads and headline ads. And those ads are performing really well. Instead of just generic like video ads, we have those obviously, but for the best keywords, like most important keywords or very niche keywords that works really well.
Bradley Sutton:
Okay, cool. Now just kind of one to three more things, depending on how you look at it, I want one more strategy, but then, you know, you used to be a comedian and a magician in your other life. I want an Amazon joke of the week. All right. An Amazon seller joke of the week. And then number three, I'm not sure, you know, since we do this is your first time actually appearing on YouTube since we've only recently started doing the podcast and, and showing it on YouTube as well. Maybe there's some kind of magic trick you can do. I don't know if you have your deck of cards there or, or something that we could do there. If we can't do that, we'll just cut it out that part of the episode, but if we can at least get one more strategy here and then maybe an Amazon seller joke of the week.
Tomer:
Cool. Yeah. So I think going back to like product research, I think when we talk about product research in general, I think it just yells out beginners like product research is for beginners. I know how to do product research. I launch a few products, but the thing is like over time, you should change your strategy with product research. The more money you have, the more things you can do basically. And one of the things that is big, missed a lot is variations. Like again, one of the things I've done over the past two years is consulted aggregators after they basically acquire Amazon brands, how to grow those brands. And the first thing that we did is we just said, oh, just launch these five colors and you will sell a lot more now, how do you do that?
Tomer:
Well, we actually use, Helium 10 for that as well. So we use the Extensions, the Review Insights inside the listing, and we just see which variations have the most reviews. But the other thing that we do with it, which is kind of interesting, and that's not a feature currently in Helium 10. Right now in Helium 10, you also have the date it was launched in right. In each variation, you know, when it was launched. So you take all that into an Excel sheet. And basically, we look at, imagine you take 10 competitors, you take all of the reviews, all of the variations. And we just wanna see what are the newest variations that were launched by each of them and how are those performing? So let's say three of them launched a green one and it's already 3% review share.
Tomer:
And it was only launched like three months ago, right. So we know, oh, we should launch a green one, definitely as soon as we can. That's something that is definitely not being done by anyone I think currently in the industry and just launching summations can double your business. So that's definitely one thing that I think is really missed by a lot of sellers. And I consulted so many sellers over the years and I can say that that one thing that they, I gave it to so many sellers already like, look in their listing and say, just launched this one color and you just changed your business, you know? And they were very happy to pay me more money just because of it.
Bradley Sutton:
Huh. Cool. Cool. All right. Now a joke for Amazon sellers.
Tomer:
Yeah. So actually one cool thing about the book. So in each chapter, I insisted to have a cartoon inside the book. So these are pretty funny. So you have like a father with his son next to his closet and the closet is filled with products inside and it says samples on it and he tells him one day son, all of this will be yours. So we have those type of things. We have this, let me show this to the camera so you can see, but we have like a guy working. I don't know if you can see that. And it says aggregators on the back in the elephant, in the elevator's like a piggy bank as well in his back anyway, you have a cartoon-like that in each chapter. That's what I said, like, this is, this was written for Amazon soldiers. You will be the only ones to understand these jokes love. These are like inside jokes for all of us, so.
Bradley Sutton:
Awesome. Awesome. All right. Anyway, last second, here, you could do a magic trick for the camera, you're able to do it?
Tomer:
I don't really have like anything I can probably do right now. You kinda took me off guard here, but what I will do–
Bradley Sutton:
We don't guys, we don't plan these. I told you guys, we don't plan these podcasts episode. This is all just adlib, so he might have his props ready here.
Tomer:
Yeah. Yeah. What I can promise is if you come to Sell and Scale, I have some surprises planned. So yeah.
Bradley Sutton:
Ooh, I like it. I like it. All right. Well, Tomer, you know, you told us how to find the book, but if people just wanna reach out to you and get some more info, how can they find you on the interwebs out there?
Tomer:
Yeah. So, you can go to my website, tomerrabinovich.com, you can contact me there. Facebook is good as well. And we also just finished the website called jointopdog.com, if you want to consult with me, check out kind of what I have, there is a lot of free content as well. You can watch links in there to kind of buy the book as well. Yeah. And also with the book, I will say that once you buy the book, you also have a link there to kind of see a lot more content from me that I did over the years in different lectures, podcasts, articles, whatever, like all of that is in there as well. And that will stay up to date. Like the book is kind of written in, in a sense that it's kind of timeless almost with the strategies in it. But then that extra content will always be updated and it's free for those who buy the book. So again, this is like my biggest gift that I can give to the industry, this book, so yeah. Excited to get all of you to read it.
Bradley Sutton:
I love it. I love it.
Tomer:
Leave review on Amazon at the end, once you do,
Bradley Sutton:
There we go, all right. Well, Tomer, thank you so much for joining us and giving us these excellent strategies. And I look forward to what you're gonna talk about on stage has nothing to do with anything that we talked about today. Almost so that's really gonna be great. We're gonna get a whole other side of you. So guys make sure to come September 19th to 22nd to the Sell and Scale Summit, and I'll be seeing you there at Tomer, are you gonna join my Zumba fitness class on the first day?
Tomer:
We'll see what happens. We'll see,
Bradley Sutton:
Come on. I mean, you and I have traded or mainly you helping me, like with a lot of like weight loss things and diet plans and things like that. So this is my way to give back by getting you out there and, and your pink tights and dancing the morning away.
Tomer:
Got it. Okay. Yeah, we'll do that.
Bradley Sutton:
All right. We'll see you there, Tomer.
Tomer:
Cool. See ya.
---
Enjoy this episode? Be sure to check out our previous episodes for even more content to propel you to Amazon FBA Seller success! And don't forget to "Like" our Facebook page and subscribe to the podcast on iTunes, Spotify, or wherever you listen to our podcast.
Get snippets from all episodes by following us on Instagram at @SeriousSellersPodcast
Want to absolutely start crushing it on Amazon? Here are few carefully curated resources to get you started:
Everything for your business on Amazon.
Find out more about our products by signing up or speaking with one of our
Customer Success representatives today. With us in your corner, you can enjoy
more sales and increased engagement from your Amazon business.
Chat with a Support Specialist