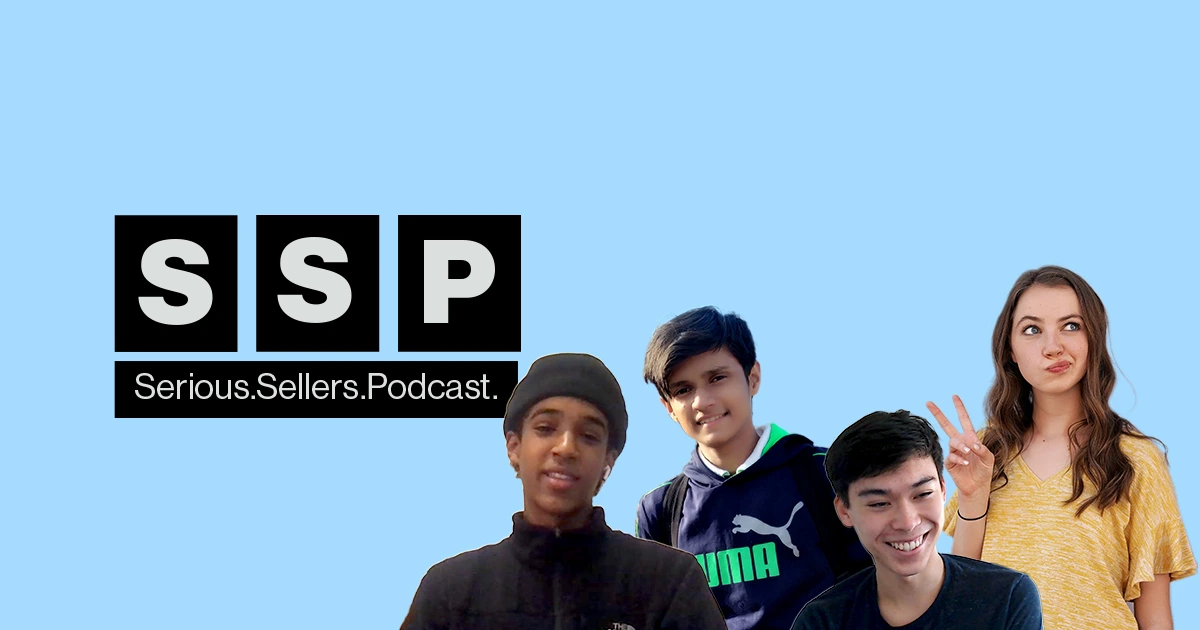 Posted on: February 27, 2021, By: Helium 10
#222 – Four Teenage Entrepreneurs Offer Advice Suitable for Amazon Sellers of Any Age
Amazon sellers never know where great e-commerce advice might come from. It helps show that success doesn't care how old (or young) you are!
There are many different ways to measure just how much e-commerce has grown in the last number of years. Just look at how selling on Amazon has expanded to the farthest reaches of the globe. But there's another direction that online commerce has stretched the boundaries, and that's the wide range in the age of the participants.
In this episode of the Serious Sellers Podcast, Helium 10's Director of Training and Chief Evangelist, Bradley Sutton welcomes four teenagers who have all found success, and an exciting glimpse of their future in e-commerce.
Makayla, Salih, Salman, and Jake are collectively younger than many of us now enjoying the process of finding our way in e-commerce. Still, their youthfulness hasn't prevented them from filling the next 40 minutes with business advice that might have made Walmart's Sam Walton proud.
At the end of the day, a lot of (any kind of) success comes down to hard work, focus, and a willingness to do what's necessary to make your dreams come true. These four young sellers have adult portions of all three of those qualities.
In episode 222 of the Serious Sellers Podcast, Bradley, Makayla, Salman, Salih and Jake discuss:
04:00 – A Report from Pakistan
05:30 – A Desire for a New Phone Started Everything
07:30 – "Cold Calling" Websites
09:30 – A Pivot to Writing E-Commerce Listings  
11:45 – Providing A to Z Services – From Launch to Delivery
16:00 – Rinsing and Repeating Patio Furnaces for a 45K Profit  
20:45 – "You're Going to Have to Cut a Few Things Out" to Succeed
23:00 – Dropshipping, Then Preparing to Exit a Legging Brand  
26:30 – An Online Skin Care Company Gave Him a First Taste of E-Com
29:00 – Time to Build a Brand
31:30 – Inventory Forecasting Helped Weather the Pandemic
34:00 – Choose One: Chores, Move Out, or E-Commerce  
36:15 – 100K in Nine Months on Shopify at 13 Years of Age
38:30 – A Fully Funded College Education is One Big Benefit   
41:00 – Helping Friends Find Online Selling Success
43:00 – How to Connect with Our Guests
Enjoy this episode? Be sure to check out our previous episodes for even more content to propel you to Amazon FBA Seller success! And don't forget to "Like" our Facebook page and subscribe to the podcast on iTunes, Google Play or wherever you listen to our podcast.
Want to absolutely start crushing it on Amazon? Here are few carefully curated resources to get you started:

Latest posts by Helium 10
(see all)