#222 – Four Teenage Entrepreneurs Offer Advice Suitable for Amazon Sellers of Any Age
Amazon sellers never know where great e-commerce advice might come from. It helps show that success doesn't care how old (or young) you are!
Updated on: January 3, 2022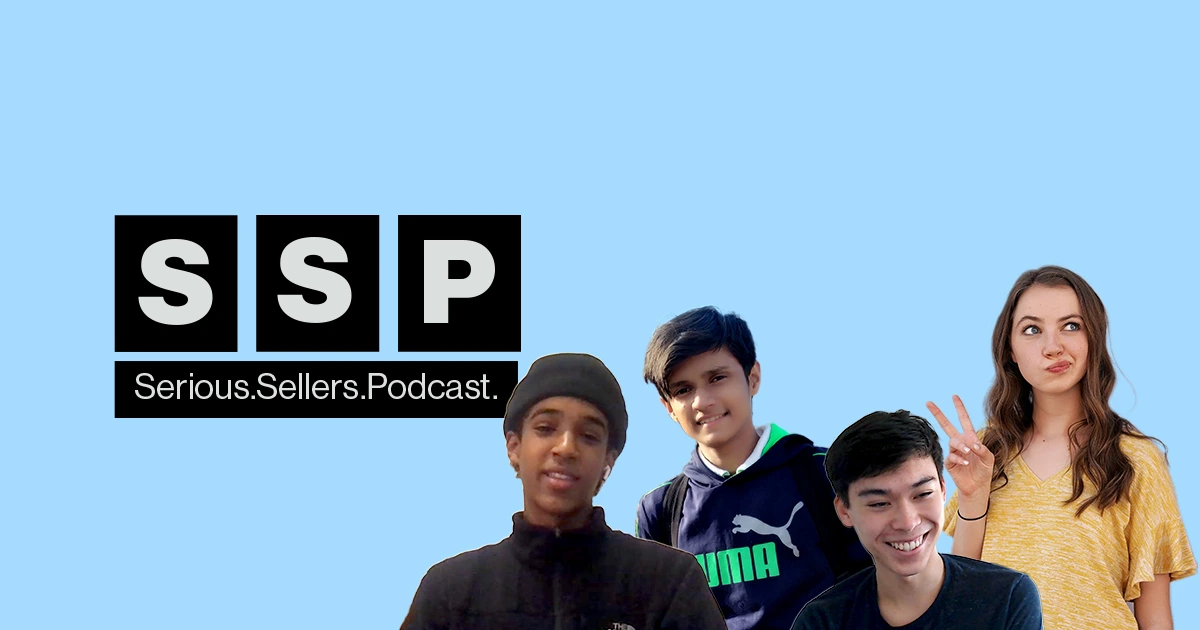 There are many different ways to measure just how much e-commerce has grown in the last number of years. Just look at how selling on Amazon has expanded to the farthest reaches of the globe. But there's another direction that online commerce has stretched the boundaries, and that's the wide range in the age of the participants.
In this episode of the Serious Sellers Podcast, Helium 10's Director of Training and Chief Evangelist, Bradley Sutton welcomes four teenagers who have all found success, and an exciting glimpse of their future in e-commerce.
Makayla, Salih, Salman, and Jake are collectively younger than many of us now enjoying the process of finding our way in e-commerce. Still, their youthfulness hasn't prevented them from filling the next 40 minutes with business advice that might have made Walmart's Sam Walton proud.
At the end of the day, a lot of (any kind of) success comes down to hard work, focus, and a willingness to do what's necessary to make your dreams come true. These four young sellers have adult portions of all three of those qualities.
In episode 222 of the Serious Sellers Podcast, Bradley, Makayla, Salman, Salih and Jake discuss:
04:00 – A Report from Pakistan
05:30 – A Desire for a New Phone Started Everything
07:30 – "Cold Calling" Websites
09:30 – A Pivot to Writing E-Commerce Listings
11:45 – Providing A to Z Services – From Launch to Delivery
16:00 – Rinsing and Repeating Patio Furnaces for a 45K Profit
20:45 – "You're Going to Have to Cut a Few Things Out" to Succeed
23:00 – Dropshipping, Then Preparing to Exit a Legging Brand
26:30 – An Online Skin Care Company Gave Him a First Taste of E-Com
29:00 – Time to Build a Brand
31:30 – Inventory Forecasting Helped Weather the Pandemic
34:00 – Choose One: Chores, Move Out, or E-Commerce
36:15 – 100K in Nine Months on Shopify at 13 Years of Age
38:30 – A Fully Funded College Education is One Big Benefit
41:00 – Helping Friends Find Online Selling Success
43:00 – How to Connect with Our Guests
Transcript
Bradley Sutton:
Today, we're going to talk to four individuals, all crushing it in their own way. They come from all different backgrounds. However, the one thing they have in common is that they're all teenagers, some getting their start in e-commerce as early as the age of 13. How cool is that? Pretty cool, I think.
Bradley Sutton:
Hello everybody. And welcome to another episode of the Serious Sellers Podcast by Helium 10, I am your host Bradley Sutton, and this is the show that's a completely BS free, unscripted, and unrehearsed organic conversation about serious strategies for serious sellers of any level in the Amazon and e-commerce world. And today we're going to do something a little bit different. We're going to go to the younger e-commerce world and we're interviewing four teenagers today. Now, before I go further, I want to make sure that, I mean, obviously you know that if you're a teenager out there, you definitely need to listen to this episode because it should be hopefully inspiring for you. But regardless of your age, don't tune out guys. This is going to be for everybody. Why do I say that? Well, number one, you're either a teenager yourself. Number two, maybe you're older thirties, forties, fifties, you have a teenage son or daughter, or even a younger one. And want to have a plan for their potential e-commerce future. Or you have friends who have kids that are the age of our guest today, or just think about it yourself. Once you guys see how these, 15, 16, 17, 18 year olds are crushing it, and you're twice their age or something, maybe you've been hesitant. Maybe just listening to their stories is enough to give you the motivation. Like if this person is a senior in high school and grossing $600,000 a month, what's stopping me. All right. So regardless, I think of what age you are. I think you guys are going to find some benefit from this episode. Now, today, we're going to talk to four different people of different backgrounds. They're from different countries. We have somebody who is a virtual assistant. We've got somebody who started when she was like 13, 14, and already had to hit the six figure mark at that age. We've got somebody else who's a full-time student in high school. And last month, grossed a– I think it's something like over half of a million dollars in one month. And he's still a full-time student in high school. And we have somebody else who has only 15 and he's been doing different jobs here or there making money. And I think it's going to be very inspiring for you to hear some of their stories, especially like I said, you youngsters out there who might think that this whole e-commerce thing is you got to be a graduate of college or maybe it's for your parents. No guys, regardless of your age, I'm not talking like five years older, right? Regardless of– if you're like a teenager already, like you can get into e-commerce and that's not the case in every field, how many jobs can you do out there? Outside of babysitting or mowing lawns and things, what are you doing if you're a teenager or what are your friends doing to make money, you parents out there, what are your kids doing? Or your kids' friends doing to make money at the age of 14, 15, 16, maybe this episode will give you guys some new ideas to see what's possible. So let's go ahead and introduce our first guest.
Bradley Sutton:
All right. So we've got, actually, I'm going to let you introduce yourself. So go ahead and say your name, where you're from, and how old you are.
Salman:
Okay. So my name is Salman. I'm 16 years old and I'm from Pakistan Karachi.
Bradley Sutton:
Excellent. Welcome, Salman. Now question for you right off the bat is, I haven't been to Pakistan yet. I'm actually going there. I don't know if you heard I'm going there later this year. I'll probably be able to meet you in person, but typical person, your age, 15, 16, 17, would you be working now or are you just going to school or like, a lot of your friends, what are they doing?
Salman:
Okay. So for school they're online right now because the COVID scene and for my friends, I did try to convince a lot of them, but no use.
Bradley Sutton:
Yeah. But, I'm just talking in general, you said you're from Karachi. So like the typical 15, 16, 17 year old, like for example, here in America, I don't know, maybe 25% of those, your age, maybe they're working, like maybe they're working at McDonald's or doing like minor jobs here or there, is it similar over there? Or do most students just concentrate on school and they're not trying to get a job until later?
Salman:
So if you ask for the typical mindset, it's like, we are on our parents money till our graduation or bill our masters. So that's the typical mindset over here. You don't work until your parents are like–
Bradley Sutton:
Oh. So a lot of kids your age start working?
Salman:
I've never seen any kid my age work until I came to e-commerce.
Bradley Sutton:
Okay. Okay. Excellent. Excellent. So when, at what age were you when you started getting into e-commerce and what was the motivation, like you just said, most kids your age in your area, that's not something they even think about. So like, why did you think of it?
Salman:
So, when I started, I was almost 15. I started with content writing and the motivation was that– so this is the second part of the story. The first part, everyone knows the first part that I mostly wasted my time on Netflix. The second part is I wanted to buy a phone and my dad refused that if you want to buy one, you got to get one yourself. So that was the original case that got me into all of this.
Bradley Sutton:
Okay. So then what did you, do you googled like how to make money, or like, what do you do?
Salman:
No. So this random day, I was like watching Netflix and my dad came and he was standing by me. He said that you go on YouTube, watch how freelancing, what freelancing is, how freelancing is done. And I was like, why? But he kept, he stood there by me until I closed Netflix and I put something on the TV. So the first video I saw, it was really very interesting. And I did think that it would do it. So I thought let's give it a try. And from that day, that video changed my life.
Bradley Sutton:
Okay. So then did you like make a profile on, like Fiverr or Upwork or something? Or how did you put yourself out there in order to get your first job?
Salman:
Initially, I joined Facebook groups as I didn't know much about Fiverr and Upwork. I still don't use Upwork that much because sending proposals over there is very hectic and I still don't get it. So initially I worked on Facebook groups, but was unsuccessful in getting many clients. So on some, on my cousin's recommendation, I tried to approach websites. After approaching those websites, they actually took me seriously and appreciated my content. And after that, I just wrote for website, not for a client.
Bradley Sutton:
So, then what, what do you mean by go to the website? So you, like you find a business's website and then what did you do?
Salman:
So they were magazines, like stories and articles. So the first one was cracked. The second one was income diary. And the third one was e-commerce insiders. These are the three core websites that I wrote around 50 articles for.
Bradley Sutton:
So, the you like, what? You approach them, or you go, you find the website, you find their contact information, and then you say, Hey, I would like to like write a blog for your website or what was the angle there for you?
Salman:
Okay. So first off I went to their website. I checked their existing articles on their requirements for what they require of their writers. I checked my own content. If my content had the requirement, I emailed them my content and they got a great response.
Bradley Sutton:
Okay. And then these were for free, or did they pay you to do this?
Salman:
In the start? Crack was free, but after my blogs were getting 150 to 200 people, they started paying me.
Bradley Sutton:
Okay. Interesting. Interesting. Now this is, I'm assuming, like maybe when you were still like 15 or something, but then as the months and the year went on, now you expanded a little bit more to e-commerce like doing what was it like listing optimization or what did you kind of pivot to from writing blogs and content? What do you change to?
Salman:
Okay. So, from the beginning some clients did approach me for listing writing and description writing. But when my cousin gave me a brief interview or brief description about Amazon, I actually found this interesting, as in content writing you satisfying someone is a very big deal, and this is way better and easier than content writing.
Bradley Sutton:
Now, you probably don't have the exact number, but about how much money did you earn last month in January, would you say for, from this, all this work that you're doing?
Salman:
I guess $840.
Bradley Sutton:
Like you said, the typical student, your age doesn't even work at all, but comparing that to typical worker in Pakistan, like an adult who's working a full-time office or fast food, or something like that. What does a typical entry-level adult earn in the job industry? Not talking about e-commerce, but just, like at a McDonald's or something in one month?
Salman:
A newbie, you mean, right?
Bradley Sutton:
Yeah. Yeah. I'm not talking about a lawyer or some business professional, but people who have their first job, maybe it's working in McDonald's or it's working as a full-time janitor or something like that. Like how much would somebody like that expect to make it a month, an adult?
Salman:
Around $150 or $150 or $200 or $250 at max.
Bradley Sutton:
So, you're making like four times the amount that a lot of adults make, even in your country?
Salman:
Yes.
Bradley Sutton:
That's crazy. Are you making more than your parents make, are you richer than them yet?
Salman:
No, I'm not richer than them, but they're still proud of me.
Bradley Sutton:
I assume you are able now to go ahead and pay for your own phone.
Salman:
Yeah. I bought two of them.
Bradley Sutton:
Two phones. Oh my goodness. Gracious. So then, you're working all these hours a day. What's the biggest thing, or the biggest time drain for you? Like what you're spending most of your time on doing?
Salman:
I spend most of the time in sourcing. That's a really crucial part because in my family history, I've been really bad at bargaining and now I have to do it. So, it's challenging.
Bradley Sutton:
So then companies get you to, they say which product they want, and then you go to two factories to try it and source it.
Salman:
Okay. So I provide A to Z services. So sometimes, the seller tells me to like hunt product for them. So I researched for the product. I source it, I launch it and we make money.
Bradley Sutton:
Have any products that you have launched for other companies, like, what's like the best one that– you don't have to tell me the product, but like, what's the best result from it. Like, Hey, now it's selling $5,000 a month or now it's selling $10,000 a month.
Salman:
Okay. So the one, the launch I did in UK was my second launch. The total budget we have voted was $7,000. We spent $6,000 on it and it's making over 15,000 now.
Bradley Sutton:
Right. Awesome. Awesome. All right. Well, we do something on the podcast show. I don't know if you heard Saqib's episode, everybody does it, but we call it the TST or the TST, 30-second tips. So, it sounds like you have experience with sourcing it and launching and listing optimization. So, what would be your 30-second tip on a strategy that you think not everybody knows about, but something that would really help people regardless of their age on Amazon.
Salman:
For sourcing, I never tell the supplier that I'm the owner of this, this company. I always tell them that I'm the regional manager. So the trick behind it is when you tell a Chinese supplier that you are the owner, they're like, okay, he's not going to deal with us for that long. So yeah, just, we'll just tell him a high price and we'll just do some tweaks and he'll get on us. But when you tell them that you are the regional manager, they actually take you seriously that this guy is, this is his job. I mean, if we don't give him the best prices, he'll just move on to someone else. So this is my tip and trick for sourcing. That has been– that has helped me a lot.
Bradley Sutton:
All right. Well, Salman, thank you so much for coming. As we usually say in this show, how cool is that pretty cool. I think. So, I believe that's [inaudible] but anyways, thank you for coming on the show and we look forward to seeing what you got going for you in the future.
Bradley Sutton:
All right. So now we got a guest here. Why don't you go ahead and introduce yourself, your name, how old you are, and where you live.
Salih:
So my name is Salih. I'm based out of Oakland, California, 15 years old.
Bradley Sutton:
Excellent. All right. So now, your friends, 13, 14, 15, 16 years old, are any of them working like, even I'm not talking about e-commerce, but like usually 15 is like the absolute, I forget how old it is here in California, but like, isn't it like 15 is the earliest you can get job at like McDonald's or something.
Salih:
Yeah, I think it was 15 or 16. I've had a previous job that I got to quit.
Bradley Sutton:
What did you do before?
Salih:
So I went to this tutoring place and then I got offered to work there, so I worked there for a couple months and then COVID hit, and then I stopped. So I don't think I'm ever going to go back.
Bradley Sutton:
Okay. So then, that's more of like a, I guess, a typical teenage job, but then what you're doing or you've been doing is not typical teenage jobs. So like, when did you first discover kind of like the e-commerce opportunity and how did that even happen? What was it because of the COVID thing? And you had to stop at other jobs. You were just trying to look for other ways to make money, or what happened?
Salih:
I mean, every once COVID hit, I started iPhone repair. I was doing that. And so I was making a decent amount, but then I realized that there's Amazon. And then I was like, there's an opportunity there. And I was like, it's a lot like eBay, but a lot easier. And so I just kind of got into it and then it just kind of scaled up from there.
Bradley Sutton:
So what was your first thing that you got, did getting into Amazon? You were doing drop shipping, where you doing arbitrage? What was it?
Salih:
It was arbitrage, but I started off because I didn't know about arbitrage yet, so I was just doing books. So I was just buying through store books and selling them. I was making a little bit, and then I got introduced into arbitrage. And then there was a huge product during this time, which was around December, November. Around that time, it was patio heaters. They were selling for around 300. The markup was huge. You can get them for 150 at home Depot. You're selling for 300, 320. I just rinsed and repeated that. And didn't just kill patio heaters during that time.
Bradley Sutton:
Would you like having a home Depot drop ship to people or you'd buy it at home Depot and then ship it yourself to customers?
Salih:
I buy it from home Depot and ship it myself.
Bradley Sutton:
Okay. Now, how did you even get your own Amazon account? Like, did you have to have your parents, does it have to be on your parents' name or did you have to make a company and then put it under their company?
Salih:
No, I did it under my parents' name.
Bradley Sutton:
All right. Cool. They weren't worried that you were going to like kill their credit or were they like trying to check what you're trying to do or?
Salih:
Yeah, I've used their information before for Shopify stores that they all failed, but I've tried a bunch of other things.
Bradley Sutton:
Okay. So they trust you. They know that you kind of knew what you were doing. That's cool. So then you would find the product on home Depot. You see that on Amazon, it's going for more, and then that you could source it cheaper. So like what, like December, January estimated gross sales of what you were doing on Amazon, how much total you think you did?
Salih:
For December and January? Well, December was crazy. It was 140,000 and then January was 33,000.
Bradley Sutton:
Okay. That's almost, it's 175, $200,000 gross sales, like, after all your shipping cost and other fees and Amazon fees, like how much net profit you think?
Salih:
I think it was close to 45,000.
Bradley Sutton:
45,000. So that's all in the bank. Did you do anything like crazy and any big purchases or buy a Rolex watch or a car or anything like that?
Salih:
No. I just kind of saved it all. And just now what I'm doing is buying. I just keep on, I just dump everything back into the business. I haven't spent a single penny.
Bradley Sutton:
All right. Now, what's your projection? Or like, what's your goals for this year? Like, are you happy? I mean, obviously, because the heaters wasn't sustainable necessarily. Because January, may the market caught up or you were making only a smaller number than you did in December. Like what's going forward. Are you just going to stick with this arbitrage model? Are you looking to pivot into something else?
Salih:
Well, right now, well for January, the patio heaters completely died. It just flopped. I mean the holiday season, nobody was really buying them. And then now I was just starting like online arbitrage. So buying stuff from like, whatever's on sale, there's plenty of stores that have sales right now. And I just buy stuff from them. Like I have around like 60 pairs of Nike sitting in my living room right now. They're all 40% off.
Bradley Sutton:
How many hours a week are you putting into this? I mean, obviously you're a full-time student and I know in California, it's pretty much all online for the most part. So, that makes it a little bit easier, I suppose, but like how many hours a week are you putting into your businesses right now?
Salih:
I mean, it's, it's hard for me to give like an exact number because I don't just sit down and just do that, for like a couple of hours and I'll get up and do something else. But, I think it's close around 50 hours a week. I'm 50 hours a week, somewhere around there.
Bradley Sutton:
Yeah. So, I mean that means somebody, your age is making some sacrifices. That's less PlayStation or watching TV or going out that some of your friends might be doing, but they also don't have $40,000 in the bank now. So that's kind of cool. So you mentioned you're just like, you're trying not to spend the money. Are you doing anything else with it? Like, do you just have it in a savings account so you can get some interest or it's just, you have a big old pile of cash under your bed or what's going on there?
Salih:
All right. Now, pretty much all of it's back into products that are like selling by the day right now. Okay. So I pretty much don't have it right now. It's just all in products at this point.
Bradley Sutton:
All right. Now, one part of the show that we always have here is we call it the TST or the T S T, 30-second tip. So, you've given us already some strategies here, but take a second and think about what is something that you could say in general to anybody interested in e-commerce that you think is highly actionable, pretty valuable, like a unique piece of strategy that you do that will take 30 seconds or less, and it could be about your arbitrage. It could be about retail arbitrage, could be about online arbitrage or anything at all.
Salih:
You're going to have to cut a lot of stuff out. So your video games, I mean, you can still play video games. There's nothing wrong with video games. But if you don't, if you say you don't have enough time during the day to do something, then you're going to have to cut something out because it's either you have the time and you're doing something else or you don't have the time. And you're just schedules like completely packed. So, I mean, you can see where you're leaving time on the table and you're not using it. So saying you don't have enough time or you don't have, cause I can say you can easily say you don't have the resources, but not saying you don't have enough time during the day to do something when you're spending time watching Netflix or playing video games, I'd say, you can make time during the day to do pretty much anything.
Bradley Sutton:
All right. Excellent, excellent guy. So, and you've got, I think all of you out there can definitely see that kind of determination pays off and you know, he's maybe done some sacrifices for some free time, but that stuff doesn't– that's not something that gets you through life is not PlayStation, making an extra $40,000 in a couple of months, those are the kinds of things that can really change somebody's life. So, Salih, thank you so much for coming on here and we wish you the best of success the rest of this year and onward.
Bradley Sutton:
All right, guys, let's take a quick break from this episode for my BTS of the week. Bradley's 30 seconds. My 30-second tip and this was going to be a little bit longer than 30 seconds, but it has to do with merch by Amazon. And this is for people of all ages, you know, something to do that won't take that much or actually any investment. I got this from Chris Green a while back, but what you can do, especially, you know, people who are in high school or you have kids in high school, they always do fundraisers for the different sports teams, right across country basketball or whatever. So you could say, Hey, we'll do a print on demand shirt or sweatshirt for the team, whatever design that they want, they can give you the design. And then there'll be an Amazon prime listing that people can give a link out to in the community. Just like the kids always go door to door to try and get, money for their sports team or send emails out to everybody's friends and family. Well, they can send this Amazon link and then you would just tell them, Hey, this is how much it would cost. I get $3 cut per shirt and you guys keep the rest of the proceeds. And it's a way that the school can get money or the team can get money and you, or your son or daughter can also get money as well.
Bradley Sutton:
All right. Why don't you just introduce yourself your name, how old you are and where do you live.
Jake:
Sure. My name's Jake Lewin. I live in Los Angeles, California. I'm 18 years old, the past four years or so I was a freshman in high school, I started my first drop-shipping business. Fast forward two or three years later. I started my own leggings company, and we're now focusing on exit kind of as we speak right now.
Bradley Sutton:
Cool. All right, now you're jumping way ahead. You're jumping way ahead. Don't get too excited now, Jake. All right. Now I want to get a little bit more of your backstory here. So you said you started about like four years ago now, I think most people who live in America kind of know what typical people 14, 15, 16, 17 years old do for, I don't know, like maybe, maybe 25% of people go out and work and it's usually like fast food. Like, would you say that's the case with some of your friends? Like who've been where your age, especially around you were like 15, those who did work, maybe they were working kind of like minimum wage type jobs, would you say?
Jake:
Yeah, definitely. I mean there's people who work, people who didn't work of course.
Bradley Sutton:
Okay. All right. So then what was your original, since it's not typical to go and Hey, let me go ahead and start a leggings company is not something that the common 15, 16, 17 year old decides. Talk me into when you first got into e-commerce. I think you said it was when you were a freshman in high school. Like what prompted that?
Jake:
Sure. Yeah. So when I was in eighth grade, this kind of started even before it, I wanted to build an app, I didn't know how to code. I really didn't have much experience or knowledge or my belt. So, I was really limited in my options to make this app, like either spend a few years of learning code myself, which I wasn't necessarily interested in. I was definitely interested in the business and marketing side of it, but the app itself, I didn't really care for. Or I could hire a developer to kind of do that for me. So, when I started e-commerce I kind of–
Bradley Sutton:
This is when you were in the eighth grade? These things are going on?
Jake:
Yeah. When I was in eighth grade, I was a weird kid.
Bradley Sutton:
You definitely marched to the beat of a different drummer, as opposed to your peers back then. And it's for the better, not a lot of people are that ambitious in eighth grade, I don't remember what I was thinking. I was just thinking about like, Oh my goodness. Like, what is up with these shorts that I have to wear for gym class? It was kind of like the top thing on my mind, not trying to hire developers for an app, but that's, that's kind of cool. So what was your first, kind of taste of financial success where, I mean, these are all ideas and stuff, but then, I'm assuming at some point some of these turned into some monetization for you?
Jake:
Yeah. I mean, like I said, it took a really long time and I didn't expect it going into it. So when I first started, I think for the first full year and a half or so, nothing hit, I think maybe I think I had even lost money. My dad gave me like $300, $400 starting point or something. And I think I had lost all of that. But somehow I forget how, but somehow I was able to make enough money to start a drop shipping skincare store back in leave January of 2018, 2019, maybe. And I was able to run that up to almost a hundred K in revenue, but none of the revenue made from that store was actually profit. I was kind of just burning through money and it was more of like a– it was my first taste in what this was. So it was just building up revenue, kind of seeing how it is. So, the actual revenue made from that store did not make me any profit, but I ended up selling the store for, I think, $15,500. And I guess that would be my first taste of any money at all beyond 300 or 400.
Bradley Sutton:
How old were you when that happened?
Jake:
It was a sophomore in high school. So probably like 16.
Bradley Sutton:
So then, sophomore in high school, 16 years old, you just got a check for $15,000. What did you do with that money?
Jake:
I think I saved it for quite a bit, but I continue to make more dropshipping stores that were startup costs of like less than a thousand dollars. So I kind of continue what I was doing. I didn't necessarily like jump right into it, like investing or anything like that. And then maybe like, I think a full year later, I had started my current store, which I'm selling or my current business, which I'm selling right now. And yet that money kind of just was in my bank account for quite a bit. I really didn't spend much at all.
Bradley Sutton:
Okay. Then what– you were making some decent money, one out of an exit and then maybe others were have had cashflows, or what kind of inspired you to start your own brand, the leggings company?
Jake:
Yeah. I mean, I think that kind of actually goes off of your last question, where like I didn't see drop shipping is that sustainable anymore. I didn't want to source product from China and have the customers wait 30 days or whatever it takes to get there, where there's very small retention rate. I wanted to build something that I was that was more than just for money, I guess. I definitely wanted a brand that I was passionate about. And I think from the get-go, that was kind of my goal, even before starting drop shipping, just to make something that I'm proud of in business. So I think that making a brand over dropshipping was how I kind of did that.
Bradley Sutton:
Okay. And then how did you choose the leggings industry?
Jake:
Yeah. So leggings actually that actually started out as a dropshipping store. That was just one of many products I would test. And that product originally started out as a women's cellulite, like anti-cellulite type of legging, like for middle-aged women who have saggy skin or maybe insecure about it. That would be what the product is for. We kind of flipped that on its head once we, so I have a co-founder in this as well, and credit to him, he invested, I think $12,000 into the business when it was definitely not worth $12,000. It was more of just almost like a charity to me. But we ended up making it work and using that money, we were able to finally purchase inventory of a product that we had kind of had proof of concept for. And we eventually expanded into, from a middle-aged demographic more to like a Gen Z demographic, 18 to 24 on Snapchat and Tik Tok or Snapchat and Tik Tok or whatever, bread and butter for the sprint.
Bradley Sutton:
Cool. Now, like, let's say January of 2021 this year estimate on what your gross sales that came from that brand?
Jake:
Yeah. Around 760, I think.
Bradley Sutton:
$760,000. And is this all Shopify or do you sell on Amazon as well?
Jake:
This is all Shopify.
Bradley Sutton:
So then how did you scale up so fast? I mean, you kind of mentioned Tik Tok and Snapchat. What was your strategy on how you were able to get a brand that, before you started it, nobody had even heard of, how did you get it to be this brand that that's doing high six figures every month?
Jake:
We were lucky enough to have bought a large amount of inventory between Chinese new year, right after Chinese new year and right before the coronavirus started, which I think probably a lot of other definitely drop shipping brands couldn't have done that. And probably a lot of other brands didn't choose to do that immediately. So yeah, we had purchased all this inventory, and definitely by luck. This coronavirus struck and it was terrible in a lot of ways, but in other ways it really did help the business, considering a lot of the ad plot, it kind of seemed like, Snapchat, for example, it almost felt like we had the platform to ourselves.
Bradley Sutton:
What's on the agenda for you, like your goals for rest of 2021. And next year, you said you're looking to potentially exit and sell the business?
Jake:
Yeah. So we just received an APA today actually, to sell the business. So I think for like, it did start out as a dropshipping store and it's like, it was turned into a brand, but overall I think going forward, I'd want to develop something with, I guess, a little bit more substance, something that I've designed or researched. Yeah, I think that's what I'm going to end up doing, but getting just cash for a sale, like this can definitely help me, kind of reach the next stage in building a brand.
Bradley Sutton:
Right. Awesome. Awesome. Well, Jake, thanks for coming on the show. I'll be giving you your social media links at the end of the episode here, but it's really cool to see someone your age would that kind of drive and we wish you all the best of success in the future.
Jake:
Thanks, Bradley. Appreciate it.
Bradley Sutton:
All right, everybody. We've got our last guest up here. Welcome to the show. Makayla. How's it going?
Makayla:
I'm so great. How are you doing?
Bradley Sutton:
I'm doing just great. Could you introduce yourself like, where you're from and how old you are?
Makayla:
Cool. So I'm Makayla. I am currently living in Utah right now and I am 19 years old, turning 20 soon. So I will not be a teenager for that long.
Bradley Sutton:
Excellent. So that's what we had to record this show early. Now you're 19 now, but when did you get started into e-commerce? How old were you and what like inspires you to get into that?
Makayla:
Okay. So I like to say I was tricked into it. My parents, I could say that they parented me into it, but I started my first business and got into the e-commerce world when I was 13 years old. My sister and I both started our first business. I was 13, like I said, and she was 10 and we were probably one of the couple of laziest teenagers you have ever met in your entire life. Like paying our brothers to do our chores, reading until we were like the [inaudible] kids. So like reading until like three in the morning, getting up till noon type situation. And my parents were like, no, okay, now you can't do this anymore. We are giving you three options. You can either one do more chores, two move out of the house, or three start a business. So being 13, I was like, I am not doing more chores. I do not get paid to do these chores. No way. And then moving out of the house, I just moved out and I was not ready then I'm kind of okay now, but definitely wasn't ready then. So got left with picking up the business.
Bradley Sutton:
So, you got started running around 13, 14. Now, was this in Utah or was this somewhere else?
Makayla:
This is in Utah.
Bradley Sutton:
Okay. So then, when you're a 13, 14, 15, I asked the same question to the other guys were on the show was like, all right, people your age in where you live, what's the tip? What, what do they do? So, I mean, in this country, it's kind of illegal to work necessarily, when you're a 13 and 14, you came and work at McDonald's. I don't think, but when you were like 14, 15, did you have any friends who were, who were working and making money as well? Or were you kind of like the only one?
Makayla:
So, where we lived and so I'm a member of the Strategist Christ of Latter day Saints, a Mormon. And we started babysitting. It's kind of like this weird culture thing through, as soon as we turned 12, everybody hires us as babysitters. So all of my friends were babysitters, but they were making like five bucks an hour. So I did it in a better way.
Bradley Sutton:
Yes. So what was one of your first ones, I know you started early and you had some success, but what was the most successful thing you had from like between the ages of 13 and 16? Like which business venture really worked out for you?
Makayla:
So the biggest one that I had in that age, I guess it's still up to this point is that we sold over a hundred thousand dollars in our first nine months when I was 13 and my sister was 10. So that's kind of like the coolest thing.
Bradley Sutton:
Good grief. What was that like a Shopify website or?
Makayla:
It was on Shopify, yeah.
Bradley Sutton:
So that same one you're still selling that website still just now?
Makayla:
No, we just shut it down last summer, just because we were selling scarfs, like infinity scarves and that trend kind of like fizzled out.
Bradley Sutton:
So how did you discover that? That opportunity, I should say.
Makayla:
So my mom actually had started her business and she was kind of like, Hey, I want to test it out on my girls. See if they can do it. If I'm just like a one hit wonder or something. And so she sat us down and was like, Hey, here is the structure of what you can do. First off, we're going to pick a problem and we're going to find a problem that we can solve. And so when she was saying, what kind of problem do you want to solve? I screamed world hunger at the top of my lungs. Knowing, thinking that I could do that for my mom was at okay hold on, let's start with something a little bit more manageable. And my family, me, and my mom were always cold, no matter where we're at. And so we're like, okay, we can kind of help tackle this problem. And then she was like, okay, now that we have a problem that we're going to solve, what is some trending products that we can find that'll help solve this problem? And we saw that scarfs are trending, like the infinity Chevron skirts. This is back in like 2013, 2014, when those scarfs are really big. And so we're like, Hey, we'll jump on this trend and sell those.
Bradley Sutton:
Okay. So then did you have it manufactured in USA in China? Or where did you get the scarves from?
Makayla:
So we got them from China. My mom had gone over to China quite a few times. So we were able to– my sister and I, we were able to contact the manufacturer to be like, Hey, do you think you can make these for us? And they're like, heck yeah.
Bradley Sutton:
Okay. So then, you know, 13, 14 years old, uh, bringing in that kind of revenue, what did you do with all the money that you were making?
Makayla:
So if it was up to me, I would have spent it on gumballs. I absolutely loved gumballs, my favorite thing, but my parents took it all and put it into a college fund and then paid us 10 bucks an hour when we were actually working on the business.
Bradley Sutton:
So, I'm assuming you're in college now?
Makayla:
Yes, I am in college right now.
Bradley Sutton:
So then is that right now fully paid for by that money that you made way back then?
Makayla:
Yes, sir.
Bradley Sutton:
So, no student loans or anything like that right now?
Makayla:
Nope.
Bradley Sutton:
Ah, that you see that's got to feel good. Any parents out there listening are like that's music to my ears is so expensive these days. What was your like responsibilities? Like you were still getting some money out of it and I'm assuming your sister too. So, what parts of the business were you managing?
Makayla:
So, my sister did a more of, so me and my sister ran it 110%. Like my parents were busy raising my brothers, raising us, running my mom's business. So they were hands off for this. And the only reason why I clarify that is because there have been people who are like, no, no, no, no, no, your mom did this for you. And so I feel like, no, she didn't. It was my sister and I. And so my sister was doing more of the front end design of the website, where she was taking pictures and that they just making the product and the website look pretty and they doing all that. And then I was on the backend doing inventory counting and making sure it all set up on the backend nicely. So people were able to go through and click and I contacted influencers, and me and her, we both packaged and shipped products out.
Bradley Sutton:
Now, you know, you say you work with other teenagers looking to start, possibly becoming entrepreneurs. Any, you don't have to mention any names or anything like that, but any stories from your students or people in your network that you can briefly recount of how, Hey, this person was just doing nothing. And then now they're doing this, like something that you can say to inspire other teenagers out there.
Makayla:
Yeah. So most of the students in my program don't have these crazy, huge stories. Because that's not what they're going for. They're going for the little bit of money so that they can play on the weekends and then fill the waters and make sure that that's what they want to do. And then they can take off, they can ask me questions and I can help them through whatever their next steps that they want to go. So one of my little neighbors actually she's in the course and she bought these little scrunchies when they were going and in her first day of selling them, she made over $200. And that was just from like reaching out on her Instagram and being like, Hey, I'm selling these spreadsheets. Let me know if you want me. So literally like, as my mom came, my mom always says this. You just have to put offers out there. And if you don't, you're not going to make anything. And if you do, people are going to respond.
Bradley Sutton:
Awesome. Well, I'm at the end of this episode, guys, I'm going to have like I mentioned, the contact information and social medias and websites for everybody available. So you can reach out to any of the guests we had, including Makayla. So Makayla, thank you so much for coming on and we'll reach out to you next year, even though you won't be a teenager anymore. And then let's see if you hit that goal of yours.
Makayla:
Thank you. Thanks for letting me join you.
Bradley Sutton:
Thank you. Well, I hope you guys found this episode inspiring regardless of your age. One of the morals of the stories here is that none of these kids were born superheroes or with super powers, right? It took a lot of hard work and some ingenuity and determination to get started at their early age, and they didn't view their age necessarily as an obstacle. What about you guys out there? If you're a teenager, don't let age be an obstacle to get started in e-commerce. If you're 20, 30, 40, 50 years old, don't let age on the other side be an obstacle. Don't let other things be an obstacle. If you have a job already, here are kids who are full-time students and still crushing e-commerce. You can do a little bit on the side too, if you guys would like to find out a little bit more about them. I have some social media handles for you. Our first guest, that was Salman and his Instagram. I'm going to spell it out here. It's salmanghori40, salmanghori40. That's his Instagram. He was from Pakistan and the really crushing it as a virtual assistant.
Bradley Sutton:
We also had Salih on here 15 years old and crushing it and doing arbitrage and other endeavors as well. If you'd like to follow him on social media, you can get his Instagram @itzxsali. These guys are crushing it in e-commerce, but they're not crushing it with picking their Instagram names. These are like impossible to remember. So I hope you guys wrote that down. The next one, Jake, we talked to Jake who started the leggings company. All right. So if you'd like to follow him on Instagram, Jake did it right. His Instagram is easy to remember. It's @shipments, like literally shipments, S H I P M E N T S. If you'd like to check out his leggings company, it's lyteleggings.com, L Y T E leggings.com. And finally, we had Makayla here who started a six-figure business when she was 13, 14 years old. If you'd like to follow her on Instagram, her handle is Makayla.prince. That's @makayla.prince. And if you want to go to her website, it's makaylaprince.com.
Bradley Sutton:
Well guys, like I said, I hope you found this episode inspiring. If you'd like to follow me on Instagram, I have an easy one to remember H10bradley. All right. Let me know, hit me up on Instagram and let me know who is your favorite guests or most inspiring guests from today or in any of the other episodes. Hit me up on Instagram or what I love to see is people who take selfies of themselves, listening to the podcast and in different places. Post that to your story tag me and I'll repost it. Anyways, guys, thank you so much for tuning in and we'll see you in the next episode.
---
Enjoy this episode? Be sure to check out our previous episodes for even more content to propel you to Amazon FBA Seller success! And don't forget to "Like" our Facebook page and subscribe to the podcast on iTunes, Google Play or wherever you listen to our podcast.
Want to absolutely start crushing it on Amazon? Here are few carefully curated resources to get you started: