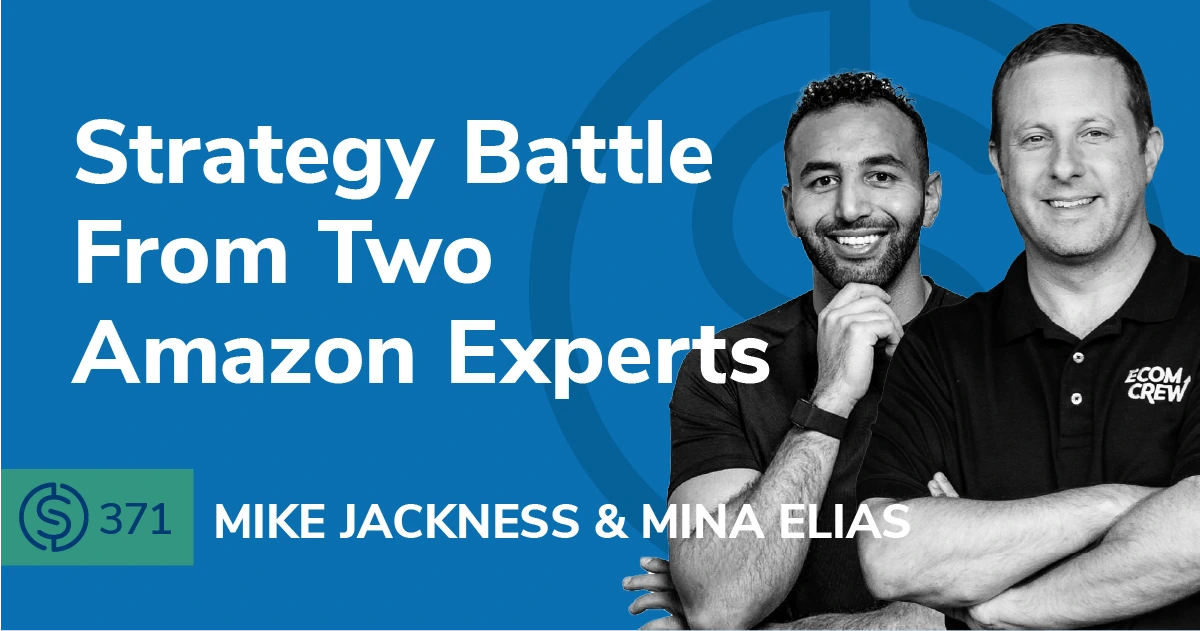 #371 – Strategy Battle From Two Amazon Experts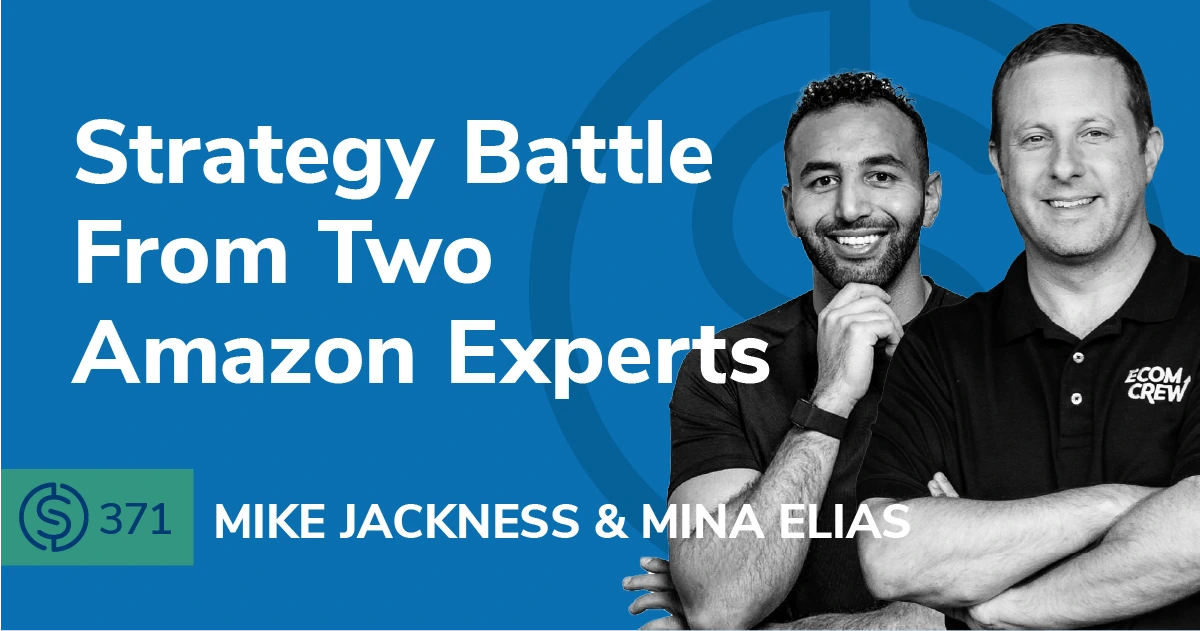 In today's episode, we have a strategy battle between Michael Jackness of EcomCrew and Mina Elias of Trivium Group! We start off by catching up with what they are up to and then went all out sharing all their latest hacks, tips, and strategies that helped them sell millions on Amazon. They talked about never before heard strategies like why raising your prices benefit you, unique PPC strategies before and during Prime day, backlinking your listing to high domain authority sites, Amazon Global Logistics, and more! Plus, we talked about Mina Elias and Vince Montero's PPC Academy course with Helium 10.
If you loved this episode, make sure to catch them and their strategy and Q&A sessions at the Sell and Scale Summit this September! Use code S3BS100 to get $100 off your ticket.
In episode 371 of the Serious Sellers Podcast, Bradley, Mike, and Mina discuss:
03:00 – Catching Up With Michael Jackness
04:50 – Starting A Content Site, Building A Community, And Sending Traffic To Amazon
07:00 – How Men's Health Magazine Does The Same Strategy
08:00 – What Is Mina's Focus Right Now?
10:15 – Michael Jackness Gives A Preview Of His S3 Strategy Session
13:20 – Mina Elias Will Host A Q&A At S3
15:00 – Unique Things That We're Doing At The Sell And Scale Summit
17:00 – Mike's Tip About Raising Your Prices
20:00 – Mina's Strategy Before And During Prime Day
24:00 – Can It Help You If You Know Your Competitor's Backend Keywords?
26:10 – Focusing On Amazon Global Logistics
28:30 – Track Your Clicks To Sessions Ratio
32:30 – Testing Organic Traffic Using Competitor's Product
35:30 – Backlinking Your Listings On High Domain Authority Sites
38:50 – How To Contact Michael Jackness
39:40 – How To Get In Touch With Mina Elias
40:20 – Talking About Mina Elias' PPC Course With Helium 10
Transcript
Bradley Sutton:
Today, we've got a strategy battle between two experts who have not only sold millions on Amazon themselves but who also help countless other sellers with their businesses. How cool is that? Pretty cool I think.
Bradley Sutton:
Do you speak Spanish? If you do, and you love the sir sellers podcast, make sure to listen to our Spanish version of this podcast, whatever app that you are using to listen to this right now, just type in Serious Sellers Podcast en Espanol, and make sure to subscribe. Hello everybody, and welcome to another episode of the serious seller's podcast by Helium 10. I am your host Bradley Sutton, and this is the show that's a completely BS free unscripted, and unrehearsed organic conversation about serious strategies for serious sellers of any level in the e-commerce world. We've got a couple of serious sellers here on the podcast, the M and M crew, M and M Mina, and Michael. How's it going, guys? First of all, have you guys ever met? I mean, I know I've met each of you in person myself, but have you two ever met in conferences or meetups or anything like that?
Mike:
I don't believe so. It's gonna be embarrassing when he is like, yo, I've known Mike for years and it's good to see you again.
Mina:
Mike, it's good to see you again, man.
Bradley Sutton:
That's how it's with me. Like, I'm like, oh, what I've met you before? I don't remember.
Mike:
It's happened, but yeah, I've definitely met you, Bradley. We used to spend some time together, down when I was living in San Diego, but since I left, I haven't been back to California and I haven't seen you. Oh, where
Bradley Sutton:
Where do you live now?
Mike:
We're in Las Vegas now. So it's gonna be an easy trip for me to your guys conference.
Bradley Sutton:
Awesome. Awesome. Now I was actually, you know, delaying the opening of this cuz I was trying to find a hat. You know, I was gonna debut a hat on this episode now, Mina, can you think of what logo I thought of when I found this shirt?
Mina:
Oh, Adtomic.
Bradley Sutton:
Yeah, it looks like it would be an atomic logo, but this is actually a minor league baseball team from Albuquerque called the Isotopes. But as soon as I saw it, I was like, this is an Adtomic logo.
Mina:
They ripped you guys off. They stole the idea.
Bradley Sutton:
Now they actually were first, but we just didn't know about it. It was actually the first time I saw this logo was an episode of Breaking Bad or something like that.
Mike:
Oh, nice.
Bradley Sutton:
Better Call Saul. One of the two but yeah, Albuquerque isotopes and I had a hat to match it and I couldn't find it, but anyways, we're not here to talk about Bradley's strange fashion choices.
Mike:
I mean that the hat goes pretty good, man. You got the red and the yellow like representing–
Bradley Sutton:
So I'm wearing my Philippines hat.
Mike:
It looks pretty, pretty planned.
Bradley Sutton:
There we go. I'll go ahead and take that and say that it was planned, but it wasn't. Anyways, I have both of you guys on here, first of all, just because, I want to get some updates on some of you guy's top strategies, but also maybe a little preview of what you guys gonna be talking about at sell and scale the summit. And now, Michael let's start with you. What are you up to these days? You know, I haven't talked to you in a while, are you still selling on Amazon? Remember you had some like cool coloring books or something like way back in the day, but like what are you doing in the Amazon and Walmart or e-commerce space these days?
Mike:
Yeah, we're still selling. We sold the coloring book site in 2019. It was called ColorIt and since then we've spun up a couple of other brands and have some of the other brands that we had before, but we have a brand called ice wrap that's in like cotton cold therapy. We have a stuffed animal brand. We own tactical.com and saw some tactical products. We also recently purchased knitting.com and we'll be launching a line of knitting supplies we have a home hardware business that we purchased in January of 2021, and running that for the last few years. So we're doing about 8 million a year in sales between those businesses right now.
Bradley Sutton:
Now sounds interesting because, or something interesting, I should say kind of peak my interest there. Do you purposely look for domains that might be for sale and then decide to build a business around it that's based on Amazon or did I understand a little wrong there? Was it just a coincidence that you just bought these companies?
Mike:
Definitely not a coincidence. You know, one of the things that I realized back, I started selling on Amazon in 2015. And so I've seen kind of this evolution of in the beginning, it seemed so effortless and easy, y could put anything up. There was very little competition and we had great success as the competition got stronger and stronger and Amazon had its first big policy shift of you used to be able to leave a review and have someone say like this, I got this product for free in exchange for an honest review. Yeah. Yeah. So way back then. And so I started thinking about how can I re-engineer the way that I'm doing things in a white hat way. And I had to lose sleep all the time, like by doing these types of tactics. And so the thing that we came up with was having a content site, building a community, and then directing people to Amazon from those resources. And it worked really, really well with ColorIt. And we've now expanded that to our other brands, but with color, we had an email list of like a hundred thousand people. And whenever we launched the product, we would just say, Hey, look, new products up on Amazon, go buy it, no coupons, no one incentives, no, please ask me for a review, no Black Hat tactics of any kind. Yeah. And, and so that's kind of the whole theory behind the other sites as well.
Bradley Sutton:
Interesting. So then it's like the domain, you probably have your company.com or whatever out there, but then your strategy is you have like this generic word where that you can build a community around like knitting.com. Like I'm assuming your company's not called knitting.com. But then, so that one, it kind of like is almost as if it's a, like a neutral website, but you can push relevant potential buyers to your, to your company.
Mike:
Exactly. And it's a long game. I mean, the idea is to teach someone who's just getting started in knitting, how to pick up needles and use them. It's actually a lot more difficult than you might think. Definitely more difficult than coloring. I mean, we all know how to color, just stay between the lines beginning, knitting takes some training and understanding. And so, and we've just launched this site. And so, you know, this is a couple of year game of working on building content that ranks organically on Google building our email list, along the way, offering patterns for free and paid that get people really talking, probably having some sort of community form or something at some point where people are discussing things about their craft. And then eventually having products that we hope people will love because they're kind of have an affinity towards our brand and they're good products. And so you kind of marry all those things together. And again, it's, it's definitely the long game. This is not I'm gonna sprinkle magic pixie dust on something and have it grow up, wake up the next morning. There's a magic bean stock outside just growing on like a weed. I mean, this definitely takes time to cultivate and, and build.
Mina:
You know, Bradley the company that owns men's health recently did something very, very similar. So men's health brings like a million visitors a month in, and they launched a supplement brand and they're leveraging men's health to drive all of that traffic. The brand has nothing to do with men's health, you could never tell. Men's health, obviously their business is, is like display ads, right? So they sell their property to Google and then Google takes people and advertises them pay per click. And so they now have like the most premium position to drive traffic to their products. And they do a lot of like like blog articles and drops and stuff like that, like specifically for those supplement brands. So I was surprised that this was one of like the first supplement brands they launched, but they get a million visitors there like that on what Mike is doing is like a small, small scale of what they're doing, but it's a definitely works a hundred percent
Bradley Sutton:
Interesting. All right. And since you started talking there, let's keep it with you a little bit. Mina, what about you? Like what have you been doing? You know, obviously we usually just talk about strategies, but you got into this game cuz you were selling your you had your own company and supplements like how is that going? Have you, are you still selling that same brand of supplements, have you expanded to other markets or what's going on there?
Mina:
Yeah. So MNA nutrition is still there, still alive at the profits every month cover all of my expenses and more so it's, I, I stopped focusing on it. I put my team on it and they're now like a client of Trivium and we're just continuously trying to improve different things, but I'm no longer investing like a lot of money or time into it. It just produces a lot of profit. And then all of my energy shifted into the agency cuz I saw that that was growing really fast and I was adding a lot of value and I really saw a clear path of like how I can innovate in the industry and lead it in terms of PPC. And so I've been putting all of my energy there. I started, so I love brands, but instead of owning one, I started investing in some. So I've talked to a few people and I saw like some opportunities. So I've taken between five to 15% positions in a few companies. And I said, I'll come in, we'll run the ads. You know, at a, like a discounted rate, we will give you like our entire, like A-team to help you you'll have access to every single connection that I have. And like I get hookups like from everyone, right? Because
Bradley Sutton:
Like an Amazon angel investor kind of.
Mina:
Yeah, and I will guide them. I mean, we don't know if this is gonna be amazing or it's gonna like all go on fire, but I want to guide them to an exit. Right. I know the right lawyers to protect them. I know like the people to do their books the brokers that will sell the thing. So that's kind of, we'll see, we'll see how that goes. But the number one focus is the agency.
Bradley Sutton:
Okay. Interesting. Interesting. Now we're gonna come back and go back and forth for some like quick-hitting strategies from each of you, but both of you are, are gonna be speaking at different times on the Sell and Scale Summit. So I wanted to, first of all, just get like a little preview of what you're gonna be talking about. Like I don't want to give away the whole presentation or anything, but just something to get people excited about coming. So, Michael, let's start with you. Like what's your main topic gonna be? And can you talk a little bit about it?
Mike:
Sure. Yeah. That's the first time I'm actually talking about something that isn't directly related to strategy. I would probably feel more comfortable talking about the exact stuff we were just talking about five minutes ago with content sites and things like this. But I was always talking to the organizer of the event, just running through a bunch of different topics. And we kind of felt like one of the things that's really missing in business is just kind of mental health and just wellbeing. As entrepreneurs, we get very spun up in our businesses. And so one of the topics we came up with was the, the four burner theory. And this is not something that I have invented, I read about this elsewhere, but the concept basically is there's four main pillars in life. You have your work, your family, your friends, and your health, and you can only have a hundred percent adding up.
Mike:
And typically what entrepreneurs end up doing is dropping one of these four burners down to a very low simmer or completely turning it off and really cranking up the work burner and ignoring their family, their friends, or their health. Everyone that I've talked to about this type has one thing that they'll excuse first and that one gets lowered. And then they find that the second and third one is getting lowered as well. And so they're just kind of all consumed by their work. A lot of the problem is that society kind of applauds you for this as well, which makes it worse. Cause like the more you work or the more "you're successful", you are depending on how people measure that the more addictive it becomes to continue to like continue to feed into that. And next thing you know, you have no family, no friends, or you've had a heart attack. Right. So-
Bradley Sutton:
I wish I would've known about this a little bit before.
Mike:
Exactly. So it's kind of on point to kind what we're talking about today and yourself. And so it happens and we all like end up in this spot and think that we're young and invincible and next thing you know you realize that you're not
Bradley Sutton:
All right. Interesting.
Mina:
Is there like a tactical solution? Are you gonna share some like tactical solutions for this?
Mike:
I am. Yeah. I mean, I think that like a lot of problems are things. It just the first thing is to be, become aware of it. And, and the reason I wanted to talk about it and share my experiences with it was that like, I've been in business for myself since 2004. I mean, it's been a long time and you adapt to a new normal and you also, a lot of times just don't realize that things have gone to a point in where they're at, you just become of become oblivious to it. And when Steve Chui actually is the one that introduced me to this, when he first mentioned it, it was like one of these things that hit me, like a ton of bricks where I just like really like, how much I always was defaulting back to like what I knew or what I thought was best, which was to crank that work burner up. And next thing, you know, like not spend time with my family or, I've gained 40 pounds cause I'm not working out anymore or my friends are like, dude, like, it was nice knowing you like, oh, those years ago, but you don't hang out with us. And, and again, just kind of hearing that was the thing that just immediately made me think about it. And then I started to work on it.
Bradley Sutton:
Interesting. Interesting. Okay. Well, what about you, Mina? What are you talking about at Sell and Scale?
Mina:
I am, so my topic is a Q and A, so I'm actually answering questions, but we're doing it in a very, very efficient way. So I'm gonna have Vince with me. I'm gonna have Cassandra with me and I'm gonna have two people from my team. So we're gonna see how many questions I can answer in that span of time by having literally zero down time. And then I'm lining up a lot of resources. So whenever, when people come in and ask questions if I have a resource for it is immediately gonna go up on the screen. Vince is gonna also preload a lot of questions. So it's basically gonna be a very intense consultation call. I hope it's recorded because I'm gonna answer like a shitload of questions and then we can chop it up and put them in a glossary or something like that. But yeah, that, that's kind of my topic is Q and A, and I actually was very excited about it because most times I stand there and I just did you were there at Travis's the passion product live but a lot of times you just lecture and this one, you actually give the people exactly what they want. So I'm very excited for that. I think it is a great move on Helium 10 part.
Bradley Sutton:
Awesome. Awesome. Yeah. You know, we're trying to do different things. That's not just the typical, the typical experience. So like, one thing we're doing is we have multiple people, even from competitors on the stage at the same time, who are talking about the same thing, like two different listing optimization people, you know? And then it's like, Hey, now you kind of like we all wanna hope that all the influencers out there never BS, you know? Right. But there's always, I think in the back of the mind, sometimes somebody's sitting at a, at a conference they're like, oh, how do I know everything? This guy is or gal is selling saying is true. You know, nobody's there to check them, you know? Right. But now you have like a competitor up there
Bradley Sutton:
Yeah, now Mina's gonna be there to check. Now somebody–
Mike:
I'm gonna be there asking questions.
Bradley Sutton:
Vince says something crazy. Right. And then Mina's like, Vince, what are you talking about fool? You know, like, so you know, little, little different vibe. And then we have here, somebody talking about, you know, something that is not talked about enough and that's kinda like the mindset and different things like that. So we're trying to have a different vibe. So guys, if you haven't got your tickets yet, you know, make sure to get it soon, h10.me/s3, h10.me/s3. You can use my discount coupon. S3BS100, BS as in Bradley Sutton, not the other BS. SoS3BS100 guys. Here, if you guys see, I even have a hat for that as a S3 BS right here. So I have a hat for everything anyways. Let's go back and forth now. Oh, wait, hold on. The most important thing, since both of you guys will be there on the 19th or the 20th on the 20th, I expect both of you to be in my Zumba fitness dance class that we're doing in the morning. You know, no excuse. That was like in the fine print of the contract with our speakers. You must be on stage with Bradley during the Zumba class, you guys down?
Mina:
I'm in, I'm in. Any workout I'm in.
Bradley Sutton:
Mike doesn't seem as enthusiastic cuz of me on this one, but Hey, it was in the contract. I'm sorry for you.
Mike:
Well, if I signed it, I signed it. What am I gonna do?
Bradley Sutton:
All right, let's go back and forth. You know, usually on this show, we, we have something called the 30-second tip TST, but instead of just leaving it to 30 seconds, let's have 30 seconds. Let's have two minutes, let's have one minute tips and tricks go back and forth. You know, what's working right now that you guys think is, you know, somewhat unique. You know, not like Hey guys, keep your ACoS down. You know, I'm hoping you guys give me some better strategy than that, but let's start with Mike. What's your first tip you wanna share with us?
Mike:
I'm gonna throw out something stupid that I ignored for way too long, that I really wish that I push, which was raising our prices. For years and years and years, you think about like how to price-driven Amazon is a marketplace and you see competitors continue to come in and they always undersell you and your gut is to either lower your price to kind of start matching them or certainly never raise your prices. And when this environment of where shipping costs went crazy, and then, you know, other inflationary costs, cogs going up and Amazon fees going up, et cetera, et cetera, it got to a point where we really had no other choice. And so with my back up against the wall is when we first started doing this. But we've become very methodical about it. And in some cases, we've been able to raise our prices as much as 50% and had no drop off in sales. In some cases, they've actually gone up, which is still kind of blowing my mind. But I'm not here to plug Helium 10, but it's actually the tool that I use to really.
Bradley Sutton:
Feel free to plug Helium 10, as much as you like
Mike:
But the profit dashboard is seriously, just freaking awesome. And the tendency as a CEO with a number of businesses that we have is to look at a P and L of your overall business health and not necessarily get too far into the weeds. Looking at things on an SKU level, again, as you kind of get bigger and bigger, you can't look at all the same data points that you did when you were first getting started. And I started to find myself in that spot. And so we've actually hired a personnel full time that's helping with this, that stays on top of this stuff that I review every week. And we've really been able to increase our margins. And the biggest basis of it has been simply just raising our prices. And we do it incrementally.
Mike:
And so every week we're looking at the BSR of the product as a baseline. And then we raise our price and we look at what the BSR is the following week. We were looking at the BSR and not the number of units sold because there's so much variance on Amazon and you don't want just because you sold more units or sold less units to necessarily be the thing, that's your trigger. So we look at the BSR, so we're relative to all of our competitors and that sub-niche, we go as deep as we can. And if the BSR doesn't deteriorate, we raise the price another dollar. And if it's has a big adverse effect, we go back. But what we found is that very few products actually have had a massive adverse effect. And we've been able to continue to push the envelope, raising our pricing way more than I ever thought when we started this project last October, it's, it's getting close to a year now. But we continue to push the envelope. And again, I know this is one of these simple things that people, you know, you're always looking at how, like you say, how can I reduce my ACoS or what's the next product to sell, but looking at your current products and how you can squeeze more lemon out of that, that lemon or more juice out of that lemon, I think is the better way to go.
Bradley Sutton:
Right. Awesome. Let's go, let's go to Mina what's your first strategy of the day?
Mina:
So I know that Prime Day just ended recently and they're announced, I think, like two more Black Friday, Cyber Monday is coming up. So I want to talk about a strategy that we used with like, I think three or four people, and it, and that was like incredibly it worked incredibly well. And basically what we did was, and I'm gonna be very honest, right? Because some of this is is gonna be against terms of service. But what we did was I usually spend a lot of money, 30 days, like 30-40 days before Prime Day, I'll spend a ton of money. And then the week before Prime Day, I'll start to taper down. And on Prime Day, I'll really cut down the ads. I'll just have a top of the search. Maybe if the product is a very top of search sort of product, but the goal is to rank me as high as I can organically. And then when Prime Day hits, I lower the ads the organic rank takes over the extra traffic comes in and I make a lot of sales. And we've been doing this decently pretty effectively.
Bradley Sutton:
Well, how is that against the terms of service?
Mina:
No, no, it's not I'm gonna talk about the terms of service.
Mike:
That part's coming.
Mina:
That part's coming.
Mike:
Hey, kids close your ears, ear Moss.
Mina:
What I did this time was I did that, but I lowered the price by like a significant amount, I would say like $7 or something for like a $30 product, because this is the one I remember we lowered it by $7. It was like 29. We lower, or actually $29. We made it $19.99. And then we, we did that. We also did a search, find, buy for three of the main terms.
Bradley Sutton:
Shame on you.
Mina:
We ranked really high and then prime day hit and we 10 X, our average daily sales for two days, like the leading up to it. I think our sales were kind of like double like the week before our sales doubled, but those two days our sales were 10 X. So they were like 33,000 and like 31,000, like two days back to back. And so I'm gonna continue to do this strategy for the other prime days in Black Friday, Cyber Monday, but that's been a really cool strategy. And the $19.99 price on the day of, of prime day, we brought it back up. So all of the sales that 31k came at the higher price point, not at the lower price point, the lower price point was just so we can really you know, maximize the, the search, find, buy, and what we were doing leading up to Prime Day. So that's kind of the strategy that we did it worked really well for multiple people.
Bradley Sutton:
All right. So what I want everybody to do is every single bit of that, except the search, find, buy thing, but there's other ways, you know, guys, we now have other ways to not as easy as search, find, buy. I think all of us love to search, find, buy, when it was okay because that's the easiest thing to do, but, you know, there's other ways, you know, that we can do it, you know, through Google ads or running targeted traffic and, and special discounts and PPC, et cetera. Anyways, Mike, I remember a while back, was it you, was it your team who came up with like a special URL to use, to like look at what people have in the back end of their listing or something like that was that you guys who came with that, does that sound at all familiar or?
Mike:
It does sound you familiar? That was definitely not me. We found that through MDS through the Million Dollar Sellers group, highly recommend that group. But someone, I have no idea actually, who it was posted that in there, and there is a URL that you can go to that you replace the ASIN and with whoever's ASIN and you can see all their backend keywords.
Bradley Sutton:
Okay. Now here's my question to you based on that, I'm kind of on the fence as if that can really help, you know, somebody, you know, like for example, my philosophy is that, Hey, I don't care if something's in somebody's bullet points, description or backend, what matters to me is what are the keywords that are generating their sales? Where are they ranking high for and what are the keywords that buyers are using? And there are other ways to find that. So I'm just curious, for you, whether you think like, do you actually have a strategy based around, or can it actually help you in your opinion to know what's in the backend of your competitors? Cause like what if the competitors just put a bunch of garbage in there it's meaningless to their keyword sales, but now, you know what it is like say, so how, how would you use that?
Mike:
Yeah, I think it can help with a couple of things. Number one, you can find if they have any trademarked terms in their backend, that could be helpful for you if it's your trademark keyword, for instance.
Bradley Sutton:
Okay. That, I get that
Mike:
That's important.
Bradley Sutton:
I like that, actually, that's a very good point.
Mike:
I think that for the most part, though, in terms of a ranking strategy and other things, it's, it's pretty useless. I think when we first discovered this, this has been around now for a while, it was back when we were still putting keywords, actual keywords in our keyword field at this point. No, one's really doing that any longer because you're putting your keywords in your title, your bullet points or your description. And, you know, Amazon is basically command said that like there's no need to repeat keywords anywhere. And so let's just say you're selling round ice packs as of, for instance, there's no need to put that in the backend keywords any longer because you have that in your title, that's your main keyword. And so what ends up being in, in the keywords field is a bunch of just random if people are doing it correctly or is a bunch of just random words that are so far down like they're like your D-list keywords that I don't really find to be helpful. I find it much more helpful to do something like data dive which, you know, uses the Helium 10 interface and use that's been a game changer for us, way more than ever knowing the backend keywords.
Bradley Sutton:
All right. Excellent. Go ahead with another strategy though, that that was kind of just like my question to you, but I wanna get another Mike strategy right now.
Mike:
Sure. you know, the theme for us this year has really been increasing profitability. And so the other big strategy is to really just focus on Amazon global logistics or at least look at it if you're importing from China. It's interesting, cuz my partner, Dave and I do our podcast with had been talking about AGL for a couple of years and it's something that we found out about originally when we were over in China at another conference years ago. And I just really had never put a lot of weight into it cuz we use a 3PL and just kind of like the, the ability to have stuff here, stateside, but with shipping costs, going from like 4k that container to like 25 K at peak using on global logistics to save us a ton of money. First of all, they're just cheaper.
Mike:
They're rates are cheaper than our freight forwarder. You skip a 3PL and so our 3PL was charging us to feed, unload the container, palletize it store part of it and then ship some of that in. And then when we need to get the rest of it outta stories, they charge us again to like pull the container or the pallets and label everything. Amazon global logistics gets things indirectly. You know, the only real downside is that it's not very transparent, you know? So it's, it's hard to know exactly where your container is and when the hell it's going to arrive. And it seems to take a little bit longer than what we were doing, but the savings is insane. I mean, we're saving $5,000 To $10,000 per container which really adds up by the end of the year.
Mike:
And again, our focus has been on profitability and this has been a major factor for us. And I'll just add one other quick thing onto this, cuz it's, it's in line with it, we've been able to, to utilize our, our manufacturers for the most part as a 3PL we've had relationships with these guys for years and we're still spending the same amount of money and the thought is, Hey, Mr. Manufacturer, would you be willing to hold on to part of our order for us and just leave it there in China? Not already manufactured so we can string together AGL shipments in a more efficient way and then skip our three PL and they've all been willing to do that. And so this strategy combined is, is saving us, well in the six figures a year and just pure net profit, not, not more sales, just like pure bottom line. You know, we have more money to go on vacation with next year.
Bradley Sutton:
I love it. I love it. All right. Now I'm gonna give you a couple of minutes to think about your next one, but I'm gonna give you two topics. I'd like it to be on one of the topics either on your current launch strategy or outside traffic driving strategy. All right. So I'll be thinking about that while Mina gives his second to last strategy for today. Go ahead, Mina.
Mina:
All right. So the second one is the clicks to sessions ratio. I've talked about this before. But still, a lot of people ask me about it. Basically, there's a certain number of clicks that you get from your ads. And then there's a certain number of sessions that you get that are the blended combination of your PPC sessions and your organic sessions. Now, if you think about it, you're getting a certain number of clicks. Those are just the ads, the number of sessions that will come from those ads will definitely be less than the total number of sessions, correct? Because the total number of sessions has organic and PPC combined. When you measure that clicks to sessions ratio, the more, the clicks for the same amount of sessions. So the bigger, if you do clicks, divided by sessions, the bigger that number is the worse it is for you because what that means is that you are spending more money for the same number of unique Amazon accounts to come into your listing.
Mina:
This can be SKUed if you're doing, if you're doing the organic ranking, like, you know, using PPC for organic ranking. So we'll leave that on the side for now, if you're just running your PPC normally. But when I most realized this was when I would launch, I think a year ago or even more a year and a half ago, I would do regular sponsor products advertising. And then I would do some sponsored video for the main keywords. And then I would do headline search ads for like some of the whatever keywords. And I was like, okay, cool. You know, I'm testing all of the different types of ads, but I have really good analytics sheets. So I had all of my PPC spend there. I had all of my total sales there and like the numbers were not adding up.
Mina:
Why would the video ad have such a good result? And then me noticing that as the video ads result, improve the PPC results for that same keywords decrease and, and, and I guess do you know, become worse. And so I said, let's kill the video. And I would kill the video. And the total sales were basically not impacted like maybe 3%, 4% difference by killing all of the, the spending that was coming from the videos. And I said, well, what the hell dude? Like it showed like a 6x throw as like, you know, or whatever, like a 15% eco or, and I'm like, how is this possible? And then I realized that it was the same people that were clicking on my sponsor products ad that were also clicking on my video. And they were probably, and this could happen also if you have really high, organic, and then you put like a sponsor product and whatever.
Mina:
So I started measuring click to session ratio, and I now benchmark it. And I understand if I start seeing my clicks to session ratio creep up, I am like cannibalizing, right? I'm basically serving ads to the same people without driving any additional traffic. So I'm serving additional ads. Like if you're in a room and then you have like one advertisement come in for like a water company, and then you have six other advertisements for that same water company, you're only gonna add for advertising to the same. Let's say 30 people in that room, right? You're not gonna get any new people to buy your product because it is just the same group of people. So click the session ratio is something that I think everyone should be tracking. You can also a second easier one to track is your PPC spend per session?
Mina:
Again, these are benchmark numbers, so no one ever asks me, please, what's a good ratio. It does not exist. Like what's a good weight. You know, it doesn't make any sense. So just benchmark it. And then if you're running multiple types of ads, you can like try and lower or turn off some of the additional ads and see if that ratio improves. And if your spending goes down and your total sales remain the same. And, and if it doesn't, you can always just turn it back on, but yeah, that's my tip.
Bradley Sutton:
Okay. Excellent. Excellent. All right. Back to Mike, you've had a couple of minutes to ponder your last strategy of the day. Go ahead.
Mike:
Yeah. So you specifically asked about launch strategy and I mentioned this a little bit earlier, but I'll get into a little bit more detail. So our current strategy is again to create content sites that rank for organic traffic. And a part of that content is very top of the funnel where like some, let's just use like fishing rods as an example. You know, like they, they might be looking for places to fish or how to fish and things of this nature. And they're not looking to buy right at that moment, but if they're looking for like best fishing rods for salmon fishing, there's probably a pretty high intent there for them to want to go buy. And so that would be an article that we would wanna rank for. And so what we'll do is first go out and buy five to 10 competitors, fishing rods, and look at them all same type of strategy you would wanna do if you're developing a product any way you look at what's good about 'em look, what's bad about them, how they package things go through their reviews on Amazon, again, same things you would do when you're developing a product.
Mike:
But then we put together a really good article about this. When you typically look at Amazon affiliates that are doing this, it's kind of trash content, they're taking the stock image off of Amazon sweeping the photo off of there, and putting together a pretty thin piece of crap content that still kind of ranks, but like we are literally buying the products, actually testing them, making video, taking our own pictures, putting together with our really great article about this. And once it is ranking and we see sales coming through our affiliate links, then we'll go develop the product. We develop the product, we take all the things that we learned during the first stage that I just mentioned develop a better product and then rank our product number one, instead of the competitor's product, number one, and start selling our product.
Mike:
And what ends up happening is because we're getting all this organic White Hat, traffic coming from an outside traffic source to Amazon, Amazon loves outside traffic. I think we all kind of know that but in this case it's consistent and I'm not, I, yes, I've paid for it because it does cost money to develop this content. And you know, it's a long game strategy, but once it is working the organic traffic that goes off to that. I can kind of come outta left field and, and do very well in the salmon fishing rod category where otherwise I might have had to do search fine buys or do other, other types of things where now we don't have to do that. And so that's the strategy that we've been, we've been using now for quite a while. That's working very well for us.
Bradley Sutton:
All right. Cool. Excellent. I like it now. Mina, I didn't give you those parameters, but if you happen to have something on launch, that would be great. If not it could be about, PPC cuz that's your jam. So either way, you have.
Mina:
What are the two categories? Oh, you said launch or?
Bradley Sutton:
Or sending outside traffic.
Mina:
Yeah. Well, I just wanna add to what Mike said. I've been testing using high-domain authorities. I don't know if you mentioned that Mike, but basically if you go into Ahrefs, Ahrefs you can figure out like, like the domain authority of different sites, like 90 plus is like the amazon.com and YouTube and Google of the world. So we've been seeing that backlinking to your listing using high domain authority websites has been really improving organic rank. We've also seen that the same thing happens with like Instagram influencers and TikTok influencers. I don't understand really why, but our organic ranking has been going up across like a bunch of keywords and it's usually when it's coming from like these very, very like high domain authority sites.
Mina:
Like, so Tim Jordan shared that you can use YouTube which is the amzn.to(space), whatever your keyword is. You'll find a bunch of Amazon influencers already familiar with Amazon, you can hit them up so they can create content for you and then direct it to the page. That's been working Instagram and TikTok. If you guys want like a platform for that, I know Ian created one, but there is one that's I think is superior is just way more expensive. And it's called Insense, insense.pro. And this is like an Upwork specifically for content creators and influencers. And you can go in there, you have multiple options, and they can create content for you. They can do a post for you, or you can white label. White labeling basically means that you can, they can make you an authority to run ads on their page.
Mina:
And so basically they can create a video saying, mm Yumi, MNA nutrition taste so good, whatever, and then they will post it on their Facebook business and you can run ads and then you pay for the ads. But anyways, besides that, it's very easy to use. You can go in, you say, I want like this type of person, this is what they look like. It's like a, an employee profile or like a freelancer profile. So you see what is the content they've done all of this stuff. It costs like 400 bucks a month or something like that. It is pretty expensive, but for your launch, if you're very targeted, you spend, you know, 400 and, and then you have to pay for obviously the influencers, but you get a big range.
Mina:
You get people that will charge you $40 for like content or a post. You get people that will charge you $500 and you find the good range, they're up onboarding like at least a thousand influencers every month. And, you know, you can have them post, post, post, post, post, and all send traffic to your Amazon. You even direct links. We've seen a huge improvement in organic ranking just from direct blinking. So, Mike, I know you touched about on this a little bit, but the high domain authority thing we've been really seeing it working. People used to do it back in the day. They used to buy backlinks. And so you could buy backlinks to your website and all of this stuff. So you can rank high on Google. This is kind of the same thing, but for, for Amazon, you're just buying backlinks, but you're not like buying them. You're like doing them legit.
Bradley Sutton:
Awesome. Awesome. All right. Now I know, obviously, both of you guys will be in person at the Sell and Scale Summit, so people can just, ask you in personal follow-up questions. But if people can't wait until then first of all Mike, how can they find you on the interwebs out there?
Mike:
Yeah, the best thing to do is just to send to [email protected]. That's our blog and podcast by e-commerce stuff, but like the staff that is there interfaces all that stuff for, to make sure it gets into my inbox. If it goes right to my inbox, it'll end up in–, definitely gonna responded to. I saw this awesome meme on the other day and was like, I have two speeds of responding to email. It's either like 7 seconds or 70 days. So most of them will be 70 days, it's nightmare, but yeah same. [email protected] is the best way.
Bradley Sutton:
For some reason, you have my email address, pretty much trash that, because I guarantee I won't see it with all this spam.
Mike:
It's so ridiculous.
Bradley Sutton:
Mina, how can they find you?
Mina:
Okay. So my email is [email protected] also @theminaelias on Instagram and then Mina Elias on LinkedIn and Facebook. I'm very accessible. You can ask me questions. I actually answer immediately all the time.
Bradley Sutton:
He's showing us up here, Mike. He's throwing shade, he's throwing shade.
Mike:
Oh, bad. I love talking about this stuff. I wanna help, but like, it just, I also am overwhelmed with–
Mina:
No, of course, of course. I also have a lot of people that like to filter through a lot of things. So as you guys heard in the last bigger, better launch, we, me, and Vince released the Helium 10 official PPC course. We've been getting like a ton of questions, "when are you gonna have a PPC course?" I partnered with Vince and Helium 10 on this. And literally, we go through every single piece of Amazon PPC. I break everything down. It's super tactical. You get all of my sheets, my bulk optimization, my analytics sheets, de-duplication any tool Excel sheet that I use. And, and we don't use the software. I mean, Adtomic, right. But which, which Vince will show you how to do <laugh>. But besides that everything is manual, I show you how to do it. I break everything up like super easy, super digestible.
Mina:
It should be the last PPC course that you ever need. I know there's a huge, huge demand for that kind of education, and me and Vince provided it. There were a lot of long hours of filming but I'm very excited you know, to share this. And I think it's gonna help a lot of people cuz everyone kind of gets on Amazon and then they're like, okay, now what? And I think that the sequel to this is like an optimization course, but we will teach you exactly how to drive traffic in the most effective way possible on Amazon.
Bradley Sutton:
All right. So make sure guys to go check out that course inside of Helium 10. It's an awesome thing that we've been working on for a while. All right guys, I will be seeing you before you go on stage at Sell and Scale, we'll be seeing you on the Zumba stage, you know, since that's the first morning of it. So Mike pack your Richard Simmons shorts, and we'll see you on stage there and Mina, he might show you because he excels at anything fitness related.
Mike:
I'm not sure you're prepared for how white my legs are, dude.
Bradley Sutton:
Well, Hey, it's Vegas. So hopefully you'll get a tan right away.
Mike:
I love it. I live in Vegas. I avoid the sun at all costs, so.
Bradley Sutton:
That's right. You live there. So you should be yeah. Here in August, you don't wanna be, spend too much time outside over there. All right guys, we'll see you. We'll be seeing you soon.
Mike:
Be good my friend. Be good guys.
---
Enjoy this episode? Be sure to check out our previous episodes for even more content to propel you to Amazon FBA Seller success! And don't forget to "Like" our Facebook page and subscribe to the podcast on iTunes, Spotify, or wherever you listen to our podcast.
Get snippets from all episodes by following us on Instagram at @SeriousSellersPodcast
Want to absolutely start crushing it on Amazon? Here are few carefully curated resources to get you started:
Achieve More Results in Less Time
Accelerate the Growth of Your Business, Brand or Agency
Maximize your results and drive success faster with Helium 10's full suite of Amazon and Walmart solutions.