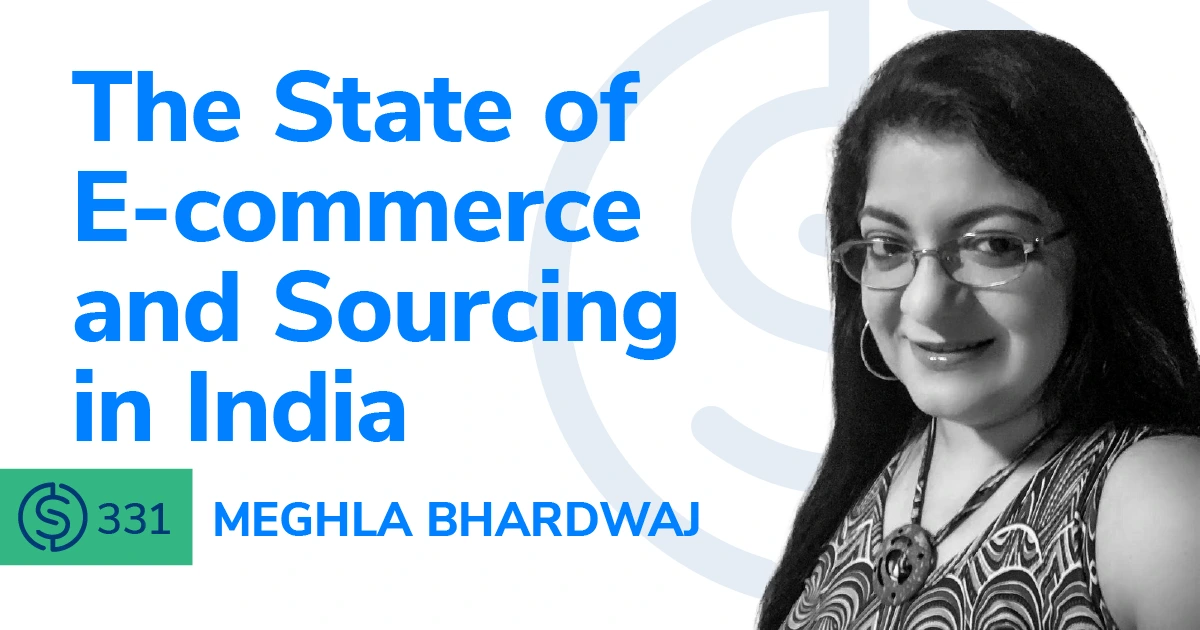 #331 – The State of E-commerce and Sourcing in India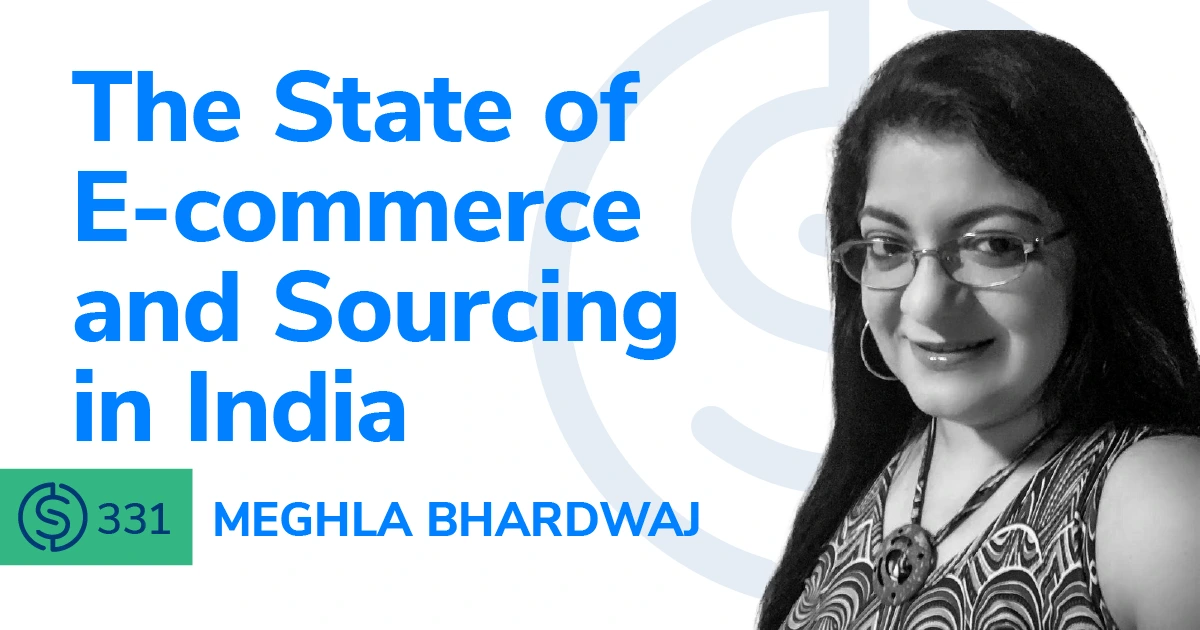 The E-commerce business has been exploding in the past few years in India. If you're interested in starting or expanding your business or looking for an alternative place to source your products, today's expert guest shares her insights and advice. In this episode, Bradley Sutton speaks with Meghla Bhardwaj, Co-Founder of the India Sourcing Network. They talk about various topics, including the current state of the supply chain of products sourced in India, how to expand your business there, Flipkart as a competitor to Amazon India, and the best practices on souring your products in India.
As a bonus, Mehgla shares the cultures and norms of the Indian suppliers and some negotiating tactics when negotiating with them.
In episode 331 of the Serious Sellers Podcast, Bradley and Meghla discuss:
03:15 – Current State Of Shipping Products From India
06:15 – E-commerce In India Is Breaking Records
09:00 – The Difference Of Amazon India And Flipkart
11:30 – Are There Foreign Sellers In Amazon India?
13:45 – How To Start Selling In Amazon India
16:30 – What Current Categories Should We Consider Manufacturers From India?
19:45 – Where Can You Go And Find Suppliers From India?
23:00 – Travel Requirements To India
31:00 – The Pros And Cons For Sourcing Your Products In India
32:45 – Cultures, Norms, And Negotiating Tactics For Suppliers In India
36:00 – Getting Credit And Payment Plans From Indian Suppliers
37:30 – How To Get In Touch With Meghla
Transcript
Bradley Sutton:
Looking to expand your Amazon selling to other foreign marketplaces, or maybe you wanna see if you can source your products from other countries other than just China. Well, India might be the answer for both of these. Today. We're gonna talk to an expert on both subjects who is gonna let us know all of the latest and greatest for selling and sourcing in India. How cool is that? Pretty cool I think.
Bradley Sutton:
As FBA business owners, we've put thousands of hours of hard work into growing our businesses, but what happens when you've grown the business, as much as you can and don't have the time or resources to take it to that next level, enter Thrasio. Thrasio has acquired over 125 Amazon businesses from owners, just like you with more than 600 experts at the top of their field in brand management, growth, marketing, creative, and supply chain Thrasio's operating team can grow your business exponentially. Once you've sold your business, simply celebrate a lucrative exit and watch your personal wealth grow while your brand flourishes in Thrasio's portfolio. To connect with Thrasio deal team visit thrasio.com/helium10, that's thrasio.com/helium10 for more information on if your brand is a good fit for Thrasio. Hello everybody, and welcome to another episode of the Serious Sellers Podcast by Helium 10. I am your host Bradley Sutton, and this is the show that's a completely BS-free unscripted, and unrehearsed, organic conversation about serious strategies for serious sellers of any level in the Amazon or Walmart world. And we've got somebody from the other side of the world right now, here in my time. It's Sunday evening at what is it? 8:00 PM, but what time is it over there, Meghla?
Meghla:
Hi, Bradley. I'm in Singapore and it's 12:00 PM here on Monday morning.
Bradley Sutton:
12:00 PM on Monday. Okay. So we're going back to the future with me here, but if you guys are watching this on you, YouTube, I look a little flushed, or if you're listening to this, I sound a little out of breath. I just came from a–, Sunday night is basketball night here at my house. And that's where I record this podcast. And you guys maybe have seen on Instagram before I have a full basketball court at my house with a humongous Helium 10 logo. So I'm seven days a week Helium 10 here, even when I'm playing basketball. So I'm still catching my breath. I'm a little bit old to be playing basketball, but you gotta stay in shape. Somehow. So anyway, we're not here to talk about my out of shapeness Meghla. We're here to talk about some of your specialties and this is now the third time you've been on the podcast.
Bradley Sutton:
And the other times you've really enlightened us about, you know, selling in Amazon India, sourcing from India, especially for sellers that are selling in Europe and in the United States. And so we wanna tell, you know, talk a little bit about what's new in that world, the last time you were on, it was right smack dab the middle of the pandemic. And, you know, we talked about sourcing from India, especially since there was a lot of issues you know, going on with sourcing. But now I think, you know, in the last year, probably the biggest issue that has been going on is the shipping times out of China, which is we're still most people source from. And so my first question is just me personally, stuff that used to take me, like once it hit the docks over there in China, you know, get to the US port in like two and a half weeks and then maybe another week or so to get to me after customs and all that stuff.
Bradley Sutton:
But now that same one month shipping time door to door is like three months. Plus for me I'm just wondering is, from your network if you are sort seen from India is it the same shipping times? Is it like the same things that are affecting the ships coming from China? Is it also affecting India sourced items as well?
Meghla:
So it is affecting shipments from India, but to not such an extreme degree, like it is affecting shipments from China. And there are a couple of reasons for that. So first of all, most of the shipments from China go to the west coast. And so that's where most of the congestion is because, you know, China of course, ships the majority of imports coming into the US are from China, whereas from India, most of the shipments go to the east coast. So it's not very congested at the east coast. And we haven't been seeing that many delays on the east coast, I mean, maybe a week to 10 days, but nothing is close to what we are seeing from China with shipments going to the west coast in terms of cost increases. So there have been increases in shipment costs from both China and India, but again, from India, the costs have not increased that much as they have increased from China.
Meghla:
So just as, as an example maybe around last month or so, the cost of a 40 foot container from Mumbai to New York was around the $12,000 mark, whereas from China, 40 foot is around $15,000 and above. So I think that's something to consider as well. The shipping costs had not gone up as much as they have from China. In fact, last year container costs were up to $30,000 from China, from India, the max that they had gone up was maybe around 15, 16 at that point when it was going up really, really high from China.
Bradley Sutton:
Okay, good to know. Good to know. Now just in general, I think some people are saying the growth, at least of e-commerce in the USA has slowed. I mean, it grew so rapidly during the pandemic. It was crazy like four or five years of growth, what would normally take in one year, but now it's not necessarily completely slowed to a halt, but obviously, as things open up, it's going the curve is kind of flattened, but, I was reading this article in e-marketer that actually in India, e-commerce is just continuing to skyrocket like India and the Philippines, but obviously India is a lot bigger country than the Philippines, but can you talk about that a little bit? Like I was looking at some of the projections of how e-commerce matter friendly, pulled this up here. Retail e-commerce sales in India, 2021 to 2025. And it's like according to of this chart, I'm looking at, it's supposed to like double just like within the next couple of years. So like what's behind this huge increase over there?
Meghla:
Yeah. So e-commerce sales in India are breaking record. So just to, throughout some figures in 2019 overall e-commerce sales, and this is just for the festival season in October. So, similar to the US where you have Christmas season, there's this festival season in October, November in India, because that's the festival of Diwali, which is sort of like the Christmas in the US. So during the one month festival season in the US oh, sorry in India October, November, 2019 sales were 5 billion us dollars 2020 in the same period. It was 8.3 billion us dollars, 2021. Can you guess what were the sales in 2021 October, November that one month festival period.
Bradley Sutton:
No idea. I'm assuming you're gonna give us some flabbergasting number here.
Meghla:
9.2 billion US dollars. And that is almost double amount of sales in 2019. So of course the pandemic and COVID and everything has had a huge impact on e-commerce sales in India, as it has everywhere, but overall, even, you know, regardless of the pandemic what's really happening is that a lot of the tier two cities are getting, you know, people in, in these smaller cities are getting access to mobile phones and 3g and 4g connectivity. So overall internet connectivity and adoption of internet is increasing. And therefore there is an increase in e-commerce sales. So even without the pandemic e-commerce sales, would've grown and they were growing even before the pandemic, but first because of the pandemic and lockdowns and all it just skyrocketed. So yeah, e-commerce sales are growing really fast, and Amazon and Flipkart. Those are the two key marketplaces over there. Flipkart is of course owned by Walmart and between the two marketplaces, they control about 80% of the overall e-commerce market. And Amazon seller services their sales increased about 50% in the financial year of 2020 to 2021. And then similarly there's one website called Myntra that's owned by Flipkart. They reported an increase of 44% in overall revenue. So, I mean, my point is e-commerce is booming in India, right. It's just growing significantly.
Bradley Sutton:
Okay. So now, those two main ones Amazon and Flipkart, the last numbers I saw Amazon is number one Flipkart, it's like maybe a little more than half or so, but, like in America, it's similar it's Walmart, whose number two, which I guess makes sense that's Flipkart over there, but I think the gap at least online, of course, I'm talking about, you know, is a lot bigger between Amazon and Walmart here, but a lot of the Walmart sellers a lot of them are selling on Amazon first, or they are already selling on Amazon before walmart.com. What about in India are this like completely different kind of niches? Like, for example, there's Wayfair in America, which is like mainly like furniture and things like that. So it's not a lot of the same sellers that you see on Amazon, but in Amazon India or in Flipkart, are these the same sellers, same, or are these different niches?
Meghla:
So they're very similar. In fact, Flipkart is older than Amazon. And it was set up as an all in one kind of platform where you can buy everything. So it was sort of like Amazon in the US. And then of course Walmart came along and bot Flipkart. So yeah, very similar in terms of product categories, you can buy everything on both of these websites, and typically the products that really sell well on both of these websites are electronics. Those are the number one categories and especially mobile phones, those are doing really well. Then we're also seeing a lot of people buying appliances online and not only small kitchen, high household appliances, but bigger appliances like fridges and TVs and all those things. And then health and fashion are also big categories. We are seeing things like gym equipment and supplements doing really well. And another category quite interesting is chocolates and other types of food items. So for some reason, Indians love all types of chocolate, especially during the festival season, of course, there's people buy gifts and give chocolates as gifts. So, yeah, those are some of the categories that are growing well on both platforms.
Bradley Sutton:
Okay. Now, what about the makeup of the origin of the sellers? You know, the as we know in USA, of course, there's a lot of American sellers, but there's tons and tons of sellers that are based in China as well. And then a spitter spatter from around the world, people who originate from around the world. In India is it like 90% of the sellers are based out of India. And then the rest of the 10% are from foreign countries, or, you know, I know you might not have the exact number if you had to guess, what would it be?
Meghla:
Yeah. So the majority are based in India and there are a lot of brands selling on Amazon and Flipkart as well. So for example international brands like Samsung, LG, all of those have their marketplaces, but again, those are Indian companies and they're already selling offline in India. And so they're just extending their reach you know, on Amazon and other marketplaces. So, yeah, but in terms of general independent sellers, I would say, I don't know, 95% are based in India. I don't see a lot of overseas sellers currently selling on Amazon India. And I think there's such a huge opportunity that people should tap into. And I think one of the reasons why there're not so many sellers from other countries is because it's not easy to set up an Amazon India account.
Meghla:
You need to have a GST registration and you need to have a company in India in order to set up an account. Of course, there are other ways to do it. You could maybe partner with somebody and, you know, so, but it's not as easy as just setting up a US Amazon account where you don't need to have a company in the US. So I think that's one reason why there are fewer overseas sellers also, India's a very different market, if you're coming from the US or Europe, you have to understand the types of products that are in demand, the culture. And it's also a very price sensitive market. So a lot of sellers don't do well because they don't understand that they're gonna get profitability in mass sales. Also, it's not you're not gonna be selling high value products and you know, having high profit margins, but you're gonna be selling a lot more products, and then you have smaller profit margins. So you have to be able to sell at scale in order to be profitable in Amazon India.
Bradley Sutton:
Okay, good to know. So, when you say it's a little bit harder setting up, you have to set up a company, what does that entail? Like, you know, me personally, I'm based here in California, obviously I mean, do I need to know somebody there and they would have to go into local courthouses or something to file paperwork and things like that. Can I do it completely remotely from here? We just had somebody, I'm not sure if you're familiar with that. I had somebody in the podcast a few weeks ago from the company Zee and they said they help people in different countries. We didn't talk too much about India. We're mainly talking about like Australia and Japan and stuff. What's that process like for a foreigner to set up a Indian based company.
Meghla:
So yes, you've got to set up a company in India and you also have to have a local director in order to have a company, but there are service providers that provide these services, so it can totally be done online. You don't have to visit India, but you have to you know, get these service providers to help you. And they're usually chartered accountants and lawyers and all, so they will help you set up the company. They will also provide local director, and of course, you'll have to pay a fee for that. And most importantly, they will help you with your GST filings. So in India, you've got to file your GST taxes and your GST filings every month. And it's a very long drawn process. And also these companies will help you do that.
Meghla:
They'll also help you file your tax returns. So it is an expense and it is something that you have to spend time and effort to do. So if you're really a small seller, you're just starting out. Maybe it's not the right step for you to take, but if you're an established seller and you're doing really well in the US, and you have product categories that are in demand in India, then this might be a good step for you. The other thing I wanna mention is that Amazon India, themselves, they have a team that's known as the international brand partnerships, and they're actively looking for global sellers who are doing well overseas on other Amazon marketplaces and who want to launch on Amazon India. So I've spoken to the team a couple of times, and in fact, I've also helped introduce a couple of brands from Singapore to this team over here. And they're super helpful. They can help you in a couple of ways. First of all, they can advise you on how to set up a company in India, or if you're not ready for that, they can also help you partner with existing importers or existing sellers and then those sellers act like distributors of your product on Amazon India. So that is an option as well to consider if you're doing well in other marketplaces, if you're an established seller in other marketplaces.
Bradley Sutton:
Okay. All right. Let's switch gears now. And let's talk about the other side of the supply chain. Before selling gotta find a supplier. And so in the past, we've talked about the kind of industries, I guess you could say, or materials that India, you know, specializes in where, where regardless of shipping issues or prices that it's actually from day one a better idea to you go to India than China. I believe in the past some different textiles and other things. What, what about now, now we're in 2022. What are the top kind of like categories that if I'm gonna get into this category, as far as on the retail side, Hey, if I'm gonna start selling this on Amazon, wherever I'm selling it, I should probably consider some Indian based manufacturers?
Meghla:
Yes. And there are certain categories that we're already seeing. A lot of Amazon sellers have success in, and the biggest categories, home products, and home decor items that are made from natural materials, like wood metal cotton Jutes, those kinds of natural eco-friendly materials that is India strength. And a lot of these products are handmade, or even if they're machine made, there's some component of handcraftedness in these products. So these are things like wall shelves that are made of mango wood. Now, mango wood is very specific to India. You won't be able to find it in China, and it's a very durable, long-lasting low cost wood that's also very sustainable. And so there's things like, you know, wooden bowls and trays and other products that are made out of wood metal again, huge variety of brass aluminum steel, whether it's home deck or items, kitchen items, cutlery you know, pots and pans and urns for example.
Meghla:
So lots of those kind ends of things baskets. So laundry baskets and other types of storage baskets that are made out of eco-friendly materials, such as cotton jute, all of those things, macrame products. So that's, again, a lot of sellers whether it's wall hangings or planters, a lot of macrame things are doing well, too. Textile based products, that's another huge category. And we're seeing a lot of organic cotton products coming out of India and being bought by Amazon sellers. So there's furnishings, there's bed sheets, bed covers, bed spreads, cushion covers, baby products, a lot of baby apparel, baby bed sheets, baby diapers, like reusable baby diapers also kitchen textile based products. So aprons, gloves, all of those things. The other category that I'm seeing a lot of interest in is fashion and specifically leather products.
Meghla:
So things like leather wallets, leather travel bags. So travel is people are interested in travel again, and people wanna travel. So we're seeing like those leather duffle bags or travel bags, those are in demand, other types of leather garments, like leather jackets, also eco-friendly products. So these are things like Eureka Palm leaf plates, or other bags and fashion products that are made from plant-based materials, for example. So, yeah, I mean, these are some of the top categories that I'm seeing sellers source from India and be successful in. So if you are considering any type of handmade product or product made from eco-friendly natural materials, India is definitely the place to go. And especially organic cotton, India's huge in organic cotton way, better than China in terms of the number of suppliers and also the authenticity of certifications of organic cotton. So, yeah.
Bradley Sutton:
Okay. All right. Now a lot of people know this, but some, some might not, people think that alibaba.com is only for Chinese manufacturers. It's not, you can find tons of suppliers on alibaba.com also for India, but what are some other ways that people could go, maybe there's something you just said there, and they're like, Hey, that's my category. You know, where can I go other than alibaba.com to find suppliers?
Meghla:
Yes, definitely. So I have founded a website called indiasourcing.net, and on the website, we have vetted manufacturers and exporters. And there are also a lot of service providers that we featured on the website. And the reason I launched this website is because there was no other platform that was really focused on India, all of the other platforms, Alibaba global sources there really focused on China. Of course, there are Indian suppliers and those platforms as well, but they're kind of buried, 95% of suppliers over there are from China. So yeah, you can go to indiasourcing.net search for any product that you're looking for, all the suppliers have been vetted to be manufacturers and exporters, which is really important when you're sourcing from India. You don't wanna source from a domestic focused company because they have no idea of the export requirements or the product safety requirements, for example, in overseas countries.
Meghla:
So you wanna make sure that you have an export experience supplier. And there are also lots of service providers, sourcing agencies, freight forwarders lawyers, photography services, all types of services that you might need to source products from India. Another good way of finding suppliers is going to India to a trade fair. Now there's this trade fair in India that's organized by the export promotion council for handicrafts, which is a government organization. And it's held every April and October every year. And it's sort of like the Canton fair of India. There are about 3000 manufacturers, exporters at the fair, and all companies are export focused because this is a hundred percent export focused fair. So you'll find really high quality companies there. And it's known as the Delhi Fair or EPCH Delhi Fair. It's actually a very well established, fair that's been held for, I don't know, like 20 years or so, but it's grown significantly over, you know, the last 20 years when I visited the fair for the first time. I think early twenties or so there were about 700 exhibitors at the show. And today they're close to 4,000 exhibitors at the show. So that's a really good show to visit if you are serious about sourcing from India and you know, you can get to touch and feel the products and talk to the suppliers face to face. So, yeah, that's something to consider.
Bradley Sutton:
All right. Well, speaking of that though a few months ago, as you know, I went to, to Dubai and then I went to Pakistan and I even had my ticket ready to go to Mumbai for my first ever time to India. So I remember I had to get a visa, you know, so like, I don't think that had anything to do with COVID. Sometimes we, Americans are spoiled. Like we can just go anywhere with our passport, but there are some countries we apply first, but it was pretty easy. Like I found this website and, you know I got it within like two or three days, but I ended up not going because that was around the time that Omicron started hitting. And then Mumbai was shutting down in all these other cities. I was like, oh, I don't want to get stuck over there. And I only have like my carryon luggage here. So, I got an earlier flight home, but we're in March now March, April, what's the status of like getting into the country, like, do you have to have vaccine, do you have to have the COVID PCR test before, is it open to tourism? What's the status?
Meghla:
So currently it's a hundred percent open. There are no restrictions as such, no requirements for quarantine or anything, but you have to show your vaccination certificate that's for sure. Okay. If you're not vaccinated, then you need a negative PCR test, but otherwise, it's completely open to all countries and travel is completely open. And in fact yeah, visas are very easily available and I think nowadays you don't even have to pay for the visa fees. Visa fees has been waived as well to encourage more people to, so, yeah, I mean, it's completely open
Bradley Sutton:
That's unfair, I have to pay. Why didn't they do that before? Okay. Yeah.
Meghla:
Yeah. And then also the deli fair that I mentioned earlier that is actually being held in March. So end of March, they're hosting it's gonna be a smaller fair, not as big as it usually is, but the bigger fair it's gonna be held in October of this year. So yeah. I mean, if you are considering, going to India, well,
Bradley Sutton:
Where is that gonna be?
Meghla:
It's gonna be in Delhi.
Bradley Sutton:
Okay. And that's, so that's the airport that people would fly to?
Meghla:
Yes, that's right.
Bradley Sutton:
Okay. So, okay. Let's say regardless, I'm going March. I'm going whenever to Delhi, you know, me, I'm the kind of person they call me a bird serial killer because I like to kill 2, 3, 4, 5 birds with one stone. When I travel. Which is why I was trying to go there, even though I was going to Dubai and I was going to Pakistan, let me go to India. So, you know, people out there who might be like me, of course, I wanna go there and look for a supplier or something and in this Delhi trade show, but I'm a tourist too. So talk to us. What if we go to deli and we want to go, you know, site seat to other places rank like the top three destinations you think we should go to either before or after we go to that deli show.
Meghla:
Okay. So first of all, I have to give a plug to my trip. So I do have a guided India trip that's coming up. I hosted the first one in 2019. And of course, after that, it was on pause, but the next one is scheduled for October 2022. And of course, Bradley, you're invited, and I think you're gonna be coming as well.
Bradley Sutton:
I definitely hope so. Yep.
Meghla:
But yeah, so totally agree. I mean, you should, first of all, visit factories. So the trade show is about it's a five day trade show, but I think if you spend about three days at the show, that should be good enough. So spend some time at the trade shows and then organize some factory visits. So a lot of the production hubs are around Delhi. So you could arrange maybe some you know, a car or maybe take a bus or something and visit some of these production hubs that are maybe four or five hours by road from Delhi. So for example, there's a city called Moradabad, which is basically the production hub for metal products. And there are a lot of wooden products also manufactured there. And so you could visit that city and, you know, maybe do three or four factory tours. I would also say in terms of cultural or places to visit, first of all, is Taj Mahal. That is one of the seven wonders of the world. And you should definitely visit that.
Bradley Sutton:
And what city is that India closest to?
Meghla:
So that's in Agra, it's in the city of Agra, which is again about four to five hours by road from Delhi. So on India sourcing trip, we also go to Taj Mahal and we hire a full bus and everybody goes together and sort of a day trip, but if you're going solo, you could definitely, you know, hire a taxi or their buses going there as well. That's one thing, I would also encourage people to, they're more adventurous to go to Jaipur or which is a very beautiful city law, lots of forts and ancient buildings to see over there. But there's also a lot of manufacturers of wooden products and gems and jewelry and semi pressure stones. So a lot of suppliers as well, and there's history over there as well.
Bradley Sutton:
Okay. All right. Good to know now. For those who just can't go to your trip, they just can't go to India at all. Is the websites you mentioned earlier the main ways are there other ways, like, you know, directories of sourcing agents or what are some other ways that if I just cannot go to India, which is suggested but I can still take advantage of finding a supplier because it's not, it's not required. Like, it's not like guys, Hey, unless you actually physically go to India, you're not gonna have success, find a Indian supplier. So other than your website, you know, Alibaba and others, what else can somebody do? Are there any like online trade fairs, you know, like there's that Canton fair from China's they have a online website and things like that. Is there anything like that out there?
Meghla:
So, yeah. I mean, first of all, totally agree with you, Bradley. We don't have to visit India. In fact, the last three years have proven that you can do virtual sourcing, you know, in China, everybody has been sourcing from China virtually, and also from India. So yeah, definitely you don't need to travel. So there are a couple of things. First of all, websites Alibaba, Global Sources, indiasourcing.net. And there's also various export promotion councils in India for different industries. And these are basically government organizations and they are tasked to increase exports in their specific industries. So I would suggest to search for your industry, your category and then export promotion council. And then once you're on their websites, they usually have lists of exporters in that category. Now, of course, you can't be too narrow. For example, if you're sourcing, you know, ceramic mugs, you can't search, there's no export promotion council for ceramic mugs, but then maybe for overall ceramic, right?
Meghla:
So they may have a supplier list of like hundreds of suppliers that make all types of ceramic products. And then you have to sift through the list and find a supplier that makes ceramic mugs and make sure that they have experience in your specific market. And then they can make you know, products that you want. And many of these lists are very basic. So you'll just have like the contacts and information and maybe the phone number, the website. So you'll have to sift through the list, but they're very good quality list because they're all exporters and only companies that are members of these export promotion councils are listed in those supplier directories from these councils. So that's another good way. Apart from that, I would say just Google most of the suppliers have websites, although I also have to add that sometimes really large suppliers don't necessarily have good fancy websites.
Meghla:
So the website that you see of the suppliers is not necessarily a reflection of their capability and their size, but because Google is not blocked in India like it is China, so most of the supplier websites are ranked on Google. And so you can just do a Google search and find some of these suppliers. There's another website that will often come up in search results. It's called indiamart.com and I would suggest to avoid this website because there are a lot of exporters and manufacturers, but the majority of companies on the website are actually trading companies and other types of companies that actually focus on the domestic market. And I have heard so many stories of people buying products from, suppliers on IndiaMART and not being able to export them from the country because the supplier does not have an export license or the supplier was not really a factory. And they ended up with bad product. So if you do use IndiaMARTr just make sure you're vetting the supplier really well, you're doing your research and you're confirming that the supplier is indeed a manufacturer and an exporter and are indeed who they say they are. Because unfortunately there are bad apples out there who are trying to just make a quick buck and they claim to be factories and they came to have exported to the US, but actually they haven't.
Bradley Sutton:
Okay. Now, speaking of that I remember you know, maybe two, three years ago, the first time we, we spoke this podcast, you talked about how we were talking about pros and cons about you know, getting your stuff manufactured in India. And there's gonna be pros and cons no matter where you get your manufacturer's product. But one of the cons was that China might be better than Indias at that time, you know, Chinese factories have tons and tons of experience with Amazon sellers and with exporting. And it's like, know the game, they know all the regulations and they know what things they have to have and the FBA stickers and shipping times, and because they've been doing it for a while and then, but a lot of the Indian manufacturers, while they might be very experienced with what they do is, is mainly just, you know, producing products domestically. And so maybe they don't know that they had to have this special FBA sticker or something on the outside of the pallet or little things like that. But now it's three years later, would you say that a lot of these factories now ha have developed that experience or tell me about that.
Meghla:
Yes. it has changed significantly in the last three years and we're seeing there are a lot more factories, first of all, who wanna cater to Amazon sellers? Cause a lot of the factories they're so used to catering to big importers and, and you know, retailers and they wanted high MOQs, but they are kind of being flexible and they're more open to catering, to smaller auto doing smaller orders for Amazon sellers. They are definitely more familiar with labeling requirements and how to ship to the Amazon warehouses directly as well, especially for freight forwarders. So yeah, definitely and it's improved in the last three years as more awareness as more Amazon sellers are sourcing from India there is increased interest and I'm also seeing some suppliers they want to sell on Amazon US themselves like they have their own brands and they are maybe interested in selling directly in Amazon US, so not a lot of suppliers though, most suppliers we talk to, they're still interested in just doing manufacturing and the B2B part of the business, but then there is increased interest in B2C and selling directly to consumers as well.
Bradley Sutton:
Okay. What about culture? What should foreign to India sellers know? You know, like every country has different cultures and norms. Whether it's what has to do with negotiation and or whether it's like, you know, in China, try and make personal relationships and give gifts on their major holidays or things like that. What are some things that we should know about, how we should negotiate or how we should do business with an Indian supplier?
Meghla:
So one of the most important things is relationships and in India, relationships is currency even more than it is in China. And China, of course, relationships are important, but in India, it's even more so I've even heard suppliers not do business with buyers, even though they placed good orders because they didn't get along with them or they were, you know, the buyers were kind of too pushy or they just didn't have a good relationship. So if you do have a good relationship with your supplier, then in the long term, that really pays off, you can get better pricing, you can get better terms. Sometimes they'll even send samples to you without you having to, you know, pay for the shipping even. And so there's a lot of benefit in the long term if you develop a good relationship with suppliers and the way to do that is quite simple.
Meghla:
You know, first of all, just be a nice person that sort of universal everywhere in the world. Yep. But also don't be like the, know it all buyer and don't be very pushy. Like that's something that I feel Indian suppliers, they don't really like about importers. Work with your supplier as a partner and make sure that they are growing as well. And so, for example, if you get some reviews on your product, for example, that they have made and you know, you get really good reviews, share the reviews with them and say that, Hey, look you made this for, and it's getting such good reviews and this is what people are liking about a product and vice versa. If you get bad reviews, shared with them as well.
Meghla:
And I find that Indian suppliers, a lot of them are very proud of their work. And so that's something that you can, you know, cultivate work with them as partners. Also in terms of negotiation and I would say that most suppliers do expect buyers to negotiate. So that's something that you should do, but don't negotiate only on price. There are so many other things that you could negotiate for. And you know, specifically like terms or, or packaging or including additional features of the product or maybe enhanced materials. So don't focus on negotiating only on the price, but think of other ways that you can get a better deal.
Bradley Sutton:
Okay. Well, what about terms? Are, are these kind of like standard, like, you know, in China? I make a PO, they accept it 30%, usually, I put a deposit, and then the product is ready. I pay the other 70% and then they ship it out. Is that kind of standard in India as well? Or is it a little bit different or what?
Meghla:
Yes, that's kind of standard as well for Amazon sellers, 30%, 70%. But if it's a new buyer then, and if it's a very small order, then the advanced deposit, it can go up to 50% as well. So I would say 30% to 50% is the deposit. And then you get your inspections done and after the inspections are cleared, then you pay the balance. So that is pretty standard. But once you start placing repeat orders, you can definitely ask for credit and Indian suppliers and even some sourcing agents, we'll be happy to extend credit to you. That can be really, really helpful you know, for your cash flow, especially if you're sourcing in high volumes. So once you've established a relationship with this supplier, I would say try to get some credit and try to get some better payment terms where you're actually paying them after you have received the goods. And after you've started selling your products in Amazon.
Bradley Sutton:
Okay. All right. Well you know, every time you're on here, you give us a TST, a 30-second tip. So what's a tip you can give us, it could be about, you know, sourcing from India. It could be about selling in India. It could be about touring India, Indian food, anything or it could be about Singapore where you live, anything you want, it could be about,
Meghla:
Well, what I wanna say is don't miss the boat. This is the time to start looking into sourcing from India and stay ahead of your competition. There are lots of Amazon sellers who are seeing success sourcing from India. So just jump on the boat, don't miss it. This is the right time to get on the boat. And this is the right time to diversify your sourcing to have that China plus one strategy. Don't put all your eggs in one basket and come to India or source from India. This is a great opportunity for all Amazon sellers.
Bradley Sutton:
Okay. And then you know, you mentioned them briefly before, but how can they find you on the interwebs either that sourcing website you made or the find out more information about that trip and October, things like that, how can they find you out there?
Meghla:
So, first of all, indiasourcing.net. So you can go there search for suppliers, contact them directly, indiasourcingtrip.com is where you can find information about the trip and the dates and we're filling up pretty fast. We've already got about 50 people. Who's confirmed for the trip. And our max capacity is around 80 to 100. So if anybody's interested, they should sign up now. And also we have a Facebook group, so just search for Sourcing From India on Facebook, where we share a lot of resources do live webinars. So that's another way to get in touch with me.
Bradley Sutton:
All right. Well, I hope to see you there in October if not, we also have I'm not sure if you heard, but in September we have the biggest Amazon seller event ever in Las Vegas Sell and Scale Summit. So guys look for more information on that forthcoming and hopefully Meghla will, will be there. Maybe exhibiting, are you in our partner directory yet on directory.helium10.com or not yet?
Meghla:
Yes we are.
Bradley Sutton:
Okay. So there's another way guys, that you can find Meghla go to directory.helium10.com and find their contact information there. Meghla thank you so much. Not many people are interesting enough to come on the podcast three times in our history invite. You're one of the chosen few here. So let's look forward to making maybe a fourth time in 2023 and let's see what's new then.
Meghla:
That's awesome. I'm honored. Bradley. Thank you so much for having me.
---
Enjoy this episode? Be sure to check out our previous episodes for even more content to propel you to Amazon FBA Seller success! And don't forget to "Like" our Facebook page and subscribe to the podcast on iTunes, Spotify, or wherever you listen to our podcast.
Get snippets from all episodes by following Bradley on Instagram at @H10bradley
Want to absolutely start crushing it on Amazon? Here are few carefully curated resources to get you started:
Achieve More Results in Less Time
Accelerate the Growth of Your Business, Brand or Agency
Maximize your results and drive success faster with Helium 10's full suite of Amazon and Walmart solutions.