#385 – Singapore Marketplaces | Vietnam Sourcing | Upcoming Asia Tour
In this episode, we welcome three guests to talk about Amazon Singapore, the pros and cons of sourcing in Vietnam, and how to meet Bradley on his trip to Asia.
Originally published on: October 8, 2022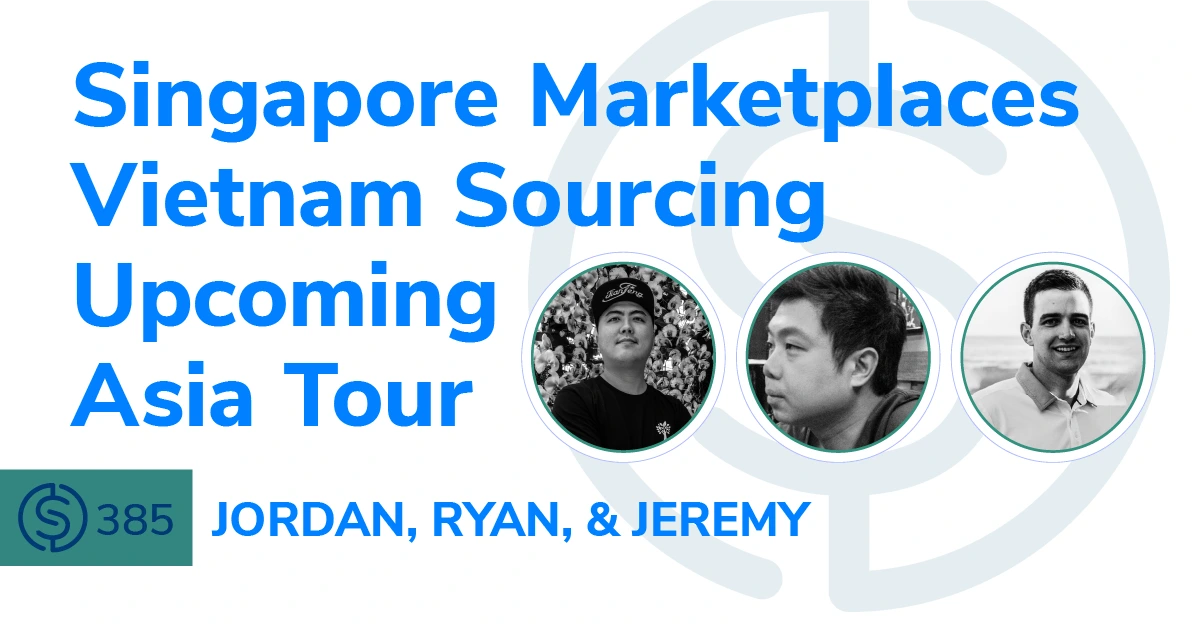 Before Bradley embarks on his trip to Asia, he decided to interview Singaporean sellers Jordan Ken Lee and Jeremy Teo to talk about Amazon Singapore, their respective Amazon journeys, and how they are currently crushing it in international Amazon marketplaces including Amazon USA. He also spoke to a familiar voice in the podcast, 8-figure seller Ryan Ebel to talk about his experiences when he shifted his manufacturing from China to Vietnam. Ryan also shared his best tips and what to look out for when sourcing in Vietnam.

Meet Bradley in Singapore on October 26-27 at the Amazon Southeast Asia Seller Summit 2022 and the Amazon Global Selling Event in Vietnam on October 31st.

Also, look for announcements inside the Helium 10 Member's FB group for potential meet-and-greet events with Bradley in Singapore, Vietnam, Japan, and South Korea.
In episode 385 of the Serious Sellers Podcast, Bradley, Jordan, Ryan, and Jeremy discuss:
01:45 – Learning About Singapore
04:00 – Two Categories Of E-commerce Sellers In Singapore
05:00 – Jordan's Wins And Losses In His Amazon Business
07:00 – Cool Success Story From A Singaporean Seller
07:45 – Meet Bradley In Singapore
08:15 – Travel Tips When You're In Singapore
09:35 – How To Get In Touch With Jordan Ken Lee
11:00 – Switching Manufacturing From China To Vietnam
12:00 – Tips When Working With Sourcing Agents
15:38 – Technical Specifications File
19:00 – What To Lookout For When Sourcing In Vietnam
25:23 – How Jeremy Got Started In E-commerce
27:00 – Venturing Into International Amazon Marketplaces
28:30 – On Track To Gross $1.5 Million In Sales This 2022
29:12 – Jeremy's Unique Strategies For His 7-Figure Brand
Transcript
Bradley Sutton:
Today we've got three guests who are gonna talk about marketplaces in Singapore, how people from there are actually crushing it in the USA, and also sourcing in Vietnam as opposed to China. Plus, I'll be talking about how to meet me at my upcoming trips to Singapore, Vietnam, Korea, and Japan. How cool is that? Pretty cool I think.
Bradley Sutton:
Are you browsing a Shopify, Walmart, Etsy, Alibaba, or Pinterest page and maybe you see a cool product that you wanna get some more data on? Well, while you're on those pages, you can actually use the Helium 10 Chrome extension Demand Analyzer to get instant data about what's happening on Amazon for those keywords on these other websites. Or maybe you wanna then follow up and get an actual supplier quote from a company on alibaba.com in order to see if you can get this product produced. You can do that also with the Helium 10 Demand Analyzer. Both of these are part of the Helium 10 Chrome extension, which you can download for free at h10.me/extension. Hello everybody, and welcome to another episode of the serious seller's podcast by Helium 10. I am your host Bradley Sutton, and this is the show that's a completely BS free unscripted, and unrehearsed organic conversation about serious strategies for serious sellers of any level in the e-commerce world. We are going to the other side of the world now for a special episode. We're gonna have multiple guests this time. And first, we're gonna visit I believe you're in Singapore right now.
Jordan:
That's right. Nice to meet you, Bradley. Thank you for having me on the show.
Bradley Sutton:
Excellent, Excellent. Thanks a lot for being here, Jordan. Now were you born and raised there in Singapore?
Jordan:
Yes, 100% was born and raised in Singapore.
Bradley Sutton:
Now, what's the approximate population? Cuz a lot of people–, we Americans sometimes don't understand the geography of other places. We think, oh, Japan, China, Singapore, Malaysia, it's all the same thing, all about the same size. But Singapore is actually very like real estate size. Land mass size is very small, right?
Jordan:
Yeah. Singapore's just an island state and we're just a small island of the southern tip of the Malaysian Peninsula, the Malay Peninsula. We have a population of about 5.7 million last I checked few days ago.
Bradley Sutton:
Okay. So kind of like the size of a larger city in other countries, but that's the entire country of Singapore. Now you don't sell on Amazon Singapore, but you buy on Amazon Singapore. Would that be correct or do you do both?
Jordan:
I used to sell a little bit on Amazon, Singapore but I would say I'm more of a buyer than a seller.
Bradley Sutton:
Okay. Now, obviously, you being in Singapore's very convenient. I'm sure you get like same day or next day or something delivery, but can somebody like those countries that you mentioned, Thailand, you know, Malaysia, other countries, can they go on Amazon Singapore purchase something and it's shipped by FBA to Malaysia or to some of these other countries?
Jordan:
Yeah, that's a very good question. I believe they can because I did hear of some of my friends from the neighboring countries buying something from Amazon Singapore.
Bradley Sutton:
Okay. Okay. Interesting. Interesting. That's very similar. I just did a podcast recently at Amazon UAE and of course, UAE is the principal market, but people from other countries around UAE can actually go to that website and purchase the same thing for Amazon, Germany, and things like that. Now you, yourself, your main marketplace is USA. I know you're part of like a coaching program over there in Singapore. What would you say is the percentage of sellers there in Singapore who actually sell mainly in the USA or mainly in Europe? Are we talking about 95% of everybody there? They're all selling in a foreign marketplace, or there are some that are selling in Amazon Singapore?
Jordan:
Again, very good question, and if I can go into a little bit more background. I believe that there are two categories of Amazon sellers in Singapore. The first category would be those who have existing businesses, you know and they want to probably put their products onto e-marketplaces like Amazon, Lazada, Shopee, and so on and so forth. The second category is what I call the Amazon first entrepreneurs, people who found an opportunity with selling on the Amazon USA and Europe marketplaces, find a product that was suitable, found a niche, and went in to start selling. So I would say if I could give a good guess, probably 80-20.
Bradley Sutton:
Okay.
Jordan:
So 20% for the first batch and 80% for the second category.
Bradley Sutton:
What about you, like how long have you been selling on Amazon USA?
Jordan:
I started my Amazon business in July 2020, so that would be slightly over two years now. But I launched in December 2020, so yeah, I would say one and a half to two years, depending on what's the definition of started.
Bradley Sutton:
How's been going for you?
Jordan:
A lot of ups and downs. It's been a rollercoaster ride really.
Bradley Sutton:
Let's start with the down. Tell me what's the some of the worst things that have happened to you?
Jordan:
The worst things would be, I guess just things going wrong. Like the 3PLs are not cooperating, asking them to send a shipment to Amazon, and they just totally went silent. I even had a trip owner telling me to take my business elsewhere because I just politely asked him how long would it take. Because if your 3PL can't handle my fulfillment orders into Amazon, I might have to diversify my risk into a couple of 3PLs. And he took that very personally, but I was suggested all about business, right? That's one of the worst moments I believe. Another moment would be when, when I released a new product, which was doing really well, I started having three-star, one-star reviews complaining about a certain functionality of the product. And then when I actually, at first I didn't believe it, right? I thought that it was like competitors sabotaging my listings and all. But I went and dig a little bit deeper and I did some investigation, I realized the quality control company that I hired to check the products didn't do their job properly. So that's another down for me. And I would say–,
Bradley Sutton:
What about the positives though?
Jordan:
Positives, a lot of positives. I hit six figures in my first year, 300,000-400,000. And I'm on track to do about maybe 700,000 by end of this year.
Bradley Sutton:
That's awesome. That's awesome. Now, what about the people in your community? Any cool success stories that–, I mean, you don't have to say their specific name necessarily, or their exact product, but other people who live in Singapore who have had success selling in other countries?
Jordan:
Yeah, I think the best success story I've heard so far is one of the members of our community and this guy, he did it a little bit differently because he was a business owner, to begin with. Not like the solo entrepreneur, but most of us are, at least here in Singapore. He kind of built a team around his Amazon business and he scaled to, I think, a run rate of about $3,000 to $4,000 a day in terms of sales within less than one and a half years. So I would say less than two years, we're looking at about 1 to 2 million revenue for this guy.
Bradley Sutton:
That's pretty cool. That's pretty cool. So now I'm gonna be talking a little bit about this with a later guest here in this episode, but I'm actually going, Jordan to Singapore in a few weeks. I was invited by Amazon Singapore to speak at an event there. And so it'd be great to get some members, some Helium 10 members in your community. Let's get together for lunch or let's meet up at that conference. Does that sound good?
Jordan:
Yeah, definitely. Right? I can easily get at least 20-30 people at a drop ball pretty easily.
Bradley Sutton:
Oh, that's awesome. Now, completely not related to e-commerce. Whenever I travel, I love doing touristy things. Top two things I need to do in my two or three days in Singapore? It could be you know, a place to visit. It could be like this hole-in-the-wall restaurant that has the most amazing food you've ever had in your life. What should I do in my two or three days area? If I only can do like two or three things, maybe?
Jordan:
Well, I think the first thing that you wanna do is visit Marina Bay Sands. I know it's very prominent.
Bradley Sutton:
That's where the Amazon conference is gonna be the way, guys. Marina Bay Sands is gonna be where Amazon is, the Amazon conference is perfect, right? So I got one right off the bat. I love it.
Jordan:
And the second is really about food, right? Singapore is all about food. We are very proud of our food heritage. So there's a concept known as Hawker Centers, basically huge food cuts, open-air food cuts with no air conditioning where a lot of stars sell pretty affordable Singapore local food. You should go to any of these auto centers. Don't go to the ones right smack in towns like Lau Pa Sat and all that. Go to the ones in the heartlands, places like Old Airport Road, East Coast Park, or even Book at Mirasol. So go to the one in the heartlands. You will definitely have a time of your life.
Bradley Sutton:
Sounds complicated. So I'm gonna have you maybe take me, pick me up and take me there so I don't get lost where I'm going.
Jordan:
Yeah, sure.
Bradley Sutton:
Now, if anybody who's listening to this, maybe from the area, you know Singapore, Malaysia, that they wanna reach out to you to see what kind of services you offer, how can they find you out there? How can they contact yours or your website or how can they reach you?
Jordan:
You can join me an email [email protected] That will be [email protected]
Bradley Sutton:
Perfect, Jordan, I'll be seeing you in a couple of weeks. And for the rest of you guys stay tuned because I'll have info on that conference and how to sign up for the conference that I'll be attending. And then hopefully Jordan will arrange a cool helium 10 meetup. We'll see you in a little bit, Jordan.
Jordan:
Alright. See you around.
Bradley Sutton:
Alright, guys, so the next guest we have in this special episode is, is gonna be no stranger to the show. He's been on the show a few times on his own with other people, but I wanted to bring him on this one because part of my trip that I'm telling you guys I'm doing, I'm not just going to speak in Singapore, but I'm actually gonna be speaking in Vietnam at an Amazon event. I don't have full details on that yet, but it's gonna be on October 31st. Those of you living in Vietnam and selling on Amazon, check out the Facebook group. I'll have like a post there on how to attend the event or just check with Amazon and you'll probably see this event, but it's on October 31st.
Bradley Sutton:
But I remembered that the last time we talked, Ryan, you actually had switched some of your manufacturing from China to Vietnam. And so that's what I kind of like wanted to talk to you about because I think that might be intriguing as some. So I think people always see, always think of China for manufacturing and if they would think of number two, maybe they would think of India. Maybe if they're in textiles, they think of Pakistan. But usually, Vietnam is not one of the top three places people think of sourcing from. So first of all, what triggered you to even look to that country for sourcing? Were you having issues in China or did a friend recommend you or what happened there?
Ryan:
Yeah, honestly, it really came down to the increased China tariffs. I was paying an additional 25% on top of my normal rate, and that got really expensive, so that gave me the incentive to look elsewhere.
Bradley Sutton:
Okay. That's a pretty valid incentive there, especially when it's a 25% increase on that. What was your first step? You know, did you have a sourcing agent? Did you just go to Alibaba? What did you do?
Ryan:
Yes so I did a Google search for a sourcing agent, and I found an American ex-pat living in Vietnam for about 15 years. He specializes in the textile industry, which was one of my products. So I reached out to him and he works with a sourcing agency. I think he's a co-founder of the agency. Then they gave me a list of a couple of factories to interview or look at and then I kind of went from there.
Bradley Sutton:
Now personally, I use sourcing agents for China as well. I think sourcing agent is kind of cool, and you sound like you had good luck there, but I don't recommend necessarily guys going out there and googling or just finding a random person because sometimes it's hit or miss it worked out well for Ryan, but then you might just be connected to somebody who's, who doesn't work well. It's usually best to do it by recommendations or somebody. But one thing I do with my sourcing agent sometimes, even though I trust her and everything, but if something seems weird or a price, or I just wanna have a range, I'll still go to like 1688.com or I'll go to Alibaba and pull up some prices and compare. Is that something you did at all? Or you're just like, "Hey, sourcing agent, take the wheel, I trust you 100% with getting the best price."
Ryan:
Yeah, so actually there's another component to that. Once I got the pricing, I realized there was a couple of factory on the list that had a discount of about 30% below my China manufacturing costs. So initially I was excited thinking I'm gonna make so much extra profit. But then I realized that, hey, wait a minute, there might be something going on here. So it just so happened that I have a friend from middle school who's been living in China as a sourcing agent since 2013. So I asked him to go take a flight to Vietnam and visit these factories in person. He did find some major issues with the cheapest ones on the list. He did end up kind of sourcing his own factories while he was down there. So that really did save me. You have to have someone, whether it's yourself or someone you really trust goes out there in person to actually audit the factory. You can also hire an inspection company too. They do these factory audits all the time to make sure that it's a legitimate place and clean and they have all the equipment, the labor–
Bradley Sutton:
What was like the issue?
Ryan:
I think he told me that one of the places just does not look like a factory at all. It's just like a dirt floor and doesn't really have the equipment. It was just basically a facade. And I think that was the complaint for the two cheapest.
Bradley Sutton:
And did you tell the sourcing agent then? Like, "Yo, what's the deal? Like do you even realize what kind of company you're, you're suggesting to me?" What happened there?
Ryan:
Yeah, you know, I don't think I really followed up with those guys cuz it was more of like an introduction. The sourcing agency was just making an intro. They gave me the contact information and everything, and I went from there. So it was just really cheap, like a hundred bucks per factory or something like that.
Bradley Sutton:
Okay. Okay. Interesting. So now you had a friend go visit the factory. I mean, obviously, if you could've, maybe you would've yourself, I know we can't do that for China now, but Vietnam is an open country that takes like three days to get a visa. I just went through that process myself, but I like that tip about visiting it. So then you had your friend, vet this out, what were the next steps in your Vietnam sourcing journey?
Ryan:
Yeah, so actually one of the things that the original sourcing agent recommended is to get a tech pack or a technical specification file created for your product. It's a file that lists every single component that makes up your product like, the sizing and every single thing that you can think of. Like basically a recipe step by step of everything that your product is made of. So that it's easy to translate for the factory to understand what components are needed for your product. And it also shows the factory in Vietnam that you understand your product and that you know like every single component that goes in into it. Because I was warned that there are some factories out there in Vietnam that know the reason why people want to go into Vietnam is to avoid the China tariff. They also are very familiar with what prices are in China. So you'll kind of get taken advantage of a little bit if you're not acting like you're a big player. So one of the ways to do that is to have your technical specification files created for each of the products you sell. So I did that and I also sent a physical sample to the factories. They recreated their own sample. We got a quote, we agreed upon the terms, and then we just went into production
Bradley Sutton:
Are our terms and things very similar, like the standard I think for most depending on how long you've been with a company and say, "Alright, let's put 30% down, and then the other 70% upon completion before shipment and things like that." Is that pretty much standard over there as well, or is there any differences?
Ryan:
Yeah, that is pretty standard. I think I negotiated the same terms that I had with the China factory where it was like a 10% deposit, 60% one week before it lands in the USA and then they remaining 30%, 30 days after it has arrived in the USA, and Vietnam gave me those terms.
Bradley Sutton:
And using a local inspection, how did you find an inspection company to check on the product before it ships?
Ryan:
So I actually used my friend, he ended up liking Vietnam so much that he moved there and now he's a sourcing agent in Vietnam for the last couple of years.
Bradley Sutton:
This is a middle school friend of yours?
Ryan:
It is, yeah. Yeah. He really enjoyed Vietnam, so he's now a Vietnamese sourcing agent. So I relied on him, but I know that there are inspection companies all over the world. There are hundreds of them, so I'm sure that part is not difficult to find and they've usually been pretty reasonably priced, so I don't think that's a hurdle at all.
Bradley Sutton:
How about the shipping process? Is it pretty much standard like, hey, you know, it was able to be loaded on a container right away, and the shipping total transit time is about the same as when you were sourcing from China? Were there any differences there?
Ryan:
Yeah, it was pretty much the same as China. Actually, during the COVID spike in container rates, I really didn't see much I think the most I ever paid was 18,000 for a 40-foot container. And I know other people were paying 25 or 30 or $40,000. So I don't know if it was just the route from Vietnam or I don't know what happened there. But everything else works pretty much the same. I'm even using the same exact freight forwarder that I use for China. They have their own agents in Vietnam, so everything was the same. Now in general, there is a lot less infrastructure in Vietnam, so that's one thing to look out like the ports, the roads, the highways, and the trucking, I've heard that it can be a little more difficult, but I personally didn't experience any of those challenges myself.
Bradley Sutton:
Okay. Now, this was a product you were already sourcing and selling. So I'm assuming there was kind of commingling of inventory at one point or another, but whether, did you ever get any issues where a customer might have complained about you, like, Hey, this is, looks a little bit different, or maybe none of your customers even ever noticed that there was a manufacturer change because it was kind of seamless?
Ryan:
Yeah, so I actually did this on two different brands. So the first brand was successful, there were really no issues, no difference between China and Vietnam. For the second brand, I did have one product in particular where that didn't use a strong enough nail. They kind of used more like a staple to attach these two pieces of wood or bamboo together. So that did actually–
Bradley Sutton:
This must not be the textile product.
Ryan:
It is not, it's the second brand.
Bradley Sutton:
Okay. I was about to say, what kind of clothing are you putting nails into? I'm not sure. This is a great clothing brand idea. Okay, good. I'm glad to hear that. Alright, go ahead, continue.
Ryan:
So on that second brand, that product they just used some cheap materials to attach the products, which everything looks fine, and I guess it's on me. I did not actually like to do a drop test or try to damage the product and see how it held up. But that's something we noticed after it was sending the customers we're getting like 20% of the products we're arriving damaged to the customers. And once it's taken apart, you see what was holding it together and you're like, the customer was kind of upset. So you do need to kind of watch out for that stuff, make sure you do the standard like a drop test and other things that you would normally do. I guess I just forgot about that part.
Bradley Sutton:
Let's say that one day these tariffs are no longer, like, are you going to take your manufacturing back to China? Are you gonna take your new products to China? Or are you like permanently like, Hey, X percent of my stuff I wanna make in Vietnam. What's your plan there?
Ryan:
Yeah, I'm not married to Vietnam right now cuz of this second brand, because of those issues, also have like capacity issues at the factory. So things were delayed. So that is a common theme in Vietnam. So I haven't gotten in the process of finding another factory to work with, but if the tariffs were to go back to zero, I might just stay with China. Because another thing is that a lot of your components have to come from China. So you might have a longer lead time in Vietnam because they have to source the product of components in China then export 'em to Vietnam, and receive 'em before they can even start production. So I mean, a workaround for that is maybe there's an opportunity for you to buy bulk your components from China and then store the extra in Vietnam. Cuz that's super, super cheap. I think the factory can even store it for you in a lot of cases. Interesting. And that way when you do wanna do a production run, you already have the raw materials ready to go and you could probably shorten your overall lead time. So with all that said I'm not super married to Vietnam, but the 25% is a major incentive currently.
Bradley Sutton:
Okay. Now, you obviously, we learned on other podcasts that speak Chinese can just talk directly to Chinese factories and stuff. You know, I'm assuming you cannot speak Vietnamese, and your middle school friend, I'm assuming can't you know, at least at the time, speak Vietnamese. How's communication with factories over there? Like, is the language barrier the same as if you're just randomly, like me, I can't speak Chinese? Like, so I have somewhat of a line language barrier, but a lot of people in most factories over there, almost every factory in China that I know of has at least somebody who can speak decent English. Is that similar to Vietnam?
Ryan:
So it's actually worse in Vietnam. Like in China, I've always communicated in English with every correspondence and every factory I worked with. But in Vietnam, I find that it's actually rare for people on their staff to speak English. So I think that's where a sourcing agent kind of help cuz they're local, they live there. My friend actually hired someone that actually ironically worked for that sourcing agent that I started with. And that person is really the translator and goes along with my friend to the factory to make the translation. Okay. So yeah, I think it is a little more of a hurdle also, like email communications, it was a lot longer to get a response than from China. So that is definitely a hurdle.
Bradley Sutton:
Okay, good to know. Good to know. Well, there you have it guys. I know people sometimes are looking for alternatives to China, you know, be it because of the taxes or be it because covid situations or whatever. But if you haven't considered it, you know, maybe try and start looking into Vietnam for sourcing. Well, Ryan, thank you for giving us your insights on sourcing in Vietnam and maybe we'll see you in Vietnam soon. I miss you at Sell and Scale cuz you're on vacation, but maybe we'll link up over there.
Ryan:
Sounds good. Thank you.
Bradley Sutton:
Alright, so our next guest we have here coming to us from Singapore is Jeremy. Jeremy, how's it going?
Jeremy:
Great, man. It's great to be on.
Bradley Sutton:
Alright, so like, I know it's a big difference, so time difference to come on here. So I appreciate you coming up at nearly midnight here. All right. So before we get started, I wanna make sure people can come out to where we are going to be all meeting, you're gonna be going to that Singapore conference, right? That's coming up. Okay. So, guys, I have both links now h10.me/sing. That's a link for the Singapore conference where I'll be speaking at. And then for those who are in Vietnam a couple of days later, I think it's on the 31st of October I'll be speaking at that Amazon event in Vietnam. And the link to get more information to register there is h10.me/vietnam. No spaces in there, so just make sure to sign up to one of those events. But real quick, let's just get your quick story about how you got into e-commerce.
Jeremy:
Okay. It has been a rollercoaster, right, for us in the beginning. We saw some friends as doing well, so we wanted a little bit more scalable because back then we started actually before COVID, we see a gap in aromatic experience with like–, because it was started when we saw a gap in that area whereby a lot of the aromatic experience is actually in hotel areas, or even in shopping centers, or even in the airport. So we wanted to bring this experience back to more households and make it more accessible. That's how we actually chose the e-commerce route for this because e-commerce is really growing industry. So it's a trend. So we see nowadays people actually know about online and are shopping online. So that's how we started. But of course, during COVID, it actually gives us a great boost. But even though there's no COVID e-commerce is actually a growing industry, so it felt that isn't that difficult to explore and learn about digital marketing, hence we just dove into it.
Bradley Sutton:
What do you mean by aromatic experience?
Jeremy:
Aromatic experience, we are dealing with home fragrance. So fragrance products like essential oil or even diffusers, candles, et cetera. That's what we are actually dealing with.
Bradley Sutton:
Okay. And then you're based in Singapore, what was the first marketplace that you opened? Was it Amazon USA or was it Amazon Singapore, or where did you start selling?
Jeremy:
We started Amazon Singapore. But unfortunately, Amazon Singapore wasn't in the top five e-commerce. Amazon actually, basically it's better in the US They are of course number one in the US. So we decided to actually–, given the US market is pretty bigger, much, much bigger than Singapore. So we decided to actually venture in the US eventually.
Bradley Sutton:
So how many marketplaces are you selling in now? Are you still selling in Singapore and then there's obviously Amazon USA? Any other Amazon or other marketplaces?
Jeremy:
Amazon Canada, Mexico, essentially we do the cross border as well as Amazon UK.
Bradley Sutton:
And then, so as being a foreign-based company, are you having to use 3PL in America to store your product, or are you shipping everything directly to Amazon?
Jeremy:
Initially, we ship everything to Amazon, but after which we–, there's a supply chain issue after the COVID issue, so we started to actually use 3PL now. We had a 3PL that's actually doing for our warehouse in both Canada and US. We have another one that's actually doing for us in the UK. So yes, we use 3PL to be out for all three countries.
Bradley Sutton:
Okay. Excellent. Excellent. Now, the year is not over, but do you have any projection on what you're gonna end your sales with this year?
Jeremy:
In fact, the happy news is we are on track to our first seven-figure for our brand. So right now we hope to actually cross 1.5 million for this year.
Bradley Sutton:
Now, not anybody can just reach that number or you can't just be lucky completely and always reach that number. So what are some of the unique strategies you think that you're doing that have helped you reach there? Not just like, Oh I'm keeping my ACoS low, or, Hey, you know, I'm giving good customer service, or like, just the basic things, but like, what's something that you think you're doing that's maybe at least 80, 90% of sellers maybe they're not doing as well as you, that has allowed you to have that kind of success?
Jeremy:
I think for us, a lot of people probably make the wrong decision to fall in love with the product because in what we do in our process we look at what the demand there is actually already on Amazon. So we follow actually–, I think it's no stranger to you guys for we are like in the seller system support group as well. So basically we look at demand actually on Amazon and Brand Marketing is actually cannot create demand on Amazon. So since we can't create it, we work within it. So we look at actually a lot of like the top sellers in our niche and how they're getting their sales.
Jeremy:
Once we have an idea of how the best-sellers are getting our sales, we kind of actually have our–, we do a little bit of data mining for our site. Like we put a few formulas to it and build relevant keywords what we call, the master key at least. Because there are a lot of relevant keywords that there's a lot of opportunity that our competitors are not driving at it. So the things we wanna avoid, it's people that do not have search in it. So we found that for our niche, we had a lot of discovery keywords. So we try to rank them and help to create visibility. And from there we see it ourselves easily on pitch one is because we have, we cast our net wide enough. I think the key thing here is relevance. The relevancy has to be there. That's how we understand a little bit about the Amazon algorithm. So that's how I think we focus a lot on where we are ranking at the keywords as well. Have we cast the net enough to touch base with more keywords? So that is basically the generic thing that we actually do as a whole. It's very important to process for us.
Bradley Sutton:
So did you stop selling in Amazon Singapore, or do you still have that going?
Jeremy:
We still have that ongoing, but I would say it's not really our focus because they are still growing in Singapore. But our main goal–, in fact, we are doing really well in US and Canada, that will be our flagship stores.
Bradley Sutton:
So, but then what do you do, like, how do you get inventory into Singapore? Cause you know, obviously most of your inventory is going to the USA so do you just like to divert some of it when you make new batches and send to the warehouses in Singapore?
Jeremy:
Oh, okay. Because we do, we do actually do wholesale in Singapore as well. So so there's a certain batch of goods actually coming from our factories to Singapore. And, and the store here, we sell to retail, brick-and-mortar stores here in Singapore, as well as we have other e-commerce websites or platforms that we are selling as well. They are like Shopee, Lazada, and all that.
Bradley Sutton:
Okay. Okay. Cool. Yeah. Well, I talked to somebody else on this episode about some of those other websites. Well, I look forward to meeting you in person to talk more about the Singapore market and then some of your wins and losses and selling to America. Congratulations on your success and we'll be seeing you soon.
Jeremy:
Thank you, Bradley. I hope to season soon as well.
---
Enjoy this episode? Be sure to check out our previous episodes for even more content to propel you to Amazon FBA Seller success! And don't forget to "Like" our Facebook page and subscribe to the podcast on iTunes, Spotify, or wherever you listen to our podcast.
Get snippets from all episodes by following us on Instagram at @SeriousSellersPodcast
Want to absolutely start crushing it on Amazon? Here are few carefully curated resources to get you started:
Everything for your business on Amazon.
Find out more about our products by signing up or speaking with one of our
Customer Success representatives today. With us in your corner, you can enjoy
more sales and increased engagement from your Amazon business.
Chat with a Support Specialist