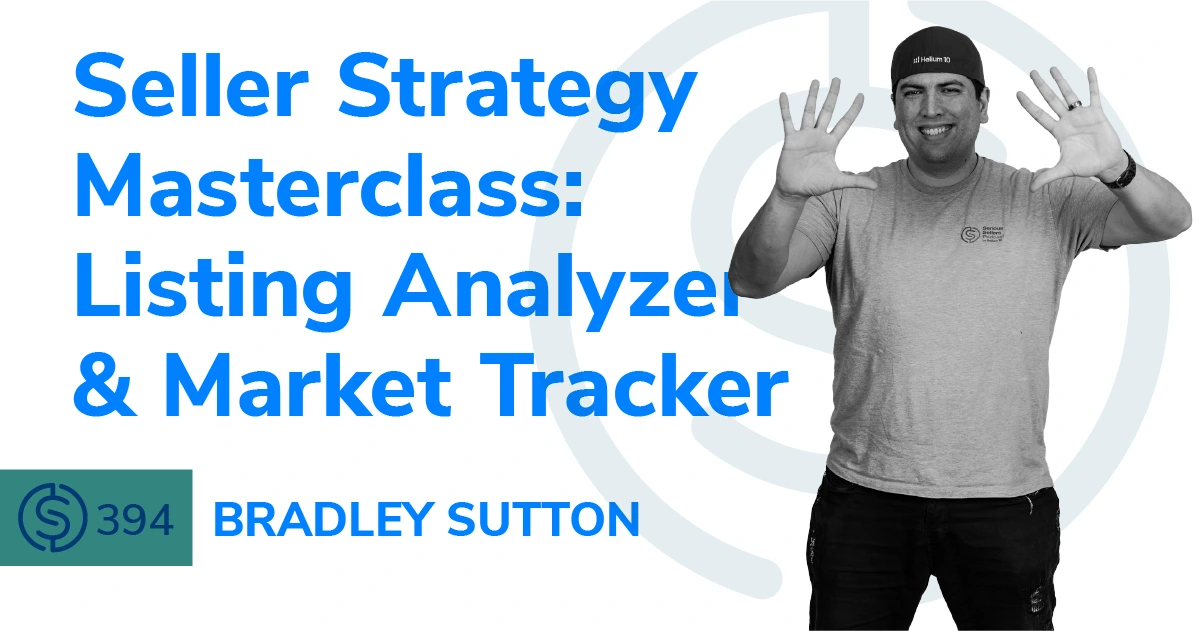 #394 – Amazon Analytics Masterclass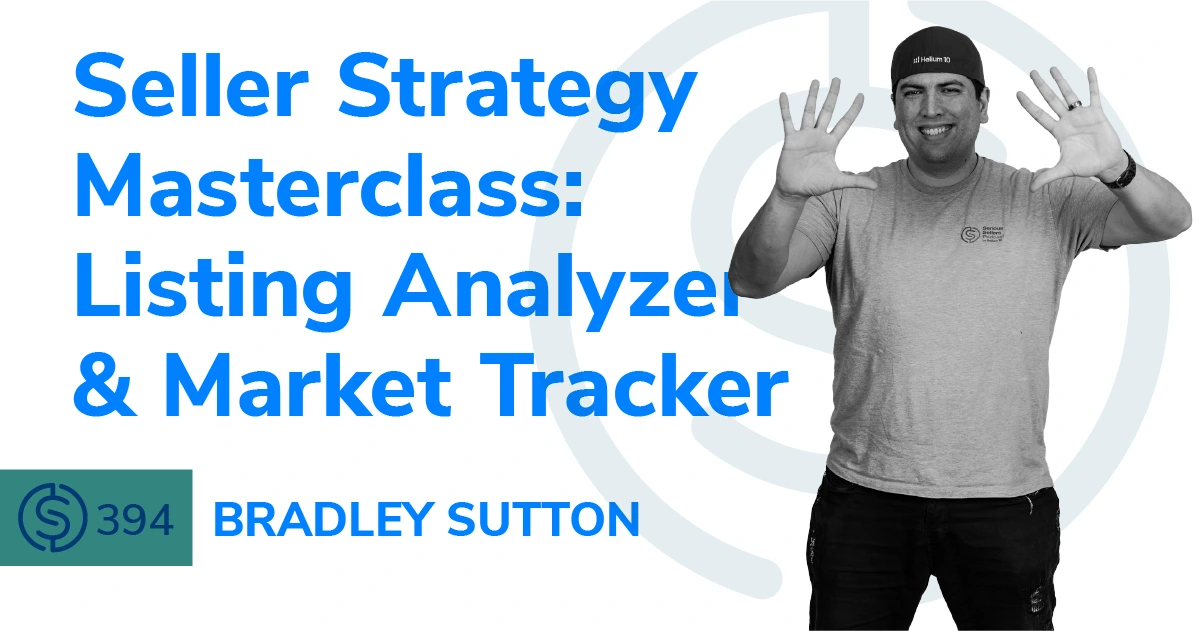 Video of the episode at the bottom
Knowing how to use your Helium 10 tools will help you crush it in your Amazon or Walmart business. In this episode, Bradley dives deeper into a couple of tools, Listing Analyzer and Market Tracker, and shows you underutilized features that you might not know or not using. We discuss top-level strategies like how to see your page views and sessions related to sales inside Listing Analyzer and How to get ideas for product targeting PPC campaigns or product line extensions using Market Tracker. Listen to the end so you can learn and use these tools' unique functions and features.
In episode 394 of the Serious Sellers Podcast, Bradley talks about:
03:40 – How To Get Top-Level Information On Your Product, While Seeing If Critical Events Have Effects On Your Sales
08:50 – How To Check The History Of Your Main BSR And Subcategory BSRs
16:15 – How To See How Your Page Views And Sessions Relate To Sales
19:50 – How To See How Many Keywords You Are In The Top 10 For, And What The Total Search Volume Is
25:10 – How To Compare The Strength Of Competitors In A Niche
25:30 – How To Compare The Strength Of Keyword Organic Ranks In A Niche
26:20 – How To Analyze Images
29:20 – How To See The History Of Your Market's Sales
32:30 – How To See What Percentage Of Your Market, Your Sales Make Up
32:50 – How To See The History Of Your Market Share
34:30 – How To Get Notified When There Are New Players In Your Niche
36:20 – How To Get Ideas For Product Targeting PPC Campaigns Or Product Line Extensions
Transcript
Bradley Sutton:
Alright, guys. Today we've got another Special Seller Strategies Masterclass. This time all about Advanced Analytics for Amazon sellers, especially using the tools Market Tracker and Listing Analyzer. This is gonna be a great episode, guys, so get ready to implement some super cool strategies that'll help you increase your sales on Amazon. How cool is that? Pretty cool I think.
Bradley Sutton:
Did you know that just because you have a keyword in your listing, that does not mean that you are automatically guaranteed to be searchable or as we say, indexed for that keyword? Well, how can you know what you are indexed for and not? You can actually use Helium 10's Index Checker to check any keywords you want. For more information, go to h10.me/indexchecker. Hello everybody, and welcome to another episode of the serious seller's podcast by Helium 10. I am your host Bradley Sutton, and this is the show that's a completely BS free unscripted, and unrehearsed organic conversation about serious strategies for serious sellers of any level in the e-commerce world. And I've got our second, or kind of third in a series that we're doing monthly called The Seller Strategies Masterclass. Now, the first ones were great, with a lot of great feedback.
Bradley Sutton:
A couple of them went viral actually. It's one of the most viewed podcast episodes that we did on YouTube. So if you haven't seen that yet, I highly recommend going there. It was two episodes all about Cerebro. There were 25 killer keyword research strategies there. I believe those are episodes 382 and 383 somewhere like that. So just go to our YouTube channel, look for Serious Sellers Podcasts by Helium 10, and look for episodes 382, and 383. Must-see episodes about 25 different keyword research strategies you can use. Now, today we're gonna dive deep into two different tools. The last time I had to do this in two episodes, but I think I can knock everything out in one episode. And these tools are Listing Analyzer and Market Tracker. And these are Amazon analytics tools. Now some of our tools like Cerebro is also for Walmart.com.
Bradley Sutton:
Today we are speaking about things specifically for those selling on the different Amazon marketplaces. These tools work on multiple marketplaces, Europe, the USA, et cetera, et cetera. Now, again, these strategies is not like a step-by-step how-to-use Listing Analyze, or how-to-use Market Tracker. We got plenty of videos, but what I do in these seller strategy master classes is give you guys the kinds of problems that this tool can solve. Like what does this tool do that you need to be doing for your business? And even if you're not a Helium 10 member, if you're using a different tool, stay tuned guys. I mean, don't tune out just cuz you don't subscribe to Helium 10. But you know, whatever tool that you do use, hopefully, it has some of this functionality as well.
Bradley Sutton:
And you should be doing it or somehow figure out how to do this manually, cuz these are important ways to analyze your competition, to analyze your own listings et cetera. So let's go ahead and hop right into it. Alright, I think, let me see. I have written out here how many strategies I wanted to do. I've got 11, so we're gonna have 11 different strategies today. The first one, first tool that we're gonna look at is Listing Analyzer. One of my favorite new tools that we've launched in the last couple of years, and this first method strategy number one is how to get top-level information on your product while seeing if critical events like reviews or category change have had an effect on sales. That is a mouthful.
Bradley Sutton:
I don't know why I tried to cram everything in one there, but that's strategy number one. Let's go ahead and hop into Listing Analyzer and see how you can do that. If you have your Amazon account connected to Helium 10, all you have to do is you can select it from here under select My Products to Add. You'll have a list of your own products. All right, so I selected our coffin shelf, and then what happens here is the magic. So top-level information, the first thing you're gonna see is different important information like what the review rating is, the listing quality score more on that later, the price, and you can actually see the price history here the review count and how old the listing is. Now, here is what I like and a lot of you guys don't even realize that this is here, but under the sales overview. So this is your sales overview.
Bradley Sutton:
You could see it over a month. Let's actually go to like the last 60 days right here. And you see these little dots. Now, first of all, just by itself, this is interesting. I can see that, you know, there's obviously a lot of peaks and valleys with my sales. I might actually go to units. I like, I like looking at sales by units instead of by dollar value. Now, there are peaks and valleys here, but do you see something here as I zoom in? There are these dots. Do you guys see these dots right here? So what these dots are is if you have Helium 10 Alerts set up, anytime there is an alert that you're tracking it's gonna plot itself on this graph chronologically. For example, on Friday, August 26th, this listing got a new five-star product review on, what is this?
Bradley Sutton:
August 28th, there was a new four-star review. Now, you know, this coffin shelf is not selling much these days, like what, 4, 5, 6 units a day? There's nothing that's gonna be major, but how can you use this? Like, if I got like two or three maybe three-star or one-star reviews, I'd be curious. I'm assuming you guys would be curious too, to see does that have an effect on sales? Does my sales go down because I got these bad reviews or some of these other alerts that could happen? Let's just continue on here. Here's a transfer status change that, you know, I run in Helium 10 Inventory Management. So it said, Hey, I need to send some more inventory in. Here's a five-star product review. There's something I'm looking for here, though. It's actually something that happened to a lot of sellers.
Bradley Sutton:
Here it is right here. Look at this Wednesday, September 28th, this was a big deal for a lot of sellers. The product category changed, okay? So what happened if you were listening to the Serious Sellers Podcast Weekly Buzz that we do? We actually broke this news because we were hearing it from a lot of our users towards the end of September. A lot of people got their categories changed on Amazon and not necessarily changed. Not everybody was changed, but it was like they added new subcategories. And some people noted that when this happened, even though it didn't get changed, they just added a new subcategory. They were actually de-indexed for a lot of keywords. Like a lot of their main keywords. Not only were they not ranking for them anymore, but they weren't even indexed. So they couldn't even like run PPC on them or anything.
Bradley Sutton:
So it definitely affected their sales. So this is important because like, let's say that happened to you or this happened to us, and I'm like, "Okay, well wait a minute." Do I need to be freaking out like a lot of other sellers did because their sales went down? And as you can see, overall, the sales have kind of stayed pretty steady after this. So in this situation, I can see the day that Amazon did something to me, and then I could see that it didn't affect sales too much. As a matter of fact, a couple of days later, I had the biggest sales day I had in a month. Now here's the other thing. I did some experiments. I added a new title on Monday, October 3rd. Sure enough, Helium 10 Alerts picked it up. It said, "Hey, the product title changed at 6:26 PM on October 3rd."
Bradley Sutton:
So again, if I'm doing some split testing, maybe I'm curious. Did my title change have a positive or negative impact? It's still too early to say, but I don't have to guess when I made that change or kind of guess what the effects were. I can see it all graphed right here. So this is strategy number one. Guys, see some top-level information on your own listings with Listing Analyzer. And then also see what effect critical events have had on your account. Now, other things that Helium 10 Alerts is looking for, like price changes. Maybe you raise your price up, maybe you lowered your price maybe you ran out of stock. All these things that you might be getting alerts for, are negative seller feedback, positive reviews, and negative reviews.
Bradley Sutton:
If you have activated alerts and are getting alerts on it, it's gonna plot itself on this graph. So this is a, you know, a highly slept-on feature of Listing Analyzer. Number two, how to check the history of your main BSR and subcategory BSRs. You know, now most of you guys know who have been using Helium 10 since 2017 since we had a Chrome extension. You've always been able to see the BSR history. But it's mainly the parent category, BSR history that you can see health and household or home and kitchen or things like that, right? But now with Listing Analyzer, if you're looking at a product there this is for your own product or other products, we are now mapping out this subcategory BSR and you can see the whole history.
Bradley Sutton:
Most of them pretty much stay aligned when your BSR and one floating shelf goes down your home and kitchen BSR goes down here. Now, notice here what happened I hope you guys can see this on the screen. Those of you watching this on YouTube, notice how over here on September 28th, there's a third line that appears, and it's because all of a sudden, we have a BSR now in racks, shelves, and drawers. Now, me, I don't have to wonder, what the heck is this dang orange line right here on September 28th? Do you remember what I talked about in strategy number one? We have the alerts thing, and if I look here at September 28th, what do you know, product category changed? And then so sure enough, Helium 10 detected that there is a new subcategory where BSR is being tracked. And so now we have three BSR lines that we can track.
Bradley Sutton:
So this is cool, guys. I think this is important. We'll talk a little bit about this in Market Tracker, but I've said before that BSR is not that important, and that's in the sense of how some sellers talk about it, right? Oh, my BSR went down, or, Oh, I'm gonna do this so my BSR goes up, or something like that. That's nonsense talk guys. BSR is great for measuring, your relative sales or your relative sales velocity with your competitors in your category. That's what BSR is good for. BSR is great if you don't have a tool like Helium 10, and you're wondering if somebody is selling more or less than you, you know, theoretically without Helium 10, without other tools, you just like every hour of the day start mapping out the BSR of you and some competitors, you'll be able to know who's selling more or less, right?
Bradley Sutton:
But when you know your own sales, that's when BSR in the sales sense is meaningless, guys. You literally know your own sales. So like, for example, guys, let's think about the weather, right? Let's just say that there was a ranking system of the 100 hottest cities in the country you live in and a subcategory of California, let's just say would be the subcategory, top 100 in California, top 100 in the USA. All right? And so if your concern is how hot it is, like, hey, I don't want it to be 70, I don't want it to be 95 degrees every day like it is in Florida and Las Vegas I want it to be 75 like it is here in sunny southern California.I want it to be 75.
Bradley Sutton:
If that at the end of the day is what's important to you right now. It would be like the way that people sometimes think about BSR, it's kind of like they're focusing on their rank. Even though all they care about is, or what's really important to them is how hot it is or how cold it is. But instead, as the weather stations would only be talking about, San Diego moved up from 35 to 33 today without saying the weather. No, I mean, that doesn't mean anything to you, right? Like, hey, we moved up from 37 to 31 today. Does that really tell you anything? No, it just tells you where your rank is compared to the other cities, but nobody when you're trying to look at a weather forecast, what do you care about?
Bradley Sutton:
You wanna know the number, you know, what's the temperature so that you can wear a Hawaiian shirt outside or you gotta put on a sweater or something like that. So, guys, it's the same way when we think of BSR. Sometimes sellers are like wondering about like, man, I gotta make sure I'm making a lot of sales. I want to increase my sales. They literally say that, so I'm gonna increase my BSR. No, BSR is a function, it's a ranking that's based on sales, right? So what you care about is the temperature in degrees. It is your actual sales and for your own account, you know your own sales, right? Cuz you can see in Seller Central or in Helium 10 or wherever your sales are even for your competitors. You've got Xray in Helium 10 with estimations on their sales, All right?
Bradley Sutton:
So stop thinking about, oh, I gotta improve my BSR or my BSR is down. What do I do when they're really talking about sales? Now that being said, number one, I'm not BSR is important. If there was no BSR, Helium 10 wouldn't be able to even make sales estimations based on your competitors because it would have no kind of frame of reference to do that. So that's why BSR is important. The other situation where BSR is important is when you hear people saying, "Oh man, I'm having a slow month. I'm having a slow month." They know what their sales are, that's why they say I'm having a slow month. You know, maybe their sales were 1000 last month and now it's 500, but they're having a slow month. I wonder, is it just me or are my competitors having this as well?
Bradley Sutton:
And so that's when BSR guys are important and give you extra insight because if your main competitors are all on the floating shelves or rack shelves and growers category, and your BSR stays the same, but your sales are down, guess what that means? Probably everybody is down. So it's not just you. Now your sales could go up, but let's say your BSR gets worse. In other words, you go from 500 to 1000. Well, guess what? In that sense, even though your sales are up, you might be growing at a slower rate than your competitors thinks BSR. So let's please, please, please have it together. When you guys talk about the importance of BSR, if you're talking about, "Oh, I want to increase my sales, say that, don't say I want to increase my BSR." BSR is just a result of your sales going up and down compared to your competitor's sales going up and down.
Bradley Sutton:
So there was a little mini-rant, but I guess drives me up the wall. When people and even experts out there, keep talking about how BSR is important and it is important, but not in the way that people talk about it. The way that BSR is important is by measuring your relative position and sales velocity compared to your competitors. But you don't even need BSR if all you want to know is, are you selling? You have seller central for that you can see, All right? Anyways, that's why it's kind of cool to look at your category and subcategory BSR history. Let's say your sales go up, well take a look at your BSR chart. Did it also go up or did it go down or did it stay the same? Alright, so that's when you can use BSR.
Bradley Sutton:
And now you can see your top category BSR and your subcategory BSRs inside of Listing Analyzer. All right, I gotta pick up the pacer. I've only done two strategies here and I've got like eight nine to go. Number three in Listing Analyzer is how to see your page views and sessions and how they relate to sales. All right? This is something that's in Seller Central called Business Reports. You've always been able to see that only recently can you now see that in Helium 10. So if you enter in your product, you know, you can't look at this for your competitors because we're not like hacking people's accounts, but if you have your own Listing Analyzer account connected to Helium 10 and you select your own product, you'll now have under detailed page and traffic conversions, you know, through this date range that you entered, how many total sessions, how many page views, what's the page view rate, how many units were ordered?
Bradley Sutton:
And then you can plot on the graph, the correlation between it. Now, what I always have done just in Seller Center, not in Helium 10, cuz Helium 10 didn't have this, what I would do when my sales would go up or down, and again, I have that right here on this page right here, like maybe I wanna look on August or let me look here. There was a bad day that we had, Monday, September 26th, we only sold two units. So I could go down here to this graph and then look on September 26th, only sold two units, did my page sessions go down? And the answer is not too much. You know, my page sessions have been pretty, pretty steady. But this is what you would do. You would look at your page views, you would look at your sessions, and then see how it ties to your unit units order.
Bradley Sutton:
Now this is important to look at that you're applauding the history even if you're not correlating it to the sales, I always like to know week by week what's going on with my page views and sessions. Because if I ever see a big increase, I wanna know what keyword might be driving this increase. If there is a certain keyword that's doing it because maybe my organic rank went up and then my page views went up, and if my sales went up too, guess what? That's when I'm like, "Hey, I'm gonna start this keyword because this keyword has a direct link to my page views." Which in this case has a direct link to sales. This doesn't always happen. Let's say you do some kind of campaign and you increase your page rank, your organic page rank of a keyword from 33 to 2.
Bradley Sutton:
You spend a lot of money in PPC or whatever to get there, but, and you see your page views go up, but your sales doesn't go up, guess what? That keyword must not be converting too much for you wasn't that important? You know, I wouldn't try and pay a bunch of money to try and make sure it stays at the top there. So this is where this information can come in handy. On the flip side, all of a sudden randomly my page views and sessions go way down. Well, I'm gonna wonder, like did one of my keyword ranks go down? I better go check Keyword Tracker now to see which of my main keywords my keyword rank went down. When you just look at page views and page sessions, Amazon is not just, is not telling you which one goes down.
Bradley Sutton:
Now they have some new metrics in Search Query Performance that tell you a little bit about this, but it's not completely clear and it's not showing all of like your organic and paid views. So I would look at the keyword tracker to see which keyword might be the reason why my page views and page sessions went real way down or way up. So, great thing to look at graphically instead of having to enter in dates nonstop and just look at it at a granular level inside of Seller Central. Number four here in Listing Analyzer is how to see how many keywords you are in the top 10 for and what the total search volume is. So again, on this same page right here, as you scroll down, I can see some more information here about my ASIN. It's kind of like if you think of Black Box and Xray put together, I can see my monthly sales and shipping details and things like that.
Bradley Sutton:
But if I scroll all the way to the right, I can see here my number of images how many variations I have, and how many top 10 keywords I have. How many keywords organically are showing up in the top 10, and then the total combined search volume of those top 10 keywords? So my page one reach or my top 10 reach is actually very small in the coffin shelf right now it's only 5,000. So that's very interesting. I scroll down here, I could see more things such as the listing quality score analysis. It's very interesting. I'm doing an experiment right now. As I told you guys, I changed my title, I made it actually under 150 characters. And so this gave me a bad mark on that. But it's just an experiment that I'm running.
Bradley Sutton:
And then down here at the bottom of Listing Analyzer, I can see what are some of my top 10 keywords that I have that are above 500 search volume. And if I wanted to go look at the rest of these keywords, I would just hit this button. See the list of keywords in Cerebro. All right, So that's everything I just said so far is I'm looking at either my product or a competitor's product, just a single product. Now the other thing that you can do is add a whole bunch instantly to Listing Analyzer. And I can do that either just copying and pasting ASINs right into Listing Analyzer, or I can go into Helium 10 Xray on the Chrome extension, maybe I'm on the search results of Coffin Shelf and I can just select as many ASINs as I want, I think like up to 10 or so.
Bradley Sutton:
And then hit run Listing Analyzer. And when I do that, all of these ASINs are now gonna show up in a multi-ASIN search, and I'm still gonna be able to see some sales estimate overview and the category and subcategory BSR of the main product that I entered. But here, this is now strategy number five is I can compare the strength of the competitors in a niche. I see all these competitors that I entered in from, from Xray, and then I could see in an instant like, we've got four from the USA, one from Australia, one from China. I can see their BSR, I can see their price history. As a matter of fact, right here you will notice, let me see if I can find it here. Yeah, right here you'll see that it says $26.97.
Bradley Sutton:
I actually raised this price. Why? Because I noticed that the main competitor who always had his price, like, I swear it was like at $23 or something. Sure enough, look at this. See right here. I know you guys can't see what I'm doing on the podcast, but you guys can do this on YouTube. What I can do is I can actually click on the price history. And I knew this competitor has had Amazon's choice forever, and he's always been priced at 23.99. But look what he did three days ago. I could see the history. He raised his price at 29.99, so I lowered my price to 26.97, but now I just raise this price today as a matter of fact, because when I was preparing this, I saw, I noticed that he raised his price. And so, you know what, I'm gonna raise my price too, gets more profit.
Bradley Sutton:
The other thing that I like looking at is right over here, I can actually see the age of all the top players. So if I had a whole bunch like if this was a new niche that I was just kind of like doing some product research in and I saw a bunch were less than 10 months or less than five months, I'd like that, you know, because it shows that everybody's semi-new. I could see the number of images in an instant that everybody has. That's another great way to know how strong the niche is. Here's what I like about the top 10 keywords. So a lot of these competitors have 30 or 40 or 50 top 10 keywords. There's only one guy that only has 18. But take a look at the top 10 search volume.
Bradley Sutton:
To me, that's more important than just how many top 10 keywords they have. Of those top 10 keywords, where is their search volume? And so I could see that there are two competitors here who are just dominating one with 35,001 with 21,000. Meanwhile, our Project X only has 5,000. So you see here we are lacking in this regard. So I would, this would prompt me to go check what's going on with these guys. At the same time. Let's say that I was a new coffin shelf coming into the market. I'm just looking at all of these others, I might like this. I'm like, Wow, look at these two guys. These two guys here have a 20,000 search volume for top 10 keywords and 35,000, but everybody else has between five and 10,000. So I might determine, "you know what this niche is kind of like, right for the picking."
Bradley Sutton:
Like, I'm gonna go and crush these smaller guys and, and be one of the top three that have a lot of keyword search volume reach. Now the other thing that I like to look at on the same exact page is the last thing to do here in Listing Analyzer, or the last strategy is I like to look at the strength of their keywords. By the way, I can actually look at, you know, this almost could have qualified as a strategy, but I can look at their average listing quality score. And I can look at some competitor analysis, but I like looking at the analysis of the top keywords. So what this does, it takes a lot of the keywords that multiple listings have in the top 10. And then I can see who is crushing it, right?
Bradley Sutton:
Here is this product that has most of the sales, right? And look at this, they have number 1, number 10, number 16, number 3, and number 6. So they're just on the top of the page for a lot of keywords. Now, I love to see if I, if these are really the top five competitors in a niche, I love to see listings like this one here in the middle where they only have one keyword that's in the top 10. The rest, they're all over the place on page one and page two, right? If you see multiple products like this, that means there could be an opportunity where there's only one competitor who's got their keyword, you know, kind of game on point. So this is just a great way to see the strength of the competition. And this isn't to say that if everybody was all top 10, that's, "oh my goodness you could absolutely never sell in this niche or something like that."
Bradley Sutton:
No, but it's something that could kind of make the barrier of entry less if you saw a lot of weak competitors, I actually just realized there's one other strategy, which is probably one of the best strategies of all this answer I totally forgot to do. So there are really seven strategies here in Listing Analyzer, right? Let me just show you number seven right now. And that's this one button right here where it says media comparison. If I click media comparison, it maps out all of these products that I put into Listing Analyzer all of their images and their videos, so that instantly I can get an idea of the niche theme. Like, for example, one thing that jumps out to me now that I have this open is I can see that every single main competitor has at least one or two images that are details of the dimensions of the product.
Bradley Sutton:
Every single one of them has at least one or two of these images. So that just shows me, hey, you know what? This obviously is important to the customers in this niche. I better make sure that I have it. I see multiple competitors zooming in on how their coffin shelf attaches to the wall. So that might be something that's important. Maybe I would've seen that, hey, there are multiple competitors here who only have two or three images that would've been interesting to me. Maybe I'm like intrigued by how this one coffin shelf has a lot of red in their background that really like, makes it pop. But this is a way that we've been telling people to like, Hey, analyze your competitors. See how many people have videos, see what kind of images they have, and then give this, show this to like your graphic designer or production scheduler or your photography scheduler and say, "Hey, this is the theme that's working here. What can we do better? Without completely trying to redefine the wheel."
Bradley Sutton:
You don't want to copy exactly what they're doing, but hey, if there are some general themes that are working like, hey, dimension, pictures of dimensions, you've gotta do that. What if you're a designer or your graphic designer photographer doesn't have Helium 10? No worries, you just hit this export button and it is going to export this into a pdf and then you could just give this PDF right there to your designer. So super cool. Function right here. Media analysis. This is available for like for Diamond and up customers this or the Media Comparison button. Let's switch gears now and go to Market Tracker. Now, this is just the regular Market Tracker. This should not be confused with our Market Tracker 360 program, which is for like super high-level sellers, you know, doing 7, 8, 9 figures who want to get like the really crazy in-depth analysis.
Bradley Sutton:
If you're interested, if you're a 7, 8, 9 figure seller, and you want a demo on how to use that tool, go to h10.me/mt360, MT for Market Tracker 360. This is what I'm gonna show you guys right here. And I'm gonna give you guys five strategies. It's the regular Market Tracker that we've had for about two or three years now in Helium 10. The first strategy I wanna tell you guys about is how to see the history of your market sales. So the way that you hopefully set up Market Tracker when you first do it is this gonna ask you which one is your product, and then what are 1, 2, 3, 4, or five main keywords that describe your niche. So I only picked actually three keywords to describe the niche of the coffin shelf, and that's coffin shelf coffin, bookshelf, and coffin decor.
Bradley Sutton:
In retrospect, maybe I could have just gone with coffin shelf because this is such a small niche that this is really–,, if I'm looking for coffin shelves, I, I could just probably stick with this keyword, but I went with three keywords. And anyway, right here, this is the market volume. So this one other line means how many track products. Like here I went from 10 to 27, so I added a whole bunch of products that I considered my competitors that I wasn't tracking before. But this dark blue line is what's important because this is the market volume. Now, this is important, guys. This is, goes back to what I was talking about, BSR, sometimes there are people out there who are like, Hey, my sales are down, You know, what can I do? And you don't need to ask that because you can just look at your BSR and see how you're doing.
Bradley Sutton:
Or better than BSR even is. Look at this because this is, you know, BSR is taking your whole subcategory, you know, like Helium 10 is in the float, or the Project X coffin shelf is in the floating shelves category. 99% of the products in the floating shelves category are not coffin shelves, but the hundred percent of the products that I am selecting to do in Market Tracker are by definition coffin shelves. Otherwise, I'm not marking them as my competition. So I'm looking at this Helium 10 sales estimate for all of these products that I myself designated, not Helium 10, but me, I designated these as part of my market, and I know who better knows your market than you, right? You know better than Helium 10, who are your main competitors? We might have an idea, but at the end of the day, you decide who your main competitors are.
Bradley Sutton:
And then based on that, now I can see a history of the market volume. So I know if my sales are up or down, how does it relate overall? And you could see that the market is getting, you know, since July, there are more and more overall sales, you know, one from 20,000 to 30,000. Now it's hovering around 40 to $45,000 in sales of coffin shelves per month, right? The next thing, number two in Market Tracker that you can see is what percentage of your market your sales make up. That first strategy, think of that as the whole pie. What is the size of the pie and how has that pie gotten bigger or smaller? So as you saw, the pie was going from 30,000 in July to 40,000 and now 45,000. Now at this moment in time, how big is my slice of the pie?
Bradley Sutton:
And that's the second thing that Market Tracker can show. So here is my market share, the reason or the way it knows which ones my products are because I am selecting them. You know, I'll show you guys how to do that in a little bit. I'm so lucky. So right here I can see my slice of the pie. My piece of the pie is 21%, all right? 21% of that $44,000 or whatever I had said, right? So there's number two of what Market Tracker can do. A really simple one right there. Now, number three is how to see the history of your market share. This is where it's important. How has the history of your slice of the pie gone? And that's number three. And arguably one of the most important things that Market Tracker does is I can actually see my market share.
Bradley Sutton:
Look at this. There was a time when my market share was 43%. That means out of every coffin shelf sale that was happening, my revenue was 43%. But look at this, the other players have been coming on strong, and now I've been going down and I've leveled out now at about 22, 20 2%. So this is where also you don't have to ask, "Hey, are my sales down? Is it anybody else's sales down?" Who cares if somebody else in the Helium 10 Facebook group sales are down? What did I mean? Do you know what they sell? Are they selling coffin shelves too? Then who cares what they say? Maybe they're sales are 10x because they're selling something about the Mandalorian that's coming out soon or something like that, right? So like what does that have to do with me selling coffin shelves?
Bradley Sutton:
Stop asking in the Facebook group guys whose sales are down because it's meaningless. Unless you know what that person is selling, this is what you should be doing. Look at the market share history, and you'll know if your sales are down compared to your comparison. Yeah, Helium 10 sales or Project X is kind of down because I've gone from like 30% down to 21% of the market. So this would prompt me to, you know, try and figure out what is going on. So guys, make sure you have that set up and never again, if you have this setup, ask if other people's sales or don't you have the number one answer right here in Market Tracker number four. Now, this next part here is, is one of the key functions of Market Tracker, and it's to get notified when there are new players in your niche, all right?
Bradley Sutton:
Historically, and if you don't have Market Tracker, you still gotta do it this way, but you gotta check your main keywords like every day, or have a virtual assistant or an employee do it where every day you're going and checking page 1, 2, 3, 4, and then seeing if there are any new movers and shakers who are moving up the ranks in the coffin shelf niche, right? And then have some reports so that you can start monitoring them. You don't have to do that. Helium 10 is doing that for you based on this market that you created. And if you put the right keywords in there, we are going to tell you, "Hey, do you want to track this?" So here are all the coffin shelves, for example, right now that you guys can see on the screen that I've been tracking. And then let's see if there are any new coffin shelves that are, are, are coming up.
Bradley Sutton:
I'm gonna go ahead and or I'm actually on page two. Let me go to page one here of these coffin shelves. All right, so here is one collective Home Coffin Shelf. This is definitely a coffin shelf. I had, I've never ever seen this product before. It's probably new. Let me just take a look at it here. Yeah, look at this. It has zero reviews, a brand new product. They've got a skull in the background that's kind of interesting. Whatever. I don't know if this guy is gonna to a threat, is poses a threat, but I didn't know about this product. How is it here? Helium ten's algorithm found it and it's like, hey, we have noticed this is a new mover and shaker in your niche potentially, you know, we're not gonna tell you dogmatically, this is definitely your competitor, but do you wanna track this?
Bradley Sutton:
And I'm gonna say yes. I'm gonna say yes, I wanna track it. So this is a great way without having to like analyze all your keywords and make charts and stuff. Let Market Tracker, find the competitors and it's gonna inform you when you may or may not have somebody new to target. Alright, so lastly, here's something the last one of the day, unless I think of something else here. This is what I love about Market Tracker and it has nothing to do with the original purpose of Market Tracker, which is kind of like the top four functions that I told you about is what it's mainly for. But strategy number six guys for Market Tracker is how to get ideas for product targeting, PPC campaigns or product line extensions. Let me explain to you what I mean, I just showed you in step number four that it's finding me new coffin shelves, but not everything it finds is a coffin shelf.
Bradley Sutton:
For example, take a look at this here. This is a coffin mesh jewelry holder organizer. I don't know what the heck this is, but a shape like a coffin and I guess you put your jewelry in it or something. Now, will I consider this my competitor? No, I'm actually gonna hit the button ignore here because I don't want to add this to my market. But guess what, this is probably a great target that I could do for PPC because if you are a weirdo who likes putting trinkets into a coffin shelf or a shelf shaped like a coffin, you might be weird enough to want to put jewelry into a coffin-shaped jewelry holder, right? Yeah, makes sense. So this would be somebody that I might want to target in PPC. And guys, I have done this multiple times where if I look at my auto campaigns and PPC that also show me on ASINs, I have converted on random, like spooky products, spooky decor products, right?
Bradley Sutton:
Where it wasn't a coffin shelf, but because Amazon's algorithm with the auto PPC campaigns starts putting me on these other pages, people are like, "Wow, I was looking at this, you know, skull-shaped whatever, and I saw this coffin shelf that's right up my alley, you know, let me go ahead and buy it." Right? And then I went back to Market Tracker. It had shown me that product from before and I just never even paid attention to it, right? So a lot of times what you might convert for in PPC, you can get ideas from that in pro in Market Tracker here. And so I would throw these products that you see here that seem relevant to your general, you know, customer avatars, likes, and dislikes. I would throw these into a couple of tests like product targeting campaigns, and potentially sponsor display campaigns if you think, if you really feel strongly about it.
Bradley Sutton:
But this is a great way to do that. In addition, it's a great way to look for new products or product line extensions. You know, the coffin shelf, Project X coffin shelf brand is Manny's Mysterious Oddities, alright? And we're selling coffin shelves. Let's take a look at some of these other products that we see here on this page. I showed you that coffin jewelry holder here, a coffin, and cabinet knobs. Think about that. It wouldn't be a great product for Manny's Mysterious Oddities. I might keep that in mind. Here's another one. Small coffin glass jewelry box. All right, here's the one that I definitely wouldn't have thought of. A black skull candle set. You know, I didn't put these products here guys. Helium tends algorithm was smart enough to understand that these could be part of the niche, even though they might not be, you know, full-on coffin shelves.
Bradley Sutton:
Let me look at some of the other ones. Look at this one. Oh my goodness, this is a great one to do. Gothic Halloween decor coffin-shaped candle holder like that would've crushed, during Halloween. What else do we have here? Oh, here's another coffin shelf. I'm gonna go ahead and put yes, I wanna track this one here. Let's see some of these other ones. Here's a coffin. I don't even know what the heck this is a metal rose coffin, a floral decor product. Here is a, oh my goodness, look at this. I gotta sell this. I don't know, you guys might sell this before me. Coffin-shaped bath mat. Alright. You know, if I'm buying a coffin shelf, why wouldn't I want a coffin-shaped bath mat? But all of these guys, I mean, without even doing product research, I just came up with four or five ideas for product line extensions that I could do for my product.
Bradley Sutton:
I just thought of another one that bath mat. How about a coffin shape welcome mat for your front door? I mean, the possibilities are endless here, but why did I even think of that one? Because I was looking at Market Tracker. Here's another great one that I didn't show you. You know, I'm gonna put this on my screen cuz this is a pretty cool gothic knife holder, but it's a knife holder that is shaped like a coffin. That's genius guys. I mean, it's kind of crazy when you think about it. When we did Project X guys, there was nothing coffin shaped on Amazon. Look at what we created with Project X and everybody trying to copy us with coffin shelves. And a lot of these companies are the ones that were the original ones who tried to jump on the coffin shelf bandwagon.
Bradley Sutton:
They probably watched Project X, like, Hey, let's go ahead and do this. And now they're coming out like we just created this whole new niche on Amazon. It is absolutely insane here. How many coffin-shaped things? But did I have to go searching Black Box or searching Amazon, trying to find, you know, ideas and analytics? No, I can just look here and this is what's gonna start my rabbit trail to do some research on some potential product line extensions or PPC product targeting campaigns because I have the right keywords and my Market Tracker and the Heli 10 algorithm is finding me potential products. So there you have it guys. These are two tools that we have that I think people sleep on. Listing Analyzer, people are sleeping on that. I guarantee guys to be honest, how many of you are out there, if you guys are watching this on YouTube, put it in the comments.
Bradley Sutton:
How many out there have not even used a listing analyzer in the ways that I talked about today? How many of you out there have not used Market Tracker in these five different ways? We just went over 12 different strategies, guys that I know a hundred percent can help your businesses. Now, this is whether you are a brand new seller, whether you're a six-figure seller, a seven-figure seller, eight-figure seller, whether you have a Vendor Central account, whether you have Seller Central account, this is like, these are universal strategies that can help your Amazon business. You know, whether you're selling an Amazon USA, Amazon Canada, Amazon, India, Germany, UK, United Arab, Emirates, these are all, you know, marketplaces that you can use these strategies, for example, from Lisia Analyzer. And so guys, I want you to use this right now. So turn off this episode as soon as it's done, get into your Helium 10 account, go into Listing Analyzer, go into Market Tracker, set them up, and then start benefiting from all of the levels of information.
Bradley Sutton:
I mean, this is stuff that people pay for, like other tools to do, right? They're paying to get this same information like a hundred, $150-$200 a month because they don't realize that they've got it already and you guys are already paying for it, right? Inside of Helium 10. So use all these strategies, guys, I hope you are enjoying this series of Seller Strategy Masterclass next month. I'm not sure which tools I'm gonna use, so I'm gonna take a look and see what's gonna give you guys the best leg up for your 2023 sales. So I hope you guys enjoyed this episode and we'll see you in the next one. Bye-Bye now.
---
Enjoy this episode? Be sure to check out our previous episodes for even more content to propel you to Amazon FBA Seller success! And don't forget to "Like" our Facebook page and subscribe to the podcast on iTunes, Spotify, or wherever you listen to our podcast.
Get snippets from all episodes by following us on Instagram at @SeriousSellersPodcast
Want to absolutely start crushing it on Amazon? Here are few carefully curated resources to get you started:
Achieve More Results in Less Time
Accelerate the Growth of Your Business, Brand or Agency
Maximize your results and drive success faster with Helium 10's full suite of Amazon and Walmart solutions.