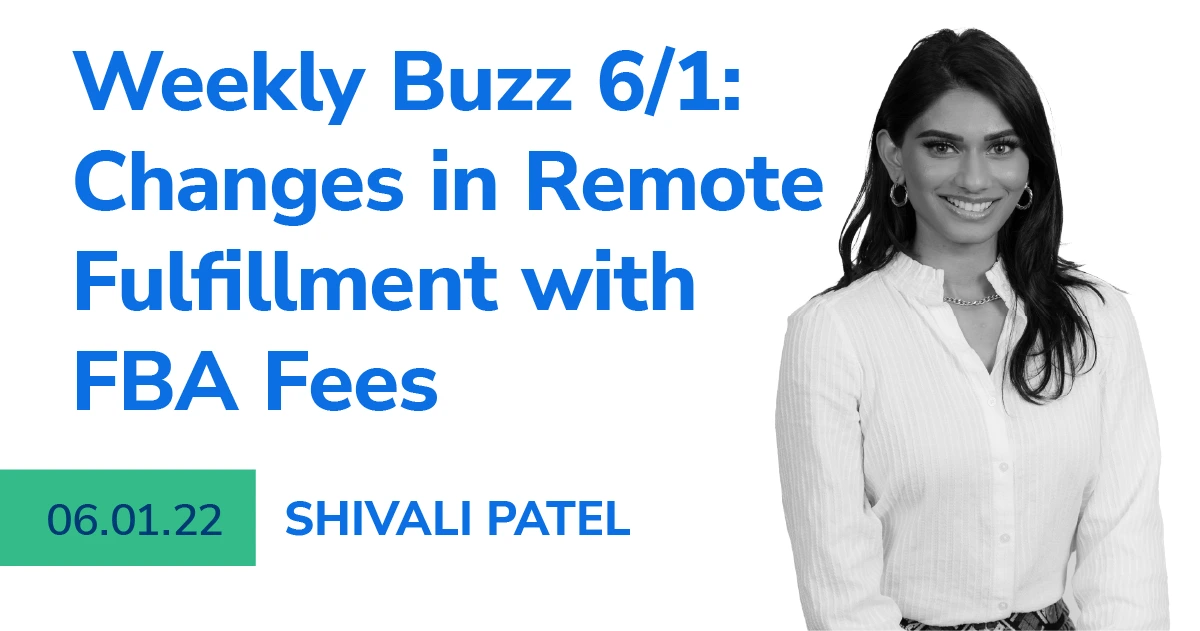 Helium 10 Buzz 6/1/22: Changes in Remote Fulfillment with FBA Fees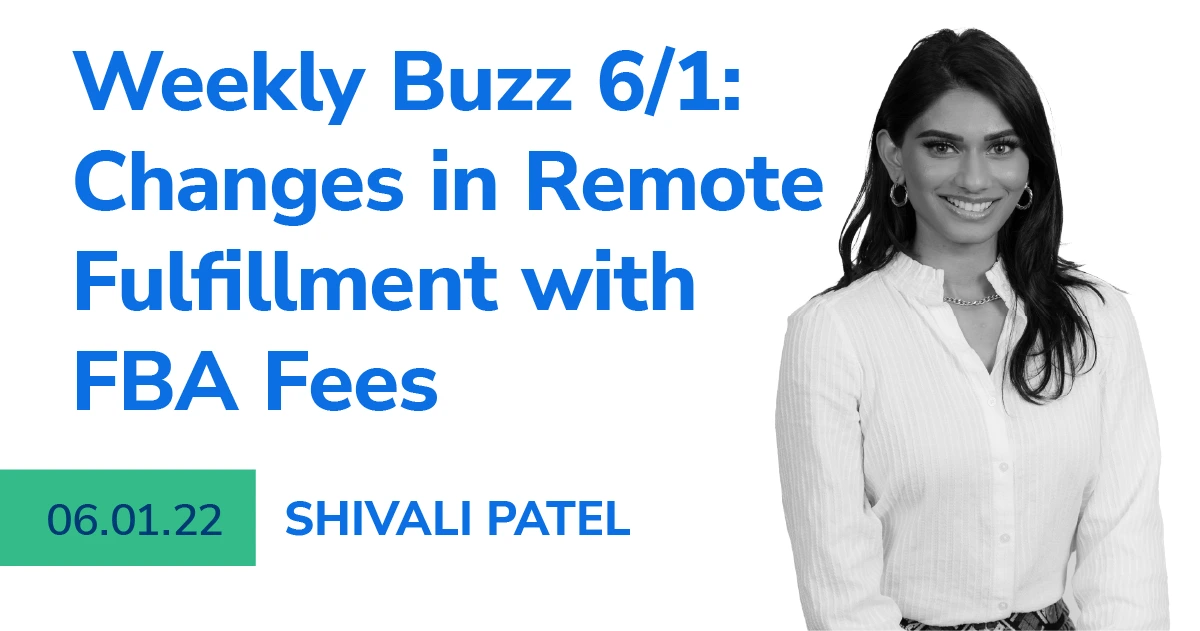 We're back with another episode of the Weekly Buzz with Helium 10's Brand Evangelist, Shivali Patel. Every week, we cover the latest breaking news in the Amazon and E-commerce space, interview someone you need to hear from, and provide a training tip for the week.
Amazon recently recognized Clint Carroll, who is a Navy veteran and Amazon leader who was once chief of staff for the east coast ships in the US Navy.

Amazon.com is opening its first physical clothing store on Wednesday, the latest brick-and-mortar initiative from the world's largest online retailer. Called Amazon Style, the shop is located in Glendale, California, near Los Angeles.

Prime Day has signified a peak period for us, and to ensure that you're reaching shoppers, increasing sales, and growing your own and Amazon's business, Amazon has introduced an Amazon ads Prime Day summit.

Amazon will now also be adjusting the remote fulfillment with FBA fulfillment fees starting June 30th. These increases are said to be in line or below industry average increases for fulfillment services.
We close the episode to share a clip from the latest Straight From The Source episode with Kian Golzari where he interviews 3 Chinese Suppliers and asks them key questions about sourcing and the supply chain.
In this week's episode of the Helium 10 Buzz, Shivali talks about:
00:49 – From The Navy to Amazon
01:54 – Amazon's First Brick & Mortar Clothing Store
02:55 – Amazon Ad's Prime Day Summit
04:00 – Remote Fulfillment with FBA Fee Adjustment
06:18 – Straight From The Source with Kian Clip
Transcript
Shivali:
Hello everyone, and welcome back to another episode of the Helium 10 Weekly Buzz. My name is Shivali Patel, and this is the show where we get you familiar with the latest news in the Amazon and e-commerce space. We interview people in the industry that we think you need to hear from and provide a training tip of the week for any level of sellers in the Amazon, Walmart, and e-commerce world. Let's see, what's buzzing this week today. We'll talk about Amazon opening its first brick-and-mortar clothing store. Talk about a fee adjustment for remote fulfillment with FBA and preview Kian's latest Straight From the Source, May episode. So what does that mean? Stick around to find out. Let's get started up first with Memorial day, just past us. I wanted to begin by honoring a veteran. Amazon recently recognized Clint Carroll, who is a Navy veteran and Amazon leader who was once chief of staff for the east coast ships in the US Navy.
Shivali:
At the time he supported over 55,000 people and 77 ships, even being a captain of a ship that circumnavigated Africa. In 2019, he made a transition to a role at Amazon after a 30 year career in the Navy. What started in the Navy kind of transitioned all the way through, into Amazon, and that is his leadership and his ability to support people. What drew him to Amazon was that exact culture that he came from and the culture that Amazon represents. Today, he is a senior operations manager for change at a fulfillment center in Florence, New Jersey, and is an active member of Amazon's Warriors Affinity Group, which is an employee group for current and former active military personnel. On behalf of Helium 10, we salute and thank those of you who have served or are currently serving. Thank you so much. Next, we have amazon.com opened its first physical clothing store last Wednesday and it's called Amazon style.
Shivali:
The shop is based in Glendale, California, near Los Angeles. And perhaps if you live near that location, maybe it's something that you should swing by and check out. What makes the store so unique is that the store is paired with an app, and this lets shoppers actually scan codes on the display items, and then employees can fetch it in the right size or color and send it either directly to a fitting room or to a checkout counter. Now, many of you may be familiar with Amazon basics, amazon has built a substantial Amazon business selling fundamental pieces, such as t-shirts and packs. While now this new initiative of a style store will sell brands like Lacoste, Levi's, and Steve Madden. So how cool is that? To me, I'm excited to see, you know, where this initiative goes as well as what opportunities really open up to us as sellers.
Shivali:
Speaking of opportunity, let's talk about our third breaking news piece, which is centralized around Amazon Prime Day. Prime Day has signified a peak period for us, and to ensure that you're reaching shoppers, increasing sales, and growing your own and Amazon's business, Amazon has introduced an Amazon ads Prime Day summit. It will take place on June 7th and eighth from 9:00 AM to 12:00 PM Pacific time. Again that's 9:00 AM to 12:00 PM Pacific time on both days. So be sure to head over to your Seller Central dashboard, to get registered as well as just take advantage of these sessions because there really to help you establish a solid foundation for your advertising with strong product detail pages and figure out how to either set up a Peak Advertising Campaign or to optimize one that you already have as well as just dive into different reports and get a better understanding of how to use those specific learnings to your success.
Shivali:
So amongst all of that, they will also be doing live Q and A. So again, in your Seller Central dashboard, make sure that you get registered. Now, lastly, since 2018 businesses that participate in the FBA in the US have been able to use remote fulfillment with FBA to make their US inventory available for sale in Canada and Mexico. And that program has offered customers, increased selection and the opportunity to sell easily outside of the United States. Now remote fulfillment with FBA leverages both US and international markets, of course, and over the course of the pandemic, there have been significant investments that Amazon has made so that they can better serve us as sellers and having nearly doubled fulfillment centers that capability of it and added over 750,000 full-time and part-time roles. And that all comes with a climbing hourly wage, so that's from $15 to $18.
Shivali:
This is allowed for so much growth for us as sellers, right? But to reflect those changing costs of fulfillment, transportation, storage, customer service, et cetera, Amazon will now also be adjusting the remote fulfillment with FBA fulfillment fees starting June 30th. Okay. So again, that's starting June 30th and these increases are said to be in line or below industry average increases for fulfillment services. So they will also include a dimensional weight adjustment in their rate calculation to better align with the standard FBA rate structure. So be sure to go to the 2022 remote fulfillment with FBA fee changes to read up a bit on how this might impact your business. All right, that's all the breaking news that we have for you today. Let's move on to the next segment. Now, normally we have a guest come on or we have a tip of the week, right?
Shivali:
And that's typically our weekly bus structure, but today we're gonna change it up a bit and bring back another preview from straight from the source from our local yet not so local shipping expert, which is Kian Golzari. So Kian interviews three of his favorite suppliers and asks them key questions that all of us have been waiting to have answered such as why are product costs so high and what are suppliers really doing about it? What can we do to reduce costs? Or how do we develop a good product in 2022? Right. So please bear in mind that English is a second language for some of these suppliers, but here is a clip from that episode.
Kian:
I would love to get your opinions and your thoughts, like what is your current analysis and current feeling about what's happening in the manufacturing industry in China right now? You know, there's a lot of challenges to do with labor costs, raw material costs, shortages, lockdowns, and things like that. But just as like a broad picture, like what, what are you seeing happening right now? And what is your overall feeling about the situation right now?
Eddie:
It's a bit complicated to say that. The last whole two years, including this year, is usually everything's unstable. We would, I say that it could convert to the long years before the COVID which is everything is easier to estimate you know, the delivery time, reflection, time, salary level, transportation, but outta the COVID, everything is changing. And so the situation is unstable and can quickly change from one side to the other side, it was very, very hard because all the customers realized that the price must go up. This is general problem, but they did not know how much they will accept and they dunno if market can accept or not. So last Autumn and last Winter and even worse is they cannot come to China. They cannot travel. We cannot come to them. They cannot come to us. So some of customers understand sometimes, oh, the customer doesn't understand that. So it has been very hard time. We had to have a meeting like a team meeting every week to talk to a customer, and how to find a way.
Kian:
You know, it's interesting. I think the customers which have been to China have a better understanding of the difficulties that you're facing, right. But a customer who has never been to China before just thinks, okay, I wanna order a backpack. Oh, why is it late? Like they don't understand that the zips come from YKK and the zipper factor is closed. They don't understand that the raw material factories in the different provinces, it has to travel here. And, you know, in the last couple of years, with rising costs and challenges in China, I think a lot of people maybe haven't paid enough attention on their supply chain, but now they have to really focus on the supply chain to be like, right. Where can I make some improvements here? Where can I save costs? You know, maybe use a smaller packaging.
Kian:
Maybe I need to calculate how to load the cartons in the container a little better. Maybe I need to maximize the space when I store the goods on the pallet anywhere where I can save, you know, one or 2% is valuable. So that's what like the customers have been doing. I'm curious to know, from your perspective, as a manufacturer, as an exporter of goods, it's also been challenging for you because maybe the customer orders would become less during this period because the costs are rising, but what have you done as a manufacturer to be like, right. Here's where I can get smarter. Here's where I can improve my supply chain. Here's where I can improve my systems. Anything you can do about, you know reducing the product development time or using recycled materials or changing the packaging or simplifying products, have you done anything in your supply chain to be like, right. Here's now where we can improve to save a bit of cost and pass that onto the customer.
Andrew:
Like this? What I want to say is the most important thing is to find the right supplier. This is the first thing to do. And the most right thing to do is find right supplier. This is the one and the second for the saving. If we talk about saving now, you know, like the sea cost, the sea freight is very high cost, but you also can find some time you can together with some others together. You do not need a full container. You just can be LCL like this kind to save your shipping cost. Also, if like to the USA, you have fast one and you have a normal one, maybe you can get a normal one recently like Shanghai, it is closed down so most is go to like in, Ningbo? So the Ningbo price is very high. So do you have any idea if you can make this a little bit later to ship out, that'll be fine because as we know that Shanghai will be okay? In just like one or two weeks later will be fine.
Eddie:
The retail price is tough because the food price in Europe is going up the gas, the oil is going up. So the customer, the consumers don't have too much money to buy. So they cannot afford to have a quickly big change on retail price. So all we are doing with customers needs trying to minimize the increasing part at at the same time, if we cannot do that, we have to do some changes to lower down cost. You know, that if we keep this product same as before cost, you need to have a 50% risk up the price. Customers cannot accept because they are to add a charge on the shipping codes with 5-10x more than before. So all we do is we try to tickle something from the bag to make it more simple, and then we keep some price, something like that. So it's kind of, you know, they have to add some value, like a recycle materials, recycle hand tech, polybag back, but on the other, they have to pick out something, you know, in order to keep they have to a, something off something, but they will try to control the price in the cost in an acceptable way, make the products commercial that when they arrive in a map, in a shop that can be sold in a good price, In an okay price.
Kian:
Interesting. So to, to summarize that was kind of like reducing the product development time. Maybe just changed some colors rather than making all these different features and changes to the product utilizing recycled materials and recycled hang tags to give it like an extra feature to the product. And then also simplifying the products as well. So that even though the costs have gone up the cost of the product, won't go up because you remove certain features. So at least you can keep it at the same retail price in the sort of production of the goods. Like maybe the materials, like, you know, if you're using cotton, do you maybe switch a little bit more to polyester or maybe use a different type of packaging? Like maybe have your customers requested any changes to the product to reduce the cost? Or are your customers still happy to order the exact same product?
Andrew:
For the material? Yes. You can change it from cotton to microfibers that you have a lot to save. But what I find is customs more interested in new technologies, like recycling things like how to provide, the good thing to us. Like these kind of things that is a little more hot than saving costs from packaging or like this. So it more pretty, but it is a bigger than save, I think.
Kian:
And do you see much of a cost difference between the two materials, like recycled material and normal material is, do you?
Andrew:
Normally be like 20% to 50%? It'll be like this in raw material, but when you use to whole one because the material is just a part of the product you have worked to do, and you have packages, you have shipping these, all these costs, even your advertising for the final sales, right? Yeah. So this part is just a small part for zoom materials, maybe like you use 1 cent on the zoom materials and you can rise the final price in $1, but normally it'll be like 10% or 20% over support products.
Kian:
Interesting. And that, that's a very good point as well, that in terms of the material cost of the product, it's maybe not the biggest cost of the product. In actual fact, it could be the labor cost because the labor cost is actually increasing. And from my understanding, it's actually getting harder and harder to find factory workers because the market is changing in China. You have a growing middle class, you also have a lot of requirements for delivery drivers, and maybe people feel more comfortable as a job delivering food rather than working in a factory. So you have to pay the factory workers more to attract them to come to work. So what do you see in terms of labor costs, like from now, and like two years ago, like how much has the labor costs gone up? How challenging is it to find workers?
Andrew:
Yes. Like this question, you know, when I just work in 2009 set time works, the average payment is about 100 US dollars per month, but now it is about 1000 US dollars per month. And even you 1000 us dollar per month, 30 years when the worker come, they are over 40 years old, no young man, you know, like so service, like if you are delivery, you are deliverer or you a driver. So the salary will be about also 1000, 2000 US dollars per month. Like if you work hard, it can be 2000, but if you work lazily, it'll be like 1000 on average. So, yeah, man think that is you know, a place with freedom. So I think the factory is always some black place, you know, the dark place, you know? Yeah. But you know,
Kian:
It is really interesting because obviously, you want workers to be paid in amount that they're comfortable with, but at the same time, the customers which are, are ordering for manufacturers also don't want their products priced to be high. And they're always negotiating the price. We want the price down, we want the price down, but then if you want that price so low, then you need the lower-cost labor in order to get that low-cost price. So it's a very, very challenging situation as the sort of labor cost increases well, so will your product costs and then your sales will be less. So it's a very, very difficult thing to navigate. And I, and I think that to your point as well, that there's no longer the younger generations coming in and working the factories like when I was in China for the first time in 2010, there was a lot of young people, young energy in the factory.
Kian:
But now to your point, because China has grown so much and developed much more of a middle class, there's a lot more jobs available, whether it be in a bar nightclub, coffee shop, you know, delivery driver, like these jobs were available now, which weren't so much available, you know, 12 years ago. So now you have to pay more and more and more, and factories are also moving more inland in China into more rural areas. Factories used to be in the cities, very close to the ports, but now to keep moving more and more inland, because the bigger jobs go to the cities and then the factories kind of go inland as well. So it was quite challenging.
Kian:
And Canton fair is something that I love so much in China. That's where we met for the first time. And we have seen each other over 20 times over the last 10 years at these different Canton fairs. Do, do you miss it, has that affected your business because you've not been able to attend the last four Canton fairs either. And that's where we would go and, and develop new products. And how has that impacted your business? Because we have the virtual Canton fair, it's just not the same, you know, it's helpful, but it's not the same. But are you seeing now less new customers come in or are you existing customers still placing business? Like what, what was the impact of the Canton fair not being on? How's that affected your business?
Jim:
Yeah, the real Canton fair can help me to know the new client and also meet with old friend as you, but the online business, you know, is quite simple. Customers just see the pictures they find you, they even do not know who you are. So the question they ask is quite simple, price MOQ. So where is the other deal is not easy, but Canton, they can see your products. They can see your factory, they can see some license face to face talk makes things easier and all the habit faster.
Kian:
Yeah. Where do you see like customers best communicating with manufacturers? Is it email? Is Alibaba? Is it zoom? Is it WeChat? Is it all of the above?
Andrew:
What I think is the way is not most important. You know, now you can buy email, you can, you can buy QQ, you can buy WeChat, WhatsApp, FaceTime, all these things. Just one thing is that I think face to face is most important that you can look his eyes to tell you if he's true or not. Yeah, that is most important. So, with some of my most important customs, I always have a video conversation with together. Sometimes we have meetings we will book time to have meeting like us what we do right now to show. And you know, like zoom now is very easy to use. You can share your, screen to him together to find something together and to create something together, design or find some plans, schedules, or is easy.
Andrew:
So what I think is at least to talk, not only by email, email is too slow now what we are going is more convenient like WeChat, or if you are not a very big custom and are not always playing orders. And we are familiar with that ways it's okay, just play order. And we are do everything. But if you are a guy just doing just a corporation with a new supplier and you needed to frequently to contact him and to talk to him to find if he's serious,
Kian:
I love it. So it is not exactly where you communicate. It's how you communicate and face to face being the most important. And I, a hundred percent agree as well, spending a bit of time in the United States during COVID. I saw that like, you know if you go to hotels, they maybe have like half the number of employees. If you go to a restaurant, the service levels are poor because the restaurant is still open, but they've reduced the number of employees. So their costs are lower. They're employing fewer people, but, you know, that's one way of improving their margins, but from the production side and labor is such an important part of the product, especially what you guys do in backpacks because it's very much cut and so quality control. You can't just remove half the labor and expect the same results. So like, have you noticed, have there been any technological improvements in production, like in materials, in machinery, in molds where factory bosses have got together and said like, look, we need to figure this out. We need to get lower costs. Like anything on the production side?
Eddie:
There has been a lot of changes in the last few years. If you came back China again, come to China again, you will see this point. Every factory is trying to reduce that part of labor cost. They try to use this and there is power. You know, we talk about something big like which is the biggest you know, manufacturing for iPhone iPad. They use lows instead of hire more workers. They, you know, because lo can work day nine, no problem. It means a big, big investment, but it can use it for a longer time. So it's more economic to uses and coming to our impact for factories, of course, we cannot uses, but we try to save the labor course, for example, from the boat, you know, when you open the paper curtain, we used to use, you know, hand drawing and now it's all computer mask even clear out. And all the cutting used to get hand cut now is every single we have to have many motor machines. You know, every part voting, you know, first is very accurate. The second is you don't make mistakes and you have useless. And from the sewing part manufacturers using bigger area, computer sewing machines, so all the square, all the big stitching we use computer machine to sewing.
Kian:
China have invested a lot, not only in like manufacturing capabilities, but in terms of like AI capabilities and, and knowledge, and really understanding where the market is going and what are the requirements. And, you know, with this rising labor cost rising material costs, they've had to get more sophisticated in terms of their product development, but I, wherever you see cheaper products is always where you have a cheaper workforce. And to your point, when 10 years ago, it used to be a factory worker was a hundred dollars a month, and now it's a thousand dollars a month. Well, in 10 years, if a labor cost is, is increased by 10 times, well, so will the cost of your products as well?
Andrew:
The other thing is that the robot will be used in China a lot. So robot there's a robot automatic machine to use to get less cost because the cost is high. Yeah. And like this kind of AI to use to these machines there, so will be a good thing. I think in five years, years, that will be you know, in our life. I think
Kian:
It's interesting cuz even being in China a couple of years ago and going to factories, I could see already that like, you know, robots and machinery and AI were being implemented in like the sampling process. So if we have an idea for like a backpack, for example, we do the paper, and then by a robot, the robot sketches and writes all the dimensions of the paper pattern. Then they cut that paper pattern and then they put the fabric on top and then they cut the fabric and then you use that fabric to make the backpack. So I have a video of that somewhere, but I was always like even two or three years ago, I saw that. And that really, really impressed me in terms of, well, Hey, the robot can actually make the pattern of the backpack, but now I think it'll be even much more sophisticated it.
Shivali:
Well, you know, I, I think in the last decade or so we've seen so many technological advancements, right? And I'm very, very, very excited and intrigued to see where that's gonna go in the supplying chain industry. I always learned so much from Kian and I hope you did too. Now again, that was just a preview. I really encourage you to watch the full episode. Kian asks Andrew, Jim, and Eddie, a lot more questions, and all of them have so much valuable insight inside of them. For example, what is the first step in transferring to sustainable materials, whether certification is important and just what are supplier's insights insourcing from outside of China? So be sure to check out the full episode on our Helium 10 YouTube channel, as well as Kian channel Sourcing with Kian to watch the full episode. Now we're about to wrap up here, but before I do, I just wanna mention that much like our YouTube channel, which we're constantly updating to make sure that it's up to date with the relevant, necessary information we think you need to know.
Shivali:
Our blog is pretty much the same exact idea. So if you were somebody who is more of a visual learner, as opposed to an auditory, then you'll always have the ability to go to our Helium 10 blog, helium10.com/blog to read up more about Amazon, Walmart, and e-commerce space and how they are changing. So with that, that is it for today's episode of the Weekly Buzz. We'll catch you next time on the Weekly Buzz.
---
Enjoy this episode? Be sure to check out our previous episodes for even more content to propel you to Amazon FBA Seller success! And don't forget to "Like" our Facebook page and subscribe to the podcast on iTunes, Spotify, or wherever you listen to our podcast.
Get snippets from all episodes by following us on Instagram at @SeriousSellersPodcast
Want to absolutely start crushing it on Amazon? Here are few carefully curated resources to get you started:
Achieve More Results in Less Time
Accelerate the Growth of Your Business, Brand or Agency
Maximize your results and drive success faster with Helium 10's full suite of Amazon and Walmart solutions.