#382 – September's New Tools, Updates, and Features
In this episode, we're going to go over all the latest Helium 10 features and why all sellers should take advantage of these to level up their E-commerce game.
Originally published on: September 27, 2022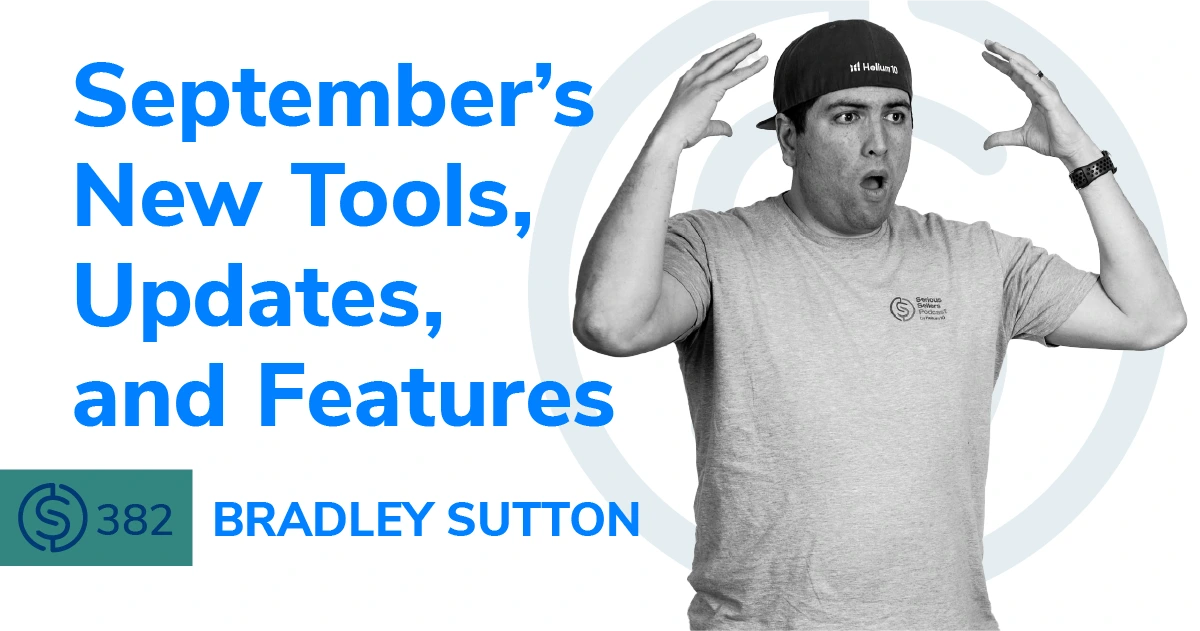 Bigger, Better Launch! If you were at the Sell and Scale Summit or watched BBL live from Las Vegas, Helium 10 released terrific new tools, updates, and features. In this episode, Bradley recaps all of them and how you can start taking advantage of them to crush it on your eCommerce business. He talks about cool new features like enhanced PPC data and metrics from Adtomic, expanded metrics for Amazon attribution, Amazon affiliate marketing, and how Amazon brand analytics data is now inside Cerebro! How cool is that?! Make sure to listen to the very end, test out all these new features, and let us know what you think of them.
In episode 382 of the Serious Sellers Podcast, Bradley talks about:
01:00 – It Was Great To Meet You At The Sell And Scale Summit!
02:15 – What Is The Bigger Better Launch?
03:45 – What Are We Doing This September's BBL?
04:00 – Introducing Google Ads Inside Adtomic
08:00 – Enhanced PPC Data & Metrics – Hourly Analytics
10:00 – Creating Schedule-Based Ads
11:15 – Mobile App News, Guides, & Webinars
11:45 – Expanded Metrics for Amazon Attribution
13:30 – A New Amazon Affiliate Marketing with Refersion
16:00 – The Estimated Brand Value 3.0
17:00 – Subscription Summary & Customization
19:30 – Updates To Market Tracker 360
22:20 – Introducing Product Summary View
25:30 – Listing Analyzer Upgrades
29:15 – What's Your Favorite Amazon Data Point?
31:15 – Brand Analytics Inside Helium 10 Cerebro
38:30 – How To Request New Features Inside Helium 10
Transcript
Bradley Sutton:
Today, we're gonna go over a recap of all the new features that have come out recently, that sellers of all levels should be taken advantage of to level up your business, including something you guys have been asking for for years. How cool is that? Pretty cool I think. Hello everybody, and welcome to another episode of the serious seller's podcast by Helium 10. I am your host Bradley Sutton, and this is the show that's a completely BS free unscripted, and unrehearsed organic conversation about serious strategies for serious sellers of any level in the e-commerce world. I just got back from the Sell and Scale Summit, pretty much the most amazing event that I've ever been to regardless of what category it's in. I've been in e-commerce for over 20 years and I have never been to an event like this. So it was really incredible.
Bradley Sutton:
But really like A to Z the team did an amazing job. It was amazing to meet all of you guys out there, I got to meet a lot of you podcast listeners, and it was really great to hear that you guys are loyal listeners and are able to learn a lot from the podcast. Really appreciate that. That's the reason why we're doing this show, not doing this to hear the sound of my voice. I actually don't like the sound of my voice too much for those who had–, not Eagle eyes. What do you call it when somebody has really good ears? Good eyes is Eagle eyes, those of you who listen really well, probably heard my voice cracking when I was introducing Gary Vee.
Bradley Sutton:
That wasn't a great moment, but Hey, I don't do this podcast to listen to my voice. I do it in hopes that I can help sellers out there level up and that's also the model we have here at Helium 10. So every month we do this BBL or Bigger, Better Launch series of podcasts and webinars making sure people know what is new for sellers out there from what we've developed lately, and new features, all of this comes from you guys, and it's important that you guys know about it. We can release something every day, but if you guys aren't using it, then what are we even releasing this stuff for? What are we even putting all this work into?
Bradley Sutton:
So I hope you guys are able to use some of these things I'm going to go over today. Oh, by the way, this, this BBL, we actually did live from Vegas. So that was kind of fun to, you know, the first time in front of a live studio audience. But anyways the first thing we did was we recapped what we did last BBL, which was in August, and just to recap those, there was the Amazon PPC academy that we launched. We launched a bulk upload for atomic. There were some new updates in Listing Analyzer. We've been really focusing a lot on that tool lately. The Sales Heat Maps was launched for Elite members and actually that even got a facelift today.
Bradley Sutton:
So you Elite members, Helium 10 Elite subscribers, have you used those sales heat maps yet, and compared it to your Inventory Heat Maps? Then we launch the Chrome extension Search Expander that's where you can start typing into the Chrome extension search bar, and then it'll show different keywords that are before different keywords that are after smart, complete from Magnet has a whole bunch of cool features. So, you know, the question is what are we doing this month? Well, the first guest that I actually had was Taren. So Taren is one of our product managers here, and he runs Adtomic he's been in this space while he's actually an Amazon seller himself and it was super, super cool that we got to launch Google Ads. So right now this is like in a beta program.
Bradley Sutton:
And the reason why I think anybody should be wanting to run Google ads is how much emphasis Amazon gives to outside traffic. You know, five years ago, you don't have to advertise, you'd be totally fine, regardless of what level of seller you are just relying on PPC. Sometimes you don't even need PPC back in the old days, but then PPC has gotten more important, I think, to run. And then now the ones who are really winning are driving outside traffic through Google ads, because, you know, you're gonna get some keyword ranked juice as it were, let's say you show up in the search results for coffin shelf in Amazon, or I'm sorry, in Google. And then somebody clicks on your ad from that search and goes to your product and buys it.
Bradley Sutton:
Well, it's not gonna give you as much rank juice as if somebody searched that on Amazon, but you're gonna get a little bit, so it's important to drive this outside traffic and Amazon is making it easier and more kind of incentivized to do that because, you know, they're giving you a 10% brand referral bonus when you do this. So some of the questions that you see that here on the screen for those of you watch it on YouTube that this kind of tool answers is like, you know, Hey how can my Amazon PPC data help inform a strategy on Google? How does external referral traffic like Google ads impact my Total ACoS, my TACoS? Is omnichannel even right for my business? So these are things that a lot of our a lot of our users out there have been wondering about. So that's why we now have Google ads tool within Adtomic. And you're gonna be able to create Google Ad campaigns directly from your Helium 10 Atomic account. Super, super cool guys.
Bradley Sutton:
Now our first release, you know, of these Google ads is gonna include strong value in that sellers will be able to launch campaigns directly via Adtomic, which have Amazon Attribution Macro Tags added automatically. Through the use of these tags, Adtomic is getting to provide both downstream data like clicks, impressions cost from Google, and then also Sales Attribution Reporting, like the product detail, page views, add to carts sales, et cetera, pull from Amazon's Attribution Reporting API. Sellers you guys can't currently do this on your own, unless you create one unique micro tag per keyword, which obviously would take hours of time to accomplish, depending on how many keywords you're trying to target. Longer term the Adtomic team is gonna apply the automation, even in the future against Google Ads to drive huge differentiation in this space.
Bradley Sutton:
So we've been getting some feedback. We've had this open a little bit to like a private beta group. One brand says, Hey, since my product is in a subnet and fairly new, I wasn't sure how well it would perform on other advertising platforms. My main keyword, which has generated hundreds of sales on Amazon also performs well on Google ads and has a strong search volume. I will definitely continue using Google ads after seeing the results the pilot program bought. So, you know, maybe like this seller, you are one of those who maybe haven't taken advantage of Google Ads at all. Obviously not in Adtomic, but just in general, you haven't been doing Google Ads and don't understand what potential there is to increase your sales in it. So this is really exciting that we were able to launch this for you sellers out there.
Bradley Sutton:
So right now it's closed beta. So if you're listening to this podcast, you're like, I want in right now, you can't get into like we onboarded, some people who were at Sell and Scale, just another reason you guys should have come to Sell and Scale, guys, into the closed beta, but it'll open up to more users in the future. So make sure to watch out for your email, your in-app notifications on getting on the waiting list for getting into this new program. Super, super cool announcement. Next thing we did was we invited Vince Montero onto the show and he was talking about now Enhanced Data and Metrics. And again, we like to kind of structure these with what questions are we answering, what problems that sellers have been having are we solving.
Bradley Sutton:
And so here's a list of questions that some of you sellers have been asking. "I wanna know what hour of the day my ACoS is lowest?" "When do I get the most traffic?" "How does shopper behavior change on the weekends?" "How long does it take customers on average to convert after clicking ad?" Perhaps you had some of these questions here. So now what we are within Helium 10 Adtomic is Hourly Analytics. This is a new a newish as in, within the last two, three months feature of Amazon that they have made available to different partner companies like Helium 10, and you are now gonna be able to see performance of your Amazon advertising at an hourly level, hourly level guys, that's huge. Like, look, look at this. You can see that the spending is super high for some crazy reason.
Bradley Sutton:
Like in the middle of the night goes down like the bottom here at 8:00 AM, 9:00 AM. There's a peak and ACoS though at 7:00 AM. The ACoS is super low after 4:00 PM for some reason like that. Before, Amazon never made this data available. And now it is available via tools like Helium 10 Adtomic and Pacvue. So you can see what's going on at an hourly level. And then with that in mind, once you are able to kind of like determine what's the best times, what's the worst time. Now you're gonna be able to do something called schedules within Adtomic, where you can optimize your advertising strategy by creating a schedule based on when your ads perform best. So you could be like, "man, my ACoS is super low during this time of day. So I'm gonna like up my budget or something like that during, during this time."
Bradley Sutton:
Or "my ACoS is terrible, or my spend is terrible, my conversion rate is terrible." Whatever the case from 8:00 AM to 9:00 AM. So, you know what, my I'm gonna pause my ads during this time period because it's just not making me I'm losing money during this time, period. I mean, there are a lot of different applications that you can use this for. So this is brand new stuff, both of these coming to Adtomic and for the schedules and this hourly stuff Helium 10 Elite members are, are playing with it right now. So you guys have first access and then it's going to be opening up to Diamond members later on once we optimize a tool a little bit more and get feedback from our Elite members on what they like and don't like about it.
Bradley Sutton:
So super, super cool new stuff that is available now for Adtomic. The next thing that we're talking about is some updates in the mobile app. So the Helium 10 Mobile App you know, we launched that a couple of years ago and we keep, you know, innovating on it. There are a couple of minor things, you'll see on the very last screen right here or the very last tab of the mobile app for those of you have it, you'll be able to click right here on webinars, and that's gonna show you the history of the Bigger, Better launch webinars. We have guides, if you hit guides, that's actually our Helium 10 Blogs. And then Google news, we're attaching to Google news for like the latest updates of what articles Amazon has in it. So if you have the Helium 10 Mobile App, these are just some new updates that you guys can go ahead and start taking advantage of. We also have some new updates to Helium 10 Amazon Attribution. So Amazon attribution is something we launched in Bigger, Better Launch a few months ago. And now we just have some expanded metrics.
Bradley Sutton:
So if you are using the Helium 10 Attribution tool, you're gonna see some new metrics, including the total added to carts in addition to what we've already been showing you, such as the clicks units sold sales, et cetera. In addition, you're now able to do Amazon attribution for Amazon Mexico, and Amazon Netherlands. You're able to do attribution for those countries as well. So some new updates there also one more attribution update is now you can make links specifically for TikTok and YouTube. And this is in addition to what we already had such as Google Ads. We had Microsoft Ads and Pinterest Ads. Now you're gonna be able to specifically do TikTok and YouTube advertising as well. So, guys, I'm not even halfway done here through some of these amazing updates we hope you guys enjoyed or have enjoyed those updates so far.
Bradley Sutton:
And again, you gotta be taken advantage of this stuff. Once we launch it, I know some of this stuff is only for Elite members right now. If you're a big seller, guys, you gotta ask yourself why you're not Elite yet, but for those of you Diamond and Platinum, you know, it's something like kinda like a goal to like, Hey, I need to get on that level where I can take advantage of some of these advanced tools. Now another one that does not matter what level of seller you are, and is kind of along the lines of sending outside traffic, you know we invited next Raj who's the chief marketing officer of reversion Refersion is another Helium 10 sister company. We're all part of the same company here and he's the CMO there at Refersion and he introduced to us a new Amazon Affiliate Marketing tool.
Bradley Sutton:
Now, why would you use this? There are some of the questions that sellers have is like, where do I find influencers? How can I manage campaigns with them? How can I do payouts and handle taxes and things like that, you know, like I got this Amazon influencer, but how do I even pay them, their commission and things like that? And what we've done is we've partnered with Refersion to kind of like make this all like a one-stop shop for handling your affiliate marketing, your influencer Amazon marketing for your business. So with this, you're gonna be able to scale faster the people who have been in our test group for this 66% higher RoAS with Refersion as opposed to just using Amazon Ads alone. You're gonna be able to connect with top affiliates.
Bradley Sutton:
You can list your products in the reversion marketplace, and then you're gonna actually get discovered by top-performing affiliates or influencers out there. You're gonna be able to boost your sales. Affiliate traffic you know, using the Amazon affiliate program and remember the affiliate program, I want you guys to get that confused, that's an actual program that you see a lot of these influencers are part of where they're doing like TikTok fines and things like that. Well, the reason why they're doing that is that they get like 2%, 3%, 4% commission on any sale that comes from the affiliate links that they're doing. You're gonna have transparent transactions with this. There's gonna be clear analytics of who the top performing affiliates are for you, and how much they sell all in one dashboard.
Bradley Sutton:
And of course, it's going to include the Brand Referral Bonus. You know, you're gonna be using attribution links so that you can take advantage of that 10% bonus, and it's gonna help you to get higher conversion rates. 2% usually is the average for DTC eCommerce platforms. This can give you 10-15% for Amazon. All right. So, guys, this is like super, super cool if you're ready to take that next level, you know, and you're ready to invest a lot in your offsite advertising, this is going to be great for you.
Bradley Sutton:
Next up, we have some updates to another tool that was launching Bigger, Better launch a couple, couple months ago, you guys see on your dashboard, the Estimated Brand Value which is just like a very rough overview based on your sales and some other factors on what potentially kind of value your brand could have. And so now we're at like 3.0 for this now, and now when you click on the estimated Brand Value inside of Helium 10, you're gonna have this kind of like I don't know how you call it, like little bars where you could like up or like increase or lower your growth rate and your growth sales and then based on that, you're gonna kind of have an idea of what your potential value could be if you hit certain metrics or if certain metrics go down.
Bradley Sutton:
Now, you'll be able to see what exactly is going on or what potentially could be going on as far as your brand value, like what impact your growth rate and sales has on your brand value so you can kind of plan ahead. Another thing that a lot of sellers are wondering is like, Hey, you know, like, I don't even know what plan I'm on and I guess need like a better dashboard to be able to see that. So for you Healing 10 members out there now you'll be able to see your subscription summary. If you click on your name and then click on your subscription, you're gonna know when your next billing date is. You're gonna see the plan breakdown, a lot of cool stuff there.
Bradley Sutton:
In addition to that, the Diamond and Elite plan comes with certain things like how many seats at the table you have. In other words, how many sub-users do you have? It's important, a lot of Amazon sellers out there have 5, 10, or 15 employees and they don't want everybody just coming, logging into the same Helium 10 accounts, and having full access to everything. Maybe you have a team that's just doing keyword research. So you're like, no, I only want them using Cerebro. Maybe you have a team who's managing your Adtomic. I only want them using Adtomic, et cetera. Well for Diamond and Elite members, you have different users or seats at the table. And maybe you've maxed it out. And so if you want to add users one by one, you can actually do that now under edit your subscription.
Bradley Sutton:
Another thing you can add one by one is the number of tokens or Seller Central or Walmart Seller Center accounts that you can connect to Helium 10. I think Platinum, you get two. Diamond, I believe you get four different accounts like, Hey, I'm gonna be on Amazon North America. Amazon Europe is another token and then Amazon Asia, and then I'm gonna be on Walmart. Well, let's say you have two Walmart accounts. Well, now you can one by one, add more to that. So that's another, you know, cool update and I think there's gonna be more. A lot of sellers out there want little things to add to their Helium 10 account.
Bradley Sutton:
Like maybe you guys wanna add more markets to Market Tracker or more keywords to Keyword Tracker, maybe more ASINs for Alerts. If there's something that you have maxed out on Helium 10, and maybe you don't wanna upgrade to an Elite account yet you know, to get more access to it. You're just like, I just need like two more markets or I just need like this many more keywords. Well, I wanna hear from you guys make sure to share your ideas on the Helium 10 dashboard, let us know what you would like a la carte options for without having to like call and get a special quote in things like that you've had to do in the past. The other thing that Shivali was talking about, she was the guest that we had talked about.
Bradley Sutton:
Some of these things is some new updates to Market Tracker 360. Market Tracker 360 is our enterprise tool that gives analytics on steroids, I think is the best way I can kind of put that. So if you're a high seven-figure eight-figure seller, or you're a big agency, this is the tool for you, it's kind of like separate from your regular Helium 10 membership. And we've been talking about this tool for a few months now and we're constantly updating it. And so now we have a new product analysis page here, as you can see, you're gonna see different sales insights on pricing, on revenue, and then kind of comparing it to the market. This is way more advanced than Listing Analyzer or regular market tracker.
Bradley Sutton:
As I said, this is analytics on steroids. So you're gonna be able to go in and like instantly be able to see, like, for example, your organic rank and the keyword sales, search volume, search volume trend of all of your main keywords, you're gonna have some historical look into it. This is coming to Market Tracker 360, and you're gonna be able to kind of just with just a couple of clicks that's really what we wanted to do with this. And a couple of clicks to see insights into what is going on in your account on the revenue side, but also like your keyword performance side, and like, what is happening with that keyword regardless of if it's your product or not, what's going on with the search volume, what's going on with a number of competitors, what's going on with the keyword sales.
Bradley Sutton:
We really wanted to make this just like a one-stop shop for getting high-level analytics on your account. So make sure to check out these new updates to Market Tracker 360 Product Analysis. For those of you watching this on YouTube, you can see some of these like ridiculous next-level graph graphs here. Like here are some coffin shelves, and I can see the history of the revenue and then the history of the keyword performance. Like if I've already identified my main top keywords all on one page, I'm going to be able to see what's going on at any given time in the history of their performance, on these keywords of their performance on sales. On these keywords, Hey, well, what's going on with the keyword sales, you know, like, Hey, I'm ranked number one on this one keyword, but this is a keyword that only generates five sales a month.
Bradley Sutton:
Is that really something to brag about? Is that something I should be you know, focusing on a keyword that only gets five overall sales regardless of the product a month, Hey, you might not have had that insight before? You're gonna be able to get that on Market Tracker 360. Now some of the updates that I brought up are product summary views, first of all, this is something new for our Helium 10 Chrome extension. So let's say you're on a product page. And by the way, you guys, at the time that we launched BBL last week we didn't have this ready yet because the Chrome extension didn't update in the Chrome store, but you guys are listening to this on Tuesday. So I'm like 99% sure that you're gonna be able to see this.
Bradley Sutton:
You can jump in. I want everybody to jump in and do this. And this is for Platinum members, for Diamond members, for Elite members, regardless of the level, hop into Amazon.com, search your keyword, go to one of your products, and go to your own product. Yeah. I want you to go do this on your own product. I literally want everybody to do this as we're going over this right now on your own product, and I'm gonna show you why in a couple of seconds. So this new feature is called product summary view. So at the top of the page, you can see here I'm, I'm on my coffin shelf page. I see the regular stuff that I've always been able to do, like listing health scores. I could see actually see, now the 30-day sales, I could see the inventory. I don't even have to click on Inventory Levels anymore.
Bradley Sutton:
I could see the inventory of the buy box, the FBA fee, and variations. But now I want you guys to click right now. If you're doing this, I hope you have it. You'll pause this. If you don't have it yet, pause this on whatever. You're listening to pull this up on your computer, your main product. Now, once you do that, I want you to hit view more. All right, once you hit view more, now you have this like the summary. You guys have that. Now, in summary, you've got a marketplace listing health scores, but on the summary, you're gonna see tons of information. You're gonna see the BSR. You're gonna see the sub BSR, the total rating and review count the dimensions, the fulfillment, the weight, and all this information without even clicking Xray. Now, the next thing is where you guys are gonna have your minds blown.
Bradley Sutton:
All right. So if you're on your page, what I want you to do now is click on the Marketplace tab. On the Marketplace tab, what's going to show up now is all of the Amazon Global Marketplaces that we're connected to. Not necessarily that you're connected to, but just that Helium 10 is connected to, we are gonna show you where your ASIN or any ASIN doesn't have to be yours, but this is obviously best. If you look at yours, where it's being sold, this, this is crazy guys. This is what people have been wondering for years. And you might be shocked to know that somebody's selling your ASIN in a marketplace, that you are not doing it. It's not you. So like, for example, here, look how many marketplaces the helium 10 coffin shelf is in it's in every single marketplace, including Japan, Italy, India, and Australia.
Bradley Sutton:
Now, why is this significant? Well, this is significant because I'm only selling our coffin shelf in Canada, USA, and Mexico. What does that mean? That means that all these other listings for the coffin shelf is not me. Somebody's like piggybacking on my listing. And like, I don't know what they're doing. Is it a hijack or a pirated version of my coffin shelf? Or are they just drop shipping it from the USA? Regardless, I might want to go in and now, Hey, I better start selling these marketplaces cuz these guys who know what the heck they're gonna do with my, with my listing. So this is important, guys.
Bradley Sutton:
Was there a marketplace that your product is active in that you didn't realize? Let me know, because I was kind of shocked to see all of the marketplaces where the coffin shelf was active in. The next few updates is actually about Listing Analyzer. Super, super cool updates guy, and this I believe is for Platinum and above. By the time you guys are watching this on YouTube, it was open first to Elite and then to Diamond depending on when you're listening to this. But if you enter your own product into Listening Analyzer as the seed product or the main product, you're gonna have a little bit more information. I'm gonna talk about that in a little bit. We talked about last month on Listing Analyzer on BBL, and how you have these Alerts, that show up.
Bradley Sutton:
So any alerts that you have from Helium 10 Alerts, like, you know, your price changes or your title change or your image change, these will be graphed out right here into your listing analyzer graph. And you can see, Hey, maybe this update, have any difference in sales, but regardless if this is your product or not, you're gonna have some high-level information here, the price history, you're gonna see the inventory, the stock the review count and how old the listing is. Now. One of the new updates here is the detail page, traffic and conversion. This is also known as business reports. So now you are gonna have graphs. If this is your product, if this is somebody else's product that you put in Listing Analyzer here, obviously you're not gonna be able to see this. You know, we're not hacking people's accounts and showing them this, this is directly from your own account.
Bradley Sutton:
If it's your own product, you are gonna be able to see things like the total sessions, your total page views, and units ordered, and then on a graph on these three graphs, you're gonna be able to see your sessions in session rate, your page, view history, your page view rate, the units ordered and unit session rate. So this, you know, we've had business reports inside of Profits, but now it's inside of Listing Analyzer, more new updates is we just have the detailed metrics view of Listing Analyzer. It's kind of on steroids now, right? So we've got tons of information here. It's almost like a kind of picture you're looking at Xray and you're looking at Black Box for information. You're gonna have stuff like the inventory levels, revenue history, the shipping details, last year's sales the weight of the product, in addition to what you already have been having with Listing Analyzer, which is things like the variation count and the top 10 keywords, top 10 search volume.
Bradley Sutton:
In addition, you have a new feature which is the Media Comparison. We've had the media comparison before. I've talked about that before where it shows all of the images on one page of all of your competitors so that you can kind of see what people are doing with their images and see if there are any niche themes happening. Well, now we offered a new thing where you can like download that into a PDF, like maybe you're a designer or you're a photographer that you're gonna, that are gonna have, you know, they don't have listing analyzers so they can just see it all on one page and you don't wanna have to copy and paste all of these images into like a Google slide or PowerPoint or something like that. Well, now with just one click in media comparison, you can download a visual PDF of all of your competitor's images and then just give that PDF to like your designers or your photography team.
Bradley Sutton:
Now, a question I had asked people on the BBL was what is your favorite Amazon data point? You know, Amazon has given tons and tons of data points recently, right? And so like be it search query performance or Product Opportunity Explorer and all these new metrics with Amazon advertising? Now for me, my favorite data point from day one, even though all of these new ones have come is something that's been on Amazon for like two, or three years. And that's Brand Analytics. I talked about it before, there are some irregularities with Product Opportunity Explorer and Search Query Performance, I'm not even sure what this is referring to, but the one data point that is just like a rock solid for anything that I test, I try and break things that's kinda like what I try and do whenever Amazon comes out with something, I like to be able to like, see, how bulletproof it is.
Bradley Sutton:
Brand Analytics, I can't break that because I'll do a test, for example, on a low search volume keyword. Like that gets some clicks, but no purchases. And I'll do a purchase one day on it, like just myself. And then I'll check back in like four days did Brand Analytics pick up on that click on that purchase? Sure enough, it did. All right. So Brand Analytics, I love, and for years, people have been saying, Hey, we want to see Brand Analytics inside of Helium 10. And we've always told 'em no, sorry, we can't, you know, other tools may do it because maybe they don't care about pissing off Amazon. But we, Helium 10 is by far, the largest company in this space, we can't off Amazon. We don't want to get shut down by Amazon.
Bradley Sutton:
Are you kidding me? So it was always against terms of service to show this for a tool company. But until last month, Amazon opened up the API now for a Brand Analytics and now Helium 10 is able to import brand analytics into your Helium 10 account, as long as you have access to it. So if you're a seller out there who doesn't have a Brand Registry, I'm sorry to say this, it doesn't matter what level Helium 10 have you have, you're a Helium 10 Elite member, I don't care. You're not gonna get access to this new information because you don't have a Brand Registry.
Bradley Sutton:
But if you're on a Diamond plan guys, and you have access to Brand Registry, soon, you are gonna have access to Brand Analytics. Right now, this is something that only our Helium 10 Elite members have. Remember our Helium 10 Elite members. They get first crack at everything. Sometimes we have tools that only are for elite members. We really wanna make sure that all of our top level sellers have the analytics and tools that they need. If you're a brand new seller, I'm not gonna tell you, you need to upgrade to Elite to get this. If you're brand new, this might be a little advanced for you. You might not necessarily need it, but if you're a 6, 7, 8 figure seller, you need to be looking at brand analytics in order to get some insights into your keywords.
Bradley Sutton:
So, anyways, I'm very happy to announce that for Elite members for right now, and soon Diamond members, you have access to brand analytics in Cerebro. You're gonna have this new column where you're gonna see the total share rate of each keyword. So like, let's say I'm in Cerebro, I imported some ASINs. And now under keyword phrases, I'll see something like kitchen decor. Well, the total click share for this is 13.3%. What does that mean? That means that if you take the top three people who clicked after kitchen decor, one product, it adds up to 13%. That means the other products, not in the top three, makeup 90%. Now, contrast that with goth accessories, goth accessories, as you guys can see here the total click share of the top three is 24%.
Bradley Sutton:
So now it's only 75% for the other one. Sometimes you might see a total click share of 50%. That means the top three products are absolutely dominant. People can do different things with this information, but you have instant insight right there in Cerebro. Now, now let's say I go in and I actually click this brand analytics graph right here. What am I gonna see? I'm gonna see that the exact top three ASINs that were the top three clicked for that keyword during whatever timeframe that I choose. There's gonna be a dropdown menu where I can choose months. I can choose weeks, et cetera. And now I can see week by week, month by month, which the top three ASINs clicked. And what was their click share? What was their conversion share? In other words, like, let's say this is a keyword egg holder, and there were 100 conversions.
Bradley Sutton:
In other words, there are 100 sales after the search of this keyword. This number two clicked ASIN has 20% of that. That means they have 20% of the sales of this keyword. They're the number two clicked ASIN. The number one clicked ASIN only had, as you guys can see here, those of you watching this on YouTube only had 9% of the conversions. So I'm getting insight guys into things that I never had insight into before. So what does that tell me? That means that people must like how this product looks in the search results may be, or maybe it's at a higher rank. And so it's getting a lot of clicks that most clicks out of any product, but there is something on this page of this egg holder that people don't like, because they're not actually buying it. The conversion rate for this product is twice as much more than twice as much, because they have 20% share of all of the conversions of this keyword, even though they're not even the number one click.
Bradley Sutton:
So you can see that the number one and the number three here, both take about 10% of the conversion share. But this number two guy, I would really be looking at their listing. What is it about this listing? Is it the price? Is it their images? Is it the copy? Why are more people buying this one? Guys, this is like new stuff here that you can never do inside of Helium 10, you would have to go into Brand Analytics to be able to do this and it takes some time. In addition, you're gonna be able to now see more detail on the history of these top click ASINs over time. Like it's not always, the top three products are not always the same, like look at here in July. You can see that there is a different product here in June.
Bradley Sutton:
There is this spiral egg holder that was a number two click. And it's now marrying Brand Analytics, data and metrics with Helium 10 metrics. For example, here, I can see the click share conversion, and share history, and then I can see the average organic rank of this product. Like, this is interesting to me, this product that was the number three clicked one, the number three clicked product in all of July, their average organic rank was 10. What does that tell me? Like, maybe we're always trying to be at the very, very top of the page of organic, but sometimes maybe it's not as important to be the top one, two or three now in other months. Yeah. Most of these top three clicked were like top five, right? But this one was only number 10 and it still got 9% of all clicks that happened on this keyword.
Bradley Sutton:
I can see this sponsored rank history. This guy is not even really advertising at all. He's his sponsored rank average for the month of July. What I'm looking at here was 1 0 5. So that means his clicks all were almost all coming from organic. Now, look at this one in May, his seller here for this egg holder had the number two average organic rank and the number one average sponsored rank and so he was one of the top ones clicked. Now, here is something interesting. If I compare this exact ASIN from may to July in July, he dropped from being the top clicked he dropped. What dropped for him? the sponsored rank average, all of a sudden he was 12 now, which means he's maybe on the bottom of page one for sponsored ads. So look at that because his sponsored rank dropped.
Bradley Sutton:
Now, he also dropped in the number of clicks or the number of click shares that he had. So this is all just new data that you guys are now getting that is super, super interesting. If you click on the actual chart, you're actually gonna even see a history of the product. So if a product was ever one, two, or three, and you can see it in cerebral, you click on that product. And now you're going to be able to see a complete history of the click share and conversion share of that. So, guys, how cool is that? Pretty cool I think. I mean, this was my favorite, one of my favorite things that we have added to Helium 10 in almost this year, like, you know, we've added what, like 80 different things in the last few months, this is right up there at the top with something that I think is super, super useful that anybody can take advantage of.
Bradley Sutton:
If you guys are serious sellers out there, you are gonna really be able to get some insights that maybe it's not completely new to you. Some of these features because if you've been using Brand Analytics, but this makes the process easier, but there are some brand new stuff that you've never been able to do, which is able to compare like the Brand Analytics on the same graph as some helium, 10 favorite metrics. You have like keyword rank and sponsored rank. How are people letting us know? How are people letting us know what they want? How did we know that you guys wanted Brand Analytics inside of cerebral? How did we know you guys wanted more insights into Market Tracker 360? Well, it's because you guys have been clicking in your dashboard, the question mark at the top of the Helium 10 dashboard page, and then hitting share your ideas.
Bradley Sutton:
Our team reads each and every one of these and tallies them all up. So that we know what is, you know, most desired. And this is regardless of your Amazon USA, you are Amazon Europe, you're a Walmart seller. We want to hear from all of you. And we prioritize what we launched based on what you guys have been asking for. So what I want you guys to do, what I want everybody to do is rewind this. If you were driving, when you were listening to this and when you get to a computer, go back to that part where I was talking about the new Chrome extension one, because remember, if you are Starter plan, you're a Platinum plan, you're a Diamond plan, you're gonna have access to what I showed you. I want you to run that on your own products. And tell me what marketplace is somebody selling your products in that you didn't know?
Bradley Sutton:
If you're an Elite member, you have access to all of this stuff. So I want you guys to get into your Elite account and start playing around with this stuff. If you're a Diamond member, some of this stuff is also available to you as well. And it'll be available to more Diamond members shortly those Adtomic things that we release. So guys, every month, Helium 10 is getting bigger. We're getting better. And it's because we're launching all of these new tools. I hope you guys enjoyed this Bigger, Better launch episode. We'll see you guys next month on this. Bye-bye now.
---
Enjoy this episode? Be sure to check out our previous episodes for even more content to propel you to Amazon FBA Seller success! And don't forget to "Like" our Facebook page and subscribe to the podcast on iTunes, Spotify, or wherever you listen to our podcast.
Get snippets from all episodes by following us on Instagram at @SeriousSellersPodcast
Want to absolutely start crushing it on Amazon? Here are few carefully curated resources to get you started:
Everything for your business on Amazon.
Find out more about our products by signing up or speaking with one of our
Customer Success representatives today. With us in your corner, you can enjoy
more sales and increased engagement from your Amazon business.
Chat with a Support Specialist