#101 – Flip the Script and Use Selling on Amazon to Drive Your YouTube Success
Episode 101 of the Serious Sellers Podcast hosts Samer Brax, an Amazon seller who uses an eCommerce presence to drive business to his YouTube channel.
Updated on: October 6, 2020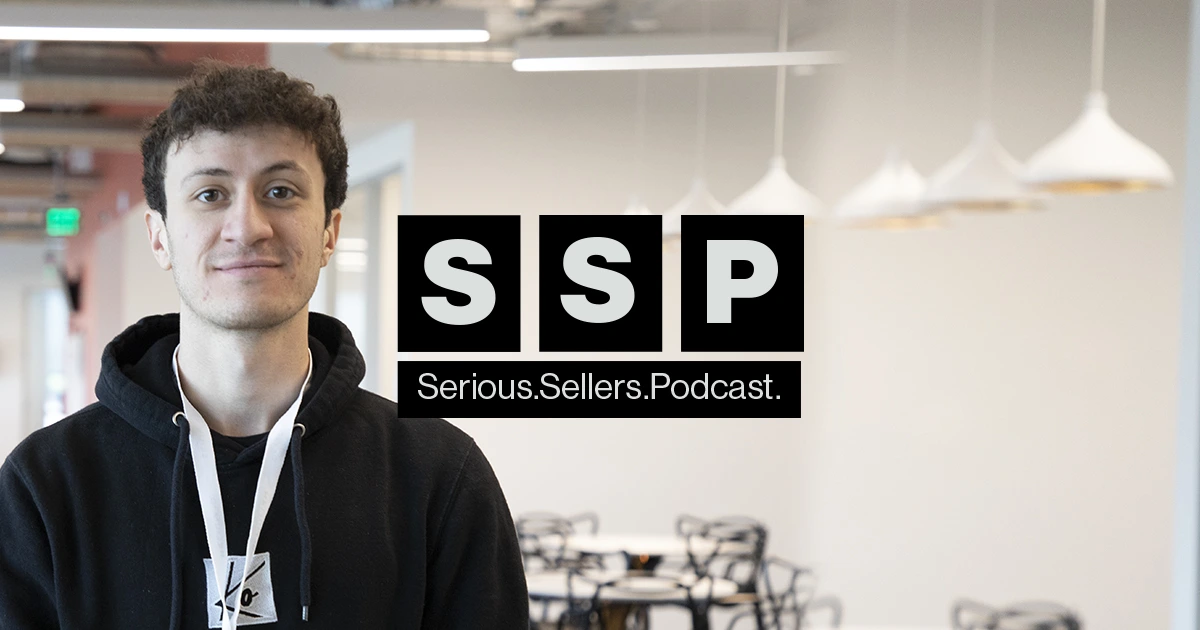 Amazon's entire ecosystem is constantly growing.
It's like an economic "big bang" situation, but instead of stars expanding outward at the speed of light, it's business opportunities.
It's a pretty common practice for sellers on Amazon to keep themselves busy off of Amazon, trying to create business funnels that in turn focus attention on their goal, selling a lot of products.
But sometimes the Amazon business model gets turned around.
Like for this Amazon seller. With 120K in yearly sales, he's doing pretty well. But for him, his presence on Amazon is designed to drive traffic to his social media channels, where he makes his real money.
Today on the Serious Sellers Podcast, Helium 10's Director of Training and Customer Success, Bradley Sutton welcomes Samer Brax, an Amazon seller who like many, has flipped the script in a very 2020 way, and now uses Amazon to drive traffic to his YouTube channel.
Samer says that he posts YouTube videos to his channel every week chronicling his Amazon FBA journey.
In doing research for this post, I came across these two YouTube videos.
Brock Johnson, an Amazon selling superstar, has a YouTube video titled, "$6,000,000 in Six Months." He has a little over 46,000 views.
Samer's video titled, "Two Weeks into Amazon FBA, and I'm Broke" had 266,000 views.
Advertisers love views, and I don't think that they differentiate between success and failure.
This is the kind of business acumen that might have Henry Ford spinning in his grave.
But let's get back to Samer and his eCommerce origin story.
Samer was born and raised in Lebanon, later coming to Montreal, Canada to attend university. After graduating with a degree in mechanical engineering and with no real job opportunities back home in Lebanon, he started looking for work in Canada.
He says that, "competing for work in a city full of universities" was very difficult and while looking for work started thinking outside of the box in hopes of coming up with money-making ideas.
Back home, he had an Instagram feed that centered around his love for Lebanese food. It was popular enough that he had been approached by people wanting him to visit their restaurants.
It was while browsing Instagram that he started to connect the dots. He saw that Amazon sellers were promoting their YouTube tutorials and while he didn't have the $500 for a full course, he paid $10 to learn how to do retail arbitrage in Canada. Coincidentally, he lived near a Walmart and a Toys R Us, and he was off to the races.
Finding that retail arbitrage worked, he started thinking bigger and soon had a first private label Amazon product in circulation.
He sold that for a couple of years until he ran across a product that he was passionate about. Now he's making 120 thousand a year and puts every penny back into building his brand.
He's got some great launch ideas you're going to want to hear about, but it's his use of social media that I think you'll find truly interesting.
Listen in for a glimpse of a new selling paradigm.
In episode 101 of the Serious Sellers Podcast, Bradley and Samer discuss:
01:00 – Samer's Origin story
03:00 – Competing for a Job in a City Full of Universities
05:05 – He Discovered Selling on Amazon from YouTube
06:05 – A $10 Course on Arbitrage Takes Him to Walmart
08:10 – Finding His Private Label Product
10:40 – Two Years After Stopping Selling His Product It's Still Going Strong
13:35 – A Passion Product Comes Next
18:35 – An Application to McGill to Connect with the Career Center
20:42 – 120K in Sales but Living on Money from His YouTube Profits
23:50 – Making Money on YouTube
25:43 – Samer's Search-Find-Buy Launch Strategy
27:25 – How Does He Set Up His Process?
30:00 – Targeting "Losers" (Beatable Competitors)
33:47 – Samer's 30 – Second Tip
35:50 – He Sees Shopify in His Future
36:34 – How to Reach Out to Samer
Enjoy this episode? Be sure to check out our previous episodes for even more content to propel you to Amazon FBA Seller success! And don't forget to "Like" our Facebook page and subscribe to the podcast on iTunes, Google Play or wherever you listen to our podcast.
Want to absolutely start crushing it on Amazon? Here are few carefully curated resources to get you started: