#408 – Scaling Your Team, Amazon Keyword Relevancy, & More – Brandon Young
This is part 1 of 2 in this crazy strategy-filled episode with one of the top Amazon strategists in the game, Brandon Young. We talk about how to scale your team, relevancy strategies, and more!
Updated on: December 30, 2022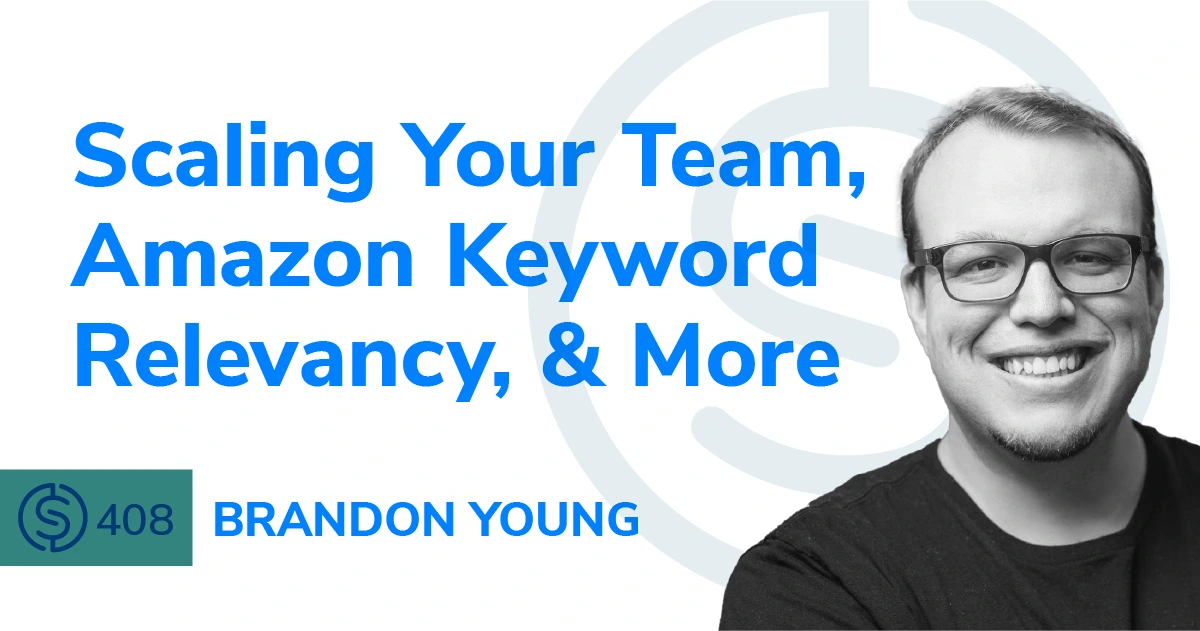 In this episode, Bradley welcomes back Brandon Young of Seller Systems and Data Dive to talk about the updates with his businesses and strategies on how he is scaling a team behind Amazon brands selling over $20 Million this year. They also spoke about the concepts of his relevancy strategy on getting more keyword rank juice that works for the Amazon algorithm and his newest in-person workshop in January 2023, CampEcom, to help Amazon and Walmart sellers reach the next level. Remember to listen to the end and stay tuned for this interview's part 2 (SSP #409)!
In episode 408 of the Serious Sellers Podcast, Bradley and Brandon discuss:
03:00 – Changes That Affected How His Company Does Things
05:00 – Getting A CEO Coach Helped Their Businesses
07:45 – Tips On How To Scale Your Team
09:30 – Find A PPC Specialist That's Also A Brand Specialist
14:00 – Take Advantage Of Your Assets And Strengths
14:30 – Rank Juice And Relevancy Strategy For The Amazon Algorithm
21:00 – Understanding This Powerful Strategy
25:30 – Brandon's Non-Ecommerce Related Hobbies
27:00 – Stay Tuned For Part 2 Of This Episode!
Transcript
Bradley Sutton:
Today is part one of two in a crazy strategy filled episode series with one of the top strategists in the game branding young. Today's episode, we're gonna be going over things like his unique relevancy strategy for the Amazon algorithm and much more. How cool is that? Pretty cool I think.
Bradley Sutton:
Black Box by Helium 10 house is the largest database of Amazon products and keywords in the world outside of Amazon itself. We have over 2 billion products and many millions more keywords from different Amazon marketplaces, from USA to Australia to Germany, and more. Use our powerful filters to search through this database for pockets of opportunity that you might wanna get into with your first or next product to sell on Amazon. For more information, go to h10.me/blackbox. Don't forget, you can save 10% off for life on Helium 10 by using our special code SSP 10. Hello everybody, and welcome to another episode of the Serious Seller's Podcast by Helium 10. I am your host Bradley Sutton, and this is the show that's a completely BS-free unscripted, and unrehearsed organic conversation about serious strategies for serious sellers of any level in the e-commerce world. We've got a serious seller here for I think maybe third time on this podcast. Brandon Young, coming to us from Florida. Brandon, how's it going?
Brandon Young:
Great, man. Always a pleasure. I appreciate it.
Bradley Sutton:
Now, in your honor, I'm wearing the throwback San Diego Chargers, Helium 10 Jersey. Can you guess why I wore that, especially for you?
Brandon Young:
Well, you know that I am a huge Justin Herbert fan and it might be a dig because he just beat my dolphins.
Bradley Sutton:
It could go either way. Yeah. There, but mainly the former I know we'll definitely talk about like sports cards and stuff sometime during this show. But yeah, I know we were talking about in a group chat what's Herbert cards are doing right now, cuz he's just been tearing it up lately. So we got a little, and plus I used to be a Chargers fan, but since they moved to LA it's like kind of apathetic to them. I mean, that would be like imagine if the Dolphins move to Orlando or something or something like that they're like, I forget the city. you might feel the same way maybe.
Brandon Young:
Yeah. It's like they cheated on you a little bit.
Bradley Sutton:
Right, right, exactly. We're not here to talk only sports, although I could I should start a sports podcast or sports card podcast. I would love that. We're here to talk Amazon strategies and things and coming up in 2023, as if we recorded the episode at the end or beginning of any year and just talked about what changed and what's coming, we could fill up a completely different episode every single year. So I'm just wondering, for you and your businesses your clients' businesses, what are some of the changes, either positive or negative this year that really affected the way that you guys do things?
Brandon Young:
Yeah, the biggest takeaway for us I think was around scaling and training the team. So a lot of what we've been working on for the last two years has been around how to set proper expectations and goals for employees to have progression within the company, right? So it's, it's interesting when you hit eight to 10 last year we did 12 million and maybe 15 with the two accounts combined. And then this year we will do over 20. The biggest thing is that you really start to hit a wall. You start to hire people that are specialists to do different things, and you can't really do that at scale unless you start to really understand how to take that person. And I'll give them the freedom to start training and progressing and potentially becoming management material themselves.
Brandon Young:
And so what was happening for us, I'd say two years ago when we did between eight and 10 million was we were, I think, yeah, between six and 10 million, we, we were running into a wall where Jennifer and I were just working more and more in the business and trying to handle and put out fires constantly ourselves. We would have delays pile up because employees didn't have decision rights. We would lose an employee or key employee, and then people would, things just wouldn't get done on time. So it caused delays in logistics. And then on top of that, you have all of the nightmare of logistics issues that were happening in 2020 at that time as well. And so we started working with a CEO coach over two years ago now.
Brandon Young:
It was like exactly two years ago. So the end of 2020. And what that t enabled us to do is really to get visibility on our org chart and understand what are the KPIs for every seat, what are the decision rights of every seat, and then how can we hire someone as an associate and what is the training method that we need to do in order to help them progress to become a junior and then eventually a senior in their role. And then start layering that org chart vertically versus just continuing to have all these direct reports that were going to take up more of our time. So for us it was more business management practices that made the biggest impact. Outside of that, for what impacted everybody, I think was the supply chain becoming much more accessible, and faster, costs came way down, and if you had paid attention and really put a lot of effort into content images and AB testing, you were definitely rewarded.
Brandon Young:
The last thing I'll say, there's a third thing. The last thing I would say is that there was a fork in the road for a lot of people at the beginning of this year to take that had to do with margin compression. And that means that a lot of these costs were piling up where there were sellers who were continuing to sell at a lower price, but things were more expensive. Costs of goods went up, logistics were more expensive for the beginning of the year at least. And your TACoS, your PPC, your advertising costs had gone up. And so that was eating in the margin. And so you had these margin compression issues where instead of making 25% on an item, you might be making 18, and then that's the gross level. And then at the net, once you pay all your employees and all of your costs, you may have ended up in single-digit margins.
Brandon Young:
And a lot of people were panicking because of that. So there was two ways to approach that. One was to try to maximize profits and slow down and spend less on PPC and then get a short-term gain in profits. And then the other way was to keep your foot on the gas and try to maintain or grow your market share from that. And I think that the people that kept their foot on the gas were rewarded in Q4 as costs came down. And as margins went back up, because you maintained market share, you deterred competitors from entering the space. And ultimately it's better for the health of your business to have a higher top line and then re reap the rewards during big seasons like q4. Whereas like the other people had a downward spiral of products that slowly died. And so I think it's very important that you keep, keep that in mind.
Bradley Sutton:
Okay, good. Going back to that first thing you talked about, scaling a team. So there's no magic number for everybody, but for you guys, what is your sweet spot right now at your level of how many employees are working on your Amazon businesses?
Brandon Young:
I think that it's a really interesting concept that holds pretty true, which is you should be doing around 800,000 to a million dollars in revenue per employee you have. That's kind of what I've seen to be true at from 1 million all the way through to 30 million and up is that as you grow, maybe that number comes down per employee. Cuz you layer in people that don't have a direct ROI impact into revenue, but they're there for to ma make them business run better. So you have those middle managers and everything, but for the most part, your staff will grow with your revenue at around that rate.
Bradley Sutton:
Okay. Now, do you have people who are just managing the A to Z of a brand? Or do you have different departments where like, hey, this department, regardless of the brand, you guys are specialists on PPC, you guys are only doing sourcing, you guys are only doing customer service, you guys are only doing keyword research, or how do you structure a team that size and doing multiple brands like you have?
Brandon Young:
Yeah, so we used to believe that maybe there was an opportunity to have specialists to break down the product life cycle. So you would have PPC specialists, but what we've settled on after a lot of trial and error has been that the brand manager should also be doing the PPC and this is different than a lot of organizations set it up, but our thing is that the PPC specialist needs to know what's happening, not just with the product, but also with the competitors in the space. And they need to understand what impacts PPC performance beyond just looking at the performance reports mm-hmm. <Affirmative>. And so that's where you start to graduate to a brand manager anyway. That's where you're analyzing competition, you're understanding what levers to pull with regards to deals you're looking at the content and determining whether it should be worked on your direct so we do have departments as far as product development content, and logistics.
Brandon Young:
But PPC and the actual brand management are one person for the most part, simply because if you isolate a PPC person or a specialist and they don't have the ability or the know-how or the visibility on what's happening with those external factors you're, you're gonna run into a problem where they're too pillared and they're not effective in their job. They're gonna make PPC decisions based on something that could be out of the control of the product at that time. Could be low inventory, it could be a competitor running a lightning deal. It could be the content not being optimized. And so you need a PPC specialist that's truly a brand specialist.
Bradley Sutton:
Yeah. Okay. Now, what about the breakdown as far as, do you have any stateside full-time employees or is it a mix half stateside, half overseas, or what's your makeup of where your employees work from?
Brandon Young:
So we have a writer who's in the states for cleaning up the English. And then we have a designer that specializes in packaging design and marketing who's in the states. But the rest of our team is overseas. And for the most part, those two are taking the lead from those teams, that team in China. So we do the keyword research, we do the product development, we do the logistics, we do the ordering, we do the brand management, we do the PPC all overseas, but when the listing is handed over and it's got broken English, but the right keywords in the right spot, that's where the writer goes in and cleans it up and makes the English better.
Bradley Sutton:
Now here's just a random question, but I know the ones that are in Asia, mainly in China, like how much did it play a role is because your wife speaks fluent Chinese? Like let's say you a–
Brandon Young:
100%
Bradley Sutton:
Yeah. Okay. So then like if Jennifer was, was an American or Canadian or Yeah. English or whatever, would you then maybe have considered instead like Philippines or Pakistan or something like that? For your offshore?
Brandon Young:
Yeah, I think a hundred percent. We would probably have more here in the States and then a blend in Philippines or somewhere where English was pretty prominent and it was easy for us to train and hire, like she's able to train it higher in China because she's fluent and from China and, and we wouldn't be able to train in higher if the native language was different than what we spoke. So I think that's why Philippines is so popular. Even in Pakistan, like English is getting much stronger. They speak fairly good English. So it's, it's, it's fine to an extent, but Philippines, they speak English. I mean, it's that's why it's the go-to for the most part. They're finding great teams and a mutual friend of ours and a good friend of mine is Fernando Campos.
Brandon Young:
And he's grown 11, eight figure brands 11. And so he's approaching 200 million in sales in on Amazon across those brands. And all I think his team is almost exclusively in the Philippines 75-80 employees are more in the Philippines that he's grown over the last five, six years that I've known him. And so I think that that's kind of the model we would look for if it wasn't for her being there. So anyone listening that just doesn't speak fluent, Chinese it's not a model to follow. I would say
Bradley Sutton:
The strategy here is guys, marry, into the language of the country, marry for love like Brandon did, but if there's a bonus, then might as well take advantage of it.
Brandon Young:
Take advantage of the assets and strengths, do an evaluation of what strengths and assets you have, and then use them to your advantage.
Bradley Sutton:
Let's switch gears now and, and talk some nuts and bolts now I know that this has kind of been the core of your software data dive and things like that. But way before you even had data dive for years you've been talking about things like rank juice and, and relevancy to the Amazon algorithm. And, and a lot of the stuff is, I think a lot of people understand these, whether they implement it or not, but one thing that I think not a lot of people talk about is something that you uniquely, at least in my experience you're one of the few ones who talk about it, is on one hand, yes, I think everybody understands, Hey, if I have something in phrase form in my title that's obviously important to the algorithm in my top five phrases, I've gotta have those, those in phrase form. But then you take it a step farther where your internal kind of calculation as far as rank juice and relevancy goes, doesn't just take things in phrase form, but you have something that you call like broad where you calculate how relevant something is, even if you have bits of the keyword. So you know that's just a complete rough, terrible explanation of it. But, but maybe you can articulate a little bit better the thought process and the logic behind that kind of relevancy strategy.
Brandon Young:
Yeah. So through a ton of trial and error and, and just seeing what index is and what rank, how rank is impacted based on how you write your listing and how your PPC performs based on where things are in your listing and how it's written into your listing. And then talking to very smart people's people much smarter than I am, we were able to determine how Amazon's algorithm pretty much works, right? We, we were able to kind of solve this massive formula. Now we don't have the exact drawn-out multiple-line formula with all of the different variables but we do know what it looks at and then kind of how it weights it. So the algorithm, first of all, starts by scanning your listing and reading it, and then it reads it in an order that it weighs heavier or lighter, depending on where it finds different words and phrases.
Brandon Young:
And so the title being the heaviest weight, and then all the way down through bullets description, and then it reads your backend as well, and it kind of puts those in weighted order. And then in addition to that, the algorithm wants to know what you're selling. And you have to understand that in the English language, there's only a set number of words. So if they were looking at any given three or four sentences and then picking words out and trying to mash them together to find out what you're selling, they might find all sorts of irrelevant stuff that they can make out of those words, right? And so the way it works is that it weighs words that are together heavier than it does words that are apart. And then even more the next step would be that it weighs words that are in order, or phrases that are in order more than it weighs them that are out of order.
Brandon Young:
So broad match would be words that are not in the same order, but together, or not even together, but not in the same order or not together. So it would be like dog bed would be bed dog, right? Even more so, it could be dog green bed that would be a broad match to dog bed. And then you have the phrase match, which is the same words in order, but the longer tail keyword, there's more words that are also with that phrase. So it'd be green dog bed or big dog bed or dog bed for large dogs, would be a phrase match to dog bed. Now we understand that the reason that it has to do this, and it gives a lot of credit, is because when you have an action happen, each action also gives you a different amount of credit depending on the action type.
Brandon Young:
Yep. So maybe a click is an action. Browsing your reviews is actually an action. Most people don't know that. And add to cart is a very powerful action. We've known that for years, and that was used to help rank in the past when it was allowed and a conversion, a purchase is actually the most powerful, right? Like testament to someone that's something being relevant. So each of those actions have to give credit to thousands and thousands of keywords, because Amazon cannot wait for an action to happen on every single keyword to rank that keyword. So what they do is every single time there's an action, they're giving a little bit of credit to thousands of keywords for ranking and for relevancy. And so what ends up happening is you have a performance metric of all those actions.
Brandon Young:
And then you have a multiplier of times the match type and the location in your listing, which is a relevancy multiplier. So basically what ends up happening is I have someone go to search for I'm trying to rank for dog bed, and then they search for dog bed for terriers. And then they go and they click on it, my listing, and then they add it to cart, and then they purchase it. I've had several actions there. Now. I've gotten credit for literally every single set of keywords and phrases that has dog bed and bed for terriers. And those three words in it, those phrase, any of those root, we call them root words or root phrases, we've gotten credit for all of those. And so the thesis behind our research and the way that we optimize and the way that we try to maximize the rank and the reach of our listings and the traffic for our listings, is that we write our listings in a way that optimizes the search volume and making sure we're covering all the root words that are in the typical ways people search to find.
Brandon Young:
So it's a long convoluted way of saying yes, match type matters because Amazon gives you more credit if it's an exact match and then a phrase match gives you a little bit credit, less credit, like 50%, and then a little bit less credit if it's a broad match. And then there are plurals mixed into there too. So instead of dog bed, it's dog beds, and that's less than an exact match, but more than a phrase match, right? So there's all these ways that Amazon's looking to give you credit across all these words, and you have to kind of know them in order to really write your listing in an optimize ways to maximize your rank potential on Amazon.
Bradley Sutton:
And if you can just help people understand the power of this. I know you've had different people where you take a look at their listing and then they don't have enough phrase for 'em, they don't have enough exact, and you look at their competitors and they're crushing it where, where just small tweaks has resulted in ridiculous amounts of, of revenue for them. Like you don't have to give the exact product way or if there is one, go ahead. But can you give an example just to illustrate how powerful understanding this strategy is?
Brandon Young:
Yeah, I'll explain why right? That relevancy multiplier matters a lot, right? So am if Amazon's not sure you're selling something, and it could be what you're selling, and they're unsure though, the algorithm's unsure, they're gonna cap your rank ability at a certain level. And usually that level's in that 25 to 40 range. So you'll see this when you see best-sellers who are in the top five for every keyword, except for a few that they're 25 or 35, right? And the reason being is because you'll notice that there's a pattern between those same words. There might be the example that I've, that I've used recently that was very interesting is that Oxo's huge kitchen brand, multi-billion dollar brand, and then they've got a garlic press and everyone loves the garlic press as an example. But did you know that garlic press is only one way to call and look for a garlic press?
Brandon Young:
Like a lot of people call it a garlic mincer. And so mincer being the second most popular way people are looking for and searching that's a mincer is a completely different root word. And if you look at Ox o's title and their listing, they don't use the word mincer anywhere. What they do is they say it's good for mincing, crush, mince or whatever your garlic, right? And so if they simply took, now mince is in there, but mince is a different word than mincer. Mince is a verb. And mincer is an adjective, right? Or a noun. So it it Amazon's algorithms like it could be, but it might not be. So I'm gonna block it. And so the reality is, they're probably running PPC on garlic mincer, and they're probably accumulating credit when people do stumble down to it in position 30 or 25 or wherever they're at.
Brandon Young:
But Amazon's blocking it, so they've got credit in the bank of that keyword, is the way I like to think about it. I like to think of your product as a bank and every keyword being a bank account, and it's sitting there, but they're not cashing it in. They haven't unlocked the relevancy enough to maximize their ranking juice in order to cash it in. And so all they would have to do is write garlic mincer into the title, and they would probably immediately rank in the top five for garlic minur and all garlic mincer related keywords. That's the type of example that we've seen many times over with people who follow this type of practice because they haven't done the keyword research and found all of these root words, secondary ways people are calling a product that they're not familiar with. And another example would be a toiletry bag. Someone asked this the other day on LinkedIn. And it was very funny cuz I use this example some people call it a toiletry bag. Some people call it a Dopp kit. Some people call it a backup bag. Some people call it a travel bag.
Bradley Sutton:
What was that second one?
Brandon Young:
Dopp kit. D O P P
Bradley Sutton:
How to spell that?
Brandon Young:
D O P P
Bradley Sutton:
I've never heard of that before.
Brandon Young:
Exactly. So the point would be that if you wanted to sell this on Amazon and you did a research for toiletry bags. Yeah. And you went on Alibaba or 1688 and you, so you sourced toiletry bags and you wrote your listing for toiletry bags and even if you added bathroom bag and all these other things and, and everything and you just left op kit out, you would just miss out on a really important root word that has tens of thousands of searches a month as an aggregate. So the point is doing that initial keyword research and making sure you're finding and identifying all those initial root words or ways that people are searching so that you can build them into your listing and establish the relevance. He said Amazon will rank you for it.
Bradley Sutton:
Cool. Alright. Again, one more thing I'm actually gonna be doing almost with every guest going forward. For me, 2023 is one of the sub-themes I want to do talk about in podcasts is for entrepreneurs is mental health and physical health. obviously what happened to me this year was kind of an eye-opening thing at my age. And so like, what I'm gonna start doing to for a guest is I just wanna know about your on, on the mental health side for me, like it's important to have hobbies. So like one thing I start doing on the podcast now, like my little opening always has me a clip of me like in one of my travels cuz travels are my hobby. And so that's how I bring that here. And everybody has different hobbies, but then on the physical fitness side like I bought one of those under-desk treadmills. Now I'm trying to use that like one hour a day to get started getting back into health. But first of all, on the hobby side what is your non-like e-commerce hobby that you do to kind of like an escape from your day-to-day?
Brandon Young:
I love sports, so it's usually anything related to that. Going to sports games, football probably first, and then basketball and baseball. I'm in an amazing town here for all three where I've got the dolphins, the heat, and the Marlins in Miami. But we were collecting sports cards a lot heavier over the last couple years. I backed off that as it's been a terrible investment, so to say, but it's still fun to speculate on some young stars on the baseball side and some, it makes watching sports more interesting when you've got the rookie card of a guy. The same reason we do fantasy football, right? Like if you got them on your team, you can watch any game because there's someone that on one of the sides of the field usually that, that you've got on a team somewhere.
Brandon Young:
So that's always fun. But typically it's sports or something related to that being a dad and golf is probably even bigger than that. I mean, it's, it's a sport, but my son, I grew up playing golf well baseball, then golf and I started getting really serious into it. I started when I was 11 and then when I was 13, I quit baseball to take golf full-time and seriously. He's been doing it for a few years. He just turned 11 and he's already better than I was when I was 13. So he's starting to enter tournaments. I go to the driving range with him regularly. I have a platinum membership at Top Golf, and we go there a couple of times a week and then we try to get hit the golf course every couple of weeks and start teaching him the short game and some of the finer points of golf. That's my disconnect.
Bradley Sutton:
I Love it. I love it. All right guys. Hope you enjoyed this first part of this episode. Like it was so long that instead of like cutting it, we are like, let's make this two episodes. So make sure to come back tomorrow and check the next episode and part two will be out and ready for you guys.
---
Enjoy this episode? Be sure to check out our previous episodes for even more content to propel you to Amazon FBA Seller success! And don't forget to "Like" our Facebook page and subscribe to the podcast on iTunes, Spotify, or wherever you listen to our podcast.
Get snippets from all episodes by following us on Instagram at @SeriousSellersPodcast
Want to absolutely start crushing it on Amazon? Here are few carefully curated resources to get you started:
Everything for your business on Amazon.
Find out more about our products by signing up or speaking with one of our
Customer Success representatives today. With us in your corner, you can enjoy
more sales and increased engagement from your Amazon business.
Chat with a Support Specialist