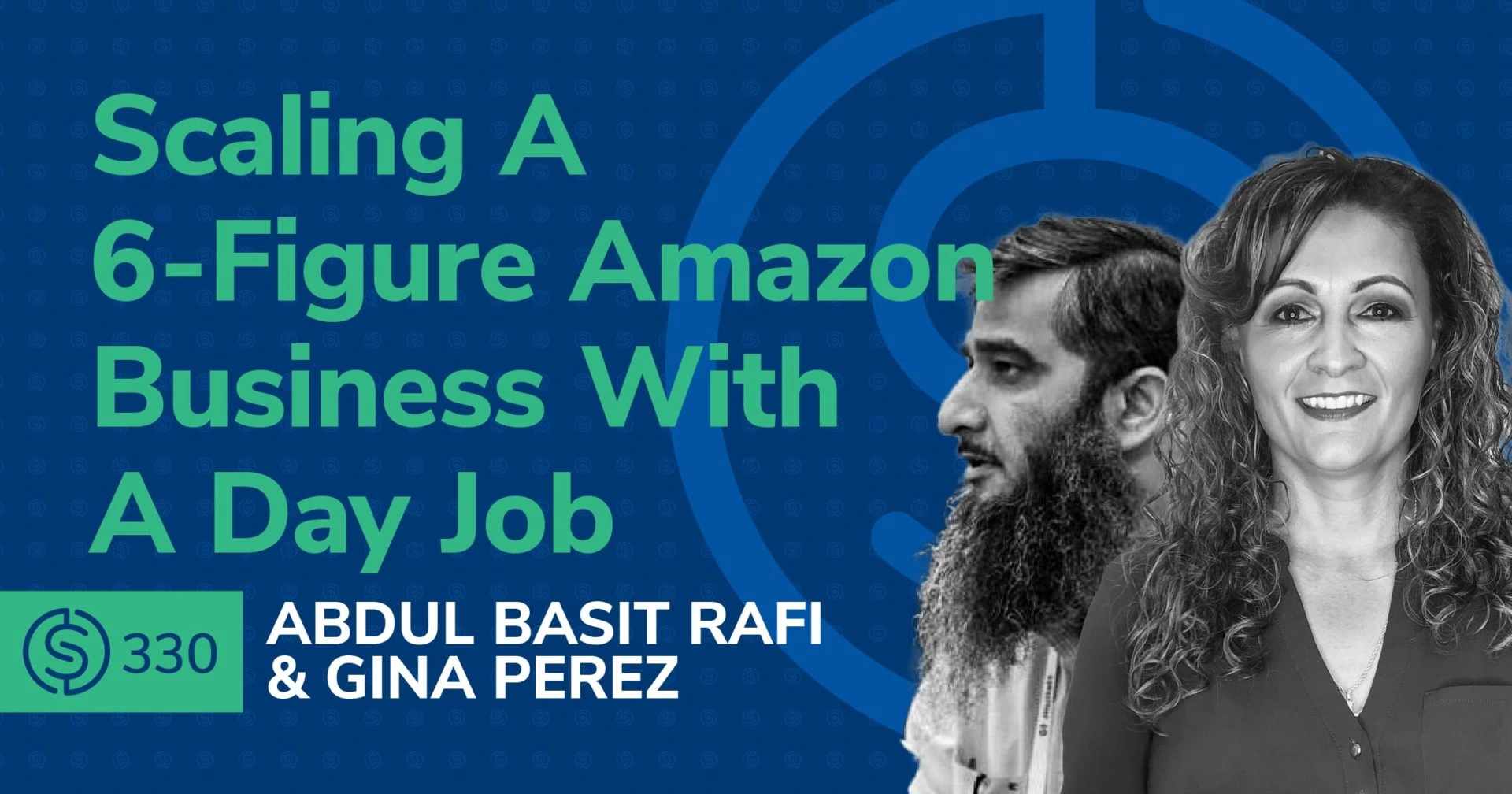 #330 – Scaling A 6-Figure Amazon Business While Having A Day Job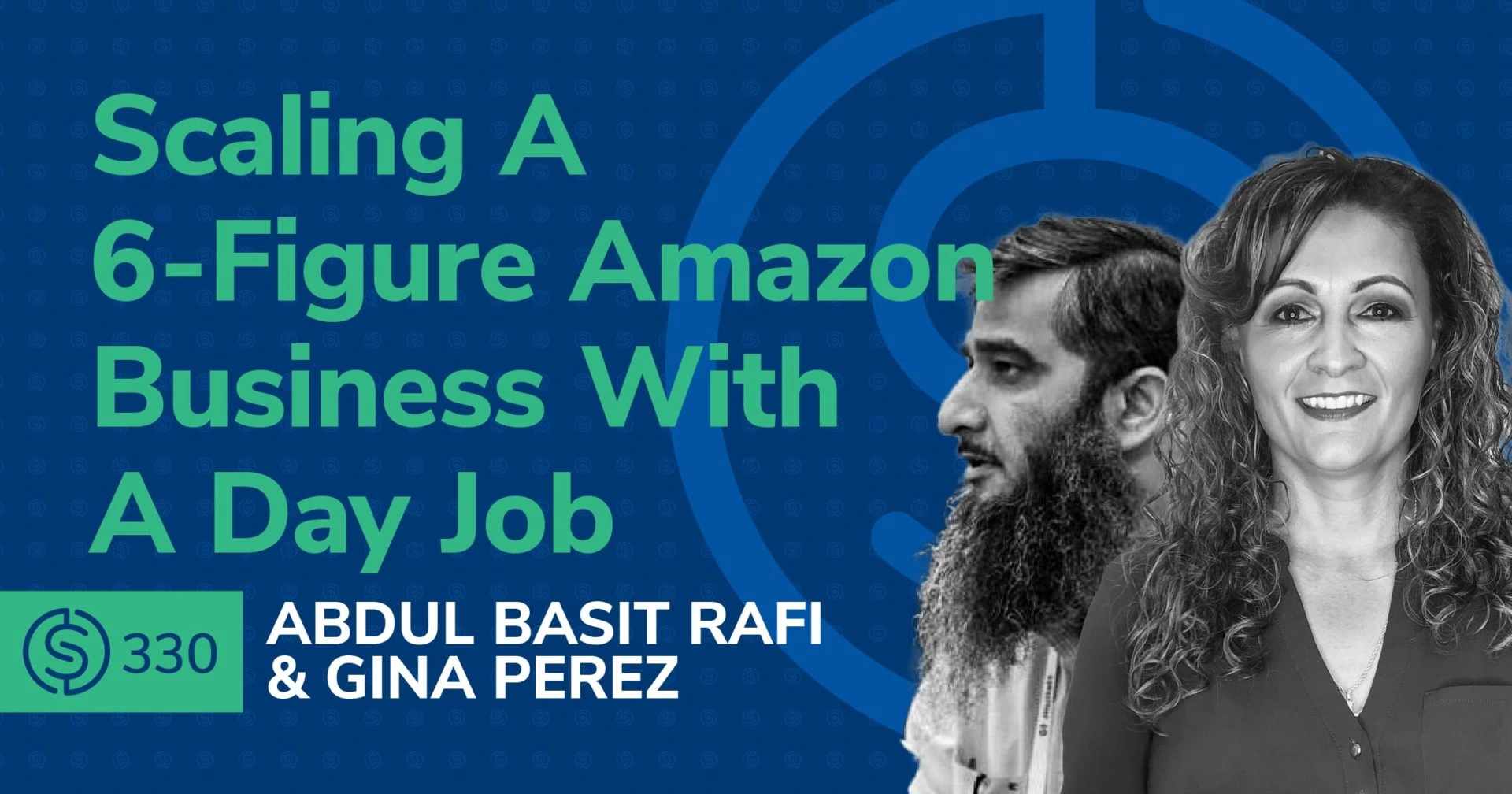 In this episode, Bradley speaks with Abdul Basit Rafi and Gina Perez, Helium 10 Elite group members, and six-figure Amazon sellers. They share their stories on how they started selling on Amazon while having a full-time job and how they scaled their business with the help of unique strategies such as manufacturing in the US, roadshows, building a brand website first, SEO, and more!
In episode 330 of the Serious Sellers Podcast, Bradley, Abdul, and Gina discuss:
02:30 – Gina's Backstory And How She Got Started In E-commerce
07:30 – Abdul's Backstory And How He Got Started In E-commerce
11:00 – Transitioning A Retail Business Into Amazon
13:00 – Starting A Business While Working A Full-Time Job
13:30 – Juggling Businesses, An Agency, And A Day Job
15:30 – Making Big Money In E-commerce
20:00 – Having A Backup Finance Plan While Building The Business
23:00 – Family Support And A Longterm Plan Matters
26:00 – Pivoting Strategies To Industry Changes
26:30 – The Benefits Of A Helium 10 Elite Membership
29:00 – What Other Marketplaces Do They Sell On?
30:00 – Abdul And Gina's Thirty-Second Tips
32:30 – Exhibiting Your Products On Roadshows And Conferences
37:00 – Having Your Own Website For Your Amazon Brand
39:00 – Finding US Manufacturers For Your Products
44:00 – Make Sure To Attend Events To Build Your Network
Transcript
Bradley Sutton:
Do you still have a day job and aren't sure how, or if you'll be able to transition to full-time on Amazon? Today, we're gonna meet two people with similar stories. They started on Amazon while still having a full-time job, and let's see how they were able to scale the six figures with the help of unique strategies, such as manufacturing in the USA, roadshows, and more. How cool is that? Pretty cool I think.
Bradley Sutton:
Not sure on what main images you should choose from, or maybe you don't know whether buyers would be interested in your product at a certain price point. Perhaps you want feedback on your new brand or company logo. Get instant and detailed market feedback from actual Amazon prime members by using Helium 10 audience just entering your poll or questions and within a short period of time, 50 to a hundred or even more Amazon buyers will give you detailed feedback on what resonates with them the most. For more information, go to h10.me/audience. Hello everybody, and welcome to another episode of the Serious Sellers Podcast by Helium 10. I am your host Bradley Sutton, and this is the show that's a completely BS-free unscripted, and unrehearsed, organic conversation about serious strategies for serious sellers of any level in the Amazon or Walmart world. And we've got a couple of sellers that are all over the world.
Bradley Sutton:
As a matter of fact, here in we're in three different time zones. It is 9:00 PM here in California when I'm recording this. And then we have people from two different time zones who have never met each other in person. Abdul I've met in person. He used to come always to our Helium 10 Elite workshops in California when he was living in Jersey, and he would make that three hour flight every time just to come to our workshop. So it's great to see you again, Abdul and I actually recently saw you in Pakistan last year. That was so cool. It's like we see each other in California, we see each other on the other side of the world. And then we've got Gina here who I see almost every week on our weekly Helium 10 Elite network calls that we do on zoom when we have a group meeting and I was like, you know what, I've been talking to these people for a while, but I don't really know their story. And I wanna learn it with the rest of you guys. So that's what we're gonna do today. So welcome to the show. Gina and Abdul, how's it going?
Abdul:
Not too bad.
Gina:
Thanks for having me.
Bradley Sutton:
Awesome. Awesome. Now let's start with Gina. I've known you for less time than Abdul here. So let's find your backstory now. I believe you said you were in Texas that you're in?
Gina:
Yeah. I'm in Texas
Bradley Sutton:
That where you were born and raised or
Gina:
Born and raised in San Antonio, Texas.
Bradley Sutton:
All right. So growing up, what did you wanna be when you grew up?
Gina:
You know I didn't really know. So I was a collegiate athlete and everybody thought, oh, I wanna be a professional, whatever sport you're playing, but that didn't exist for women at the time, but I knew I was playing a lot of sports. And then the other side of me was, you know, I was a relatively good student in school and I really wanted to have my own business. My mom was very good business wise. My dad was a salesman. So I think I just had the bug early on. I kind of fell into e-commerce. So I can't say like, oh, I wanted to be a fireman or fire person or anything like that.
Bradley Sutton:
What was your major in college?
Gina:
I was, it was at the time it was called business analysis, so it's a business degree that it was the early on stages of what people would know as like information systems put on the business side. So the start of Excel, all the spreadsheets, was the beginning of it.
Bradley Sutton:
So, was that something that you're like, all right I'm doing this just so I can play this sports, but I'll just pick whatever, or did you actually have some aspirations to get into that field?
Gina:
I did. So in high school, we had programming classes early on. So my sophomore and junior year, they had computer science and computer math. And I got really interested in computers and I did internships. Like I did the whole nine yards of it, fixing computers, don't have that networking system. And then when I went to college, I went to Texas A and M. I actually got into the engineering school and I thought I was gonna be a computer engineer. And then I found out really fast–,
Bradley Sutton:
Texas, A and M you know, you know, that's you know, Kevin King, that'll instantly make you one of Kevin's favorite people in the whole world if he found out that you to Texas A and M. What's the phrase"gig 'em"? Is that what we're supposed to say? Right.
Gina:
Gig 'em.
Bradley Sutton:
I love it. All right. And so then, oh, okay. So you're all into computers, even since high school, but then you said you kind of fell into e-commerce, so how did that fall happen?
Gina:
So as an athlete, you're traveling a ton and when you get into kind of the upper levels of your degree, like you have to do group work and programming in group work while you're traveling is horrendous. Like, you can't just make up stuff like you can't meet with anybody. So I went to our academic advisor and they switched me over to business, and they're like, we think you'll like this, cuz it's as close to computers you can get, but on the business side and it was the start of the internet. So I'm class of 97 and this was before the internet got really big before e-commerce got big. I ended up, you know, after I finished playing, working for a company that sold sporting goods. So I kind of fell into that and then, I just started on the phones. I was customer service, I knew baseball, softball equipment, and then this internet position opened up and I applied for it and I got it. And then 17 years later, it turned into, I was just managing content to, we created the first, you know, email program. We created the first affiliate program. The first, before Google was Google, I think it was called overture.
Bradley Sutton:
And everybody let me just make a clear, she says, she's the first email program for her company. She not that old guys where she created the first email program, even like history, like she's the origin of you got mail or something. She's a young person here. Alright cool.
Gina:
Well, you know, so that's how I fell into it. Like it was just one thing kind of led to another was a path that opened up for me. And then this web took off. So that was in 99. When I started kind of in the web department, I think our business was like the catalog order company for baseball and softball. So like the Sears catalog was for all of the things we were the count the Sears catalog for baseball and softball equipment. That's kind of what we were known for. We did everything. Mailer people would call in, you get a catalog once a month, people would call in an order. Things started to shift. So we started out, I think we were 13% of the business as a web division with me and one other person, and then we got bigger.
Gina:
By the time I left, we were almost 85% of total business coming into the web. And that's like I said, we launched every year with something new. I mean, you guys know that web changes every year, something new pops up from QR codes to online catalogs, to affiliate marketing and even when the third party marketplaces open up, that was actually my first experience with Amazon was selling our entire catalog of product through Amazon, though at the time it was Jet, any third party marketplace we could get to, we had feeds going through. So that was kind of my career, and I just kind of, you know, got promoted along the way for, you know, over 17 years and got people under me, launch programs, started learning everything I could. And that was not something that I would've been able to learn when I was gonna school. Cause it didn't exist. You know? So I kinda learned as I went along, when I graduated, all I knew is I wanted to do something with computers and maybe something with sports and that's kind of where I landed in a sporting goods company. Okay. So, awesome. Awesome. That's how I fell into it.
Bradley Sutton:
All right. Let's switch to Abdul now. So Abdul when I met you, you know, you were living in Jersey now, were you born and raised in Jersey or, in Pakistan?
Abdul:
In Pakistan? So back where I was born.
Bradley Sutton:
What part? Now I can say that I've been, you know, two different places there. So I might actually know.
Abdul:
So if you remember Lahore, I was born in Lahore, Pakistan.
Bradley Sutton:
Oh, excellent. Yeah.
Abdul:
That's where I am. So that's where we met last time.
Bradley Sutton:
Yep. Okay. So that was near your, okay. So then what about you did you go to university there in Lahore or did you go United States? I know many go to university in UK. How about you?
Abdul:
UK. Yes. And in that way, Gina and I are quite similar. I have a computer science programming background as well. You couldn't have picked two similar.
Bradley Sutton:
Were you a collegiate athlete as well? Cricket player, perhaps.
Abdul:
That's where we differ. So, I did my high school from Pakistan and graduated from UK, like you almost guessed, and started working for–, I was programming for London Stock Exchange, moved to New York, worked for the New York Stock Exchange, Chicago Mercantile. I used to do a lot of programming, lot of coding now I just test financial software. So that's my main gig. And Amazon is something that as Gina said, that came while it came off, it was after we discovered it and you know, it came out of my passion of the products that I sell. And hopefully–,
Bradley Sutton:
So, what about around, what year did you, did you get into e-commerce then?
Abdul:
So around 2012 I started my fragrance. I had Oriental fragrance business. I would wholesale it. I would retail it on my own website for many years. I would hear about Amazon.
Bradley Sutton:
Wait, hold on. What like a side gig that you were doing while you were still doing the stock exchange and different things like that?
Abdul:
Correct. While I was programming before. This was something on the side and it grew from there. So my growth was very organic and I've slowly built it up and kept hearing about this Amazon thing and only started looking to Amazon six to seven years ago. And as it goes, we did everything wrong until I discovered proper tools like Helium 10 and, I've discovered a community. So only now we have come to a stage where we can say, okay, now we're back on track and Hey, think this Amazon is better than my e-commerce my own website, so.
Bradley Sutton:
Okay. All right. So interesting path here, you know, we've interviewed a lot of people here and I ask similar questions sometimes, and we have people whose path to e-commerce was completely different where, where they graduated from university and they ended up doing something completely different. And then they completely pivoted again into e-commerce, but it was a little bit more organic for both you. I like that, you know, not a lot of people can say that you know, they started to get kind of into the field that was there, you know, major in university or college. So that's good that you all were able to. Now for you Gina, so, you were kind of building from the ground at the company. So then did you actually then introduce them eventually at the same company, introduce them to Amazon or get them started on Amazon? You know, you started them in email, went from five, 10% to 80% on web. Was there eventually a transition to getting those products up on Amazon then?
Gina:
Yeah. so with us as a retailer, we represented tons of brands. So really the feed is what we were looking to expand like how do we grow? We had our e-commerce website that we managed in house. We had in house developments, we had control of all of that. We were already doing email, we were doing affiliates. So what was the next thing? And third party marketplace was the next thing. And so it was okay, let's look into Amazon. What do we need to do? Can we do feeds, got our IT department to hook up our entire catalog website order. All the orders came in and flowed through our ERP system. And really, you know, it became kind of a third or fourth leg to our e-commerce channels. So if you broke 'em up into email and affiliate and all of them, that was one of them. And it was probably the second one behind email email was huge for us. We had like 6 million email addresses or something crazy like that. Then that was big at the time. And, yeah, we brought in Amazon and, and other marketplaces. So before Walmart bought Jet, Jet was one that we launched into as well. And did the same processes, really taking other people's products that we purchased and then put them online. And we had a–,
Bradley Sutton:
So it wasn't like your own company's own product, but you were putting other existing brands on Amazon that were not there.
Gina:
Right. And then we had our own brand too. So we had some private label there too, where we would work with our brands and say, Hey, you have these three things, but we need this price point. And then we would create, you know, a price point for that brand and also put that online and on our website and everything else.
Bradley Sutton:
So then fast forwarding to the end here. Like, are you still with this company or are you doing your own thing now?
Gina:
Oh, no, I'm doing my own things.
Bradley Sutton:
Now. Were you like Abdul in the sense that while you were doing, you got your day job, you started laying the groundwork and building it, or did you just like stop and then that's when you started your, your business?
Gina:
No, I had laid the groundwork. Like I would come home every day from work. And from after dinner until probably three or four in the morning, I was doing research or setting up the LLC or everything that you had to do to start a business. I was doing basically working a second job in the evenings until I felt like I was ready to leave. And really was a discussion with my family and my partner and saying, Hey, like when can we figure out that I can actually quit my day job cuz I'm, I'm getting about three hours of sleep a day and now it's time to transition and really like, you know, pardon of my French, but you know, should or get off the pot. Like I'm either gonna do this or not, and we'll give it a try. And if it doesn't work, then I always go back and get a job. Like that's okay. That's just what it is. And so we both agreed and here I am. Year two.
Bradley Sutton:
Now, Abdul switching back to you, you know, that takes me back to you. Like you're still doing like a day a quote day job, right? Yeah. Is that like an eight hours a day? Like a 40 hour a week kind of job.
Abdul:
Yes. Correct. So working I'm logging into a company.
Bradley Sutton:
So then all this time, were you in a situation like Gina was before, like you do your day job, maybe have a few hours in the night and then not getting enough sleep or how have you been able to juggle having a day job with you know, starting and then running your side business?
Abdul:
Well, I'm still in that situation, and to make matters worse. I'm starting a VA agency in Pakistan
Gina:
Oh my God. And he's got kids
Abdul:
And yes, you heard her, so yeah.
Bradley Sutton:
Well everybody just to let you know, most of us have 24 hours a day. Abdul has about 29 to 30. So, he's able to do all this, I guess. Huh?
Abdul:
Things are getting better. Cause I have four to five people who are, who I have trained on my own business, my own e-commerce, my Amazon. So I spend my day with them a couple of hours with them and I let them run with it. Then I have to come back and log into my US job. So then it's nighttime for me and day for use and I work through midnight. So it's pretty much the same, but it's getting better. And we're getting to a stage where we're able to hire, we're able to sign on other Amazon sellers who are saying, look, Hey, you know I'm drowning in it. Or my friends and family, I don't know anything about Amazon, but I wanna do it. So it's getting better. We're getting there and hopefully, soon I'll be in Gina's situation as well, where I'll be doing this full time.
Bradley Sutton:
So then like throughout this time throughout these, you've been doing this for like 8, 8, 9 years. How do you break down? You know, you weren't, were you always using virtual assistance or were, was there a time where you were doing everything on your own, and then how did you? How do you manage having a family, having an eight hour a day job? Right. And now trying to build an empire online.
Abdul:
So in the beginning it was all in house nothing outsourced for many, many years. I had a lot of help from friend and family. My dad is passionately involved in it. My wife, she would help out a lot the shipping and managing all the online stuff. So it wasn't too hard. Only when it started getting too complicated with all these through Amazon in the mix. And now that I'm working remotely. So part of me moving here was just to see if I can develop a team and leverage them to help me out over here.
Bradley Sutton:
Okay. Now, 2021 what was your estimated gross sales overall the platforms that you were selling online?
Abdul:
2020, we were doing $600K just on Amazon. But I think we were hit hard by the shipping price rise increases this whole COVID situation. So it's dropped we went back to $400K, but we were getting back and it didn't help that's when I was moving. So it was all, I had to shift all of my processes. So we are gaining our foot back. We are doing a little bit more advanced planning as the inventory goes, trying to order ahead in time. So we, you are on a trajectory and if you know things keep going this way, nothing else we don't–,
Bradley Sutton:
In Shaah we're supposed to say right. See I learned things on my trips to Pakistan there.
Abdul:
Perfect. Absolutely. So we're looking to regain where we were at the start of the pandemic and then start growing from there.
Bradley Sutton:
Okay. Now you said you're getting close to the point. Yeah. where the income you're receiving or your profit, whatever you want to consider it is gonna match or exceed your day job. So like, have you and your family talked about that point? Like, what is it gonna take? I mean, Abdul, it's been like nine years, right? I'm not trying to hurry you or anything, but I'm just saying. What is the point where you're like, you know what, I could probably scale this a lot faster if, instead of giving it two hours a day, I go all in. But of course, you've got a family. You can't just like, oh, you know when you're single, sure you can, let me just go jump in this thing and who knows, but you know, you got a family you gotta maintain. So I understand that whole balance. So what have you and your family talked about is like, what do you have to, is it a certain number that you have to reach? Is it something else? Just like a comfort level? I mean, like, what is it that's gonna make you give up that day job?
Abdul:
It's a mix of everything. It's a comfort level. Or like Gina said, you just gotta throw the towel in. And for us probably, it's just, we have a few more kids who are about to graduate. Few are about to enter college and–,
Bradley Sutton:
A few, how many kids do you have?
Abdul:
I've got five kids.
Bradley Sutton:
Okay. It sounded like a little bit worse. I got a few over here and a bunch over here.
Abdul:
So but it does help the living cost in Pakistan, it is much cheaper. So we're hoping this year 2022 would be the year when I'll go solo.
Bradley Sutton:
Okay. and how about you Gina,are you still in the animal niche, pet niche?
Gina:
Yes. Yeah.
Bradley Sutton:
So, your brand there what about how much did you end 202 Sales wise?
Gina:
So 2021, I think I ended right at like a $105k I think that was all that was Amazon Walmart, my own website, like the whole. And that grew faster. Like, I fell into the, it grew faster than I thought problem. Cause you know, managing cash flow and reordering inventory, like it grew fast. And so I quit my job to do this three weeks before the country shut down for COVID. I thought I had made a mistake. Like I was really panicking cuz I was like, oh my God, I just quit my job and the country shutting down, like what's happening. It ended up kind of being a blessing in disguise cuz then everybody started ordering online and then everybody started ordering. They started adopting pets.
Gina:
And so I had just learned that the pet niche was an industry that really was tolerant of anything that happened to the economy. So in 2008, when we were kind of in a recession, the pet niche grew, same thing with COVID it grew. And so I was like, well, it's kind of, you know, drought tolerant, so maybe I'll try it. And it really grew. And so this, this my first year I didn't launch until 20 20th of April. And so that first year not a full count under year was, it was right at a $100K.
Bradley Sutton:
In gross sales?
Gina:
Yes.
Bradley Sutton:
Okay. Now we tell me though, I mean like I'm, as you know, you're a big baller there, you know, seven, 20 years in this kind of industry, I'm assuming, you know, let's say you're making 20%, 25% profit. Would that be accurate to say, or what was your profit margin? Now that, that I'm 99% sure did not match whatever salary you exited.
Gina:
No, it didn't.
Bradley Sutton:
How did that, like, did you have savings? Did you have a backup plan you know, your household other than you made enough money so that it covered her. Cuz you know that, if that would've happened to Abul, you know, he might be living on his own right now, his wife would've been pretty upset, you know, like yeah. Give up your big day job for $20,000. So how did you manage that?
Gina:
Yeah, so it was, it was all of those things that you said. So savings. I had some credit cards that they had some large credit limits and so that helped kind of fund the business to start it and then also were able to manage kind of our bills. I, fortunately, have a partner who has a very well paying job, but also, you know, we were working four jobs in this house at one time because she's also working on her PhD. So we knew based on that salary and my savings plus credit card that we would be able to manage. And we gave ourselves a goal. I said, okay, in two years I have to be making X amount. So that at some point she's gonna have to quit her full-time job and she's gonna be a full-time therapist and that's gonna be pretty much a 50% salary cut and then student debt to payback
Gina:
So we just, we're kind of figuring out like two years from now, this is what I have to make. Bring, take home wise to maintain this household while then she transitions. So while she supports me in my transition from corporate to this, once I get to the place where I can support the households and vice versa. And then, you know, the goal is five years from now, she's in private practice or wherever she's at doing what she's doing and she's fully licensed and is helping people.,
Bradley Sutton:
Hey guys, I hope you notice something, you know, she's not making this up as she goes. So this is obviously something that they've talked about. They've been planning, you know, she could just come up with this plan because you know, they put some, some thought into it. I'm not sure if she's put nine years of thought into it like adul has, but there's a common thing here, guys. I'm not trying to make fun, but you don't. I mean some yes, sometimes you guys hear stories about like, oh, I just like told my boss, you know, gave him the middle finger and said, I'm leaving this, take this job and shove it like that one song says, and I'm just gonna go all in. I don't know what I'm gonna do. And then you hear about them, you know, making millions of dollars and then driving their Ferrari to their old bosses' work and saying, "haha I told you."
Bradley Sutton:
When you hear stories like that, guys, you know, Hey, they exist. I've had a couple of those on the podcast, but don't think that's the best way always to do. It's probably not the best way, the best way to do it. Like Abdul and Gina have done and actually have some kind of like long on plan. And also you notice that there's a lot of talks with significant others and even involving the children and their children's, you know, school, these are all important things that you guys need to think about. Those of you who are out there and you were in Abduls or Gina's shoes before they were full into e-commerce and you guys have a day job out there, these are considered, you need to take, you know, yes. I know it can get really exciting to hear the next webinar or something like that.
Bradley Sutton:
And the Amazon experience. And it is a great opportunity, but don't get so excited that you just like go up and go in all half cocked and you have no plan of action. That's one, like kind of like theme I'm seeing with both of you. And I really love that now. How is 2022 going for you? Like, do you have a, I know it's super, super early, but do you have a projected, you know, sales this year? Do you think you're gonna double it? Do you think you're gonna more it's less?
Gina:
Yeah, no, hopefully, it's I don't think it'll be quite double of my estimate is we'll probably end at about $150K gross just based on average sales and it,
Bradley Sutton:
How many products is that?
Gina:
Nine. but it's really an 80, 20, like two of 'em do the lion share and the other ones are kind of, kind of supplementary products that help, you know, with, with average order size and things like that.
Bradley Sutton:
Now let's switch back Abdul, a little bit here now, Abdu you know, you've been in the game for a number of years now. What are some of the biggest things that you've had to change with your strategy? You know, when Amazon changes something or just other, like terms of service change or, you know, just any times talk about all the times the biggest times you can remember that you've had to pivot being an Amazon seller.
Abdul:
So two major points I can think of in the beginning where I realized Amazon is not like running your own website, you know, you gotta be on top of the customers. You gotta be on top of the complaints. You cannot take your time. So we were like hit, we had a few shutdowns because of that. And the second, most recent time we had to change was this whole logistic situation where A, I was moving, B the logistic prices were going up the shipment price from China. So we had to come out with a systematic or a programmatic methodology of better forecasting looking at our past two, three months sales and forecasting three, four months, maybe more ahead, and working closely with our suppliers and stuff that used to happen easily. Now it's much more expensive and it takes much more time and effort. So those are the two points I can think from the top of my head that I had to change, to survive in this new world.
Bradley Sutton:
Okay. Now I definitely want to talk about, you know, being a Helium 10 Elite member, you know, sometimes people have the misconception that–, yes, it is true that there's a big majority of the Helium 10 Elite community are like, you know, 7, 8, 9 figure sellers, you know, but two were coming in as six figure sellers, you know making a hundred, 500, $600,000 a year. And why would you say it's been beneficial for you to be, and you know, in the Elite program, like, like, can you think of ways that it's, you know, some, some strategies you have learned that maybe you wouldn't have learned about, you know, if you were just trying to do it on your own.
Abdul:
So it's just being in the company of like-minded people sometimes you don't even realize what you pick attending a webinar, attending a seminar is one thing, but that's one thing I used to love about coming all the way from the east coast to the west coast, to the meetups, where it was a small group of people, and you would have candid discussions. And I would pick up from where we left off, where we had Cheryl who's also in the fragrance industry in the oil in industry, similar to my perfumes. And we would exchange notes. It's stuff that happens, not necessarily within the tool or within, it's the ecosystem that comes along with it. That's been beneficial for me.
Bradley Sutton:
Okay, excellent. What about you, Gina?
Gina:
Yeah, so I think for me because just the Amazon space as a seller of a brand is the new part for me. So, I felt like I got a head start on all of e-commerce and, you know, building my own website and having process orders and all that. But the little hiccups that happen that are the 10% of things that nobody can answer easily. So I got suspended for this or this I have this problem on an ASIN, you know, try this, that community is kind of the upper echelon of people that either have had that experience, or they know somebody who's had it, or even just learning some of the things when Kevin comes on once a month or whatever it is, his knowledge of what he's done, like that is very tailored information and people that I can ask specifically, this one group you can ask, and if they don't know, maybe somebody else knows or they'll find something, and it's not just Amazon, like even Carrie as I've started Walmart. Walmart almost doubled for me this year.
Gina:
Like as soon as I changed the Walmart phone services like started doing like a thousand dollars a month and I was doing like 200 a month. And all of a sudden, I was like, oh my God, like this channel's grown without trying. And so I, I need to pay attention to it and learning with, they just launched that Project W and I was like, oh God, let me watch that. Cuz maybe I'm missing something cuz yeah. There's not a lot out there all and Walmart. And so it that's for me, the biggest thing that I've enjoyed is just asking those specific questions and people saying giving you like specific answers without the sales pitch.
Bradley Sutton:
There you go.
Gina:
I'm tired of the sales pitches from everybody. Who's a guru, an expert and it's I'm over it. Like I need somebody who's done it.
Bradley Sutton:
Yeah. And going back to Abdul here, you know Gina was just talking about selling on Walmart. What platform are you on? Only on Amazon USA? Are you in any other Amazon in another country? Are you on Walmart? What marketplaces are you on?
Abdul:
Mostly on Amazon, my own website and my brother is running the same brand in Europe. So he has his the same setup Amazon, UK and all the other European countries that come with it. And also he has his own website and we share trademarks. We share products and expertise between each other.
Bradley Sutton:
Okay, excellent. Now you know, you got as been talking about strategies, whether you know it or not a and some of these strategies might be the most important of them all. And they're about the planning and preparation and, and how you transition from day jobs to Amazon and mindset and juggling family life and things like that, which are all actually pretty important. Sometimes even more important than some of these other strategies. But I wanna talk now just about, not everybody can scale to over a hundred thousand dollars of sales from, from zero, you know, which both you weren't given an Amazon business to start with. You started it from scratch. So let's go back and forth here with our TST, our 30-second tips or strategy. So what are some just, you know, minor things, they don't have to be something that's like some super ninja hacking the algorithm kind of thing, but just some of the little things that you guys have done that made a noticeable impact in helping you, you know, reach the success. You have, let's start with Abdul for one, go back to Gina, and then we'll go back and forth a little bit.
Abdul:
Probably tighter control on inventory. For example, we use shipping easy. So I have inventory and FBA FBM, some eBay, although not much my own website, or if someone comes to my warehouse in New Jersey and they pick up wholesale a thousand pieces. Now, suddenly I have to, all of my other outlets need to know, oh, we don't have this product anymore. I don't want to sell. And then having to explain to a customer, so start thinking about building your integrations. Like as you grow, you're able to manage this. Yes, I sell one on eBay and I can go and just minus one on my website, but is it really scalable? Like Bradley? You said like, you know, if I'm suddenly shipping 200, 300 and you know, hopefully, a thousand a day I'm not gonna have someone go and manually fix this inventory in all the places.
Abdul:
So inventory is one example, but you really need to start looking at where and how you can automate things, how you can make your life easier. And for me, outsourcing was a must if I were to grow, I was doing my own bookkeeping, at beginning of every month, we would change something and it would throw out our books for the last two months. And I just couldn't do it. I would do my own Photoshop. We would do everything. We learned everything, but we realized that we are stuck in the things which we can easily give to someone else who knows what they're doing. Yes, we'll have to pay them. They won't come free, but it will free us to expand our business, go and start looking at Walmart now, which is my next target or, you know, other regions.
Bradley Sutton:
Okay. Now real quick. I know we said we switched to Gina, but there was something you said there that I just wanted to kind of ask about, you know, you said, Hey, sometimes you get wholesale orders, you know, a lot of pieces, little piece, doesn't matter. Like, how are you getting these like, how do people find out about you to even ask, Hey, I would be interested in wholesaling this product. I'm curious about that.
Abdul:
So before my Amazon life, we did a lot of real roadshows and I still do them. I still travel and do very niche roadshows around Northern America. I still have a loyal following of people who buy it directly from my website and people who, my old wholesale customers who have very particular needs. And I cater to them. And I, you know, they, some of them even become my competitors. So they sell alongside, I have brand registry, so we have transparency. So only people who I authorize who have that transparency sticker can sell my product alongside me. So it's always key to bring somehow take your Amazon customer into your own ecosystem, have them to come into your ManyChat, into your mailing list or your own website. And that's a fine line. You have to tread where, how do you do it and stay within Amazon's terms of service
Bradley Sutton:
By like roadshow? You mean like, you know, like, are we talking about the fragrance industry, right? So is it like you, you look for like conferences and shows, correct. For correct. And then you exhibit you bring alike, ah, okay. And then, so when you, when you exhibit there, are you 100% sending people to your website? Are you also showing you've got a Amazon store? What do you do about that?
Abdul:
In the roadshows or when I'm one on one, it's always my website, and Amazon, I use as a leverage where I say, look, this thing, if I'm wholesale customer wants social proof, I show them my Amazon number, like, okay, this product is this so expensive because its doing this much on Amazon. So it, I use Amazon as a leverage, but in, in these roadshows I've spent time and effort. I don't want to just take all that investment of time and money and just send it to Amazon, to be honest.
Bradley Sutton:
Yeah. Okay. Hey, that's an interesting concept. I think you might be one of the first person who's mentioned this, but I used to do that, you know, with like baseball cards and different things I would set up, you know back in the day I need to start doing that again. I have too much here, too much money, but us in baseball cards, I need to get rid of some of them, but, but people don't think about it. I mean, there are conferences and, and shows collectible shows and for every industry, you know, I know there's a big one in Vegas every year for that, the pet industry. I forgot what it's called. It's a huge one. Yeah, the zoo one.
Gina:
Super Zoo
Bradley Sutton:
Yeah. Yeah. Super Zoo. That's it. I thank I was looking into that one time and so that's something, yeah. I don't know why I never thought about that to talk about that. But if you guys are in a niche where there is some kind of, you know, place where you can exhibit at, then, you know, take advantage and, you know, could you send people to Amazon? Yes. But you know, like Abdul says, now you're giving Amazon their 15% and everything else. So if you, if you, you can actually have your own website set up before then or, and your own warehouse where you can even have people just pick up, you know, like you said that could be something to look into. All right. That's good. Now let's go to Gina. What are a couple tips or strategies? You can give us that have helped you along the way.
Gina:
It's kind of my SEO philosophy. If there's a hundred things you can do right for SEO that you can rank correctly, try to do as many right as you can. And so that's what I did for my website. And that's what I did for my Amazon listings. Like, make sure your title's correct. Your keywords are, your pictures are what they're supposed to be, try to do as many things as you can, and then turn it on. And that's was my philosophy is just kind of, you know, keep it simple, stupid right? Just start with the small stuff and then start to launch. So then I launch Google ads, pay Amazon ads and just try to stairstep it.
Bradley Sutton:
So you hired somebody to help you, like drive out, you know ranking in Google and things like that for your Amazon business or?
Gina:
For my own website.
Bradley Sutton:
For your own website. Oh, so I didn't. Okay. So you actually have your own website for your Amazon brand as well.
Gina:
Oh yeah. That was the first thing I built. Like that was, you know, I kind, like I said, I come from e-commerce, so my ultimate goal was it's cheaper. Like get the, if I could get every Amazon customer I had and bring them to my website, then that's gonna be more profitable for me in the long run. Cause I don't have to pay the referral fee. Right.
Bradley Sutton:
And so how are you fulfilling those?
Gina:
So either fullfilment by Amazon, Walmart fulfillment or I ship out my house too, so I've a pretty good relationship with our mailman that I put in the online form. And if I've got packages that go cuz we've got those mailboxes where you have to go to and open a key and all that stuff and nothing fits in there. So I'd have to–,
Bradley Sutton:
That's Texas there.
Gina:
And I'm like, no, I'm not doing that. He just says, text me, you know, put in your form online, but text me and I'll come by your house and I'll pick him up. So I have like a little, you know, bucket set up and he comes when I text him and sent the form and picks up my packages and I might have one, one day and I might have 10 another day. So it just depends, you know, it's cyclical in ways.
Bradley Sutton:
So do you manufacture your products in USA, China, or where's your products coming from?
Gina:
Yeah, so that was one of, kind of my strategic things that I decided from the get go was that I only wanted to have products that remain the USA. One to have that as a, as a, a selling point and then two for cases like COVID or delivery, price increases, things fallen off of a boat. Like I didn't wanna deal with any of that. So I said, okay, I'm only gonna find manufacturers in the United States. And did you do,
Bradley Sutton:
Was it a website that you use or like you just, just Google or how that's a common question. I mean, I know you, you can even use Alibaba to actually find U us manufacturers, but how do you personally do it?
Gina:
Both. So I did Google. I tried to find manufacturers that were private label and trying to find within the pet industry. My biggest thing was when you're starting out, their minimum work quantities, their MOQs are huge. And so it's like, oh my God, like, I've gotta put in this much just for one Skew. So I did kind of a mix. I found one where there's huge amount. It's I say huge, but it's relative right. For one my best seller. But then my supplemental, those are no minimum order quantities. So I do both and it's, it works out better. And I just went on Google, I've found kind of like the associations that run your industry. So if it's I don't know, in the pet industry, if it's like th people who govern, they have shows and when you go to the shows website to register, there's always a exhibitor list and you click on the exhibitor and here's all the people that are gonna have a booth at the show.
Gina:
So if I can't actually attend the show, at least I know here's all the companies. And so I would go and I would click on every single one. I would see who was in the United States, who manufactured in the United States. I visited facilities and then worked out terms and found really two companies that manufactured for me that are smaller. They're not huge, but they they've worked with me really well. And I can appreciate that. Like, I'm, I'm a loyalty type person. Like if you're loyal to me, I'm totally loyal to you. And you know, I'll give you the sure off my back, you know, if you help me, I'm gonna help you in whatever way that I can. It doesn't even have to be business wise. You know, once, once you get into my circle, you're in my circle, whether you like it or not. And so hat's what I did Google and research and trying to find who does, what, how much is it gonna be? Who's gonna help? What can I afford?
Bradley Sutton:
Are you one of the only ones then in your niche that is made in USA, is most others made in India or China or things like that?
Gina:
It's depend on the product. So kind of in the pet supplement space, there's a lot of manufacturers in the United States when you get into like the raw meat, like jerkies and things like that. A lot of it is China or there's some in Mexico. I found United States only, cuz I wanted to have all products that were natural for one, so no preservatives or anything like that. And then I wanted made in the United States. Not for anything other than like, why not? Like, you know, yeah, it could be cheaper, but I can pay somebody here for whatever.
Bradley Sutton:
I mean, that's a selling point, there's some people who just search for it. Like, Hey, I only want made in USA. And so you would have an advantage over the competition then. Okay. And I'm sure you don't have to worry about all these import shipping prices and five month shipping delays that some of us are having to deal with.
Gina:
That, that didn't hit me. The thing that hit me the most was the storage limits at Amazon.
Bradley Sutton:
Yeah. What about you Abdul where you manufacturing?
Abdul:
So just going back to Gina's point, you have to keep your mailman, how happy? I think my mail people, cause I'm in fragrances, he was the best selling mailman in the town. So a good point. I manufacture in China. But a lot of my fragrances and oils they're Oriental they come from the middle east, but what I'm doing now is I'm also to make myself, if I wasn't busy enough I'm manufacturing in Pakistan too, just because, A diversify Chinese prices go up Chinese New Year hits you and you know, suddenly the logistics or the shipping prices are high from China. I have parallel products. I'm making the same item made in China and made in Pakistan. And just so that I don't run out, I might run out of one ASIN, but I have a parallel ASIN which keeps going. So that's work in progress. Hopefully this year I'll have my, I think within, over the next week, two weeks, I'll have my first small item hitting Amazon made in Pakistan for the first time.
Bradley Sutton:
Cool. All right. Well, interesting. You see like usually we just do these tips and then that's it, but then like, as you guys were selling saying your tips, all these other side things that are coming up and I like that. I love it. So we were able to learn a lot from you guys. It's great, I love having people that you know, nobody has heard of, you know, outside of our elite group, you know, like and I know Gina seems to be semi-famous celebrity in the nineties, in the sports world, but the point is that, you know, if you're listening out there, you know, yes, we definitely love to hear from the Kevin Kings, the Tim Jordans and Brandon Youngs and the celebrities of the world, but we can still learn a lot from also, you know, just networking with other regular, I myself learned a whole bunch, you know, from this today.
Bradley Sutton:
And, and, you know, I have in the past, you know, from Gina and Abdul. So make sure to network guys, you know, we have the Prosper Show you know, that was here and then we have a big, huge Helium 10 Sell and Scale show that will be in September. There's conferences, all over the world. I met I met Abdu, we hung out at a conference in Pakistan, in Lahore of all places, you know, so it doesn't matter what country in the world, there are Amazon meetups and things, whether they're virtual or in person. And I highly recommend going to these meeting people. I've told you guys this a million times, you know, there is people I met at my very first Amazon conference, you know, back in 2015, 2016, that to this day are still in my network.
Bradley Sutton:
A couple of them ended up working at Helium 10, you know, even years later. So you, you never know what, what making these kind of connections and you could learn a lot from sellers of any level, because we're all serious serious sellers, like our catchphrase says. So I wish you guys the best of success congratulations so far, all you've been able to achieve. It's very inspiring and definitely in 2023, I want to reach out to you and see, you know, what you're able to scale to Gina and see if Abdul finally quit his day job, we'll see and see how you guys are doing, but I'm sure I'll be seeing y'all in person, hopefully at one of these events coming up. All right. Thank you guys. And we'll see you later.
---
Enjoy this episode? Be sure to check out our previous episodes for even more content to propel you to Amazon FBA Seller success! And don't forget to "Like" our Facebook page and subscribe to the podcast on iTunes, Spotify, or wherever you listen to our podcast.
Get snippets from all episodes by following Bradley on Instagram at @H10bradley
Want to absolutely start crushing it on Amazon? Here are few carefully curated resources to get you started:
Achieve More Results in Less Time
Accelerate the Growth of Your Business, Brand or Agency
Maximize your results and drive success faster with Helium 10's full suite of Amazon and Walmart solutions.