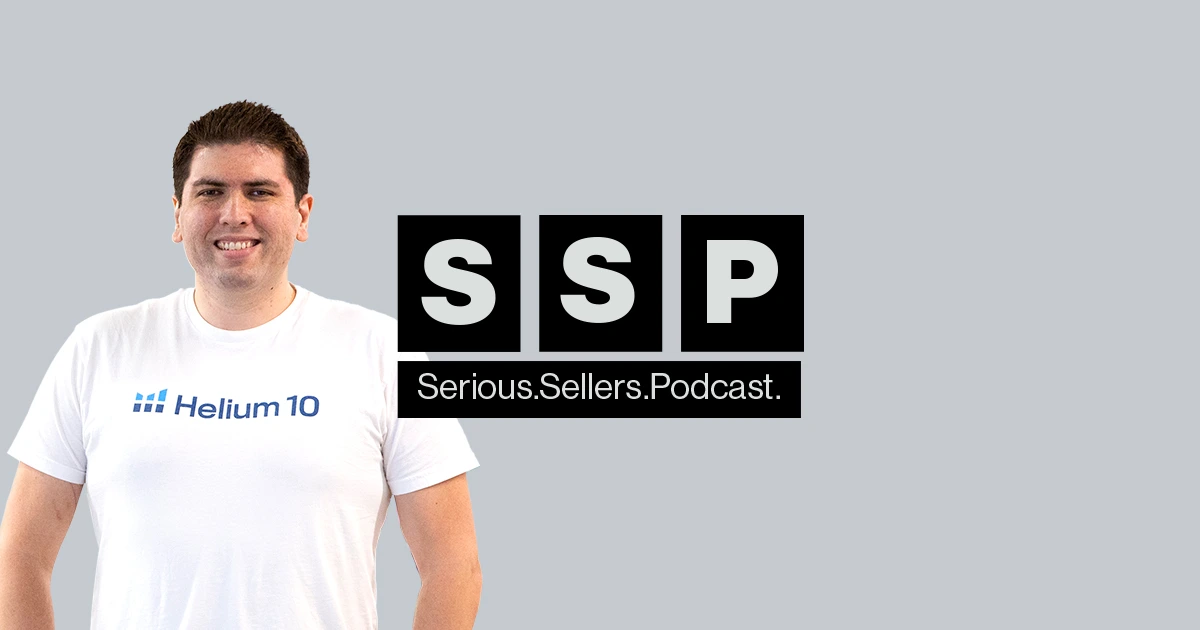 #157 – This "Best of" Offers a Fresh Look at Our Top Recent Amazon and E-Commerce Blogs and Podcasts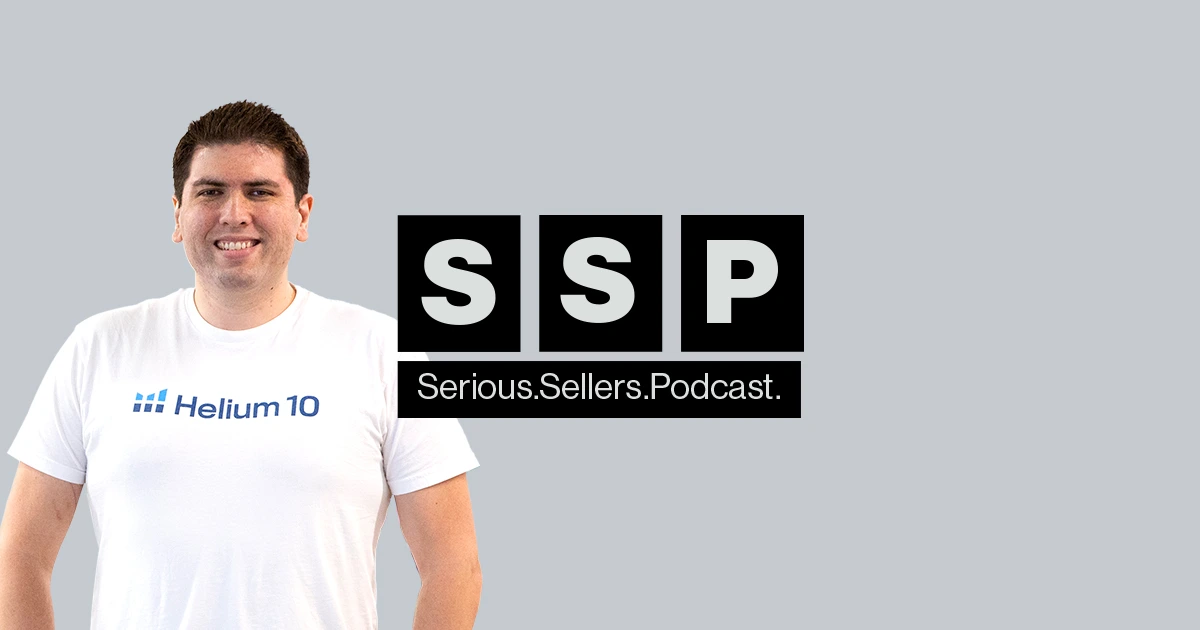 At Helium 10, we love to create valuable content. Finding success on Amazon is a challenge and requires that you keep pace with a constantly moving (business) target.
Every single week, you'll have the chance to read, listen to, or watch something that helps you to level-up your Amazon business.
Today on the Serious Sellers Podcast, Helium 10's Director of Training and Chief Brand Evangelist, Bradley Sutton presents another "Best of Everything" episode that gives you a little sample of all that we do.
In this episode you'll hear everything from the story of a rock star that's bringing entrepreneurship and goodwill to Haiti, to a female lawyer who left the world's top grossing law firm to run a hostel (and start a thriving Amazon brand) in the Costa Rican jungle.
There's also a story on how Bradley got a trademark (and Amazon brand registry) in two weeks as well as the latest on Amazon's new Posts program.
In episode 157, Bradley presents a "Best of Everything" Serious Sellers Podcast:
02:00 – Billing 3000 Hours a Year, Something Had to Give
03:30 – Anne's Price Point Shows that Amazon's Not Just for Bargain Shoppers
04:20 – Entrepreneurship for Kids
06:10 – Learning Lessons from Failure
09:00 – From Rockstar to Ambassador of Goodwill and Entrepreneurship
12:30 – Bradley's "Brand Error Code" Tactic
16:30 – Scaling Way UP with LEGO
17:05 – How LEGO Uses Helium 10
21:20 – How to Get a Trademark and Amazon Brand Registry in 2 Weeks
23:00 – Finding a Name for Your Trademark
24:30 – Do Your Brand Homework
26:30 – Be a "Tour Guide"
28:10 – The Perfect Social Animal
31:00 – Amazon's Posts Program
34:00 – Purchasing Products from Amazon Posts is Easy
37:00 – Amazon Posts – Best Practices
Enjoy this episode? Be sure to check out our previous episodes for even more content to propel you to Amazon FBA Seller success! And don't forget to "Like" our Facebook page and subscribe to the podcast on iTunes, Google Play or wherever you listen to our podcast.
Want to absolutely start crushing it on Amazon? Here are few carefully curated resources to get you started:
Transcript
Bradley Sutton: On today's episode, you're going to get the best hits, the best strategies from the Serious Sellers Podcast, AM/PM Podcast and our written blog over the last few weeks. How cool is that? Pretty cool, I think.
Bradley Sutton: Hello, everybody. And welcome to another episode of the Serious Sellers Podcast by Helium 10. I am your host, Bradley Sutton. And today, we've got one of our "best of" podcast episodes. Now, this is not just the best of the Serious Sellers Podcast, but it's that, plus the AM/PM Podcast by Tim Jordan, and our Helium 10 blog. With all the content that we put out on these three mediums, I know you guys probably don't have a chance to listen to all of them or to read all the blogs, especially since we're releasing blogs almost every day of the week. So what we did was you guys kind of voted whether you knew it or not based on the number of listens, and the number of comments in social media, the number of social shares for the blogs, et cetera, et cetera. We had a clear distinction here which were the top blogs and podcasts episodes of the last couple of months.
Bradley Sutton: And so what I have done is compiled the best strategies and the best tips from each of these that were kind of the top ones lately. So, perhaps you're going to listen to an excerpt from one of these over the next few minutes here, and maybe you're going to want to go back and listen to the whole episode or read that whole blog. Cause he didn't get a chance the first time. So, hopefully you're going to find something today that might inspire you to do that. So here we go, let's get started.
Bradley Sutton: Here's something I think all of us can relate to. We've probably all had one of those moments, right, where we're tempted to just throw it all away and run off to a tropical beach town. But if you're throwing away a six figure salary, now that requires a little bit different level of commitment. In our first episode today, this is a Serious Sellers Podcast that we had. It's entitled "For this Former Lawyer, a Costa Rica Move Was Her Path to Children, and Seven Figures Selling on Amazon." This one is about Anne Ferris. She was a lawyer who left the world's top grossing law firm to open up a hostel in the Costa Rican jungle. In between billing 3000 hours a year in between calls to the firm's emotional support hotline, something had to give.
Anne Ferris: I was having no time off, no sleep, super high stress. And at one point I actually went to the HR woman and said, I need you to refer me. I got to speak to someone cause I can't handle my stress. And in my team of 10 people, there were four people, including a partner who were hospitalized for more than two months with stress related illnesses. It's not just people complaining, being like, Oh, I can't hang. It's really causing serious health issues. And it was just like, I just realized, this is not what I want from my life. They try to make you feel like it's all worth it. The work you're doing is so important that it's worth missing birthdays, missing weddings, missing every social engagement, you know? And I just saw partners retiring and you're like, Oh, so sad. You're leaving. And then the next day life moves on. And I thought, man, this really isn't what I want from my life.
Bradley Sutton: Anne left London with two suitcases. Now she's already tripled her lawyer's salary selling on Amazon and says she's just getting started. One thing that she's confident about is her price point.
Anne Ferris: The sample that I chose was twice as expensive as all the other samples, but in my opinion, way more than twice the quality and most people for my product we're selling between $20 and $40. And, I started at 40. And then I went up to 50, it was selling more, then I went up to 60, and was selling more. And then I went up to– I'm up to 70 and that's where I've been holding.
Bradley Sutton: Next up is a blog post titled "Five Ways to Teach Kids Entrepreneurship" by Mary Nhin. Mary says that instilling a healthy work ethic and kids needs to be done with love and compassion. Now, as many of us are spending large parts of our workdays at home, we're blending home and work in ways that we haven't done before.
Mary: Entrepreneurship introduced early into a child's life can help them develop social, emotional skills, like drive, mental toughness, communication and negotiation skills that they may not have learned elsewhere. How can you help your children develop these lifelong skills? Try the following five ways and watch your children increase their initiative, grit and business skills naturally. One, teach them fiscal fitness. Teaching your kids financial literacy enables them to develop delayed gratification and can set them up for life. Educate them on the different ways to use money. Many people have never been taught that money is not just to spend. You can also save, invest and donate money. Take them to the bank to open up a savings account and make regular deposits together so they can see their money grow. Two, set goals together. Setting goals can help your child develop a hard work ethic and grit. My favorite medium to use to develop goals is a vision board. This can be done as a family event where on everyone creates one. Following up a vision board with written goals can help cement them into the subconscious. Goals can be broken down into three components, process, performance and outcome goals. Process goals are the only type of goals that can be controlled. An example of a process goal would be practicing 30 minutes a day on your tennis serves or posting three times a week on your YouTube channel. Performance goals are metric goals that can be measured but cannot be controlled. An example of a performance goal would be running a mile in five minutes or attaining a hundred thousand subscribers. Outcome goals are the ultimate goals you'd like to achieve. These cannot be controlled. Examples include winning the 600-meter dash or monetizing your YouTube channel.
Mary: Three, allow them to fail. When we allow our children to fail, we encourage them to learn from their past mistakes and to think of different ways in which to accomplish their goals. As a result, they become mentally tougher. It's important to have a discussion about what was learned from the mistakes so that they can adjust their course of action. Once they realize what they've learned from this failure, give them the support that only a parent can provide by listening and encouraging them to not give up, even when the odds seem insurmountable. Four, cultivate grit and a hard work ethic, how you do anything is how you do everything. That's about having a proactive mindset. As far as entrepreneurial skills, this phrase says a lot. If you clean the table sloppily, you're probably careless in other ways. If you regularly show up late to appointments, you will likely miss deadlines too. The main point to keep in mind is that even the seemingly insignificant stuff counts in business. Five, instill passion in all that they choose to do. Parents can play a huge influence in determining a child's work ethic and habits. This means that how you talk about your work and job, including your happiness and lack thereof with it helps us shape the ideas about work that your children will likely adopt. You want them to know that it is possible to love what you do because when you make your passion, your work, it really doesn't feel like work. To do this, talk about what you're learning and why it matters to you. Allow your kids to see you reading books, doing research, listening to podcasts in the car and taking courses. You can involve them by explaining what skills you're looking to improve and by sharing your goals. The point isn't necessarily to encourage your kids to become entrepreneurs themselves. It's to teach them the values that enable it and help them in any industry they choose to go into. In any career, you have an advantage when you embody hard work, grit and above all passion.
Bradley Sutton: The life of an entrepreneur is tough. That's until you have an opportunity to see what tough really looks like. Now, Tim and his guest on this next episode have experienced firsthand how difficult life can be in a developing country. In this AM/PM Podcast, episode number 200 entitled, "From Grammy Awards to Haiti, How this Rocker Found E-Com Along with His Passion to Help Others." Tim Jordan welcomes Will McGinnis, a two time Grammy award winning musician, who together with his band, had a feeling that they were destined to do something more with the influence they had gained through their music. Will started Haiti Made, a handmade leather goods store and social enterprise in order to empower Haitians and Haitian communities through sustainable and dignified employment. Life as a rock star has its privileges. Will decided to use that privilege to make a pivot.
Will McGinnis: We rarely ask ourselves tough questions. Why do we do this? What are we using our platform for? What kind of real good are we doing in the world? And, we were encouraging people with our music and stuff like that. And trying to put on a great show and bring some entertainment value, bring some uplifting to people who might be down and out. But we thought we could do a lot more with our platform. And that's really when we got in the fight to kind of change the world with what we've been given.
Bradley Sutton: As Amazon sellers, we know about the occasional obstacle. In Haiti, they're a part of everyday life.
Will McGinnis: There's all kinds of obstacles. There's political obstacles. There's just raw goods in, finished goods out, shipping stuff. There's just– there's all kinds of disasters that happen in Haiti from hurricanes and earthquakes and just overall disruptions like that. But you know what? We're just really creative, we're clever. We're a heroic at times. My team down there just steps up and they deliver every time, they go to work every day, even when a lot of people aren't going to work. They just love what they do. And it shows they poured into the products and they just show up every day and give it a lot of heart and soul. They love making that money and going home and feeding their family.
Bradley Sutton: Living and working in such challenging circumstances, how does he stay positive?
Will McGinnis: We're as close to kind of living in Haiti as we could ever be in COVID right now. Here in America, we have it so good. We are so blessed. I think for me when my kids were five, seven and nine and I– the band was doing this work in Haiti, I was like, I've got to get them out of America, show them what the rest of the world lives like. And so we started going down there every summer and that's what hooked us. My kids got to see how almost 90% of the rest of the world lives. They don't have running water. They don't have a working toilet. They have building that almost up to 12 people usually live in. They go to market every couple of days. It's not to have a fridge and pack your fridge and have weeks of food. It's every couple of days, you got to go get food. Every day, you got to go get water.
Bradley Sutton: Haiti and the service of people less fortunate than himself clearly has had an impact on Will. Here's his last thoughts on the subject.
Will McGinnis: I just want to see people live in their sweet spot. Whatever that is, if it's a– they don't have a marketplace, they need one. If they are down and they need some building up, you build them up. If they need to know what they're all about, why they're on the planet, you try to help them find that so they can get out there. Everyone's got something they're going to contribute in this life and the ones who don't understand that, it just breaks my heart.
Bradley Sutton: This next post is a blog that I had written called, "GS1 Barcodes, Brand Error Code 5665, PPC Test Listings, SFB Launch, and More." Now, this was something that I just kind of compiled on a lot of the current goings on in the Amazon world. And one of the top ones was about that brand error code 5665. Let me read to you guys what I wrote about that.
Bradley Sutton: Here's one of the things that I've learned lately. For months, Amazon has been limiting creation of new brands you do not have brand registry for. For a different new case study, I did not have brand registry for it. So I tried to put the brand name I wanted and I got a message that most everyone has seen lately. It's something that it's called error 5665. And they say, sorry, you are not able to create this brand because you do not have this brand basically. All right. And it won't let you continue. Dang you, error 5665. Somehow reminds me of order 66 from Star Wars. In this case, the stormtroopers are this Amazon bot and the Jedi are new listings from new brands. Now, if you do not understand that reference at all, congratulations, you're not a Star Wars nerd like I am. But anyways, in some categories, what people have been doing to get around this 5665 error is put variations of "not applicable" in the brand just to get it approved. Some say that putting N/A works. For others, it's N., A-period. Others, NA. For me, the one that worked was N/A, both in capitals. However, I made sure to put the brand that I wanted to use as the manufacturer in that field in edit listing. Now the listing was finished after I transferred all of my copy from Helium 10 Scribbles. Now, first of all, something new happened. Despite me having to put N/A as the brand, Amazon still put the actual brand name in the brand spot on the final listing underneath the title. My title was right there and right under it, it said, "by coolest brand ever". Well, it didn't say that, but I can't give up this brand since it's on someone's private account.
Bradley Sutton: Anyways, I assume that since I had put the brand name in the manufacturer field, Amazon is now looking there since I had N/A listed under the brand field. Just to make sure that N/A was still there in the back, I check the listing backend. And sure enough, it still said N/A for brand. Now a few weeks ago, if you had put N/A for brand, it would still say N/A on the public listing as well. Now, as you can see from that error message above, and as I tested months ago, what I needed to do to be able to update the brand is to take pictures of the packaging. That's what Amazon was telling me to do. Take pictures of the packaging that shows the UPC and branding. Now, I didn't have that and I didn't want to use a Photoshop version. So I decided to experiment. I went to godaddy.com and I paid a few bucks for domain of that brand name. Then I use one of their pre-made templates to make a homepage for that brand. I uploaded the pictures from Amazon there and named the product. And then I just typed in the EAN GS1 number that I entered for the listing next to my title. The whole thing took me maybe 10 minutes. Then I opened up a case with Amazon. Now what I did was, first of all, I was really super polite with Amazon. And basically what I had said in my letter to them was like, good day, Sir, or Madam, for this EAN number, which is this ASIN, it's showing N/As or brand, however, that's not correct, blah, blah, blah, blah. Please look at this screenshot from the GS1 UK website, please look at this screenshot from this, the new.com website I did for this brand, et cetera, et cetera, et cetera. 24 hours later, I got a message from Amazon Seller Central that said, Hey, we just checked out what you said, and yeah, you're good. You adhere to our brand name policy. So go ahead and update your brand. So sure enough, I went back into the listing and now it allowed me to change that brand name from N/A to the correct brand. I checked if I could create a new listing with that same brand and yea, I absolutely can. How cool is that? Pretty cool, I think.
Bradley Sutton: I talk all the time about how Helium 10 has created software tools for Amazon sellers of all sizes. Many of our sellers are individuals and families using e-commerce to make big changes to their lives. In a Serious Sellers Podcast titled, "How LEGO Puts Helium 10's Tools to Use In Scaling Up On Amazon," we hear a story from a Helium 10 user from the complete opposite side of the selling spectrum.
Silas: I worked for LEGO and I sell LEGO.
Bradley Sutton: Yup. LEGO uses Helium 10. Here's what Silas from LEGO says about how his company puts Helium 10's tools to use.
Silas: You have to manage Amazon across all of Americas. And we also managing Walmart and Target, right? So, and for a lot of those retailers who don't have the same level of data, right? So we can use a tool like Helium 10 to project out what potentially those volumes would be if the behavior was the same, and the volume was the same on other retailers. And then of course, I'm also using it with some of the teams in Europe too, cause Helium 10 works there too. So this summer I'll be going to Europe to work a little bit on– I'll be running ads, substructure campaigns and accounts. And of course Helium 10 is going to be a tool that we use there too. I've also been using Helium 10 in title PPC competitions that we've been doing on some of our global e-com gatherings. We'll actually use Helium 10 to find keywords and ASIN, and targets and so on. And then the teams were divided and then we're competing against each other to see who could build the best campaigns.
Bradley Sutton: For the first time, the Chinese Canton fair was made available online. In this next blog post by Kian Golzari titled "The Very First Online Canton Fair: Everything You Need to Know," we'll learn about how Amazon FBA sellers in 2020 can get in on the action. Though the action has already passed. Kian has a few tips that are important to remember as you move forward on in e-commerce.
Kian Golzari: As we all know, due to the current quarantine situation, we find ourselves in the 127th Canton fair, which is the world's largest import-export phase going online for the first time with more than 25,900 exhibitors showing millions of products. Most Amazon sellers who work from home, I used to purchasing their products from alibaba.com. This is fine. However, Alibaba is more of a platform for beginners. The best suppliers in China do not operate them. Now that the Canton Fair has gone online, this has presented a massive opportunity for the everyday seller who doesn't usually travel to China. Now you get access to the best suppliers too. If you have a preexisting supplier you know will be exhibiting and you want to connect with them, you can enter their company name and/or booth number. They will know this information in advance and can send it to you upon request. You can also submit your request for what you're looking for and the system will match exhibitors for you. Don't forget to check out the supply and demand hall.
Kian Golzari: There will be an instant messaging service as well as Chinese to English translation. So hopefully communication will be smooth. Don't forget that if your conversation is going well to take note of their ID and email address so that you can later move communication to email after the fair is over. It's important to have key information such as price, quality specifications, testing, and agreed MOQ confirmed in email and not just on a messenger platform that would disappear once the fair is over. If you feel a particular supplier you like, will be a good partner for your business. You can also schedule a talk face-to-face by making an appointment. This is very beneficial for many reasons to see who they are that they said they are, to perhaps get a view of their showroom, depending on if they are taking the meeting by phone or computer, to see any samples you have been discussing. Make sure you scroll to the bottom and click the CF Awards by an in conference services, you'll be taken to a virtual hall of innovation and design awards for this Canton fair. This is one of my favorite rooms to check out the real Canton fair is neatly hidden between halls A and B. So not many people know about it. Here, you can get ideas for new products, as well as see what are the new products across different categories that the suppliers are working on. It works just like Google street maps, just double click on the door to go in, then digitally walk around the room. One more thing I wanted to add is that if this is your first time, don't be nervous or worried. These people are extremely helpful, fun, and also like interacting with people from other countries. They are passionate about doing business, just like you and me. This should be a fun experience for everyone involved. So don't be worried and don't worry about messing up as there are 25,000 exhibitors there. So if it doesn't work, you just move on to the next one.
Bradley Sutton: As Amazon sellers, we know how important it is to establish Amazon brand registry as soon as possible. With Amazon brand registry, you can create enhanced brand content, stores, sponsored brands and the brand dashboard, Amazon brand registry also helps you to easily find content in different Amazon stores. With Amazon brand registry, you'll be able to search for content using images, keywords, or list of ASINs in bulk and report suspected violations through a simple guided workflow. Sounds great. Why not sign up today? Well, for one thing, you first need a trademark to initiate the process. And in the United States, a trademark can take from six to eight months to get. In the next Serious Sellers Podcast episode we're highlighting, it was entitled, "How to Get Amazon Brand Registry and a Trademark in Just Two Weeks." In this, I spoke to Anita Mar, a trademark expert who told me how to get a trademark and Amazon brand registry in just two weeks using Helium 10 and a company named sellertrademarks.com. Here's the beginning of my conversation with Anita.
Bradley Sutton: You had said that, Hey, if we actually do a trademark in Germany and choose the expedited method that we can actually get brand registry pretty fast. Now I sent you an email. I gave you all the information and paid for everything. And literally from the first day that I sent that email to you, I was able to get from you that German trademark in 12 days, less than two weeks. And then two days later I had the brand registry.
Bradley Sutton: When it's time to pick a trademark, Anita has a checklist for sellers to go through.
Anita Mar: One of the mistakes that people make is choosing a generic or descriptive name, like right now, for example, we see a lot of trademarks that have been filed for Corona or COVID-19 trademarks that contain those two words. So they're not very unique. And maybe two, three years down the road, they will have to get rid of them because they're not going to be popular anymore. We'll be over that. Hopefully. But yeah, when you choose a trademark, you definitely have to find the balance between the marketing point of view and legal point of view because the trademark that's good from the marketing perspective is not necessarily good from the legal perspective. For your brand, you obviously want to find a name that describes the brand. But on the other hand, descriptive marks are not registrable, so here you have to make your trademark unique. You have to make it distinctive and that's not always easy.
Bradley Sutton: When should you file for a trademark?
Anita Mar: It's so important to file as soon as possible. We've seen so many times when people delay, only to regret it later and they say, yes, I don't want to spend money on a trademark now. My budget is limited. That has happened that somebody steals your trademark and has been happening more often than before. I think with the rise of Amazon sales competition has become really fierce. So some bad people try to file for trademarks that belong to other people.
Bradley Sutton: As with all things having to do with Amazon and e-commerce, research is critical.
Anita Mar: Always do a trademark search before you settle on the final trademark, make sure that you have the domain name available, make sure that the social media handles are all available. Make sure that you don't find any companies with the same name. So do some Google checks, Google search. And then the last step is do a proper trademark search in all of the jurisdictions where you plan to use the trademark, or where you plan to sell.
Bradley Sutton: In our second AM/PM Podcast today, we hear from a networking expert and content strategist who talks about how during these times of self-isolation, it's not difficult to feel the loss of human connection. This podcast was entitled "Entrepreneurship Growth Demands Relationship" with Pablo Gonzalez. Tim welcomes Pablo, who is somebody who knows all about making connections. Pablo came out of the green building industry and is here to help entrepreneurs understand how to care for existing relationships, attract new clients and build a community. According to Pablo, humans didn't become successful because of our great strength or sharp teeth. Instead, it was our ability to create connections that helped us survive. How did Pablo get started on this journey?
Pablo Gonzalez: I'm the most American person in my family. My first formative memory is walking into preschool in Miami and being the only kid that didn't speak English and wanting to figure out how to fit in. And that kind of shaped me. So, I've always approached everything from an outsider, trying to get in perspective. And the moment I started realizing that you are more able to achieve the things that you want through others quicker, right? The same way that building an audience, the quickest way to build an audience is through other audiences. That works in a person to person level. And it really, really works at scale.
Bradley Sutton: As Amazon sellers, we know how important it is to create supportive networks.
Pablo Gonzalez: One of the networking superchargers that I like to give is called, be a tour guide, right? And, when I lived in Miami, I lived in this really trendy neighborhood in Miami. Now it's called the Wynwood Arts District, right? It's like, where all the cool restaurants started popping up. And I was there right as it started blowing up, it was really, really cool. And all my friends started calling me and asking me like, Hey, I'm taking my wife out. Where should I go? And I'm like, boom here. And I was on top of it. So at some point I developed a list of the places I really like there. And at another point I developed a list of places I really like in Miami. And I started just using that list as a talking point, right? Anybody that I knew was going to go to something. I knew that I had a recommendation for them. I would listen for it in any conversation that I would get into. I'm like, I know I have this minimum value, if you just had a baby and you just spent the last year researching cribs and baby rooms and whatever you're going to do, that is something that's valuable to some person. If you know the best school districts in whatever city, you know the best restaurants in whatever city, that's valuable.
Bradley Sutton: Now that we're in the middle of a pandemic, connections are even more important.
Pablo Gonzalez: Coronavirus has changed a couple of things, but more than anything, it's accelerated some trends that were already coming. And one of those trends is the fact that we've just gone through this inflection point in history, when communication mediums have just exploded, and gatekeepers are gone. And you can now talk via video audio, however you want to the world unfiltered all the time, and you need to become fluent in that type of communication.
Bradley Sutton: Human beings have come a long way. And according to Pablo, it's not our fearsome nature that's responsible.
Pablo Gonzalez: The human being is the quintessential social animal. We did not get to the top of the food chain because we're the strongest, because we have the sharpest teeth, because we have chameleon-like coloration. We got to the top of the food chain because at a certain point, one caveman looked at another caveman and they said, you know what, man, let's work together to take down this wooly mammoth.
Bradley Sutton: Most of the time here, we're talking about selling on Amazon and what's the starting point? A product. The next episode is a Serious Sellers Podcast titled "How I Successfully Launched 12 Products on Amazon for Only $5,000: A Case Study." With that $5,000, I not only launched those 12 SKUs, I also ran an advertising campaign and paid Amazon's fees. In less than a year, I'm over $3,000 ahead and still have $10,000 worth of inventory that's in the selling pipeline. Too often, when we think of PPC and advertising tactics on Amazon, we think in terms of large amounts of both money and time.
Bradley Sutton: I only did a search find by promotion for 30 units, right? I did 30 units initially over six of the product. Six of this 12 SKUs. I didn't launch any of those Christmas ones. Yeah. This was too early, only three. So that was an average of only five units per SKU promotional units. That's it. That's all it took. That honeymoon period was so strong. I got to page one for most of those keywords that I had wanted to.
Bradley Sutton: It's clear that now more than ever the door to success in e-commerce and on Amazon is wide open.
Bradley Sutton: Don't let people tell you that it takes $10,000 or $20,000 to get one product on Amazon. If you've got that kind of money to drop by all means, go ahead and do it. You can scale probably faster. You can make more profit, but if you only got $5,000 or even $1,000, or even less as this Project 5k case study shows you, you can start an Amazon business and build it up slowly, find an opportunity for a product and a price range that fits your budget. Start slow, build it up and then worry about launching a 10 and $20,000 products. Stop using the lack of a huge bank account to keep you from starting your business. You don't need it.
Bradley Sutton: Last up is Amazon second and latest attempt at a social media platform following its disastrous first attempt, Amazon Spark, a feature that allowed prime members to post and share images of items they bought on Amazon. In a post by Norm Farrar entitled "Amazon's Secret Weapon to Drive Traffic: Amazon Posts." He talks about building a relationship with your customers and how that's a cornerstone of any lasting Amazon FBA brand. Let's dive into product promotion through Amazon post.
Norm Farrar: As a behemoth in the eCommerce industry, Amazon can sometimes ignore the need for sellers to build brand loyalty on its platform in favor of providing speedy delivery and cheap prices. But when Nike pulled out of its two year-long pilot program with Amazon in June, 2019, citing the inability to build a strong personal relationship with its customers has the core reason for its exit. Amazon knew it had to address the issue thus leading to the launch of Amazon Posts. What are Amazon Posts? Posts help shoppers discover new products and see what's new from brands by browsing feeds of brand curated content. Posts linked to a product detail page, making each post in a feed shop book. And each post includes category tags. So shoppers can continue exploring post unrelated categories. Now Amazon sellers are always trying to utilize the best marketing tactics to drive traffic, to generate sales and improve ranking to grow their business. With Posts, Amazon has taken cues from social media success and promoting brands and products through beautifully curated image driven feeds. A new browse and discovery experience on Amazon focused on brand shopping. Shoppers can explore brand specific feeds or browse by product category to discover products and see what's new from brands. Posts link to detailed pages, making each Post in the feed shoppable. Why should brands participate? Number one, create a distinctive brand image. Through posts, you can now establish a brand's unique identity, trust, and authority. Two, build a brand culture, right from creating inspirational content and using influencer images to cross posting for your different products and everything in between. You have complete freedom to market your products as you please. Number three, unlimited posting. There is no limitation to how many post you can upload for your brand, making this an easy way to get higher impressions for your product. Four, target your competitor's audience. The best part of Amazon post is your competitor's customer base will view all of your posts, thus helping you reach your target audience. Presently, sellers do not have a choice where or which competitors they can target. Five, shoppable posts. Unlike other social media platforms, shoppers can scroll through a carousel of post at each direct back to the brand product detail page with the option to buy the product. Six, free. Best of all, posts is absolutely free to participate. Now where Amazon posts display. It is important to know that currently shoppers may only view Amazon Posts on a mobile device within the Amazon app.
Norm Farrar: There are four different places in which an Amazon Post can be viewed. Detailed page carousel, you'll see this carousel on every listing of a brand that has posted labels. it's placed for right above the question section and showcases up to 10 related posts. In brand feeds, if you click the brand name and the detailed page carousel, you'll reach the brand feed section of the brand. This is a vertical scrollable section that showcases all the posts created by the brand. Or you can not only read the entire post caption, but also view the categories that are featured product belongs to. Category feeds, by clicking on the category of a post, either from the brand feed or the related feed. It takes you to all the related posts of byproducts, belonging to the same category. And lastly related feeds, when you click on the image or seed more section of a post on the detail page carousel, you'll see all the details of that post along with all related posts, by various brands in a vertical scroll mode. The best part about Amazon post is that unlike other social media platforms, Amazon makes it easy to buy the featured product in a post. All you need to do is click on the show products link available on the post featured in brand feeds, category feeds and related feeds, which show you a summary of the product and the star rating, which you can click on to get to the page of the product. However, users have no control over where their post is featured. As Amazon decides which feeds posts will be published on.
Norm Farrar: How to get started? Amazon Post is currently limited to brands that are enrolled under Amazon brand registry and have a store on the US amazon.com site. If you meet the above criteria, here's what you can do to start your Amazon post journey. Walk into Seller Central, head to user permissions, click on enable under post to enable this feature. Creating your brand profile for posts. Visit posts.amazon.com. Sign into Posts using your existing seller central login, create a profile, verify your brand name, upload your brand's logo. And your profile is all set. You're now ready to start posting. Once these few simple steps are completed. You can start publishing posts by uploading photos, captioning them and tagging related products. Amazon post is currently limited brands that are enrolled under Amazon brand registry and have a store on the US amazon.com site. Only single images can be displayed, which is optimal as each image is branded and meant to get users to click straight to your listing, with the show product tab. Engagement is easily improved by uploading lifestyle and or product focused imagery. This helps a customer understand exactly what you are selling quickly, and the first time they come across your post. The great thing about post is that you can take several angles to promote your products. There are no limits. Here are the few things that we recommend. Use lifestyle images, using lifestyle images and candid photos provide you with better engagement, as people tend to look for realistic posts that they can relate to. Create social proof, depending on the type of your product, create posts and images that show your product can be trusted. A good example would be if you're selling kitchen knives, having lifestyle images, featuring chefs, using your product, highlight features and benefits, how to's. Draw attention to the various features of your product by creating the content that highlights its features, talks about its advantages, or even shows how it can be used. Repost from Instagram and Facebook.
Norm Farrar: While you can't ask questions, create polls and write lengthy posts on Amazon. You can still repost the visual content you use on other platforms using a tool such as repost. This way, you can repurpose content without having to create new posts and maintain a consistent brand language across all the different platforms you use. Best practices, ultimately, the success of Posts will be if shoppers engaged with the platform in the first place, however, starting early can have a huge impact on later performance, especially since we're already seeing a correlation between high post impressions and sales. Assuming they do making posts work as best as they can is important. Post multiple times a day as a brand new platform, there's still no hard and fast rules about what works and what doesn't on post. Therefore, the more posts you put up, the more eyeballs you grab and the more data you have to understand what works for your brand. Use high quality images. As with any social media posts, images are what initially catches the customer's attention to get them to stop and read and hopefully buy. Use everything from lifestyle images to candids to build a great brand story. Create compelling captions. Since Amazon only shows the first two headlines of your post by default, create attention, grabbing headlines, that help to find your brand at a glance. And finally keep testing. Once a Post has been up for a couple of weeks, check the Amazon post metric. Use them to learn which type of pictures, headlines, copy, and link of copy the audience of most responds to, and then replicate the high performers in new posts. It's still in the early days, but Amazon gives sellers a social media like platform to grow brand awareness and connect with potential customers by putting in the time and effort. Now, by posting regularly, your sellers will gain an advantage over the competitors that are not using it. By combining the three pillars of Amazon marketing, PPC, combined press release, then Rebate campaigns, and Amazon posts. Sellers now have a surefire Amazon launch strategy in their hands.
Bradley Sutton: Was there something that you guys heard today that you maybe didn't hear the first time around? Make sure to go back and it out, either the full episode or the full blog. Don't forget that you can check out all episodes of the Serious Sellers Podcast or whatever you're listening to this right now, or at helium10.com/podcast. You can also get the AM/PM podcast episodes at ampmpodcast.com and all of the blogs that we repeated today in its entirety can be seen at helium10.com/blog. What about the blogs and podcasts that have come lately? Which ones are your favorite? Make sure to let customer service know at [email protected] and we'll make sure that your voice is heard. Thank you guys so much for listening to this episode. Don't forget when you get a chance, make sure to leave a review. If you're listening on Spotify or Apple podcasts or anything that allows you to leave a review, we love getting your honest feedback on what you think of the show. We're here to help you serious sellers find serious strategies that is going to help you crush it on Amazon. We'll see you guys in the next episode.
Achieve More Results in Less Time
Accelerate the Growth of Your Business, Brand or Agency
Maximize your results and drive success faster with Helium 10's full suite of Amazon and Walmart solutions.