#146 – Bradley Welcomes His Project X Partner and New Host of the AM/PM Podcast to Talk About Its Future
Episode 146 of the Serious Sellers Podcast hosts Tim Jordan, Bradley's partner in Helium 10's Project X case study and new host of the AM/PM Podcast.
Updated on: October 6, 2020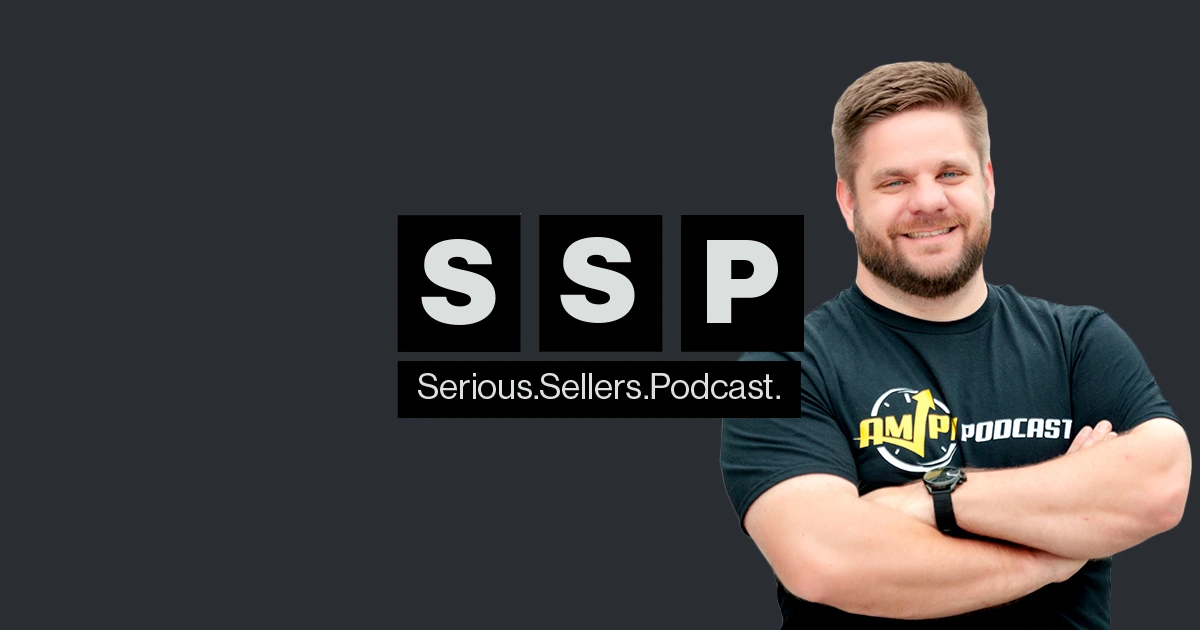 It's not every day that you can double your chances of getting expert e-commerce podcasting wisdom with a single podcast. A few days ago, I might not have been able to say that. However, as I type this, today's podcast guest is rapidly recording and uploading episodes to add to the impressive list of upcoming interviews he has slated for the near future.
Today on the Serious Sellers Podcast, Helium 10's Director of Training and Customer Success, Bradley Sutton welcomes Tim Jordan, a good friend, his partner in the recent Project X case study, and now the new host of the AM/PM Podcast.
Tim is here to talk about how he came to be selected to take over the AM/PM Podcast, and what he plans for a forum that was known as a center of Amazon, e-commerce and entrepreneurial thought.
Two for the price (free) of one, who doesn't like those numbers?
In episode 146 of the Serious Sellers Podcast, Bradley and Tim discuss:
02:07 – Tim's Knowledge Bomb
03:30 – Another Case Study?
05:55 – No One Talks About Crowd Funding
07:15 – A Very Slow Reveal
09:00 – The AM/PM Podcast Changed Lives; Tim's Included
11:00 – Headed to the Deep South with "Bojan"
14:00 – A Chance Meeting with an AM/PM Podcast Listener in Australia
18:00 – Making Space for Both the AM/PM, and Serious Sellers Podcasts
19:40 – Back to An Entrepreneur's Roots
22:00 – Expanding the Focus of the AM/PM Podcast to Benefit a Diverse Audience
24:00 – What Should We Look Forward to In Upcoming Episodes?
25:50 – The New AM/PM and Serious Sellers Podcast Schedules
27:00 – Heading Back to YouTube
29:30 – 20K on a Coffin Shelf in One Month with Helium 10's Project X
32:40 – Sharing Tactics and Products with Your E-Commerce Community
36:15 – Tim's 30 Second Tip
Enjoy this episode? Be sure to check out our previous episodes for even more content to propel you to Amazon FBA Seller success! And don't forget to "Like" our Facebook page and subscribe to the podcast on iTunes, Google Play or wherever you listen to our podcast.
Want to absolutely start crushing it on Amazon? Here are few carefully curated resources to get you started:
Transcript
Bradley Sutton: Today, we've got my brother from another mother back with us¾Tim Jordan¾and we will be giving you guys an update on the performance of the Project X products. Plus, he's got two really mega announcements. Now, who is that? Pretty cool, I think.
Bradley Sutton: Hello everybody and welcome to another episode of this Serious Sellers Podcast by Helium 10. I am your host, Bradley Sutton, and this is the show that's a completely BS free, unscripted and unrehearsed organic conversation about serious strategies for serious sellers of any level in the e-commerce world. And we've got a serious seller on with us now. This is actually the third time he's been on the podcast. I always promised everybody you'll never hear the same person twice in a year, which I've pretty much stuck to, but we make exceptions for special occasions. The last time you were on was a special occasion of course about the Project X release. If you guys haven't figured it out, the guest we have on now is Tim Jordan. Tim, what's going on?
Tim Jordan: I'm sitting here counting, I don't even know if this is the third time or the fourth.
Bradley Sutton: I got to make sure that I stay true to my word. I don't want people like calling me out saying, "wait a minute, Bradley, you said you weren't going to do this and here you do." I'm like, Hey guys, this is a disclaimer. If it's an employee or a special occasion, you know, we'll invite them back and this is the special occasion. We're not going to get to it right now. Not yet. But before I do it, something new. I'm going to be starting to do a lot on this show. I'm not sure if we did this the last time but at the end of the shows, I always try and get somebody their 30 second tip. But I want to start off these episodes now with a bang. You obviously had no idea this was coming since I didn't tell you this and you've never heard of it.
Tim Jordan: Nervous, right?
Bradley Sutton: You've never heard it. But I want you to come out right now. Just don't be restricted to 30 seconds. It could be one minute, two minutes, whatever. Give us your biggest knowledge bomb drop right now where it's like, what is some cool strategy that you have or some words of wisdom. Whenever you're ready, take it away.
Tim Jordan: All right, so I'm not going to give you words of wisdom. I'm going to give you an announcement. Is that cool?
Bradley Sutton: That's cool.
Tim Jordan: I'm doing another case study that's going to be public. And it's all centered around crowdfunding.
Bradley Sutton: Elaborate.
Tim Jordan: Alright. You're the first person that I've actually told outside the circle, but,
Bradley Sutton: I've never even heard this myself.
Tim Jordan: I know you haven't. Project X went really well and I realized the power of putting this information out there. I mean I don't care what I share usually. I've had a product idea that I started about a year and a half ago and it's a pretty deeply developed product. I tried to launch it last December on Shopify and it didn't go well because I rushed it. I didn't put in all the components that I needed. And I actually had some folks come to me recently, experts in the industry that I would love to have on my team. The first one was Gembah. Zach Leonard over at Gembah who does really advanced product development. He was like, "dude, next time you have a product that you want developed, we'll create some content together, we'd love to be involved in that." And that spawned into this. Well, I've got this product that's been sitting kind of in my back pocket for a while. Let's do this entire thing. I've got the guys at Gembah, I've got Rich Goldstein, and I've got all these other people that we haven't signed the contract with yet. I'll keep the names quiet but some really big powerful people in the industry and digital marketing and crowdfunding. And we're literally taking my product showing the good and bad. Right now we're looking at being 15 episodes when it's all said and done. It's going to be similar to Project X. Actually we decided we're going to do Indiegogo. Crowdfunding, so you guys watch out for that first time anybody's heard that publicly. It's in the works.
Bradley Sutton: Breaking news. You heard it here first. Now, when you say you're using crowdfunding, is that just to show how crowdfunding works or is this something that maybe there's not that much existing demand because it's a new invention or a super unique thing?
Tim Jordan: Well, to be honest, I've never done it before so I want to learn the ropes. I know that there's a lot of successful launches that happen on crowd funding. But I also think that it is so unique. We could definitely rank it on Amazon and we could definitely do that. And I think it would be incredible once we ranked up to a really prominent position, keyword position on a very broad thing. But there's also so many benefits. I'm learning to crowdfunding. And again, don't take my advices. I'm a complete rookie at this but things like setting the stage for national brand recognition, getting access into licensing deals and brick and mortar purchases. There's so many different things from Amazon now. It's a huge project. It's not as simple as launching something on Amazon and it's actually much more expensive. One thing I learned is people think you can launch with crowdfunding, you get all the money up front. Well they don't realize is how much money you've got to spend to get that launch going. I'm looking at the first month spending $30,000 in Facebook ads to start building an audience for an eight week audience building campaign before the launch even happens. I don't know, I just wanted to try it. It's a new experience and I think this product specifically will do exceptionally well on it. Again, we're recording everything. I just recorded an episode earlier today with the guys from Gembah. We're just recording the good, bad, and the ugly. We're going to edit it all up and put it out there free for everybody on YouTube.
Bradley Sutton: All right, now here's a question for you. Do you have as much funny outtakes as you and I did with these other guests as the co-partners?
Tim Jordan: Absolutely, not. Look, there's no way we can have as many funny outtake. And this one especially with COVID, we can't do it live in person. It's all in zoom. It's just not the same environment. It's not as much fun. Don't think that I'm cheating on you Bradley and the case study space.
Bradley Sutton: I'm getting jealous.
Tim Jordan: I don't want you to be super jealous here but I think that this is going to be very new to especially this audience. It's in the Amazon space because nobody really talks about crowdfunding. I'm trying to learn myself because, again, I've never done it. I'm very new to it but I want to drag this kind of community along with me because I think there's a lot of people in this community that could benefit from using crowdfunding under certain applications.
Bradley Sutton: That's cool. I look forward to that because that is something that I've never really investigated. I warn people a lot of times they make the mistake of trying to use Amazon as a place for the new invention. And it's not necessarily that Amazon is bad for inventions. However, if you have something that is so unique that by definition people don't even know it exists, you just have to realize if you're going to do it on Amazon, you still got to create that demand somehow because nobody's going to find your product if they're not searching for it. You would have to have a big social media campaign to drive the traffic or you just go this route and create the demand on one of these crowdsourcing websites. And then by the time you launch on Amazon, there's that demand already there. This is going to be really cool. Now, that's not the only breaking news we had today. The reason why I brought you on here is another breaking news that some of you guys already know. Today's Wednesday. Some of you guys might have figured this out already.
Tim Jordan: Do you want me to start with the history?
Bradley Sutton: The history? All right. Yeah. Instead of revealing it first for all the people who haven't figured it out yet, why don't you go with the history?
Tim Jordan: I think it was 2016, 2017 when I was selling online but I wasn't involved in the community. I was listening to a lot of content and a random Facebook post prompted me to message a guy about sourcing in central America. And this guy, who I did not know at the time, turned out to be Manny Coats, the founder of Helium 10. He was looking for something to source in Central America and I said, "I have a company down there. I can hook you up, yada, yada." We got to talking. And he was like, "wow, this is really interesting. Why don't you come on my podcast?" I'd never been on a podcast. I'd never been interviewed before. I remember I had to go to Amazon and I was like looking around for $30 podcast microphone cause I got this email. It said, "make sure you have a good microphone." And I got on this AMPM Podcast with Manny and for those of you that have been around the Helium 10 space for a while you remember that AM/PM Podcast. Manny started and I think 2016, 2015 maybe even. And it was huge. It was massive. And when Bradley started coming in and taking more of the customer success role at Helium 10, a lot of the effort was pushed over to serious sellers podcasts, which you're listening to now. And AM/PM hasn't had a new episode in like a year or a little over a year even. But AM/PM was a crazy powerful podcast. I know a lot of people like PickFu. I'm really good friends with PickFu. And they were telling me like the history of how they used to offer split tests for restaurant menus and they got pushed into the e-commerce world where they've really found their groove because they got randomly found by Manny, he had it on the podcast.
Tim Jordan: I can't say how many people have learned how to sell better, have heard some no BS information. The AM/PM Podcast changed a lot of people's lives to be honest because people start listening to podcasts learn how to sell on Amazon, quit their nine to five, they're making more money. All this crazy stuff has happened but it's been dormant for a year and a half. And for me, I can honestly say that AM/PM Podcast is the reason that I'm here right now. And I say that because I had never taken a public role. I was never sharing information. That first interview on AM/PM Podcast for me turned into, it was released in November and I remember that year it was like the second most listened to podcast of the entire year. Even more listens to than people in January, February.
Tim Jordan: And it's cause I was talking about crazy stuff. Actually, you can go back and find it, my very first AM/PM Podcast interview. I was talking about using Pinterest to find products like stuff we talked about Project X. And I remember it was like mind blowing and all these people were calling me and talking to me and messaging me like, "hey tell me more." And that's really how I got a large surge to start the business. Hickory flats, which was originally sourcing shipping in 3PL, which I've sent sold. Don't contact me for shipping and don't contact me for warehousing. It's all gone now. But that started me down this journey of "hey, I want to put information out." And that's led to the Centurion lead coaching program I have now. It's led to sourcing trips that I've done. It really got me started like getting opportunities to speak on stages and speak to big audiences and all that stuff is cool. But the big advantage is I get to meet so many people and learn so much stuff myself. That podcast episode, that single interview for many, literally changed my life. And it caused me to be in a position where I'm sitting here right now talking to you because none of this would've ever happened. Or at least it would've happened in this way if it weren't for that invitation to be on AM/PM Podcast. There's the history. I don't know if you knew that Bradley.
Bradley Sutton: And then I, I didn't know all of that. Now, I got to set this up because I just love your Alabamian accent here. Can you tell us the Helium 10 COO who approached you with something? What's his name again?
Tim Jordan: Bojan.
Bradley Sutton: I love the way you say that. At first I thought he was just like, you're making a joke, I was like, no, this is actually how he pronounced. Bojan! You just go really deep into the South. Well, whenever you pronounce his name, Bojan!
Tim Jordan: I feel like I'm kind of agnostic in my accent until a few words come out. And Bojan is one of them. On the CEO, he came to me a few months ago and this is after Project X was finished filming. It hadn't all been released yet. And I think that they were getting a lot of really positive reviews and basically he called me up and I do some strategy and stuff along with Helium 10 as an outsider and we were having some talks and he said, "Tim, your podcast," cause my community private label Legion, shout out private label Legion Facebook group, check that out. but I had a podcast called Legion Radio and he said, "Hey, Legion Radio Podcast, what are you doing with that?"
Tim Jordan: And he said, "are you monetizing?" And I was like, "Oh yeah, I'm terrible at monetizing." I said, "this stuff, I'm not like pushing affiliate deals. I'm not driving people in funnels. I'm not trying to pitch sales. I suck at that." He said, "what do you do as for?" I said, "well, the relationships." He was like, "why?" And I said, "because the relationships helped me in everything that I do. The relationships that I've built and been introduced to and the ability that I've been given to introduce other people and form other relationships has really made me able to leave my nine to five job." I went out Friday before mother's day and bought a boat. I just went and paid cash for a boat. And what was crazy is I didn't tell my wife I was doing it and I pulled up.
Tim Jordan: No kidding.
Bradley Sutton: Guys, please don't follow the advice. You can follow Tim's strategy advice.
Tim Jordan: Don't buy a boat for mother's day without your wife's permission.
Tim Jordan: I pulled up with his boat and she, she was like, "Oh, okay, you got a boat. Shocking." And she wasn't pissed because it didn't mean that buying this boat, we aren't going to be able to pay our house payment. Now, my point is, and I'm not saying I'm super rich or anything but like all of this has these relationships and education, I've gotten these abilities, have caused a scenario in my life where I get to live with a lot of freedom and a lot of luxuries that other people don't get to have. It's a whole lot of fun, right? I told him that, I said, "look, Legion Radio is about relationships for me getting to meet people." He said, "well, that's interesting." He said, "cause we have an idea." And he said, "you remember the AM/PM Podcast?"
Tim Jordan: I said, "yeah, dude, that thing literally changed my life. I hate that it went away when Bradley took over this public role." He said, "well, you know what Tim, we still have," I won't tell you the number. But he said, "Tim, we have a lot of views on AM/PM Podcasts and we haven't had new episodes in a year. And I was like, dude. And I started thinking about like, still there are many impact. Bradley, you don't even know this. Let me tell you another story. Last May, I was in Australia retail global conference, big e-commerce and selling conference. And I'm sitting there in this, they call it Amazon injection lab. It's like a workshop where people can come talk to other experienced Amazon sellers, even Amazon employees. And I'm talking to this crazy stuff.
Tim Jordan: I'm telling people, go here, find this product idea, validate the Project X stuff that was so nuts at the time. And this other Amazon expert overhears me and he comes and introduce himself. He's like, "My name's Chris Thomas. I run the Australian sellers podcast." Shout out if you're in Australia, you need someone to follow in Australia. Chris Thomas, go track him down. And he says, "man, this is like, I'm listening. I'm overhearing you talk about this Pinterest." He said, "that's really cool stuff. I heard about that years ago when I started implementing it." And I'm like, "really? Who'd you hear that from?" I'm like, "it's pretty unusual that someone was talking about it." He's like, "man, I can't remember who it was." He said, "but I've got it saved in my podcast archives." He pulls out a cell phone. He's scrolling, scrolling, scrolling, scrolling, scrolling.
Tim Jordan: Here it is. He clicks it and voice pops up. And by God it was the first episode of me and Manny on AM/PM Podcasts. And he looked at me, he's like, "wait this, this is you." And I'm like, Holy crap, this is me. I'm like, dude, I'm in Australia. Some dudes talking about my podcasts from years ago, like it was insane. I told Bojan that and I'm like, AM/PM man, that was a good run while it was running. And he was like, "Tim, we want you to restart it." And I was silent. I was sitting there in silence staring at the screen. And he's like, "is that a no?" And I'm like, "dude, I don't even know what to say right now." Because all these memories came flashing back of my first time sitting up there, nervous with the AC on and the background noise, roasting in the upstairs in the house where this $30 Amazon mic wondering what I'm going to say and then riffing for 50 minutes and it being the biggest episode. People on the other side of the world having heard that episode. And how that whole journey started with me and how much respect I have for Manny and the content that he put out there. Did they just offer to let me take over the AM/PM Podcasts and relaunch that thing. And that's what it was. After picking my jaw up off my chest, I asked him details about how it would work and we figured out real fast it was a good fit. The official news is we are relaunching the AM/PM Podcast and I guess they had to scrape the bottom of the barrel. But they've got me hosting it.
Bradley Sutton: Here's something, I'm not sure you know, but I remember it was probably late last year. This is something that in our managers and directors meetings, we've been having talks over for a year because it's like, "what do we do with this?" Even though we haven't launched an episode of the AM/PM Podcasts, it's still getting a crazy number of listings, which is kind of unheard of in the podcast space because information goes stale in people's minds. It's like, "why would you look at a podcast that's so old,? And we're still getting thousands of listens without even launching the episode. We've always been ideating, "Oh, what are we going to do?" then it was brought up, "Hey, who do we think in this space would be good for it?" And yours truly is the one who brought you up. Now I'm not sure if anybody else on their own had thought about that independently.
Tim Jordan: I'm sure Cassandra was completely against it. I'm sure she got in a big argument with you about how it'd be the worst. But I see that you overpowered her and that decision.
Bradley Sutton: Speaking of podcasts, you gave Cassandra her first spot in a podcast. Now she's like big time, she's speaking at events and everything. Maybe your original podcast is how AM/PM was for you. That's like it can be for her. She's going to give it stories about when she made it big and it was the Private Label Legion Radio. Anyways, that's so cool guys. We'll talk about this in a little bit too. But right now after this episode you can actually see the first two episodes are up. There's another one I think going to be released in a couple of days. The first one is with Manny himself They're talking about the transition and a little bit more details of what went into it.
Bradley Sutton: And Tim's got an episode up there right now that goes more into his story. Actually, I haven't even heard that yet. After this, I'm going to have to go hop off and listen to that. But I haven't even heard that one yet. But let's talk a little bit about the differentiation because that was something that in these means we had. It's like, "Well wait a minute, does it even make sense? Why would we have two podcasts?" What's the direction? The original AM/PM Podcasts, obviously, was kind of chronicling Manny's journey into becoming an Amazon seller. He did it from real early on and it was really Amazon centric, and a lot of the Amazon stuff has moved here. Now, here on the Serious Sellers Podcast, we haven't just restricted to Amazon, but we might see a little bit of a shift in some of the content. But what's the shift going to be like for people who have been listening to AM/PM Podcast for years? How is it going to be different other than you're the host instead of Manny?
Tim Jordan: Yeah, and let me back up a little bit and say this: AM/PM Podcast is independent from Helium 10. Right? When they first started, Helium 10 was actually¾I didn't even learn this. Go back and listen to episode 195 in AM/PM where me and Manny are kind of doing this handoff, and Helium 10 started as a free lead magnet, a couple tools, Scribbles and Frankenstein. Yeah, Frankenstein and Scribbles were free as a lead magnet to get people to subscribe to the podcast. That was literally how Helium 10 got started and then it rolled into more tools, more tools. In the beginning, the podcast and Helium 10 were independent things, and as Manny's entrepreneurial journey continued to evolve more into creating tools and better tools for better private label Amazon selling, it all kind of rolled in together.
Tim Jordan: And then, there was that kind of shift where you took over more of the educational period, and it was , "Hey, let's start a new podcast." When I think about where AM/PM is going, I want to go back to the roots; I want to go back to the origins of AM/PM, which was the journey of an entrepreneur: the struggles, the successes, the words of wisdom. When the first episodes of AM/PM, we didn't know what that journey was going to look like. And I think that represents a lot of entrepreneurs, e-commerce entrepreneurs, and what I've learned in the past several years doing this is that so many Amazon sellers are not just Amazon sellers; they're also freelancers. They've got real estate businesses. They're hustlers; they're entrepreneurs. They're not just Amazon sellers. They're product sellers; they're revenue generators. They're like freedom seekers.
Tim Jordan: Right? And I think that Serious Sellers Podcast is focused so much on Amazon because it's so closely related to the tools and the techniques and all that of Amazon. And when I talked to Bojan about this, "Bojan, I don't want people to listen to the same type of concept, but I think that there's such a need and such demand and such willingness really to listen to different types of content that we can differentiate these things and create kind of two separate lanes where people aren't going to say, 'Oh, I'm listening to SSP or I'm listening to AM/PM.'" I listened to both. My proposal was, "Hey, let's take Serious Seller's Podcast and let's really focus in on Amazon selling. Let's dive deep into this stuff that Bradley's exceptional at. Let's dive deep into these advanced tactics and hear stories of crazy launching systems and all this stuff that hardcore Amazon sellers want.
Tim Jordan: But then, let's take AM/PM and let's make sure that it stays just outside the bubble of Helium 10. Just a disclaimer, Helium 10, the company still owns AM/PM Podcast, but I'm not an employee of Helium 10. I'm not in the office there. And what I said is, "Hey, if I'm going to be the host, I want to keep this thing independent." And to be honest, I'm not going to mention names, but I have a list of people that I want to interview that maybe have not always been friends of Helium 10 and maybe have even been competitors at one point to Helium 10 or have nothing to do with Amazon selling. There's so much valuable content that I want to share through interviews with people and shared wisdom that isn't even e-commerce specifically focused.
Tim Jordan: It may be more entrepreneurial focused or investment focused or lifestyle and mindset focused, but catered towards e-commerce sellers, right? This is still e-commerce community, e-commerce content, but it's going to vary outside of just the deep scope of Amazon. Then we're still going to have Amazon sellers on there, but I've been speaking with some of our upcoming guests and getting prepared for it¾what we're going to talk about¾and even though some of them are exceptionally successful Amazon sellers, on AM/PM Podcast, we're not going to talk about their experience with Amazon. We're going to talk about their experience in life as business owners and growth and entrepreneurism, right? There's a lot that listeners can take from this in regards to Amazon selling, but the content itself is going to be different than SSP. And I think that by offering the type of content that is planned for SSP and the type of content for AM/PM, that it's going to be massively beneficial to a huge audience, a lot of overlapping audience, but still diverse in its content and diverse in its delivery.
Bradley Sutton: All right, cool. Now, are you able to tell us any upcoming guest? I mean you don't have to, but at least, if not telling us names of guests, can you give us maybe like five or six of the main topics that are coming up?
Tim Jordan: Yeah. Episode 195, go back and listen. It's a little longer than most, but me and Manny had a lot of catching up to do, and we go a little deeper into the history of things and find out. I noticed, when I went back and listened to it, I asked Manny like, "What's in store for Manny now?" He completely evaded that question. I didn't even realize it like three hours later, but we talk a lot to Manny like kind of a handoff there, and it's symbolic. Episode 196, I really share kind of from my heart some lessons I've learned in entrepreneurism that definitely applies to Amazon sellers, but it's things that I've had learned the hard way that sometimes people won't admit, but we all kind of go through it but something that I think a lot of people can relate to.
Tim Jordan: On other episodes, we're talking to a successful Amazon seller whose life was flipped upside down on 9/11 and altered the course of her life forever. I've heard the story, but I want to share that. We've got a guy coming in that is an amazing entrepreneur in central America, in Guatemala, who has taught entrepreneurs and is also doing amazing things for his community here in the middle of COVID. He's got a picture out there on social media where he was able to raise enough money to buy a dump truck, 18-wheeler load of melons to go give to these starving families, like crazy stuff like that. We've got George Bryant who's an incredible entrepreneur and kind of mindset coach. The list is huge. I even have to go into our app and like look it because I've literally contacted 25 people who have committed to this thing, but I think it's going to be good. Maybe you don't like the content. I'm kind of partial to it because I get to pick it, but I think it's awesome. And I think it's great and I think that it is worth listening to. There's my little sales pitch.
Bradley Sutton: Love it. Guys, well, I'm for sure going to be tuning in because something that that's happened since I've gotten so busy here at Helion 10 is sometimes I can get like kind of laser focused just on Amazon things, and I've kind of stopped listening to other podcasts because it's just like I can't find the time in the day. But you guys know how easy on the ears Tim is. I can't wait to see the kind of guests and the kind of content you're going to be bringing out. The schedule, how it's going to be guys now is y'all have been used to two…
Tim Jordan: Did you just say "y'all?"
Bradley Sutton: Why am I saying y'all?
Tim Jordan: Oh my goodness. This is amazing!
Bradley Sutton: I'm about to go into a manager's meeting after this, and I'm going to be like, "Bow yan!"
Tim Jordan: You can't see it, but I'm smiling so big that I just caught you saying "y'all." I love it!
Bradley Sutton: Oh my goodness. Yeah, you are rubbing off on me. Everyone out there, let me just say that you guys have been used to hearing the new episodes on Tuesdays and Thursdays and then sometimes Saturdays for the Series Sellers Podcast. What the new permanent schedule is going to be is it's going to be Tuesdays and Saturdays for the Serious Sellers Podcast and every Thursday there should be a new one for the AM/PM Podcast. But like Tim said this week, there's actually three new episodes to celebrate the launch and there's two right now that you can listen to right after here. I'm excited about some of those things that you mentioned, and I don't even know who some of those are, the ones that you didn't mention the name. That means it's definitely going to be new stories to me. I look forward to that. Now, where are people going to be able to see this, not just on all of the ways that people listen to podcasts like Stitcher and Apple and iTunes and Spotify, but what is something different of a way that people can, I don't want to give it away, but can consume the content?
Tim Jordan: We are going back to the original Manny Coats' medium of YouTube. Of course, it's coming out of every podcast platform, but we're also going straight up YouTube. I can't tell you how much time and effort was taken into building a studio here in Alabama. The official AMPM podcast studio, this is cool too. If you look at the old amp and recordings, there's always these metal letters that AM/PM, letters that were behind Manny and they made a cameo appearance in the blooper reel of Project X. Those letters were mailed back to me in the middle of COVID even, and I'm disinfecting there in the studio. We really put in a lot of work and effort to make sure that there is kind of a really good pass off.
Tim Jordan: This isn't a brand new podcast; it's just a new variation of the same old AM/PM Podcast that we love. But check it on YouTube. There's a Facebook page, AM/PM Podcast.com follow that. We're going to have more than just podcast episodes. We're ramping up. We've got, Cassandra helped me with that, putting other entrepreneurial content on those platforms. Make sure that you check those out and subscribe. Guys, you got to subscribe to get notified of new episodes. If I don't get notifications, I forget about things and that sucks. Subscribe on the podcast platforms, subscribe on YouTube, like the Facebook page, and follow along and let me know how I'm doing. If I suck it up, don't tell me because I have really, really fragile ego, and I get my hopes crushed. But if you like it, let me know because that just encourages me and gets me energized and fired up to keep going.
Bradley Sutton: Love it. Love it. Now, going briefly back to Project X, I just realized since I have you on here, I'm not sure when you're going to come on here again. I think it's appropriate just to do a quick recap for the people who haven't seen an episode in a while or wondering what the status is. Every now and then I'll give updates in the Facebook group, but if you're not in there, last month, guys, we grossed just on the coffin shelf because, thanks to Bradley's mismanagement of inventory, we've been out of stock of egg trays for a month now. But anyways, just the coffin shelf, do you know how much we gross last month, Tim?
Tim Jordan: Dude, I have no clue. I'm so outside of that realm. I'm not even watching it.
Bradley Sutton: $20,000. 650 units out last month. And that was during Coronavirus where actually the prime listing of this was hit with a three-week delay. That means, anybody who ordered it saw that it wouldn't even be delivered for a month. And that $20,000 we grossed of a freaking shelf shaped like a coffin.
Tim Jordan: We're not talking about Q4; we're not talking about Prime day; we're not talking about Halloween. We're talking about a month delivery time, we sold $20,000 worth. If you do the math on that like I just did on my calculator because I suck at math in my head. That's just shy of a quarter-million dollars in sale a year if we can average $20,000 a month. That means that all we have to find our four coffin shelves, and we are seven-figure sellers a year. That's it. That's how fast it just stacks up and adds up.
Bradley Sutton: Amazing, and anybody who watched Project X can see we did not do any of those like fancy things that you absolutely could do. We didn't do a Kickstarter, we didn't do a social media.
Tim Jordan: We don't have no social media.
Bradley Sutton: We didn't have Instagram for Manny's mysterious oddities or anything.
Tim Jordan: We didn't have ManyChat flows. We didn't have insert cards, none of that stuff. This is as bare bones as it gets, and we're averaging on that. If we keep that up, we're doing a quarter-million dollars a year, and with the profit margin we have, it's huge.
Bradley Sutton: And I think people can see how it is. Is it something that "Hey, it'll just take you 10 minutes to find something like this." No, of course, it takes hard work. You guys saw that in Project X, but tell me about the DMs you get, cause I know you probably get the same DMs or getting tagged in Facebook about people who are like, "Thank you for this information. It's like I've tried it now. This is so cool. I never knew about a test listing and like I did it and I learned this." But talk about some of those messages you see.
Tim Jordan: Well I've learned a lot too because when we kind of spill out my ideas and show it out there, all these other people are like, "Oh Tim, this is cool. But if you also add this element or if you also try this…" Man, I've learned so much more. I almost wish we'd go back and do Project X again and amplify it even more because just the outpouring of community sharing, knowledge sharing and wisdom sharing, is awesome. But what really made it special was two or three months, later people are like, "Hey, I found it. I found that product in my test listing. Even at three X the price, it sold out in two days. But in those two days, I got 8,000 impressions on these long tail keywords. This is working.
Tim Jordan: To actually see people, and like I've got a bunch of screenshots saved somewhere with people saying, "Hey this worked." And even a couple months later people were like, "Hey my first order of a thousand units that I've found through Project X methods like I sold out, and I made $6,500 on my first 5,000 units. All these numbers, people are actually succeeding. Because in the back of my mind, and Bradley can tell you guys this, I was nervous. Every time we do something and be like, "Man, this works for me. This is awesome." But I hope this works on a large scale. I hope that we don't just confuse people. Deep in my heart, I knew that it was going to work, but on the surface, I was a little bit wary because that's just how I am.
Tim Jordan: And I didn't want to be putting out bad stuff, but, man, all these people that says it's working, it's crazy. I've got a group-coaching program called Centurion League, and I've got a bunch of members in that. And what we do is two times a week we get on Zoom calls and we all catch up and we have training, but it's conversational; it's not a course or anything. I get to hear feedback all the time, and now, we have members of the that have decided, "Hey, we learned so much from sharing that like right now, we just wrapped up one of my coaching calls this Thursday where someone was sharing their product idea and they're like, "Hey, we found this in Project X methods. You guys take a look," and 15 people that are on a live call.
Tim Jordan: We went through and dissected it and turned out it was good. Because I have that coaching program, I get to see firsthand other people's journeys, and it's so exciting to watch their journeys go from, "Hey, I'm just getting started. I don't know where to start. Oh my gosh. I think I found a product. Oh my gosh, it tested well. Oh my gosh, I found that it's going to be profitable if I can get it for this price. I got it. I sourced it, I sold it. I'm on my second, third, fourth, fifth order." Getting to watch that is really been the true treasure of the work and effort of Project X. But it took several months to get to that point. We're seeing it, but we're seeing it and it's happening and it's working for people and it's working across a huge range of different products and styles and budgets; it's just awesome man. It's got me so stoked and so encouraged so I couldn't be any happier.
Bradley Sutton: Yeah, it's just great. Speaking of Centurion League, I won't mention her name because she doesn't know I'm doing this, but somebody who's in that group, I believe, and who I know as well, before the coronavirus happened, she was making more than six figures I believe, working out in the world. And now, that came to a complete stop because what the industry she was working in is one of those ones affected by the coronavirus. And then she told me that because of Project X, that was like the oomph that she needed to just like say, "You know what, even one Coronavirus is over and I could go back to my job, I am not going back there because I wasn't happy in that. I'm going all in on Amazon, and it was Project X that gave me that motivation to do it."
Bradley Sutton: To hear things like that is just like, "Oh this is great." I love it that people are able to be inspired by that. Now, speaking of Project X, before we get into your 30-second tip, I'm going to do our little search-volume game here. Alright, so now I'm going to give you three keywords that are Project X related. One of them is Project X related, and I'm going to give you three search volumes, don't be having a Magnet or Cerebro open in your browser right now.
Tim Jordan: You would hear me if I was.
Bradley Sutton: Yes, I know exactly. All right, so you're going to match the keyword to the search volume. All right, so the three keywords, and I'm going to give it to you in the order of the length of the keyword. One is coffin nails. The next one is coffin shelf, which you should be very intimately aware of. And the next one is coffin nail tips, which I didn't even know was a thing before. I just typed and search. I literally don't know if that's referring to something that's on the tip of a nail that goes in a coffin or these are like fingernails. But anyways, the three search volumes are from least to most is 4,000, 18,000, 36,000. Alright, so which one do you think goes to which one? Coffin nails, Coffin shelf, coffin nail tips.
Tim Jordan: Shelf is 7,000, nail is 18,000, tips is 36,000.
Bradley Sutton: Boom goes the dynamite. You got it.
Tim Jordan: Nailed it.
Bradley Sutton: Oh my goodness. All right, you're getting a little glimpse of how Project X works behind the scenes with our corny jokes and some references. Yup. You're actually out of like 50 people who play this game here maybe the fourth who got them all right. Awesome. Awesome. Now, let's get into our TST, T S T, 30-second tip. What is a strategy that you can say in 30 seconds or less that can help our listeners right now?
Tim Jordan: I've already mentioned it before, but you guys have got to stop trusting your own instincts, and start listening to other people's instincts. I use PickFu, I love it. PickFu helps me understand how to sell to people and get out of my own brain space. Right now, I'm using it for listing image selection, title selection. I'll type up multiple titles and I can get them to those audience to let me know which title is more likely to convert. I can do any plus content. I can even do bullet points. I realized that my brain works one way, but it doesn't matter two fricking hills of beans what I think. It matters what the audience thinks. And you can actually target Amazon Prime sellers. if you're setting up a new listing, use PickFu, split test every component. If you have an existing listing, go in and check if you made some changes, what kind of results you'd have. Check that stuff out. It's really, really powerful.
Bradley Sutton: Awesome. All right, Tim, thank you so much for coming on. What I want every single person listening right now to do as soon as we sign off here is to go on your phone or computer and search for the AM/PM Podcast and listen to the first episodes that have just gotten released, which are 195 and 196, and by the time listen to this, you might have 197, so just make sure to listen to this because I guarantee you're going to love the content. Tim, thanks for coming on and wish you the best of success in the AM/PM Podcast.
Tim Jordan: Yes sir. Thank you. We'll talk to you later.