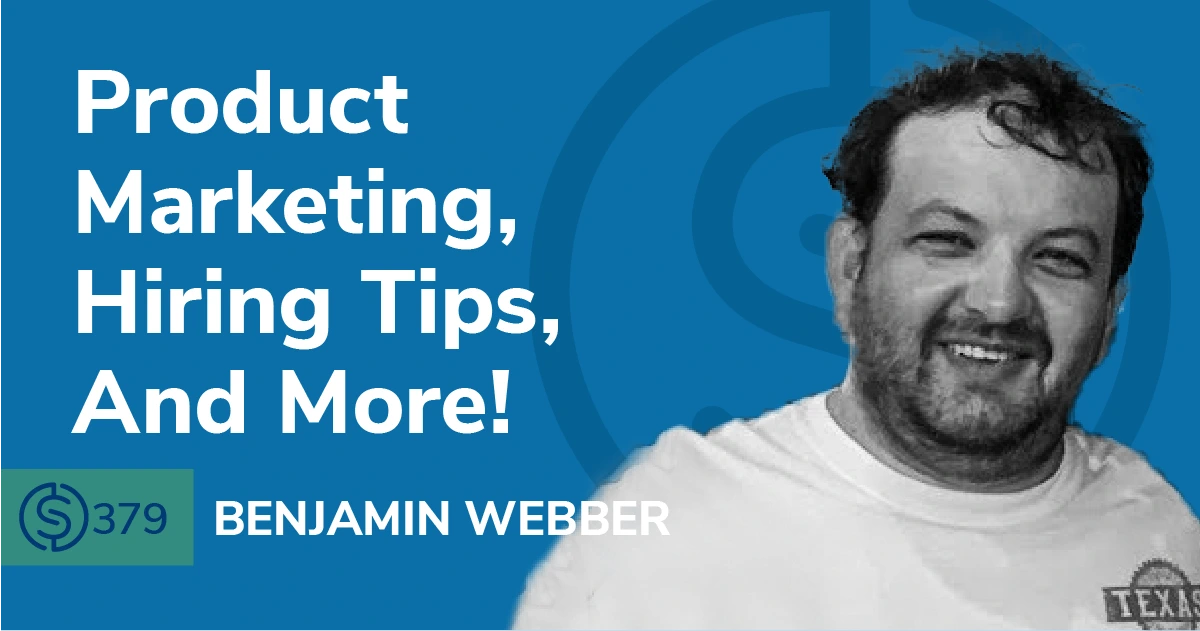 #379 – Amazon Product Marketing, Hiring Tips, And More!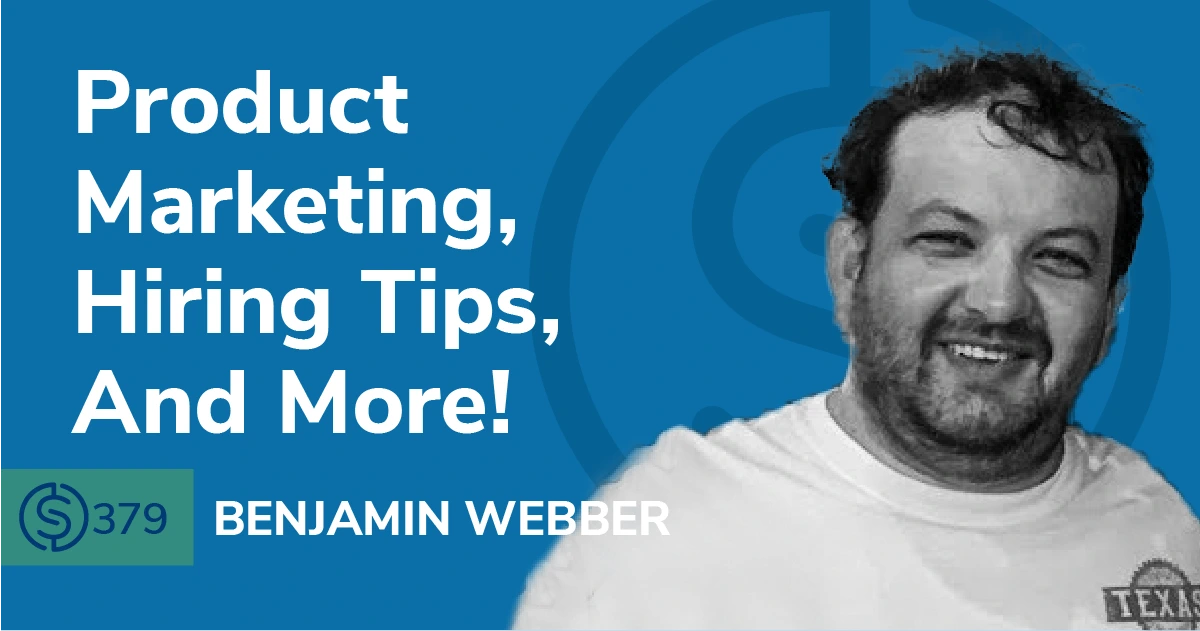 In this episode, Ben shares his story on how he first started in the Amazon space doing retail arbitrage but soon realizes that Amazon private label is the way to go. His crazy and unique product marketing tactics helped him reach success, and he even got a cult following in the Amazon seller community. Today, Ben shares all these tactics plus why hiring is crucial for an E-commerce business to thrive. He gives us actionable steps we can use to hire the right people to bring us massive success in this business.
In episode 379 of the Serious Sellers Podcast, Bradley and Benjamin discuss:
01:30 – The Benefits Of An E-commerce Entrepreneur
02:00 – Having A Cult Following In The Amazon World
02:30 – Ben's Backstory And How He Got Started On Amazon
07:15 – $3 Million Peak Retail Arbitrage Sales
11:00 – Getting Exposure From A Radio Show
15:30 – A Unique Way Of Marketing Their Brand
19:00 – Benjamin Shares His Top Product Differentiation Tactics
22:30 – His Company Is Estimated To Make $35-40 Million In 2022
23:00 – Hiring Properly Is Crucial For Your Business
27:30 – The Best Hiring Practices For Amazon Businesses
33:00 – Tip On Finding The Best Candidates From Creative Job Listings
37:30 – The Last Step Of Their Interview Process
39:28 – Ben's 30-Second Tips
Transcript
Bradley Sutton:
Today, we're gonna talk to a seller who grosses over 30 million a year online and he has like a cult following in the Amazon seller world due to his crazy strategies that include listings entirely made up of puns. How cool is that? Pretty cool I think.
Bradley Sutton:
If you're like me, maybe you were intimidated about learning how to do Amazon PPC, or maybe you think you just don't have the hours and hours that it takes to download and sort through all of those sponsored ads reports that Amazon produces for you. Adtomic for me, allowed me to learn PPC for the first time. And now I'm managing over 150 PPC campaigns across all of my accounts in only two hours a week. Find out how Adtomic can help you level up your PPC game. Visit h10.me/adtomic for more information that's h10.me/adtomic. Hello everybody, and welcome to another episode of the serious seller's podcast by Helium 10. I am your host Bradley Sutton, and this is the show that's a completely BS free unscripted, and unrehearsed organic conversation about serious strategies for serious sellers of any level in the e-commerce world. We've got a serious seller who is actually from here in the United States, but he's on the other side of the world. You're in Croatia right now, right, Ben?
Benjamin:
Yeah. Yeah, I am
Bradley Sutton:
Excellent. That's gotta love the life of when you're an e-commerce entrepreneur just up and go to Eastern Europe and let's chill and go snorkeling, I think you were saying that you did today, so that's one of the benefits now. I don't even know what we're gonna talk about. I know part of it is I wanted to talk a little bit about what I heard you speak on at Billion Dollar Seller Summit, like hiring, you had some pretty funny things, but it was interesting that you have this like a cult following almost because I remember at Billion Dollar Seller Summit when people saw your name on the speaker list, they're like, oh no, I have to hurry up out of lunch and come see him because he's just got some amazing stories and then they weren't even talking about your hiring stuff, but just some of your, your journey too. So let me see, I don't know where we're gonna start where, I know you're in Croatia now, but where were you born and raised?
Benjamin:
I was born in West Virginia.
Bradley Sutton:
Did you go to West Virginia University?
Benjamin:
No.
Bradley Sutton:
You're not a mountain Mountaineer, right?
Benjamin:
The Mountaineers. Yeah. I grew up about three-quarters of a mile from the football stadium. No, I left after high school and moved to North Carolina to go to a tiny liberal arts school that nobody's ever heard of to be a Greek and Roman history major. So just the normal standard Amazon practice.
Bradley Sutton:
Oh Yeah, there we go. So then graduating, did you become a professor in that or what kind of job can you get with a degree in that?
Benjamin:
Turns out nothing. So I taught tennis for a while.
Bradley Sutton:
What do you know? Who thought that?
Benjamin:
Not me. I apparently didn't prepare for anything, but it worked out. I ended up here.
Bradley Sutton:
What did you get into though? Like what did you move back home or did you start working right after college or what?
Benjamin:
So I played tennis in college, so I'd worked at a bunch of junior clinics. So I had built up the kind of like, some connections with the juniors there. And in Charlotte, to join a country club is several thousand dollars a year. Plus you have to pay $80 a lesson. I was like, there's no way my time is worth all that. So I was like, I'll teach you a lesson for like 30 bucks and we'll just go to a park over there. So I built up a group of about 50 different kids that I was teaching lessons to each month. And so I did that for a while. Okay. And then started to work with a company in using Salesforce to write telecommunications contracts for T1 ethernet and phone system lines. This isn't exciting as it sounds.
Bradley Sutton:
Oh my well, I mean, I could see how much that degree prepared you for these two first endeavors that you did. Whew. So then what brought you from all these things different, which is pretty varied from teaching tennis and this too, what brought you to e-commerce?
Benjamin:
So they came, I was with said they were gonna cut my bonus and eliminate it, which was about 25% of my salary. So I said, I'm gonna cut the amount of time I work here by a hundred percent and leave. So fortunately at the time, I had a friend who's a serial entrepreneur who wanted to get into Amazon and he is like, well, why do you–
Bradley Sutton:
You say, fortunately, or unfortunately?
Benjamin:
No, fortunately.
Bradley Sutton:
Oh, okay. I heard it wrong. I said, wait a minute. Okay.
Benjamin:
No, sorry. He wanted to get into the Amazon space and was like, why don't you come to do this? And so he and I–
Bradley Sutton:
What year about are we talking
Benjamin:
End of 2014, beginning of 2015.
Bradley Sutton:
Okay.
Benjamin:
And so he and I, and two of our friends, other friends got started doing retail arbitrage. So we were going to salvage auctions, going to random discount stores, driving a 26-foot box truck case anyone's counting at home. That's the largest box truck you can drive without a CDL, we did look that up. It holds 12 pallets. But so, I mean, when all over the east coast, as far north, as like the Boston area, I think one guy actually went to Niagara falls.
Bradley Sutton:
And so you'd like to pull up to like Kmarts or like Walmarts and stuff, and then just like buy clearance stuff by the pallet or how did you fill-up the 26-foot pallet?
Benjamin:
The biggest place we went to is all these bargain outlets.
Bradley Sutton:
Okay. I'm not familiar with it, but–
Benjamin:
It's a chain. They have about 200 plus stores, but they just buy stuff wholesale and it's super cheap. And we just go in with forget, what was it, Profit. Bandit, I think was an app that we were using back then. Scan the barcodes and fill up like eight carts. Take those carts out to our truck, load it up and bring it back, take off the–
Bradley Sutton:
Do you ever get over the embarrassment of like walking through like, like with all the eyeballs, like what is this weirdo doing with eight carts? Check it out.
Benjamin:
Well, the worst thing was half the time people were like, oh, are you buying these for charity?
Bradley Sutton:
Yeah. That's right.
Benjamin:
Right. Like, can we just end this conversation now?
Bradley Sutton:
Benjamin fun for–
Benjamin:
Cause you're like buying stuff that people go there to buy discount things and you're like, so I'm going to buy all of these. Like I need these 150 boxes of cat food, way more than your cat does. So like, there'd be times where you just feel awkward, like taking the last one off of the shelf because it means that somebody else isn't gonna get it.
Bradley Sutton:
Just leave one or two, maybe, you know?
Benjamin:
Yeah. So I did do that just to like to make myself feel a little bit better about it, but yeah, there was some awkwardness there.
Bradley Sutton:
Now, this seems like a pretty big business. So like, what was the peak of your yearly gross sales for doing this arbitrage model for you?
Benjamin:
We build that up to like, I think our peak doing this, that was just under 3 million.
Bradley Sutton:
Wow. That's crazy. Love it. All right. Now, at what point were you like, you know what, I need to maybe start diversifying and move to private label?
Benjamin:
So that was, I mean, probably mid-2016, we started talking about it. We really went hard doing 2017 and then switching over and then by 2018, we were completely out of doing anything other than private label, but it was just one of those things where it was a lot of fun. And I have some horror stories of driving the box trucks around. We had two around the country. Like I learned how to drive–
Bradley Sutton:
Tell me a couple of the craziest ones.
Benjamin:
So I learned how to drive a stick shift. I had never driven one first one I did was a box truck that you could only start in second gear. But so there's a stretch of land that you go like a bridge that you go across to get into the outer banks near Elizabeth City. And I was going across that in a huge rainstorm and the driver's side windshield wiper fell off. So I'm like leaning down underneath the steering wheel, trying to use that to like block, like gimme some kind of dividing line into I get across this bridge. Cause it's like, there's no place I can pull off. So that was, that was a thing. I blew out a tire on the Pennsylvania turnpike and didn't realize it until like a trucker next to me was like honking his horn and pointing at my tire for like five minutes. I was like, why are you honking at me? Oh, God.
Bradley Sutton:
One time I had a truck, and I had a 16-foot truck. And this is when, when I was doing like car parts like the whole fast furious stuff, like body kits and fiberglass body kits for cars. And one of my drivers drove back. And then when he got to our warehouse, he realized he had left the whole door open. And so, you know, like $3,000, $4,000 worth of body kits are somewhere along the I-5 freeway throughout this time. But yeah, so we all have interesting stories with trucks that we usually don't have to worry about once you move to private label. Now can you think back to the very first product that you started selling? Are you still selling that very first product today?
Benjamin:
It's an interesting question.
Bradley Sutton:
The first private label product.
Benjamin:
Well, so the first private label we are selling still. But only on our own website Amazon decided to flag it as an adult product, so we can no longer sell it on there with advertising successfully.
Bradley Sutton:
Ah, is it about the adult products, or is it like borderline or what?
Benjamin:
I would say it's probably borderline.
Bradley Sutton:
But there's no going back like you couldn't say Hey, lemme change the keywords and they'll start allowing you to advertise or not.
Benjamin:
It's something that they could make. They could easily claim as adults. While the purpose of it that we intended was not adult like the design of it would–, I can't blame them for classifying it that way, but that's one of the stories that people have probably–
Bradley Sutton:
The design of that product. Alright, people will get your minds out of the gutter right now, please. Let's concentrate now. My mind is going places. All right now. Okay.
Benjamin:
I'll tell you what it is once we're not in the air.
Bradley Sutton:
That sounds good. This is a PG/PG13 show. So let's keep it clean.
Benjamin:
But so that was actually what launched her first brand and made it like, was kind of like a crazy way for it to launch a Shock Jock DJ found our product and its like, I gotta have you guys on my show. And so he reached out and we only had–
Bradley Sutton:
He's not Howard Stern we're talking about his?
Benjamin:
It's not, it was not Howard Stern. It was–
Bradley Sutton:
That kind of similar person.
Benjamin:
He had like maybe a 200,000 listener base. Wow. And so we're like, yeah, free advertising. Let's do it. Right. But then we're also like, wait, we only have one product. We should have more. And we had about three weeks before we had to go on the show. So we just started coming up with paper products and stickers and anything we could possibly do that would fit into the same brand. So we had others and like ordering them from like the random US websites that you can order printed products from to try and get a brand built as fast as we could. So by the time, we went on the show we had about 15 products.
Bradley Sutton:
Wow. That's some product research and production levels never seen before three weeks and then launch 15 products.
Benjamin:
An argument could be made that they weren't really well researched. But so, I mean, we just like with that brand, we had an immediate launch of having that Shock Jock DJ saying, Hey, let's do this. And we ended up being–
Bradley Sutton:
Were you sending people to a website or to Amazon?
Benjamin:
We sent people to Amazon.
Bradley Sutton:
Okay.
Benjamin:
And so we were on there, well, one of my friends, my business partners went on there first. And then, so he did all the talking. Now they make me do all the talking. Then that went so well that we ended up going on a second time to do a giveaway. So we ended up having like first product, which got us two appearances on a radio show with 200,000 listeners for free. So, if you're trying to launch a brand, I'd recommend that just doing that is easy.
Bradley Sutton:
What? Just doing an adult product and getting on a TV podcast or so.
Benjamin:
Right.
Bradley Sutton:
Hey, it worked for you.
Benjamin:
It seems like a no-brainer.
Bradley Sutton:
Now quick question now before Billion Dollar Seller Summit last month. Have you spoken on other stages before?
Benjamin:
No, that was my first time speaking on a stage I've been to–
Bradley Sutton:
Okay. Then I need to understand like how in the world did you already have a cult following when nobody's heard you speak before. So I'm assuming just, you know, networking with people and you telling your story. And then if so, tell me the kind of things that you were telling people that–, I'm not joking, like everybody's like, oh no, I gotta, I gotta go. I gotta little listen to Ben because this guy's crazy. So I was like, so I'm assuming that this probably was one of the stories, but yeah. But go ahead and gimme some more of your historical, Amazon exploits that got you, your cult following in the industry here.
Benjamin:
I mean, a lot of them are based on some of the products we sell that I've told a few people about where it's just, they're just kind of ridiculous. And I think part of it also is just like, we've never really like tried to jump out or be like in front of people and we sell a fairly large amount of product.
Bradley Sutton:
As you said, you don't even do Amazon advertising, right?
Benjamin:
No, no, we do Amazon advertising.
Bradley Sutton:
Oh, you do Amazon. I mean, not for the adult products though. You're not allowed to for the adult.
Benjamin:
Adult products. Yeah. But we don't do anything like we don't do anything on Facebook or TikTok or Google right now. So like we built everything through Amazon, which is a little different from where everyone else, what everyone else does. Like I was talking to another seller who speaks a lot and they were saying one of the big things that they try and do is they provide everybody vegetables that whenever they're speaking like there's a lot of people who are out there trying to like, say, here's the lobster, here's the steak, here's how you build, like, here's how you make stuff sell as fast as you possibly can, or here's how you rank up. It's like, but everybody needs their vegetables. That was partly how we build our brand.
Benjamin:
But like the other aspect is just like, we do a lot of ridiculous things. Like our website for the company has jokes talking about the IRS not believing the things we're saying and a bunch of other, like, just random, I think, believe it still says that we've stopped paying people with expired Pizza Hut coupons <laugh> but so like we, the way that we've Mar the way that we market our products, the way that we market ourselves is just so kind of out there and different, I think is the one of the big,
Bradley Sutton:
Do you do any of that on Amazon? Like have some weird lifestyle images or, or weird copying or bullets or that, that just gets people's attention. Or
Benjamin:
We have listings that we've written that are entirely made up of puns.
Bradley Sutton:
That is great.
Benjamin:
So yeah, I would say, yes, we do. We do come up with some ridiculous things that we do on Amazon as well. Like, I mean, the big thing is just trying to get attention to it. And like even if it's just something that somebody says, Hey, you should go look at this Amazon listing. It's ridiculous. Like, it leads into the comments on some of our products are just the, my favorite thing in the world to read, because you just go through and it's just a bunch of–
Bradley Sutton:
The reviews and main stuff?
Benjamin:
Yeah. Who may or may not have bought the product, but they just have to comment on it because of how ridiculous either the product or the listing, or both are?
Bradley Sutton:
Interesting. So then I would like to assume you're doing the regular stuff like using Helium 10 and Cerebro, let me find the top keywords for this product, but then instead of just doing the traditional, all right. Let me just write about this, you know, make some sales copy here. You're going for like, almost like the shock factor while still integrating those keywords so that you get the algorithm on the back end, but then you get a whole bunch of organic virality, I guess you could say from the front end.
Benjamin:
Yeah, absolutely. Like we want people to be able to find the listing. That's why we have to have the keywords there. And so we use Helium 10, we use the Cerebro, Magnet, and Black Box to find some of the products. But then we'll go through and we'll just try and make an interesting, like, if you can keep somebody on your page, they're more likely to buy the longer they stay in your page, the more likely they're going to buy your product. And if we make it interesting for them to read it, then they'll stick around.
Bradley Sutton:
Are you able to give any examples of some older products you used to do or just to like, let people understand the level of craziness that you guys do?
Benjamin:
We were selling a product that related to corn, and that was one of the ones that had a lot of puns in it. Let's see. I think that like one of our bullets talked about how it was a great gift for corn enthusiasts, which apparently are a thing in our mind. But it was, I mean, that one was entirely pun-based like corn-based. We in 2016 sold a, like when everybody was going crazy about the election and had a, like I think giant media, 2016 got very popular at that time. That wasn't one that we made up. But we had a killer bee, 2016 sticker that we made just as an offshoot of that, to see what we could do. And that was just literally full of every B Pun that I could possibly think of. I was a two-pack you could get one for you and one for your honey. I remember that part. So it's just silly stuff like that, that like, just to try and find another way to set yourself apart.
Bradley Sutton:
And then you would literally see reviews where people are just like, this is like the craziest let's say I ever saw, or so I had to buy this product or something like that. I love it. I love it.
Benjamin:
And just keeps some around.
Bradley Sutton:
All right. Now, what before we talk about like, you know, hiring strategies and stuff, which, which is what they invited you to speak at Billion Dollar Sellers Summit, cuz you've got some great strategies there. What are some other unique serious or not serious? This is the Serious Sellers Podcast, but we can go unserious today serious are not serious, different strategies that you think that you do a little bit differently? Like, you know, what's your tips for us where it's like, maybe it's about how you do your PPC, about how you do your keyword research. We already know about your listing optimization here, maybe something you do with images, it could be anything.
Benjamin:
Yeah. I mean, so this goes kind of with listing optimization and photos, it's just everybody talks about how you need to differentiate your products and how differentiating your product is the only way that you're gonna be successful on Amazon, but people are really bad at showing that they've differentiated their product. So like I've reviewed a number of listings for other companies where they've with friends or something where they've asked me to look at it and see what they're doing, right or what they're doing wrong. What they can improve on. And most of them are just so focused on stuffing as many keywords as they possibly can into it. Yeah. That they don't make it obvious what they've changed and why their product is better. And so the biggest thing that I think that sellers lack in optimization and for both copywriting and for the photos is they're not showcasing why their product is better than the next one. Like they may have made a phenomenal change, but if the buyer doesn't know it, then there's no reason for them to change it. And I think that not having a hook is probably the biggest issue that most people when they're creating a listing have.
Bradley Sutton:
Okay. What else can you tell? I like that because you know, sometimes, Hey, my product has this feature that nobody else has. How different can you get? But nobody knows about it, you know, because it's like buried in the eighth bullet point or something like a little sub-note. So yeah, I like that.
Benjamin:
And that's what we did with like we have a product that we sell a four-pack for like 25 bucks and there's a 12 pack. That's also on page one which sells for $26. And we outsell them about 25 to one.
Bradley Sutton:
Wow. Amazing
Benjamin:
It's from the, I mean, that's for the main keyword for the product, but it's, it is just from the listing optimization and showcasing why our products are better. Or if your product isn't better create some way of saying this better, like a while back, we don't sell this anymore. We had a product that was BPA free, every other product in the market for like that product was also BPA free, but we put BPA free at the start of our listing and immediately jumped to the top of basically every search that we cared about because people were like, oh, BPA free this matters. I care about BPA-free. This one is that. And I mean, eventually, the other products cut on and changed their listing. But for like five or six months, we took over all the top spots, just with a simple differentiation tactic that wasn't even necessarily a differentiation tactic that was just showing that it was just picking what your marketing.
Bradley Sutton:
Yeah. Yeah. I like it. I like it. Now you talked about what level of success you achieved in the retail arbitrage, but just to give people an idea of the company size now, like across all e-commerce, what would you estimate your gross sales to end? Obviously, we're not even at Q4 yet, but if you were to take a wild guess and project out what you're gonna end up in 2022 sales-wise?
Benjamin:
Sales somewhere between 35-40 million.
Bradley Sutton:
35-40 million. Okay. So 35-40 million. How many total employees do you now have working for you?
Benjamin:
I hope they're not gonna listen to this because I don't know off the top of my head. We have around like 74, I think, 75.
Bradley Sutton:
How many based in the US, and how many are based overseas? Approximately.
Benjamin:
It's about 50-50. We had kept a warehouse in Charlotte, so keeping that staffed as a pretty large US base.
Bradley Sutton:
Okay. Now I remember you had talked about how, before you sucked that hiring. Why did you suck? You had to fire a lot of people or what sucked about your hiring before?
Benjamin:
There's a mix of like falling in love with candidates based on their resumes. Like, oh, they have all this great experience and looking at that and seeing, and like prejudging and deciding who we want just based off what we see there before we've even talked to people and not necessarily keeping it open mind for the people that maybe are coming in with less experience, but are better at learning or more interested in working with a company and growing and improving themselves was probably the biggest thing. Just being tied to like, if they have the experience, they're gonna be awesome. And we basically found the opposite.
Bradley Sutton:
Now, I think anybody understands that, Hey, hiring a bad person, is not good for the business, but you've actually put it into the kind of like monetary terms about what it actually means, how bad it is for business when you make a bad hire, can you put that into perspective a little bit from your research?
Benjamin:
Yeah. So, I mean, there are a number of websites online that talk about it. So I think the example I used at Billion Dollar Seller Summit was like if you hire a $50,000 person, the estimated loss if you fire them after six months is something in the neighborhood of $180,000. So a little over three and a half. And that's just basically like you're losing that money because the person is the time you spent training them the time you spend hiring. The fact that you're not doing other things because you're working with them. If their work is bad and causes problems with other departments like all, any issues they cause. So it's just like, there's a huge number of things that factor into what you're losing out on by having the wrong person in the role.
Benjamin:
And to me, the biggest thing that you end up losing out on is the opportunity cost of it. Because if you're tying up your time or your manager's time trying to train this person, you're not building the business. And if like they, we hired a person to basically take over all of our off Amazon marketing which they had all the experience they'd built, like all these crazy brands, they had all this amazing information. And so we're like, yeah, this is great. We're gonna hire 'em, we're gonna pay a bunch of money and it's gonna be awesome. But we said, in order for you to start building your team, we need you to show that you can do the job. And in like three months, they worked on like two listings and a couple of photo sets, but they sent us a bunch of emails with ideas.
Benjamin:
So what we learned from that is like the super high-level people, sometimes just our idea people, and they need to have a team in order to be successful. And like, they may have been able to be successful if they had a team, but we wanted them to prove that they could actually do the work, because if you can't do the work, how are you gonna teach somebody else how to do the work or how to manage somebody in our mind. And so after about six months, or no, maybe it was a little less than that. We ended up just saying, look, this isn't working, paying him severance and letting him go. And we went from, and that was like 2018. And we went from there until early this year, before we even tried to look into off Amazon marketing again, because we got so burnt from that. And with how successful a lot of companies happened with off Amazon marketing, where could, like, we're doing 35 to 40 now, like where could we be, had we been doing off Amazon marketing, like double, triple like what position would be in? And so, like the opportunity cost of that hire is, I mean, literally millions of dollars.
Bradley Sutton:
Yeah. Interesting now, alright. That being said, Hey, I think everybody understands now that this could potentially make or break a company or at least really affect at the very least really affect your bottom line. So what are some, some tips that you can give as far as vetting whether we're talking about domestic hires, whether they're talking about, you know, virtual hires, you know, you could have domestic virtual hires people you're not meeting face to face, you know whether they're in the United States or whether they're in the Philippines, Pakistan, wherever, like what are some just–, we could probably talk about this for like three hours, but, you know, with the, the 15 minutes we have left or 10 less than 10 minutes that we have left, what's your best tips for Amazon sellers out there, Hey, they're ready to take that step, or I can't do everything on my own anymore. You know, I need to start hiring, hit us with your best tips
Benjamin:
Test the people in advance, like come up with a test process where like, if you know that the person is gonna be doing research for you, even if it's not keyword research, send them a research project, just make something up and pay them to do it and see what the result that you get back is. We do two tests for every hiring thing we do before we even start interviewing somebody. So I guess very quickly like our process is basically we're going to do a whenever they apply, they fill out like a 10 to 15-minute questionnaire. Our VAs go through that. They have certain criteria that they're looking for in that, that they will eliminate people and like the criteria that you have, and that I have are gonna be different. So it depends on what exactly you're looking for. Once they do that, they send 'em the first test we will review the first test while we're reviewing the first test, we'll have them take the first part of a Wonderlic, which takes about 10 minutes just as a kind of intelligence analysis to see where they're out there. And then–
Bradley Sutton:
How do you get through? I mean, I've only heard of that. Like when they test them like football quarterbacks, right before the draft, they take the Wonderlic Test, but I would say 98% of people out there who don't follow football might not know what a wonder luck test is or where to even get that.
Benjamin:
I mean, if you want me to mention the software we use like we do most of our hiring, we do everything through JazzHR, so everything's linked in there.
Bradley Sutton:
Interesting. That's like part of your, part of what you pay them for and they give you access to these tests. Okay.
Benjamin:
Yeah. I think that's how we did it. I didn't actually set that up, but I believe that's how we did it. If not, it's something that you can just Google, like, how do I, how do I make someone take a Wonderlic? But it gives us really, really good data as far as what they're able to do. And also if they can follow instructions, cuz we only ask them to do the first part. So whenever somebody goes through and does all three parts of it and says, this took way more than 10 minutes. We're like, well, you didn't read. And also we're probably not gonna hire you just because like it's the ability like that's what a lot of the testing is for is conscientiousness. Like, are they sending you back something with a bunch of typos? If you say, make this Google sheet and share it with me are they actually sharing it with you or are they making it available to other people? Or how is it just like general simple stuff like that, that you're going to get an idea of the quality of work that you're going to get from them, because if they're not doing well during hiring, like when they're literally trying to get this job and this should be the hardest they ever work on your job or for your–
Bradley Sutton:
It's like when you're dating. You really take a lot of time and get dressed and make-up if you're yeah. Women and stuff like that. So if you just come, dishevel leave, you're a guy like obviously you're not gonna be putting much effort once you get married. So I like that philosophy there. Okay.
Benjamin:
So that's the first test we do is just the kind of simple thing. And then we do a much, much more elaborate test for the second part. Like for a copywriter, we actually have them write an entire listing for us. And we'll say like, what are the keywords you want from us? And we'll go into Helium 10, we'll send them the exports so that they have them. But we'll actually have them go through everything. We have a fairly robust training module for copywriting. I think we have something like 30 SOPs or something on it. And we'll send all of those over to them and say like, read through what you think is gonna be valuable for you. We'd recommend these certain specific ones. And they're able to go through and see it. And like, we're not necessarily judging them based off of like the exact quality, but there are certain like there's essentially a checklist that you need to make sure isn't every listing and are they hitting all those things?
Benjamin:
Are they showing creativity? What are like–, and it's the same thing for whatever job you're looking for. Like if for our VAs, we had like we use a service called, well, not a service, a program called AutoHotkey which is basically you type it, you can set up a formula, like it's like, now I'm blank on how to describe this, but it's basically like an entry-level programming thing where you can make certain keystrokes will cause a chain of reaction. So like you can type–, it's like if you control w when you're in Chrome, it's gonna close the tab you're in. But you can have it to where, like for–, if we want to dispute a review, we just hit like two buttons and disputes it for us because you can simulate clicks, do all these things. So we send over how to set those up and have them actually create their own to see if they're able to do it. So there's like little stuff like that that is relatively minor and relatively straightforward, but it gives you great information as far as what you actually can get from them and what their capabilities are to learn and grasp a new concept.
Bradley Sutton:
Let me just take a couple of steps back, this is great for like interviews, process vetting, and stuff, but let me go to the very beginning of this process. Give us a tip regardless of the website we're using of some ways that we can have an attention-grabbing headline or copy like what gives you the best candidates in the first place? What can you do differently than just the average Joe out there putting indeed listings or something?
Benjamin:
Well, as, as you might have gathered from the ridiculous assistance that we right. We also try and throw some humor into it. So like we'll start out with, I mean, the title is basically is pretty straightforward, is going to be what the job is, but we're gonna end it with a couple of key benefits to the job, rather than just saying, like, I'm looking for somebody like warehouse worker, Charlotte, North Carolina, $15 an hour is what a lot of the job will say, like ours would say warehouse worker, Charlotte, North Carolina, $15 an hour, only work weekdays. And like, I don't know, health insurance included or something like that, where we're actually showing like some of the other features before you even have to before you even click into it. So the same way as like you wanna use them, the first 50 or first 55, whatever it is of their for your listing copy, you wanna use them as much of the title as you can to get people into it. And then once you're in, just try and like grab their attention. Like, we use it, we do jokes, but it doesn't have to be that it could just be your continuing to show why your company is different. It could be like maybe you offer snacks to everybody who works there or something. I don't know, but yeah, we do come work first
Bradley Sutton:
For me, that would turn me off because I'm trying to lose weight and I'll be like up, I can't work here, so right.
Benjamin:
They have snacks. Well, that's too bad.
Bradley Sutton:
How many, how many do you target? Like, do you have a number like, Hey, I wanna get a hundred, I wanna get a hundred applicants or like what's your target?
Benjamin:
Literally, anybody that will want to apply, we don't want to limit it at all. So I guess that's the other tip is don't put a bunch of requirements in, like, if there are absolute much that you have to have, like, if it's a job that requires you to lift over 50 pounds regularly. Yeah. Put that in the listing. But think about if you actually need to have people, do they have to have a college degree? Do they have to have experience? Like, for the most part, none of us had experience on, well, like my friends and I, none of us had experience with Amazon before we started it. And everything that we've done, we've learned from–
Bradley Sutton:
You didn't have experience driving a stick shift before you started driving a truck.
Benjamin:
I didn't have experience driving a forklift before I did that either. But like you have to go into it with the mindset of, I want to get people and I'm going to figure out the best person from this. And like, with Amazon, it's just such a different concept to any other kind of marketing. My brother is a professional copywriter. I paid him to write a listing for me one time and I hope he would never listen to this because it was terrible. <Laugh> but he's so used to like, okay, I need to get as much information as I can in as few words as possible. And like the keyword density doesn't matter as much for what he's doing. Cause he is doing like white pages and for an Amazon listing, like you want as many words as Amazon, you put in basically, I mean, within reason, but you're trying, so you're trying, it's just a completely different style. So would you rather train somebody or have somebody come in with bad habits for us, we've had more success for the people that we bring in who have no experience and have done nothing. Before I,
Bradley Sutton:
I heard that from multiple people actually at the Billion Dollar Seller Summit, they actually purposely don't want Amazon experience people because they're like, we don't want them coming in with bad habits, you know? So it's interesting. All right. So you got this great, you know, job listing, you, you get tons of applicants, you start putting them through these tests to weed them down. So like how many do you do like final interviews? Like, pass all these things. What is the last step for you guys before you decide who you're gonna hire? Yeah.
Benjamin:
So the final interviews will usually end up interviewing maybe five people after they've gotten through the test. And by that point, we'll have some idea of where we would want it to go, assuming the interviews go well. And a lot of the interview is testing to see if they're gonna fit the culture. And the other aspect of it is just like, we actually go, there's a book called top grading that influences a lot of our hiring practices and how we do a lot, what we do. It's basically saying that the per your job is to become an expert on what their job was at their previous job. So you're whatever their previous job was, even if it was college, like, okay you were in college, what was a really hard class for you? And that's what you dig into.
Benjamin:
But so you want to like talk to them about it and just say, okay, so what did you do on a day-to-day basis? How did that impact the company? Find out about any major projects that they were a part of. So like, if somebody's talking like, yeah, I switched our company while I was there, switched from this ERP to the other ERP don't say, oh, that's awesome. Like you were a part of that massive project, find out what they did in that project. So say like, so if somebody comes back and says, yeah my role in the ERP was to do the data entry, to change over where the information was. That's different than if you're talking to somebody who says, well, I evaluated about 15 different ERPs. And then I came up with the SOPs and system for how we're going to change everything over smoothly, without breaking anything like both people can give the exact same answer of the big project was setting up this new ERP, but the actual role they had in it can be massively different.
Benjamin:
And so you wanna always make sure you find out what the role was and how it impacted things. And if they don't know how their role impacted things, they probably weren't very good at their job. And you probably don't wanna hire them to be perfectly honest.
Bradley Sutton:
Interesting. All right. I love this, you know, we, we can just go on and on and on here, but we gotta come to close up. We close the show usually with a 30-second tip, our TST. It could be about any, any topic at all that you want to give, that you can give in like 30 seconds to a minute. What's your strategy out there for people?
Benjamin:
One of the biggest mistakes that we made was we were looking at ACoS and we weren't using a tool for it. We weren't like we weren't using any kind of software or anything. And so if you sort Seller Central by ACoS, it completely ignores the things that haven't had a sale and were, and are just wasting money. So make sure that you are looking at the keywords that are just outright losing money and not converting at all because you will waste a lot of money if you don't eliminate those. And even if it's the topic.
Bradley Sutton:
I didn't even realize that. I mean, I've always used Adtomic you, so obviously it calculates it. Right. But I didn't realize that the Seller Central one doesn't include those. It,
Benjamin:
It includes them, but they're at the very bottom. Like if you click on ACoS like if there are no sales, it doesn't show there's no ACoS because–
Bradley Sutton:
Oh yeah. Okay. I see what you mean. Okay.
Benjamin:
So there's just these ones that like if you're not using Adtomic or any other software like you're just, you're blind to them and you can lose a lot of money very quickly. And the other thing with that is even if the top keyword for your product is like, oh, I have to advertise for this because the top keyword for my product if you're losing a lot of money on it, stop advertising on it, come back to it. Once you've actually had sales from other things, and you're ranked up in other places and Amazon might give you a better position. Like, don't just throw money at something that is useless. That is not helping.
Bradley Sutton:
I'm gonna have to take that advice. Cuz I'm losing my shirt on the coffin shelf keyword there in advertising. So it's just like, there's a sentimental value. Like I have to be number one right on this keyword. Alright. I'm gonna have to take that advice. All right. Thanks a lot, Ben and we'll see you later.
Benjamin:
Thank you.
---
Enjoy this episode? Be sure to check out our previous episodes for even more content to propel you to Amazon FBA Seller success! And don't forget to "Like" our Facebook page and subscribe to the podcast on iTunes, Spotify, or wherever you listen to our podcast.
Get snippets from all episodes by following us on Instagram at @SeriousSellersPodcast
Want to absolutely start crushing it on Amazon? Here are few carefully curated resources to get you started:
Achieve More Results in Less Time
Accelerate the Growth of Your Business, Brand or Agency
Maximize your results and drive success faster with Helium 10's full suite of Amazon and Walmart solutions.