#322 – PPC Talk: Chat With The Creator Of Amazon's First Sponsored Video Ad
Today, we'll talk to someone who worked at Amazon for ten years before starting what many consider the "Ferrari" of all Amazon advertising software platforms.
Originally published on: February 15, 2022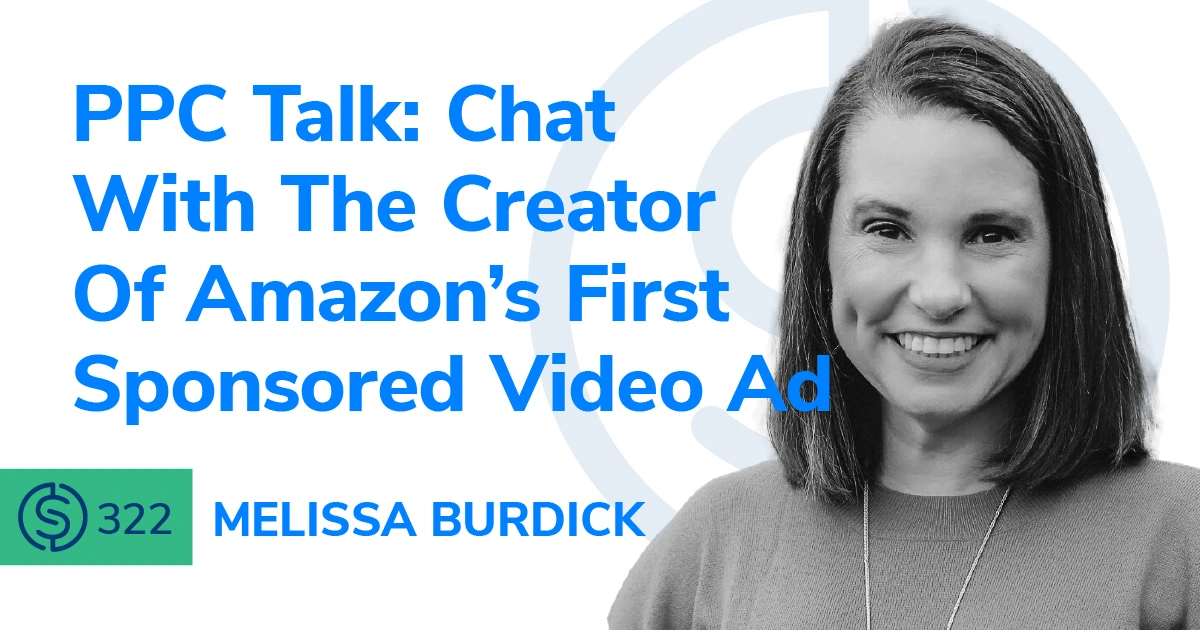 In this episode, Bradley welcomes Melissa Burdick, President and Co-founder of Pacvue, to talk about PPC tips and insights on a wide variety of topics like Amazon's Q4 earnings report, why having a multi-channel business is essential in 2022, Instacart, and more!

She also shares her unique story from working at Amazon for ten years, helping launch the Amazon CPG/Health & Beauty retail business, and creating Amazon's first sponsored video ad!
In episode 322 of the Serious Sellers Podcast, Bradley and Melissa discuss:
02:00 – Melissa Burdick's Backstory And How She Got Started Working In Amazon
04:00 – Working At The Advertisement Busines Of Amazon
06:00 – The Biggest Takeaways From Amazon's Q4 Earnings
09:30 – Having Multi-Channel Business In 2022 Is Important
11:00 – After Amazon and Walmart, Which Is The Next Best Marketplace?
13:30 – The Current Trends In The Amazon Advertising Space
16:30 – Melissa's Take In PPC Click Fraud
19:00 – How Your Advertising Affect Your Organic Placements
21:00 – In What Stage Should You Run Your Own PPC?
24:00 – Learning PPC Through Training And Education Resources
26:00 – How Does Pacvue Help Sellers Get To The Next Level?
29:30 – Using Pacvue For Instacart
33:30 – Melissa's Thirty-Second Tips
Transcript
Bradley Sutton:
Today. We talked to someone who worked at Amazon for 10 years before starting what many considered to be the Ferrari of all Amazon advertising software platforms. She also created the first ever sponsored video ad that ever appeared on Amazon. How cool is that? Pretty cool I think.
Bradley Sutton:
How can you get more buyers to leave you Amazon product reviews? By following up with them in a way that's compliant with Amazon terms of service, you can use Helium 10 Follow-Up in order to automatically send out Amazon's Request a Review emails to any you want, not just that, but you can specify when they get the message and even filter out people that you don't want to get that message such as people who have asked for refunds or maybe ones that you gave discounts to for more information, visit h10.me/followup. You can sign up for a free account or you can sign up for a Platinum plan and get 10% off now for life by using the discount code SSP 10. Hello everybody, and welcome to another episode of the Serious Sellers Podcast by Helium 10. I am your host Bradley Sutton, and this is the show that's a completely BS-free unscripted, and unrehearsed, organic conversation about serious strategies for serious sellers of any level in the Amazon or Walmart world. And every now and then we do kind of like a PPC-centric episode. We call it PPC talk, but we're gonna talk about a lot of things today. Cause we got a special guest here. Last time I saw her actually was, you know, she's just chilling there on Bloomberg TV as the number one expert about the Q4 earnings call to that big network, you know? So that's why I say it's kind of an to have her on here, Melissa. How's it going?
Melissa:
It's going awesome. Thanks for having me.
Bradley Sutton:
Thank you for coming here. You know, now Melissa is at Pacvue, which is now the kind of like a sister company here to Helium 10. So it's so awesome that we get to join together with such talented people and also great companies like Pacvue and Melissa here. So since this is your first time on the show what I like to do is I like to get your superhero origin story, your backstory. So like where did you–, where are you now? Where did you grow up? College, things like that.
Melissa:
Yeah. so college I went to the University of Texas at Austin, which is such a fun school, and then my husband dragged me to Seattle. He was not my husband at the time, but he was working at Microsoft and moved to Seattle from Dallas, which was a very big shock. But ultimately in Seattle, I got a job at Amazon in 2005 where I was the original beauty buyer. So Amazon had just started the consumables business. They were dropshipping through drugstore.com, which is not in existence anymore. And I was able to get one of my gigs at Amazon, basically creating from scratch all the relationships with all the CBG companies, really figuring out how to ship tubes at toothpaste, profitably across the internet, which I think we're still trying to figure that out. And yeah, so I spent 10 years at Amazon.
Bradley Sutton:
Wow. That's pretty exciting. How was that? Like, from what year to, what year are we talking about? Rough
Melissa:
2005 to 2015. So when I would go to trade shows, I'd actually have to turn my name badge around backwards because nobody wanted to talk to Amazon. Amazon was such small like it was a bookseller. And so I would go to, you know, like these big trade shows for the health and beauty products. And they were just surprised that Amazon was there cause they thought Amazon sold books. So it was a very different conversation than today where people are chasing Amazon to talk to them. Then I was chasing people to sell on Amazon.
Bradley Sutton:
Interesting. Interesting. Now after that, what was your next endeavor?
Melissa:
So after I spent five years on the retail side of the business at Amazon, and then I spent five years in the ads business when it also was first started. So I actually was on the product side, creating a lot of the ad products that we use today. Like the sponsor display ad, and after Pacvue, I left. I started the e-commerce function for a big shopper marketing agency. I did some consulting, but in 2017 I got the opportunity to get the API from Amazon. And I started Pacvue with my partner Zhaohui.
Bradley Sutton:
Awesome. Awesome. Now, I remember reading somewhere didn't do you do the very first something or other when it comes to Amazon advertising like you did the very first some kind of ad if I'm not mistaken, it was the very first video ad.
Melissa:
So back when Amazon used to have this thing called the fishbowl, I think they still do this today where they'd have these famous artists come and they'd do book reading or music and they would play this on the homepage of Amazon. And this was before there was an advertising business at all. And so, Unilever came to me and they were like, Hey, we wanna the Super Bowl ad on the Amazon homepage. And this was before advertising was a thing. And so it kind of got the business case going with like, "Hey, we can get these big branding dollars from brands that wanna pay us money to be on our homepage." So I leveraged that widget. It was like a video widget on the homepage and turn that into this ad unit to drive to this whole landing page of dove products. They were all outta stock. So it wasn't quite the most successful integration for the vendor. Because we drove all this traffic and they had not enough inventory to support it, but it kind of was this early test of the fact that people will go to Amazon, see products on the homepage and go there.
Bradley Sutton:
Interesting. Interesting. Okay. So you a little piece of Amazon history, you have a stake your claim on, I like it. Now, speaking of Amazon and what I, you know, talked about earlier was that earnings report and I have not, you know, I'm kind of a procrastinator. I still have not had a chance to read that whole transcript of what went down, but maybe you could give me the cliff notes and everybody else out there who maybe haven't had a chance. What were your biggest takeaways from that recent report?
Melissa:
Yeah, I mean, this past week was really interesting because there was such a huge difference between Google reporting earnings and they were awesome and Facebook or Meta reporting earnings, and it was the exact opposite. So people were like, is Amazon gonna go the Google way or the Meta way? And they wound up going the Google way. So basically they reported earnings. The street was incredibly happy. Stock price went up. They announced a couple of things. So sales were up, profits were, as you can expect, not amazing, but they had the ads business in AWS to kind of pick up their profit. And both of them did really well. The big news was that for the first time, Amazon actually broke out advertising as a line item in their PNL. And they'd never done that before. So they exposed how big that ad's business actually is And it's 31 billion dollars.
Melissa:
And they did like 9.7 billion in the quarter. And it was up a lot from the last year. And actually, I think it's more profitable than AWS. So they showed that. So, The other big thing that happened was they announced that increasing the price of Prime $20. Yeah. So every four years Amazon has increased the price of Prime. It's that four year mark, they've added a lot of features and functionality into Prime and they'll continue to do that. So you know, Prime is like this hugely sticky subscription service. And so the question is like how many people will turn from that, but those were kind of the biggest takeaways. The other interesting thing that they talked about just in the earnings notes that people aren't really talking about is how they're getting bigger into physical stores.
Melissa:
So e-commerce is like 10% to 20% of total retail sales. There's this huge percentage, 80% to 90% of sales is actually happening in store. So like the majority is happening in stores. So they're talking about this new like they're launching a new fashion store in LA, which I hope to visit with you when I come down there when it opens. But they have a lot of this, you know, focus on the physical. So that could be a trend. And with regards to advertising, they did enable, this is not part of earnings, but you can target whole foods audience, customers online. So this whole like online/offline concept of, you know, be where the shopper is kind of important.
Bradley Sutton:
Yeah. Now, you know, talking about, you know, retail versus online, I mean, I think more than at any time in the last three or four years, that I can think of a lot of e-commerce sellers or Amazon sellers, in particular, are more conscious or conscious of the need to kind of diversify where they're selling, you know, not just talking about selling on Amazon versus selling, you know, Brick-and-Mortar, but just, you know, there's such a diversity of online marketplaces now. And like you had said, 5-10 years ago, you know, people didn't even think about Amazon. And then there was, we went through a period of time where people were only thinking of selling online on Amazon. But now I think we're in this stage where people are, especially during the pandemic, when people got shut out of Amazon, they're like, "man, it's not so great to have all my, eggs in one basket as it were". So I just wanna get your thoughts on kind of like, multi-channel like, what's the importance, you know, here in 2022 do you agree that that's more of a necessity to kind of diversify where you're selling and what your thoughts are in that?
Melissa:
I definitely think so. So, at Pacvue, we actually support 30 retailers in 18 countries. So we're working with Amazon is our main, you know, our biggest channel, of course, but Walmart, Instacart, Target you know, you name it, we're working with a lot of different retailers and we're seeing a huge trend of people kind of expanding beyond Amazon, not putting all their eggs in the Amazon basket, because if you get shut down and that takes a while to get back on. Walmart is kind of one of the next big places people go and Walmart has a huge focus on building out their marketplace. So that is something that from there, you know, CEO level is a big priority for them. So, you know, definitely, as Amazon gets more expensive, so CPCs have increased 14% year over year for sponsor products and 7.5% for sponsored brand ads.
Melissa:
You're kind of a small fish in a big pond on Amazon it's pay to play. So it's getting more expensive when you, you know, we're seeing some benefit of being first on some of these other platforms because it's cheaper. There's less competition. We saw this with a big CE, Consumer Electronics. I think we did a big case study with Hisense in this one where for advertising, they launched on the Walmart marketplace. And actually, I think Hisense might be a vendor, not a 3p seller, but either way, same thing. They saw a lot of success being an early mover onto the Walmart platform.
Bradley Sutton:
Okay. So, Walmart is I think I would say that that's probably the second, you know, priority as far as online marketplaces. What about I, after that? Like, do you have any predictions on, I'm not sure, personally, at least nothing sticks out in my mind of like, oh yeah, this is clearly the number three place after Amazon or Walmart, do you have any idea on who's going to emerge as that, or is it pretty much kind of like even after Amazon and Walmart?
Melissa:
I mean, those were the big two. I think one of the hurdles or challenges is that these marketplaces after Amazon are gated, so it's not just a sell, serve, easy get on the marketplace. So for example, Target I think is another one that's naturally another marketplace to go on, but the issue is it's much harder cuz it's a gated marketplace. Yeah. And so that's really the blocker to, to scale the marketplaces for these guys. So, you know, they're trying to balance a good customer experience with, you know, not just letting everybody on the marketplace, which also is serves in people's favor if they can't get on it. You know what I mean? But I think that's the biggest challenge is that it's not just an easy launch. Amazon has such a small, it's not even a moat. Like you can just launch on the marketplace it's self-serve, whereas even Walmart target plus like all these other marketplaces.
Melissa:
It's a little bit gated, but the net of it is if you look at traffic patterns and where people, customers are going, they're going to Walmart, they're going to Target. And so that's how I prioritize is where's the traffic where the customer's going. And then the other thing is, I mean, we've seen, for example, on Walmart, lower ASP items, lower, you know, price items convert better on Walmart. So when you think about your portfolio, if you have, you know, a higher price item, maybe you want that item on Amazon and maybe you create a separate kind of product, different brand on Walmart. That's a lower ASP item. So trying to figure out like these are different customer profiles and that's why you can get more market share for your products with these different audiences.
Bradley Sutton:
All right. I like that. Now you mentioned some different trends in advertising, like, you know, overall increase in cost per click on Amazon, what are some other Amazon centric kind of trends that you're seeing as far as in the advertising space because you know, I have never seen the amount of new data and new kinds of ads, and new access to ads that you to be kind of like only for vendors before., You know, as the last two years, it's really incredible, at least in my opinion, as far as what kind of analytics Amazon is making available, what kind of advertising that Amazon is making available even to just everyday sellers that before you had to be a pretty big brand to have access to. So what are some of the trends that you're seeing in this space?
Melissa:
Yeah, I mean, so from in terms of just kind of overall getting more expensive, I mean, that's just the case where CPCs are rising, that is indicative of a more mature marketplace. I mean, that's just what's happening, but like you said, I mean, there's just more placements. There's a huge focus on sponsor display ads. That's a big priority for Amazon this year. So they're focusing on a lot of more within that specific ad product. An example would be they just included Twitch as an audience that you can target within sponsor display. So more placements. I remember when sponsor brand ad was just like right below the toolbar and then they just exploded out the number of placements that product has more placements, more data to your point. I think the question is what you do with that data too, is just more automation features.
Melissa:
So that's, now I think that they're giving more power to sellers to have more budgeting, features, more automation features, so that's good for them. And then the other thing is, I mean there's a lot, but video is also another big thing that's, that's launched within the space. So we saw this, I think it was more available to vendors before sellers. We have noticed that the conversion for video ad types, so there's within sponsored products, there's video and sponsor brand ads and those convert a lot better. The issue is actually having the creative to create those videos. So I think Amazon did create a video creator. So it's self serve and you can create videos. The other thing is just this big focus on streaming TV. I think that is maybe less relevant to sellers. It's a little bit more relevant to vendors they're going after these big branding budgets and buckets of money and this kind of competes with Hulu and Roku but streaming TV. So there, there's probably kind of, there's a lot of that in the ecosystem as well, and then explain expanding to countries. So Amazon 18 different countries that they're available on or more, the API is available for 18 different countries, but having parody to be able to launch globally.
Bradley Sutton:
Yeah. Now, you know, you have access to so much data and you know, something I've heard, some sellers you know, have concern over is like different as far as relating to advertising, like Click Fraud and things like that, where all of a sudden, you know, competitors will just send a bunch of fake clicks. Now, you know, I've read in different places, you know, Amazon kind of has its own internal mechanisms to detect that and perhaps shut some of that down or not charge you for that. But I'm just wondering, you know, with Pacvue, is that like a something that you're actively, you know, looking for, like, you know, for Click Fraud or is it just something that you're like, all right, it exists. There's not much we can do about it. So we just budget for it kind of, or what can you talk about that?
Melissa:
Amazon has a lot in place around robot detection and there's gonna be bad actors all the time. And the thing about bad actors is they go down one loophole, they get caught and they go down another one. And so it is just like a game of whack-a-mole to find those things. But Amazon has the most sophisticated tools out of all the retailers to be able to detect that, those kind of that fraud. And it's really hard for third party tools to have anything to do with that. Cause it's so much more on the Amazon side, but, you know, I think it's getting better. And I think that they can train their robot detection around identifying those bad actors, but I don't think we can ever expect that to go away. But the thing about Amazon's algorithms, they're very sensitive to relevancy and price history and sales and that Click Fraud when they see the, a really weird behavior that flags things in their system. So, that's a pretty tough one to solve.
Bradley Sutton:
Yeah. I didn't expect you to solve it in three seconds there, but it's good to know that it's not, I like the fact that Amazon does proactively on their own, you know, try and detect it and I've even heard of, just without even a seller asking for it, they'll get like refunds, like a message saying that, "Oh yeah, we detected something. So, you know, you're gonna get this refund on it." So that's to know that it's not like so widespread. I would've got really worried if you're like, "yeah, we at Pacvue budget 20% to fraudulent clicks or something" that would've worried me a little bit. So I'm glad that wasn't the answer there. Now just in general, my specialty way back in the day was like on Amazon launches and doing things like two-step URLs and search, find, buy, and things related to that, a lot of that stuff that years ago was, was just, you know, mainstream because it wasn't against Amazon terms of services.
Bradley Sutton:
Now, all of a sudden in the last few months against Amazon terms of service. So I think more people including myself, are now relying almost strictly on advertising in order to get that Organic Keyword positioning that we want. So just in general, I know this could be a whole podcast in itself, but what at Pacvue what do you guys see as far as trends, as far as how your Amazon, on Amazon advertising and off Amazon advertising kind of affects organic placement, and when I say organic, I'm not just talking about Amazon, but you know, maybe even Google or other kind of placements.
Melissa:
Yeah. Well, I think one thing that we've always tried to do is peel back and uncover what is the algorithm for organic ranking, right? I mean, that's what we've been trying to do forever. And the thing about Amazon is they're always changing it. It's a black box in some ways, but there are some principles that remain the, but one is traffic. So really driving a ton of traffic, traffic is king in terms of how you get that organic ranking. There's a huge component to relevancy. Something that I love about Helium 10. As we're getting to know each other is our team uses the Index Checker a lot so that you can figure out is that ASIN actually relevant to the keyword? Cuz that is a huge impact to both ads and organic. If you're not gonna rank for that keyword don't even bother basically. Yeah. But you know, understanding the relevancy algorithm, it has to do with sales history, profitability, traffic, that's coming to you, estimation of how is it going to convert or not? So being able to uncover and unpeel back that kind of how they are doing the organic ranking algorithm and then being able to figure out, okay, how can I drive those actions so that I can increase it. So increasing traffic and things like that.
Bradley Sutton:
Okay, excellent. Excellent. Now you know, on this same topic, let's keep going about here about PPC. One of the most common things I see in Facebook groups and things like that is of people looking for kind of like outsourcing as far as, Hey, looking for an agent or an agency I should say, or a mentor or guru or something is, is on advertising. You know, like people from, you know, huge companies down to brand new sellers, the thing that they feel the most skeptical about as far as their own abilities is the ability to manage their PPC, myself being one of them, you know, when I was a consultant for Amazon sellers, I never or touched one PPC campaign. I was like, you know what, I don't wanna learn that it's too difficult. I don't think I can handle that.
Bradley Sutton:
I'm just gonna strictly focus on launch and keyword research and product research and things like that. So, you know, you've seen it all as it were like, do you have an opinion on like what stage a seller should be when, Hey, you know what? You should probably just try and run your own PBC. You know, Amazon has so much analytics or use a, you know, like Helium 10, Adtomic or something, or as opposed to somebody who you would probably suggest, you know what, you're at this stage now where you might look into hiring a professional agency to, to manage your PPC. That's really gonna be more beneficial to you than trying to figure it out yourself. Do you have any opinion as far as that goes?
Melissa:
Yeah. I think that there's a lot of different variable that you have in questions you have to ask to make that decision. So one is time, like how much time, if you're a one person show and you're doing everything, you don't have a lot of time to spend on your advertising and then to keep up with the latest trends and all that kind of stuff. So if you have no time, you should outsource it to a third party. If you do have, and you have a team then building the muscle in house is so much better because then you can control it. So I think there's a big aspect around time using the right tools is a huge part of it. So I think almost everyone I know starts at Helium 10. Helium 10 is the best tool to kind of give you visibility into everything.
Melissa:
When you reach a certain ad budget, you know, we find that there's a certain audience that it doesn't make sense to pay for a tool like Pacvue until you're spending a certain amount of money on, Amazon. So, and that threshold is usually like $300,000 a year or, you know, somewhere around that. So if you're not spending enough money to make use of a tool, then you should continue to use you know, kind of less expensive tools that give you visibility, but you're not buying something that you don't have time to run. But the other piece of it, what you said earlier, there's so much information like strategies and tactics are harder now you to really kind of understand how you win page one. And so if you don't have a third party that you're working with, at least being part of forums and you guys put on great forums, there's a lot of people on LinkedIn that you can follow that always are talking about the latest features and how to use them. So really being curious in following people that give you information, you could keep up with it and what it means to you, at least being part of the community is really helpful.
Bradley Sutton:
Okay. Along those lines, you know, that's kind of like what I wanted to ask you about is the education, you know, for a lot of people the education gap, as far as how to do, you know, advertising, how to manage your PPC campaigns is what is the biggest problem for people. They just like, "Hey, where do I go to learn?" So, you know, like here at Helium 10, we've got the Freedom Ticket program where we have like week of modules dedicated to, you know, PPC. We have live shows like the TACoS Tuesday that, that we have every other week with ou expert here, Vince, where anybody can ask 'em questions about, about advertising. I'm just curious, like at Pacvue, do you guys have anything similar? What are you doing as far as the education space, like trying to inform people, you know, how to manage their campaigns and things like that.
Melissa:
Yeah, I'm a huge believer in this education space. And we actually just hired a training director and we're building a team out around training. So we've implemented a learning management system. We really want it to be deep level strategies and tactics. And so this system is online video training also it's written and video, and then we also have live webinars, but, there's so many strategies and tactics to get deep into, not just kind of on the periphery, how do I do this, but how do I win? How are aggregators using Pacvue to win? And so really putting some meat behind those strategies and tactics in a learning management system and having access to our team to help them. Those are some of the things that we're building out and we've been investing in this year.
Bradley Sutton:
Okay, cool. Now, you mentioned aggregators who use Pacvue and by definition, it's a lot of, you know, larger, larger companies who are already established. Those are the ones who end up, you know, hiring Pacvue or, subscribing with you guys. Now, I'm just curious, you know, if somebody's a big seller and they join you, they must know what they're doing to have scaled to, to that level, to be able to say, you know, what Pacvue makes sense. So just outta curiosity, like what kind of things is Pacvue you bring to the table? Like, how do you take somebody who's already crushing it on Amazon and level them up? Like, what are the things that you're seeing that, wow, there's some room for improvement there, even though they already achieved a pretty, you know impressive measure of success.
Melissa:
So I think one of the cool things about Pacvue is that we can enable new sellers or more advanced sellers. And it's really any level that you are at. To answer your question, there's a lot of cool strategies and tactics that they can use in Pacvue. We have all different kinds of automation levels. So one is just set and forget, I want this ACoS or RoAS or whatever, just make the tool, make that happen. So we have that level of automation, but to be very strategic, we also have rule-based bidding. And that's where you can get really smart with your strategies. So you can bid based on market share, you can bid based on share voice. So like, you can say, Hey, I'm on page five, but I wanna get to page one for these really important keywords.
Melissa:
And you can say, I want 20% share voice for those keywords. And so you can create a rule that just allows you automatically to achieve that. Or you can say, Hey, I wanna I only wanna advertise items that have eight weeks of cover this much inventory. So those are some really kind of deeper features that we enable besides what you can do on Amazon. So we're always looking at what are the added values and features that we can do beyond what you can just do using the Amazon UI on Pacvue. And so these deeper level strategies really allow you to conquest against your competitors or give you visibility of where the opportunity areas are and be able to achieve those. So it's a really efficient way, how can I most efficiently spend my money using kind of optimization and automation features that Pacvue gives you.
Bradley Sutton:
Okay. Now, you know, speaking of that, you know, there's a lot of people out there who maybe they've heard of Pacvue almost everybody's heard of Pacvue, but they're not exactly sure what you guys do or who they're for. So just, who is the person who can most get the benefit out of Pacvue, if you can just talk a little bit about, you know, what you, what you guys do.
Melissa:
Yeah. So Pacvue, it's a software platform. So similar to Helium 10 it's a software. Whereas, you know, if you're a brand new seller, just starting out, you're probably starting off with a Helium 10. But when you get to a point where you've got your products up on Amazon, you were starting to sell, you know, you wanna go to the next level and you have enough ad budget. That's when these sellers will come to Pacvue and say, okay, I'm ready to kind of take my strategies to the next level, use a–, let's call it a Ferrari of tools, and be able to get really robust reporting. So we have all, and then, especially as you launch into more marketplaces, so Walmart and other places like that, we're really unifying all of those retailers into one place. So you don't have to log into all these different platforms. You just log into Pacvue, you can see all your metrics and KPIs with reporting. And then you can also your campaigns on Pacvue. So that is your a little bit more your past just starting out. Certainly, if you wanna be on multiple channels, you're using Pacvue and then if you're interested in just saving time and really automating your strategies, then you can use a tool like Pacvue.
Bradley Sutton:
Okay, cool. Now, one thing the other day when I was browsing the website and just kind, I don't remember what it was. It was like in the about us section and then the top two line items about what you guys do is obviously, Amazon advertising, Walmart advertising, but then the number three kind of took me by surprise. It said Instacart. Now, I've never used Instacart before. My family, if I'm not mistaken, they order from Instacart for like, from Costco or something like that. So I'm just in my mind, I'm trying to wrap my head around, like, first of all, how would it work advertising on Instacart? Like, are these like people like Costco and, and different grocery stores just advertising, or are you, are you putting Amazon ads on Instacart? Can you talk about what you guys do for Instacart?
Melissa:
Yeah. So first of all, like the way I, I use Instacart all the time, it's a life and saver, but you can think of Instacart. Instacart's very different than Amazon because it's like an aggregation of marketplaces. So, it's Costco, it's Total Wine. It's, you know, it's got thousands of retailers you go to Instacart and let's say, instead of going to Costco, I can just do all my shopping on Instacart and it's quick delivery to my door. So that's how Instacart works. Now, there's ads on Instacart. It's very heavily CPG-focused because it's heavily grocery-focused. They do have like Best Buy and some other retailers in there, but it is more of a heavily like grocery focus, you have ads on there. So the brands are advertising just like the brands are advertising on Amazon.
Melissa:
They're putting their ads on Instacart. So let's say that you're within Costco and you're shopping at Costco. So you need a type in batteries. The experience is the same as you would see on Amazon. They actually just changed their word feature product to sponsor products. So they used to–, that was their terminology, but they wanna be consistent with the industry. And if you type in batteries, you'll see Duracell's sponsored product listings show up. So it's, it's a similar experience. It's just kind of a different platform. I wouldn't say it's really big for sellers just yet. Because there's not a lot of sellers yet on the marketplace, but it is something to know. And the other thing is it's feeds coming in from Costco and the feeds coming in from Best Buy. So there's a little bit less control that Instacart has over those products. But right now more of the bigger brands are leveraging Instacart, but I definitely think that they're very advanced. I mean, they also are launching features at a very fast rate and they are wanting to scale their marketplace as well. So I predict that they will open this up in a bigger way as well.
Bradley Sutton:
So basically it's kind of like, I need to have a brand that is in these stores that are showing up on Instacart and it just kind of like takes me to that item right?
Melissa:
That's right. Yeah.
Bradley Sutton:
Okay. Yeah. I mean, I could see this as especially over the last two years, I mean, I don't have any numbers, obviously. I'm just talking off the top of my head, but everybody, all of a sudden was ordering groceries online because that's all they could do, like for a certain period of time. And then people kind of got used to it. So I imagine this, this way of ordering your groceries or just from regular stores is highly increasing. So I always tell people, Hey, yeah, Amazon is great. Walmart.Com is great. The almost whole holy grail though is once you start actually getting into some of these Brick-and-Mortar like you get into Walmart Brick-and-Mortar, and it's gonna dwarf your sales on Amazon. You know, usually, because there's just, you know, so many stores and things like that.
Bradley Sutton:
So Instacart definitely is something that once you get to a certain–, especially if you're of course in the grocery space, I could see how that could definitely help a lot of seller scale now regardless of the platform, regardless of the topic, you know, we have something here on the show that we call the TST 30-second tip the"TST". So you know, hopefully, PPC related but doesn't ha it doesn't have to be PPC related. What is your 30-second tip for sellers of any level out there that you think is beneficial for them?
Melissa:
Man, 30 seconds is really hard. So you,
Bradley Sutton:
You can go a little bit more don't It's TST. It can go two minutes. You can do three minutes almost, you know when you're, I always say, when you're Kevin King, it goes, the T stands for 10 because he can never say anything that low. So it's a 10 minute tip, but you pick what you want the T to mean.
Melissa:
I think, I mean, number one tip is test and learn that that is like such a critical thing, especially in a marketplace like Amazon, they're always launching new features, always launch. There's always a shiny penny somewhere. And so if you don't just try it out and you test the waters in a conservative way, you're never gonna know if it works or not. So that's something that we are always running test and learns a Pacvue and trying to figure out what's working, what's not working. And then we'll write articles and blog posts about it. So one is test and learn and then go to Pacvue to see what blog posts we've written because maybe you can not have to test yourself, but always figuring out what is good, what is not good? How can I–, what's the cool, shiny penny? Is it shiny or is it dirty? That's, that's the question. Some other kind of easy tips are kind of outta stock and inventory. There's some ad products that will immediately pause, like sponsored product and sponsored display when you're outta stock, but some don't. Sponsor brand ads don't automatically pause when you run outta stock. So really understanding how these you know, products work own. If you're running low inventory, don't run sponsor brand ads.
Bradley Sutton:
Awesome. All right, well, that was great. You gave us multiple ones. I really appreciate that. What's the website again, if people wanna get more information, reach out to you, or what are some conferences that are soon that you guys might be at that maybe people can even ask questions in-person to your team. Awesome.
Melissa:
Yeah. So pacvue.com. The next conference that I'll be at, I'll actually be speaking on a panel and I think you'll be there too at Prosper. Are you going to Prosper in March?
Bradley Sutton:
Yes, absolutely.
Melissa:
Okay. So I'll see you there. Also going to Shop Talk, which is in March, which is kind of a brand-focused conference, but the next one I'll be at is Prosper. So I'm sure I'll see a lot of you there and I'm looking forward to it.
Bradley Sutton:
Awesome. Well, Melissa, thank you so much again for taking time outta your day to come here and educate us all, including myself. I learned a couple of things today as well. So I really appreciate it. And we'll definitely, hopefully, 2023, let's touch base is again, bring you back on the podcast. See what's trending then.
Melissa:
Awesome. Looking forward to it.
---
Enjoy this episode? Be sure to check out our previous episodes for even more content to propel you to Amazon FBA Seller success! And don't forget to "Like" our Facebook page and subscribe to the podcast on iTunes, Spotify, or wherever you listen to our podcast.
Get snippets from all episodes by following Bradley on Instagram at @H10bradley
Want to absolutely start crushing it on Amazon? Here are few carefully curated resources to get you started: