#248 – The Latest PPC, Keyword and Product Research Tactics from Brandon Young
Listen in to get fresh strategies from an Amazon expert and you'll also hear about his office in China and why he's started investing in sports cards.
Updated on: January 3, 2022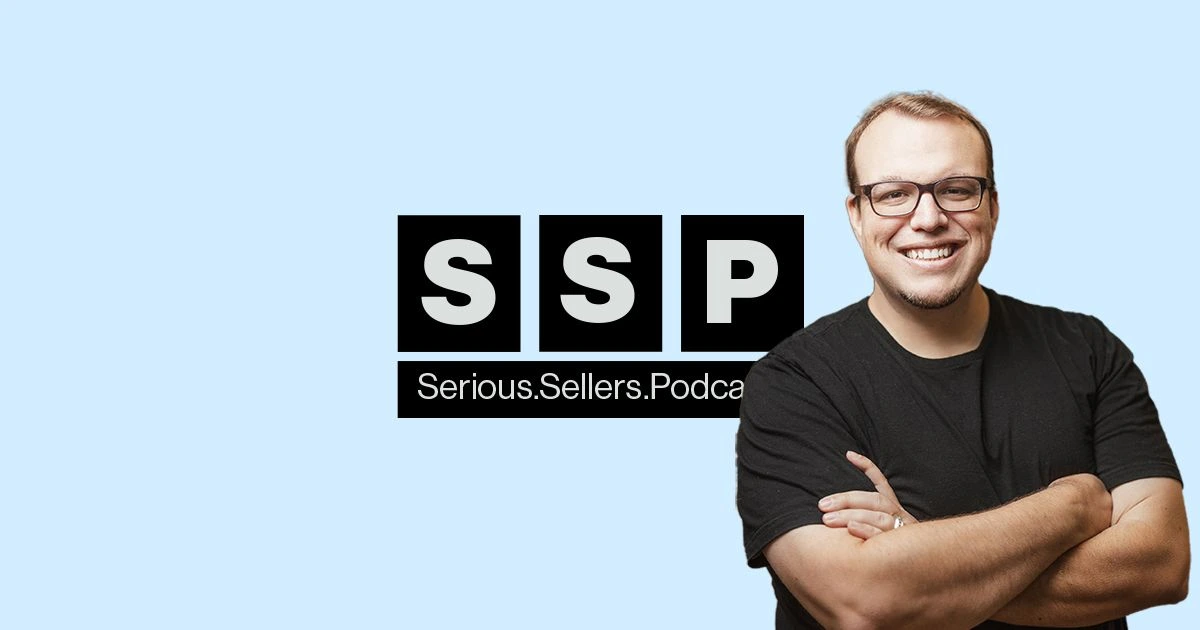 There are users of Helium 10's software tools and then there are the super-users. Those are the Amazon sellers who have spent enough time with our tools to have found increasingly clever ways to successfully combine the tools or use them in a new and different fashion.
On this episode of the Serious Sellers Podcast, Helium 10's Director of Training and Chief Evangelist, Bradley Sutton speaks to one of those advanced users. Brandon Young is a name that is well known to the e-commerce ecosystem. He is considered by many to be one of the leaders in current Amazon private label strategies. After starting to sell on Amazon in 2015, he soon found success with wholesale and private label. In June of 2016 he launched his first private label products. Less than 5 years later, he has multiple brands and has become an annual 8 figure seller.
This podcast is a great way to receive cutting edge Helium 10 tool and e-commerce strategies as well as learn why both Brandon and Bradley have jumped on the trading card bandwagon.
In episode 248 of the Serious Sellers Podcast, Bradley and Brandon discuss:
02:02 – Brandon's Head Start on Amazon
04:12 – Helium 10's Advanced Users Club
06:59 – An Amazing Toy Buying Experience
10:05 – His Company's Photographic Capabilities Are a Game Changer
13:19 – Lower Salaries Make It Easier to Be Very Generous
16:49 – Your Amazon Business is the Best Investment Opportunity
18:50 – A White Hat Makes for a Better Brand Exit
23:09 – Capitalizing on Reviews
25:32 – Brandon Says that QR Codes Are Rapidly Growing in Popularity
27:06 – Brandon's PPC Tactics
39:35 – Cerebro Keyword Strategies
34:23 – Understanding the Roots
36:16 – "Never Mind the Hacks, Just Select the Right Product"
40:13 – How is Brandon Driving Off-Amazon Traffic?
43:11 – Here's How to Get in Touch with Brandon
Transcript
Bradley Sutton:
On today's episode, we've got Brandon Young who's going to talk about a wide variety of topics ranging from PPC strategy, listing optimization, keyword research, product research, running an office in China, and even how in the last year he spent over a half a million dollars investing in sports cards. How cool is that? Pretty cool, I think.
Bradley Sutton:
Hello everybody. And welcome to another episode of the Serious Sellers Podcast by Helium 10. I am your host Bradley Sutton, and this is the show that's a completely BS-free, unscripted and unrehearsed organic conversation about serious strategies or serious sellers of any level in the Amazon world. We've got a super, super serious seller here with us today, Brandon Young is back on the show. Brandon, how's it going?
Brandon:
Dude, it's been a while, man. How you been?
Bradley Sutton:
Pretty good. Pretty good. Are you still in Miami Orlando?
Brandon:
Yeah, Miami.
Bradley Sutton:
Miami. Okay, cool. I'm actually going to be there day after tomorrow. So we'll might have to link up. I haven't even been announced that because yeah, like there's a bunch of people in Miami right now and I was going to surprise them. Ah, I'm going to Orlando tomorrow, but anyways. Yeah. I mean, I love that finally, the world is getting to a place where we can start doing these networking things again in person.
Brandon:
Me too. Yeah, I can't wait. I missed it so much.
Bradley Sutton:
Now you are back on the podcast before, so guys, you can go back and search it at helium10.com/podcast for Brandon Young and check out his first episode. But just for the people who might not have been able to find that episode, how about it just like a quick, like, two, three minute recap of like where you're from and how you got started on Amazon?
Brandon:
My wife and I started selling a private label about five years ago. We started selling on Amazon six years ago. We started with wholesale liquidation arbitrage, the usual and she's from China. So we decided that we had an advantage to potentially do private labels. So we jumped on a plane, went to Canton fair, really knew nothing. I listened to some podcasts and launched our first products. I guess that was April, May, June of 2016. So yeah, almost five years now.
Bradley Sutton:
Okay, cool. Cool. And are you strictly, have you been strictly lately than the private label as opposed to any wholesale or other things?
Brandon:
Yeah, we're a hundred percent private label now. We're down and we have six active brands, a few active accounts. We'll do about 15 million this year, on target next year is 25 million. And then three years ago we started teaching. Like we had a bunch of friends and family that saw that we were doing well at that time. We were making a few million dollars in revenue, probably not clearing a million dollars profit, but we were doing really well. And so I started teaching like a small master class on how we do our product selection. And then I did a few more of those. And then eventually I started doing more content for how we look at data. Helium 10 Cerebro came out and it made it so much easier. So we started using that. We still take the data and manipulate it a little bit to figure out our own relevancy score, optimize. And yeah, so it turned into a full course. And now, I'm the CEO of the coaching business. My wife is the CEO of the brand's business. We still work within each other's businesses and help each other out quite a bit, but it's been having a team really helps. It's been a phenomenal journey.
Bradley Sutton:
Okay, cool. Like we're definitely going to– one thing I had in mind, I don't really plan these out, but one thing I just said to myself as like, you know what, there are certain people in the world, be it Tim Jordan, Tomer Rabinovich and then Brandon you're right up there who like, are kind of have a reputation of advanced Helium 10 users like every people of all levels can use Helium 10. Obviously, we've got billion dollar brands, like, like Lego using Helium 10. We got somebody who's just trying to learn how to sell on Amazon using the same Helium 10 that everybody else does. But then there's a lot of, not a lot, but there's some people out there who have a lot of, kind of like unique strategies and things that they're doing with Helium 10 that other people might not have ever thought about. And we're definitely, I definitely want to talk about some of those with you, but before there, some other things that kind of stick out in my memory, if I'm not mistaken, you actually have some boots on the ground in China, like, do you actually have a physical office or just employees both or what's going on over there?
Brandon:
Yeah. So we have a physical office. We've had a physical office there for almost two years, little over two years we started in Shenzhen and then last year we moved it to Guangzhou. So we're actually in the same city that the Canton fair is in. My wife's family is based out of Guangzhou and her cousin is one of our main operators there. And so he's a college grad does really well, came from a management position, is a good operator and we've built up, we've got 20 employees now.
Bradley Sutton:
Okay. So what was the initial thought process as to starting that, obviously you've been probably sourcing from the Guangzhou and Shenzhen area since you started in 2016, was it a matter of, Hey, it would be– it's a lot better to have some boots on the ground here and in close proximity to the factories to do some inspections and to just like coordinate things or what was the trigger that said, you know what we need to do this.
Brandon:
Yeah. It was all of that. It was basically being able to connect and be closer to the factories, product development, logistics, being able to handle that aspect of it. It's grown since then. I think that my team in China handles the majority of our product management. So everything optimization to PPC, and product growth. And they do pretty much everything except for the content writing. They do the con– we have three photographers and videographers on staff, but we do all of the writing here and we do all of the launches from here. So the marketing.
Bradley Sutton:
Okay, well, what was the start? I mean, obviously, you didn't start from day one with 20 employees and all of those different positions, but like how many did you start with and what were their roles in the beginning?
Brandon:
Yeah, it started really with just her cousin. And we started with him to help us go visit some factories, make sure that we were doing the right thing with product development. We met him over there. He went with– we do a lot of toys. So we would go to Shantou, which is a phenomenal city for toys. There's over 10,000 toy factories in this one city. And they have showrooms, which are so much fun. Basically, it's like going into target and you walk down these aisles with all of these toys on the shelves and hanging on the walls. And one section is like an entire factory, just one factory in a bunch of their SKUs. And you have someone following you around that you point out a product, they'll scan it for you. And then if you want, they'll put it in a cart. And when the carts fall, they'll bring a new cart and you walk through like six floors of this like massive, massive place. And at the end of it, you go down into your own private room where all these carts are waiting for you and you get to play with all these toys and they give you a printed report of the factory information, the cost of the product, like the MOQ, anything you need to know about the product and yeah, it's phenomenal. So we would go through there, we would spend a week, and visit several of these showrooms and come out with 80 to a hundred products that we want to launch in the next year. We would just prioritize them.
Bradley Sutton:
And then, so having a full-time employee there, as soon as you guys got to China, then they pick you up and then you can just have a base of operations, I guess, out of your office and things like that probably helped then, huh?
Brandon:
Yeah. It makes it much easier because the communication with the factories, we still have a main broker there that assists with some aspect for us. Like we give them a small percentage, but they assist with some of the inspections and payment terms and some of the things that they do for us packaging, but then we– everything shipped to our office. Now it's in pretty much the same province. Like it's just shipped over to Guangzhou, where our team gets final inspection. It saves so much time on having to worry about getting samples sent us here and the back and forth. And it just, we can find an idea and get to market so much faster now.
Bradley Sutton:
Cool. The one thing I think that piqued my interest too, and you were talking about is like the photography, it's the same thing as the samples. If you're going to do photography, close to home using an American company, you've got to ship all that stuff out here and higher stuff. And Helium 10 used to actually have a photography company. And we kind of shut it down because it's kind of hard to do it in a way that you can actually make money. I mean, when we talk about renting Airbnb, city your lifestyle imagery, and hiring models, and getting rental cars, I mean, it's really expensive to try and run an operation like that. So what do they do? They just do like your white background stuff or do they actually go out and hire models sometimes and you guys rent places to do lifestyle photography?
Brandon:
Yeah, so they do everything start to finish there. We do a lot of our Photoshop. We don't do too much with live models. Like we, it's very rare. They're just phenomenal at being able to do Photoshop. So we licensed images and then we'll place the products in there. But for the most part, yeah, like you're saying, even before we had our in-house photographer, we were using a Chinese company to do the photography because the factory could send the products very quickly while they're in production. They could just pull one off the line, send it to them, get the raw photos done from every angle we wanted. We would send them a shoot list. And then we would send all of the raw photos off to a designer that we had at that was based out of Ukraine. And we would have all of our content pretty much done before the products were even on the water or in the air.
Bradley Sutton:
That's really cool, really convenient, saves time, saves money. And both of those are important things in the Amazon world. So that's pretty cool. So like overall, like let's say, if somebody is listening to this, they might not want to start off with, or they might not think that they're going to need 20 employees for quite a while or something, but just to rent a small office in Guangzhou and– there's obviously different salaries for different positions, but what can you talk about as far as rental prices and what the general range of salary might be if somebody wanted to start an operation like you have?
Brandon:
Yeah. I mean, if you don't have someone on your team that is Chinese, I wouldn't recommend it. There are so many labor laws. Like we have to run it as a third party management company, first of all. So it's not even something that we pay management fees out of our Amazon brand business, like one of our entities here to that company, to pay the employees basically. And so there are labor laws, and it's very difficult. The communication is very difficult. I would say that only a third of my employees probably speak any English. A couple of them are very good, but it wouldn't be something that I would recommend for someone that doesn't have anyone that's a Chinese speaker to look at doing. I think that you can get employees out of the Philippines, that are phenomenal, and going to be very good for you and communicate much easier.
Brandon:
They had some of those advantages you can replace like I said, you can have a photographer in China and then send your photos to the raw photos to someone in Ukraine here in the US, whoever you want to use on the design side, but hiring a third party company, as far as sourcing logistics, inspections. You can find companies that offer those services as well. So, it's an advantage that we have, I think, but I don't think it's going to be something that's easily replicable or that I would recommend to someone that doesn't speak Chinese.
Bradley Sutton:
Okay. But just in general, I'm just curious, because I know you're not 20 years ago, I was looking into manufacturing, some stuff and labor was nothing and factories and office space was nothing by no times have changed or like we talking like 25% of what we would pay in the United States, 50%, 75%. Yeah. As far as rental and salary goes?
Brandon:
It's interesting. Yeah. We're paying anywhere from, I guess it works out to be anywhere from a thousand to $2,000 a month. We have people that are closer to a thousand and this is us, people that are closer to 2000 plus bonuses for everyone. We're very generous on the bonuses side. And we use a pretty good incentive system for compensation, with regards to hitting different KPIs or, we call them hots and we use like a four disciplines of execution type model where we're trying to run the company where we have objectives and key results are driven, help them drive, pull the levers to influence that objective. And if they hit those goals on a regular basis, then they can get some nice bonuses. But yeah, it's not that much cheaper either. That's the thing, right? Like I think I remember a few years ago like you were talking about and you're more familiar with than I am even a $2 an hour salary in the Philippines was a good living, right? Like you could live well with that. And then now, like it's become so competitive that when you find better talent, you want to pay them five, seven, $10 an hour, even in the Philippines. And that's a phenomenal salary there. So I think you have to find the talent and make sure you compensate them well and treat them right. So that they don't leave you no matter where the employee is based.
Bradley Sutton:
Yup. Yup. Now, before we get into the Amazon and Helium 10 strategy, one more thing I wanted to talk about grossing, tens of millions of dollars on the platform over the last few years. And I'm not sure if your wife is allowed to hear this, but can you estimate how much you've spent on sports card investing over the last couple of years? I mean, we can make sure she doesn't know about this episode if that's like secret.
Brandon:
She knows that. She knows everything. So yeah, there's no secrets between us and obviously, she's not the happiest with it, but as far as an investment standpoint, I've probably spent five to $600,000 on sports cards in the last year and a half to two years.
Bradley Sutton:
Cool, cool. We had Mitul on here. We had a great episode talking about that and how I got interested when I started seeing his posts and different things. And it's really fun, but a lot of– I always, I like talking about this kind of thing because sometimes Amazon seller, and I'm not talking about oil once you hit Brandon's level of 10 million a year, plus that now you'd need to start thinking about investing. I mean, Hey, you're making a few thousand dollars a month. I mean, you're going to have some extra money, you know, what do you do with that money? That's always going to be a question, no matter what level you are. And some people want to do real estate. Some people want to do cryptocurrency. Some people want to just keep turning the money over. There's so many different things, but Hey, something that I don't hear too many people talk about, it's like that sports card is an interesting market right now. What's the most expensive card you have ever sold from something you have bought originally?
Brandon:
Yeah. I had one of one prism, Josh Allen, the quarterback from the bills, rookie, that I bought for about 6,000 and sold it for 20 or 22,000, right before the final playoff game, like the division series. So that's probably the most expensive I've sold. The rest I'm pretty much holding my– so from an investment standpoint, I will say, and what you're talking about is true. The majority of our money goes back into our businesses. I think that to me, there's still no better investment opportunity than investing in Amazon and an Amazon business. But if you call it, play money, investment money, some money on the side that you want to put into different investments. All of those are good options, whatever you're passionate about. Obviously you and I, mutual have spoken a couple of other guys. We've spoken in some private groups about like different investment opportunities and betting on players. It's a gamble like certain players can go and blow their knee out. So if anyone's listening, they've never invested in sports cards, do a lot of homework. I would recommend being investing in sealed product. So they call it wax, buy boxes of cards, and don't open them. If you can control yourself. I know that you have a problem with that Bradley, but if you can, put them away in a closet somewhere and forget about them and they usually will go up and then what they call the goats, the greatest of all time as an acronym, that goats like LeBron James, Michael Jordan, any of those guys are usually a safe investment.
Bradley Sutton:
Yeah. All right, cool. Let's switch over back to Amazon. Now, before we get into Helium 10 specific strategies, let's just do some general things here, like the launch methodology for people for myself has changed over the years. I mean, the general structure and the general idea is consistent. Hey, you're going to try, we're trying to get on page one. We're trying to send some relevant traffic to certain keywords that probably is never going to change the importance of getting to page one, but what happens that changes over time due to new regulations by Amazon, or due to new technologies that come out is the way that people achieve that. So, nowadays for your brands and what you talk about with your clients out there, do you have a set general launch strategy that you guys adhere to?
Brandon:
Yeah, we try to keep as close to white hat as possible, simply because we're trying to exit our brands eventually. Like, so for us, our goal is much bigger than Amazon. It's, we're trying a couple of our major brands we've kind of consolidated into one conglomerate of brands. And so we're in a position where we're looking at B2B, wholesale, we're doing some direct to consumer as well. So, and we're looking at other marketplaces. So Amazon, although it's the foundation and what allowed us to grow moving forward, our strategy is really about brand building. And so we don't want to be in a position that empire and AKI are in right now, where they were about to go public. And now they just got suspended from Amazon because they were cheating the entire time. And if, I don't know if anyone listening, hadn't heard about that, but two of the biggest brands on Amazon doing hundreds of millions of dollars on Amazon, are now suspended and probably not coming back like everyone, because it's their second offense, right? Like I'm getting suspended. So yeah, it catches up with you and I don't want to be either where I sell. And then the next person's cut left holding the bag were when the account gets suspended, right? Like a lot of people, there's different people that have different ethics and they feel like they will cheat, steal, do whatever they need to in order to get to the top, make as much money as possible. And don't really care about the repercussions to the other sellers around them, and then hurry up and sell the brand. And if it gets suspended six months after they sold it, they don't care. I hope that a lot of these aggregators that are buying businesses are writing some kind of clause in there that they're responsible at some point if it happens. But yeah, it's one of those things. So for launches, we understand the Amazon algorithm extremely well. We know exactly what Amazon is looking for with regards to their formula. They look at click through rate, conversion rate. They look at the relevancy of the keyword to your product, and they look at your revenue through that keyword. And this is where it gets super complicated is that every keyword impacts hundreds of other keywords based on the match type. And then you get different amount of credit based on that match type as well.
Brandon:
So if you do one thing, there's only one event, one little thing, and you pull one little lever, it can influence hundreds of keywords. And if you know exactly what type of traffic to send from what location and using what type of event, it can influence hundreds of keywords in a positive way, and really help you rank very quickly, whether you stay there. I always– I'm very careful about this. Whether you stay ranked well is a hundred percent based on the merit of the product. If you have a good offer, a quality listing, a quality product, a quality offer, then you're going to have a better click through rate and conversion rate than your competitors. And you're going to stay there. Now, if you're constantly having to run marketing and cheat your way to the top, then it's a short-term gain. It's not a real business and you got to be careful.
Bradley Sutton:
Yeah. Yeah. Speaking of that, the thing that has the rules have changed probably the most over the last three, four years, I probably mean in the realm of reviews. And now for me nowadays, just because of that one click rating, I mean, without having to do anything that's special, as maybe an insert card, probably not even answer card, I've never even used the answer card on mine that had anything to do with reviews, but just with using like a follow-up, something like Helium 10 Follow Up and just having a good product, like I'm able to keep a pretty amazing review velocity, just because of those one-click ratings. But what about you guys? What are you doing for those initial reviews and to keep a decent review velocity in comparison to your competitors?
Brandon:
Yeah. I mean, we're just doing the same thing you're talking about. I mean, we're just asking for reviews. We're trying to build a large audience that is loyal to the brand, and we're not telling them to leave a five-star review. We're not asking them and we're not compensating for it, but we are asking them to leave an honest review and we're hitting the button that sends the request, right? So, we do have a really good insert card that we have that drives people through our website so that we can capture their information, try to make them part of a rewards program. And like I said, it's more of a brand program that we're doing. So this is something that we're– if we're selling toys, for example, and we know that the person just bought a toy for a three-year-old girl, that's someone that's going to grow up for the next seven to 10 years buying toys for this little girl that we can cater to, that we can re-engage with when we have new toys for that girl holidays, birthdays, things like that. So we're taking it really from an approach of, look, if you love our products, then please tell the people on Amazon that, right. And you love the previous product. How about this one at 25% off, here's a coupon. And if you like that one, please leave a review. And so those types of holistic approach are definitely not against terms of service. So, I think they're effective as well. And so we're trying to do it more from that way instead of black hat way.
Bradley Sutton:
Yeah, absolutely. Now, do you have an insert card template that has worked for you that you'd be willing to share with people and maybe get your name permanently etched into the Helium 10 suite of tools, like naming a library at your Alma mater after yourself?
Brandon:
I think you already have one of my email follow ups from years ago. I don't know if it's still good, but, yeah.
Bradley Sutton:
Yeah, we have that one. But it went away because of the rules that changed, but here's a way to get back into, like we have in Follow up– in Portals, actually the ability to make insert card templates and stuff. But yeah, if you'd be down, I'll connect you with our product manager. Now, everybody listening to this show, check back in a few weeks and maybe you'll be able to get the Brandon Young special, or we'll have to come up with a name for it.
Brandon:
We can talk about it. What's amazing though, is that two years ago, Americans had no idea how to use a QR code. And I think that they're finally figuring it out everywhere you go, you see QR codes everywhere. So I think, we're a little slow here in the US but they're definitely more effective than they used to be on cards.
Bradley Sutton:
All right, guys, quick break. In this episode for the BTS, Bradley's 30 seconds, here is my 30-second tip. We've been talking about Cerebro a little bit in this episode and a kind of new filter that has been flying under the radar. I'm not sure people have seen is whenever you get into Magnet and Cerebro and you have some search results, there's a new column. You're going to see called search volume trend. And it's basically going to tell you how much the search volume has increased or decreased in the last 30 days. And sometimes you can see some trending keywords there that, you know, might have you dive into, see if there's some kind of new sub-niche that is trending, what you can do whenever you have a search result pages on Magnet or Cerebro is use the advanced filter of search volume trend and do like a minimum of 100 or 200 or 500, if you want to. And what's going to happen is you're going to see some keywords that are just skyrocketing in search volume over the last 30 days. And that might lead you down a nice trail for some product research as well.
Bradley Sutton:
What about PPC in general? Like the philosophy to start from day one, your PPC on launch, even without any reviews. Do you wait for reviews? Do you know which campaign, which kind of campaigns do you start from the get-go stuff like that?
Brandon:
Our approach with PPC is pretty much to always focus on a keyword ranking perspective and profitability perspective. And so for launch, the most important thing for us at launch with PPC is indexing. We've seen many times when Amazon is confused as to what you're selling. And remember that relevancy is one of the most important things for keyword ranks. If Amazon doesn't think you're selling a product that's relevant for keyword, you'll never be able to rank well for it. This is how they protect and keep their search results clean and improve the buyer experience. Right? So for us, when we first launch, we're doing a product targeting campaign and we're doing some, only targeting the most successful competitors that we know are indexed well, and we're doing a bunch of exact, campaigns that are targeting the most relevant keywords that we have. So when we take that Helium 10 data out of Cerebro, and we look at the top 10 competitors, and then we create that relevancy column that we create so that we can narrow out the thousands of keywords that aren't relevant. We're only going to look at the keywords that are super relevant, and we're going to run exact campaigns at those because we want no doubt in Amazon's mind what we're selling. And we'll run that for the first few days until we get our first review. And then we'll start turning on the broad, the automatic campaigns that allow Amazon to be creative based on their understanding of what you're selling. If you start with an automatic campaign, it's very dangerous. Because again, Amazon doesn't know what you're selling, so they're just going to throw a bunch of stuff at the wall. And if you make a sale or two through the wrong keywords, Amazon's going to get even more confused. So we don't recommend, usually doing broad or automatic from the beginning. Now, video ads targeting relevant keywords, exact campaigns, targeting keywords, and product targeting are usually the best bet for the first three to five days.
Bradley Sutton:
Okay, cool. Cool. Like it. All right. Let's go a little bit more narrow now and just talk about some Helium 10 strategy. And I think the tool that you mentioned at the beginning of that you're most known for unique use is Cerebro. So, you don't have to give all your private secrets away here. What are some things that you can share about some of the unique ways that you use Cerebro for your own company and your students?
Brandon:
Yeah, I absolutely love Cerebro and the information it gives you. If anyone listening doesn't know which they all should, this is your podcast, but basically what Cerebro does for you is it takes a given competitor and their unique ID, which is an ASIN, and it does a reverse ASIN search. So, it understands all of the keywords that a given product is indexed for. Now, the key is that Amazon will index you for thousands of keywords, but only a few of those will actually generate sales for the product you have. There only a few of them are relevant and will drive actual revenue or sales. So the key is that what we're trying to do is figure out, okay, what are all of the keywords that can generate sales for a product so that we can try to rank for all of them. We want to go very wide. We want to have a very optimized listing. And so what you'll find is that even if you look at the best sellers, a lot of times they're only indexed for 50, 60, 70% of the potential search volume of relevant keywords that could drive sales for a product. And you ask yourself, well, how could that be? Well, it's because they didn't do the proper keyword research and optimization and data analysis ahead of time that we do. So here's what we do. We take the top 10 sellers of a product. We put it into Cerebro and we hit get keywords. And what ends up happening is you're going to get 10,000, 15, 20,000 keywords. Again, all of them are not relevant. Very few of them are. We pull the data out. And then what that does is it gives you a column where it has all of those keywords and the individual ranks on each of those keywords for each of the sellers.
Brandon:
And we will use a formula that will count the number of keywords, the number of competitors that are ranked in the top page, top two pages for a keyword, and very– from a logic standpoint, this is why we do that. The more competitors that are ranked well for a keyword, the more relevant it likely is, right? And so it's just a very simple logic. And what ends up happening is all of the keywords that are relevant end up coming to the top. We can sort by relevancy at that point. And we end up with a good percentage of all the keywords, pretty much 90, 95% of the entire market is now visible to us. And then we can see how good of a job all the competitors are doing. So this helps us choose whether to do a product or not. It helps us understand how competitive a market is or how risky a product is, or how much opportunity there is to do a product. So, we're going to now look at that list. And we're going to avoid products that don't have a lot of keywords that generate sales for that product because that means that anyone can guess and compete with you. Anyone can come in later and beat you. What we're also going to do though, is we're going to avoid products where most of the sellers are ranked for most of the keywords that are ranked well for most of the keywords, it means that there isn't much to improve upon as from a keyword ranking perspective. It means that it's very saturated. It's very competitive, it's higher risk. And we want to find products that are lower risks that we have the best opportunities to succeed and rank on a product. And so this data from Cerebro is invaluable to what we do. We can then take that same information that we found with the Cerebro search, and we can optimize our listing. We can find the most, the keywords with the most search volume, with the most relevancy. And we can go back into Scribbles, the other tool that you guys have for writing your listing, and we can write the listing effectively and basically make sure that we're impacting the most number of keywords with the position we put each keyword in our listing. So, this is why Cerebro is probably my favorite tool of any tool we use in our Amazon business, because it gives us the most data, the most information, whether to even do a product, how many to order, how to build our listing, how to do our PPC, all of that comes from that data.
Bradley Sutton:
I love it. I love it. What are some of the ways you use Scribbles now to actually, I mean, it doesn't have to necessarily be about Scribbles. I'm just talking in general about listening optimization. So, you've pulled these most important keywords. Are you still doing like the old days where we try and focus on the title, possibly the search terms. Do you repeat anything in different fields? Like, obviously it's never been good to repeat, you don't have the same keyword twice in search terms or the same keyword twice in the same bullet point or things like that. What are some general listing optimization? Not necessarily hacks, but what strategies you can share.
Brandon:
Yeah. So for us, it comes down to understanding roots, what we call roots. So like you said, the same keyword will be repeated many times in many different keywords. It's inevitable that you're going to repeat things, but that also means that one keyword, if you're driving sales or revenue like different events to it, when you're launching like we were talking about earlier, it means that that one keyword will impact many other keywords based on the match type. Then the match type could be a broad match, a phrase match, a plural match, and exact match. So each of those different match types give you a certain amount of credit for ranking juice and the position of the keyword in your– where you build it into your listing, gives you even more ranking juice. So yeah, what we do then with that same master keyword list is that we do searches for different roots that we're seeing repeated, and we're understanding how much search volume each root carries with it and how important it is so that we can determine where to build it into our listing so that we can have the most optimized listing that will generate the most rank for the most search volume and generate the most sales for us.
Bradley Sutton:
Awesome. Awesome. What other strategy can we talk about that? We usually have something on the show, we call that TST, the 30-second tip, but let's just do some kind of rapid fire. You don't have to keep it at 30 seconds. It could be up to two minutes, whatever you want, but what are some other strategies that you think are maybe like maybe easy wins because Kevin King talks about this. Kevin King always has hacks, but he'll tell people, Hey, you can't build a business on just like hacks that might not work after three or four months or something. You got to build your business on long-term strategies. So, what are some of these easy win strategies do you think that you don't see a lot of people using, but they should be?
Brandon:
Yeah. I mean, honestly, I think a lot of people just don't do the product selection with enough data and enough research. I don't know that there's a particular hack like Kevin is full of hacks and I love Kevin he's amazing. And what he teaches is awesome, but I think he's right. You really need to understand how to do this business from start to finish at a high level. A lot of people come in and they tell you, you don't need to buy a course. You can find what you need to online and on YouTube. And you end up watching a bunch of outdated information. You choose the wrong product, and you're just dead in the water from the beginning because you didn't even know what data to look at. Right. Yeah, I think the key is learn how to use Helium 10 effectively learn how to look at the keyword data look. Learn how to understand how your competitors are getting their sales. If you can answer the question, there's two big things that I would say. The main question you need to answer is how are my competitors getting their sales? And the other part is that you always need to understand that you can't create demand on Amazon. So, if you work within the confines of what's already being searched on Amazon, and you understand how your competitors are getting their sales, then you can understand whether they're doing a good job meeting the demand. And if they're not doing a good job meeting the demand, then that Delta represents opportunity for you.
Bradley Sutton:
Yeah. Let's talk about that for a quick second, whether you're using Black Box to find product opportunity or just in other places, what are some characteristics that go both ways? What are some characteristics of either keywords or products in a niche where it gets you excited? Like, Hey, this might be opportunity, or conversely, you land upon something and then you see some characteristics after diving into it. Like, you know what, this is a sign that I need to stay away.
Brandon:
Yeah. We use Black box quite a bit. We also– we just explore, we get a lot of ideas thrown at us from the factories that we deal with, the showrooms, and things like that. So, here's one of the traps that I see happen a lot. When we pull a master, what we call the master keyword list, all that data from Cerebro that we ended up cleaning up and adding a bunch of data to and everything, or a bunch of information to that relevancy score. We'll notice that one competitor is selling 3000 units a month, for example, and then the next guys, the next sellers are only selling 500 units a month. The trap that I see a lot of sellers falling into is that they think they can duplicate what the best one is selling without understanding how they're getting their sales. Remember, you have to answer that question, how is my competitor getting their sales? And if you look at the reverse ASIN, or that Cerebro of that seller, like where, is that seller ranked well for. You might find that it's a very generic keyword, like toys for four year old girls, lots of search volume generates a lot of revenue for them, but it's not easily duplicatable. It's not going to be something that you're going to launch a product for and rank well for right away. It's something that you've got to build up for over a period of time, and you've got to target it and you've got to really, you might never rank well for it. That competitor just is doing well from there. So the trap, and what I would say is that understand realistically, what keywords you can rank for understand how many sales, those keywords should generate, and then avoid the trap of ordering too few or too many units running out of stock, getting into a product that's far more competitive than it originally looked because of the fact that one or two guys were doing great. And you thought you could do as well as them. So understanding again, like it all comes down to the data for us, and we see a lot of traps that we can avoid once we understand more about really digging into that data.
Bradley Sutton:
Okay, cool. What is your general things that you guys are doing consistently to try and drive, if anything, outside traffic, are you building up your brands, social media pages and just sending traffic from there? Or do you have– you're doing press releases or are you sending out social share links? What kind of things have been working for you?
Brandon:
Yeah, I mean, this is all newer for us and stuff that we've been building up over time. So, when you run ads, the most important thing for people to know because they might not be in a position where PR really is where they want to do, or some, everyone has their own approach. Running campaigns with influencers is one way. But that's very, short-lived right. If you do something with someone on Instagram, it's only going to last a few days. Right. So, one thing that I would say a good tip for people listening is that if you're running ads, whether it's on any social media platform, Facebook, Google even, or being Pinterest, wherever you're running ads, right? People are going to end up going to Amazon and searching for that product based on seeing your ad because they don't trust you, maybe your landing page, they don't trust your ad, but you will get a certain amount of spillover traffic to Amazon that can positively impact your rank.
Brandon:
And so, just know that that extra traffic will be the result of what you're doing. And so it's hard to make and sometimes it's difficult to understand the true return on ad spend because that extra attribution traffic, but what I'll say is this, if you're tracking your own products and you do a reverse search on your own products, you will see that your branded search terms will actually go up. So, it'll be your brand name with the product you're selling. And the search volume of those will go up. The more ads you're running off of Amazon. So the important part is that you know that you're trying to, that you have a reason to be generating outside traffic. So whether it's for ranking launches or for, just for profitability, just to build a list, there's different reasons that you might want to run outside traffic. So there's different strategies, but understand what that strategy is to don't just throw a bunch of money away running ads for no reason, understand how to execute that strategy properly. And then remember to take a look at that bump in sales and search volume and try to attribute it to the sales as well, so that you can understand your true return on ad spend.
Bradley Sutton:
Yeah. All right. Cool. Well, thank you so much, Brandon, for joining us here. Now, I know we've only scratched the surface of your knowledge out there and you've got plenty more to offer. So if people want to hit you up and maybe reach out to see about your coaching or the different programs that you have, where you educate people out there on some of the stuff that we've been talking about, how can they find you on the interwebs?
Brandon:
I appreciate that. I've got a bunch of free content on YouTube. You can just search my name and Amazon seller-systems.com is my website. And I've got a Facebook group, seller systems succeeding on Amazon. All of those are great ways. You can DM me on Instagram. If you have any questions, it's brandon.young_amazon. Yeah, I'm accessible. I appreciate that we have masterclasses on how we do the master keyword list. Like we were talking about in the show, and then we have everything up to our inner circle mastermind and full college course. We've got about a thousand students, over 250 of them are doing seven and eight figures. And it's a great community, so always appreciate having me on.
Bradley Sutton:
Alright, cool. Thank you for coming again. And we might have something where you'll be involved with Helium 10 later on this year. Can't speak too much about it, but it's going to be pretty exciting, guys. So, stay tuned for that. Brandon, we'll hit you up in a year or two again to see where you're at. Let's see if you're– who knows, maybe you'll be at the 30 million mark by then.
Brandon:
Let's do it.
Bradley Sutton:
All right. We'll talk to you later.
---
Enjoy this episode? Be sure to check out our previous episodes for even more content to propel you to Amazon FBA Seller success! And don't forget to "Like" our Facebook page and subscribe to the podcast on iTunes, Google Podcast or wherever you listen to our podcast.
Want to absolutely start crushing it on Amazon? Here are few carefully curated resources to get you started: