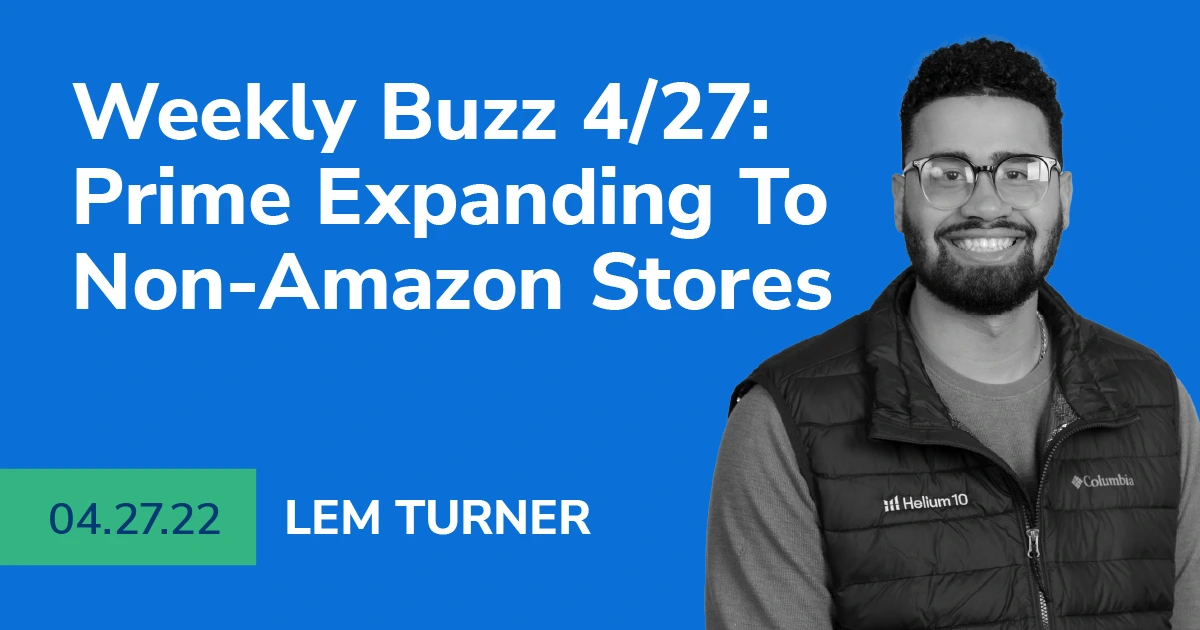 Helium 10 Buzz 4/27/22: Prime Expanding To Non-Amazon Store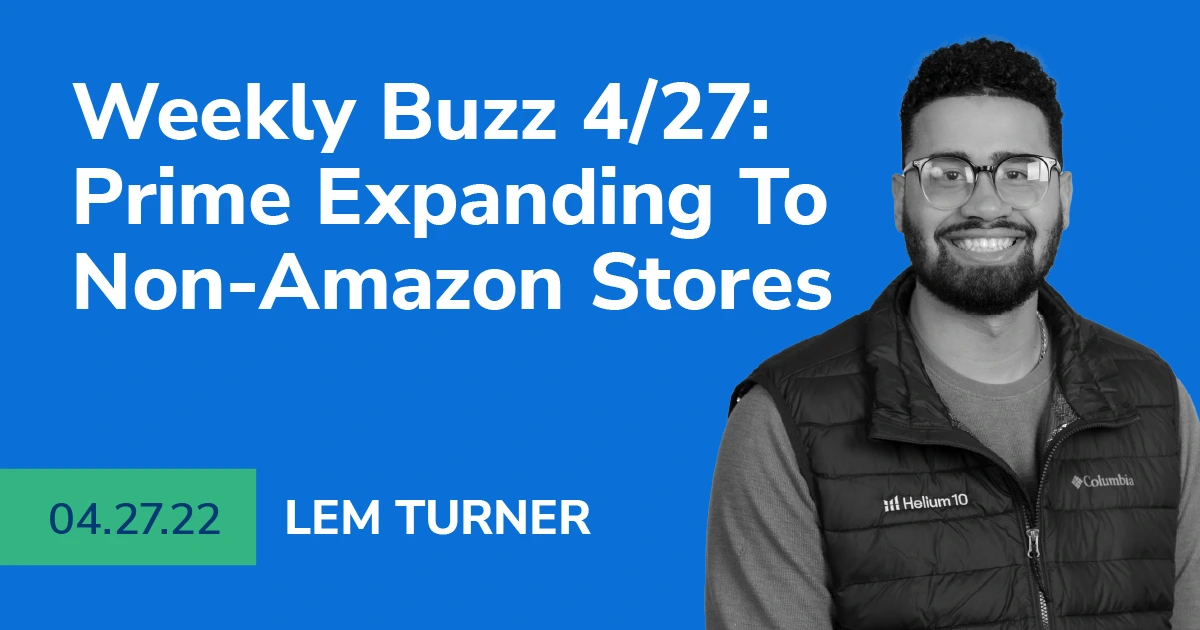 We're back with another episode of the Weekly Buzz with Helium 10's Brand Evangelist, Lem Turner. Every week, we cover the latest breaking news in the Amazon and E-commerce space, interview someone you need to hear from, and provide a training tip for the week.
Dangerous goods can no longer be shipped to US island destinations through FBA, even in limited quantities. Starting on April 25, 2022, you must use third-party shippers to ship dangerous goods to those destinations.

Amazon has announced Buy with Prime, a new checkout option for Prime members that regards online stores beyond Amazon.com. Buy with Prime will initially be available by invitation only for merchants using Fulfillment by Amazon (FBA), and it will roll out through 2022 as merchants are invited to participate, including those not selling on Amazon or using FBA.

Walmart just release its 2022 annual report.
https://www.corporatereport.com/walmart/2022/ar/our-segments/walmart-us.php
We also talk with one of our Serious Sellers Club Members, Alfonso! He shares his Amazon story, gives us his best tips for Amazon sellers, the most common mistakes new Amazon sellers make, and gives us a peek at what goals a multi-figure seller has for their Amazon business.
Helium 10's Director of Training and Chief Evangelist, Bradley Sutton, closes out the episode with the Pro Training tip of the week on how to utilize the Maldives Honeymoon method with an Amazon PPC-only launch.
In this episode of the Weekly Buzz, Lem talks about:
00:49 – Updated Dangerous Goods Policy
01:37 – Amazon Prime Expanding to Non-Amazon Stores
02:55 – Walmart.com's 2022 Annual Report
03:53 – Selling Tips with SSC Member Alfonso Jean
04:22 – How Alfonso Jean Started on Amazon
06:40 – Common Mistakes of New Sellers
11:00 – Maldives PPC Launching Strategy
18:24 – Coupon Code for Sell and Scale Summit
Transcript
Lem:
Hello everybody, and welcome to another episode of the Helium 10 Weekly Buzz. My name is Lem Turner, and this is the show where we get you familiar with the latest news in Amazon and e-commerce space. Interview people in the industry that you need to hear from and provide a training tip of the week that will give you serious strategies for serious sellers of any level in Amazon, Walmart, and e-commerce world. So now let's see what's buzzing this week. Today, we're gonna be going over top news of the week, including updated dangerous goods policies on Amazon in Amazon prime, expanding beyond Amazon and how you can save money on our upcoming Sell and Scale Summit. So stay tuned until the end. So now let's get started first with our news of the week. Our first one comes to us from Amazon Sellers Central news piece about dangerous goods, no longer being allowed to be shipped to US island destinations through Amazon FBA.
Lem:
Even if it is in unlimited quantities, it will not be allowed. This took effect as early as April 25th. And from now on sellers who are selling dangerous goods and are selling to those island destinations must be using third party shippers in order to ship those dangerous goods. Now, I don't think anything else will come out of this, but it's for sure important to know if you are selling any hazmat products or products that qualify under Amazon's dangerous goods policy, something to be mindful of. Moving on to our second news piece of the week, we get into the expansion of Amazon Prime. Now I don't know about you, but I didn't think that Amazon prime could expand outside of Amazon cause Amazon Prime, right? And for the longest time, that's been a huge value add of selling through Amazon because you're able to leverage their prime network, but not anymore, or for now on Amazon has announced their new initiative called Buy With Prime.
Lem:
It's a new check-out options specifically for prime members that regards online stores beyond amazon.com. Now at the moment, right now, Buy WithPprime, their initiative is only available to invited merchants who currently use fulfillment by Amazon. It's expected. However, to roll out through 2022, as sellers are invited throughout the year and are invited to participate, including those who are not selling on Amazon or are not using FBA. So that's gonna be a really interesting switch to see like Shopify stores outside of Amazon, being able to leverage our network and kinda getting an idea of how does that kind of manage the ecosystem of e-commerce, right?
Lem:
Now, moving on to our final news piece of the week, we're gonna pivot real quick to Walmart. Now Walmart has released their 2022 annual report that has a ton of useful information. Some of it is pretty surprising actually too. Now some of the highlights include the fact of how walmart.com now has over 170 million marketplace SKUs enrolled within their marketplace with 75 million of that being added in the past year. Now the site has accounted for 73 billion dollars in net sales. Yes. I said billion with a B. That's a pretty big number. And the US marketplace has added over 20,000 new sellers over the past year. Now, these numbers are extremely promising in our sure to grow us. We continue into 2020 and beyond. So if you wanna jump on this Walmart train with the rest of us, be sure to check out our Project W series where Carrie Miller and Tim Jordan run you through everything you need to know to get started on Walmart. All right. So that ends our news for the week. We're now going to transition into an interview with one of our Serius Sellers Club members, Alfonso Jean. Now, as a reminder, everyone out there, our Serious Sellers club is an exclusive group limited to 6, 7, 8 figure sellers that provides bonuses, discounts, and networking opportunities. Alfonso, how are you doing today?
Alfonso:
I'm doing very good, Lem, thank you very much.
Lem:
We're so happy to have you on the call. So we're just gonna go ahead and dive right into it. So first, tell us a little bit about your Amazon journey, and how you got to where you are now?
Alfonso:
So basically I started almost three years ago after spending 20 years working for a global company in manufacturing and operations. I was in the middle of a job transition back then when my wife started to look into this after taking some online courses together, we pretty much decided to give it a shot. Back then, I didn't even, you could sell products on Amazon or Walmart, but I guess I never give it a thought about it. So within a month of starting, I already had my LC form, the Seller Central. I can open trip products on order and ready to ship from China. So basically I jump in with my two fits into this and get it running. So for no of mine also at that time contacted me as he was just starting the journey for him as well. And we decided to partner up, we started to develop test and launch products and things start to pick up from there very, very, very fast.
Alfonso:
We do all our sourcing ourselves. And for the most part, we source our products from Mexico and just a few other products from China. So just during the first six months, we had the opportunity to launch between 10 to 12 different products. And at the end of the first full year, we had grown our business to a seven figure business, almost doubled the business last year during our second year of operations. And we spent pretty much our product line, all the, to Walmart and Etsy as well. So it's been a very exciting and rewarding journey for sure.
Lem:
It sounds plenty rewarding. And I love that, you know, you just dove head first into it. You didn't hesitate. You saw the opportunity like I'm doing this. I really love that because it shows that you're a go-getter right. And I think that's something that needs to be commended and celebrated, especially among Amazon sellers is when you see an opportunity go after it, don't hesitate, don't fall into this like analysis paralysis are like is it a good idea? Is it not just go for it and you'll learn a ton. And I love the big beginning of, of this, of how it all started is because you listened to your wife. So I think there's a lesson somewhere in there about that.
Alfonso:
Yeah, for sure.
Lem:
So now that you've had like you said, you've scaled your business through seven figure business. What are–, I'm sure you've made plenty of mistakes and learned plenty of lessons along the way. What are some of the most common mistakes that you see new sellers doing nowadays?
Alfonso:
Well, I think there's a couple of things that we can talk. The first one is don't think that you can take money out of the business anytime soon. It took us six months from when we started to, when we can really start seeing money flowing out of the business you need to use the money that you get from Amazon to grow the business. You gotta plant the seed and let the tree grow pretty much. So it's gonna consume a lot of capital to get inventory up into Amazon and do the product launches as well. So that money needs to be in the business at least for six months or that's what we saw. And the second thing is you need to fully understand ahead Amazon calculates FBA fees, and how do you structure your profit margin calculations for your product.
Alfonso:
You need to make sure that you have all your costs into it and fully understand what is gonna take you to sell this product. You need to have at least 30% margin for private label products so that you can use some of that money to sell and fund the growth that is gonna be required for the product to pretty much be fulfilled Amazon. You need to Ary, you need to pretty much pay for PPC at the beginning. You need to grow the sales. So it's gonna take some of that money. So if you don't understand what you really are paying Amazon to do for your business, you're gonna have hard time, pretty much structuring the remaining part of the business.
Lem:
Absolutely. And I think these are really big lessons that I think, especially if you're a beginner seller, even if you're experienced seller is something to keep in mind and really take to heart is number one, just being patient, right? Not thinking that you can take money right away, cuz like you wanna make sure you reinvest and grow your business. Like you said, I think that's something that people often mistake that they can do is, oh, I made a sale. That's all going into my pocket. That's all revenue, that's all profit. But if you really want to grow, you gotta reinvest and it's not reinvesting into your product, it's reinvesting into yourself because you're the one and running the business, you're the one growing your operations. And I love that last part too, of being detail oriented, knowing the measurements, knowing FBA fees, how that works because an half an inch can be the difference of saving a dollar per product. And especially as you scale, that could be thousands of dollars that you save, just because you were able to minimize your packaging by half an inch, which can make such a huge difference in the long run.
Alfonso:
Correct.
Lem:
Awesome. So now looking more forward for upcoming successes, what's on the horizon for your yourself and your business for the rest of 2022?
Alfonso:
So this is a challenging year. Very, very, very exciting to be in 2022 last year, as you were aware, Amazon had us pretty much tied up with inventory metrics and the restrictions that we couldn't send enough product to Amazon. So we had a lot of right now in the funnel that we want to launch this year. So we already started this process early in the year when Amazon releases the release inventory restrictions, and we're gonna continue going through the rest of the year, just launching new products and testing all of this in Amazon. So our goal is to pretty much increase our business at least 50% percent from where we were last year. So it's a huge, huge step for us. But very exciting and very, very challenging year that we can go for.
Lem:
Absolutely. But I love that you're forcing yourself to be able to try to accomplish this challenging goal because if you don't reach for the stars and who else will, right. Cuz like you're the only one that's gonna be able to push your business that limit. And I think that's also a really big takeaway is to not limit yourself of, well maybe if I make 5% more next month or next year like I'll feel satisfied. No, like go big, go big, like Alfonso go to the 50% or more for your business and really just go try to take to home run right there. I love that. And thank you so much for coming out on our show.
Alfonso:
Thank you, Lem. Thank you very much.
Lem:
So that does it for our questions. If you're interested in being part of the Serious Sellers Club, then check us out at helium10.com/serious-sellers-club. So now let's get into our tip of the week. In the form of a video that shows us all about how you can track to see Amazon is glitching. And if it's affecting your product's performance,
Bradley Sutton:
What I did was I created two kind of fake products. These are products that were just like returns or I discontinued a long time ago, but I made completely brand new listings using Maldives methods. Again, remember Maldives is not just about search find buy. You know, I optimized the title. I, I put keywords in the title that not many people had in the title. I, I started a fulfilled by merchant on day one and got some sales on day one of this I did all of these things that are part of the Maldives honeymoon strategy. All right. Here is product one. So what I did was I started the product. I, I locked in my Canonical URL. All right. And I made sure some key keywords we in there let's just call it bread, cutting board. All right. Bread cutting board was in my canonical real.
Bradley Sutton:
Then I was like, you know, what if I was doing search, find buy, these are the six keywords that I would target and I would've hit up AZ Rank to do it, but here I'm gonna do this without search, find buy. And these were all low volume keywords. So I pick six keywords that ranged in search volume of 200, about 2,300. And let's just say that bread cutting board keyword is, is the one that had like 2000 search volume. Alright. So bread cutting board was in my Canonical URL. And what I did was I did not have an auto campaign, I did not have a research campaign or a broad match.
Bradley Sutton:
I just had one exact PPC campaign, exact manual match. Right. And I put these only six exact keywords. I put a fixed bid, super high, like $4 for this. You know, I knew that was super high. I put fixed bid. I wanted to show up at the top. So from day one I was showing up at the very top of sponsored ads and I put the price, I forgot what I put. It was something like $6 or something. And this is a $25 product because I was like, Hey, I want people to see this. As soon as they type in bread, cutting board and these five other keywords and see, oh, holy crap, $6. I'm definitely gonna buy this product. Now what I did to put it at $6 is I put sale price of $6. So the regular price, I put $30 and I put a sale price that is from this date to this date of $6.
Bradley Sutton:
Alright. And because I didn't wanna get the buy box suppressed and check this out guys. All right. On that one keyword over five days, bread cunning board. Let's just say that wasn't a Canonical. I got 2,500 impressions, and 26 clicks. These are all organic. I mean, organic as in, I didn't pay anybody to do it or use AZ Rank or anybody else. 26 clicks got 11 purchases. Now the other keywords, a couple of them didn't even get a lot of impressions and they didn't get a lot of clicks and they didn't even get purchases. But check this out, that keyword right there, bread cutting board, 2000 search wine within five days, page one, position three, the other keywords that were kind of like variations of that keyword. Again, that's part of the Maldives' strategy. Check this out guys. Every single one of them.
Bradley Sutton:
I got to the top 10 of page one on one. I got page one position, one another one, nine another one, four, another one page one, position two. The one that I got page one, position two. I didn't get any impressions in PPC. Guess what? How did I do that? Well, that was in the title that keyword, there was completely in the title and nobody else had it in the title or like one other person had it in the title in Amazon on so the Maldives still works. And that was a PPC only launch. And I got to page one for all of my target keywords that I would've done search, find, buy. In another sense, I did another product, same exact account. This was like a phone cases. Some old, I had some old phone cases lying around again, picked six different keywords used the Maldives method, got an order within the first day, I made sure to lock in my Canonical URL, two keywords only got to position 18 and 19, the rest page one position one in total, I've had only 10 PPC orders.
Bradley Sutton:
And this was at like $1. I put it at $1 because this was a $9 product. And I put a sale price of $1. And so I got 10 orders. And of those keywords, I got the orders. Those are the ones that all got to page one, position one. So again, what is this strategy now, which is my first and which is probably gonna be multiple alternatives to search, find, buy on day one, try and get sales again. You know, just like the Maldives strategy talks about, make sure to have your Canonical URL be your most important keyword, have that in your title. Hopefully, it's a keyword that not many people have in their title. And then pick 2, 3, 4, 5, 6, 7 keywords where you know that people will definitely buy your product at a cheap price for it. And then put a sale price, put a huge sale price where it's like irresistible, despite the fact that you have zero reviews, right.
Bradley Sutton:
You know, like if you've got a $30 product, are you cool with putting that $9, you know, as a big sales price because you know, now the drawbacks, and this is why this is, you know, I would've been doing this forever. Right. But this is tedious. First of all, I had fulfilled by merchant because I can control my, my inventory. You know I don't wanna sell 100 of these in like one hour. And I you know, didn't know about it and I just waste a whole bunch of money because everybody's buying my non $9 product for $1 and then maybe reselling it. So with fulfilled by merchant I was able to actually put in what inventory I wanted to do for a day. So I put five every day and I was like, if those five went out, I was like, forget it, I'm not doing anymore. And then I could actually see which keywords were converting for in my PPC. So that if I already hit the max for the CPR number inside of healing, Tim member CPR is the same, you know, if you're organic or sponsored or whatever, people are searching and finding and buying the product. Right.
Lem:
All right. So that was a fantastic video going over our Maldives PPC launch strategy of how you can go ahead and launch your product on Amazon and increase your organic rank. If you wanna go ahead and learn more about that. We highly encourage you to check out the Series Sellers Podcast. We have tons of episodes about the Maldives launch and about how you can organically get to page one for your top pillar keywords on Amazon. So be sure to check that out. Well, before we sign off, I wanna remind you all about our upcoming Sale and Scale Summit. I said at the beginning of this, there's gonna be a coupon code for you guys and how you can save money. Well, Sell and Scale Summit is focused on private label selling and brand building with educational tracks, for new experience and pros sellers of all levels.
Lem:
There's gonna be five keynote speakers, including Gary Vee, a huge guy in the space of business. Right now, there's gonna be 30 plus e-commerce topics covered by industry experts, two parties with world-class entertainment, because we know how to have a good time, and 50 plus exhibitors and sponsors. Sellers will lead the conference with new ideas, inspirations, and networking actions to grow and scale the eCommerce business of their dreams. Now, with that being said, we wanna give you guys all a bonus code to reward you for listening into the Weekly Buzz and for staying until the end, that will give you a hundred dollars off of any registration package. That code is going to be S3Buzz100, again, that's S3Buzz100, all in one phrase, that'll get you a hundred dollars off of any registration package. Well, that's it for our Weekly Buzz this week. We'll see you next week.
---
Enjoy this episode? Be sure to check out our previous episodes for even more content to propel you to Amazon FBA Seller success! And don't forget to "Like" our Facebook page and subscribe to the podcast on iTunes, Spotify, or wherever you listen to our podcast.
Get snippets from all episodes by following Bradley on Instagram at @SeriousSellersPodcast
Want to absolutely start crushing it on Amazon? Here are few carefully curated resources to get you started:
Achieve More Results in Less Time
Accelerate the Growth of Your Business, Brand or Agency
Maximize your results and drive success faster with Helium 10's full suite of Amazon and Walmart solutions.