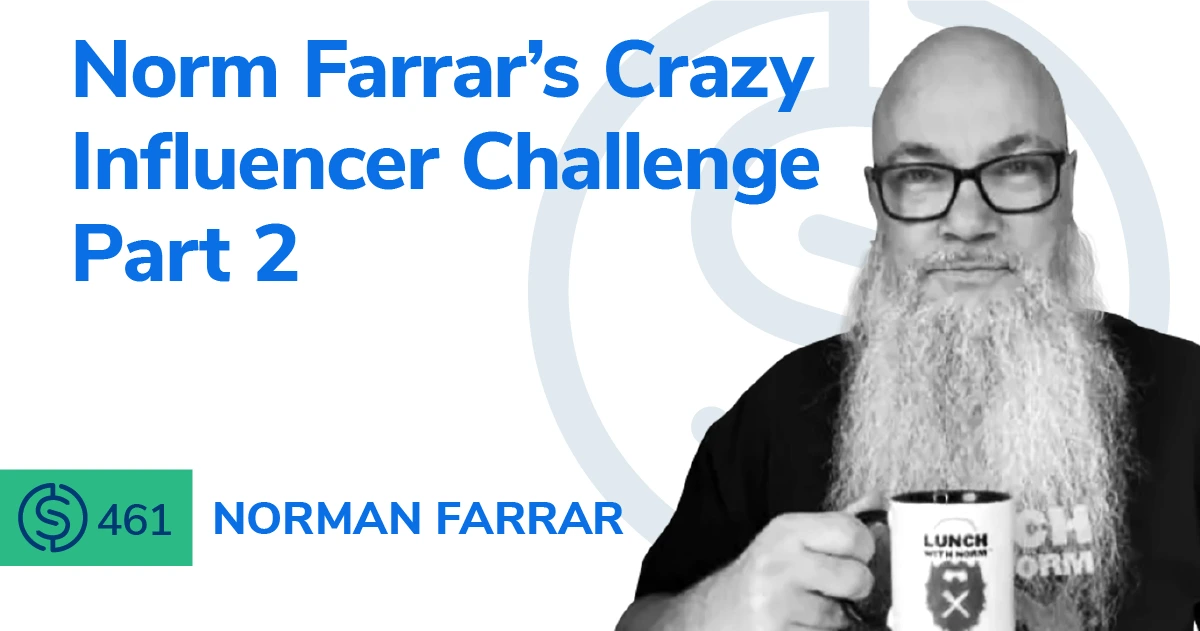 #461 – Norm Farrar's Crazy Amazon Influencer Challenge – Part 2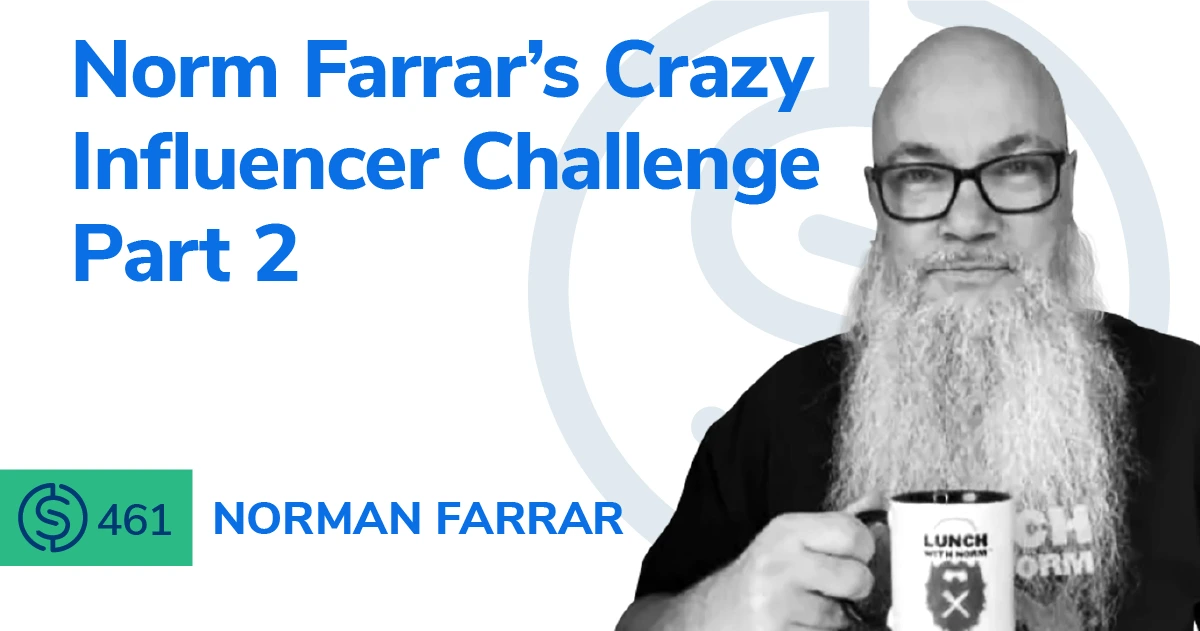 Video of the episode at the bottom
In this episode, we continue our conversation with Norm. He also takes us through his journey as an Amazon Live influencer, revealing strategies for successful influencer collaborations and the key to boosting brand visibility and increased sales.

Do you want to be your own brand ambassador? Norm addresses the common challenge of finding the right influencers, highlighting the pitfalls and misconceptions surrounding influencer marketing on Amazon. He also walks us through the process of signing up for the Amazon Live program, ensuring you have all the information you need to get started. Gain a deeper understanding of how influencers can impact your brand and learn best practices for successful collaborations.

Also, Norm shares important information about the New FedNow Service Program, discussing its potential impact on online businesses and how sellers can leverage it to their advantage.
In episode 461 of the Serious Sellers Podcast, Bradley and Norm discuss:
01:31 – The New FedNow Service Program
02:49 – Diving Into Norm's Influencer Challenge
05:23 – Norm's Amazon Live Page And His Tips
11:52 – How To Make Money From Amazon Live Videos
15:17 – How To Sign Up For This Program
19:01 – Finding Influencers: Many Brands Are Not Doing It Right
23:36 – Understand The Process Of Influencers On Amazon
26:00 – Norm's Gift For Our Listeners
29:05 – How To Find Norm Farrar In The Interwebs
Transcript
Bradley Sutton:
Today is part two of a two-part episode series where we're talking to Norm, and he's got some eye-opening strategies about having to do with being an Amazon influencer, doing Amazon lives, and understanding how the whole system works at a level you've never heard before. How cool is that? Pretty cool I think
Bradley Sutton:
Sellers have lost thousands of dollars by not knowing that they were hijacked, perhaps on their Amazon listing, or maybe somebody changed their main image, or Amazon changed their shipping dimensions, so they had to pay extra money every order. Helium 10 can actually send you a text message or email if any of these things or other critical events happen to your Amazon account. For more information, go to h10.me/alerts. Hello everybody, and welcome to another episode of the Serious Sellers Podcast by Helium 10. I am your host, Bradley Sutton. And this is the show that's a completely BS free, unscripted and unrehearsed organic conversation about serious strategies for serious sellers of any level in the e-commerce world. What else can you tell us?
Norm:
Another thing, there is a new program that I only became aware of it just recently, and it's another game changer for e-commerce businesses, and that is the new FedNow, have you heard about this?
Bradley Sutton:
FedNow? No.
Norm:
Check it out.
Bradley Sutton:
Maybe I have, but I just don't. It's ring a bell. It's
Norm:
It's a platform that the government is implementing in July. They were gonna implement it a little while ago a couple months back, but they decided not to. But this is for money laundering, and now this service is starting in, I think it's either the beginning or the end of July, and it is gonna change the way that we do business on the internet.
Bradley Sutton:
Is this related to what, you know, Amazon was having everybody re-verify their information recently like sellers had to like reprove who they were? Or that's completely unrelated.
Norm:
I'm not sure. I probably might have something to do with it, but I'm not sure.
Bradley Sutton:
That's interesting.
Norm:
So if you're listening and you're an amazon seller, e-com seller, do any business on the internet, you wanna dive into FedNow. It's gonna change things.
Bradley Sutton:
Okay. All right. There's a couple, another tip for us. Now, you had sent over a message before, you're doing some kind of influencer challenge, and that's all you said. So like, what does that mean? What does an influencer challenge?
Norm:
Well, you know, Kelsey, you've been on the podcast, so Kelsey's my son and, and my kids every year give me a challenge of some sort. Usually it's, you know, lose weight or something. This year we were talking with Gracey Ryback, she was at a Mexico event. And I said to her, I wish I was like you. And she goes, well you are. You're an influencer. I said, I'm not an influencer. And you know, I have like no zero followers for product influence. And so my kids came back and they gave me a challenge on the podcast, said, oh, why don't you become a product influencer? And I said, oh, God, I can't, that's too much work. And so anyways, I said yes, which was the stupidest thing I've ever done.
Norm:
And so the challenge was get to a hundred thousand followers by December 1st, so zero to a hundred thousand followers. And what we've done is gone out, learned to be an influencer, and really trying to show Amazon sellers what they need to look for. What are some of the pitfalls? Do they wanna be their own brand ambassador or do they wanna do a side hustle and can you really make money at it? So it's taken a lot of work. And we're doing three times a week, Bradley Amazon lives for 90 minutes to two hours.
Bradley Sutton:
Let me follow you.
Norm:
Oh, good.
Bradley Sutton:
Hold on. Lemme go to.
Norm:
It's called Lunch With Norm Deals.
Bradley Sutton:
How do I go? Is it amazon.com/live, right?
Norm:
It's forward slash I think it's just–
Bradley Sutton:
That worked. All right. And so I'm on browse, like, where is their search? Let's see. Gracey's the only one I follow actually on here. Let's see. Alright, Lunch with Norm. I got, I'm gonna, let me just show my screen here to the people watching on YouTube later. So how do I find somebody on here? Alright, I think I found it here. I just typed in Amazon Live LWN deals. And then I recognize this right here, right here.
Norm:
Oh, there we go.
New Speaker:
The results, click here and voila, learn. Launch With Norm Deals, big beard, bigger deals. I love it. Give you a follow. Let just take a look also. Okay, hold on. This is something I was curious about. So these little one, one minute videos here. Yep. What are these? These are not Amazon Lives.
Norm:
Gotcha. Okay, so this is what a lot of people don't realize. If you don't, and I'm gonna just back up and then I'll tell you about this. Everybody who's starting out in Amazon, you have to fill, you have to have that slide deck filled, six images and at least one video. And I'll give you a reason why. If you don't put that one video, it could be the simplest video out there. You're missing out because people like myself that I learned, if I'm an influencer, if I'm registered with Amazon Influencer, I can create a shoppable video, which will make me money. So just to give you one example. I showed an espresso machine. Somebody asked me to review this coffee here. Okay, so it's espresso coffee, and I needed a machine, so I needed to buy one. I went out, I bought one, and I said, well, since I have this machine, I might as well do a video on it, a one minute video. So I did, and within two weeks, 50 of these machines sold. And then after that, another 20 have sold. So I've sold 70 of these, my espresso machines.
Bradley Sutton:
When you say I've sold, that's because like you left like a video, but it's not your listing, right?
Norm:
No. So what happens is you'll notice that if you have a video and you can see this quite a bit, so as long as you have one video on your listing, so in your product listing, your slide deck you have a product video, you have a demo, anything that you put there it will allow Amazon's algorithm to pick up the shoppable videos that influencers have done and they place them. I don't have any say on it, but they place them on the listing. And people get this mixed up, you'll see the related videos underneath and you'll see a lot of people there, but those for the most part aren't influencers. The people that are influencers usually, like they do a nice job. All I'm doing is, Hey, this is a Coke, can, I just bought it.
Norm:
This is why, this is how it opens. I enjoy the taste. I can't promote it. And it's all done. All I do, my little spiel is I shoot from my beard down and I just use my hands and that's it. It's just nobody sees my face. In fact, when I do any, I do I do beauty products. Yeah, there we go. So I do bu beauty products, and if I do usually do a beauty product, and then they do have to see my face, I put a beauty mask on and you know, I'll do it that way. So it's just a little, it's fun. But these are things that I learned that I would never really have known about until I took this challenge up. So it's good for my brand to know it because if I didn't have that listing when I launch, that's part of my launch. I'm gotta have, I don't even care if I go to Animoto or Canva, put up something cheap, a slide just transitioning, just something. So the algorithm will pick up and put the influencers videos up there. And this is where a lot of people aren't talking to influencers. You know, they're not doing it well.
Bradley Sutton:
How did this work? I'm still having trouble understanding the process here. This, this coffee machine, did you actually buy this? So you bought it and then you recorded this video. And I'm assuming you already had your own influencer or Amazon Live account. Now you posted this video as a review, or you hit on the listing itself. You add video,?
Norm:
So if you type in my espresso, it's a real, it's a horrible video, but people liked it.
Norm:
I don't even know if there's a search, but where
Bradley Sutton:
View my storefront? Wait, that's not it. Yeah. Oh yeah, maybe it's here. See Ethiopian coffee here. I see a bunch of knives.
Norm:
So if people come and they buy, like somebody just bought a hundred dollars knife I get a commission for that. There's the beauty mask. I use.
Bradley Sutton:
How can you even fit a beauty mask on you? Wait, I don't, I don't see that coffee machine. Oh,
Norm:
There's probably–
Bradley Sutton:
Did I pass it?
Norm:
There's probably a page button.
Bradley Sutton:
Maybe I passed it here. Well, let me just pick one of these other ones. Yeah. Cause I'm assuming it's the same thing. I like Ethiopian coffee, so let me, let me click on this. Oh, I think that is,
Norm:
That's Kelsey that did that one.
Bradley Sutton:
Okay. So then I see here's the product down here. Yep. So let me go to their listing. Okay.
Norm:
All Right. And guess what? And so, so you, you bought this product or they sent it to you, or what? Yep,
Norm:
They sent it to me. Here it is. Right here. Okay.
Bradley Sutton:
They sent it and then you went, or your son went to this listing. And then, let's see. Lemme see
Norm:
If I can find, Nope, we didn't do
Bradley Sutton:
Anything. Nothing. You didn't do anything? Nope. How did this video? Yeah, see, here's your video right here at the bottom under videos for this product. Now
Norm:
Go up and go up
Bradley Sutton:
Okay.
Norm:
To their page. Okay. Or the product listing and guess Okay. They have a video there. Click on the video. Let's see. And you're gonna see right there,
Bradley Sutton:
There it is. Related videos. Yep.
Norm:
That will never Okay. Come up if you don't have, like, you won't see the, you see all the other videos that were down there?
Bradley Sutton:
Yeah.
Norm:
Mine is the only one showing because I'm an influencer.
Bradley Sutton:
So you, this video you uploaded on your own, like, like influencer whatever you call it, portal. I, I guess you could say I uploaded it and then you tie it to the asin.
Norm:
Yes. So when I uploaded this video, so I created a video and we upload it and it gi it gets an affiliate link attached to it. And so anytime that anybody watches that video for 30 seconds and they go and buy, then I get a commission from it. And what what was really interesting is that there's, there's different ways to make money. You've got your Amazon Live, which for me takes a lot of work for okay, return. Well very little return right now because I, I, the followers have to build up. And then you've got the shoppable where you can do 20, 30, 40 shoppable over a weekend, post them and immediately start making cash immediately. So the trick for shoppable videos is that you have to follow the guidelines and you get three attempts. If they, if they, the first three videos that you upload, if they get rejected three times, you're not gonna three strikes and you're out.
Norm:
Yeah. Yeah. So you gotta know the guidelines. And then once you do that, once you're approved, you can upload these videos, you can do a bunch at a time. In fact we just were we, Amazon even reached out to us to go and become, it's part of their, their new influencer challenge where that coffee video that you just saw, Kelsey did it. It's more like a TikTok video. And if they select it we, we can do up to 50 videos if they select it over the next month or two to show you get 50 bucks per, and they, this is the new style they want rather than just a finger pointing. They want more of that. Tiktok look like you would have an inspire. So then there's, then there's just the affiliate program where you can have your wishlist.
Norm:
So there was a lot on what you were just looking at. You saw a lot of videos. But there are wishlists that if Mother's Day coming up, I'll have a wishlist with videos or images that I want to promote. And if anybody clicks on that and buys anything, then you get a some money. Now, one of the things I was really skeptical about because I literal literally started with zero followers. I had followers on the lunch with Norm side. You know, those are Amazon sellers or E-com sellers. Sure. But on the product side, who's the old guy? You know, who, who's, who's this guy? Yeah. And I had to start building up and building up and building up, and it's gaining momentum, but can I make money at this? And I could only do this so long. I'm not doing this full-time, but can somebody make money doing this as a side hustle?
Norm:
And my conclusion is yes, and it wouldn't be bad money. If, if you're dedicated to doing this and you, you can get people to send you product and you want to do these videos, or if you buy products, like, I've got two Mevo cameras, a Sony camera, I've got these ring lights, I've got the Sure mic. I can take any of these products and upload a video now that I'm registered as an influencer. And if the algorithm picks it up, that Sure mic, let's say it's three or 400 bucks, I get three or 4% of that. So anyways, it,
Bradley Sutton:
So wait to, to sign up, like, like at the very bottom here, it says, are you a brand interested in live streaming? Learn? How is that step one or a step one signing up for the Amazon affiliate program? This
Norm:
Is, this is one of the reasons why man, it is confusing to sign up. So the first thing that you should do is sign up for an affiliate account. Okay? So get that affiliate account you know, get your list going, and then you can sign up for the influencer program. Now if you don't have a social media following you know, and I don't know if that's a hundred or a thousand, but if you don't have that, that social media following, or you don't have websites that are going to promote products, cuz they're gonna ask you for that, then it's probably not a good thing to do right now. However, there is a tip, there's a little trick. If you want to go and buy an Instagram account, maybe in the pet niche and you're selling pet products you could, you can use that to show Amazon that you have 10,000 followers.
Norm:
It's very easy to do. You can go, there's a bunch of different sites that you can go to. But that's, that's one way that you can do it. And then you can start doing all these videos. Now it's a slow start and you should be doing items that are a hundred dollars plus. Most of the items that I have right here, I've got, you know, some of the stuff behind me, some beauty products. The coffee here that I, I it was 85 bucks, but I, I just to get some videos out there, I'll do anything from 20, $20 down, even though I make a couple of pennies on it. It was more to prove a point what I can do. But right now, if I were to spend more time doing it, if I did an eight hour day, you could be making a hundred, couple hundred dollars a day and at the end of the month, like let's say over three to six months getting out there, if you could do it you, I can't see why somebody couldn't be making thousands of dollars a month doing this if it was something that they liked to do.
Bradley Sutton:
I mean, the reason I'm asking a lot of these questions, first of all, I think I might, I might go ahead and try and do that challenge no way I can get a hundred thousand followers by December or anything like that. So more of a, just a personal challenge. But you know, like if somebody's just getting started, like getting like some relatives started in this and then they would be like your first, you know, like, you know, generating some UGC for you and Yeah. And potentially, you know you know, he helping you launch, you know, he helping you launch some of your products or, or get some, some traction on it. But this, yeah, this is just interesting. So which, which, did you buy a social media account or did you use your, your lunch with Norm?
Norm:
Yeah, so what I did Instagram or I created a website I think you can still see it called Lunch with Norm Deals. I put, or l w n deals if you want you know, that's the short form. And we created a website. We created some social media and we got the buzz going. And then from that, we got, there it is. Yep. Then you could just go into all deals and you'll see,
Bradley Sutton:
Can see it here. Yep. Okay. Oh, wow. This is a pretty good looking website here. There you
Norm:
Go.
Bradley Sutton:
And then this, this like, but, but they're not checking website. They want you to have a social media presence. Yeah.
Norm:
Or if you have a website like this you know, it shows that if you're going to have a product, that you have an outlet to go and you know, use it.
Bradley Sutton:
Okay.
Norm:
So let's, like that you just checked there we go.
Bradley Sutton:
Okay. You've only got like 92 followers. This is not like they needed a thousand or anything for you to
Norm:
No, but
Bradley Sutton:
To get started. Just, just, okay. Yeah.
Norm:
So with that one I didn't use as this is what I was gonna do. I used which account was it? I think it might have even been lunch with Norm. So, you know, I had thousands of followers there. And so that was a no-brainer. I got, I got accepted. So here, so now the, there's a bit of a a journey if people wanted to follow it. I'm doing it on TikTok, although I've paused it for a while because I found that TikTok, the algorithm didn't pick it up, so I thought I'd just focus more on the shoppable. But how can a brand, because so many brands are not doing it right? There's a lot of information about influencers out there and going out and finding them, and it's a very arduous, tough task. It doesn't have to be, there's lots of ways to use influencers that it doesn't have to be that tough task. And as you can see, you can hire these people, you know, hire me send me the product and, and I'm just joking, but send me the product and
Bradley Sutton:
Well, I'll send, I'm gonna send you a coffin shelf. I want you there. I wanna
Norm:
See all, I'll do that.
Bradley Sutton:
One of our coffin shelves,
Norm:
You know, all of these products, I've got probably 350 products in this house right now.
Bradley Sutton:
Now is it just because of what you've done in this short time now sellers are, are seeing what you do and they're, they're just like hitting you up and saying, Hey, can I send you the products?
Norm:
Yeah, a lot. A lot are. Yep. So like what I've done is I've, I've put together something and it's a presentation. People want to, to get, and I do this for free by the way. So I don't charge anybody for going live on Amazon. I don't charge anybody for a shoppable video. So a lot of influencers will, but because I'm doing this just as my challenge, I'm not charging anything. Yeah. We pay for the paid advertising to drive the traffic. The only thing we say is where we will charge is if we sell something. So if those, the my espresso coffee machine, if they sent me that, then they would owe me 10% of the gross of the sale. So it's not a big
Bradley Sutton:
Deal. And that's in addition to your affiliate commission then? Yeah. Yeah.
Norm:
That's in addition to the, so
Bradley Sutton:
You can make like what, 30 bucks on 30 bucks
Norm:
More?
Bradley Sutton:
Yeah. On the, on this one. Okay.
Norm:
Yeah. So well on the, my Espresso, it's not a very expensive machine, it's 79. So I made, okay, I'd make $8 per plus the, the commission. So but that if I have, so here's the other side that I did not think about the sponsored brands. I have people sending me brands right now, and they're paying me like a thousand, 2000 bucks to show their brand.
Bradley Sutton:
Wow.
Norm:
It's crazy,
Bradley Sutton:
Huh?
Norm:
I've got people every day not every day, every week. Now that's, I'm getting a little bit better known that are approaching me for Prime day. Hey, what will it, what will you charge me to show this product on Prime day? We'll give them a price.
Bradley Sutton:
Like on, on a live or, yeah,
Norm:
On a live, yeah.
Bradley Sutton:
On Amazon is, is the only place we are doing this stuff. Or you're also like Gracey, you know, doing stuff on your Instagram and, and other, other places. Yeah.
Norm:
So a again, we held back on doing all this other stuff because it was getting pretty pricey, and I thought, let's wait till we get the followers, let's wait till we get the products. We get the system down and then we'll start to really boot this out, and especially on YouTube. But I'm, I'm leveraging other people's customer base and I think that, I don't think it'll be a problem to do this. So, you know, your wooden coffin there, we can go on an Amazon Live, you'd be on with me and we could talk about the, the brand, you know, the overall brand. So it's more of a podcast interview than a shopping. And that's why, and I've been bringing on a lot of beauty brands and look, you know, here's some old bald-headed guy with a big long beer drinking out of a Harley Davidson mug interviewing, you know, this person about retinol, you know, serums or vitamin C serums and what it can do. And, you know, it's, it's just a different angle.
Bradley Sutton:
Fascinating. I mean, I heard from Gracey that you were doing something, I didn't even know that was what this, it was part of a challenge or anything. Yeah, I just thought that you were doing some experiments. It started with her. That was the thing. So super cool. Yeah, this is awesome. And, and like I said, you know, I, I don't think every single Amazon seller podcast listener who who's out there is like, Hey, I wanna be my own influencer, but I think it's important to understand this process. Yeah. So you know who you're dealing with, you know, put yourself in their shoes and like I said, hey, get some family members to start. This is great, you know, this is great. You know, side hustle stuff and, and just having somebody close to you who's in this process, I think it's gonna help Amazon sellers a lot.
Bradley Sutton:
Understand, you know, all these different avenues. I mean, in the last, you know, I thought I knew, so I had Gracey on, I've interviewed her, but I didn't know about the, you know, the whole process of, of signing up to be a having a affiliate and then separate is the influencer thing, and then separate is the livestream thing and bringing people on to interview. And, and I had no idea there was like, you know, influencers had their own portal where they would upload the videos. I guess I just figured that all those videos you would see is when people go to that page and, and hit upload video. But yeah, you know, like your, these videos you know, since it's an influencer, they were able to get into the as you know what, as a matter of fact, I swear I thought it was a mistake, but I think I'm gonna look up my coffin shelf really quick. I almost wanna say somebody might have done a video on our coffin shelf, and now I'm going to see, like, I am not sure, but I swear I saw something and I have been meaning to look at it again. Cause I know I have a video on there. Yep. There you go. There it is. Right there. Yep. So that means, that means this is an influencer on his own, got our coffin shelf, it's under related videos.
Norm:
There you go.
Bradley Sutton:
There. And now it's showing up here. All right, thank you, Doug and Nikki he said, how cool is this? My, my review? I wonder if he's a podcast out there. So how would he know that catchphrase right there? But here, here he made a large coffin shelf video. Okay, well see. Like fascinating stuff, norm. Fascinating stuff. Now, completely switching gears before we go, you actually said that you prepared a gift for one listener. That's up to $500 of value. Tell me about it.
Norm:
So this is completely different, but when we're sourcing from China Chinese use HS codes, and we know that in the US we need an h t S code. These are the harmonized tariff codes. And what's happened is people pay way too much. Just, and I'll give you an example, my soap. So I make soap, and I was paying 17%. Okay? I looked into it and I found out that under natural soap I was paying 17% and I thought I knew my stuff. Then after lobby, my partner at HONU comes over and says you know you could probably get a better, a better deal. And okay, well, you know, what kind of deal can you get me? How about zero, I just saved 17%. And we did, we reclassified it as Castile soap because it was an olive oil based soap.
Norm:
So no lying, you know, we don't wanna lie, that's the last thing. But I know just recently we took these signs and they were just quarantine signs you know, the big yellow like aluminum quarantine sign. And what ended up happening is AF Lobby found it as advertising, and it went from 25% plus 15% down to, I think it was next to nothing. I think it was zero. They saved $15,000 bringing in the product. So this is what I, I have, it's called the tariff terminator, because if he could do that for me, I thought, oh, what we, what could we do for others? And typically what we do is we, we'll charge a $50 fee upfront. If we can save you money, great. If we can't, well you're out 50 bucks, but if we save you money, the, it's, it's another $450, but you're on the winning side. So what I said is, look, one of your, whoever, whoever wins this will do a tariff terminator. You, we won't charge you a penny, you get the full thing. Usually 80% of Amazon sellers we save a lot of money for.
Bradley Sutton:
So to basically this tariff terminator to expensive tarrifs, you can just say Hasta la vista, baby.
Norm:
Yeah. Yeah. And the other thing and I'll make sure,
Bradley Sutton:
Sure, that's a Terminator reference for you young folk out term who are I was aging myself with that there.
Norm:
So the other part to this is that there's a report that we can provide saying, look, if you move from China over to Korea for cosmetics, you'll get X. If you switch from a wood to a resin or to an aluminum, you'll save x. And so there's a lot of options that are also provided in this report. So there you go. It's called Turf Terminator.
Bradley Sutton:
All right. Well for this, and, and you know, your podcast and everything else, like, you've got a long list. I, I feel like we need a link tree right here. But how can people find you and, and reach out to you on the interwebs?
Norm:
Well probably the easiest way is you can always listen to the podcast Lunch with Norm. And that's every Monday and Wednesday and Friday, and that's live. So you can listen for my bloopers or you could just check me out the on the web. And if you search me, just search Norm Farrar and you'll see a beard guy. I
Bradley Sutton:
Love it. I love it. All right. Well, norm, we got two for the price of one two podcast episodes for the price of one here. So I appreciate it. As always, you know, that's the reason why you're back here four times is you bring nothing but value to our listeners. So we really appreciate it and look forward to seeing you at one of these upcoming events soon.
Norm:
Fantastic. Thanks for having me back.
---
Enjoy this episode? Be sure to check out our previous episodes for even more content to propel you to Amazon FBA Seller success! And don't forget to "Like" our Facebook page and subscribe to the podcast on iTunes, Spotify, or wherever you listen to our podcast.
Get snippets from all episodes by following us on Instagram at @SeriousSellersPodcast
Want to absolutely start crushing it on Amazon? Here are few carefully curated resources to get you started:
Achieve More Results in Less Time
Accelerate the Growth of Your Business, Brand or Agency
Maximize your results and drive success faster with Helium 10's full suite of Amazon and Walmart solutions.