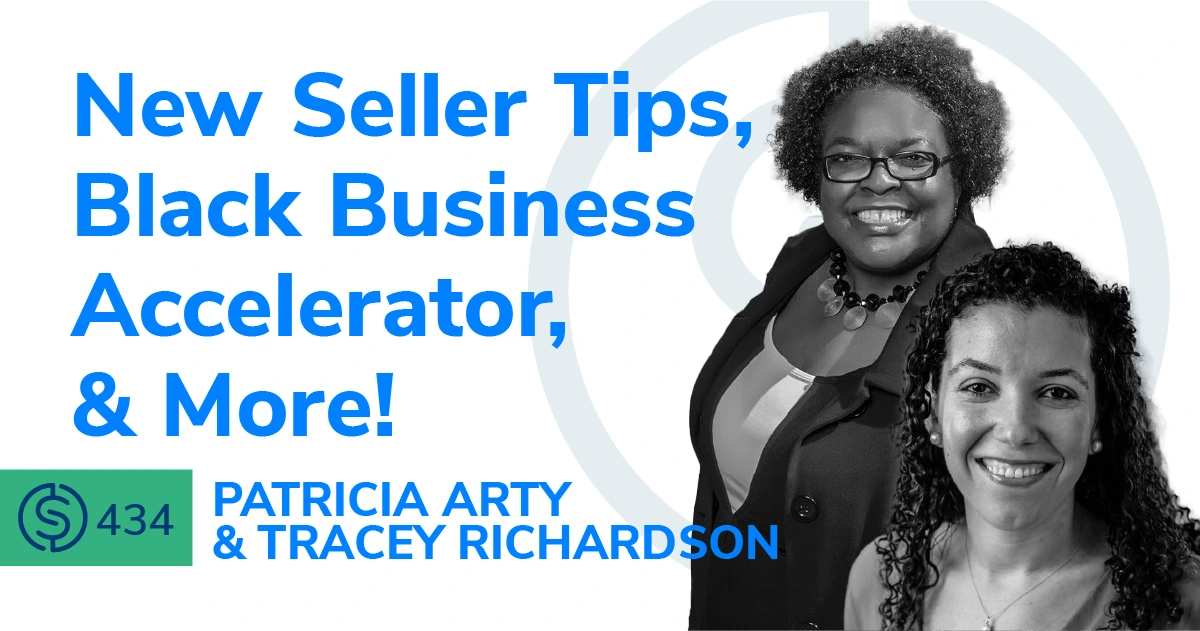 #434 – New Seller Tips, Amazon's Black Business Accelerator Program, And More!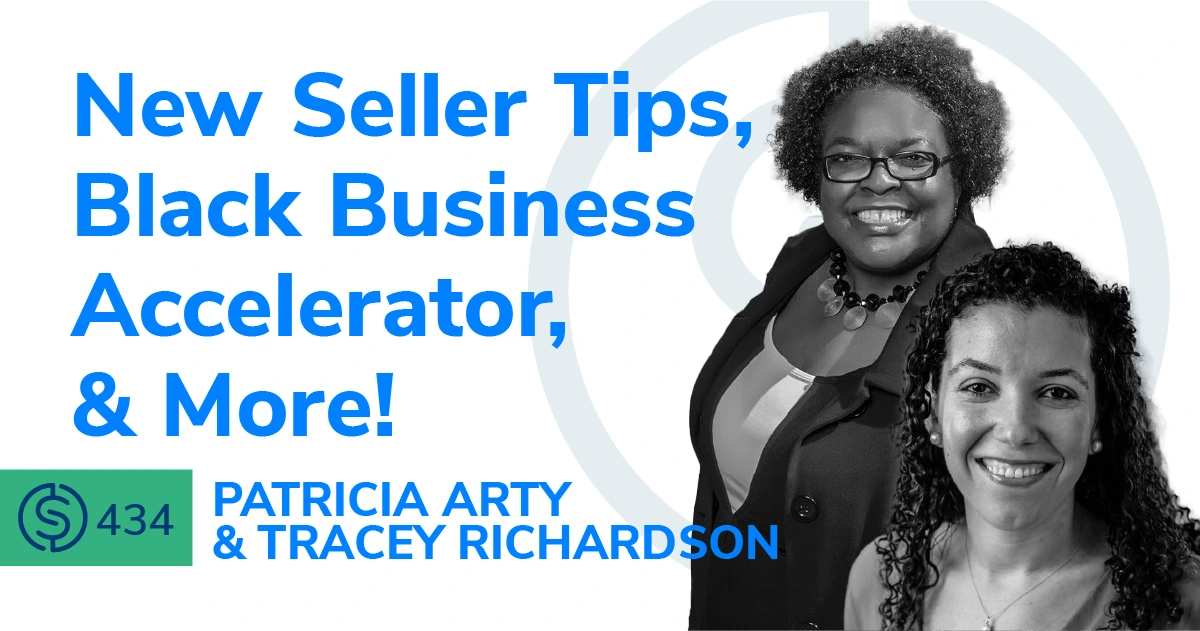 Video of the episode at the bottom
Are you looking to take your Amazon FBA business to the next level? Our latest SSP episode features an Amazon employee and a successful seller who share valuable tips, stories, and programs to help you succeed. Join us as we chat with Patricia Arty Sr. Program Manager, Small Business Empowerment from Amazon, and Tracey Richardson, the founder of Lillies of Charleston. In this episode, we discuss how to get started on Amazon, free learning resources, the Black Business Accelerator Program, selling strategies, and more. Tracey shares her inspiring backstory and how she built her business with the help of Amazon's Black Business Accelerator Program. You won't want to miss this exciting and informative episode so tune in now!
Amazon's Black Business Accelerator provides access to capital, business guidance, mentorship, and marketing support to help Black-owned businesses succeed as sellers in Amazon's store. They launched the Black Business Accelerator (BBA) program to help build sustainable equity and growth for Black-owned businesses.
In episode 434 of the Serious Sellers Podcast, Bradley, Patricia, and Tracey discuss:
02:00 – SSP Historic Moment: Someone From Amazon Joins The Show
02:30 – Getting To Know Patricia Arty From Amazon
04:02 – Tracey's Backstory And How She Got Started Selling Online
06:30 – "We Knew Amazon Has A National Platform And Give Us Better Exposure"
07:25 – Is It Still A Good Time To Get Started On Amazon?
08:00 – Free Learning Resources To Get Started Selling On Amazon
09:15 – Quick Checklist Before You Start Selling
10:45 – Sign Up For An Amazon Seller Central Account
11:40 – Talking About Tracey Richardson's Brand And Products
14:50 – The Black Business Accelerator Program
18:30 – Here's How To Join Amazon's BBA Program
20:35 – How Tracey Benefited From The BBA Program
21:29 – Selling Strategies And Advice From Tracey
25:00 – Lillie's Of Charleston's Brand Recognition According To Helium 10
26:05 – Other Benefits Include Increased Discoverability And A Dedicated Storefront
28:30 – How To Learn More About This Program
29:00 – Tracey's Goals And Inspiration For Building Her Business On Amazon
29:45 – Manufacturing Her Products In The USA
31:15 – Tracey's 60-Second Tip
32:45 – Healthy Habits & Hobbies Outside E-commerce Business/Career Grind
Transcript
Bradley Sutton:
Today for the first time on an outside podcast, someone from Amazon is actually on as a guest, and they, along with another seller, are gonna be talking about tips for newer sellers and deep diving into programs that you might not know much about, like the Black Business accelerator. How cool is that? Pretty cool I think.
Bradley Sutton:
Are you looking to learn how to sell on Amazon? The Freedom Ticket Course made by Kevin King is one of the most popular courses ever created for Amazon sellers. It's got over 90 modules and 40 hours of details, step-by-step training to help get you started on your entrepreneurial journey. Now, this course costs $997, but Helium 10 actually covers the cost of the course for any Helium 10 member. Find out why tens of thousands of students love this program by going to h10.me/freedomticket. Don't forget that if you do, sign up for a Helium 10 account. Don't pay full price. Use our podcast discount code SSP10 to save 10% off for life. Hello everybody and welcome to another episode of the Serious Sellers Podcast by Helium 10. I am your host, Bradley Sutton. And this is the show that's a completely BS free, unscripted, and unrehearsed organic conversation about serious strategies for serious sellers of any level in the e-commerce world. And we've got a first, I believe this is the first time I think ever we're actually having somebody from Amazon on any podcast out there. So this is kind of a historic moment here. We've got somebody from Amazon and also a seller that we're gonna get inspired from. So first of all, warm welcome to Patricia and to Tracey. How are you guys doing?
Tracey:
Good. How are you? Thank you for having us.
Patricia:
Yeah, I'm doing well as well. Thank you again for having us today. Really excited to talk to you all.
Bradley Sutton:
Awesome. Awesome. Now let's start with Patricia, where are you? Are you in Washington now? Where are you located exactly?
Patricia:
Yeah, I'm here in the Washington DC area. I'm actually based out of HQ2 in Arlington, Virginia. So it's awesome to be a part of the East Coast team of Amazon.
Bradley Sutton:
Cool. Cool. I was thinking for some reason you were in Washington state, so I've already learned something new here. Now is that where you were born and raised, or where do you come from?
Patricia:
Yeah, actually I was born and raised in Miami, Florida. So total opposite corner of the United States from Seattle, Washington. But I've been in Washington, DC for 12-plus years. So I would say DC's definitely my home.
Bradley Sutton:
Okay. And did you go to university out that way or in Florida, or where?
Patricia:
Actually, I went to university out in California. I went to Stanford University in Palo Alto. I'm definitely–
Bradley Sutton:
A cardinal, that's why you are wearing the red sweater today. Okay, I see.
Patricia:
Unintentional, but yeah, you've read it.
Bradley Sutton:
How long have you been at Amazon now?
Patricia:
I've been at Amazon now for almost two years. You know, I was really fortunate to join the Black Business Accelerator team just as we were launching. And so I'm one of the original team members around BBA.
Bradley Sutton:
Okay. Well, were you working at all with anything regarding e-commerce before? This is kind of like your first entry into this amazing world of e-commerce.
Patricia:
Yeah, actually this is my first entry into e-commerce. In my previous life, I worked on public-private partnerships, really supporting nonprofit organizations to scale and grow their impact. And so I'm really excited to be here at Amazon working with Black-Owned Businesses, helping them scale and grow their impact.
Bradley Sutton:
Cool. Cool. Alright. Let's invite now Tracey to introduce herself. Tracey, I think this is the first time I've been talking to you. Where are you located in the world?
Tracey:
So I'm in Charleston, South Carolina.
Bradley Sutton:
Excellent. Excellent. A lot of people know who listen to the podcast. I used to be a Zumba fitness instructor. Like I know it's kind of hard to believe my current weight, but I was like 70 pounds less before. But anyway, one time I did like this travel, I got in a van with my kids and I traveled to like almost every state, on a tour doing classes, but I don't think I made it to South Carolina and is that where you're born and raised, or you moved there later?
Tracey:
Well, this is where all of my family is from. I wasn't born here. I was born in Philadelphia and raised for half the time in New Jersey cuz my dad was in the service. So we were up in the more northeast but moved back to Charleston probably like in the early '80s. Cuz that's where everybody in our family is from Charleston. If you haven't been here, you have to get here. It's a really great city.
Bradley Sutton:
It's on my bucket list. That's a guarantee for sure. Did you attend university anywhere out that way?
Tracey:
I went to a university actually closer to DC I went to Hampton University in Virginia.
Bradley Sutton:
Ah, man. You see, like every time I always ask this question, 95% of the time I know the mascot of it. That's why I ask one of the little personal games I play, but I do not know the mascot there. What's the mascot there?
Tracey:
A pirate. It's one of Hampton's, one of the HBCUs, a historically black college.
Bradley Sutton:
Hampton Pirates. Yes. I do know of some of those colleges, but mainly the ones who have like, storied football and basketball programs.
Tracey:
Yeah. We have a good basketball team.
Bradley Sutton:
I don't know why I didn't hear about them. They must not be that good because I do know about a lot of those. Anyways, how long have you been now as an Amazon seller here in the e-commerce world?
Tracey:
Oh, we've been in on Amazon for probably 6 years, about 5-6 years.
Bradley Sutton:
Even longer than me. I like it. I like it. Was Amazon your first entry into e-commerce or did you have any like websites or sold on eBay or anything like that before?
Tracey:
Amazon was our first official, I mean, we sold on our own and it got to be too much. And so we switched over to Amazon cuz we knew Amazon could have a more national platform and it was gonna give us better exposure.
Bradley Sutton:
Yeah, for sure. So, have you made your own website or something before?
Tracey:
Right.
Bradley Sutton:
Yeah. Like, like it probably was hard trying to drive traffic there and stuff like that. That's what we don't have to worry about Amazon. Speaking of which, let's go back to Patricia. But you know, like a lot of the people who listen to us, they've already experienced Amazon sellers. Maybe they've reached some level of success, but we also have some people listening, they come across this podcast because they're not completely sure. It's a good move. You know, I think you could have said a hundred out of a hundred times somebody in Tracey's position like 5 years ago, 6 years ago. It's like a no-brainer. But then now all of a sudden you hear some people saying, "oh man, maybe it's too saturated or it's not a good opportunity. It's too hard to sign up for Amazon." But like if one of our listeners out there is on the fence, what would be your pitch to them about why this is still a great time to get started on Amazon?
Patricia:
Yeah. You know I would say one of the biggest things, and Tracey kind of touched a little bit upon it, is definitely exposure to a number of customers across the United States. One of the other things is just like Amazon provides a lot of different support systems for sellers who are just starting to get selling on Amazon. And a lot of those support programs are will be specialized based on your needs. So if you're thinking about selling on Amazon one of the first places I would recommend that, that you take a look at is Amazon Small Business Academy. It's actually designed for early-stage entrepreneurs who haven't started selling on Amazon but are thinking about it. They're on the verge of really launching their online venture, and there are different pathways and courses that you can take that are specific to your need and allows you to know, like "Hey, am I ready right now to begin selling?"
Bradley Sutton:
Excellent. Excellent. Yeah, I think here at Helium 10 we're all about education for sure. We've made a lot of programs for newer sellers like Freedom Ticket and our Helium 10 Academy. But guys, that's not all that's out there. These things that Patricia mentioned this is not all you have to pay per video or something. This is all a hundred percent free learning resource for those who want to get started selling on Amazon. Now, what would be your suggestion to newer people? Like, Hey, I'm thinking about doing it. What kind of timeline should I be looking at? Like what kind of duck should I have in a row before I go jump all in?
Patricia:
Yeah, I mean, definitely. Before you jump all in you should make sure that you have a product that you're ready to sell on Amazon. Also having some inventory in place so that when you start selling on Amazon and customers begin buying you already have, have those products ready to really meet their needs. Then from there, really we will help provide you like, with different suites of resources so that you can really understand all the different mechanisms and processes around selling on Amazon. Including understanding Amazon Seller Central. That's where you really manage your business and how to do quality listings for your products. Getting started with Amazon Brand Registry and the Amazon IP Accelerator.
Bradley Sutton:
Yeah, that's good. Like a few years ago when Brand Registry came out, it was like kind of hard to get it, like if you were a newer seller because you would have to wait until you had the full trademark registered and it would take months and months and months. But now things are changed. Like even before day one of your selling, you could already have Brand Registry because they accept the registration process or the registered number even if you just applied from USPTO. So guys those are definitely you know, things that you guys should take in mind. So if you're on the fence just go ahead and sign up for your Seller Central Account. Get started, guys. We have a special forwarding link. It goes to h10.me/amazonstart.
Bradley Sutton:
That'll take you directly to Amazon to sign up for a Seller Central Account. So again, h10.me/amazonstart. If you have not gotten your Seller Central Account yet, now is the time to do it. Guys, go check my episode a couple of weeks ago on the Weekly Buzz, I had talked about a new seller incentive program. So there are some interesting details. Once you sign up for your Seller Central Account, you'll be able to see some of those details there. There are some incentives for those of you newer sellers. Some of you experience ones like maybe Tracey might get a little jealous. We didn't have these things when we started selling on Amazon, but Amazon is really trying to make sure everybody knows now is the best time to get started selling on Amazon. So get started there.
Bradley Sutton:
Now going back to Tracey tell me about your brand, because there's a name in your brand, but it's not your name, right? So how did the brand name come about? And then how did you come up with this concept then talk a little bit about it. But first, let me just preempt that too by saying I love people who come on the show and are willing to share their brand. Like Amazon sellers for some reason, they think they're part of the CIA or something. They don't want anybody to know about the product they sell or their brand. Like, "I sell on Amazon." What category? "In the products category." Like, they don't wanna give any answers. Crazy. So it's so refreshing to have somebody willing to share some details about their journey. So go ahead and tell us a little bit about that.
Tracey:
Thanks, Bradley. Yeah, I'm happy to tell you everything we know about our product. It's called Lilies of Charleston, and obviously because we're from Charleston, South Carolina and it's named after my great-aunt. So this is my dad's mother's sister. And how that came about is really because when dad was growing up, he spent a lot of time with Aunt Lily cooking in the kitchen and just kind of camaraderie, family, and camaraderie. And so when he was in the service cuz she had moved from Charleston when she got married to Philadelphia. We spent a lot of Sunday dinners with her and we decided that the second generation spending time, cooking, eating, it was just kind of a revolving door of people coming in on Sundays. Family members, friends, and church members. That's how we got the slogan. Our slogan is called "May You Never Feel Unwanted, Unloved, or Hungry." And all of the recipes are my dad's recipes. So we produce hot sauces, barbecue sauces, and seasoning mixes. And now we're going to be doing seasoned popcorn that has our seasonings on it.
Bradley Sutton:
So you're causing me problems, Tracey. Three days ago was day one of my new diet. I have a coach paying a lot of money for it. Health is a big thing for me for those who don't know, I had a heart attack last year, so I've been trying to focus on my health and stuff, but I'm looking on Amazon right now, and oh my goodness, like my mouth is watering here. I'm looking at your product here. This Hot Sauce. I love Hot Sauce and these are great product names, Ho-Latta All-purpose spice, and then Hissy Fit All-purpose Hot Spice. Are you the brainchild behind this or others in your family? Like who's coming up with these names? This is classic. I love it.
Tracey:
Thank you. Yeah, so a lot of the names, I came up with some, my husband came up with some so it's all a kind of a family effort and I promise you, you won't have to break your diet because all of our products are a hundred percent natural. Those two spices that you showed are very low in sodium. But they have a lot of flavors and then they're named after the Gullah culture. So cuz of the Gullah culture, we wanna pay homage to that. And that's what some of the names come up with like our hot mustard barbecue is called Hab Mussy
Bradley Sutton:
I love it. I love it. This is great. This is great. Now let's get back to Patricia, let's talk about the Black Business Accelerator program. I didn't realize that from day one, that's what you've been working on for the last two years. So you probably are one of the most knowledgeable people in the world on this program. So can you talk a little bit about this program and what it does and some of its benefits?
Patricia:
Yeah, definitely. Amazon in 2021 made a commitment of 150 million over four years to launch a black business accelerator. What we're really focused on is helping build sustainable growth for Black-Owned Businesses specifically product-based businesses. And what we really do is focus on how do we provide them with the capital business guidance, mentorship, and marketing support that they need to achieve their goals. I think the thing that I've loved about this program is the fact that we really work closely with the sellers within the Black Business Accelerator to design the program and make updates to it constantly. So we offer like a number of resources. I was really fortunate during my first couple of months at Amazon getting to engage with Tracey here, who has been a member of the Black Business Accelerator and probably who has experienced a lot of the different resources that we do offer.
Patricia:
But some examples of resources as a seller, if you're a Black-Owned Business you can access to strategic advisory services. You know, if you are starting to sell on Amazon, you're within Black Business Accelerator, you're able to access, Amazon specialists that are able to answer some on-demand questions as well as individuals that will support you in really designing a plan for your growth on Amazon. So really providing personalized insights and recommendations to help you succeed. We provide a lot of free training and educational support. So this is happening through Monthly Connects we have worked really closely with Amazon's Small Business Academy, also like in-person live events that we've done for the black businesses in there. You know, another thing that we're really excited about is the fact that we provide over 3000 promotional-like click credits for sellers who are selling on Amazon through the Black Business Accelerator.
Patricia:
Sellers are able to unlock these credits by becoming Brand Registered. So just what Bradley was talking about through IP Accelerator you can definitely submit your trademark and then that unlocks some credits by becoming advertising ready launching your first product campaign and then joining Fulfillment by Amazon helps you unlock over 3000 click credits to help you with any of your advertising needs. Sellers can also if they're brand registered access with Prime and so that's like our ability to add a widget on your direct-to-consumer website and get some of the benefits of being an Amazon merchant with FBA, and your customers are able to like just purchase through your D2C, but you still get the fast shipping from Amazon. We also provide a lot of different grant opportunities throughout the year. We recognize that access to capital is something that a lot of entrepreneurs in businesses are thinking about, so we offer different grant programs for businesses within BBA.
Bradley Sutton:
Now, how if somebody's interested, like what are the qualifications? What kind of documentation would you need to look at if somebody's interested to join this program?
Patricia:
Yeah, definitely. So one of the first thing that if you're interested in joining BBA, one of the first things we say is like, Hey on amazon.com/bba fill out our intake form. In there we'll ask you to make sure that you have an Amazon Professional Selling Account. And then we'll also ask, Hey, are you selling a physical product? The Black Business Accelerator is designed for Black-Owned Businesses that have a product that is ready to sell. Last but not least is that we do ask that all the businesses upload a valid minority-owned certification, and there are a number of different agencies that provide support with this. So you can look at the US system for award management. US Small Business Administration also does it, the National Minority Supplier Development Council also offers these certifications. And then SupplierGATEWAY is another option for SupplierGATEWAY. If any business needs support in getting this certification, we do provide subsidies for black businesses to get their certification through SupplierGATEWAY. So that cost isn't an issue for you to be able to get it.
Bradley Sutton:
Okay, interesting. Now let me just show, I was looking at looks like this is another benefit here, but as I was browsing one of the Lilies of Charleston Peppers here, or spices, let me just share my screen here. I could see that right here on the product page. You have it in a very prominent space that it is a Black-Owned Business here. So that, and that's like right above the ads and everything, so that that's kind of a prominent, whereas a lot of the comp competition might not have that. Back to you Tracey for a second here, how long have you been part of this program and how has it benefited you?
Tracey:
So we've been a part of the program, I wanna say maybe like three years. We were one of the initial classes when they first started BBA. And so it was an honor to be a part of that class to kind of launch such a really stellar program. They've been like, oh, I mean, I can't even get emotional. It's been like a tremendous, tremendous boost for our business.
Bradley Sutton:
Excellent, excellent. Now that's obviously one program, but you know, I'm sure you're using others I can already tell you that you're definitely using sponsored ads because I just ran helium 10 Cerebro on your listing and I could see that I could even see which keywords that you're targeting. So what other programs are, are using through Amazon like sponsored ads and advertising, et cetera?
Tracey:
Yeah, like you said. Well, we obviously use helium 10 as well, and we do like you said, sponsored ads. We do coupons we do SEO search engine so that we–
Bradley Sutton:
I'm just curious what's your coupon strategy? You know, like is it like evergreen, just so you can always have that green sticker that comes up in the search results? Or do you only do it like when you're trying to do a promo or around special buying days or, how are you utilizing that?
Tracey:
We do a couple of ways. So yeah, we do it mostly we don't do it all the time. So what we do is when we're trying to push, say a new product, we definitely do launch coupons. Sometimes we do a coupon, sometimes we do dollars off. It just depends on the advice actually are Amazon representative gives us, he usually will say, 'yeah, during football season or during the holidays", people like to see a dollar off because they're looking for that dollar amount to be reduced when they check out or if you wanna do a coupon that's gonna track more attention when we do like your ads. So it's a combination of like going back and forth of how we do time, do money off. And we do it, we try to do it strategically around either like barbecue season or football tailgate season, Father's Day, another big day. And maybe sometimes, like at the beginning of the year, some of that is more health conscious, like our hot sauce is 45 milligrams of sodium, so we might do something cuz that's the time when people are like, oh gotta get back on the diet so we'll do it just depends on what time of year it is.
Bradley Sutton:
Okay. how about what, what's your way of gaining reviews? You got some good reviews. I was looking at your products.
Tracey:
Yeah, actually most of our reviews are really organic. We don't do a lot of push for reviews because we want the product to kind of speak for itself and a lot of customers because our barbecue sauce is unique. You know, South Carolina is known for mustard barbecue and we do a lot of social media.
Bradley Sutton:
You don't understand every time you talk about that. My mouth is over here. I have back-to-back meetings for about four hours. I cannot get to any kind of food for a while, but, oh, you're killing me here. Sorry, go ahead.
Tracey:
So a lot of it is organic and a lot of it is based on the search engine optimization that we use.
Bradley Sutton:
Are you using Helium 10 Follow-up at all to–
Tracey:
Yes, we do.
Bradley Sutton:
Automate Amazon. That's a great feature from Amazon that requests reviews I don't know when that came, like maybe two years ago or something, but yes. But that's like super, super good. How about did you do a Vine on any of your newer products when you first launched?
Tracey:
We didn't do Vine. No. No. Most actually I should say, most of the stuff we do is all pretty much all Helium 10.
Bradley Sutton:
Hey, that's music to my ears. I didn't even realize you were a Helium 10 user. That's not a requirement to be on this show, but that's just added bonus right there.
Tracey:
Yes, exactly.
Bradley Sutton:
I love it. Now one thing that's super cool, I'm sure since you're using Helium 10, you probably have seen this at different weeks, but I think of a really fun thing for any third-party seller, especially whether they're starting out or whether they've been in business for a few years is like, get some brand recognition out there and your brand name Lilies of Charleston last week the search volume according to Helium channel was 1000. And then if you look at the Amazon Brand Analytics you know, it was one of the tops like million keywords that was searched. So, so you've got 1000 people out there per month who know your brand now, and they're going directly to Amazon to search for your brand. And I think that's cool too because even if you started off of Amazon like if you have a kind of like following out there, people might see your website, they might see your commercial or whatever, they wanna go to Amazon to buy your product just cause they trust Amazon and they won't get it within two days and stuff. And you could see there are 1000 people a month doing that for your brand. Right. So that's, that's pretty cool. Back to Patricia now. Anything more that you haven't talked about about the BBA program?
Patricia:
Yeah, you know you know, Tracey kind of just touched upon this about increasing discoverability of the Black-Owned Businesses within BBA is like utmost importance to us. So all year long, we have a dedicated storefront that is just focused on promoting different products from Black-Owned Businesses within BBA.
Bradley Sutton:
Let me see you here. I'm on just Amazon.com just literally the landing page Is that this up here on the top right? The Shop Black-Owned and Popular Brands?
Patricia:
Correct.
Bradley Sutton:
And there it is. Okay. So then if you're in this program, you can get on this, this page that has a pretty prominent position there on the first page.
Patricia:
Correct. Yeah. And you know something else that's like new this year and you touched a little bit upon it when you shared.
Bradley Sutton:
Wait a minute. Guys, I swear I'd never clicked on this until right now. I had no idea. I'm like, I recognize this person right here. Okay, I like it. I need to get your autograph. Now you're on Amazon's homepage. Look at this. Okay, sorry about that. But like, see that's on my bucket list trying to get on Amazon's homepage, a picture of me, but Tracey's got that, but not me.
Patricia:
Yeah, no, I mean, we're constantly looking for different discoverability opportunities for the Black-Owned Businesses that are within BBA. And you know, one of the initiatives about increasing discoverability, and you touched a little bit upon this when you were going through Tracey's page but this past year we did launch the Black-Owned Business Badge, which really helps customers more easily discover, shop and support Black-Owned Businesses that are selling an Amazon store. So it's, it's really exciting and like this is just the beginning. We're constantly, like I said, listening to the businesses in our program saying, Hey, like what do you need? What are the challenges that you're facing? And then exploring different ways of how we can offer additional resources, benefits, and tools to really help them achieve their goals.
Bradley Sutton:
So just in case, they miss it the first part, can you give that page where people can get more information on this program again?
Patricia:
Yeah, definitely. If you're interested in learning more about the Black Business Accelerator, I encourage you to go to amazon.com/bba. So amazon.com/bba. There you'll get information about the program and the different benefits and resources that we offer, as well as there's a link at the top for you to complete an intake form saying that "Hey, I'm interested in being part of this program. I wanna learn more."
Bradley Sutton:
Okay. Excellent. Excellent. Now, Tracey what's been your goals of selling online? There's no right or wrong answer here. Everybody has their own reason for what they do, but is this like a hobby for you? Is it something that's like, you want this to be your main income, this is something to supplement, this is something you're doing for kids college fund? I mean, what was your inspiration to be selling on Amazon?
Tracey:
No, this is a full-time job. And our goal is really just which Amazon's helped us achieve this is to become nationwide. We wanna be on everybody's table at dinnertime. And so that's what we're working to achieve.
Bradley Sutton:
Your product is this made in usa? Did you find a place in manufacture here? Do you guys do it at one of your own facilities or how do you produce your sauces and powders?
Tracey:
Yes. We have it all made in the US and we have several manufacturers that, or co-packers is what, what they're known as co-packers that do ours, some do our spices, some do our retai,l others do like food service. And we're now just working with our popcorn manufacturer that's local here in Charleston.
Bradley Sutton:
More and more people I think are thinking about, hey, how I wanna find a US manufacturer, especially if you're in the food business or grocery or supplements made in USA is kinda like what you need to look at. So like how do you go about finding somebody who could do this for you?
Tracey:
Yeah, a lot of research and talking to your state Department of Agriculture, and Department of Commerce because there are co-packers all over the country, but there are specialties that they do. And then there are some that work with only large quantities, so you really have to look for some that are gonna do like a smaller batch, smaller quantities until you can ramp up. But a lot of it's kind of Googling and talking to your state representatives to kind of help.
Bradley Sutton:
Okay. Now I'm putting you on the spot here, but something we do on this show, I'm not sure if you listen to other episodes, is we have a 30-second tip. We call it either the SST or the TST. Sometimes people go longer than 30 seconds, so we gotta take it to 60 seconds. That's why it's S sometimes. But is there something it could be about you know, how you're running your business, how you use Helium 10, how you manufacture, how you do your R&D about any possible thing you could think of, some kind of tip or strategy that you can give our listeners out there?
Tracey:
I think the best strategy I would say is to have like a compelling story. Patricia touched on this. When you're developing a product, you really wanna have like the best look and feel for your product and do your research I can't stress enough how much time I spend in the grocery store, just walking up and down the aisles, looking at the packaging, looking at who's new and looking at what flavors are coming out and what's on trend and getting newsletters or eblast it that kind of target my category and target other categories just to see like, "Ooh, that's a good idea. We should do that for our product." It's a lot of research, I would say. And coming up with a strategy and a design along with a compelling story. Cuz people, that's one of the things people say about our product. Oh, I love the story. And then we back it up with flavor.
Bradley Sutton:
Love it. Love it. Last question for you, and I'm gonna, I'm gonna, I'm giving this one to Patricia in a second here. But as I said on the podcast is here, one of the things I focus on is like health and I'm trying to get my health in order, but mental health and physical health, so number one, like what's your hobby or something you do to like, take your mind off of e-commerce this is your maybe full-time thing, but like, what do you do when you wanna like, take a little mental break? And then number two, what kind of healthy habits do you have, whether we're talking about physical health or mental health, like do you go to the gym, do you meditate, whatever. So those two questions for you first Tracey.
Tracey:
Okay. Ooh, that's a difficult one because you know, as an entrepreneur you worked 24/7 365.
Bradley Sutton:
Which is exactly why I ask everybody this cuz important people know that you gotta be able to pull away. So, perfect. Go ahead.
Tracey:
So like, my top hobby is probably trying to catch some sleep. That's the first thing. And then the next thing is, I really like movies, so I love to when I get a few moments probably late at night is turn on the TV kind of veg out, and watch a really good movie.
Bradley Sutton:
I like it. I like it. Patricia, what about you? What's your hobby and then what do you do to keep your physical or mental health up to par?
Patricia:
Yeah, definitely. I think my hobby is I love exploring. So during the weekends, one of the things that I love doing is either with my husband or with my friend, finding an area in Washington DC that I haven't had a really good chance to know. So it's almost like little adventures every weekend. And so that is something that's like a hobby for me. And then just for my mental health and overall health, I make sure that every morning I'm dedicating at least 45 minutes to myself. So either doing cycling, going to a bar class walking outside it's really about having that time to yourself. Cause I think once the workday starts, it's really easy for you to lose yourself and continue to immerse yourself just like in the work like I said, I'm super lucky to work on Amazon's Black Business Accelerator. I'm so passionate about the work that we do every day. So it's really easy for me just to like constantly be thinking about this 24/7. So making sure I have like dedicated 45 minutes to myself is important for me.
Bradley Sutton:
Love it. Love it. I said it was the last question, but I have one more for Tracey, just cuz I'm wondering like, do you ever just sit there and think about over the last five years, all of the hundreds or maybe thousands of units of your products? Oh yeah, definitely thousands that you have sold, and just like think like there are thousands of households in America right now. You know, like maybe it's seven o'clock at night and they're literally using this product that I created to enhance their lives and enhance their flavor. Like is that ever just like, kinda like blow your mind or have you ever seen it and thought about that?
Tracey:
Oh yeah, all the time. I think I'm always trying to figure out, okay, how can we get this into more people's pans? And when people come up to me and say, oh I have your hot sauce in my refrigerator right now, that never, never gets old. I love to hear that and how it's their favorite cuz it tastes so different. So no, it never gets old and that's something as you said, keeps you up at night cuz you're trying to figure out, okay, how can we get more people?
Bradley Sutton:
Yep. Yep. All right, so guys if you're not selling Amazon yet, you want to have those kinds of feelings, you know again, h10.me/amazonstart to get started. And if you're interested to find more information on the Black Business Accelerator program, go to amazon.com/bba. Thank you, guys, so much for coming on here. A historic moment, like I said, Amazon coming on our podcast. I love it. Love it. Thank you for doing that and thank you Tracey for coming on here I wish you the best of success going forward with your brand. And I'm gonna have to touch base with you offline to get some samples or something.
Tracey:
For sure.
Bradley Sutton:
I'm like kind of only eating chicken these days because of my health, and like, it's too bland for me. So I need some spice in my life to cook. So I'm gonna use some Lilies of Charleston.
Tracey:
Nice. Thank you.
Bradley Sutton:
Alright, we'll see you guys later.
Patricia:
Thank you so much for having us.
Tracey:
Thank you.
---
Enjoy this episode? Be sure to check out our previous episodes for even more content to propel you to Amazon FBA Seller success! And don't forget to "Like" our Facebook page and subscribe to the podcast on iTunes, Spotify, or wherever you listen to our podcast.
Get snippets from all episodes by following us on Instagram at @SeriousSellersPodcast
Want to absolutely start crushing it on Amazon? Here are few carefully curated resources to get you started:
Achieve More Results in Less Time
Accelerate the Growth of Your Business, Brand or Agency
Maximize your results and drive success faster with Helium 10's full suite of Amazon and Walmart solutions.