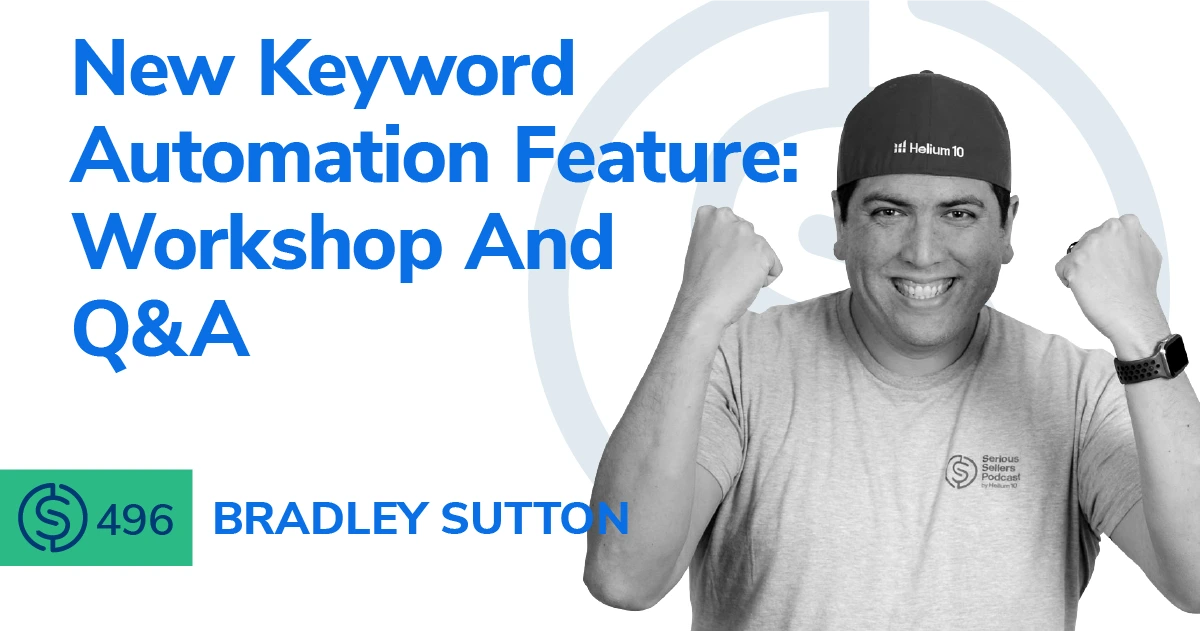 #496 – New Keyword Automation Feature: Workshop And Q&A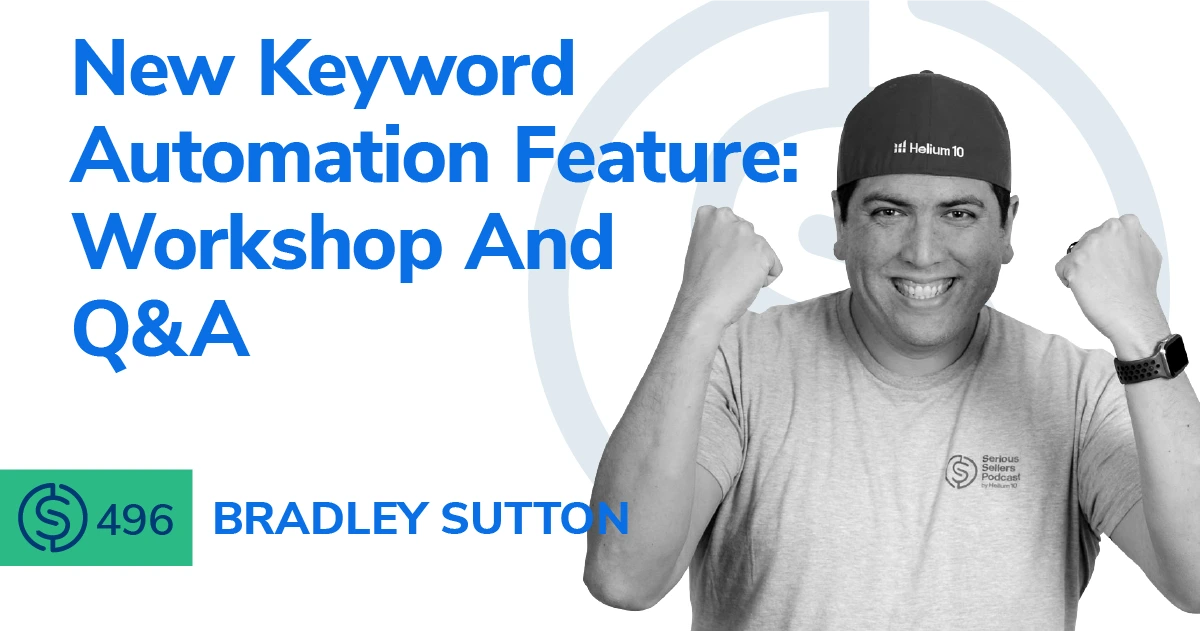 Video of the episode at the bottom
Are your competitors outranking you on Amazon? Discover how Helium 10's brand-new keyword automation feature is your secret weapon to gaining an edge in the Amazon marketplace. Our host, Bradley Sutton, will be your trustworthy guide to navigate you through the intricacies of this game-changing tool that can monitor your competitors' keyword rankings and advertising, saving you tons of time and exposing potential opportunities for your Amazon brand! 
As we explore the ins and outs of the new feature, together, we'll dive into the comparisons with Cerebro and discuss the customization options that put you in control. Not only that, but I'll also be answering your burning questions, from setting up competitors and product tables on your Helium 10 Insights Dashboard to finding organic report keywords that have led to sales. And because we value your input, we'll share how you can submit suggestions to Helium 10 to enhance your experience. Here's to bigger, better selling on Amazon!
In episode 496 of the Serious Sellers Podcast, Bradley talks about:
00:00 – Q&A And Keyword Tool Announcement
03:37 – Suggested Keywords And Insights Dashboard
08:56 – Keyword Tracking and Discovery for Products
12:34 – Upgrade To The Diamond Plan For More Features
17:56 – Setting Up Competitors And Ranking Keywords
21:12 – Replace Keyword Tracker With Insight Settings
25:13 – New Tool For Managing Amazon Refunds
29:05 – Submitting Suggestions To Helium 10
Transcript
Bradley Sutton:
Today we're answering all of your questions live with our monthly Ask Manny thing feature, plus debuting a brand new Helium 10 tool that's gonna save you hours of time every month by Automagically telling you what new keywords you or your competitors are ranking for that you didn't even know about. How cool is that? Pretty cool, I think. Are you afraid of running out of inventory before your next shipment comes in? Or Maybe you're on the other side and you worry about having too much inventory, which could cap you out at the Amazon warehouses or even cost you storage fees? Stay on top of your inventory by using our robust inventory management tool. You can take advantage of our advanced forecasting algorithms, manage your 3PL inventory, create PO's for your suppliers, create replenishment shipments and more all from inside inventory management by Helium 10. For more information, go to h10.me forward slash inventory management. And don't forget you can sign up for a free Helium 10 account from there, or you can get 10% off for life by using our special podcast code, SSP.
Bradley Sutton:
Hello everybody, and welcome to another episode of the series sellers podcast by Helium 10. I'm your host, Bradley Sutton, and this is the show that is our monthly Ask me anything where I go over like a new tool release or a new feature that maybe you guys haven't had a lot of experience using. That's what I'm gonna be doing today. I think it's gonna be a new feature I'm gonna be showing and then we open up the rest of the show to live questions from the audience. That is about Helium 10 or some, something that maybe you need some help with learning how to use, or maybe you want to know a strategy question that relates to Helium 10. We are going to get to all of your questions today, so let me go ahead and show the Helium 10 project X dashboard. Now I want you guys to be on the child view. I mean you can actually be on any of the views parent, child or skew but just to keep everybody on the same page, everybody click on child for me down here on your table, your product table, okay, and let's go to Keywords here on the right hand side. Hit keywords Right and then, once you do that, actually, first of all we got to make sure you guys have enough Competitors here.
Bradley Sutton:
So one of the first things I need you guys to do is Open up and just make sure you have competitors, because if you don't have competitors, this is not even gonna work, all right. So, for example, I open, I hit the triangle. All right, a right under the the little icon in the inside stashboard. You're gonna hit that little upside-down triangle to open up the Expansion. And then you're gonna want to hit competitors. All right, and right here you should show your five main Competitors of who you're competing with. And if you see something here and you're not the one who did it, that means Helium 10 is the one who, kind of like, assign your competitors. But you guys know your competitors the best. You can change this if you want. So, like, for example, somebody else on the who's in this account put this bat shelf as my competitor. You know what? I don't think that's my competitor. So I'm gonna hit edit competitors and I'm gonna get rid of that bat shelf and let's add another, coffin shelf, which I know is a better competitor. We'll add this one Right there. Okay, add selected competitors. There we go. All right, so I've got five competitors. So does everybody have competitors? Five competitors once you do.
Bradley Sutton:
I want you now to hit this new thing that you guys probably didn't even see. It's kind of funny. We don't even have a new, a new little tag on here. I want you to hit suggested keywords, all right. So so Casey asks when are we at in Helium 10? This is your regular dashboard, all right, so this should be on your dashboard, all right. So now, again, just just to show Casey where we're at. I'm on the main dashboard, I scroll down to the my products table and I'm in child view and I am now on keywords, and then now I'm going to hit this button, suggested keywords, all right. So hit suggested keywords, and this is something you need to have a diamond account for to fully get the full access, the competitors you might be able to to actually set up. But, yeah, you need a diamond account to be able to to run this. All right now, take a look here. Now. These are keywords that I believe I'm not tracking yet and what it's doing. This is what's cool, guys. This is what I've always been kind of like. Teasing is going to be coming to. Insights Dashboard is now automatically. We are kind of like running Cerebro in the back end for you, like on a daily and weekly basis, comparing you versus those five competitors that you added, and we are now letting you know.
Bradley Sutton:
Maybe there's a keyword that your competitor is ranking for newly that you're not. Maybe there's a keyword that they're going to advertise for that you're not, or that we show. Maybe you're not even indexed for. So this is just the start. So the first thing that you have to do hopefully you've done that a long time ago, because I'll show you some other insights that come from having Competitors. But now, once you have the competitors, you've got this suggested Keywords here, all right, and then take a look. This is going to tell you what, where these keywords are coming from. So look at this Gothic wall decor. There's three competitors who are ranking for it, all right, and here's the search volume and then the competitor performance score. This is kind of like a score based on how many competitors are ranking for this keyword and how high they are ranking for it. So, let's say, out of five competitors, all five of them were ranked in the top five. This competitor performance score would be like a 10 out of 10.
Bradley Sutton:
This is this is nothing new. This is literally directly from a Cerebro. All right, this is directly from Cerebro. What's going on in there? So this is not a new metric or anything right. It's just new that we're automating it for you. Now everybody has their own preference as far as, maybe, what keywords you want automated, like, like, or what keywords you want to have suggested. So what I want everybody to do with me right now is go ahead and go into customized settings. I want everybody to hit customize settings and this is what is going to be the basis of your keyword harvesting, or automation on what you want Helium 10 to inform you about. So you can, for example, put it's gonna check once a week. You could say you want the search volume to be at least 500, or maybe you want to, for whatever reason, put a Mac search volume Like. I don't know why somebody would want to do that, but hey, there might be somebody out there who wants to do that and if you are, if you can, you will go ahead and put a Macs when there the position rank.
Bradley Sutton:
This is. There's something wrong here. We're gonna change that. This is supposed to be the competitor feature here, so this is gonna be where their rank. All right, so this position rank means your rank. Forget that. This really means the rank of at least one of your competitors. So we'll change the language on this in a little bit, so it's a little bit clearer. Advanced rank filter. These are directly from Cerebro. We're gonna change the language here so it's more easy for you guys to understand. Basically, this means where at least how many of your competitors is ranking for. Remember, you put five competitors there, hopefully, and so you can put a minimum of one and a maximum of five here, right? So maybe you want to see keywords where at least two competitors are ranking high for right this advanced rank filter two or two again, we're gonna change the wording on here so it's a little bit clear. Maybe by the time you're listening to this podcast it'll be ready to go those of you listening to the replay and basically you're putting the rank range.
Bradley Sutton:
So if I put right here two, advanced rank filter number one, I put a minimum of two and then advanced rank filter two, I put between one and let's just say 25. That means I am telling Helium 10 for automation. I want you to let me know if there is a competitor. At least two out of my five competitors are ranking between one and 25 on page one for the rank. Now I think if you do this position rank, this might be yours, where maybe you're like, hey, maybe I am not. We're gonna change the wording. I know this is very confusing here, because we're just taking the raw data from Cerebro Position rank. I believe this is probably gonna be we're gonna have it here where it's my own rank. Like, hey, maybe I want to know the keywords where I'm not on page one, right, but my competitor is right, it's gonna be very, very customizable what you're gonna be able to do here, and later you're gonna even have the sponsored ranks right here. Okay, like hey, show me where I am sponsored. I am not advertising for this X keyword, but my competitor all of a sudden is at top of search. All right, will automatically get those keywords for you.
Bradley Sutton:
Now, these keywords are also based on my products. Like you know, you might not have certain keywords that you're tracking, that you are actually ranking for and you didn't even realize it. Like that always happens to me, like when I run Cerebro on my own listing, and you guys probably do too. You're like, wait a minute, sometime this month I was ranked five for this keyword that I didn't even know was relevant to my listing, right? Oh, let me start tracking that. Well, if you wanna start doing that, we're gonna automatically harvest those keywords for you as well and let you know right here.
Bradley Sutton:
So again, keyword suggestions based on my products. What you wanna put here is your kind of like qualifications here for what keyword. That is going to be All right. Your search volume, where your organic rank is in a certain range, and if you want the word count, you're like, hey, you only wanna see keywords that have at least one word, or at least two words, or three words, or four words. You will be able to do that and then, now, going forward, you're gonna get these suggestions automatically without you having to run Cerebro anymore. And just remember, guys this is something that I hope is already part of your process the manual version of this you should be running Cerebro on your product, like once every two weeks, to find new keywords that you're ranking for. That you didn't realize. You should be running your Cerebro, you versus your top competitors, to see where they are ranking, that you're not or that you need to improve on right. But now, instead of you having to manually run Cerebro and compare reports from last week to this week, et cetera, et cetera, we are automatically doing that for you. And then you are eventually again, if you have the Diamond Plan, you're not only gonna see that down here in the suggestions. You are going to get insights when those triggers happen.
Bradley Sutton:
Now, let's say you wanted to delete some keywords from this list. You're like, no, I don't need to see this anymore. That's gonna come here under deleted suggestions, ones that you delete. We're gonna definitely kind of like play with this a little bit, based on the feedback, on do you want this just to be snoozed, maybe, or do you want it permanently deleted? We can definitely work, work on that with you guys, but you know we need more of you into this tool, now that it's brand new, and working on it to let us know what kind of view you can get. So this is like something that's super cool.
Bradley Sutton:
I've been kind of teasing this for a long time that we're going to have this level of of automation where we're doing the heavy lifting for you. And then this is just the beginning, guys. I mean anything that you are doing in Cerebro and magnet and and you know, black box, just imagine those things us doing the work for you and just delivering the results. It's like you, you know, using Helium 10 almost as your virtual assistant, where we just deliver the results to you and you don't have to do the manual labor yourself anymore. So I want everybody listening to this podcast or listening to this live feed to go in number one.
Bradley Sutton:
Those of you with a diamond plan, and I hope you can see this If you have a platinum plan, you need to upgrade already yesterday to diamond to be able to get some of these features, like the historical Cerebro and now this, where we're even doing the Cerebro for you. But, by the way, I should probably throw a coupon If you guys are interested to try out the diamond plan. I'm not sure if this coupon code is going to work, but the one that for sure works is SSP10. So SSP10 gives you 10% off the diamond plan If you want 20% off for six months. I almost don't want to give this coupon code out because I don't think it's a good deal. But you can do SSP20 and save 20% off for six months. The reason why I don't think is a good deal is because after that now you can't use a coupon for like a year, and so it's going to end up being more expensive anyway. So I suggest just using the SSP10 and then try out the diamond plan so you can give this a try.
Bradley Sutton:
But I want you guys all working on this and hopefully you can see the value Now. You're going to know, hey, where's your competitors getting sales from on keywords that maybe you didn't even have on your radar, where are your competitors focusing their PPC spend that you didn't even realize, and you're going to see which ones your index for. Like, I don't think the index checker is working yet. This is something that's completely in beta, but, as you can see, there's going to be a column here where maybe you're like, wait a minute, gothic wall decor, I am not index for this keyword, so it might give you an indication that, hey, I need to probably get my, you know, get my indexing fixed on this keyword in the in the first place. Alright, alright.
Bradley Sutton:
So now for the rest of the show. This is going to be your show, guys, where you can ask me any questions, and let me go ahead and go back up and see what kind of questions we have. Remember, it could be questions about this. It could be questions about any tool in Helium 10 or how to do something. That's why I'm here to help. Like once a month, we actually make this open to everybody, but this is something we do actually every week in our Serious Sellers Club group of the six, seven and eight figure sellers. But once a month we go ahead and open this up to everybody and put this on the podcast so you guys can all benefit.
Bradley Sutton:
Alright, let's see. I saw an older video where you mentioned that subject matter would post in Seller Central. Even if you can post it, can't post it manually on the listing. Is that still the case? For very few categories now Amazon has taken it out of a lot of character. I actually announced and I was mistaken, I thought Amazon took it, took it out of every category, just because of all my listings, like in in the home and kitchen, had it taken away. But I was just on a call, like three days ago, with somebody who's selling in the jewelry category I believe jewelry or accessories, clothing and accessories category and they had subject matter right there and they were able to definitely update it with Helium 10 listing builders. So there might be some, some categories where you still have access to the subject matter, right?
Bradley Sutton:
Another question here from Rashid Dear Bradley, do you know how to find organic report words that made sales? Alright, so in Helium 10, what we have is that's exactly kind of like what this is for. Alright, what I would, I just demonstrate because you know in Cerebro. You know, first of all, you don't know the exact organic sales that come from keywords outside of about 30 to 40 percent that show up in search query performance. Okay, so the ones that show in search query performance, you usually about 30 percent of your search sales. That's because it's those sales that happen within 24 hours. So you can kind of see there and that's going to come to Helium 10 eventually once Amazon opens that up in the API.
Bradley Sutton:
But the more holistic way you can get it done right now I've seen more keywords is just looking at the keywords for somebody's like in the top 10 positions and the search volume is like more than five or six hundred, because it's usually you're. You didn't get to that position unless you had some, some sales that were coming from organic search, right, and so that's just one of the ways that you can find out which keywords are bringing sales to a competitor is by looking at their organic rank for the higher search volume Keywords, which is what you've historically been able to do in Cerebro and now you can do on the inside dashboard. All right, tomer says. Tomer says what does it mean based on my product? Does it mean that the keyword improved in ranking? No, so, for example, you're already tracking keywords, probably in keyword tracker, and if one of your keywords goes up or down, you know we'll let you know based on that insight, like like you've already had that. We've had that for like three months where if a keyword goes up by a certain percentage that you specify or goes down, we'll give you a message. But there's other keywords that you might not be tracking already in keyword tracker because you didn't realize they're important. And so what you do is you specify the insight to let you know when you are ranking highly for a keyword that you were not tracking already, and then you specify exactly what you wanna see, or when you wanna see that happen, like if it's a minimum X number of search volume, if it's within a certain rank range or it's just ranking at all, you wanna get a notification on. You set that and then we'll send that as an insight and then you can choose to either track it or ignore it in your keyword tracker.
Bradley Sutton:
Dennis says how do you set up competitors for your products? All right, let me just show that to you one more time here On your Insights Dashboard. You go down to your products page, Dennis, all right, and then you hit competitors okay, and then you either have to do edit competitors if there is none here, or add competitors if there's none, or edit competitors here and then you choose which ones you want to use right here and that'll give you the competitors. Dennis, all right. It says I have a listing that shows I am ranked on many keywords in the top five. By the way, everybody, whatever you're watching this on, help the algorithm out. Give it a like, give it a thumbs up or a like or a super like or something on Facebook, YouTube or LinkedIn, whatever you're watching this, just to help the algorithms out. Anyways, Facebook user says I have a listing that shows I am ranked on many keywords in the top five.
Bradley Sutton:
When I click the arrow to show the search through Amazon, none of my listings really show up. Suggestions on why? Well, you've got to make sure that you are, first of all, like. If you're outside of the country, make sure that you have a zip code that is inside of the marketplace you are looking at Like. So, if you're tracking Amazon Germany, you've got to make sure that your regular Amazon, you know, shows Germany, just to make sure that you're indexed, all right, and also to make sure that you are looking at the right search results and, at the end of the day, what you see in Keyword Tracker, if you see it fluctuating a lot, you need to turn on boost, because boost checks different browsing scenarios.
Bradley Sutton:
It checks different addresses, it checks, you know, like if you're logged in, logged off. It checks a whole bunch of different browsing scenarios, cause, remember, you could be showing up differently based on where the person is searching, what kind of browser they're using, et cetera. So to turn on boost, we're checking 24 times a day all those different browsing scenarios and if on your computer it's showing that you're not ranked, I guarantee what you'll see on boost is some of those checks. It'll be a blank, meaning that, yeah, sometimes you're just not showing up in the search results. All right, we're gonna bring somebody up from the green room here with a question How's it going, Josh?
Josh:
had mentioned about being able to see how competitors are targeting it using PPC. Is there anything PPC specific in the tool that I missed when you were walking through it, or how can we?
Bradley Sutton:
Yeah, it's not that part is coming, so the first phase one is we're showing you the organic rank. Phase two, which will be coming soon, probably next week or the week after, is the same exact thing that I showed you guys on the organic rank. There will be a separate settings where you're gonna be like show me in the sponsored rank where I'm ranking or not ranking per se on this keyword in sponsored, but my competitor or X number of my competitors are all ranking for it.
Josh:
Because I was gonna say that being able to see sponsored next to organic is helpful for our own, but to be able to see that for other teams, yes, yeah, so it's gonna be yeah, we start with the organic and then we'll be doing the sponsored next.
Bradley Sutton:
Cool thanks.
Josh:
Thanks, Bradley.
Bradley Sutton:
All right, no problem. Edison from YouTube says will this function replace the keyword tracker tool? It doesn't necessarily replace it, but it kind of does the work for you. So instead of having to go I didn't show this function today because it's already been there, remember you know what I'll just go ahead and show it right now. So, Edison, what you can do for the keywords here. This is actually showing my keywords that I'm tracking in keyword tracker. All right, so it's actually right here on the dashboard, like I technically don't have to go into keyword tracker. So in that sense, I guess you can kind of consider it replaces a little bit, but I still like going into keyword tracker.
Bradley Sutton:
But the beauty about this is you set up the insights, all right, so that instead of having whether it's on keyword tracker or whether it's here in the Insights Dashboard, instead of having to go every day and check this, you set your insight to trigger when. Let me show you where that settings is here. Hold on insight settings. Let me show it here keyword types. All right, you're gonna hit insight settings, you're gonna hit keywords and then you're gonna hit the three insight types and then, when the organic keyword drops or your sponsored rank drops or your keyword suggestions based on competitors, and you can actually customize that by hitting the settings here for your competitors. All right, so you can actually get the information. And it looks like it's not customizable. Yeah, I thought it was. I'm pretty sure there's a way to customize it of when you get an insight that your organic keyword drops or raises, that's gonna be the new one that's gonna come up to when your organic rank increases, like maybe you were on page two, you wanna know when you get on page one, et cetera okay.
Bradley Sutton:
Hope the answer is your question, Edison, all right. Colby says will Helium 10 ever be accessible via API? Could be, again, pretty much, I think for some of our larger customers they have API access for, like enterprise customers. If it's something that will be available on the backend for just any platinum or diamond or elite member, that's to be determined if that's gonna be available. But just like I told people who are asking for the KSA marketplace, you gotta let your voice be heard. So make sure to submit a suggestion in Helium 10's dashboard of say, hey, we would love to have API access. All right, let's keep going here.
Bradley Sutton:
Miko Lodge says will Helium 10 have listing builder for UAE? I sell in the USA and UAE would make it awesome to be able to redo my UAE listings in the listing builder. Yes, that is coming. I actually have that available in my Helium 10, but I don't think it's available to everybody yet. So that's coming imminently where it's not gonna be too much. I mean you can technically do that, miko Lodge. Now, all right, listing builder Like build your listing for UAE because it's English. It's still English and you would just put your UAE keywords in there. But the real benefit is gonna be once we have it open for Japan, for example, like you maybe ran Cerebro for Japanese keywords, right, but you don't have the slightest sense on how to create a Japanese listing, even though you have the keywords, because you don't speak Japanese. Well, now, soon you'll be able to push a button and create a Spanish listing for Amazon Mexico, create a Japanese listing for Amazon Japan, et cetera. So that's definitely coming for you, and I would assume that would include UAE as well. But if, for some reason, uae is not showing up on the listing builder dropdown, just send that to customer support and maybe they haven't released it yet and just ask them when that's gonna be released.
Bradley Sutton:
All right, let's say Rasha is asking a question about Amazon refunds. We'll have to check on that. We're gonna keep this to like the Helium 10 related questions here. Now we have a new refunds tool that actually is gonna go out and look Like if somebody is asking for a refund outside of the window I personally don't know what that window is, I thought it was 30 days that Amazon customers can do a refund and then, if Amazon refunds them outside of the 30 days, I believe we've got the new refunds tool that will go out and make a case. So if you guys are interested to get in on that service, let me show you. I don't have the exact link right here, but let me just show you guys how to find that. On our website you just go to the Helium 10 dashboard, go to tools and go to operations, and then you're gonna wanna hit managed refund service. All right, so that's different than refund genie, where you have to file everything. Go to manage refund service and get a free demo of it, and with this tool you're going to be able you're going to be able to stuff that has to do with Amazon logistics and all kinds of different scenarios where Amazon might owe you money, including what you were talking about, where Amazon might have refunded a customer when they weren't supposed to. We'll be able to go ahead and show that for you. All right, let's keep going here, all right. Facebook user another person who did not click the link so I can't see their name.
Bradley Sutton:
So, since we're talking keywords, one of my competitors is Amazon's Choice for 16 keywords with a total search volume of about 72,000. That seems like excessive favoritism. Will they ever level the playing field? Well, I mean, first of all, like Amazon's Choice is always changing. Like they're doing tests now where instead of Amazon's Choice it'll say overall pick. Like maybe you guys have seen that sometimes. I don't think it's favoritism at all. Like they, amazon definitely has a formula. How that formula works nobody can tell you because sometimes it makes zero sense, right. Like I've seen an Amazon's Choice in the coffin shelf be one that I know is not even getting sales for coffin shelf. Literally it's not getting sales for coffin shelf. Even the Amazon data will say it and somehow it gets Amazon's Choice. So I don't think anybody knows what the formula is, but they do have a formula and I don't think it's favoritism necessarily. That's actually why Amazon has been doing some of those changes they've been doing because they're trying to not show favoritism. They've been trying to show the reviews in a different way so that maybe some of the older sellers who have tens of thousands of reviews they don't have as much advantage. The older sellers, they hate that new way that reviews are showing sometimes because it takes away their advantage, right. So Amazon's trying different things but I don't think Amazon's showing favoritism per se.
Bradley Sutton:
Ryan says Helium 10 Sell and Scale was epic. Any plans for another? Oh, yeah, for sure. We wanna do something with Sell-In Scale. We couldn't do one this year or around this time because, as you saw, amazon did Amazon Accelerate this month and they've got Unboxed right after that and like there was like a million events around this time, which is when we had done Sell-In Scale last year massively successful, and we definitely wanna do something for Sell-In Scale soon, potentially maybe some different continent We'll have to see about that, you know might take the Sell-In Scale show on the road, as it were.
Bradley Sutton:
Another user says "'How can you submit suggestions to Helium 10?" Great question. Let me show you exactly how to do that. Go to the top, and where is it". I think it's right. Oh yeah, right up here. This button here. Okay, first of all, guys, this is something that you might not have seen before. This is powered by AI. Instead of always looking at the, instead of always opening up a chat down here, hit this button and you can ask questions like like, watch this. I don't even know if this is gonna work, because this is brand new. I'm gonna say how can I check what keywords my competitors are ranking for? Let's see if that even works. All right, and if I do that, what's gonna come up? Let's see. Watch this fail on me just because AI doesn't like me, cause I always bad mouth AI. Oh no, there, it is right there. Look at that. To check what keywords your competitors are ranking for.
Bradley Sutton:
Use Helium 10 Cerebro. Here are the steps. So, guys, yeah, this is pretty cool, but anyways, right here at the top, before you hit AI or before you ask AI a question, this comes up and one of the options says I have an idea I want to share with Healing10. That's what you guys click. And then, hey, I want to have the KSA marketplace. Hey, I want to have API, like you guys said. Hey, I wanna have sponsored ads faster and in Insights Dashboard, whatever you guys want, hit that button. So again, just to show you where it was, on the very top of your screen, right to the right of what's new, there is this like kind of like a magnifying glass, or I don't know. This is not a magnifying glass, it's kind of like it has stars on it, mixed with a magnifying glass.
Bradley Sutton:
Just hit that and then that's how you can find that button. All right, question from YouTube. I don't know why this is turning into an Amazon or a Helium 10 suggestion. It's not me. You guys should be doing this to you. You should be submitting it over there, but we'll discuss it here. Modar says I'm tracking competitors on X or in a daily basis for changes and reviews BSR active sellers and I have a dream that, oh, wait a minute, wait a minute, Modar, you can do this. Modar says again let me read the question for the people listening to this and who can't see it I'm tracking competitors on a daily basis for changes and reviews BSR active sellers and I have a dream that one day, Helium 10 can do this for me. I'm gonna bring Josh back up to this stage. I'm gonna give him a quick quiz here. All right, Josh, you're a power of Helium 10 user. Did you or did you not know that Modar can actually do this already?
Josh:
You can do it using markets.
Bradley Sutton:
Yeah, Market Tracker is definitely one, but there's a easier way. Even Do you know about that one? But yeah, you mentioned something I didn't. I wasn't even thinking about it Like Modar, you should definitely do that. On Market Tracker, you add your competitors to your market. You can definitely see their BSR changes and things of that. Josh is thinking all right, all right, josh and Modar are gonna learn something right now. Here we go, guys. All right, let's go to the Insights Dashboard Once you're tracking your competitors, which is what I showed you, guys, how to do today. It's not just for the keywords. All right, guys, we are going to show you what is all of these things. If something changes, not only if their BSR changes, but if their monthly sales, like, drastically change, get this. If all of a sudden, they add a coupon like some of us like to check our competitors like oh man, my competitor added a 10% coupon, I better go ahead and add a 10% coupon too. We're gonna let you know. So if you are tracking competitors in your Insights Dashboard, Modar, all you have to do is set up your insight and you will know if any of those things have changed and you no longer have to track that next, right, like you're saying every day.
Bradley Sutton:
And then Jake here mentioned another tool. So Josh Menzin, Market Tracker. Jake mentioned Listing Analyzer. Yes, listening analyzer too. You can track that, but still you have to like click stuff right With Insights Dashboard. You just set it up. That's the beauty about Insights Dashboard. It's about automation right, instead of you having to click stuff and you do the heavy work. We live in 2023. So heavy work is considered three clicks of a mouse. That's heavy work for a lot of people. I understand. Time is money, but instead of you having to do that heavy work, we're doing that work for you. And look at this Modar says can you believe that I used to do this tracking for over 40 ASINs? This is a lifesaver. All right, I'm gonna bring back Josh for one more quiz or one more question. All right, Josh, instead of saying wow, can you believe that, I would say how cool is that? And then you would say
Josh:
I don't know where you went, but pretty cool, I think.
Bradley Sutton:
There we go. Josh got that. I know he's a podcast listener. All right, so, Modar, instead of saying wow, can you believe that? The phrase goes how cool? Is that? Pretty cool, I think. All right, cool. Any last questions for the day, guys, again, just to recap, we went over adding competitors to your Insights Dashboard and setting up the setting so that you can get insights which are coming next week on the key actions that are happening on your keywords, so that you no longer have to run Cerebro once every week or once every two weeks. You no longer have to check Cerebro on your own product to see if you're ranking for new keywords that you didn't realize. We're doing all of that work for you, unparalleled in this industry where you have that kind of automation. So really great that the team added that and I hope you guys get a lot of benefit from that and all right. Well, guys, thank you so much for joining us.
Bradley Sutton:
Again, if you are a Serious Sellers Club member, look out for your email. You get invited every week. Or if you're an elite member, elite members and Serious Sellers Club members get access to this. If you're wondering how you become a Serious Sellers Club member, you are automatically a Serious Sellers Club member if you have had over $500,000 worth of sales in the last year and you are on a Helium 10 account that's connected to your Amazon account. If you're not getting these emails, make sure to reach out to support and they'll hook you up with the private Facebook group that we have for it and then get you in there right away. We do this every single week, usually on Mondays, and then once a month, like this time, we do an extra one that goes out on the podcast. So thank everybody for tuning in and we will see you, Serious Sellers Club members, next week and the rest of you guys at the end of October. Have a great rest of your week. Bye-bye now.
---
Enjoy this episode? Be sure to check out our previous episodes for even more content to propel you to Amazon FBA Seller success! And don't forget to "Like" our Facebook page and subscribe to the podcast on iTunes, Spotify, or wherever you listen to our podcast.
Get snippets from all episodes by following us on Instagram at @SeriousSellersPodcast
Want to absolutely start crushing it on Amazon? Here are few carefully curated resources to get you started:
Achieve More Results in Less Time
Accelerate the Growth of Your Business, Brand or Agency
Maximize your results and drive success faster with Helium 10's full suite of Amazon and Walmart solutions.