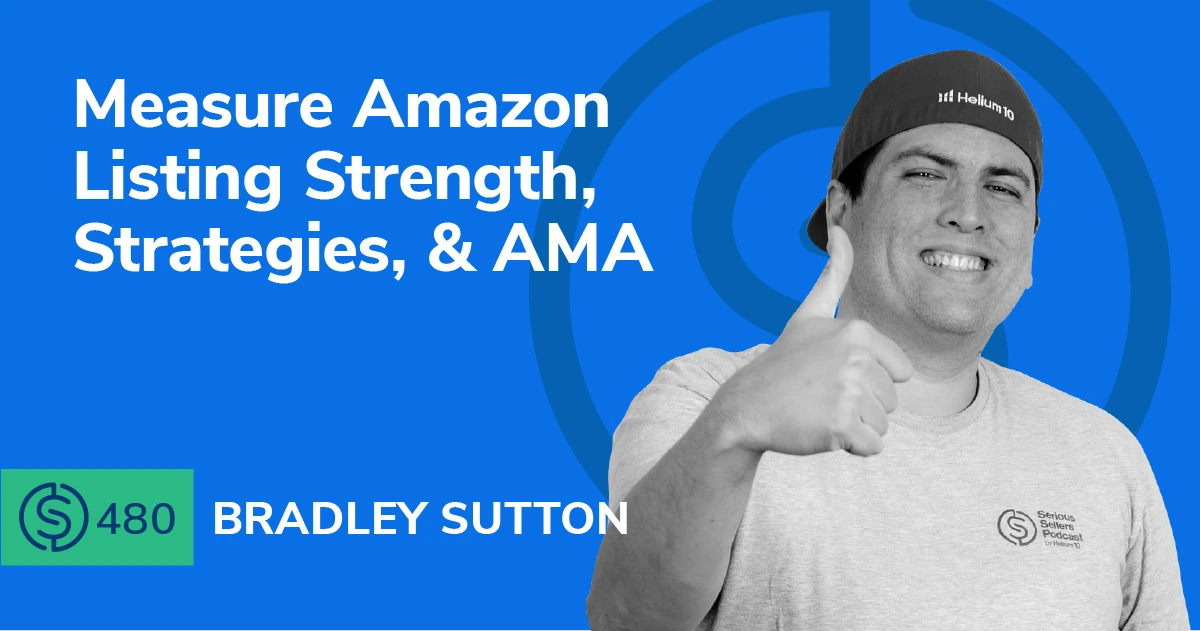 #480 – Measure Amazon Listing Strength, Strategies, & AMA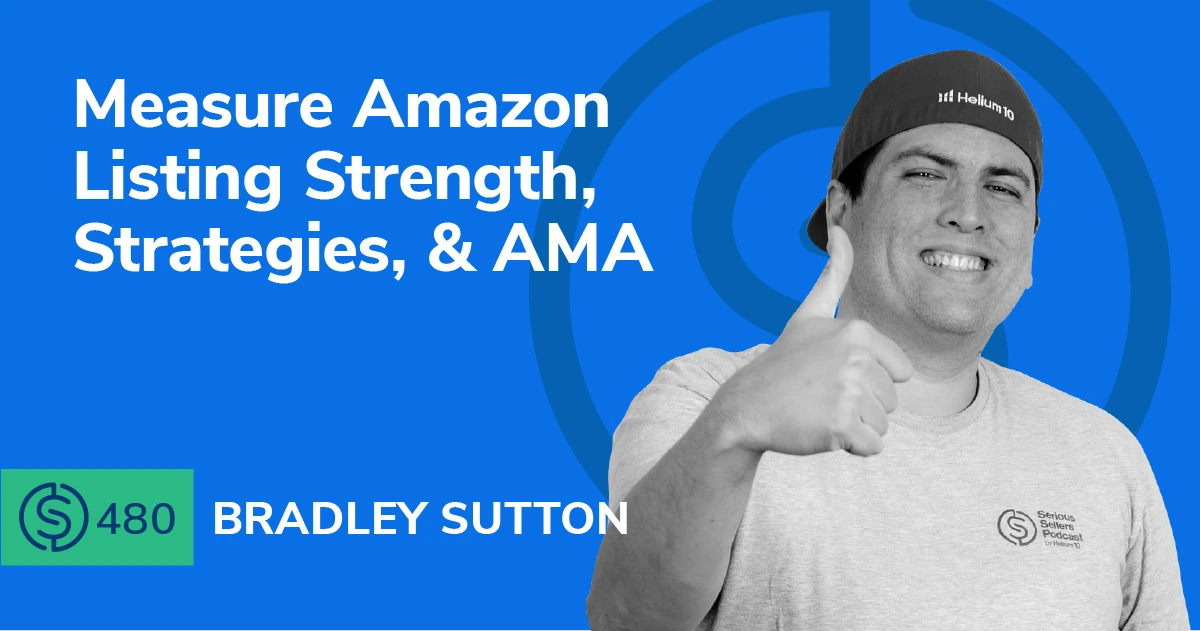 Video of the episode at the bottom
Welcome to another special episode of the Serious Sellers Podcast which is our monthly training and live Ask Me Anything with Bradley Sutton. Our focus today would be how to analyze listings, whether your want to get into a niche or maybe compare yourself to your competitors. Bradley will show you a quick way on how to look at their keyword strategy, their listing optimization strategy, and most importantly their listing image strategy as well. Let's hop into it!
In episode 480 of the Serious Sellers Podcast, Bradley discusses:
01:22 – Using Helium 10's Listing Analyzer Tool
02:55 – Cool Features Inside This Tool
04:37 – The Category & Subcategory BSR
05:22 – Traffic and Conversions Graph
06:29 – Compare Key Metrics Across ASINs
06:47 – Listing Quality Score Analysis
13:03 – Media Comparisson Feature
15:28 – Export Images Of Your Competitor's Image
16:52 – Another Way You Can Run Listing Analyzer
17:39 – Product Research with Listing Analyzer
21:18 – Q&A with Bradley
21:45 – How To Send Tool Ideas
22:19 – Profits Tool Questions
25:25 – Why Is Your Bullets Too Short?
25:50 – Draw Graphs For Product Sessions
27:26 – Compare Key Metrics Data Automation
Transcript
Bradley Sutton:
Today we talk about how you can analyze your competitor's keyword, listing optimization and image strength and strategies, along with answer all of your questions you gave live on the show. How cool is that? Pretty cool I think.
Bradley Sutton:
Did you know that just because you have a keyword in your listing, that does not mean that you are automatically guaranteed to be searchable or as we say, indexed for that keyword? Well, how can you know what you are indexed for and not? You can actually use Helium 10's Index Checker to check any keywords you want. For more information, go to h10.me/indexchecker. Hello everybody, and welcome to another episode of the Serious Sellers podcast by Helium 10. I'm your host, Bradley Sutton, and this is the show that is our monthly Ask Me Anything and training. So welcome one and all to the show. We're gonna be going over how to analyze listings, especially maybe you're gonna get into a niche or maybe you want to compare yourself to your competitors. So a quick way to look at their keyword strategy, their listing optimization strategy, and in my opinion, almost more importantly, or one of the most important ones is their image strategy as well.
Bradley Sutton:
Without further ado, I'm gonna, I'm gonna hop in here. Have your product in mind. Find your top keyword on Amazon where you are on page one. Alright, let me show you guys. I obviously picked Coffin Shelf, you know, for me, and I ran X-ray on the page. All right. Now the very first item you pick, I want you to pick your product. All right, so I chose our coffin shelf first and Manny's Mysterious Oddities Coffin Shelf. You guys see that here? I put a check mark and then I want you to choose like 5 or 6, 4, 5, 6, whatever of your main competitors. All right? So I'm you'll notice here that I am not choosing like these makeup shelves because to me, that's not my competitor. Are they competing with me on page one for my main keyword? Yes, but I think that that customer avatar is a little bit different.
Bradley Sutton:
I'm just trying to hyperfocus what my direct competitors are doing. So, so black coffin shelves is what I'm choosing, and it has to be very similar and, and form function and price. And I, I want it to be selling a little bit. Like I'm not gonna, I'm not gonna choose, oh, I didn't choose this guy here. I should have chose him. He's selling like 147 units, but I'm not gonna choose some of these. Some of these others, matter of fact, I might run this again. The, some of these other guys are actually selling some decent amounts of units. Well, that gothic life, I already had, let me see, I didn't choose this one here. Spooky look, spooky looky life. All right, come on guys. With these, with these, some of these brand names that people are choosing are, are not great.
Bradley Sutton:
All right? So once you guys have it chosen, let me know in the chat if you guys have about five or six or seven competitors. And then what I want you to hit is run Listing Analyzer. All right? Once you've got that hit Run Listing Analyzer, all right? And then it's gonna open up Listing Analyzer in another window. So now you guys should all be looking at a screen that kind of looks like this. Now, if you had connected your Helium 10 account to to your Amazon account, you're gonna have some extra information here, such as the Act, the actual sales of your product at the top of the screen right Now. Another thing that if you only have one sku, it's probably gonna show up here. A cool thing that this is good for, but your Insights dashboard can do it too, is that it's gonna track your alerts, right?
Bradley Sutton:
So it's going to track the alerts of when things happen to this exact ASIN or this exact SKU. So like for example, if you change your price on July 4th, right? What you're gonna see is a.here on July 4th, and then you'll be able to see, oh man, my sales went up or my sales went down, you know, and then take action. Let's say you did an image change and you want to know when it actually registered on Amazon and then how things happen afterwards. Well, that's gonna show up. So that's the benefit of having alerts set up on your account in Helium 10 is on this chart here in Listing Analyzer. It is going to graph out when these things are are happening. Alright, so now the next step that we are going to go over here is, lemme see if this other one went.
Bradley Sutton:
Alright, there it is right there. Let's scroll down. Here is the subcategory and category B S R. Now, I don't think I could see this on Amazon. Let me just double check and look at the B SS R in Amazon here. And let's see, I don't think, yeah, it's not, when you look on Amazon and use your Helium 10 Chrome extension, it's not gonna show you the subcategory B Ss R. So Listing Analyzer is one of the only places where you can actually see what your subcategory at the lowest level is. So it gives you home and kitchen 175,000 here on July 5th. And then it says floating shelves 644 here on July 24th. It says 281 and 1089. So it gives me a little visibility into my subcategory BSR. Now, if I had chosen the right SKU, which I didn't, you guys should see under traffic and conversion, some really cool graphs, it's going to show you the history of your sessions, page views, and unit units ordered.
Bradley Sutton:
So this is kind of important to see what your sessions rate is, what your average page view rate is. I'm gonna have to check this which data points it's actually pulling from. And then your units ordered your average order session rate. That's pretty abysmal as you can see here. 2%, 3%, that is no bueno. All right, that's not good. All right, so this shows me like how it was over time, and I can actually choose different dates. So this is kind of cool because when you're looking at this in your seller central dashboard, or perhaps other parts of Helium 10, you might not see it fully grafted out here. All right? So it's really cool to see it graphed out, like what kind of conversion rate you are seeing. Again, this is on your product. You don't need to have your own product to run listing Analyzer.
Bradley Sutton:
And I'm gonna show you guys how to do that in a couple seconds here because you guys are gonna give me an idea of what I should do. Alright, so now this is where we start getting into the nitty gritty here, where it is this section that's called Compare Key metrics across ASIN. So these are all of the products that I had pulled in from X-ray. It has my product and the other product. So I can see, hey, what's the listing quality score of these products? This is just the the Helium 10 algorithm that is based on what you know, users said was the best practices, right? I could say, Hey, where's the seller region from? Wow, okay, I see three of these coffin shells and manufacturers are from USA, there's actually an Australian one here, and then one from China.
Bradley Sutton:
I could see, hey, are, is everybody in the same category and subcategory? Look at this. Not all are, here's one that's in standing shelf units. So it might be interesting to, to see for this seller, do they have a better conversion rate or, or not a conversion rate, but a better rate of sales. You know, due to being in that other category, what's the price? If I wanted to go in and say, wow, look at this guy who's so cheap. Has he always been this cheap? Has he always had this price of $21 and 99 cents? Well, I can click this graph here and now instantly I can actually see how let's go, let's go all time. Let's go one year. And I could see, okay, well, he was actually 23.99 before he went up to 29.99. He was 23.99 for months, and then starting in June, he dropped down to this 21.99 price.
Bradley Sutton:
So I could, I could see that if there is an inventory levels available, we'll see that here. I could see the history of his reviews. I could see the size, this is a good one. Like, let's say everybody was the same product as mine and I knew they were the same size. Instantly I'm gonna see like, wait a minute, why, how is this one person able to get their product in a box that is nine inches wide or something like that, you know, when everybody else's is seven inches. So that's gonna give you some, some insights there as well. Another thing that I like to look at is the age of the listing. I'm like, man, here, this guy's brand new. He's only launched this product two months ago, but everybody else is kind of mature listings. Hey, everybody's got this number of images.
Bradley Sutton:
Now what I'd really like to see though, guys, is this one on the end here where it's top 10 keywords and top 10 search volume. So if I'm looking at this, I can kind of see the strength of me compared to my competitors, right? And look at this, look at this. So I've got 31 keywords that are in the top 10, and if I add up those search volumes, it's up to 9,000. But then look at this competitor. He's top 10 for 63 keywords. And if I were to add up those search volumes, it's 32,000. So maybe I wanna see which competitor is this. Now look at this guys, take a look here.
Bradley Sutton:
This guy is selling 212 units. He's almost double a lot of the other competitors. And now instantly, I kind of know like, well, okay, now it makes sense. Look at him. He's 212 units per month. But part of that has got to be because he is ranking for so many keywords in the top 10 for more than everybody else, all right? I'm doing pretty good. I'm ranked for 31. You know, he's better than others, but these guys are getting probably a lot more visibility. So that's how you can kind of see the strength of the niche. As I go here, I could see what's the average listing quality score. All right. Hey, nobody, look at this, nobody it's telling me that nobody has symbols or emojis in their listing. So everybody's doing the right thing. Everybody's got five bullet points. So these people obviously know how to make Amazon listings.
Bradley Sutton:
Everybody's got the first bullet point capitalized. The first letter of the first bullet point, I should say. Let's see, everybody's got at least 1000 characters in the description or they've got a plus content. Only one of them though has video in their listing. All right? So there, there's maybe some opportunity I see there, all right? Everybody's got more than 20 reviews. So this kind of just tells you the strength of the listing and I could actually go in one by one and then take a look at some of these ASINs one by one a little bit more. All right? Now this is another part that I really, really like. There's not much going on here in the coffin shelf, 'cause Coffin shelf is a very small niche, right? But this is this is showing me the total shared keywords of these products.
Bradley Sutton:
In other words, the number of keywords where at least two of these ASINs that I entered here are organically in the first seven pages. Now, here are some of the top keywords I believe to be listed here. It's gotta be, you know, at least some of them are in the at least like three of them are in the top right or something like that. Or in the top 10, if I'm not mistaken. Now, this is where you can see the strength of your niche. So these are the top keywords in the niche. And now what I'm looking for is on this right hand side. Now, th this, this has been here since last year, guys, this is nothing new, but I think a lot of you guys haven't been using this as much. But take a look. These numbers represent where we are ranking organically.
Bradley Sutton:
So what you wanna see is who's got the most light green numbers, right? That means that they are really crushing it. Now, if a whole bunch of people have a bunch of dark numbers, then that means that they're not doing very well, right? And then look at this. Look, look at this guy here of the top keywords of the niche. Every single one, he's in the top 20. Look at that. He's ranked seven, he's ranked 8 7, 19, 19. So what you would want to see here is perhaps a bunch, a few of the competitors that maybe are not doing as well as the others, right? Like you want them to have a whole bunch of these non dark green ones or these dark green ones. And that means that for their keywords, they're rank lower on the top. And then now you know, you have more opportunity because the more that the top competitors are not ranking for the top keywords, that means you've got a little bit more opportunity there.
Bradley Sutton:
So, so that is something that's really cool about this. All right? Now almost all of this I think you can see if you're a platinum member, let me go scroll up here and then kind of show you what you can do if you're a a diamond member and above. All right, I'm gonna hit this button right here. You guys should see that here. Optimize, not, not optimizing. Let's see, but whoops, I hit the wrong button. Media comparison. You guys see that under compare key metrics across ASINs. Find that, scroll to the right and then hit media comparison. All right? When you do that, what it's going to do is it's going to plot all of the images from these competitors on one page. I know those of you listening to this on the podcast in your car might have trouble picturing this, but this is super, super cool because this is the strategy we've been teaching for years about, hey guys, you're trying to get into a niche where, where these competitors are, you know, have been on here for a year or two, they've probably been testing their images, right?
Bradley Sutton:
They've probably been been split testing using manager your experiments, or they're like, man, you know, I got some complaints about this picture, or I got some bad reviews about something that people couldn't understand, so let me just change my image and show it. And if these are the top competitors, you can kind of get a feel for what has been working for this niche, right? And it's all right here. So for example, if, if I'm looking at this like this, what, what do I notice? I'm like, wow, you know, in the first few images, everybody has an image where it's an infographic that has details of the size of the product. Everybody. So look at this, everybody, like in their first three or four images has this infographic. You guys notice that here, every single one has got a very similar image where it breaks down the exact size of the product.
Bradley Sutton:
So now if you're making a new product or maybe you didn't have that in yours, it's like, man, I should probably think about putting an image like that. Another thing that I don't notice here, you know, which could be good, could be bad, but I don't notice any models in these, IM in these images. So maybe people being confused about the size of the product isn't that much of an issue because if it is, what would you think that you would see? Right? You would see a bunch of lifestyle images where somebody is holding the product because then it gives perspective. So the fact that none of the top competitors have that could mean that nobody is getting, you know, some, some bad you know, nobody's getting bad reviews on that, right? What else do you guys notice here? Almost all of these images have like little spooky trinkets in them.
Bradley Sutton:
You know, very few show the actual coffin shelf just completely empty. And so there's just various different things that you can glean from this. Now, if this was a brand new image, what I would do with this information is I would ex, I would hit this export media button up here on the right and then it'll make a PDF and I can actually share this with my graphic designer or photographer and be like, Hey guys, this is what's working for everybody else in this niche. You know, how can we make sure our images have a similar vibe, but maybe we can do a little bit better? So this is one of my favorite buttons actually in all of Helium 10 guys. This is how valuable it's 'cause back in the day. This is not a new strategy. I've been doing this strategy for five years 'cause I learned it from Tomer Rabinovich, but what I would do is one by one, I would have to go into all of my competitor listings, copy and paste their images into like a PowerPoint or a Google Slides, and then get, you know, print it all out and then try and look at it all in a printout and then, you know, send it to my, my designers and things like that.
Bradley Sutton:
But now I just took all of that work and it's one click of a button. Alright, let's go ahead and try this on another niche. Let me see if anybody puts something in the comments here. Castor oil pack wrap. I have no idea what in the world that is. Let's look it up. Castor Oil Pack Rack that was given by Kate Marshall. All right, let's look up that inside of Amazon. I think I kind of know what this product is. Alright, so what, let, let me show you the other way you can run listing Analyze. It's kind of good that, that we're doing it this way. I could just go to Listing Analyzer right here in my screen, and then I'm just going to go back to the search. So the other way I can run Listing Analyzer is just put in the competitor ASINs by copying and pasting the ASINs.
Bradley Sutton:
So let's go ahead and do that here. All right. Now if you run Listing Analyzer, it's gonna look a little bit different because I'm not selling castor oil packs, right? Okay. So it's not going to put it into, you know, I'm not gonna be able to see those alerts and things like that. Like I could on my product when I was running coffin shelf. Which is fine. When would I use this part of the tool? Well, I would use this part of the tool guys. If I'm doing product research and I'm thinking about getting into a niche, I might go ahead and choose some of the top competitors. And now what I'm looking for is I wanna see what's their image strategy, what's their strength of the keywords, what are the top keywords that we are looking at here?
Bradley Sutton:
And that's what is going to be helpful here. All right, so let's take a look here. All right, so I see this main one here has a listing quality score of 8.2. Here's a sales estimation overview of these products. Here's the category B S r, history of it, and let's go ahead and open up media comparison. First of all, we'll do this a little bit backwards. All right, let's see what we can find out. I have never looked at images of castor oil wraps before, but let's see, do we see any differences? Right off the bat, guys, right off the bat, what's the big difference that you see with these images compared to the coffin shelf? Every single one of these listings have models in multiple images. You guys see that big contrast we already found just by one click of the button.
Bradley Sutton:
Looking at the media comparison. Now I'm like, all right, for this product, obviously having it on models is super important compared to the coffin shelf. What else do we see? I see everybody has a detailed, just, here's one that's similar to the coffin shelf. Look at this. Everybody has a detailed picture showing the looks like the length and the height of the product, and an infographic about that. Look, all of these competitors have that same, that same vibe right there. Now I know that, hey, this is something that must be important to the customers because that's why they have it. So I just got all of that information with just a click of the button looking at their image strategy. So really, really cool feature right there that you can see. Let's go ahead and look down here at the listing quality score.
Bradley Sutton:
Not all of them have 150 characters in the bullet point, but for the most part, these guys are professional. Look, they all, they all have a thousand pixel images. They've got seven plus images. Only one has videos, though they all got 20 plus reviews. So for the most part, they're doing pretty good on their listings. Now, take a look at this, these keywords here, right? Look at these keywords, and now all of a sudden I could see the strength of these competitors. So just by looking at this, like I'm not even looking at the keywords itself. I kind of know that this middle one here, they're, they're doing pretty well because look how many of these top keywords they are in the top 10. Remember I'm looking for the light green color. Now, compare that to this last competitor. Most of their keywords, they're actually in the dark green, and you can see the number corresponding to it.
Bradley Sutton:
They're ranked on the bottom of page one, or potentially on page two on some of these. So I can see, hey, what's the relative strength of these competitors on the top keyword? So guys, you could do this for any you could do this for any listings out there comparing yourself to your competitors or you're looking to expand into a new niche. You wanna see, hey, what's the strength of the keywords of the competitors in this niche? What are they doing on their image strategy? How is their listing quality score working. This is something that I want everybody using this week multiple times. Some of these you can only do if you have a diamond account. But most, a lot of the stuff that I went over, you can absolutely see if you have a platinum account as well.
Bradley Sutton:
Alright, now let's go ahead and open it up to any questions that you guys have about Helium 10 or about listing analyzer in general. Edison says, when off topic, when will AI feature listing builder be available for Germany? That's not off topic. Edison, that is a Helium 10 question. So it's absolutely on topic. It will come when enough people ask for it. So we always prioritize the, the functionality that we do based on how many requests there is. So every, if anybody, if you're in a country where a listing builder with AI is not working yet send in a request you, you click let me show you guys where to click to send in request to, at the top of any Helium 10 screen, to the very right of the button that says what's new, you hit the question mark, right?
Bradley Sutton:
And then you hit share your ideas and that's where you would say, Hey, I need listen builder for Deutsche Bitta, right? Isn't that please in German? I don't remember. Alright, let's see. Vaed says I need to, I want to see the manual cost, which I added by myself in the profits tool, It should absolutely work. So, so if, if you entered something in to your cost, there'll be a record of it and it should be there. So if you're not seeing that cost, you just a, you know, open up a ticket with support and then they'll, they'll they'll help you out. Like I, all of my costs of goods sold, we is, is completely in there, even the ones that I enter with a flat file so that it has dates on it. So that should absolutely be there. Bain Kirk says, can we see more than 60 days for traffic and conversions? Yes, but not there. Listing analyzer. To do that, you would need to go Kirk into profits. Let me see if I can find it on the fly here.
Bradley Sutton:
All right. You would go into profits and then I think if you're looking at it at the product level, I would go to product performance. Actually, you can do that from the dashboard too. What am I saying? You can actually do that on the dashboard. I'm gonna show you guys two different ways you can do this from the dashboard and from the product performance page. So if I'm in the product performance page, where I'm gonna want to go, Kirk is on the top right there is going to be a date range. All right? So this date range is where, you know, I'm assuming you want it to be outside of 60 days. So I would change this date range at the very top. I don't know why Europe is showing April. I don't even sell in Europe. Let me change that to u s a. You would change this date range, find the product you're looking for, and then let me show you where to look for that, you would go right here and it'll show that page views and sessions. You can see it from any time period, but it's not gonna be a fancy graph like was on Listing Analyzer. But let me see what that graph looks like. Can I even see the graph from here? Let's take a look. Page views sessions. I might be able to see that from the listing. Dashboard.
Bradley Sutton:
Let's go down here. I'm at the child level again, you would change the date right up here on the top right, and let me hit listing. I think it's an under listing down here. There we go. Let's hit listing. Okay, and then there it is right there. You see unit session percentage sessions and conversion rate. You'll see that right down here. All right, and then in product performance, I have, yeah, I can't see the full one, but I can add a, a widget here that I can graph it out to in in profits, Kirk.
Bradley Sutton:
All right, let's see more questions. Why are my bullets so short? Alright, you're gonna have to stay tuned for that episode of why she changed some of our bullet points. But, but in a nutshell, remember Neil, that overall you can only index for a thousand characters total on your bullet points. So you should keep them where it it, it comes really close to a thousand characters on bullet points. Tunji says, is there any way to draw a graph for sessions in Helium 10? Well, outside of listen analyzer not necessarily, but let me show you one thing, what you guys can do on the insights dashboard. All right? Go up here to the top and at the very top right it says chart. All right, so you are gonna hit the chart and then choose. I'm gonna, I'm gonna show you, it's not here because I already have it on mine, but you're gonna choose the one that gives you your detailed percentages and that is called sales and traffic conversion.
Bradley Sutton:
Right here. UIs want to add the sales and traffic conversion chart to your dashboard. This is for you too, Kirk, and this is gonna show this graph throughout for all of your products. But I can go into individual products like for example, our coffin shelf and now for any time period. So yeah, completely erase what I said about 30 minutes ago where I said you couldn't do this. You absolutely can. This is how like Insights dashboard, it has so much stuff that I even, I'm not keeping up to date with it, but look at that here. I could see what my conversion rate sessions, page views for any time period at all. How cool is that guys? Pretty cool, I think. Cool. I'm glad you asked that Tunji. 'cause I just discovered something about Helium 10 I didn't even know was available or I knew it, but my memory is so bad. I forgot.
Bradley Sutton:
Kirk says on the compare key metrics data section, can we automate it to give us some keywords where we do better while others are selling and doing well? Absolutely. That's what's coming. That is exactly what's coming, Kirk. That is exactly what is coming where you're gonna set your you're, you're gonna be able to e eventually set your parameters and say, Hey, give me a notice when my competitor is in the top 10 sponsored results, but I am not advertising for it. Like, that would be an example. Or you'd be like, Hey, give me a notice when there's a keyword with at least 1000 search volume where my competitor is organically in top five and I am not on page one. I mean, just random things that you'll be able to do because everybody has their own, you know, everybody's got their own strategies of what they wanna see and what they don't wanna see.
Bradley Sutton:
This is what you're doing already in cerebral, I'm assuming. Absolutely gonna be able to automate that so that we can just give you the results and you're no longer gonna have to like run cerebral every, every other day for your products. Alright guys, that's it. We're at time here. So thank you guys so much for joining us on this. Serious Sellers Club members and elite members get this every single week, 52 weeks a year pretty much. And the rest of you, we, we like to open this up once a month and then we repurpose this as a podcast as well. So thank you all, all non-elite and Serious Sellers Club members for joining us. Hope you guys got some benefit of it and we'll see you guys in the next episode. Bye-Bye now.
---
Enjoy this episode? Be sure to check out our previous episodes for even more content to propel you to Amazon FBA Seller success! And don't forget to "Like" our Facebook page and subscribe to the podcast on iTunes, Spotify, or wherever you listen to our podcast.
Get snippets from all episodes by following us on Instagram at @SeriousSellersPodcast
Want to absolutely start crushing it on Amazon? Here are few carefully curated resources to get you started:
Achieve More Results in Less Time
Accelerate the Growth of Your Business, Brand or Agency
Maximize your results and drive success faster with Helium 10's full suite of Amazon and Walmart solutions.