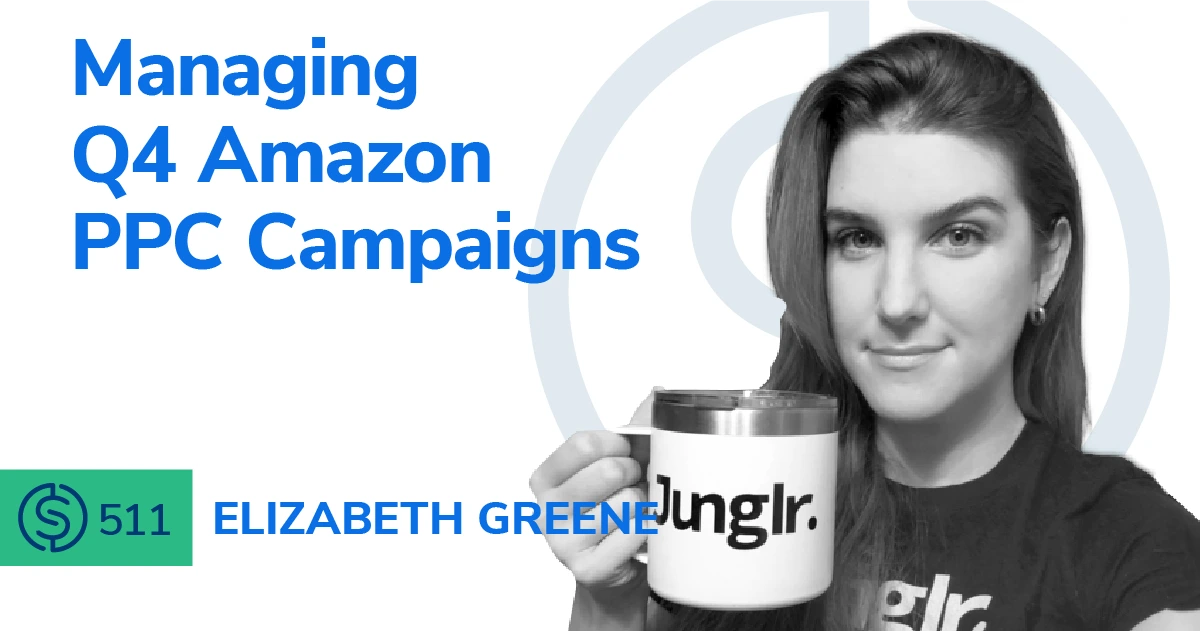 #511 – Managing Q4 Amazon PPC Campaigns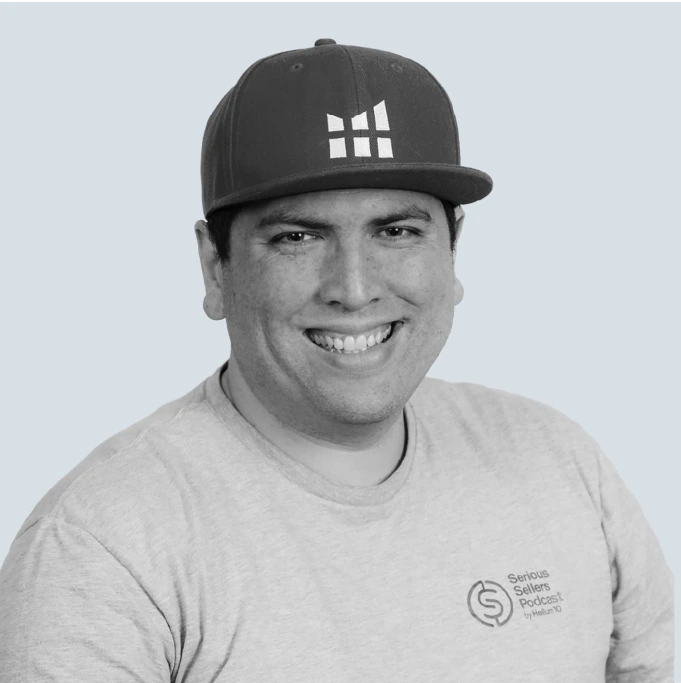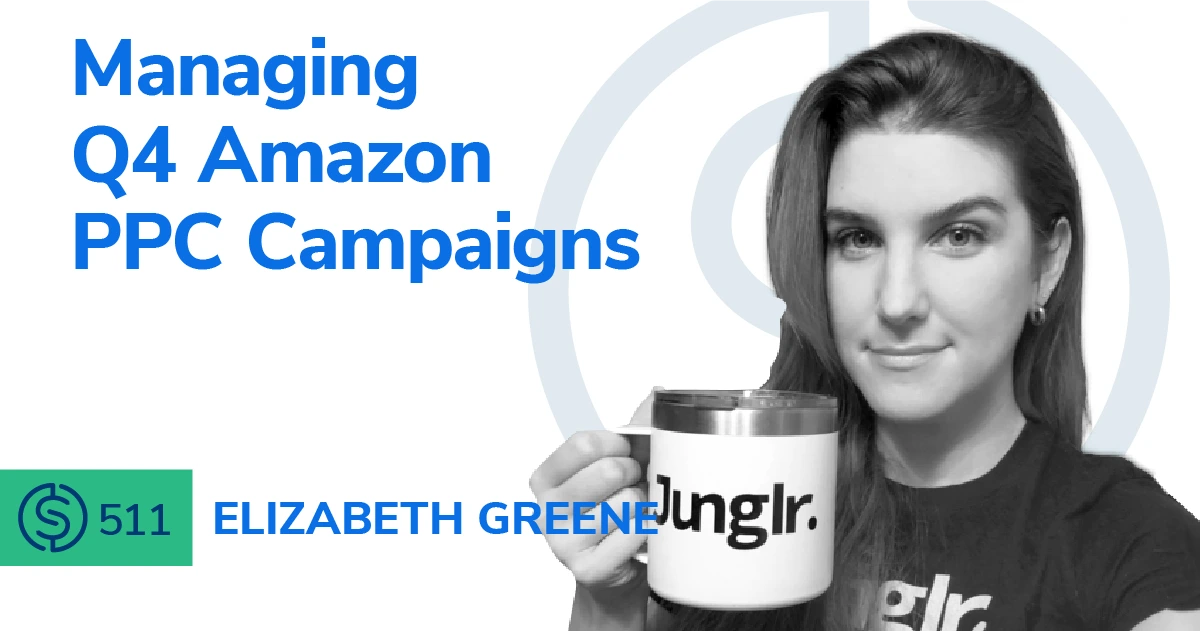 Video of the episode at the bottom
Are you ready to skyrocket your knowledge of Amazon PPC? In this TACoS Tuesday episode, prepare to be amazed as we bring you the secrets of the trade from none other than Elizabeth Greene, the co-founder of Amazon ads agency Junglr. Dive into the world of data analytics and learn why understanding the numbers behind the numbers is crucial. Whether you're a beginner or a seasoned seller, we've got insights that are bound to give your Amazon PPC game a boost.
We talk about the core strategies for launching new products, from using supplementary keywords to strategic ad placements. We uncover the importance of context when branching into new markets and how to leverage different keyword match types to target specific search terms. Learn about optimizing strategies for Black Friday and Cyber Monday, and how to manage your budget effectively during these peak seasons.
Lastly, ignite your understanding of advertising for branded products on Amazon. We debate the significance of tracking the share of search and using Search Query Performance reports, and reveal our strategies for advertising for products with only a few relevant keywords. Tune in and take away valuable strategies and insights that will elevate your Amazon advertising game to new heights.
In episode 511 of the Serious Sellers Podcast, Shivali and Elizabeth talk about:
00:00 – It's Time For Another TACoS Tuesday Episode!
05:34 – Evaluating and Auditing PPC Strategy
08:10 – Analyzing Ad Spend Efficiency and Impact
12:34 – Advertising Strategy and Keyword Targeting
17:45 – Advertising Strategy for New Product Launch
25:32 – Keyword Research Using Helium 10
30:51 – Using Keywords and Sales Volume
36:31 – Optimizing Bids for Better Ad Performance
42:22 – Control Ad Spend, Gain Campaign Impressions
Transcript
Shivali Patel:
Today, on TACoS Tuesday, we answer all of your PPC questions live, as well as discuss what you could be doing in terms of launching and auditing your PPC campaigns during the Q4 season.
Bradley Sutton:
How cool is that? Pretty cool, I think. Want to enter in an Amazon keyword and then within seconds, get up to thousands of potentially related keywords that you could research. Then you need Magnet by Helium 10. For more information, go to h10.me/magnet. Magnet works in most Amazon marketplaces, including USA, Mexico, Australia, Germany, UK, India and much more.
Shivali Patel:
All right, hello everyone, and welcome to another episode of the Series Dollars podcast by Helium 10. I'm your host, Shivali Patel, and this is the show that is our monthly TACoS Tuesday presentation, where we talk anything and everything Amazon ads. So today we have a special guest with us, and that is Elizabeth Greene, who is the co-founder of an Amazon ads agency called Junglr. So with that, let's go ahead and bring her up. Hi, Elizabeth, how are you? I'm doing well, how are you?
Elizabeth:
Very good.
Shivali Patel:
So, nice to have you on. Thank you for joining us.
Elizabeth:
Yeah, thanks for having me. These are always, always fun.
Shivali Patel:
And what an exciting time to be talking about Amazon ads to a fat. It's cute for you. Oh my goodness, you must be slammed.
Elizabeth:
Life is a little bit crazy right now, but you know it comes with the territory.
Shivali Patel:
So it does. It is peak season I see we have someone coming, so it's a very exciting time to be in business and I'm looking forward to reading your questions and hopefully having Elizabeth answer them Now. The first question here says what can you suggest for a beginner like me, who is just starting out, and what and where can I learn to grow as much as possible?
Elizabeth:
I would actually say there's two skills that one, in the beginning, none of us have, and they are skills and they can be learned, even though they're considered more quote, soft skills. Data analytics made it not as much.
Shivali Patel:
My two things are going to be.
Elizabeth:
Data analytics and communication skills Community Asian sales are, you're going to find, are quite important when it comes to management of accounts management of accounts that are not your own. So if you are, even if you're a brand manager in a company or, you know, obviously, at an agency seller and a sourcing person, okay then I'm going to go with data analytics. Data analytics are going to be your friend. The things that I've kind of discovered have been, like you know, sort of mind blowing. For me are the numbers behind, the numbers Meaning. So when you're trying to evaluate ACoS, right, a lot of people are like, oh, it costs one up, it costs with down. Great, I know this, I can look at the account. What the heck am I going to do about it? Data analytics really good data analytics not only tell you the what, but the why and then the what next. So you're, if you can get really really good at the why and the what next, that's going to really set you apart and the way that I kind of have come to it. This is my own personal journey. Maybe there's other people who are way smarter than me, have way better journeys, but for me it has been, again understanding the numbers behind the numbers to have, for example, right, you start in a little bit of a way, it's kind of like the matrix.
Elizabeth:
So when you're breaking down, say ACoS, right, you go, okay, ACoS one up, big, else one down. Why right, what the heck happened? You're like, oh, wait, I can calculate ACoS by ad spend divided by ad sales. Okay, so it's either that ad spend went up and sales remain consistent or went down, or ad sales went down and spend remain consistent. She like, oh, okay, there's those two variables. Okay, now I can say, okay, ad spend increased. And then I can go, okay, ad spend increased. Great, I know that why. And then you're like, okay, so I can calculate my ad spend by my cost per click, by my number of clicks.
Elizabeth:
So either my cost per click went up or the number of clicks happening in my account went up. And then you can look at those two variables and go, oh, okay, it's the number of clicks. Why? Oh, I just launched a whole bunch of new stuff. Okay, that's why. Or my cost per click went up exponentially. Why? Maybe you know, it's just a natural market change thing. Talking about prime time, peak season, now you're probably going to see cost per clicks going up. It's a market thing. Versus other times you might have aggressively increased a whole bunch of bits in your account and so then you go check back. So data analytics that's the way I view it. I am not classically trained on data analytics, I just have looked at it for over five years now and tried to figure out the what the heck is going on a question and the what to do about it questions, and so those. That's my way of sort of. I've learned to sort of peer into the matrix. So if you can get really good at understanding not just what the data is but what it's telling you, that's really going to get you to the next level.
Shivali Patel:
Definitely, and I think a lot of people have very different strategies. I think Elizabeth's strategy, you know, is definitely one you should take into consideration. But also, the best way to learn is going to be trial and error and until you're really sifting through your own data, I think it's going to be hard to you know gauge sort of what's happening. I think a lot of things in business are just as they come. Now I want to kind of take the other side of that and go into, let's say, somebody's not a beginner, right, somebody's been selling for a while. They're more established. What do you recommend to somebody who might be evaluating or trying to audit their own PPC strategy?
Elizabeth:
Next level is going to be evaluating things on a per product level. And let me clarify when I say per product, I mean per listing. The reason why is the data gets kind of funky when you pull it down to a skew level. You definitely can, but there's some nuances that you really want to be aware of that can kind of lead you in the wrong direction if you're looking at a per skewer, per child days and level. But if you can start looking at your ad strategy, your sales growth, everything through the lens of listings, that's really going to take you to the next level.
Shivali Patel:
So when you see listings, are you talking about maybe like the conversion metrics? Are you looking at the keywords that you're using, sort of what is like the underlying factors? I guess all the above.
Elizabeth:
Honestly, but to make sense of it all. Because, to your point, like force for the trees, if you look at like everything, then do you walk away being like I have no idea what in the world I'm supposed to focus on? So the way that we've begun looking at it and the reason why we started looking at it like this is because we managed several clothing accounts. Talk about complexity, talk about force for the trees. You're like where in the world do I start? And you want to make impact on these accounts. Right, you can't just like all right, I did my bit, adjustments and call it good. Like you really want to get at our hands dirty and like really start improving the accounts. But you're like where in the world do I focus? So what we've started doing is percentage of total have been a little bit of a game changer. They're not, it's not the newest thing on the block. A lot of people use this percentage of total, but the two things that we look at is the percentage of total sales of each. Again, we're talking about a listing level. Again, reason clothing you have up to hundreds of different SKUs on a per listing level. Like how the heck do you make sense of it. So how do we make sense of it is rolling it up to the parent listing level and then looking at the percentage of total ad spend, again on a per listing.
Elizabeth:
So this gives you a lot of clarity into what products are driving the most sales for the brand. And then, what products are we spending, are we investing the most ad spend on? And when you look at it this way, it's very common to have these things happen in the account. If you haven't been paying attention to them, you oftentimes will see like oh wow, this product's driving 2% of my total sales volume and I'm spending 10% of my total ad spend here. Like that's probably a discrepancy. Maybe I should go and adjust those ads. So that gives you a lot of clarity. And then to court of gauge because again we're an ad agency, so ads are the thing that we focus on the most to help and drive improvements for the brands is we will look at the impact of the total spend on that per product. So again, percentage of total ad spend, and then we'll look at what we call like quote ad spend efficiencies, meaning ACoS, Total ACoS, ad sale percentage, also the delta between your ad conversion rate and your total conversion rate. Our unit session percentage is actually really helpful gauge. And so we're like, okay, we're investing most of our dollars here. How is our efficiency on that large investment?
Elizabeth:
And then you can sort of pinpoint like, oh, wow, I'm investing most of my ad spend into this product, to the point of like 5% of total brand sales, 13% of total ad spend investments. And wow, the ad spend investments are really unprofitable. Now, if you're in a launch phase, there might I mean there's context that you need to add to the numbers, to the point of like telling the story with data. And if you're managing the brand, you probably know the context. But at least it goes as okay. So here's two products we should dig into more. Here's two products we need to probably invest more of our ad spend on. And it really starts to clarify things when you really kind of understand how to see the picture in that way.
Shivali Patel:
To kind of follow up on that how do you really end up deciding which keywords to go after, as well as, maybe, how to really structure them into campaigns in accordance with your budget, because I know that's different for everyone?
Elizabeth:
Yes, it definitely is. We will always focus on relevancy first in the beginning. Now there are certain times if you're doing like a brand awareness play or you're like, wow, I've really targeted my market and I need to branch out, like what's the next hill? Absolutely go after categories, you know like, go after those brand awareness plays. But if you're in the beginning and you're in a launch, the nuance of Amazon advertising is you're not building, you don't build the audience. Amazon has built the audience for you.
Elizabeth:
All we're looking to do is use specific keywords or search terms to get in front of the audience that is already existing and that's where relevancy comes in. So you're saying where is my specific shopper? What are they using to search for products like mine? And I need to make sure I'm showing up there. So we're always going to prioritize that. That typically is going to get you better conversions, you know, better clicks, more interactions with your brand and which leads to more sales. And then also on the flip side, and if you're doing this on launch, it is a really good product sort of evaluation, because if you're showing up exactly in front of your target shoppers and your click rate is terrible and your conversion rate is terrible and like nobody's buying, there's probably a signal that maybe there's things to adjust with the listing or other factors that you should look into.
Shivali Patel:
Do you ever go into, like branch into, I guess, supplementary keywords where maybe it's not exactly for the product but it's maybe like a related product, and where do you really place those sort of ads?
Elizabeth:
Yeah, so when we'll do it is really dependent on the overall performance and the ads spend or profit goals, right? I mean, it seems so stupid, simple, but if you are advertising more, you're going to be spending more, and if you're struggling to bring down Total ACoS or ACoS again, ad spend divided by ad sales, the one thing you can control with ads is ad spend. So in those cases when we're looking to bring down Total ACoS, we're typically looking at pulling back on ad spend. So if a product or brand is in that phase, I'm not going to be like let's launch all these broad things and we're not quite sure how they're going to convert, right? So context is really key here, but when it comes to branching out, it really is dependent.
Elizabeth:
You will find certain products on launch where, like, for some reason, it's really difficult to convert on the highly relevant terms but, like adjacent markets or, to your point, like somewhat related keywords or related products, actually work really well. So we're always going to prioritize what's working. So if we're like finding all of these search terms that are popping up through, like, say, broad match or autos or something, wow, we weren't aware that this is actually a really great market for us. But it's very obvious, looking at the data, that's something that we should, that's a direction we should go in. Then obviously we'll push towards that direction. But depending on if we're going to like decide to branch out on our own, it probably is highly dependent on the ad spend and then also sort of the phase of the product, meaning like how we kind of conquered everything and what's our next play.
Shivali Patel:
And in terms of when you are launching, yes, we're going for the most relevant keywords, right, that are where you can find your target audience. But what about in terms of exact match, like yes, are you going directly into exact match and auto and broad all at the same time? Are you just kind of doing exact first and then branching into auto?
Elizabeth:
Yeah, so we do like exact first. I'm still a huge fan of like all the above, exact phrase and broad. The one thing that we have found is like within your exact match, you can just be more specific on what search pages you're spending your ad dollars on. So if you, especially if you have limited budgets in the beginning and you're like, hey, I really want to make sure that I hyper target these keywords, exact match makes a lot of sense. Now, if you're talking about you like branching out, we're still going to prioritize putting a higher bids on our exact match keyword. So we're still going to try and have most of.
Elizabeth:
Let me say this if you're going to be aggressively spending on a specific search page, you're like I've identified this keyword, this is my ranking keyword, I'm going to put a lot of budget behind it. Exact match all the way. Now I don't want anyone to say that clip and be like wow, she hates broad and freight. Like, no, I love all the above. Like we run autos, run multiple autos, category targeting, like all the above, do it. But if you're trying to get really aggressive with something, it's just it's the nature of how the match type works more than like it's quote best, because they don't really think it is.
Shivali Patel:
Now I do see that we have some new questions, so let me go ahead and pop them up. We have can you give a refresher on how people can do modifiers, since nowadays exact sometimes performs as phrase match and phrase sometimes is like broad. So if someone wants to make sure that an exact is that exact two word phrase is adding plus in the middle self that.
Elizabeth:
Yes, it does, but caveat, it only officially does in sponsor brand ads. If you look at the document, I mean I gotta go check it because they're like they keep updating the documentation on the slide and like not notifying us. But from my understanding and from the reps I've talked to, and also the search storm reports, I've seen modified broad match I don't believe a hundred percent works all the time in sponsored product ads, which is super annoying. So for those of you listening who are unaware of what a modified broad match is or modified search terms, modified broad match is a thing in sponsor brand ads. So the way that broad match keywords work in sponsored brand ads and they have sense care that over to sponsor product ads is that it cannot only target. You know we do classic broad match, right, you can put keywords in the middle, you can swap stuff around. But like if I had the keyword running shoe, right, both the word running and the word shoe must be present in the search term for your kind of traditional sponsor product broad match. It's not the case anymore.
Elizabeth:
You can target what's called related keywords. So for example, one would be like sneaker, right, it's kind of related to running shoe. And if you wanna say. I stuck a screenshot out on LinkedIn not that long ago and I was like, how is this relevant? Like one of them, it was like targeting like a bread knife and the search term that it triggered was like ballerina farm, go figure, I don't know, but like, so you can get like this really weird, funky stuff. So what we do to kind of combat that one, just keep up on your negatives these days, like, keep a sharp eye on your search and reports and add those negatives.
Elizabeth:
But the one thing that you can do is just sort of like to Bradley's point make each those individual words have to show up is if, in front of each of those words that you want to make sure are present in the search term, you can add a little plus symbol. So in the example of like, say running shoes, I would say plus shoes, plus what is our running whatever? Plus running, plus shoes, right, and then that would trigger to the algorithm. Okay, you have to use these things inside of your searches, which again is a factor in sponsored brand ads. If you look at the documentation, they do say that modified broad match is a thing and it's been a thing for a while. I just hasn't been super popular. But I haven't read documentation that they've rolled that over into sponsored product ads. I don't think it's a bad idea to get in the practice of using modified broad match and sponsored product ads though.
Shivali Patel:
Okay, thank you for answering that question. We also have another one that says I'm going to be launching a brand new store for FBA and Shopify for my own manufactured product. What will you suggest that I do for the first few months?
Elizabeth:
Well, I'm gonna assume that the question is saying, with ads because that's my area of expertise like new product launches, there's a lot. So definitely follow @HumanTank because they way more than just add advice to offer you. But as far as the advertising, I would prioritize keyword research for the product launches. That actually would be really helpful when you're trying to vet even the space for your particular products. And then I would again, I would hyper focus on relevancy in the beginning. I would run that in exact match, probably high bids.
Elizabeth:
In the beginning you're looking for two things. You're looking to get eyeballs on your product, ideally those eyeballs conferring to sales that is remain to be seen, based on how appealing your product is to the market and how good your search pages et cetera. But you want to get eyeballs in the product and then you want to use those eyeballs to sort of vet again how much these shoppers like your particular product for purchase. So that's what I do. I would focus on those again for like the first couple weeks is typically what we do, and then you might sort of branch out into phrase match run, auto campaigns et cetera. Now here's a trick is how many keywords you choose in the beginning to launch is actually going to be determined by your budgets. So I have seen so many sellers in the groups like they'll be like oh my gosh, I just launched and launched my ads and I'm spending like $1,000 a day and I can't afford it and I don't know what's going on. Again, it's simple, kind of seems like stupid logic but the more keywords you're advertising on, the more clicks you're gonna get, the more cost per clicks you're gonna pay, the higher ads spent. So you actually want to factor in what you're doing for your launch strategy with your budgets.
Elizabeth:
Like I just got off a client call and we're like all right, we have these new product launches. Yeah, it's a really competitive space. It's like skincare. We're not gonna have reviews in the beginning. You know what? In the beginning we're gonna keep ad budgets really lean and we have a really good brand recognition. We're just gonna leverage brand recognition because we know the conversion rates are gonna be there. It's gonna help us get the initial products. But we also are understanding that if that's the strategy we're running again a little bit more limited, just leveraging brand lower budgets we're not expecting the sales to be exponential in the beginning. So it's like setting expectations and then kind of understanding what makes sense for you at this stage.
Shivali Patel:
Okay, and, keeping that in mind, the review portion that you're mentioning, right, yeah, you end up like, let's say, for example I'm not sure if I'll pronounce it right, but in Sweat's example right, his question when he's launching, do you end up waiting for the reviews to file in before you are running those ads or do you end up just kind of going in? And of course, there's many moving components, yeah, there's a lot of moving parts.
Elizabeth:
It depends on what the brand's wants to do. Typically we will start running stuff out of the gate Again. We just kind of set expectations. The reason why ACoS is so high in the beginning is for two reasons. One, your conversion rate tends to be a little bit lower and then, two, your cost per clicks tend to be a little bit higher because you really are trying to get aggressive to be able to get that visibility on the product and then over time, ideally, conversion rates improve because you get more reviews and then cost per clicks hopefully go down as you optimize. So between those two things, that helps it get better. So we just set expectations with like hey, because conversion rates are low means it takes more clicks to convert, which means ACoS is gonna be a little bit higher and we expect potentially sales not to be still or out of the gate. Sometimes it'll be surprised. Sometimes you launch a product and you're like, wow, this is amazing, this thing just absolutely took off and I hope for all of you listening, that is the case for you and your new products, but it's not always the case. So it's really more setting expectations and then just deciding what makes sense for you.
Shivali Patel:
Why would someone create like a branded campaign If they've already have their standard stuff? Do you maybe want to talk a little bit about branded campaigns?
Elizabeth:
Yeah, there's two kinds of branded campaigns. One is considered branded, or maybe brand defense is what you might call it. One of them is you have a whole bunch of products. Which you might do is you would advertise your own products on your other listings. The goal of that is you'd be like, hey, if somebody is going to click off, they might as well click onto my own product. Again, it's called a defensive strategy because you're plugging people off and refer to it. It's like plugging the ad spots. My competition can't get this ad spot on my listing. The other thing that you might do is if you have any branded searches happening so people searching your brand on Amazon then what you can do is you can again advertise your own products.
Elizabeth:
There's a lot of debate out there. They're like, oh, if I already have people searching for my brand, why in the world would I be spending on it? Because they're going to convert for my brand anyways. Yeah, there's arguments to be made. The things that you can do is you actually track your share of search in using search query performance reports to look at your own branded traffic and be like am I losing out on sales through my branded traffic? That's something you can do if you want to be like, is it worth it for me to run? But the second thing and the one I was referring to when I was talking about that more specific launch that we're doing is if you have great brand recognition meaning there's a lot of people searching for your brand you've already built up a lot of traffic to your current listings and you have a new product that fits very well into that brand.
Elizabeth:
So example I just gave was we have a brand that has a skincare line. Right, they have their launching complimentary products. They have really good repeat purchase rates. What we can do is for people searching their brand, we can make sure that the new products are then advertised and show up high on their branded search, where they might show up lower before if we weren't leveraging ads for that. And then what happens is someone's typing in the brand like oh, wow, there's a new product from this brand. Awesome, and most likely not always, but of course you know you read the data, but most likely you're going to get people purchasing very similar. You know you can use ads to be able to get visibility again on your own products, but you're using your new offering. So that's kind of a way to like. If you have a good brand, share to be like. Hey, I got a new product. I want to try it out using ads.
Shivali Patel:
Got it, and I see Sasha has a question here, and it is what's the best way to research Amazon keywords for low competition products? And I'll go ahead and add as well what do you do in the case if, let's say, there is not necessarily a market, maybe it's a brand new product that doesn't end up having any sort of crossover? You're creating a sub niche.
Elizabeth:
Yes, those are the most difficult. The two most difficult products to advertise for are one to your point of like there really is no relevant traffic for it. Or two, when you only have one keyword that has any search volume and there's like nothing else besides one or two keywords, because every single one of your competitors knows those one or two keywords and there's really not anything else to choose from. So there's not really a way to like play a sophisticated game. You just got to like grin and bear it in those categories, which is like kind of painful sometimes. So reword I mean your keyword research is really going to be exactly the same as for any other product. You're going to be looking at your competitors, seeing what they rank you for. I mean, we use Helium 10, love Helium 10, just did a walkthrough of how we did keyword research using Helium 10. Like it's a really great tool.
Elizabeth:
The one different way that we have of generating your first keyword. We actually generate two keyword less in the beginning. So what we'll do is we'll use, say, like a commonly searched keyword. So a lot of times people will start with like all right, type in a commonly searched keyword and then like, look at the ranked competitors, choose them, you know, choose the relevant ones and then go through that. What we will do is we will take that first you know pretty general keyword that we're pretty sure is relevant to the products, and what we'll do is we'll type that into.
Elizabeth:
I'm going to get them mixed up. I'm going to say it's magnet, it's the keyword research tool, so you type it in and then you look at search, so you sort by search volume and what we'll do is we'll actually go down that first list and find what we call our highest search volume, most relevant keyword. So what you're looking for is the intersection between where you actually have good shop or search, and it is also relevant to your product, because the more hyper relevant you get to the product, typically speaking, not always the lower your search volume is going to be. On those keywords You're like all right, what's my top of the mountain? Because oftentimes people will be like, oh, metal cup, that's a great keyword, yes, but it's not highly relevant keyword. So you're looking for, like women's metal cup for running or something like is there a good search volume there? How can I like niche down a set? And then what we'll do is we'll take that search page for a highly relevant keyword and use that as our springboard to find our top competitors.
Shivali Patel:
So we do also have a question from David where he asks how would you use not sure what that's supposed to say for top competitive keywords when your product have multiple attributes such as gold diamond ring, gold solid hair ring and engagement rings should I run through, bro, on each? I'm assuming that's just supposed to be. How would you search for top competitive keywords? So? Yeah so I would, I would just look for.
Elizabeth:
I would look for whatever is the highest relevancy, highest search volume, one that's going to give it and you're going to have a lot of applicable keywords. So the walkthrough that I did I think it's just yesterday what we did is we were looking at baby blanket, and what we start doing with our final keyword list when we're looking again we're prioritizing relevancy is you will find what we call buckets of keywords, right. So when I was doing baby blanket, it was like girls receiving blanket, receiving blanket for boys, like some like okay, there's a bunch of girl keywords and their bunch of boy keywords and these are actually a little bit related to specific variations. You can start getting really sophisticated with it. But as you do that keyword research and as you're looking for that relevancy, you're probably going to find a lot of these buckets. So what we'll do on launch is we'll like take our group out and be like okay, so to your point, we have a bunch of diamond keywords.
Elizabeth:
Oh wait, I have a bunch of solitary keywords, right. So you can actually group those. I can take all my solitary ones and be like hmm, I wonder if the search term solitaire is. I wonder if people like my product in relation to that search. Okay, so let me take that out. Let me put those in their own campaign. I'll label the campaign like solitary keywords or something and then I would advertise the products there or engagement ranks, right, okay, maybe that's applicable to my products. Let me again pull those out and put them in a subgroup and a campaign. The reason why I like doing this is because then I can just scan campaign manager instead of having to like go in and like, look at a campaign with, like the solitaire keywords, engagement ring keywords, gold, diamond keywords. I can be like, oh, these are sub group in campaigns and then when I'm in campaign manager, I can simply look at how each of those three campaigns are performing and be like oh, wow, it seems like gold, diamond ring keywords actually perform best and you still want to analyze at a keyword level. But that makes it a little bit more scalable to like understand shop or search behavior in relation to your product.
Shivali Patel:
Now I see that David also would like to know about the filter for keyword sales filter, which it is essentially just telling you on average how many sales occur for that particular keyword every single month. So that's really what you're looking at there, but, Elizabeth, maybe you want to expand on whether that's something that you end up looking at when you're doing your keyword research for these different brands that you work with.
Elizabeth:
I don't really Everything honest. The two things that I look at actually probably three things is I would like to look at. We look at numbers to the count of competitors that are ranking again, because we're doing that whole like find, you know, do the first list to find the second keyword, to find the really really super specific products. So if you can find good super specific products, then you can kind of like use their ranking on the keywords. So actually I love that Helium 10 added in that column because it was one that a lot of us were like calculating.
Elizabeth:
When I'm like God, I don't have to do the formula, I just already filter for the list, so it's really awesome. So we'll download that list and then you know, we'll just see what's the highly relevant and the kind of cross check that with search volume you can use. I don't think it's a bad idea to use, you know, kind of like the sales volume, because sometimes what you'll find is that even though there's like a high search volume, if the keyword is sort of like a little bit broader keyword, you might actually not have as much sales volume through those keywords as you would think. So it's not a bad idea to analyze it at all. We just find if we're like again, we're super honed in on that relevancy factor, then we tend to come up with the ones that have better sales volume anyways.
Shivali Patel:
Okay, I think that's really, really insightful. We also have Sergio. Sergio, do you like to use the same keywords for each campaign in broad phrase, and exact campaigns?
Elizabeth:
I do. I would say the one sort of not qualifier would put on it, the one thing you should be aware of. I would recommend keeping the bids lower in the broad and the phrase match. I don't always agree with Amazon's recommendations, but if you listen to their recommendations on this, they actually recommend that you keep it lower.
Shivali Patel:
And Sasha has a question. If I was to start selling a product that has a monthly volume of 60,000 units a month, how should I position myself? Should I run out?
Elizabeth:
I would first want to know how the product performs. That's your first goal. You want to figure out what your average cost per click is and you want to figure out what your actual conversion rate is. Once you have those factors, you can actually start building production models and sales production models and stuff. Actually, it's not hard to build or not search. You want to search traffic production models based on oh, I want to hit $50,000 a month in products, this is my conversion rate. What you need is you need your conversion rates. You really need your conversion rates is the main one, and then you're going to need your cost per clicks in the ads to be like all right, this is what it's going to cost me. Right now, you're going off of nothing. I know I've said it about 20 different times on this live, but I'm going to say it again relevancy, focus on your exact target market, see what your numbers tell you, and then you can build up from there.
Shivali Patel:
I think that's a good plan, so hopefully that is helpful for you. Sasha, I see we have Sweat's leaving, but he has found the response was informative. Now I wanted to touch on something we talked about at the beginning of this call, which is Q4, right, we've been talking a little bit about auditing your strategy and some general PPC knowledge, but also what about, I'm sure a lot of you guys that are watching? If you're already selling, then you probably aren't full swing. Maybe you've already gone ahead and optimized your listings for Q4. But what happens if maybe somebody is just starting to be like oh no, I completely dropped the ball? Do you have? Hopefully, not Hopefully, none of you guys are in that position, but let's say something like that happens, sort of maybe if you have a take on what somebody can do to make sure that they're still able to tap in on Q4's potential.
Elizabeth:
Yeah, so we're assuming it's a brand new launch product and we have nothing.
Shivali Patel:
We can assume that they've been selling for a while, but they haven't changed anything for Q4.
Elizabeth:
Got it, got it, got it. Ok, no, that's fine. So I would say if you're already selling, most likely you probably have some ad structure. You're not in a bad spot. Ok, q4, right before Black Friday, December and Monday, we're not launching a whole bunch of test campaigns. Don't do it, because what happens is Black Friday, Cyber Mondays Really, what you're doing, you don't get same.
Elizabeth:
I know there's not really data available, but honestly, nobody's really looking at that. An inside campaign manager. You're not going to be able to say, oh OK, I got 20. My ACOS was so much better this last hour, so let me increase these budgets, right? What you have to do is you have to look back at historical data. So if you want to test anything, do it before this week is out. Get those campaigns up, get that data, because you're going to be completely flying blind If you launched a bunch of stuff a day before. You're completely flying blind on performance metrics and it's so easy because of how many clicks are happening on the platform to really lose your shirt. So I would say, if you're like oh my gosh, I don't have any specific campaign set up for Black Friday, so that's fine, you're actually in a really good spot. So what you want to do these weeks leading up to it you actually still have time you want to go into your account and you want to evaluate what is working now, what is crushing it right now, and then I'm going to make sure, as that traffic comes in, that those have good budgets. I have healthy bids on them.
Elizabeth:
To be honest, days of for the most part, unless we have a really specific keyword on a very specific brand, they're like we have to be aggressive when we must win top of search for this particular keyword. For the most part, we're adjusting budgets. Day of is our typical optimizations. So what we're doing prior to that is we're like all right, if we're going to be increasing budgets, we want to make sure that all of this is super solid. So you're doing two things. One, you're identifying all the stuff that really works and you're like all right, I need to make sure again, budgets are healthy, bids are healthy, all my optimizations are done. And then the second thing we're doing and this is also very important is what is all the stuff that's not working, meaning Clips with no Sales? Where are all my high costs, low sale keywords going on? Here's a good one. What are all my untested stuff, that I've just been increasing bids. So it's so easy.
Elizabeth:
If you're like normal optimizations, right, we're going to go in what has no impressions, increase the bids. We do this as well. It is not a bad practice. What often happens, especially if you don't have any caps so we have caps, we're like, all right, we're never going to increase past x amount of dollars or whatever If you don't have any caps. Sometimes what happens is you're like you can end up with like $10 bids.
Elizabeth:
So what I would recommend doing go into your targeting tab. I would filter for everything with zero orders, or you could just leave it totally blank, sort by the bid what has the highest bid in your account and you might look at it and be like holy crap, I had no idea that was in there. And what you want to do is what we call a bid reset. So you're just looking at all this stuff and you're like, hey, it's not getting any impressions. Anyways, it's not going to hurt me if I lower my bids, but then at least I know when that traffic hits all of a sudden that random keyword that didn't have any search volume, that I had like $10 bid on. It's not going to like pop off and waste all of my ad budgets.
Elizabeth:
There's another filter that is really helpful to identify the irrelevant stuff. I'm not saying pause all these things. I'm saying use this filter to bring to the top everything that you're like how the heck did that get in there? Because it's super easy. When we're looking in our search term reports we're like, oh, this converted once. Let me go test it Again. Great practice. What happens is sometimes you get these random things in the account so easy for it to happen. So what you do is you go again. Targeting tab is going to be your friend here. You're going to want to filter for anything that has what is it? Zero clicks, zero, maybe once, two clicks.
Elizabeth:
We're looking for impressions. It has probably at least 1,000 impressions on it and you want to filter the click-through rate by anything that is lower than maybe a 0.2 or 0.15. So this says it's got a lot of impressions, it's not really doing anything in terms of sales volume and it's got really bad click-through rates. And then sort that by either your click-through rates highest or lowest to highest, or you can maybe start by impressions, highest to lowest. So what you're trying to do is what it has a bunch of eyeballs that nobody cares about and what you're doing is that brings up.
Elizabeth:
So a lot of people saw it. Not. A lot of people clicked on it, which oftentimes means irrelevant stuff, and because it's only got a couple clicks, there's not a lot of data, so it hasn't moved into our optimization sequences. So again, it's just a once over of the account. The first time you do this you'll probably be like what the heck, why is that there? And then, if you find that great pause, it put low bids on it, just kind of. Again, we're doing clean up. If you don't find anything that doesn't make sense for you, conkudos to. You're doing really, really good targeting. But either way, it's a really good thing to give it a once over before again traffic hits and things kind of go crazy.
Shivali Patel:
Now we do also have your keyword sale filter. Says 89 with low search volume, and another keyword has 20 keyword sales but a higher search volume. Is there one that you would kind of opt for? I know you said you don't typically look at the keyword sales Filter.
Elizabeth:
Yeah. So the two things I would look for is one I'm gonna say again, relevancy. I believe in it so strongly, I'm gonna say it again. And then the other thing that you would look at is, you know, the Helium sandwich. Again, another thing that I appreciate that you guys have added to the download keyword reports is the Recommended bits. Now, again, you guys are pulling them direct from the API, like Amazon does provide the recommended bits. However, as we all know, like if you go in you launch campaign, you like add different products, the recommended bids change, so their benchmarks don't take them as gospel, but they are really helpful to again kind of help you identify how competitive a particular keyword is over the other. So, like a budget's were concerned, you're like, well, you know, this one has like 20 sale, like the sales volume is pretty good, but like, wow, that one's Really competitive. I got to pay two dollars cost per click versus the other one where I'm like, well, I only have to pay like 50 cents cost per click. That probably would play into my decision.
Shivali Patel:
Okay, all right, there's. I know I said to, but let's just do this last one and then we'll. We'll call it. And so how do you structure your top keyword campaigns versus your complementary keywords? I know we briefly touched on this earlier.
Elizabeth:
Yeah, so I will cash with. So I saying I'm not a huge fan of doing everything as a single keyword campaign. I think it's way too overkill. You end up getting way more confused than you do in sight From doing it like that. That being said, if we do, I definitely have like a top keyword. We are going to put that in a single keyword, exact, match, specific campaign. The sort of it depends Questions and answers that I always give is the more the higher amount of Control I need over where I'm going to be directing my ad spend, the less keywords I want to have. Then more important it is for me to gain impressions on this keyword. For, again, for my campaign strategy, the less keywords I'm going to have. So if it is a top keyword, if it's my main ranking keyword, if it's super, super important to me, single keyword campaign right, because that's I need to control ad spend. I need a lot of impressions on this and super, super important versus another keyword set, right. Maybe I don't really have it. So the other, very other end of the spectrum is going to be like a whole bunch of a Campaign that actually works really well.
Elizabeth:
For us is single word meaning, like you know, cup bowl dish In broad match low bits. Do not put high-pits on these. Even if you have great ACoS, don't put high bits. Not a good idea. But we'll run these all the time. But what happens is because we cap our bids at, say, I think it's from 25 cents, maybe 30 cents, maybe in 15 cents. We never intend to grow our bids past that, right.
Elizabeth:
So how is it important for me to control ad spend at the campaign level? Not really because I'm controlling it at my bid level, right. How important is it for me to gain impressions? Not really because I'm expecting half of these keywords to not get impressions whatever. So I would be fine with putting, you know, say, 50, 100 keywords in that campaign, right, because for me it makes no sense to create 10 different campaigns that I have to like keep an eye on, versus just one important like oh yeah, that's that strategy and that's kind of like my background thing, right. So I would look at it through that lens again. How important is it for me to control spend at the campaign level? And then, how important is it for me to gain Impressions on these particular keywords? The more infatily you answer yes to those two questions, the less keywords you should have in that campaign. The more you don't really care about those two things, or they don't really matter as much then I would be okay with a lot more keywords.
Shivali Patel:
Alright, well, wonderful. Thank you so much, Elizabeth, for your time and your information, your knowledge. We appreciate it. I know a lot of people learned quite a bit. Sasha says thank you. We have sweat who says you know he was also waiting on those other questions that you were answering. That was very informative, so we do appreciate it so much. And yeah, that is it for today. You guys will catch you on the next TACoS Tuesday. Thank you!
Elizabeth:
Awesome! Thanks, I appreciate it.
---
Enjoy this episode? Be sure to check out our previous episodes for even more content to propel you to Amazon FBA Seller success! And don't forget to "Like" our Facebook page and subscribe to the podcast on iTunes, Spotify, or wherever you listen to our podcast.
Get snippets from all episodes by following us on Instagram at @SeriousSellersPodcast
Want to absolutely start crushing it on Amazon? Here are few carefully curated resources to get you started:
Achieve More Results in Less Time
Accelerate the Growth of Your Business, Brand or Agency
Maximize your results and drive success faster with Helium 10's full suite of Amazon and Walmart solutions.