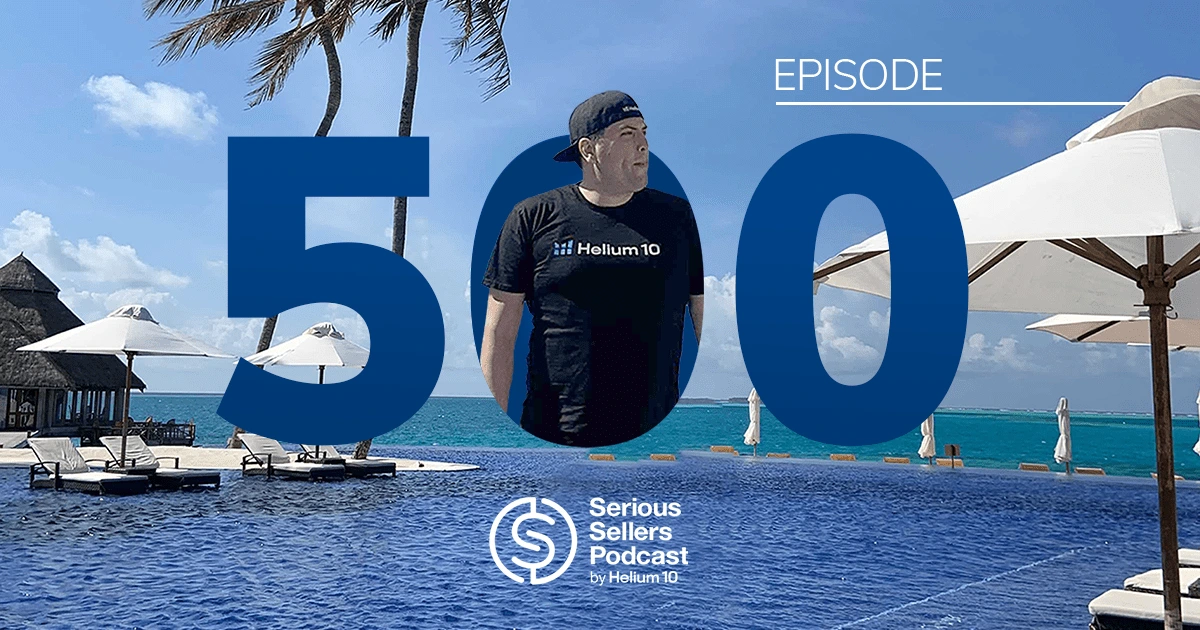 #500 – Maldives Honeymoon Amazon Launch Strategy + New Amazon Relevancy Strategy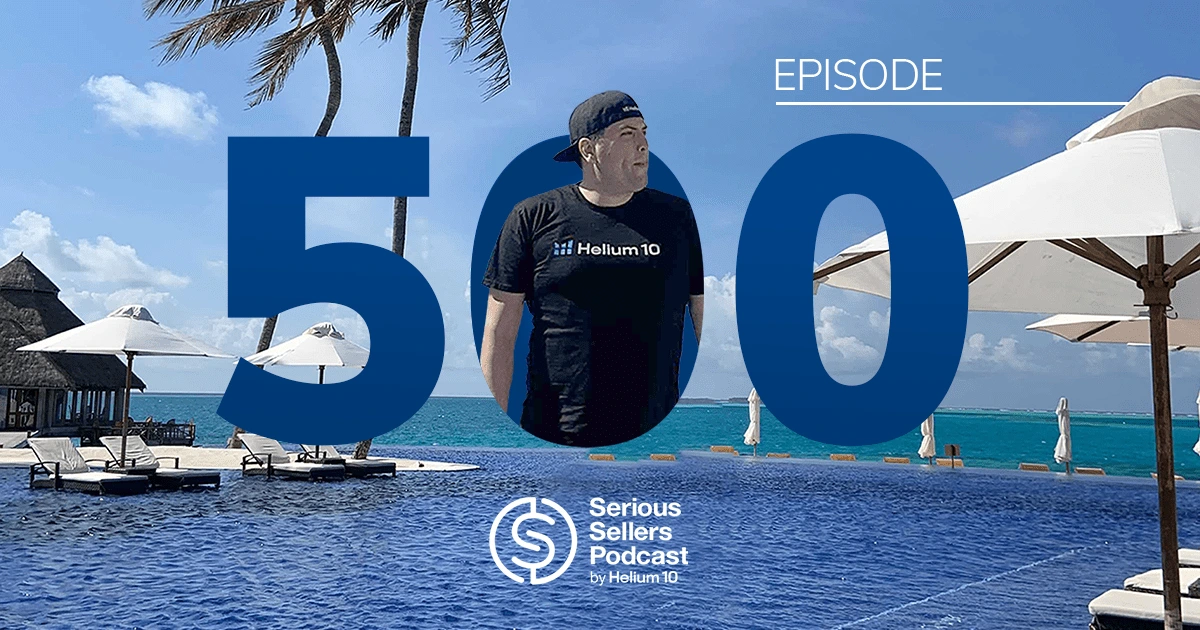 Video of the episode at the bottom
Ever wondered how to make the most of the 'Honeymoon' period when you first start selling on Amazon? Or how to get people to organically search, find, and buy a product without breaking Amazon's terms of service? Tune in to the latest episode of Serious Sellers Podcast, as our host, Bradley Sutton, unveils the intricacies and updates to the Maldives Honeymoon Launch Strategy, along with his prelaunch plan, the Bali Blast Strategy. 
He shares effective ways to use PPC to catapult your product to the top of the search, and how to utilize Helium 10's Keyword Tracker tool and boost to gauge your bid's success. We'll discuss strategies for attracting customers to a product with no reviews, and you'll discover how to use tools like Helium 10 Audience and the CPR number to monitor and increase your orders.
The episode also sheds light on SEO and its relationship with Amazon listings. You'll find out why a simple listing score formula isn't sufficient to rank on Amazon, and why optimizing your listing for Amazon customers, as well as its algorithm, is pivotal. Let's dive into the evolution of Amazon's algorithm over the years, and why sprinkling specific keywords a certain number of times isn't as effective as it once was. To top it all off, we'll explore how developing a tool with a potent listing score creator, like a "Surfer SEO for Amazon listings" can guide you in optimizing your listing and the importance of testing your strategies. Buckle up for an episode packed with valuable insights!
In episode 500 of the Serious Sellers Podcast, Bradley talks about:
00:00 – Maldives Honeymoon Launch Strategy and Results
03:35 – The Maldives Honeymoon Effect
06:50 – Amazon Keyword Research and Competition Analysis
10:53 – Getting Ranked for Keywords With PPC
15:30 – Improve Amazon Ranking With PPC and CPR
18:49 – Amazon Algorithm Changes and New Strategies
25:20 – The Significance of Amazon Recommended Rank
28:23 – Analysis Of The Project X Coffin Bath Tray Keywords
34:40 – Relevance of Keywords in Amazon Ranking
42:44 – Listing Optimization and Test Launches
Transcript
Bradley Sutton:
Today's episode 500 of the Serious Sellers Podcast, and we're doing it live right here from the Maldives, as usual, because we're gonna go into the Maldives Honeymoon Launch Strategy and some of the new twists and turns that have come up because of the test I've been doing. How cool is that? Pretty cool, I think. Two, three, four, music you want to know what keywords are driving the most sales for listings on Amazon. To do that, you need to know what highly searched for keywords the product is ranking for, maybe at the top of page one. You can actually find that out in seconds by using Helium 10's Keyword Research tool, Cerebro. Now, that's just one of the many, many functions that make this tool my favorite tool in the whole suite, and it's the most powerful keyword research tool ever created for e-commerce sellers. For more information, go to h10.me/cerebro. H10.me/cerebro. Don't forget to use the Serious Delors podcast discount coupon, SSP10.
Bradley Sutton:
Hello everybody and welcome to another episode of the Serious Sellers Podcast by Helium 10. I'm your host, Bradley Sutton, and this is the show. That's a completely BS free, unscripted and unrehearsed organic conversation about serious strategies for serious sellers of any level in the e-commerce world and, as you guys can see here. I am back here in the Maldives, Waldorf Astoria. The place that started all the way back in episode 200 was when I first started filming out here the Maldives Honeymoon launch strategies, and then every 50 episodes we'd come out here 250, 300, 350, 400. I actually skipped 450, but so this is the first time back in the Maldives since episode 400. But the Maldives Honeymoon strategy is just a strategy. I just made a funny name to it so that we can try and get the most out of what we call the Honeymoon period, when we just get started selling on Amazon for a certain product, and so we're going to dive into it and what's the latest here on this strategy. So make sure to stay to the end, because we've got some new things I'm going to be talking about today. But just some background again.
Bradley Sutton:
Honeymoon period what is it? Well, the Honeymoon period is that's not a term that I came up with. That's a term that relates to the first few weeks, the first couple months sometimes, of a listing where you get more bang for the buck. It basically refers to how, if you have a four or five year old listing and you do a couple PPC sales for a keyword, not much is going to happen, right, but if you have a brand new listing sometimes just changing the title, sometimes just changing a keyword here or there, sometimes just getting one sale on a keyword, sometimes just getting a few sales on a high volume keyword It'll start moving you around on the organic side. Big fluctuations might happen on your PPC on a positive way. And we call this the Honeymoon period. This is not an official Amazon term, but it refers to the fact that when you are selling a new item, especially one that doesn't have much history, what happens sometimes is that Amazon doesn't have enough data to kind of know what you're relevant for, and so any little micro actions where on a more mature listing is not going to have much of an effect because Amazon's got so much data and so many clicks and so many things to kind of measure and understand what it's relevant for. Those micro actions on a newer listing where Amazon's just trying to figure out what is this product going to be good for, it has a lot bigger effect on it. So we call that the Honeymoon period.
Bradley Sutton:
All right, now what I started doing, like five, six years ago, is I launched a lot of product. By the way, I've launched over 500 products now, but even more than four years ago I had launched over 400 products and what I found was I always was experimenting. I found, like these, certain micro actions as I just made up that term now for myself I guess, these micro actions that could help me get even more out of the Honeymoon period, that would help me get off on the right foot. You know, just like you know, honeymoon is for a wedding, right? You want to get off on the right foot, and so then I was like, okay, what am I going to call this? I'm like I'm going to call this the Maldives Honeymoon effect, because these actions have a lot bigger impact, even more than just, you know, what we normally would see on the Honeymoon period. And so that's why I just went ahead and named it this thing, and I came here to the Maldives here to record it. So what is the latest with the Maldives Honeymoon method?
Bradley Sutton:
Well, we're going to go into some different strategies here, but let's do a recap. A lot of these methods is actually in prelaunch, and in prelaunch I made a new name for it. You know we call it the Bolly Blast. So I'm not going to go too, too in depth. But if you want to have a Bolly Blast, you know prelaunch these are the steps that leads the Maldives Honeymoon launch. Check out episodes 466 and 467. If I'm not mistaken, it's a part one and part two about all the things you need to do to get your listing ready. So h10.me forward, slash 466 or 467. You can also search that up on YouTube on our Helium 10 channel and in there I think I have like a 47 step process that happens before you even launch the product. Let's just review some of those you know. Again, those are two hours of episodes you need to go back and like listen to to get the full details.
Bradley Sutton:
But in a nutshell, you know it starts at the product research stage, right, picking products that potentially have lower title density. Title density is something that we have exclusively at Helium 10, which measures the number of listings on page one that have a certain keyword in phrase form in the title. So when I say certain keywords, the searched keyword. So, for example, if the keyword is coffin shelf and you see in Helium 10 that the title density is seven, that means that the last time Helium 10 check, there are seven listings on page one that have that keyword in exact phrase match in the title. All right, if you have a listing or a keyword that has title density of 40, that means there's 40 listings that have that exact keyword in the title and that means it's going to be a little bit harder to rank on that page because Amazon algorithm, you know, heavies or favors heavily the title as far as what a listing is relevant for. So it doesn't mean, you know, you can't launch against a keyword that were a title entity it's 40. It just means that, hey, it's going to be a little bit more of an uphill battle where sometimes you have a lower title density and Amazon thinks you're relevant. And, by the way, guys, I'm going to drop some bombs here about how you can know what Amazon is relevant or what's relevant to Amazon. But anyways, if you have a lower title density sometimes it's going to be a lot easier to rank. Sometimes even from day one you can be on page one potentially.
Bradley Sutton:
So that's one of the things we talk about in the Bali Blast method and then other things is about. That has to do with the keyword research, understanding where Amazon puts relevance as far as things that are in your listing, as far as keywords go from the title to the bullet points, and so we talked about getting all of the keywords that your competitors are ranking for, your direct competitors or the keywords that they're ranking highly for. We talk about getting opportunity keywords finding the keywords that maybe only one of your competitors ranking for, and that means you're going to be able to potentially rank for that keyword when you're only competing with one of your competitors, as opposed to five or six of your competitors. There are other keyword research strategies we talked about, such as trying to find complementary products. So these are all. Again, we're talking about pre-launch right now.
Bradley Sutton:
How do you put the right keywords in your listing Complementary products? But basically that means maybe you see your competitors have a frequently bought together type of product. For example, if you're selling a coffin shelf or your competitors are selling a coffin shelf, maybe you see in frequently bought together, which you can find in Helium 10 Blackbox, a history of other coffin shelves being bought with a coffin letterboard Right. Well, part of the Maldives Honeymoon strategy is that you want to get index for some of the main keywords from those coffin letterboards if you have a coffin shelf. So if you see that for these coffin letterboards, these five coffin letterboards. One of the top keywords is coffin letterboard and another one is Halloween display or something like that. So those top keywords from those coffin letterboards, even though they might not be directly relevant to your coffin shelf, you're going to want to get index for those listings and then from day one, you're going to be able to target those in product targeting, ppc, and then also you'll get a little bit more breadth, some width to what you're going to be showing up for, especially in broad campaigns and auto campaigns. So that's another strategy to use too. It's also a strategy to get index for forbidden keywords. Like, maybe you're related to an adult product or a drug related product. You can't put adult related products or keywords in your listing or drug related or other forbidden keywords. Well, if you make yourself relevant to the non-forbidden keywords and you're listening by sticking them in there, you potentially could get index for those forbidden keywords just because Amazon deems you as relevant. So that was another strategy we talked about in the Bali BLAST method.
Bradley Sutton:
Now, originally in the original Maldives Honeymoon strategy, when you're launched, we talked about using search, find by and two step URLs and things of that nature. Now that's no longer something that Amazon really wants you to start doing. And it's actually interesting. I was looking at the terms of service and it doesn't mention anymore the two step URLs. But it does talk about trying to manipulate your keyword search rank in the code of conduct. And that was a different change a couple of years ago where Amazon started specifying that they don't want you trying to do those kind of URLs and things to manipulate what it says the search rank, keyword rank. Before then we always would talk about, hey, doing search find by doing two step URLs, things like that, because in the Amazon terms of service it only talked about manipulating your sales rank, like your BSR. So then Amazon kind of cracked down on the keywords too. So that really changed the Maldives Honeymoon method. We do not suggest anymore getting friends and family or using services that are going to go out and get 40 people to search, find and buy your product with a keyword. That's pretty explicitly against Amazon terms of service. Now it wasn't before. People are trying to say, oh, it's always been against service. No, it hasn't, which is why Amazon changed it to make it against terms of service later.
Bradley Sutton:
So how did we change the Maldives Honeymoon launch strategy then when we couldn't use services like AZ rank or rank bell back in the day. So how can you get ranked for keywords right away? Well, we changed the Maldives Honeymoon method to be strictly PPC, so the whole theory is still the same. You need people to search, find and buy your products after searching for a certain keyword, and the more people that do that, that's what's going to get you ranked on page one. But when you have a brand new listing, how do you get on page one? How do you get people to even see your listing? You know, the old way was just doing search, find, buy, right, you know, getting two-step URLs, having a service send people to an exact keyword and they find you're listing on page six or seven and then they'll go ahead and buy it and then they'll move you up. But you can't do that anymore. So what we talked about, I think starting in like episode 300 or 350, was do the same thing with PPC.
Bradley Sutton:
So how do you get people to organically search, find, buy without breaking Amazon terms of service, you know, without using an outside service, without using friends and family, et cetera? Well, you got to think what is going to make somebody, if they happen to see your product, buy it, no matter what. Well, the first thing is what's going to make somebody see your product if you're not using outside service? The answer is easy it's PPC. So you've got to find the PPC bid that is going to get you to the top of search. You could do a top of search modifier in your PPC or you can just up your bid, you know, and do a fixed bid or down only bid, that's at a high, what you think is going to get you top of search, naturally, and then just make that the bid. Now how you know if you're getting that is you put your keyword to keyword tracker. After you put a bid of like $3, just say $3 on the keyword coffin shelf, I put coffin shelf into my keyword tracker and then what I do is put my keyword tracker on boost. Boost is something that checks it 24 times a day and now within an hour or two, I'm going to see a couple different spots on where I'm showing up randomly in the search results and different browsing scenarios and different locations. And then if I'm like ranked one, two or three, I'm good to go. If I'm ranked like eight or nine or below or something that probably I'm going to need to raise my bid to try and get my rank high. So, anyways, that's step one.
Bradley Sutton:
But if you have a brand new product and has zero reviews, obviously you know how do you get people to buy your product. Right, with the old old days again, search, find, buy you're using these outside services. They were getting incentivized to buy the products like, hey, you get the product for free, basically, all right. Now, now we can't do that anymore. So what is the incentive, I guess you could say, for somebody to buy a product that has no reviews, that they've never maybe heard of the brand? How do you get them to go ahead and purchase your product?
Bradley Sutton:
Well, the answer is by choosing a price point that makes them buy the product you know like no matter what. So that price point is different for every product. For example, if coffin shelves are all costing, or retail price, $25. So what you want to do is think what price point is somebody going to see this with? Like man, this is an incredible deal. You know, here's this other listing that has a thousand reviews, a lot of social proof. But I'm going to go ahead and get this other one. Well, maybe that price is $13, you know, 50% off? Are you going to make money at 50% off? No, you're not. But the whole point is, you know like you used to have to pay to get orders in the beginning to get that momentum and to get that sales velocity and search velocity, so you were paying money anyway. So to me this is a good investment. So you know you choose whatever that price is of where, when your competitors will buy that product.
Bradley Sutton:
And one way that you can, you know, do some product research. If you don't have, like Facebook groups where there's a community that's around coffin shelves and you could like do a quick free poll and they're asking them what price, or something like. Let's say, you don't have access to anything like that, use Helium 10 audience. All right, helium 10 audience it's a pay-per-use service inside of Helium 10, powered by Pikfu, where you can go and choose your target market. Like, let's say, your target demographic is females from the age of 18 to 30, who are prime members. You can actually choose that target market in Helium 10 audience and then just find 50 of them and within like three hours you'll have the answer to questions like hey, at what price point would you go ahead and buy this product even though it had zero reviews, and compared to and you can even have the other products there, even though the other products had a thousand reviews, and you would have pictures of it. So then you're able to see, you know, maybe, what price point somebody would buy that from your target market.
Bradley Sutton:
Or you can just guess. You know, I don't like guessing, you know all the time. So I like to go ahead and, you know, actually get some information. So once you've got that, then you go ahead and launch with that PPC and then in Helium 10, there's something called the CPR number. All right, the CPR number in Helium 10 tells you approximately how many orders over eight days eight to 10 days, I should say where it gives you. If you, if people, if that number of people search, find and buy your product, it gives you the best chance. Doesn't give you a guaranteed chance, but it gives you the best chance to get to page one of a certain keyword. All right, and so that's basically what I've been doing for the last two years. A lot of people have been doing this as well. You know, literally thousands of people are using this technique in order to to get to page one.
Bradley Sutton:
You monitor how many orders you're getting each day with the CPR number. So, like, let's say, the CPR number is 100. I like ramping up my order. So if the CPR is 100, I don't want to just divide that by eight or 10 and say, all right, I need 10 per day or 11 per day. No, what I like to do is I like to make it look organic. I like to start off slow, maybe day one, and get two or three. So the way I know is that, you know, I'm checking my, my PPC reports in real time and if I get two clicks and purchases on a certain keyword, I actually pause that target so that I don't get more. All right, I kind of want to like make it look a little bit more or organic and then the next day I started again and try and get maybe six or seven orders. Next day I try and get 11 or 12 orders until I can, you know, hit that CPR number and then go back and I'm going to check where am I ranking? Did it help my organic ranking?
Bradley Sutton:
Now it's important that again, when I said that you're you're choosing a, a cheaper price point, you don't put your list price or your regular price at this cheap price. No, because the problem is, if you do that, you might end up not being able to raise your price in the future. So when you choose, like, let's say you choose a $15 price point for your $25 coffin shelf, well, I'm going to make that a sale price or I'm going to make it a coupon discount, like, so maybe I'll put the price at $25, but then I'll put a, you know, 40% off coupon in order to hit that, that price point. All right. So again, don't put your regular price at that. And again, back in the Bali blast method, I had other tricks and tips about how to get, like, strike through pricing. So again, 466 and 467, make sure to check those episodes to see how to get you know, special strike through pricing and things like that. But but that's.
Bradley Sutton:
You know, in a nutshell, what the Maldives honeymoon strategy has always been, you know is is launching on five to 10 keywords. One other trick we usually do is hey, in the Maldives honeymoon strategy, don't just choose five or 10 completely different keywords like coffin shelf, gothic decor, spooky bedroom, mysterious oddities and Halloween, scary things Like. Do you notice the difference in those keywords? They're all completely different. They don't share keywords. What you try and do is find the embedded keywords that you can launch in groups, all right. So when you're doing your research in helium 10, you're going to find groups of keywords that have very similar roots. You know, like coffin shelf, gothic coffin shelf, gothic coffin shelf for bedroom. You know there's like six, seven keywords in there. You know coffin shelf for bedroom is also a keyword. So what you do is you try and launch all of those keywords at the same time, so they're all sending those relevancy signals for that root keyword to Amazon. All right. So there's another strategy that we use in choosing the keywords.
Bradley Sutton:
Again, that's mentioned in the Bolly Blast Now. Here's the thing here. Now let's talk about some new stuff. All right, that's just kind of like a recap of the OG Maldives honeymoon strategy and Bolly Blast strategy. What is new for 2023, 2024? And I'm going to go out on a limb and I'm going to say something controversial, and that is I almost recommend doing a test listing if you're in any kind of a newer niche. All right, literally doing a test listing first, and you could potentially even do this for more established niche, all right. So that's the end game of what I'm about. That's the controversial thing that I'm launching now with this Maldives Honeymoon Strategy. Let's take a few steps back to explain why I'm suggesting this and what has changed on Amazon in the algorithm. Let's take even three steps back before there.
Bradley Sutton:
Listing optimization is important. All right, how you have the keywords, how many times you have it in your listing, where you have it. It's important, you know, to really send those relevancy signals. However, it is not as important as it was in the older days. Let me just tell you right that right now and it's also not a foolproof way to get ranking All right, do not use some kind of like formula where I'm going to use this keyword this many times and here and here and then, that's equal success. No, all right, if anybody tells you that that is incorrect.
Bradley Sutton:
People like using, like listing scores you know, like people have been, who have been using Helium 10 for years, have done something kind of like rudimentary, where you know they take what we teach them and say, all right, hey, I know I have to have. This keyword is my most important keyword and it needs to be in my title and in one bullet point and in one search terms. And I'm going to give myself three points to have that. And and then I'm going to give myself one point for this. You know, people I kind of do that myself. Like it helps me to kind of like know where my, my keywords are.
Bradley Sutton:
And people have asked, you know, helium 10 for probably like three or four years now to do some kind of like listing score, where we take an algorithm and assign points to it, right, and in the past we've always said nah, like I'm not sure how valuable that will be. But, but recently, you know, I started writing blogs again. Maybe you guys are watching seeing some of my blogs at Helium 10.com forward slash blog. But you know, seo is an important part of a company like Helium 10 and any company like that. So when we write SEO blogs, we're trying to rank for keywords in Google and Bing, right, it's kind of similar to making a listing for Amazon.
Bradley Sutton:
It's not just let's randomly put together some words and make some something interesting. It could be the most interesting blog in the world, but if it doesn't have the right keywords in the right places and the right number of times, you're not going to get seen. So we we've been using, you know, for the last like year, this tool called things like surfer SEO or something like that it's called and like it gives you all the important keywords and then it tells you how many times you need to write it and like where, and then it gives you a score based on if you've optimized your listing around those keywords. I'm like, hey, this is kind of like a cool idea. You know, maybe we can do this for Amazon. You know sellers because you know people have kind of like been asking for something similar to this, and so you know this might be a way to help guide people to, to kind of know how strong their listing is as far as best practices. But here's the key Again, even though Helium 10 is working on something like that, once that comes out, don't just think that's all you need, that you know what.
Bradley Sutton:
All you need in order to rank is to know how many which keywords there are, how many times you put it in your listing and in what places, and try and get some high score Is a high score. You know, using this algorithm important to send relevancy signals to Amazon. Of course it's important, otherwise you wouldn't even be working on it. You know it's just a general truth in SEO, but the Amazon algorithm is so advanced these days, it is not enough just to have some kind of mathematical formula. And of course, it goes without saying you have to optimize your listing for an Amazon buyer, all right, which no algorithm can measure, all right. So I'm not even going to talk about the strategies there. But obviously you need to make sure your listing is attractive to a human being, right? All right, so that's a separate conversation about. You know how to do that. We've done podcasts about, about how to do that and really be able to connect on an emotional level to sellers.
Bradley Sutton:
But what about the algorithm? Like, why am I saying that just having a score is not going to be enough? Well, first of all, amazon algorithm does not work on a certain score. It's not like Amazon is scoring your listing as far as all right, it has this keyword four times, it's got to this root word three times and they've got this in the bullet point here in the title, and so it's always going to, you know, have some kind of formula that Amazon scores it and then that's how it deems you as fully relevant for all time. No, that's not the way Amazon works. Back in the old days, in the beginning, amazon did work a little bit more like that, you really could control how you know relevant you were to Amazon. You know, because the Amazon algorithm was not as as developed and I say this not, trust me, guys, I am. I do not have any secret access to the Amazon. I have contacts at Amazon who developed the algorithm and and develop tools like brand analytics and things like that. That does not make me some kind of special. You know, savant as to what the Amazon algorithm, helium 10, no other tool out there, no other guru out there knows what is going on with the Amazon algorithm.
Bradley Sutton:
People speculate, you know. They'll say, oh, I read this scientific paper. You know we've read all the scientific papers. You probably heard a couple episodes ago or you know we went deep into that. But at the end of the day, nobody really knows. Everybody's just speculating, which is fine. There's nothing wrong with speculating.
Bradley Sutton:
I speculate too, but what I like to do is I like to speculate based on tests and that's all I do. That's why I run Amazon accounts. I'm not trying to make money Nowadays. I'm trying to make a little bit more money in my Amazon accounts because that's what I do to to to support my, my kids, who are employees of my, my Amazon company. So now I have to make a little bit more money than I did. But my main point in running Amazon businesses is I use them as like my playgrounds to like test what is and isn't working with the algorithm.
Bradley Sutton:
Because, again, amazon doesn't make its algorithm public. The only way we kind of know how it works is by seeing what happens when we do things on Amazon and then just like measuring the results. But no matter what we do, again get it in your mind, guys there is no exact formula, and anybody who says there's an exact formula to rank on Amazon like an exact keyword the same time, every other time they're full of nonsense. All right, you know, even the helium 10 CPR numbers. Like we've always said, it gives you the best chance, but it doesn't give you a guaranteed chance. You know, every time it's based on a lot of trial and error. You know, I did a one and a half year case study to come up with that CPR number, all right. So what have I found that is working with the Amazon algorithm now and why is it different?
Bradley Sutton:
All right, well, number one is that a kind of important metric in helium 10 that people overlook is now a super important metric. All right, and what metric is that? It is Amazon recommended rank. All right, that is a name that we kind of made up, but it actually comes from an actual data point in Amazon. It's one of the things I'm very proud about. You know, I've made up the Maldives honeymoon strategy and you know I don't invent a lot of things, but this is one of the things that I discovered about five years ago and back then, like five years ago, I was like, oh man, everybody's going to copy us and start showing this. Nobody ever came up with this. I'm sure somebody's going to show it now. You know somebody's going to try and figure out where this data point is and show it to people because it is super, super important. I'm just shocked nobody's copied us in the last five years since we had this.
Bradley Sutton:
But again, Amazon recommended rank is coming from Amazon, where it kind of like says hey for X product and Y keyword. We think Y keyword is kind of very relevant to this product, or not so relevant, or medium relevant, etc. Amazon has a scoring system for every single product and almost every single keyword, where at least the top 1000 keywords if the product has a lot of history, it will go ahead and say, score it as far as how relevant it thinks for advertising. And in the past it was never something I really talked about too much that everybody should have to do because it was mainly about advertising. But it was a great metric to have because it kind of gave you insight into at least how the Amazon advertising algorithm thought that you were relevant for a certain keyword, right, or in relation to a certain product. But now, guys, in the last six months and all the tests I've been doing with launching everything else, it is all of a sudden a super indicative Metric on how just Amazon search algorithm thinks you are relevant. All right.
Bradley Sutton:
So I did a couple of tests with, like this, coffin Bath tray. I use the helium 10 project X account. I use a couple you know friends accounts because I wanted to have like Different accounts and different products, different ASINs, to kind of like test my, my theories right. And so I chose coffin bath tray because this was something that didn't have a lot of history on Amazon. So this is especially geared towards you people who are are getting in these niches where they're not completely saturated, all right. So because of that.
Bradley Sutton:
Amazon doesn't have that much data in order to know from day one what you might be relevant for. You know it's different, like if you're gonna launch some collagen peptides. There is hundred collagen peptides who've been selling millions of dollars a month and you know hundreds of thousands of customers have bought collagen peptides and Amazon has tracked every click and how they interact with the listings. They've got so much data on exactly what is relevant to collagen peptides that from day one of a brand new collagen peptides listening, you're probably going to be able to, you know, to get relevant for the right keywords but in a newer niche is a little bit different. So, sure enough, when I first launched these two coffin bath trays, I did on separate accounts. I did it with separate kinds of listings, one like a more in-depth listing and and I use the best practices again, you know I use that, my own scoring system, even on how to get you know Like I put coffin bath tray, like you know, like four times in the listing and long tail versions of I did all the right things and and get this.
Bradley Sutton:
The key words that I was relevant for from day one Was not coffin bath tray. Alright, if I was looking at the Amazon recommended rank from day one on one of the products. Or again, I launched pretty much the same exact kind of product. It was just different kinds of listings in different accounts at the same time. So I could, you know cross cross, see the number one. There was only one keyword on one of them that it was relevant for. Like Amazon only recommended one keyword. It was bath. Bath tray was kind of crazy, right. One keyword, bath tray. No other keyword had it on Amazon recommended rank. By the way, when you use that in cerebro in helium 10 to get the Amazon recommended rank, you have a listing up for five minutes. We'll already have Amazon recommended rank. This is something we pull from Amazon in Real time.
Bradley Sutton:
And the other product that I launched it was actually relevant for like 40 keywords from day one and the top three was interesting was bathroom decor, wineglass and candle holder. Very interesting. Alright, bathroom decor was super generic Word wine glass, what you might be like. Why does it have wine glass? Well, this, this, this coffin bath tray. I had in the. I think I put in the title and you know I had in the description that it has a slot for a wine glass. Alright. And then I also put that I had a slot for a candle holder but Amazon thought that this was a wine glass in candle holder. So from day one I was not.
Bradley Sutton:
I couldn't really do the Maldives honeymoon launch because for coffin bath tray, I was indexed for it but Amazon didn't think I was relevant. It would not even show me in PPC for coffin bath tray when those was the number one, most important keyword. I was optimized everywhere for it. It had a low title density. There was hardly any competition for coffin bath tray two years ago. I would have been on page one instantly for this, but because Amazon couldn't figure out that this was a coffin bath tray, it would not give me any PPC impressions. Alright, that's crazy.
Bradley Sutton:
So then, what are some of the things I started doing? I started changing up the listing. I had it coffin tray and other keywords. I wasn't even indexing for more times. I had to special features. I was trying doing search terms. Things were not working. I would see little bits of movement, but it was not moving like it would in the old days.
Bradley Sutton:
And this is a listing again. I just barely started. I started it like so definitely in the honeymoon period. So what got me to get coffin bath tray to Amazon recommended rank number two on one and Amazon recommended rank number one. What it was was I did an old-school two-step URL alright, I did an old-school two-step URL. It was the field ASIN URL. Alright, I did a field ASIN two-step URL and then I got somebody to buy it. I think one of them I might have got you know, chevali to buy it, and then the other one. I went to AZ rank and I paid AZ rank to get somebody by it.
Bradley Sutton:
Now I know what you're saying. Wait, bradley, didn't you just talk about how that kind of stuff is is against Amazon terms of service. Now, I think there's gonna be different opinions on this, but I could not care less in this instant about Keyword ranking. I was not trying to increase the keyword rank at all. Alright, I didn't even look at what the keyword rank was. My point was I knew I was not relevant for it to Amazon and so I was trying to send a relevancy signal to Amazon. So it knows that, hey, this is something important and this is something that you can give me impressions for in PBC and I'll gladly pay for clicks. So, in my mind, my interpretation of Amazon terms of service. This is not against the terms of service, because I'm not trying to manipulate or affect Amazon keyword ranks. I'm just trying to get, I'm just trying to pay Amazon some money in PBC and and make sure that they know that I am Relevant for it. So what I did was I just I just did one order, one field ASIN, where somebody added it to the car and they they bought the product for with the keyword coffin bath tray in it and, guys, less than 12 hours later it not only was it not Amazon recommended rank at all, it went to number one. Amazon recommended rank on one of the products and number two on the other product. For the top, amazon recommended rank just with one.
Bradley Sutton:
Feel ASIN now, because Amazon said two-step URLs for ranking is not good anymore. We took those off of our helium 10 gems page. So you guys want to know a trick to do a two-step URL still with a keyword. Right, go to index checker in Helium 10, put your ASIN, put that keyword in there and, whether it says is index or not index, you'll see it has check marks and dashes or whatever. Right click on the dash or the check mark, alright, and then do copy URL. Alright, so that URL is a feel on the field ASIN one there's a, there's a, there's a field ASIN check, copy that URL, replace the keyword and the ASIN with yours. Or if that's exactly the keyword in the ASIN and that's the exact URL you can use in order to get somebody to buy your product with the field ASIN two-step URL, and then that should get you the impressions and it should send that relevancy.
Bradley Sutton:
So again, this might be a controversial thing. You know, I'm definitely. You know I have a good relationship with Amazon. I'm not gonna, I'm not gonna suggest something that is blatantly against Amazon terms of service. That's not how I roll, but you know, anything can change. I am like 99% sure this is not against Amazon terms of service Because, again, I am not trying to manipulate sales rank, I'm not trying to manipulate search rank. I'm just trying to let Amazon know that I am relevant for this keyword when on this new product.
Bradley Sutton:
So again, once that happened, once I did that one boom, I got to the very top of the search results in sponsored alright, I'm not talking to, you know, search rank and then I got some organic orders from sponsored and then that brought my organic rank up after just like two or three orders more that I got it got me to like the top of Page one for that keyword, just like the regular Maldives honeymoon strategy. It was very interesting to see because on August 2nd this is months ago this is one of the I do tests constantly, guys. So this one coffin tray you know this is just one. I'm just giving you, guys, one of the examples I've done. I'm looking here at my notes. On August 2nd, you know, the top 10 were keywords like bath tray, tray, decor, very generic keywords. It like he obvious Amazon couldn't figure it out. And then on 8, 4, 2 days later, every single one of the top 10 keywords on one of them was all had coffin in it. So finally I got Amazon, just without one order, to understand that, hey, I am relevant for coffin related keywords and in the other product it didn't show all coffins, that I didn't have coffin as many times. In listening again, listing optimization is still important for the, for the algorithm, but at least the number two keyword was coffin bath tray, and then a lot of the other keywords were were just generic. Now here's the thing, though. Here's a Again, I can do a podcast episode of just about the test. I mean I literally did like 75 tests and tweaks just in this case study alone for these two products.
Bradley Sutton:
Interestingly enough, before I started getting relevant for with the Amazon recommended rank for coffin bath tray, my number one Keyword on one of the products, like I said before, was bathroom decor. All right, very generic keyword, very high search volume, way higher than coffin bath tray. But because Amazon gave me a recommended rank of one which is not really from Amazon, amazon gives a score and then we translate the number one score into Amazon recommended rank one, because for bath bathroom decor, I Could actually target it in PPC and I was already ranking like on page five for this keyword. I didn't even get one sale for one at the cart one, nothing. And I was on page five for the super high volume search term, just because Amazon gave me a high recommended rank.
Bradley Sutton:
Now you might think, well, why didn't you double down on that? You know, Bradley white, you know, to me I couldn't care less about the word bathroom decor. You know, like I don't think that people who purchase or who search bathroom decor we're really going to buy, you know, a coffin shaped bath tray. But that just shows you again how today, in 2023 and 2024, this data point is super important and has wide reaching effects as far as how you or how Amazon thinks that you are relevant. So, at the end of the day, I had this product running for three months now and what I did was after the three months, and you know one.
Bradley Sutton:
My theory I wanted to test was well, is the Amazon algorithm trained All right now that I've been selling this coffin bath tray when nobody else was on these two accounts for three months? You know what, if I launch a new coffin bath tray, is Amazon, from day one, going to go ahead and understand now what this kind of product is? Because it has got this history and the answer is interesting. The answer is still no, not really. So I launched two products on two different accounts today. One of them I just made with the listing builder AI that we have that uses ChatGPT made a great listing, but it was optimized for the keywords that I knew were relevant. And the other one, I use the exact same 100% listing that I've had up for three months, thinking that, hey, now that Amazon recommended rank is very high for these products or for these keywords, well, it should know right away and copy that Amazon recommended rank. So here's what I found out on the very first one, the top three or four keywords that are Amazon recommended rank. On this brand new listing that I had really optimized for coffin bath tray, wine glass, charcuterie board, bathroom tray, wooden tray and bathroom caddy. So a little bit different than when I started off. On the other one, but again no coffin related keywords. So, even though it's you, I did everything right and optimizing my listings to make it somewhat relevant. At the end of the day that ASIN is still going to need me to run a field ASIN two step URL in order to let Amazon know that I am relevant for coffin tray.
Bradley Sutton:
On the other listing that was in Project X, where I copied the 100% same listing that's been up for three months, word for word. I changed like a couple, like just one or two words just to make sure it wasn't the exact same listing, so I should say 99%. Here is the top three keywords from Amazon recommended rank bathroom decor, wine glass and candle holder. Does that sound familiar to you? Exact top three keywords of when I started with that other product, even though now that same product has the number one keyword is coffin bath tray, which it should. So again, it shows listing optimization, guys, is not the end all be all. Having a perfectly optimized listing at times is not enough. It's more. It's probably going to help you more in established categories. But even though I've had this product selling for three months, amazon still needs more, a bigger bump in order to make sure that some of these niche keywords it knows that it's relevant for it. So the Amazon algorithm is not perfect. It was perfect. It would have known from day one that hey, this is a coffin bath tray. This other coffin bath tray has been getting sales from coffin bath tray, coffin bath caddy, you know coffin decor and all these keywords. This product is very similar. We're going to put it number one. All right, that's actually how I noted the Amazon algorithm work back in the day.
Bradley Sutton:
But this is a new year, a new Amazon algorithmic shift. I guess you could say where this is not. You know this strategy is not necessarily working anymore. You've got to send those relevancy signals to Amazon. So for now, you know my way of sending those relevancy signals is, and you shouldn't need this for every single keyword. Guys, don't get me wrong. I'm not saying go, go and every single one of your 10 launch keywords you're going to have to do a field as in two step URL. No, like, I think that Amazon probably wouldn't, you know, like that, because that almost would be considered manipulating sales rank, because you're getting all these sales that are not necessarily real orders. But if you find yourself having trouble getting relevant for a keyword because Amazon recommended a rank is off, try that out, get one or two orders, just try one at first for a field as in two step URL in order to send those relevancy signals and then the next day, wait 24 hours, run it again.
Bradley Sutton:
And this is why I said that kind of like off the wall thing earlier where I'm now suggesting that you might want to always do a test listing. Now, all right, I didn't say that before you know. I said do kind of test listing so you can, so that you can know what kind of exposure you're going to get on PPC to validate some, some theories you have. When there's not enough information from existing competitors, you know you might want to make sure that you validate your idea with a test listing. But now, guys, I'm saying, if you're selling in a newer niche, especially and maybe sometimes, even if you're an established niche, it might be worth it to spend you know 50 bucks and get another UPC code and just do a fulfill by merchant listing, send a couple of or have a couple of units available and have your listing that you want to go with and then see immediately what does Amazon think that you're relevant for right. And then if you're completely fine with this listing and you have the right keywords for Amazon recommended rank from day one, all right, well, you're good to go. That means go ahead and launch your regular product once you're ready and you can have that exact listing, knowing that from day one you might have that.
Bradley Sutton:
But if you're like me and you have to do like 40 tests or something to try and figure out, how do I make Amazon think I'm relevant for this important keyword? Well, you don't want to be doing that on a live listing when you're trying to like get you know, make advantage of your honeymoon period. So what the best thing to do might be to spend a few bucks and try a field ASIN, two step URL to see if that helps your Amazon recommended rank, to see if that helps you get those PPC impressions that you're going to need to do the Maldives honeymoon strategy from day one and then, once you figure out what works on this test listing, now you can start over again once your inventory comes in, or you can, you know, maybe your inventory is already there and now you can start off on the right foot so that you know from day one I'm going to send this field two step URL, you know, to go ahead and get this order or to get to get relevant for this keyword or maybe something you maybe have to optimize your listing in a different way. Again, like I said, listing optimization is important. Sometimes it can help. It can definitely help you by by doing things differently. But instead of trying to do all this trial and error on a live listing, when you're trying to you know, get your, you know, get your sales and everything do it like on a test listing first. That's what I did for this coffin tray and that's what I'm going to do for any probably the next few of my launches, or I've been doing it on some of my launches and it's going to be doing what I'm going to be doing, going forward on some of my launches. So, guys, let me know what you think, but this is the Maldives honeymoon strategy, like version four, 4.0, a lot of it's the same, but there's some new things that are different here.
Bradley Sutton:
But the very important that you guys know your Amazon recommended rank and especially if any of you guys have issues ranking for keywords or getting sales or getting impressions in PPC, just run your listing through Cerebro and check what that Amazon recommended rank is All right. So, number one again that means that's the keyword that Amazon thinks you're most relevant for, all right. Number 20, that means Amazon thinks you're 20th relevant, all right. The coffin shelf is a great example. The old coffin shelf seems to be completely locked in at a low Amazon recommended rank. Our Project X coffin shelf is like rank 25. For that you guys can see that yourself. Anybody can run the Helium 10 coffin shelf in Cerebro and you can see what the Amazon recommended rank is Right and it's not high. And that's why we're not ranking high organically. I don't know what happens, you know, like a shadow ban or whatever. I don't want to try and speculate on that, but in even in that case, this Amazon recommended rank is highly indicative of what's happening on the organic side. So, guys, I hope this helps. Let me know how it works when you guys try these strategies out, and especially, even if you have a more mature listening, let me know in the comments below what does it say for your Amazon recommended rank, the one that you've been struggling with? Let me know, and let me know how you fix it.
Bradley Sutton:
I'm not sure when I'm going to come to the Maldives next. You know, 500 was kind of like all right, I'm going to keep going until 500. So maybe if there's going to be a new strategy I need to come up with, I'll have another reason to come out, to come out here. This is my favorite place in the world the Waldorf Astoria. They always take care of me really well. If you guys make sure to you know, if you want to know how I afford this place, it's like $2,500 a night. Check out my travel hacking episode. Just look at up. You know Sirius Sellers podcast, travel Hacking. You'll find that episode and then you can see how I am able to get to this place without having to pay money or ask helium 10 for money for it. But anyways, guys, hope you enjoyed this episode and here's to another 500 episodes. Bye-bye now.
---
Enjoy this episode? Be sure to check out our previous episodes for even more content to propel you to Amazon FBA Seller success! And don't forget to "Like" our Facebook page and subscribe to the podcast on iTunes, Spotify, or wherever you listen to our podcast.
Get snippets from all episodes by following us on Instagram at @SeriousSellersPodcast
Want to absolutely start crushing it on Amazon? Here are few carefully curated resources to get you started:
Achieve More Results in Less Time
Accelerate the Growth of Your Business, Brand or Agency
Maximize your results and drive success faster with Helium 10's full suite of Amazon and Walmart solutions.