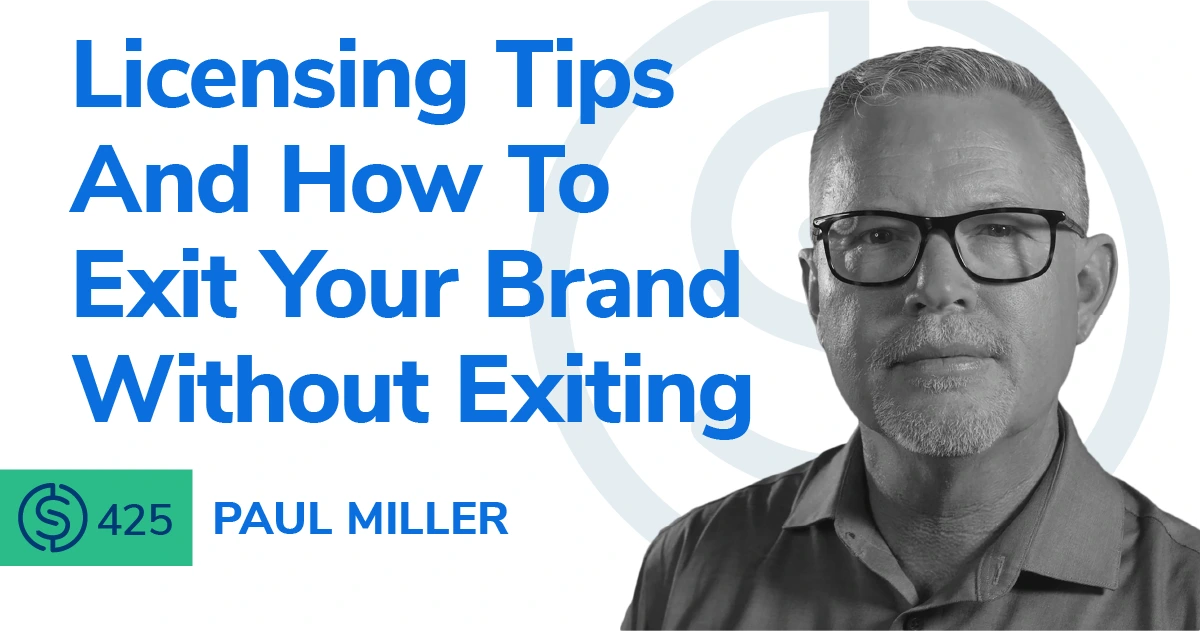 #425 – Licensing Tips And How To Exit Your Brand Without Exiting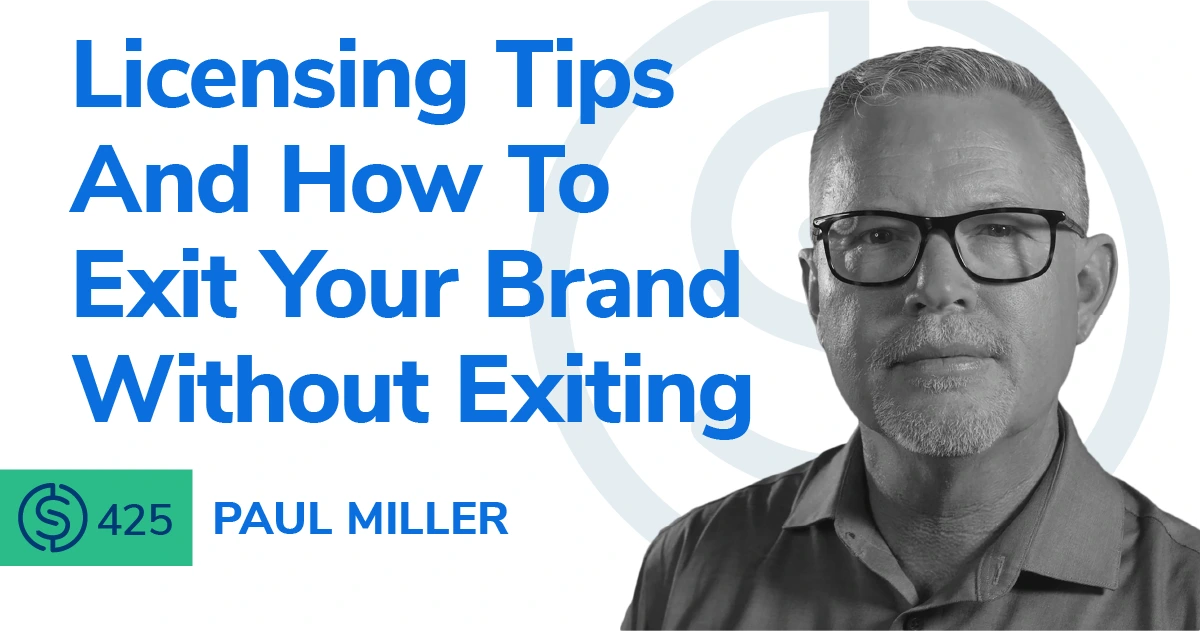 Video of the episode at the bottom
In this episode of SSP, join our host Bradley Sutton and his guest Paul Miller as he walks us through the world of licensing and exists. He shares his journey and experiences with licensing, how he's helping Amazon sellers find licensing opportunities, and discusses the pros and cons of a licensing exit versus a normal exit. Paul offers valuable insights and strategies for pursuing your own licensing agreements. Make sure to stick around until the end for the latest updates and tips for licensing this 2023!
In episode 425 of the Serious Sellers Podcast, Bradley and Paul discuss:
02:00 – What Paul Has Been Up To In The Last 2 Years
03:30 – A New Strategy For Paul's Cozy Phones Brand
07:10 – Breaking Down The Terms Of His Latest Licensing Deal
10:00 – Pros And Cons Of A Normal Exit And A Licensing Exit
11:20 – How Can You Pursue A Deal Like This Of Your Own
15:30 – "The Stress Is Off My Plate"
16:38 – Leading A Trip To The Licensing Expo In Las Vegas
18:30 – Does Retirement Come Across Paul's Mind?
22:30 – Paul Miller's Healthy Habits & Hobbies Outside The Amazon Grind
25:30 – What Are The Potential And Latest Strategies In Licensing?
28:44 – Paul's Sixty-Second Tip
30:00 – What Are Paul's Goals For 2023?
32:20 – How To Contact Paul Miller
Transcript
Bradley Sutton:
Today, we've got back somebody on the show who has a reputation of being one of the most knowledgeable people in the industry when it comes to licensing, and he's gonna be giving us tips on that. But he's also gonna talk about how he recently exited his brand without exiting. How cool is that? Pretty cool, I think.
Bradley Sutton:
Are you a YouTube blogger, blog writer, course creator, or other kind of influencer or educator? Maybe you just have a network of people interested in e-commerce. Did you know that you can earn commissions of 25% for life? For everyone that you refer to Helium 10, we've got many partners earning hundreds, even thousands of dollars monthly in commission from Helium 10's partnership program. If you'd like to join our affiliate partner program, please go to h10.me/crushit and tell them you heard about it from the podcast. Hello everybody and welcome to another episode of the Serious Sellers Podcast by Helium 10. I am your host, Bradley Sutton. And this is the show that's a completely BS free, unscripted and unrehearsed organic conversation about sir strategies for serious sellers of any level in the e-commerce world. And we've got a serious seller here back on the show for the first time in a well. Paul Miller. Paul, how's it going?
Paul:
Hey, go. Going great Bradley. Great to be back again.
Bradley Sutton:
All right. It's great to have you here. And we're not gonna go too much into your, your backstory for, for those of you who want to, to dive into that. I wrote down the episodes here that Paul has been on. So guys check out episode 50 was the first time that he came on, and then he came back on with one of his partners in crime and back in episode 196 to get Paul's full backstory, which is very inspiring. You know, started Amazon Business after multiple careers and really huge in licensing. And that's what he's known for, possibly more than it almost anybody else in the Amazon industry. So, real inspiring story. So make sure to give those a listen to. But you know, now we're in the episodes 400 already, so it's, it's been a couple years. So I just wanted at first just catch up a little bit and, and see see what you've been up to the last couple of years.
Paul:
Well, it's you know, it's a whirlwind, a rollercoaster, and whatever else you want to call it out there, Bradley, you know CozyPhones is my primary brand. It's, it's gone very well. We did have been doing very well on Amazon since 2015. As I said, it's a rollercoaster. I don't think we've talked through COVID was a little rough for us, cuz we are a headphone product, but we're not really a headphone for distance learning. It's a headband headphone, and it's mostly our target audience is probably closer to three to six year olds, doesn't have a microphone. So it really wasn't one of those headphone products that blew up during Covid. And as a matter of fact, we kind of got lost during Covid in terms of s search results. So that was definitely challenging for us. But overall we got through it. Here we are around the end of Covid, I guess, or it was actually not at the end, but it was around around 2020. We actually went to a new strategy with CozyPhones where we actually licensed the cozy phone's brand out to another manufacturer so that they could sell it for us.
Bradley Sutton:
Okay. So that's almost kind of like you know, like the reversal, no, not reversal. I don't know what the word I'm looking for. Like, not reversal of fortunes, but kind of like the, the opposite of what most people think. You, you before were, were paying and things for the license for like known brands, but then you kind of are licensing now your own brand. And so that's something I probably we've never talked about in this show. So let's dive into that a little bit and see, yeah. How in the world did you come up with that idea in the first place?
Paul:
Well, I actually posted about it the other day. I said how I exited without exiting.
Bradley Sutton:
So, okay. Let's talk about that.
Paul:
This is actually a common thing for a lot of brands, not so much in our world. Let me explain it to you. So obviously we talked a lot about licensing. When we take a product, like the one that I always show you here, again, this is the Star Trek Pizza Cutter, right? This is not my product, but it's a great example, right? So these folks think Geek came out with this product, they licensed Star Trek to put on their product. Star Trek in that case would be the Licenseor, and they were the licensee, and they made this Think Geek Pizza cutter, which sold millions of dollars worth, right? Tat's the same thing that I did with CozyPhones. I had my CozyPhones. We did a deal with Nickelodeon, pop Patrol, Hasbro and others, and we put their characters.
Paul:
I was the licensee, they were the licenseor. Well, I wasn't really looking for this opportunity, but I stumbled across it. One of my wholesalers who was buying and selling his specialty gift stores I was talking to 'em about it, and, and they sell a lot, and they're in a lot of distribution channels. They said,we were just having conversation about the difficulties of running the business on your own doing everything that we do, supplying the inventory, the manufacturing, and the cash requirements for our growing company. And he said, would you ever consider licensing it? And, and I, I was like, well what do you mean? He said, yeah, well, I do that with some people, brands or inventors who have ideas or establish brands. He will actually do a license, say, look, let me take over everything.
Paul:
You're just gonna give me the rights to manufacture and sell this brand in different marketplaces. You can decide what it is. I'll do everything and I'll just pay you a royalty. You don't have to worry about anything else. I'm like, wow. And I don't have to give up any equity. No, no, no, just, it's just a license. And I'm even gonna guarantee you, based on your success in the past, I'm gonna guarantee you a minimum annual amount that I'll pay you. But if we do more than that, you'll get more because it's a percentage of sales. So I thought lot, I thought long and hard about it. I I can explain some of the advantages of why I did it, but we hadn't executed that in 2020. And basically now I moved brand registry over, gave them access to brand registry. They're doing a phenomenal job for us on Amazon, getting into new channels, things that I just could not have done on my own.
Bradley Sutton:
Interesting, interesting. All right. So how le, let's break it down a little bit further as far as what's involved and not involved. Like do you transfer ownership like in Amazon to them, or you just gave them an admin account to the you account, like do you do anything at all I in the account either as far as the day-to-day or decision making or anything?
Paul:
No, they pretty much, I, I'm, I'm there as an advisor. I help in marketing of course. You know, I've run the brand myself in my own Amazon account for years. So I still look at, I look at Helium 10 keyword rankings, all the time. For example and I'm, and obviously I see something slip or something going, going crazy, I'll just ping 'em and say, Hey, what do, I noticed this happening, this happened to me in the past what's going on? Things like that. But I'm not really involved on a daily basis. I help with new designs as far as the Amazon account goes, they run themselves multiple Amazon accounts and they want to run it in their own Amazon account. So I had to transfer, they do have admin access to my account because there are certain things, you know for example, when it comes to you know, having contributor rights or updating listings and so forth.
Paul:
It's sometimes easier to do it out of their original account, but they run it out of their own accounts. And they send me the sales reports. And there was a time, for example, when we were both selling, because I had inventory in my account and they were ordering new inventory and they're such a these, these guys are in, in the kids and toy space, and they also have a sourcing company in China. So they actually got my cost of goods down a about 30% over what I was paying, because they're already in the toys and kids space, and they're very deep in China sourcing. So they pretty much saved the royalty <laugh> that they're paying me just by getting a lower cost of goods.
Bradley Sutton:
Did they take over the licensed brands too? Like, like the Nickelodeon stuff and Paw Control e everything that was being manufactured under CosyPhones?
Paul:
Yeah. Well, actually, I, they don't take it over because I'm not giving them ownership, and I had to be the man still be the manufacturer of record on that, because that's my licensing contract. And so I'm still still the owner of the brand. I still have to maintain those licenses, but they're my authorized distributor, if you will.
Bradley Sutton:
Okay. Now that you've been doing this for a little bit, and before that you had a lot of experience just in the more traditional exit you know, category of, of Amazon businesses that, that people know about. So what would you say if somebody were to ask you about the pros and cons of both methods? Like doing the traditional way, like, hey, just exiting completely you know, either to an aggregator or to somebody else, or doing it this method. I'm sure both sides have pros and cons.
Paul:
Yeah. I was kind of being tongue in cheek exit without exiting. I'm exiting the daily work and, and all the stress and cash flow and all that. But the reason I like this is that they're actually they've got skin in the game. They wanna grow the brand too, but at the end of the licensing period, whether I extend or whether I sell to them, which is highly likely they're helping to build equity in the brand, and I'm taking a lot of the risk off the table. So I really like the model and it's worked out well for me.
Bradley Sutton:
Interesting. Interesting. Now this came upon you because I think, like you said, he was one of your, your wholesalers or something. But how does somebody purposely get like, like go pursue a deal like this? Yeah. Like you were the one who was pursued because you had relations with this guy. But like, are there brokers out there who do this or websites or anything.
Paul:
There are, there are people I'll give you one example right now. And it's not exactly the same, but invent, right? With Stephen Key I've been on his podcast before, but he teaches inventors how to sell or license their ideas to big players. So you know, I can think of a few different products that I've seen. It is just Google inventRight, and he's got a great YouTube channel and they teach people how to license their products to others. But we, as Amazon seller drives brand owners who already have success. We've even got a better model than that cuz the typically a company who would take on, say, your invention or your modified product, whatever it is, they're gonna take risk cuz it's not been proven in the market. We as brand owners, we've already been proven in the market.
Paul:
Now here's what's really cool. Imagine I'm gonna use the toy company business because, that's what I know. But imagine you've got a great selling toy and you really know how to do Amazon, but you don't know how to do anything else. If you were to partner with a big company, toy company, I'll use Hasbro as an example toy and game company, they've already got all the distribution, every, they're everywhere that you want to be, right? So you could partner with them and say, I'm gonna license it to you guys and I'm gonna get you know, 5% of all wholesale sales, for example. And you can, you've got these markets, A, B, and C. They're just dropping you into their distribution that they already have. You don't have to go figure that out, right? So you might be able to 5x your sales from what you're doing on Amazon.
Paul:
Now, here's what I want said. I referred to earlier about Amazon and I made this mistake early on. I licensed my brand to go into brick and mortar with a toy company and it didn't work out. And part of one of the reason it didn't work out is because they only had the certain lane of brick and mortar and they did not have Amazon. And Amazon you'll know this, you do this all the time, probably you go into a store, you see an item and you buy it on Amazon later, right? Yeah. And so that can be a real problem when you're either going direct wholesale to retailers or you're licensing your brand now to somebody else because you're basically competing with them. And so that's why, for example, in my particular case, my partner wanted a hundred percent, they want Amazon and everything else.
Paul:
In the other example that I gave you where it didn't work out, we were that company for about a year and a half and they just weren't, that it wasn't, it was hard for them to sell because I was on Amazon, people were buying, they'd go out and represent it in the stores or whatever, and people would buy it on Amazon, I get that sale. They don't. So there's a lot of nuances. Sure. But to your question about consultants, yes, there are consultants that will help you out there, inventRight Is a great place to start. If you really think you have an opportunity like that, somebody could know, ping me on LinkedIn or send me an email, Paul cozyphones.com. I spoke to a lady yesterday just cuz I had been posting on LinkedIn. She reached out to me. She's got a phenomenal game for kids. She's been doing it, got great distribution, two warehouses doing it for a long time. But she knows she's gone up to her limit of how much she can do and she wants to do a license with somebody else. So that's kind of how it works. And so there are, there's definitely, like I said, inventRight's a good place to go, but there's other ways to get out in the marketplace.
Bradley Sutton:
Okay. Now I know you said, hey you're still a little bit in it you're checking keyword tracker and stuff to see how, how the company is doing. But I would just venture to guess that I don't know what 90 plus percent of, of your time is back on your plate as far as when you were fully running the business and in the day-to-day. Like, would that be an accurate statement or like how much?
Paul:
Hundred percent. And the stress is like the stress is off my plate too and the, and the funding and sending the wires out to the manufacturer, the logistics, all of that in my case. Now,
Bradley Sutton:
What are, what are you doing with all that extra time? Like, like are you thinking about starting another brand? Or are you just like, enjoying life traveling more? What's going on?
Paul:
Yeah, I'm kind of trying to figure it out. I got a few things going on. I definitely I've been doing some licensing consulting with folks. I like that because it's, I do, like you said I've kind of gained this reputation, this expertise and licensing over time and it's really fun to see some other people be real successful. Last year I led a trip to the licensing expo for with about 20 sellers.
Bradley Sutton:
In Vegas?
Paul:
Yeah, in, in Las Vegas. Right. We took 'em out there and at least two deals that I know of came out of that trip. I'm gonna do that again this year. So if anybody's interesting interested to hit me up, it's gonna be in June this year to the licensing expo. And so I'm kind of training some people up before we go out there so they know what to look for, right? And those companies, by the way, those companies are out there, can, they can be a licensee or a licenseor again. So let's say it's a big toy company, you could you might license your product to them for dis bigger distribution. Or you say Nickelodeon is out there, or some other entertainment hasbros out there and you wanna license their characters to put on yours. Again, I'm talking about the kids product cuz I, I know all all about that, but licensing goes well into adults and sports and things like that. Yep. So that's kind of what I'm working on and I am working on my next brand, which is gonna be really fun and complimentary to CozyPhones. And I think this is really interesting, the concept is that we, I've kind of built up an expertise of selling multichannel to this particular audience. So I'm working on a product that's going to be specific to that audience. So hopefully they, they like CozyPhones. It's the same kind of person who would be the buyer for CozyPhones.
Bradley Sutton:
Okay. Now, what's it take for you to like say, you know what, okay, I'm gonna take it easy now, cuz you know, it sounds like you're, you're keeping busy. I get to kind of like play around with people's ages a little bit more since, since most people haven't even had a heart attack, heart attack like myself. So like but, but you're, you're, you're like to to the age where some people are like, Hey I think I wanna retire around this time. Other people that like, like Gary Vee talks about all the time, like, Hey, you're in your, your, you get to your sixties, seventies, like, Hey, I know 80 year old entrepreneurs and stuff. It's like you do, you stay in the game if, if it motivates you.
Bradley Sutton:
But at the same time, like, do you have an exit of sorts in mind of when you're like gonna just like take it easy because you might have had that chance after this exit without exiting deal that you did where gonna probably just decide, you know what, I'm just gonna take it easy, maybe retire and, and travel the world and stuff. But, but it sounds like you're staying busy and now you're gonna restart it. Like, have you ever thought sat and thought about like, what's, what's the end game for you as far as Amazon goes?
Paul:
Yeah, I mean, my goal and I don't think I'm there yet, is, what do I call just financial independence so I can decide to do what I want to do. And you know, right now I'm, I'm feeling great. I know you had me on a podcast or something as one of the oldest and youngest sellers that one day. Yeah,
Bradley Sutton:
That's right. Yep. Yep.
Paul:
So you know–
Bradley Sutton:
I got a lot of feedback by the way after that like you inspired a lot of people who were like, ah I'm, I don't want to get into this because I think I'm too old to, to start, you know? Yeah. You showed them
Paul:
No, maybe start the Amazon old guys group or something. Yes,
Bradley Sutton:
Yes. You gotta start that.
Paul:
Well, I'm gonna start a new brand. So that'll be fun at 60. So we'll see, you know. I wanna have flexibility in my life there's so many, one of the greatest things about being on Amazon and is like going out to your conference, for example, and hanging out with people that I like, and people are always having these conferences in exotic locations, so you get to travel and mix it in with business. So that's phenomenal for me. I think I would really miss that if I just said, I'm gonna retire. I'm not gonna be involved anymore. Plus it's really, really satisfying to help people learn new stuff and go places where they couldn't have gone before, you know? And to say somebody you really had an impact on my life and my business. And we've got a couple of common friends, which I don't have their permission to mention their names, but I helped 'em in licensing and really helped to grow their business and that's, that's phenomenal. You know, I really like that. So I don't have any plans right now. I would like at some point to be able to really like, take like month long trips with my wife or whatever. But that's not where I'm at yet.
Bradley Sutton:
There's no right age or wrong age to, to quote unquote retire or to stay your busiest. So you do what works for you. And, and speaking of that, before we get back into the strategy here something I've been focusing on this year with my guests that I haven't much in the past. And, and this obviously has to do with you know, personal health and things like that is I, I like asking people what are their habits for, for keeping up their physical, mental health, their hobbies and things. So what about you? Like, what are some of your hobbies where you kind of can escape the business or the Amazon world for a little bit? Like, what, what do you do for that? And like, what are, do you have any healthy habits, whether we're talking about physical health, eating health, mental health that that's part of your, your strategy or, or your kind of like routine that you can share with others?
Paul:
Well, I'm not very good at hobbies. I would say setting, setting time aside for hobbies, I'm not very good at that.
Bradley Sutton:
Guess what? That's one of the reasons why I ask this question, because I think most entrepreneurs and myself too like we get so into it that like, we don't make time you know, for hobbies and stuff. So I, I, I like find out about it. I
Paul:
Think I should, I think I should. I, I feel like I need to try pickleball. I'm, yeah, I'm pickleball age, right? So I'd like to maybe get into pickleball a little bit. I don't I think really honestly Amazon is kind of my hobby. I spend my spare time learning stuff on Amazon and e-commerce and thinking about new ideas and products. I've got here in my office, I've got a bunch of product samples that I've looked at and tear apart, and I enjoy, I enjoy that stuff. The thing is, I did try something new in the last two years, and that was fantasy football. And I'm not like a huge football plant fan, but let's just say I didn't, didn't come in first. I came in more towards the tail end, but I did much better this year than last year
Bradley Sutton:
And I bet you now know, like 10 times as much as far as individual football players and stuff, and what teams are doing than before. Yep. Okay. Fantasy for a while.
Paul:
Like, that's good. I think though I really do believe I should be more intentional about hobbies about really doing something for myself. As you know, I also developed another product. It was kind of fun hobby, like this last year one of my really good friends and in my neighborhood, a couple that we travel with, we went to the Kentucky Bourbon Trail. Right. And I found that fascinating. And so, not, not that my hobby is drinking bourbon, but I hang out with a lot of guys who really enjoy tasting bourbon and picking up special bourbons. And so we along with my buddy, I created a game called Bourbon Trekk, and it's all bourbon trivia game. So I launched that last year. It did well, and it is, got great reviews, and that was fun. And it was kind of like a more of a passion proj project than okay. A big, there's gonna be a million dollar project, but now I realize that it's probably a bigger opportunity in retail specialty than it is on Amazon. So I'm trying to learn how to get that out and partner with people to get that and wider distribution. So that's back to just learning, learning new things. I guess that kind of excites me.
Bradley Sutton:
Yeah. Okay. Cool. Cool. Good to know. Now back to the strategies now, now, what's new or different about the traditional licensing and things you know, here in 2023? When I say traditional licensing, kinda like what you did with Nickelodeon before, like, and you said you've been helping other sellers do that, like what's working these days? What's not working? Like, how would you suggest people to get started? So first of all, just give us, I mean, again, you don't have to say the name of the the person who, who doesn't maybe want their brand known or anything, but, but like, what, what's an example you can give us of the potential of doing this? You know, like for example, hey, there is somebody who was selling a million dollars a year, they hit a wall, but we did, we opened up a license with a known brand, and now they're doing three Millionaire, or just, yeah. Can you give us an example of what's the potential here, and then like what's some strategies on how to get started?
Paul:
Yeah. let's see. So I went with a good friend of mine to the licensing show three years ago. And you know, he was very interested. He took an approach of let me see what licenses are out there, and then let me make a product for that license. So unfortunately I don't know the sales numbers. You know, I helped him get started you know, major personality in our, in our world. And he created an awesome product. So I haven't got his permission yet to use it as an example. He does talk about it. So I can't use that one. Sorry, that's just a tease. Not no problem. I had somebody else who I helped, helped was in the party supply business, and she got a major license major kids entertainment company.
Paul:
And so you can imagine, if you're in Kids Party Supply and you get a major license with, I'm gonna go back to Nickelodeon or whatever, right? You can make all these different paper party supplies with Nickelodeon. So that really extended her business much farther than it was before. So those are examples Now you know tr in terms of licensing trends and things, there's a lot of consolidation out there. Like Viacom has bought up a lot of different entertainment properties, and the deals are a little harder to get when, when it comes to the big boys, because there's a lot that goes into creating a license. You know, there's a lot of back and forth legal, and then there's, there's back and forth accounting and things that happen with the licenseor and licensee. And so they're looking for bigger minimum guarantees.
Paul:
And that is that's the royalty that you have to give them over the li over the life of the contract. And so it's not easy to get into the big entertainment brands. Right now they're, they're requiring bigger minimum guarantees and you know, those guarantees you have to pay them whether you sell one item or not. So they're looking, they'll look at your product, and a lot of the times they're gonna ask, Hey, what's your sales? And, and what are you, what's your distribution? Because they wanna make sure that you're getting out there in multiple channels. Sometimes, not just Amazon, some of 'em will do just Amazon, but they wanna make sure that their product's gonna get out there and be in front of customers everywhere.
Bradley Sutton:
Okay. Makes sense. Makes sense. Now, what about, I mean, it could be about licensing or it could be about anything, but as you know, on the show, we always ask for our actually the last time you were on the show, it was the 30-second tip. But we go up to 60 seconds now, we call it the SST So what are some 60-second tips? You know, maybe you can give us a couple you know, about anything in the Amazon or any other thing that you feel confident about that, that some of our users can implement in their own businesses?
Paul:
What I'm really excited about right now is creating the product that is complimentary to the product I already have. And then using something like DSP to be able to remarket to those people. So DSP Amazon Demand side platform can go and look at all of your past transactions and your customers that have looked at your products on Amazon, and then you can remarket them on and off Amazon. So imagine if you have a complimentary product to what you've already done, even if it's a different, different brand, but you've got that history and that that the data in your Amazon account, you can remarket to those folks. So I'm excited about that as an approach to launching new products. But I'm sure there's plenty of people that have already thought about that.
Bradley Sutton:
Interesting. Okay. Hey like, I haven't done that done that much, but that's a good, that's a that that's a good one. For sure. Rest of this year for you, what's your goals? You know, like what are you gonna do with that bourbon game? What, like you know, do you have a timeline of when you're gonna start that other brand? You, you were talking about what like if we were to talk we were run into each other at a conference at that end of the year, what would you be like. Or what would you like to be able to tell me that you accomplished for
Paul:
The rest of the trip? Well, I think I think the most exci it is really three things. I'm helping people with the licensing the bourbon, bourbon Trek which is fun. It's, it, I, I kid with people we're the number one bourbon trivia game on Amazon. Now. We're the only one, but still we're number one And this was like a complete, this was not the, not our typical Amazon model, right? This is creating something from scratch that didn't exist before. But it's, it was really fun and it's super unique in its category. There's nothing like it, but it, it hits that person who's looking for bourbon gifts or whiskey gifts. We do great during the holidays, but what I'm excited about doing with that is partnering up with somebody else. And I've identified a couple of folks who have a big line of bourbon and whiskey related products, and they have the distribution already. It's kind of the same thing, but I'm gonna partner with them as a distribution partner, not a license. And they're already say selling to 400 distilleries in Kentucky because every distillery has a gift shop, right? And so I'm looking forward to getting those into retail that way and through the other call 'em catalog channels, online channels. And I'm focusing more on that particular thing, more like on a wholesale thing. I'm selling wholesale and then they'll sell retail. So I'm excited about like, getting that distribution out. And then this other product that I mentioned, which is a complimentary product. So what we should have that launched we're like in sampling stage now. So that'll be probably summer launch and then ho should be good for holidays.
Bradley Sutton:
All right. Cool. Cool. All right. Now, if people wanna reach out to you, I know you're, you're always up for you know, helping people out how can they find you on the interwebs out there?
Paul:
Okay, so if anybody wants to go to the licensing show this year best way to get me is on LinkedIn, cuz then we can stay in contact. Okay. So you can either Google Paul Miller CozyPhones or go to LinkedIn and search in Paul Miller, CozyPhones, get with me on LinkedIn. If you don't use LinkedIn, you can email me [email protected]. Always happy to talk about licensing. You know that I've got a licensing course out there, so some, if it's appropriate, I'll recommend that to somebody. Really looking forward to also helping people more on this other side of licensing than we talked about. So you're the licensor, like what I did with CozyPhones and you know, the licensees are excited about that they don't you bring them a proven product that said, I've did X on Amazon, but they've got 10 other channels they can sell it in. That's a good deal for them too. So I like connecting those people up.
Bradley Sutton:
Awesome. Awesome. All right. Well Paul your homework for the next time next year you come on this show is want you to be able to tell me that you are doing a hobby consistently now and making sure to take that time off that, that you deserve and all of us need. So thanks for coming back here, Paul, and, and look forward to linking up with you in the future.
Paul:
Thanks a lot, Bradley.
---
Enjoy this episode? Be sure to check out our previous episodes for even more content to propel you to Amazon FBA Seller success! And don't forget to "Like" our Facebook page and subscribe to the podcast on iTunes, Spotify, or wherever you listen to our podcast.
Get snippets from all episodes by following us on Instagram at @SeriousSellersPodcast
Want to absolutely start crushing it on Amazon? Here are few carefully curated resources to get you started:
Achieve More Results in Less Time
Accelerate the Growth of Your Business, Brand or Agency
Maximize your results and drive success faster with Helium 10's full suite of Amazon and Walmart solutions.