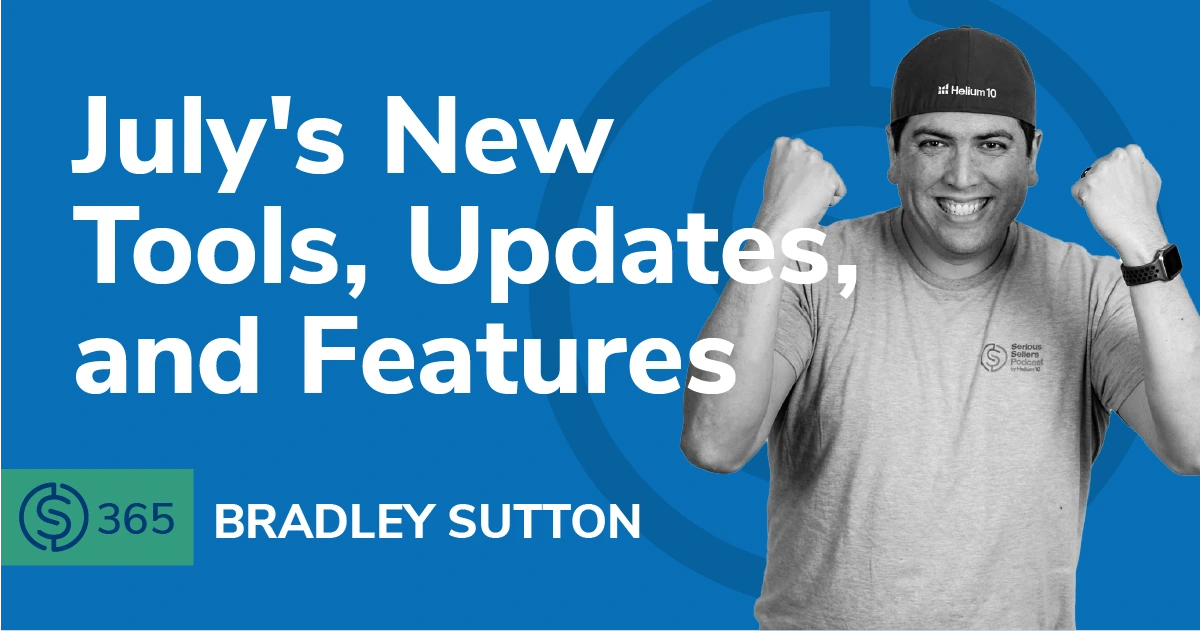 #365 – July's New Tools, Updates, and Features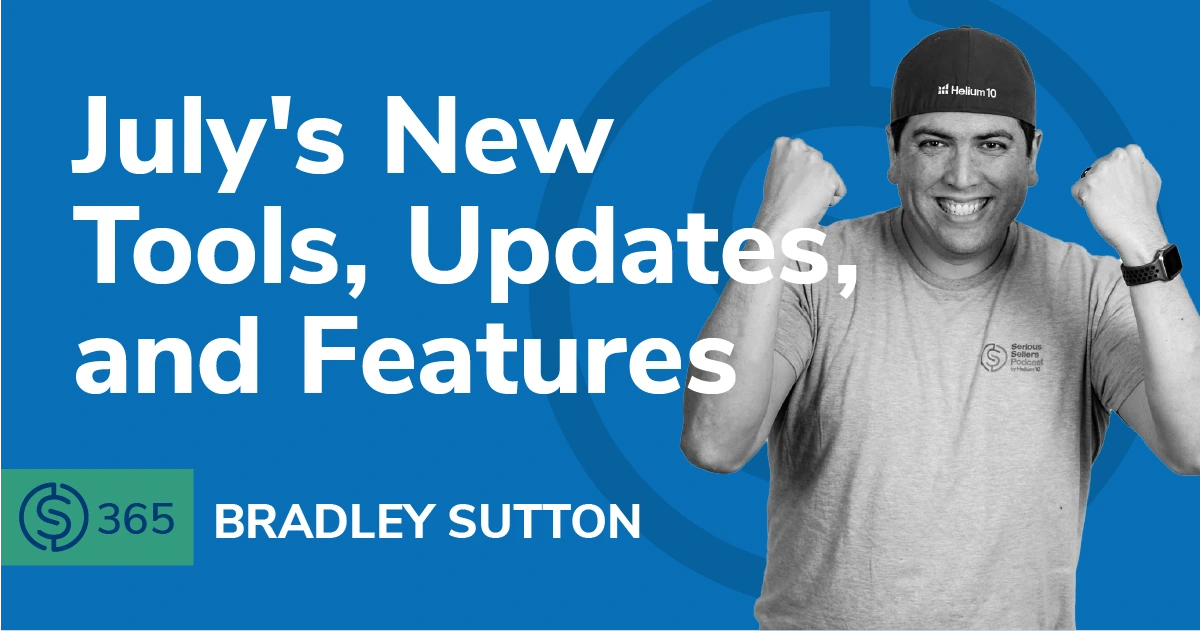 We're back with another Bigger Better Launch recap for the month of July! In this episode, Bradley goes deeper into all the latest launches this month. Like how Market Tracker 360 can provide advanced analytics for high-level sellers, new features in our Xray tool, improvements on Adtomic bid suggestions settings, getting daily education and content inside our Helium 10 members FB group, business reports funnel widgets, and more!
Make sure to listen to the very end, as Bradley will be giving out a couple of bonuses when you register to the Sell and Scale Summit using the code S3BS100.
In episode 365 of the Serious Sellers Podcast, Bradley talks about:
01:45 – Bradley Goes Deeper Into The Latest Launches In July
02:28 – Providing Advanced Analytics With Market Tracker 360
05:10 – How To Request A Free Demo With Market Tracker 360
05:50 – Launch Listing Analyzer From Xray
08:50 – Using The Media Comparison Feature In Listing Analyzer
10:30 – Introducing Xray Keywords And How To Use It
17:40 – The Adtomic Bid Suggestion Settings
20:38 – Business Reports Funnel Widgets – Sales and Traffic Conversion
24:00 – Daily Education In The Helium 10 Members Facebook Group
25:10 – Link Archiving For Amazon Attribution
25:30 – You Can Now Catch All BBL Recap Content In One Place!
26:00 – How To Request A Helium 10 Feature
27:30 – Stay Tuned For August And September's Bigger Better Launch
29:00 – A Couple Of Bonuses From Bradley
Transcript
Bradley Sutton:
Today, I'm gonna be going over some of Helium 10's latest features and how sellers of all levels can utilize this, including a great way to do new keyword research while you're on Amazon.com. How cool is that? Pretty cool I think.
Bradley Sutton:
Wanna check estimated sales for products you see on Amazon, or maybe you want to instantly see how many listings on page one of a search term result have the actual search keyword in the title? You can find all of these things out and more with the Helium 10 Chrome Extension tool, Xray more than 1 million people have used this tool. Find out what it can do for you by downloading it for free h10.me/xray, h10.me/xray. Hello everybody, and welcome to another episode of the serious seller's podcast by Helium 10. My name is Bradley Sutton, and this is the show that's a completely BS free unscripted, and unrehearsed organic conversation about serious strategies for serious sellers of any level in the e-commerce world. And like we do once a month, we do a recap of some of the latest tools that we have launched and I know you guys have watched maybe the Bigger, Better Launch series that we have on YouTube, if you haven't make sure to watch that we go a little bit into depth on some of these, but the way I structured this podcast episode is how you guys, as sellers should be taken advantage of, of some of this cuz we offer different tools for sellers of all levels.
Bradley Sutton:
And guess what, not every single one of these features you should use. Like some are only for certain kinds of sellers, some are only for other kinds of sellers. So in this, I'm gonna go a little bit deeper into some of these latest launches that we did in July and explain how you should be using them. If there's an opportunity to talk about how those of you who aren't Helium 10 users can use it, I'll definitely do that as well because you know, these are strategies that any Amazon seller should be using, whether they're using Helium 10 or not. So let's go ahead and hop right into it. Now, the first thing that we announced was a brand new tool. That's kind of like outside of the regular Helium 10 suite of tools, this is not part of a Platinum plan.
Bradley Sutton:
It's not part of a Diamond plan or a leap plan. It's called Market Tracker 360. And you're gonna see a lot more of this kind of tool from Helium 10 because you guys have known for years companies like Lego and other billion dollar companies and huge agencies and people who manage thousands of SKUs and who have tons of brands, you know, like huge eight figure sellers and above they all use Helium 10, right? And a lot of them just use the regular, you know, Diamond or Platinum or Elite plan that a lot of you guys have and for some of what they, they do, you know, we found out that they're paying like a thousand dollars or thousands of dollars a month for these other tools out there that are not necessarily in the Amazon ecosystem but in order to manage different aspects of their business or their analytics.
Bradley Sutton:
And so we're like, Hey, there's a need for Helium 10 to kind of cater to this kind of company. That's, you know, only a very small percentage of you guys out there, but still we at Helium 10 won't be a one stop shop, whether you're brand new average Joe or averages, wanting to make a couple of bucks extra on Amazon a month, or you are a huge multi-billion dollar company out there looking for advanced analytics, we want to make sure that we're providing the right tools and features for you. So Market Tracker 360 is a new tool that we launched and this gives advanced analytics. The reason why we called it Market Tracker 360 is very similar to our Market Tracker. That's already in Helium 10 that I hope all of you guys are using, but it just takes it to the next level.
Bradley Sutton:
Like you're gonna have detailed sales, historical sales, not just in the last 30 days or not just a graph that kind of shows you the trajectory. But actually you could say, Hey, let me look at what their sales were in December of 2021 and get highly accurate estimates on that and who are the brands that are dominated in my niche or who are which are the products that are just crushing it right now. How many sellers have these different products that are overtaking mine, and who are the trending ones? It's just like so much more information that Market Tracker 360 gives that guess what? Me as selling coffin shelves, I'll be honest. I'm not gonna use this for my coffin shelf business. I created one of a Market Tracker 360, but this doesn't help me as much as a small seller, as opposed to, you know, the larger brands who are competing with the Nikes of the world and who are competing with other huge sellers on Amazon, they're the ones who are gonna need this the coffin shelf niche.
Bradley Sutton:
I could just take a look at page one of coffin shelf, and I know who my competitors are, guess what? Hopefully, I'll get to that level, but you guys might too. There are people already at the level where you can't just look at page one of a keyword and understand what's going on in your market. You need advanced analytics, you need advanced historical data, and that's what Market Tracker 360 is going to do. So if you're one of those who works for like a larger corporation or a larger Amazon account, and you think you might want to see if this is for you go to helium10.com/mt360 that's helium10.com/mt360 for watching this on YouTube, I've got a QR code on the screen. You can scan and then you can get a free demo on this again, you know, I don't want to waste your time.
Bradley Sutton:
Don't wanna waste Helium 10's time, If you're a brand new seller or, you know, you're like a six figure seller. This is probably not for you. You know, I don't think you're we at Helium 10, you know, we're not just about, oh, like we just want to take your money no matter what, I'm not gonna try and sell something to you or say you need something that you don't really need. I'll be honest with you. If you're a six figure seller or less, I guarantee you on almost all situations, you're not gonna need this tool. So if you're on the enterprise level though, this is definitely for you. All right. The next thing we launched was a couple of things. I've kind of slid under the radar, but in Xray, you have these buttons now where you can run Listing Analyzer from there.
Bradley Sutton:
Now that's when you run, Xray like on any search page, and let's just say you select one ASIN, and then you hit run Listing Analyzer. Well, why is this helpful? Well, this can give you information on in just seconds on what are the top keywords that this product is ranking for organically. You can get a breakdown of their listing, but where this is really especially even more valuable is when you run multiple ASINs. So when you run multiple ASINs in Xray and then you run Listing Analyzer and this is what I want everybody to do. This is one of those ones that I don't care what level of Helium 10 user you are. This is gonna be beneficial for you. And if you don't have Helium 10, figure out how to get this done with whatever tool that you're using, but take a holistic view of not just one competitor, but multiple competitors.
Bradley Sutton:
How is their listing quality? Where are they from? Like I did this search that I'm looking at on my screen right now for these tempered glass screen protectors three out of the four top competitors they're based in China. One is based in Korea. Okay. So that could give you some information. This is for a Samsung galaxy, so like that Korean company might have the best product here since they're based in Korea. Right. You know, take a look at the review count, take a look at how old the listings are. What are their monthly revenue? How many, top 10 keywords, this is kind of a Diamond and up feature, I believe in Listing Analyzer, but within one click, I can see that, wow, you know, there's a listing right here who's got 255 keywords in the top 10 with a total search volume of almost 500,000.
Bradley Sutton:
Whereas this one from Korea, they have 180 top 10 keywords. So if you just look at that, it might seem like they're kind of on par with this Chinese company, but no, their total is top 10 search volume for those 180 keywords. It's only 73,000, like 1/5, less than 1/5 of what that other company was. So like instantly, if that was my company, I would actually, coincidentally, I used to work for that company way back in 2016, which makes this cellphone covers well instantly with just one click. And in seconds, I would see that there's a gap where this Chinese company is crushing this Korean one because the keywords that they're ranking the top ten have a lot higher overall search volume. So this is a great tool to use. You also can take a look at how strong they are with their listing optimization and Listing Analyzer.
Bradley Sutton:
Like how many of them, you know, have at least five bullet points? How many of them do the best practices on bullet points? Like not having all capital letters, et cetera, and the number one thing. And this, again, I have been stressing this for three, four years guys. And we launched this two months ago, is the Media Comparison in Listing Analyzer. All right. When you can run that and just instantly remember this all came from one click from Xray, right? Go to Listing Analyzer, and then hit Media Comparison. Now I can see all of the layouts of all of the images of these competitors that I selected in Xray. And like, for example, I've got one on my screen here. If you're watching this on YouTube, where I can see that every single one almost has a picture of somebody holding it in their hand.
Bradley Sutton:
So that's something that I'd probably want to have in mind. I have other things that talk about how it's waterproof and finger fingerprint-proof. I can see that almost everybody has listed some kind of infographic that talks about that, so that's obviously important. Don't wait until you start getting bad reviews in your product because they don't know if your product is fingerprint proof or not. You know, like you can from day one, be able to crush it on Amazon by knowing these things. So again, guys, one click functionality to go from Xray to Listing Analyzer is absolutely great. And you can also go from now Cerebro to Listing Analyzer as well. So if you guys are running multi ASIN search or a single ASIN search on Cerebro, what you can do is go to the very bottom of Cerebro or the bottom of the top of the page, where it shows your products.
Bradley Sutton:
And then right under there, you'll see a button called run Listing Analyzer, and you can get all the same information directly from cerebral. So as you can see, we're trying to like create a little bit more synergy between our tools at Helium 10 to make sure that you guys are able to access these tools and just save time with some of your keyword research. Now, another thing that we launched, and this is a brand new tool actually within the Chrome Extension is called Xray Keywords. All right. So in a couple of days, or actually probably by the time you're watching this video, it's probably available for everybody who's got the Chrome Extension when you're on any search result, page hit the Chrome Extension and then right under Xray now is a new tool called Xray Keywords, right? So how would you use this?
Bradley Sutton:
Well, this makes it even faster than that, that Listing Analyzer thing, because what it's doing is this taking a look at most of the top page instead of just a select number. And we are telling you instantly with just one click, Hey, what are the top keywords that are potentially driving sales to a lot of these products on page one? Why would you use this and why is it important to know that, because this functionality's not new, this is what I've been teaching in Cerebro and other things is like, Hey, look into a niche, right? Like coffin shelf or collagen peptides or whatever it is. And then what you know, you would want to do is, is look at what keywords are driving the sales of these products, and then take a look at those keywords on Amazon and, and take a look at how the competition stacks up.
Bradley Sutton:
Like, for example, on coffin shelf, maybe this is just 1 of 10 keywords that are driving sales to this niche. And let's just say that they're all equal. It's not, you know, coffin shelf probably makes up like 70% of the sales in this niche, but let's just play devil's advocate here and say, it's not, let's just say there's 10 keywords that kind of have an equal amount of sales. Now here's the thing, if you are just looking at one keyword, however, you found this keyword, Google trends, Helium 10 Black Box, whatever the case is, whatever tool you're using. If you just laser focus on this one keyword and say, wow, look at this. There's only like three people who've got a thousand of and everybody's listings is crap, blah, blah, blah, blah. If you're just looking there and you're making a decision based on that?.
Bradley Sutton:
Sure, you can probably get to page one easily for that keyword. You can probably crush the competition and, and dominate that keyword. But usually, your sales do not come from just one keyword. You know, usually, it's like 5 or 10 keywords, if not more, that make up the bulk of where you get your sales. So you've gotta look at some of the other keywords in this niche and make sure it's not that situation. Like maybe you found some like really niche keyword in the collagen peptides and you think, oh, collagen and peptides is the greatest, is the greatest opportunity in the history of mankind. But then you realize you're like competing with them on keywords, like collagen and powder and collagen peptides and other ones. And you're like, whoop, I don't think I can really compete with these products in these keywords.
Bradley Sutton:
Well, if you would've done the research and looked at how the Amazon results look on these other keywords, you would have the idea. The other use case of this is maybe you land on coffin shelf or collagen peptides. And you see, you know what, this is not an opportunity, but what happens is there are some of these more niche down keywords that could be an opportunity. And this, again, this strategy is nothing new. The way that you would do this before is I would say, all right, find your main keyword run Xray, see who's the top seller, go ahead and run Cerebro on them, see where they're generating some of their main sales and then go back to Amazon after there, and look at those other keywords and just look at the landscape a little bit, right. Again, I don't want you guys confusing this with keyword research.
Bradley Sutton:
Even though we're all talking about keywords, this is more product research based. All right. If you're trying to find the top keywords for your niche, you still need to be using Cerebro. Don't be trying to do it with this new tool. All right. I don't want you guys saying, oh yeah. Bradley says I could use Xray Keywords and that's the way I'm gonna find all my keywords for my listing and I'm gonna put it in Listing Builder. No, that's not what this tool is meant to be for. All right. It's meant more for the product research side, even though it's called Xray Keywords. When you're first trying to discover new niches and take a look at the validation as well. All right. So again, run Xray Keywords on your search result pages, and you're instantly gonna see some of the top keywords like here, for example, this one that I found right here, I can see some other main keywords here, like goth wall decor and Gothic home decor and goth makeup kit.
Bradley Sutton:
That's kind of off the wall, right? So it gives you great insights there. Now, the other thing is you can actually now from these keywords, let's say you like some of these keywords and you're like, you know what? I wanna save this for some other project. Well, you can just start selecting these keywords. And then you hit this button, add to my list. And that's tied to the, My List tool inside of your Helium 10 account, where now you, it's kinda like a keyword bank. If you will, where you can like bank these keywords for whatever projects you need. Another thing is you can just select multiple keywords and start tracking it. Like maybe you were just doing some casual product research and like, wait a minute. I'm kind of in the Gothic niche here, this, these keywords I, I think I need to be ranked for.
Bradley Sutton:
So I wanna start tracking if I can get ranked for these keywords. So directly from here without even having to open up Helium 10 or go to your Keyword Tracker, you can just go ahead. And this ties to your keyword tracker database to whatever products that you're currently tracking, or even if you're not tracking this right here from the Chrome Extension, you are going to be able to add either the product or just the keywords to a Keyword Tracker project that you currently have open. So that's super cool. The other thing is it's got Index Checker built right in, it's got Index Checker built right into this tool. So let's just say, you're just doing some casual research. You see this, you see some keywords on here that you think are interesting.
Bradley Sutton:
You're like, Hey, I wanna add it to Keyword Tracker, but like, I'm not even sure I'm indexed for these keywords. You know, you've gotta be indexed for the keyword if you ever want to have the possibility of ranking for it. So what you can do is you can paste your own ASIN or whatever ASIN you want into this Xray Keywords, new tool. And you'll instantly see, well, not instantly like takes like five seconds, but in five seconds, you'll be able to see if you are indexed or not. And then you're like, okay, I'm index for it. So let me go ahead and add it to my Keyword Tracker project. The other thing though is when you're doing a single ASIN, like you are on a single ASINs page on Amazon, like Project X coffin shelf, or a collagen peptides product or whatever you are on when you are on that page, that's where money's made right there too.
Bradley Sutton:
Hit that one button three seconds later. I see the top keywords that is just super valuable. You don't even have to go to Cerebro. You don't even have to go to Listing Analyzer. I'm just on a one product page. I hit the button. Here are the top keywords for this product within seconds. And I can see the estimated keyword sales for this. If I've got Diamond and above, I can see how, you know, the title density of these keywords, which is how many listings on page one, have it in phrase form, you know, in their title. I mean, just all of the cool information you get from Magnet and Cerebro is literally two seconds away with just a click of a button on a product page. So super, super cool things right there for the brand new tool Xray Keywords guys, that's available to pretty much everybody, every level of Amazon seller can find benefit in this.
Bradley Sutton:
So make sure to start using that as you're doing some of your product research. Now, for those of you who have the Diamond plan on Helium 10, you're using Adtomic for your PPC management. You know, one thing that was brought up, and I myself, brought this up, I was like what Adtomic gives me good suggestions, but sometimes like, I don't think it's aggressive enough. Like, for example, I'm not getting many impressions on a keyword. And so Adtomic suggests to me, Hey, why don't you increase it? But then I notice like, it's always just increasing like one or 2 cents. I'm like how much, I can understand in some situations that might be okay, like if I'm on the borderline of my, a cost or something, but if I have some room, I kind of want Adtomic to be like maybe more aggressive, right?
Bradley Sutton:
So this is what myself and some other customers were saying. So what we have now, launching in the next few weeks for Adtomic users is the Bid Suggestion Settings where you can kind of like adjust how aggressive you want these suggestions to be when it hits the rules. All right. Cause remember everything still based on your rules. Like, Hey, here's my target ACoS and here's what I'm trying to do. But instead of taking it, you know, really, you know, kind of slow, you can go faster with these bid suggestions settings. The other thing is, is now in the campaign builder, you can toggle off the Automation and the Search Term Isolation. And then the cool, the one thing that me, myself and others wanted who use Adtomic is we wanted to be able to create single campaigns in Adtomic.
Bradley Sutton:
You know, so like, you know, Adtomic is great for doing multi campaigns. You can, you can do your exact campaign, your, your broad campaign, your product targeting campaign all at once. But like, let's say, I just wanna do one. I just wanna do one campaign. And how would you use this? Well, for example, the way that I do my PPC a lot of time, and this is just a generalization, but the common thing that almost I do every time is I'll have like 3, 4, 5 campaigns going, right? I'll have an exact campaign, my performance campaign I'll have a broad campaign to discover some new keywords, I'll have an auto campaign. And then of course I'll have like a Sponsored Brand Campaign or Sponsored Display and a product targeting campaign. But I like to keep my targets in PPC, my exact targets, at least, or my campaigns to like 20 or less.
Bradley Sutton:
You know, some people say 10, some people say five, some people say 15, whatever works for you, me, I try to max it out at 20. And then what do I do is I'll keep that campaign there. But if my other campaigns, my auto, and broad campaigns find new keywords, what, what do I do? I put that in a new manual campaign and build that one up to 20. So what would have to happen if I'm using Adtomic is I would always have to go back to seller central and open up a new campaign there because I can't create a single campaign in Adtomic well for Elite members and soon to be released to everybody, the single campaign builder is becoming active. So that's like really cool that we have launched that as well. All right. The next thing is something kind of stacks on something we launched a couple of months ago when we said, Hey, your business reports are now available in your Helium 10 account.
Bradley Sutton:
What are the business reports? This is from Seller Central, where you can see your page views, your sessions, your units sold, and conversion rate kind of based on that, right? So now we've added it to, to more fields here, but the first thing that is a brand new widget called Sales and Traffic conversion. So you can kind of see historical graph of how your page views and your sessions and units sold and conversion rate has gone on over time. So super valuable thing right there. In addition, these metrics that come from your business reports are now available in more widgets inside of your Profits tool, such as inside of your Unit Sold and your product Performance Page, and also your Favorites as well. Now, you know, if you don't have Helium 10, this is not meaningless to you.
Bradley Sutton:
You guys need to be going into your business reports. So guys know where that is in your Seller Central account, go into your business reports, and be looking at how your page sessions and how your conversion rate is changing over time based on maybe, you know, things that you're doing differently. Alright, so this is super important that you guys kind of stay active in trying to, you know, look at these metrics and do some especially when you're doing experiments, you know, like if you change your title or you change, you know, something there, you know, or, or if your sales go up or your sales go way down, where, where do I go? One of the first things I look at is my page sessions. So like, let's say my sales went way down. Well, I'm wondering, you know, did I lose keyword ranks?
Bradley Sutton:
I'll look in Keyword Tracker. Ooh, I lost keyword rank. Hmm. I wonder if that affected my conversion rate. I look at business reports. My conversion rate is the same, but my page sessions is down. So now I tie everything together. Right? Sales down. First thing I look at keyword rank was down those keywords. I must have been getting sessions from because I look at my business reports and my page se sessions are down. So now what, what does that tell me? Well, if my sales are down, everything is down. I need to get those sessions back. Maybe I'll do some kind of increased PPC campaign or something to try and get that keyword ranking back, or I can do Google ads or however, you know that you get your keyword ranking back. I know it's worth it. On the flip side, let's say my keyword ranking goes down.
Bradley Sutton:
I was at the top of page one for a couple of keywords. I notice it goes down, but you know what? My sales really haven't gone down. I'll go back to my business reports. I'll take a look at those page sessions. And if my page sessions on average haven't really gone down, even though my keyword rank went down. Well guess what does that require me to pay more money to try and get my keyword rank back? No, if it hasn't negatively affected me I'm not gonna worry too much about that. Cuz maybe I was wrong. Maybe that keyword is not necessarily or I die kind of keyword that if I fail on that keyword, my sales go down. All right. So it's super important. Other things that I, we brought up in our Bigger, Better Launch is for example in our Facebook group and I want everybody to get into our Helium 10 Members Facebook group on it's completely free for Helium 10 users.
Bradley Sutton:
And even if you're a free user, you, you can get in there. And every single day of the week, guys, we are bringing education to you. All right? This could be in the form of Freedom Ticket snippets. Like where Carrie did a Mina Elias from Freedom Ticket. We give snippets from this very podcast, you know, the Serious Sellers Podcast, we'll do audiograms, one minute golden nugget information that can benefit. You guys we have TACoS Tuesday, which is with Vince and he talks anything and everything PPC where you can ask him once a month, any PPC question that you could possibly have. We have the Weekly Buzz, which a lot of this is part of the weekly buzz is this keeps you up to date with the latest news on Amazon. You guys who listen to the podcast, you get that once a week too.
Bradley Sutton:
But you can get it in the video form as well. And then now we're also posting different pro training tips of the week. These could be about Helium 10 or it could not be about Helium 10. This one that I did last week is about how to create a Removal Order for newer sellers who might not know how to use that. So make sure that guys, you, you take advantage of these resources by being part of the Helium 10 Members Facebook group. And if you just can't find it on Facebook, send a message to support [email protected] or inside of your app. And, and they'll, they'll hook you up with that. Another thing we added was part of Amazon Attribution. So something that people had said they would've liked to have, who especially use Amazon Attribution a lot on Amazon is the ability to archive links, which I don't think you can do on Amazon.
Bradley Sutton:
So you can now do that in Helium 10. So if you created your attribution links inside of Helium 10, and now you just don't use that anymore, you can now archive it with this new feature that we have brought. Now, if you guys have missed any part of these bigger, better launches that we're doing every month, well, we have a new hub for it. So just make sure to bookmark helium10.com/launches, helium10.com/launches. And you can see you know, the in depth overviews of the new tools that we're launching and where do all of these ideas come from? Well, these ideas come from you guys, you who listen to the podcast and who reach out to Helium 10, you who are Helium 10 users and say, you want a certain kind of tool. So the way to get your message heard guys is in our dashboard.
Bradley Sutton:
Just go to the very top of Helium 10, there's a question mark. There hit that question, mark, and then select share your ideas. And then all of those get reviewed by our product team. And then we prioritize what we work on based on the feedback we get like you guys notice last month's BBL. The latest marketplace that we added functionality for is Amazon UAE. That was because that was the number one requested marketplace from our users out there. What's the next one that you guys are looking for? Amazon Turkey, Amazon Brazil, Amazon Singapore, use that request a feature or share your ideas tool to make sure that your voice is heard. Like I said, I don't care, we don't care at Helium 10 if you're a brand new seller who is on a starter plan or something, just trying to use a Chrome extension because you're a KDP user or, or because, you know, you're just starting to do arbitrage or whatever, or you are a nine figure, 10 figure billion dollar seller on Amazon, regardless of where you fit in the Amazon ecosystem.
Bradley Sutton:
We wanna make sure that you guys are taken care of as far as tools, features and education. So however we can help you we're gonna do our best to do that. But we don't know how to help you guys, unless you guys make sure that your voice is heard by using this feature to let us know what you would like help on with your Amazon Walmart or e-commerce business. Next month, we'll be back with another Bigger, Better launch in August. And then we're actually gonna have a live one guys in Sell and Scale Summit in September. All right, we're all gonna be on stage. And it's probably gonna be the best one that we have had yet as far as features go. I mean, we're just launching features nonstop. It's crazy. I mean, in the last three months, we have launched more tools and features than probably all of the Amazon tools in the entire space put together.
Bradley Sutton:
Right? I mean, if you're using it, if you're not using Helium 10, you, you could be fine. Sure. There's a lot of great tools out there, but pretty sure if you check the change log or if they have something like that, they're not launching Bigger, Better things every single month. Like we are. So if you haven't come over yet, make sure to join Helium 10 guys, we have a discount code of SSP 10 for 10% off of life. Now back to the selling scale summit, like I said, in September, we're gonna have some amazing product launches and amazing feature and educational launches. So make sure attend and what I wanna do is give you guys a special, so if you sign up for Sell and Scale Summit, h10.me/s3 I did this live on the BBL and I'll do it live again only for the first–
Bradley Sutton:
Let's just say one week, the first one week, because I know our YouTube version of these podcasts. It takes a week to get on YouTube. So I'll do this for one week, but anybody who signs up with my code S3BS100, S3 like Sell and Scale S3BS100. All right. If you use that, you're gonna get a hundred dollars off, but I'm gonna give you a couple of bonuses as well. If you take a screenshot of it and show it to customer service, we're gonna give you number one, access to my Chinese sourcing agent. All right, this is the one that I use to get all of the Project 5K products is the one I use to get, you know, our egg tray and coffin shelf from Project X and she handles all my shipping.
Bradley Sutton:
She handles my inspection, she handles everything for me. I just have to, WeChat her and she's able to find the factory and everything. She's amazing at what she does. I'm gonna you access to the first–, it was 30, I did that for on the BBL. I'm only gonna save this for the first 20 who take advantage of this offer, but again, S3BS100, use that code. You're gonna get that. And I'm also gonna send you a Helium 10 microphone as well. So make sure to do that. You only have seven days from when you listen to this episode in order to take advantage of that deal. Anyways, guys, hope you enjoy this episode and we'll see you in the next one. Bye-Bye now.
---
Enjoy this episode? Be sure to check out our previous episodes for even more content to propel you to Amazon FBA Seller success! And don't forget to "Like" our Facebook page and subscribe to the podcast on iTunes, Spotify, or wherever you listen to our podcast.
Get snippets from all episodes by following us on Instagram at @SeriousSellersPodcast
Want to absolutely start crushing it on Amazon? Here are few carefully curated resources to get you started:
Achieve More Results in Less Time
Accelerate the Growth of Your Business, Brand or Agency
Maximize your results and drive success faster with Helium 10's full suite of Amazon and Walmart solutions.