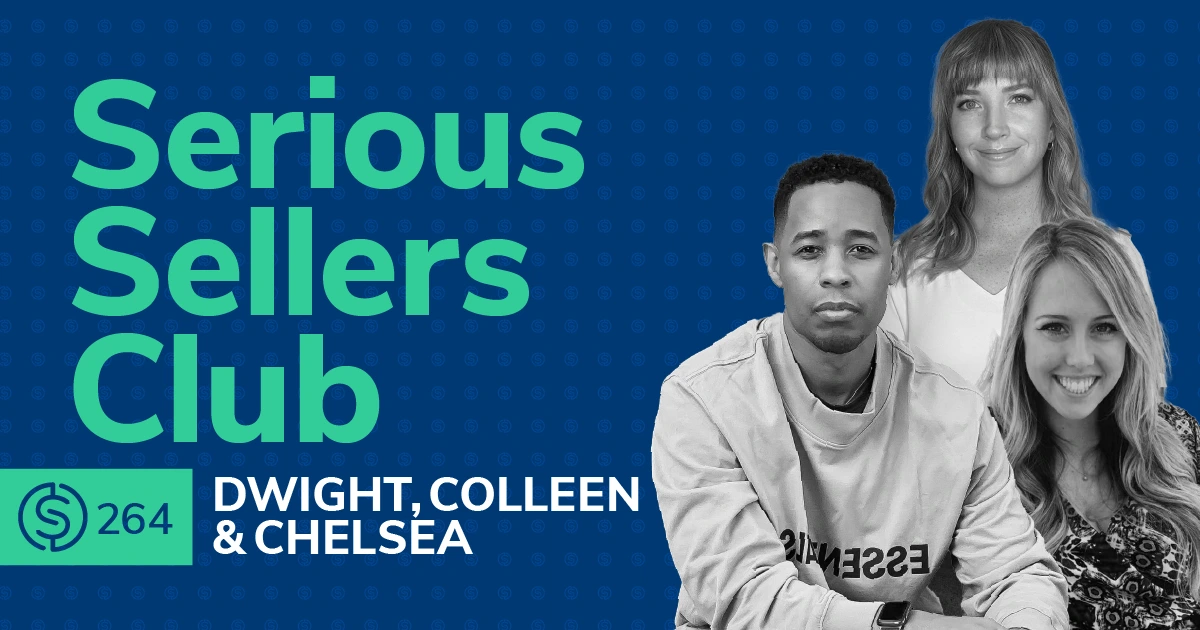 Posted on: July 20, 2021, By: Helium 10
#264 – Introducing the Serious Sellers Club, and More!
Together with the Elevate Docu-Series and a Trusted Partner Directory, we're celebrating e-commerce wins, inspiring sellers, and creating community.
At Helium 10, our goal is to make life easier for Amazon and other e-commerce sellers. We do that with our tools, and also with the community we continue to build that helps inspire and connect you with others that strive (like you do), to be the best!
That's why today on the Serious Sellers Podcast, Helium 10's Director of Training and Chief Evangelist, Bradley Sutton welcomes teammates to talk about three exciting new initiatives from Helium 10. Chelsea, a Brand Marketing Manager, Colleen, a Product Manager, and Dwight, a Video Content Producer and Creator take turns discussing the latest of our efforts to continually bring value to our users and to the e-commerce community as a whole.
First, Chelsea talks about how we're celebrating (and rewarding) Helium 10 users with membership in the Serious Sellers Club for reaching six, seven, and eight figures of sales on Amazon. Then, we'll hear from Colleen how Helium 10 is assembling an industry-leading all-star team of trusted companies to be part of our new Trusted Partner Directory.
Last, Dwight will tell us all about a thrilling and inspiring new Docu-Series he has produced highlighting (four separate) intimate stories of what it's like to sell online and be part of an exploding ecosystem.
There's something in this episode for everyone!
In episode 264 of the Serious Sellers Podcast, Bradley, Chelsea, Colleen, and Dwight discuss:
03:15 – A Passion for Storytelling
06:00 – Sundance, Venice, and Helium 10
07:45 – Announcing the Serious Sellers Club  
10:30 – Exclusive Access to a Serious Sellers Club LinkedIn Group
13:00 – Helium 10's Trusted Partner Directory
15:40 – Who is the Directory Designed for?
17:30 – The New Elevate Mini Docu-Series
20:15 – Goodfellas Meets E-Commerce
25:30 – How to Apply to the Serious Sellers Club
28:00 – Here's Where to Find the Helium 10 Partner Directory 
30:30 – Who is Part of the Vendor Directory?  
32:30 – Inspiration is Goal #1  
33:30 – Tools of Titans  
35:00 – It Takes a Village (to Create Great Content)  
Enjoy this episode? Be sure to check out our previous episodes for even more content to propel you to Amazon FBA Seller success! And don't forget to "Like" our Facebook page and subscribe to the podcast on iTunes, Google Play or wherever you listen to our podcast.
Want to absolutely start crushing it on Amazon? Here are few carefully curated resources to get you started:

Latest posts by Helium 10
(see all)