#279 – Getting More Bang For Your Buck From Your Amazon Proceeds
Today we're discovering how to get your Amazon proceeds every day instead of biweekly, along with other money-saving techniques.
Updated on: January 3, 2022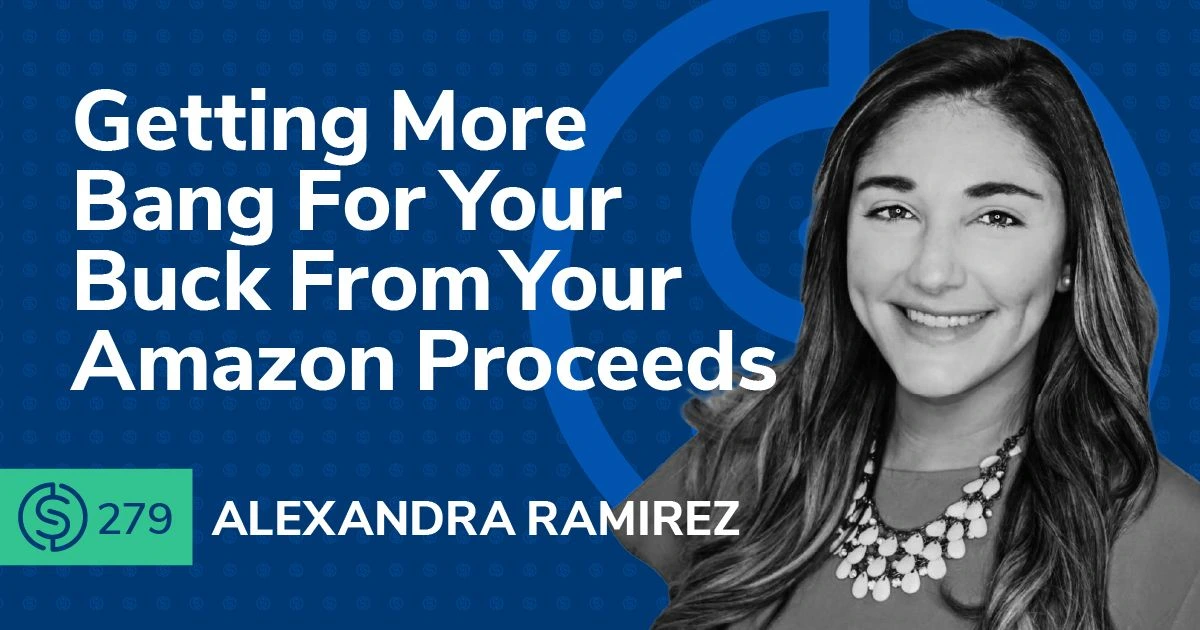 Alta is one of Helium 10's newest tools that effectively helps fund the growth of Amazon sellers looking to scale today. Between a potential $5 million line of credit for your business, daily advances, and features to pave the way for your eventual exit strategy, we have some very intriguing ground to cover!
Today's guest is Alexandra Ramirez from SellersFunding, the FinTech brains behind Alta's brawn.
In episode 279 of the Serious Sellers Podcast, Bradley and Alexandra discuss:
03:00 – How You Can Get Your Money Every Day From Amazon
05:00 – Why Pay Suppliers In Their Own Currency?
09:10 – Can Anyone Get An Alta Digital Wallet?
14:10 – How Working Capital Helped Bradley
18:50 – When Do I Need VAT in Europe?
20:00 – Helium 10 Has a Credit Card?
22:00 – How Alta Helped A Seller Get An Exit In Their Business
23:55 -Have Your Financials In Order!
24:30 -Special Promos Available In September
Transcript
Bradley Sutton:
Today, we're going to go over some methods in how you can get up to a $5 million line of credit for your Amazon business, as well as a strategy that allows you to sell something on Amazon on a Monday, but then have that money less than 24 hours later that you can instantly spend, how you see fit. How cool is that? Pretty cool I think.
Bradley Sutton:
Hey guys, you know, we've had a few guests here on the podcast that worked for Thrasio. Now what Thrasio is, is they're a company that acquires leading FBA brands from small business owners, just like you. They've got the experience of acquiring over 125 Amazon businesses. So they've seen it all when it comes to managing and growing an Amazon brand. So, if you are thinking about selling your FBA business, visit Thrasio.com/helium10 to connect with Thrasio's deal team. That's thrasio.com/helium10. For more information on if your brand is a good fit for Thrasio.
Bradley Sutton:
Hello everybody, and welcome to another episode of the Serious Sellers Podcast by Helium 10, I am your host Bradley Sutton, and this is the show that's a completely BS-free, unscripted, and unrehearsed organic conversation about serious strategies for serious sellers of any level in the Amazon or Walmart world. And we've got somebody who's not a serious seller here, but she helps serious sellers out there. Alexandra, or I'm gonna just going to call you Alie, like we all do. Allie, how's it going?
Alexandra:
How are you doing Bradley?
Bradley Sutton:
I'm doing just delightful. We got to see you a few weeks ago in Chicago, but I actually– what was the first time we met in person? Was that in white or not white label. In the prosper show?
Alexandra:
It was at Prosper Show. We'd been working together almost a year, just virtually, but finally got to meet in Las Vegas.
Bradley Sutton:
Yes, it's so cool that, you know these events are happening again and you guys are exhibiting, you know, right along us. For those who don't know, you know, Alie works for SellersFunding, and SellersFunding is the one who powers our Helium 10 Alta program that a lot of you guys have been using. This is a great, you know, it's funny when we first announced it, Tim Jordan came, I was like, yeah, this is a FinTech thing. Like, what the heck does FinTech mean? I was like, are you making up a word? You know, Tim Jordan is known to make up a vocabulary words, but what's FinTech stand for?
Alexandra:
Financial technology. So we're a happy marriage of the financial world as well as the technology world.
Bradley Sutton:
Yep, exactly. All right. So, what I want to talk about here, you know, is just a recap of like how Alta has been helping a lot of sellers out there from your viewpoint, from my viewpoint. I personally guys have been using Alta for yeah, like, it's probably been a year now. And some of the things that I've been using it for was especially, you know, I wrote some articles about this and talk. I had a podcast where I was doing hundreds of thousands of dollars of dropshipping in Q4 last year on one of my case study accounts. And I wouldn't have been able to do that because, you know, it required me you know, maxing out my credit cards and things if I didn't use the Daily Advance. And so, can you explain what that Daily Advance is? First of all.
Alexandra:
Absolutely. So, our Daily Advance really is made to help with cash flow issues that we know so many of our sellers are dealing with. So what it does is, we look at your sales from each and every single day, and we're going to change– you're going to be advanced based on your net sales. So, net ship sales from your previous day, we're going to go ahead and advance you between 70 and 90% of those sales for a very small fee that we will be charging that small fee starts at just 0.50%. And it's only based on the amount that we are actually advancing you. There's no hidden fees or costs or anything additional, very transparent on exactly on that we advance you on.
Bradley Sutton:
Yes. And that was the reason why, you know, because that I was able to do that much volume because I was, even though I have some credit cards that are pretty high, like, you know, 30 and $40,000, if I had to wait two weeks to get my, my payment and then wait for it to get to my bank account and then wait for it to clear my pay or the credit card payment status, then, you know, I wouldn't, I would have had to stop selling, but because I was getting that money every day, I was able to pay my credit card, like every day, a little bit. And so, I was able to keep the orders going. So for me, that was probably the biggest help in Q4. I actually recently just turned it off because I'm not, you know, I'm back okay doing the every two weeks, but if you guys have some cash flow issues that can be a big help. And it's not just about people who use dropshipping and wholesale like I was doing. You know, private label sellers too you know, two weeks, two to three weeks can be a lifetime, you know, for some of you guys who are like running out of stock and you need to get your suppliers paid. Speaking of suppliers paid, that's another kind of function that you guys have like wait, isn't it actually called like kind of like 'Supplier Pay' or what do we call that service?
Alexandra:
So we do have a Digital Wallet and a Digital Wallet has multiple ways that you can actually utilize it. So one of those is that Supplier Pay where you're able to pay suppliers in over 32 different currencies, and we support about 200 countries. So, if you have suppliers overseas that you need to pay, you can pay them in USD or in their local currencies. And some people don't really know that most suppliers will actually accept their local currency and you can negotiate your invoice so that your invoice can be a little bit lower rather than paying in USD. So every little bit helps and we can help you just save some money in that aspect.
Bradley Sutton:
Yeah, so let's just stay on that really quick because, you know, maybe somebody just hearing this. Was like, well, you know, I have no issues paying my supplier. I just send them a wire, you know, from my bank account, you know, like, so talk a little bit more in detail about, about why this would be in some cases, you know, not necessarily every single case, but you know, how can this, or maybe if you even know of some examples, you know, without having to mention names, like how have sellers been benefited or how can they save money by using, you know, by paying through their Digital Wallet, as opposed to just doing what they normally do in sending like, you know, wire transfers.
Alexandra:
Absolutely, so we do have a seller that was able to reduce their invoice by about two and a half percent because they asked if they could see the invoice in the Chinese local currency, rather than USD, not realizing that there was such a large increase in the invoice. So, they are charging you a difference that is not necessarily shown on your invoice because once it gets to them in USD, they have to pay for that foreign exchange rate. And they can price that between two, three, 4% over the amount that you typically would be paying if you pay in their local currency. So that's something that we can help in being able to allow you to save some money, because we have a standard rate of only 1% and that's even a negotiable amount, depending on how much transactions you're doing on a monthly basis. If you're paying suppliers you know, 10 to 15 transactions monthly, we can even lower that 1%.
Bradley Sutton:
Interesting. So guys, I mean, just to put it into, to kind of like you know, savings, you know, let's just say you guys are spending an average of 10 to $15,000 a month or something from your suppliers. You've got like three, four products and there's a $5,000 shipment here and a $7,000 shipment here. And let's just say at the end of the year, you've paid your supplier a hundred thousand dollars. All right. So like, you know, if they are doing that upcharge of just you guys maybe two and a half percent seems like, you know, pennies, but guys pennies add up, I mean, a hundred thousand dollars a year. If you can save two and a half percent, we're talking 25 $2,500 here savings. So this is not something to that is not a significant here. So, so keep that in mind you know, check with your suppliers, Hey, can I get a discount if I pay you in your local currency, whether that's Chinese what is it called RMB or Mexican pesos or whatever the case is. A lot of times you might be able to get a discount if you pay in your, in their home currency.
Alexandra:
So to that note, we actually also have very tiered levels of our wire transfer fees. So depending on what country you're going to be paying, you pay a flat rate. So we do have a flat rate for China specifically because we know that that's where most of our sellers have their suppliers. So we have a full list. If you do have questions, you can feel free to reach out to us, and we'll give you the full list of what that wire transfer looks like. But not only can you pay suppliers with that Digital Wallet, you can actually receive in multiple currencies from multiple marketplaces. So we know that Amazon charges a percentage for you to receive, let's say Euros, so they'll change it automatically to USD. Whereas our Digital Wallet allows you to receive USD, Euros, GBP, and Canadian dollars in that currency for free. So you don't pay for the exchange until you're ready to exchange.
Bradley Sutton:
Okay. Good to know. Now, both of these things that you just mentioned though, are contingent on being able to have an Alta Digital Wallet, you know, whether you're getting the Daily Advance or you're doing Supplier Pay, what does it take like who qualifies, like, you know, to get a Digital Wallet. Do I have to be a six figure seller on Amazon or do I have to be a US citizen? What are the requirements?
Alexandra:
That's a great question because we don't require you to be a US citizen or to have a specific number of sales. We actually allow you to open a Digital Wallet if you're just starting to sell. So we know that a lot of sellers just started selling a few months ago. They don't necessarily have everything in order. So they're looking somewhere to do everything. And that's what we're trying to do with Alta is to be a one-stop shop. You can receive from Amazon or from any of your other marketplaces directly into the wallet, pay your suppliers, start getting your sales in order. And as soon as you hit that three month mark, we can actually start the Daily Advance, and then six month mark, we can start helping you with working capital. So it really is full circle from the moment you start selling, as long as you have a business entity. All the way until you become a hopefully seven figure seller.
Bradley Sutton:
Okay, Excellent. Now Digital Wallet, Daily Advance, what are the other, you know, these are not new and we'll talk about some of the newer things here, but what are some of the others that, that Alta kind of started with when we started this over a year ago?
Alexandra:
So in the Daily Advance, some of the things that we started with Alta was exclusively the USD. Something that over the past, the course of the last year, since we started Alta, we can actually do the daily advance for Canadian dollars, EUR, and GBP as well. So if you have multiple tokens and you're selling in multiple regions, we can actually offer you the Daily Advance in all of these currencies. Versus last year, we were only were able to offer USD. So that's something that has been amazing for most of our sellers that are selling in multiple regions.
Bradley Sutton:
Okay, cool. Now, one of the things that does have a little bit more of a requirement, as far as, Hey, it's not just you know, it's not everybody who qualifies for this is, is it called Credit Limit?
Alexandra:
Yep. We've got Credit Limit and we actually call it Working Capital because we've got a few different options for our working capital solutions. In essence, it's just being able to get funded for anything you need, whether it's advertising, whether you're buying some additional supplies. If you're just paying an invoice, anything that you are going to need it for your business, you can get funded. And we do have some requirements. We usually require about six months of sales history and about $20,000 in net sales in the past three months. Now, this number is not, yeah, it's not super high. And it's also not something that we stick 1000% to. It's more of a guideline because we do also we can foresee what additional things are going to be coming down the line with people's businesses. So we can forecast and see the trends that e-comm truly shows. Whereas banks don't have that e-comm trend that they can look at. We look at seasonality, we look at what type of seller they are, what type of category they're in. So we have a little bit more insight than the average banking partner will, versus us.
Bradley Sutton:
Okay. Now I noticed a graph I hadn't seen before on the Alta Credit Limit page, and it says sellers using Alta's products grow more. So you guys did a study on the growth, you know, since you're, you're obviously connecting to everybody's Amazon accounts you know to check how much sales they're doing, you can see the growth trajectory of people who perhaps are using the working capital as opposed to the people who are not. And, what was the result of that study that you guys did? What did you find?
Alexandra:
So our Alta sellers actually grow 19.9% more than the average person that isn't using any working capital.
Bradley Sutton:
Wow. And guys, you know, I can personally attest to this because this is one of the biggest things I've actually used continuously from Alta, you know, since I do mainly do private label, I always wanted, you know, especially nowadays guys, you guys know how difficult it is to get product out of China in a reasonable amount of time, not just because of the, you know, how long it takes to produce now, but how long it takes a ship, how long it takes to get through customs, how long it takes to get a truck to get picked up. And then in addition, how long it takes to get it, you know, checked into Amazon, once it arrived, you know, I've got a shipment right now. I was just looking at this morning that I shipped three weeks ago. It arrived three weeks ago to Amazon.
Bradley Sutton:
They still don't have the inventory checked in. So what happens is you've got a lot of sleeping money because, you know, you've, unless you have some crazy credit terms with your supplier, which almost nobody has nowadays. You're having to prepay all this stuff upfront. And so you can be cash trapped and I have, oh my goodness. I think I've done well, actually, I have my older account open right here. I've done. Let's see, I've done nine. I've actually done nine draws for Working Capital where I've gotten as low as $5,000 and as high as $12,000. And without that, I would've had to wait like, you know, weeks in order to have that kind of cash to pay my suppliers. And so it's really helped me now, you know, me, I'm not using it too much. Like I said, you know, $5,000, $12,000 at a time, what are some big numbers out there? You're not just giving out 5 and $12,000. What are some lines of credit that you've opened up for people?
Alexandra:
We've actually been able to go to up to $5 million. So we have sellers that are drawing $250,000, a hundred all the way up to a million, $1,500,000. So these big invoices, like you said, sometimes you have to have the cash up front before you can place these orders. And we know what logistical nightmares, everyone is really encountering nowadays. So, we even added a new option for our Working Capital, which is an interest only extension, meaning up to four months, anybody that draws on their working capital can choose just to pay the interest for those first couple of months. And it makes it more affordable and makes those payments a little bit more attainable. And once you've received your merchandise, that's already checked in, it starts selling. Then you start paying your regular payments rather than just the interest. So it's an option. It's not something that you have to do, but we wanted to make sure that sellers know that we know what is going on with the logistical situation.
Bradley Sutton:
Okay. Now, what is it based on? Like, for example, I think I haven't been doing too much on my accounts lately. Like, you know, I'm grossing maybe. I don't know, I want to say between like $50,000 and $80,000 a month on my Amazon account, that I have connected to Alta and my credit, my working capital limit, the last time I checked, I think it was about like $50,000 to $60,000. Like, you know, like I said, I was only doing five to $12,000, but if I wanted to, I could just pull out $50,000, like right now, if I wanted it to. Now, is that kind of how it work? Does it go on my monthly? Like, is it because I'm doing about like, you know, $60,000 a month that I have $60,000 Credit Limit? Like, is that how you guys calculate it? Or how do you guys calculate how much somebody qualifies for?
Alexandra:
So it's not going to be that exact number. We do use multiple factors. Of course, net sales is going to be the top factor, but something that's great with our Alta sellers, because we have so many products. If you're using more than one product. And if you've been using like yourself have Bradley, you've been doing one after another, after another, we actually review on a monthly basis. So we can send you an increased amount if you're using multiple products. And as you grow, we allow you to also grow in terms of your Credit Limit. So you, if you want it to only get $5,000 today, it doesn't affect you being able to get a higher amount in the next couple of months. So as long as your token is still connected with us, you can continue increasing in the amount that we can send you.
Bradley Sutton:
Okay. And it's not like me. I only have my Amazon account connected here. But if I was shelling up, if I was shelling, yeah, if I was shelling there's something interesting. If I was selling on Walmart, Shopify, like I can add those tokens to Alta. And then you're, you're taking a consideration, my revenue on other platforms, not just Amazon, right?
Alexandra:
Absolutely. You can connect Shopify, eBay, Walmart, Amazon, and many others that we connect shop Magento Stripe. So all of those together combined, we also send you a proposal that is even larger than just your Amazon revenue.
Bradley Sutton:
Now let's talk about what we haven't talked about yet. And are you guys still doing the help with like getting registered for VAT and things like that?
Alexandra:
Absolutely. I actually just had somebody email about us today, how happy she was with the service. We were able to set up her German VAT about five or six months ago. And she's actually an Alta client as well. And she was looking for…
Bradley Sutton:
She's based in the states?
Alexandra:
She is based in Europe actually.
Bradley Sutton:
Wow. So, I mean, I don't know. I'm just like sitting here thinking like, oh, all Europeans know everything there is to know about VAT, but it looks like there is some things that even European sellers need help setting up.
Alexandra:
Each country has very specific information that they require. And sometimes the company that we partner for the VAT services can really expedite it and they know exactly what they need to be able to do. It's a very affordable service. It can expedite your VAT process and we service about 13 countries. If I'm not mistaken, you have some in Canada and multiple countries in Europe that we can assist you with.
Bradley Sutton:
Okay. So like, let's just say me, for example, me being based here in the USA, I currently do not sell have not sold in UK, Germany, et cetera. Now I'm interested in opening. They're like, I don't even know what the requirements are like, do I need to have some, some kind of VAT, like from day one to sell over there, or it's only after I hit like a certain revenue.
Alexandra:
So that's what this company can help you with because each country will require depending on their government specifications. So if you haven't done it yet, you can always click on apply now. It will not require any payment until you're sure that this is something that you want to move forward with. We'll collect the information necessary and then put you in contact with our partner and they'll let you know what exactly are the requirements for each country. If it's a specific dollar amount or if you need it from day one.
Bradley Sutton:
Okay, Cool. Now, one of the things that you guys launched more recently was that prepaid business card. And for me, the reason why I thought that was so cool, was it lessened even more the timeline on how you can use the money that you're making on Amazon? Cause here's the scenario. I'm not saying I did this, but in my mind, I'm like, all right, let's say I went ahead and did the Daily Advance. So like I'm selling something 12PM on a Monday here on Amazon. I'm getting that money Tuesday, you know, in my Digital Wallet. And instead of, you know, having to transfer that to my bank and then paying my credit card, I can like pretty much transfer that to my virtual Helium 10 Alta credit card and use that credit card. You know, it's an actual credit card number with expiration date and all that stuff, and then buy something on Tuesday using that money that I just earned on Monday on Amazon. Is that an actual scenario that that could happen?
Alexandra:
That's a real scenario and not only is it a true statement, you're earning 1% cashback on every single transaction that you're using this virtual card on. So you can use it anywhere that credit cards are accepted. It is prepaid. So however much you load onto it is how much you'll be able to use, but you can create sub-accounts for each one of your cards. So if you wanted to, let's say put $3,000 for ad spend and let it run until it runs out. You can do that and then have another sub-account for just transactions that you wanted to do online. So you can have separate, separate technically accounts under the same virtual card number or have separate virtual card numbers.
Bradley Sutton:
Cool. Man, all kinds of cool stuff here. All right. I obviously use Alta I've been saying here, I don't actually really talk to many people though, who do. I don't have like a lot of real world experiences. Can you talk about, you know, again, you don't have to mention names or anything, but you mentioned one example of somebody who got like $5 million you mentioned another example of somebody getting help for VAT, but can you give us some like real life you know, cases of people using different aspects here, and then they go back to you and said, oh man, this really helped me in this way. Or I was able to do this that I wouldn't have been able to do. Just like, you know, give people some real life examples on how they can use and leverage Alta to grow their Amazon business.
Alexandra:
Absolutely. We have a case study where one of our sellers started with just a $50,000 credit limit and was able to grow their business using the funding that we were able to provide them. And they ended up around 1.2 million was the last time that they drew because they were able to grow the amount that we were able to offer. Not only that, they were able to successfully exit. So Alta and all of our funding and all of our products really were able to help them get to the level where they needed to be able to exit their business successfully.
Bradley Sutton:
Cool. Any, any other examples that come to mind?
Alexandra:
We've got a few sellers that start you know, start large, but in terms of $500,000, and they just stay kind of like stuck there. And they always say, it's great that you're offering $500,000 because Amazon sometimes only offers a lower amount for a shorter time period. And it's by invitation only. So, they sometimes get stuck with the amount that Amazon is offering, and we can actually help you in addition to other funding that you are already having, as long as your cash flow permits.
Bradley Sutton:
Whenever we have guests on the show, we always have them talk about different strategies. Now, you know, we have people like yourself who are not Amazon sellers, and we don't just talk about Amazon selling strategies here. But, you know, since you are dealing with literally hundreds, if not thousands of Amazon or Walmart or other sellers out there, what are some of we call them "TST" 30-second tips. Like what's some tips on how people can leverage. It doesn't even have to be about Alta, but just in the FinTech world, you like, what have you been, what have you learned in this space that you are seeing that successful Amazon sellers are doing that, you know, maybe you can share with the audience today.
Alexandra:
Yeah, absolutely. First thing I would always say is having your financials in order because it does help us have a more overview of your entire business. We don't require balance sheet and P&Ls for anything under $250,000, but when you have multiple marketplaces or you're selling in multiple currencies and you've been selling for quite some time, having that balance sheet and P&L available can help us leverage and see a bigger picture and even potentially get you a better interest rate.
Alexandra:
We're forgetting our special promos, Bradley. That's what we're really…
Bradley Sutton:
Special promos?! Tell me about it.
Alexandra:
So we've got a special promo for Working Capital and you can actually get a cashback of up to $5,000. We have a couple of tiers, it's $500, $1,000, or $5,000, and it doesn't require anything but drawing on your Credit Limit. So you go ahead and apply through Alta. You can actually get a proposal for working capital and you draw on your limit. Once you draw on your limit. If you're drawing between $20,000 and $100,000, you'll automatically qualify for a $500 cashback. And then if you draw from $100,000 to $500,000, you're qualifying for $1,000 cashback. And if you draw over $500,000, you're qualifying for a $5,000 cashback. We do require you to open our Digital Wallet, but don't worry it's free. As long as you open your Digital Wallet, we're going to give you money there. And remember that you could use that to pay a supplier or to pay anything that you need to pay with your prepaid business card.
Bradley Sutton:
Wow. All right. So how long does this last until? This offer?
Alexandra:
So, for everyone, it's September 15th, but for Alta users, we have a special timeframe it's going to be until September 30th.
Bradley Sutton:
Awesome. And then how can, where can they go in the dashboard to see that?
Alexandra:
So all they have to do is actually go to growwithalta.com you can create an account, or if you're already an existing Alta user, just click on apply now to Working Capital, draw on your Credit Limit. And that's it. Once you draw and get your digital wallet, you'll get your cashback.
Bradley Sutton:
Cool. All right. I might think about doing that right now too. I need some extra cash, so I might check that out. Now you mentioned the promo that we have available potentially for the Working Capital but I remember you said promos like a plural. There you have anything else that for the audience
Alexandra:
We do. So for any new Daily Advanced seller that applies until September 30th for their first two cycles, we will actually let them go fee free. Meaning that those fees that we usually charge on whatever amount we've Advanced, we're going to actually reimburse you. It's going to be free for first 2 cycles.
Bradley Sutton:
Very nice. So that's for new customers who are at least new to Daily Advance. Okay. So there's another promo for our users. Excellent. So now I mentioned earlier how, you know, people can connect other tokens. Like, I'm just curious. On my side, I'm seeing a lot more interest in selling on walmart.com Are you on your side? Like are you seeing more people add Walmart tokens to their accounts than say a year ago? Or is it pretty much the same for you guys?
Alexandra:
It's definitely increasing way more. And we are able to offer the Daily Advance to Amazon users as well as Walmart users. Now, this is very new for our Walmart users. So it's something that we want to make sure everybody is aware of that it's not just Amazon users. It's also Walmart.
Bradley Sutton:
This is important stuff. You know, we had an episode, a few episodes ago that we called the unsexy side of Amazon. And it was about like flat files and things like that. And for some people, you know, things that have to do with financial stuff or accounting or working capital or VAT that can also be considered kind of like the unsexy side of e-commerce. It's not like exciting, like, oh, I'm going to find this new product. I'm going to find this amazing keyword that my competitors don't know about. You know, people will usually talk about those kinds of strategies, but these are things guys that have as much, if not more of an impact on your Amazon businesses because we just talked about how, you know, your hands can be tied. Like if you're an arbitrage or wholesale, you've maxed out your credit cards, you got to wait until the next payment comes in.
Bradley Sutton:
Your sales literally go to zero because you can't buy any more. You know, you're a private label seller and your, your sales go up because of a lightning deal. And you know, every day counts as far as when you can get your factory you know, producing your next order. You got to wait two or three weeks, you know, for an Amazon payment or more, if you've got to wait until you get actual profits and things like that, you know, you could be looking at running out of stock for a while and running out of stock, not only means lost sales, you know, during that time period but, you know, you might lose your ranking and sometimes you might not even get ranking back or your velocity. And so it can have long lasting impact. So guys, don't overlook this un-sexy side of business because having your financials in order and being able to have steady cash flow that Alta can help with if you qualify. Can have a big impact on your bottom line. So again, if…
Alexandra:
You're excited to that point, Bradley.
Bradley Sutton:
I'm getting, I'm getting people pumped up here.
Alexandra:
We can actually fund people up to 48 business hours. So, as soon as you hit that apply now button, and we can send you a proposal that day or the following day. And as soon as you click ready to draw, we can fund you in 48 hours. So this is not a long drawn out process. As long as you submit all the documentation that we need, it can take as little as two days for you to get funded. So, you know, make sure that you have all your documentation for your business in order soon as you apply. And that's it, you know, you can get funded in two days. And if you're on the Daily Advance, you're getting funded on a daily basis.
Bradley Sutton:
Well, Alie, thank you so much again. So guys, one last time growwithalta.com If you guys are not members yet go there and you'll recognize the Helium 10 branding, you know SellersFunding has done this for us. And so it's not like, you know, we're not sending you to some completely strange company, you know, it's actually called Alta by Helium 10. So make sure to check it out, guys. And Alie we'll bring either you or Ricardo or Tim, somebody, back the next year. I'm sure you guys will have some other cool new features for us to check out as well.
Alexandra:
Amazing and thanks for having us on Bradley.
---
Enjoy this episode? Be sure to check out our previous episodes for even more content to propel you to Amazon FBA Seller success! And don't forget to "Like" our Facebook page and subscribe to the podcast on iTunes, Google Play, or wherever you listen to our podcast.
Want to absolutely start crushing it on Amazon? Here are few carefully curated resources to get you started: