#321 – Help on How to Get Your Amazon Products on Walmart.com
In this episode, we'll talk about how you can take your Amazon products and start selling them on Walmart.com, plus a new program that can help you do that!
Originally published on: February 12, 2022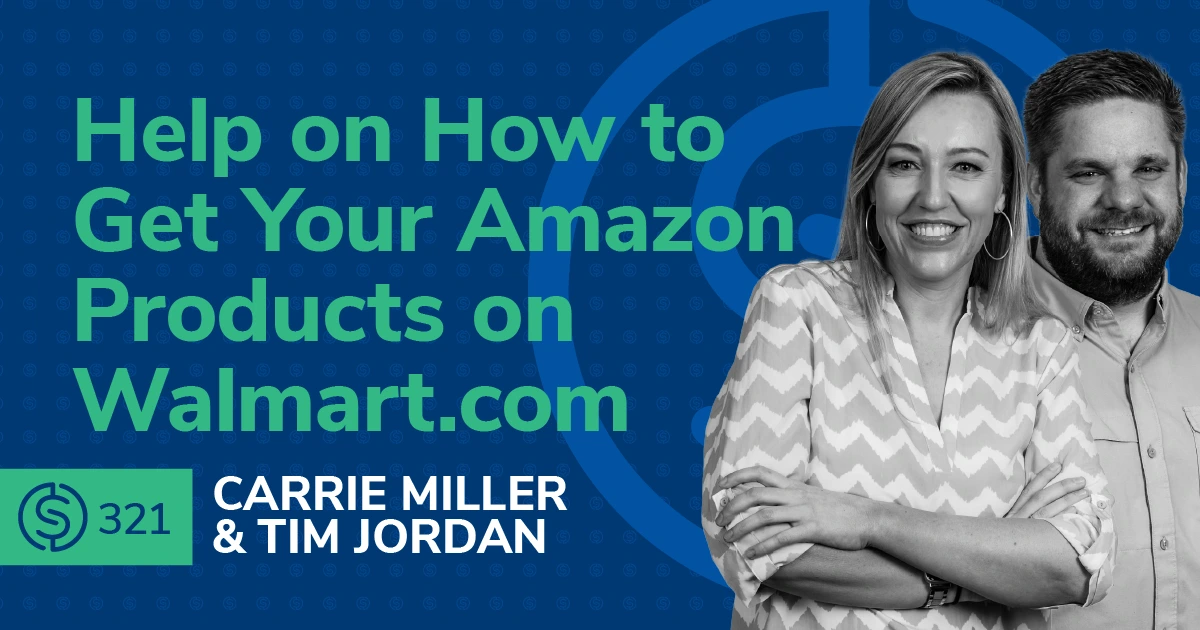 Walmart is the 2nd largest e-commerce platform, and it's certainly one of the next places you could consider expanding to. Today, we're joined by Walmart and eCommerce experts Carrie Miller and Tim Jordan to talk all about selling on Walmart.com. Listen to the very end as they share their biggest tips, strategies, and insights when expanding to this platform. They will also announce a new case study that will walk you through and help you get started on this journey!
In episode 321 of the Serious Sellers Podcast, Bradley, Carrie, and Tim discuss:
02:15 – The Biggest Changes On The Walmart Platform
03:50 – Carrie's Take On Why Sellers Should Consider Walmart
05:30 – Walmart Success Stories From Tim's Network
07:00 – How To Determine If There's More Opportunity On Walmart?
08:00 – What Your Need To Know About WFS On Walmart
10:45 – A Walkthrough In Getting Started In WFS
13:00 – Process Of Sending Products To WFS vs. FBA
18:30 – Carrie And Tim's Best Tips And Strategies For Walmart
23:30 – Why Was Project X Successful?
24:00 – Introducing Another Case Study For Walmart: Project W
26:30 – How To Start Watching Project W?
30:30 – Who Will Benefit The Most In This New Case Study From Helium 10?
32:30 – Helium 10 Tools That Are Available For Walmart Sellers
34:45 – Get More Support Through Our Walmart Facebook Group
36:00 – A Preview Of Project W 2.0
38:00 – How To Sign Up To Walmart Through Helium 10 – h10.me/joinwalmart
39:00 – Lookout For More Walmart Training For Freedom Ticket
40:00 – How To Get In Touch With Tim Jordan
Transcript
Bradley Sutton:
We've got some incredible guests who are gonna be talking about all the latest on how you can take your Amazon products and get started selling them on Walmart, plus a super cool announcement about something that can help you do just that. How cool is that? Pretty cool I think.
Bradley Sutton:
Hello everybody, and welcome to another episode of the Serious Sellers Podcast by Helium 10. I am your host Bradley Sutton, and this is the show that's a completely BS-free unscripted, and unrehearsed, organic conversation about serious strategies for serious sellers of any level in the Amazon or Walmart world.
Bradley Sutton:
We've got a couple of serious sellers here. My sister from another mister, Carrie. Brother from another mother, Tim here on the line. How's it going, guys?
Carrie Miller:
Hey, it's going great.
Tim Jordan:
Good.
Bradley Sutton:
All right. Right. You guys like it?
Carrie Miller:
How are you doing?
Bradley Sutton:
I'm doing all right. Now, you know, these are no strangers to the series letters podcast. We've had both of them on a few times, and we've got some special announcements as we said in the intro there coming up we'll get to that in a little bit. But this is gonna be kinda like a Walmart centric episode because these are two of the most knowledgeable individuals in the game as far as Walmart goes. So we haven't had a Walmart episode here in a while. So let's just talk about that for a second. You know, we're in 2022, let's start with Tim. What are some of the biggest thing that you are seeing as far as industry trends or Amazon sellers moving to Walmart, or just general things about the Walmart platform that you've noticed over the past half year?
Tim Jordan:
I think that Walmart's made a lot of gains in their infrastructure and their capabilities. Like if we think about some of the–, I don't know, the shortcomings of different marketplaces, right? The inability to increase logistics or maybe some of the features that are better for some products than others, right? Like I don't wanna disparage anybody. The marketplace that I see making the biggest gains to actually increase their logistical capabilities or increase their functions is Walmart. Now, Walmart is behind a marketplace like Amazon, obviously, they just don't have the robust features and they haven't been around as long, but looking at Walmart and the way that they have started investing massively in their ability to continue to be the number two marketplace and really put some competitive nature on Amazon. You know, Walmart's where it's at.
Bradley Sutton:
I love it. You know, that's one of the biggest, you know, that's kind of like part of the announcement we're gonna be making later on today is that's, it's great to see that Amazon sellers are like realizing, Hey, I'm already selling on Amazon. So no brainer to get started on Walmart. That wasn't always the case. You know, like three years ago it was like almost impossible to set up a Walmart account. It was so difficult and you had to have an API person, like if you go farther back in time and a lot of those obstacles now no longer exist. Now, Carrie, you know, we brought you into the company cuz to be our main expert on Walmart. And you actually, you know, it's not like you had already a Walmart background like you weren't even selling on Walmart if I'm not mistaken. So all of your knowledge has come kind of like within the last year. So what about you? You as somebody new and you who are an Amazon seller and now you're new to Walmart, what are some of the biggest takeaways or the biggest struggles or the most interesting things for somebody like you to have learned out the Walmart opportunity?
Carrie Miller:
I think that I first kind of had this thought that maybe I shouldn't put my products on Walmart. It was something I had to kind of get over and realize that there's so much opportunity on Walmart. I don't know why I had that in my head, but you know, there's all kinds of products on Walmart and it's a great marketplace. I also have been really impressed by just the back end of Walmart. It's definitely pretty easy to use. I've been teaching some people how to sell on Walmart and everyone just gets excited because they're like, this is easier than I thought. And this is really exciting when they see the opportunity. So yeah, it's just been a really great journey to learn all the opportunity and just the ins and outs of the marketplace. I actually did have an account representative reach out to us a few years ago and it was very, very clunky then. So it's definitely improved so much to the point where it's just a lot easier. The seller support is great. Every time I contact them, I get a really quick response and I get things fixed pretty quickly. So I've been really happy with process of setting up and getting going.
Bradley Sutton:
Okay, let's talk some success stories. So, Tim, you've got a big community over there and, you know, I know some in your–, not everybody of course, but you know, a lot in your community are selling on Walmart, and you know, you don't have to mention names if they're a private kind of person, but can you tell about any success stories from your network there?
Tim Jordan:
Yeah, there's a lot. And what's interesting is everybody likes to compare success stories, apples to oranges. They say, Hey, a seller that's selling X amount on Amazon. What percentage are they gonna sell on Walmart? Is it 20%? Is it 30%? Oh, if they sell 30% of their Amazon sales that success. When in fact what we see is that a lot of people are actually selling more on Walmart than Amazon, which is crazy. There's a pet product company that I'm deeply involved with that was really struggling, but it's very competitive on Amazon. So the cost per click was very high. Fulfillment cost is very high, just very, very competitive. There was nobody selling the same product at all on Walmart. So at the exact same sticker price as Amazon, but with less seller fees. So higher profitability, the volume it was five figures, more per month on Walmart than it was for their listing that had been there for six years on Amazon. It's crazy.
Bradley Sutton:
Wow. That's crazy. Yeah. I, I think the perception is which, you know, probably in most cases is true so that, oh, you know, Amazon sales kind of are always, way more than Walmart, but it's good to know that that's not always the case. Sometimes it's actually, you can actually do better on Walmart due to the competition on, on Amazon. Now, speaking at that, Carrie how does one, like kind of determine that there is more opportunity on Walmart than Amazon or that there's any opportunity at all? Like what are some methods that people can use to kind of validate that?
Carrie Miller:
One of my favorite methods is to just think of a product that, you know, as extremely competitive on Amazon, go search that product on walmart.com and then pull up Xray. And what I usually do is I'll sort by revenue, I wanna see the highest revenue on Walmart and you'll see kind of the range of, of revenue for Walmart. And you'll see that certain sellers are selling a lot on Walmart, and then you can click on their ASIN. We have on Xray the ability to click on the ASIN it'll take you directly to Amazon and you will see sometimes that they're selling nothing on Amazon. And so I think that's a great visualization of the opportunity of just these really competitive products that you have a window of opportunity to jump in there and get ranked at the top and position yourself amongst, you know, some of these top competitors. So it's really exciting when you actually take a look at these things, just think of things, you know, and you'll at least even see in the top 10 listings. There's not even any reviews in some of these categories. I mean, there's just so much opportunity there.
Bradley Sutton:
Okay. Talk a little bit about WFS, you know, in a nutshell, as far as I know, and again, I'm very inexperienced when it comes to Walmart, it's like the easy way to say it is the Walmart version of FBA, but talk a little bit about, you know, like how difficult it is to get in. Are there any minimums and what are the benefits of enrolling in WFS on Walmart?
Tim Jordan:
Well, lemme start off with the benefits of having, WFS not necessarily enrolling having a fulfillment system within that marketplace is great. The communication with the marketplace, the updates for shipping to the sellers or sort of the buyers, the customer service issues. If they miss a shipment or something like that, it's not on, you are all massively beneficial. Plus we know that on marketplaces that have a fulfillment option like Amazon FBA when you offer your products to be shipped through that system, you get some added benefits like on the listings. Like, so with Amazon, you can get the prime badge with Walmart, you can get the Walmart plus badge. So we know there are benefits. So that being said, we know there are benefits in enrolling. Now I actually, today was on a meeting with Walmart and I said, why the heck do we have to enroll in WFS?
Tim Jordan:
Like, if we get a seller account, why don't we just get it? And they couldn't answer, like, that's one of the things we're trying to work out, but you do have to enroll. There is not actually a listed threshold or list of criteria to get accepted. They don't actually tell us, but when you get your seller account, you can go ahead and apply for WFS and tell them, Hey, these are the products that I wanna sell. This is how much I anticipate selling. Of course, we don't need the exact number that's gonna move. And you apply to it through a separate program. And that program even has like a different communication system. It has different heads of the department than the regular seller center folks. I believe that WFS for a long time was lagging. And there are a lot of people may be listening to this and said, oh, I tried WFS two years ago. It's tried a year ago. It was terrible.
Tim Jordan:
It's because they didn't have the infrastructure set up yet. They had one receiving center in Kentucky. So if I was selling stuff from California, I'd have to ship pallets from California to Kentucky and they might send it back to California to be redistributed, but they're adding more fulfillment centers, adding more technology. They're actually converting physical retail store locations, fulfillment centers. And we know that Walmart has more physical retail stores than anybody. Right. So WFS is definitely something that you should enroll in. It's definitely something you should take advantage of. It continues to become more and more robust every day. And if any of you have had some issues with it before, give another shot.
Bradley Sutton:
Okay, good to know. How long–, what is that you know, like you said Tim, it may be, for now, it's kind of tedious to have to apply for a Walmart account and then apply for WFS. But can you walk us through briefly what that process entails and how long it takes to get fully ready to go, where you can send inventory to WFS warehouses?
Tim Jordan:
If I remember correctly Carrie, it's still a one page application, right? They haven't changed that?
Carrie Miller:
There's about three different pages and it's very, very simple to fill out. And I think it took me like five minutes and there is one little weird thing you have to click on everything, even if it's a, no, I had the struggle because I had to click on everything in order to go to the next page. And so somebody else might have that situation but make sure you answer all the questions, but it took five minutes. It's and then I just recently applied for another account I think three weeks ago, and I got accepted within 24 hours to WFS.
Bradley Sutton:
Nice. Nice
Tim Jordan:
And I know that some people are saying it takes longer and I've seen it right. Sometimes it's as little as 24 hours, sometimes two or three days, but it's not back into the weeks. Like it used to be, you know, a year ago it might take you two or three weeks
Carrie Miller:
When you get on WFS, your rank just goes so high. It's really important for the algorithm right now to be in WFS and offer the fast shipping. Not only that, if you look at your listing quality score, you'll see that every category is ranked differently. So there's content and discoverability which is only one kind of circle out of three circles. That's kind of, you know, the importance of it. And then there's your offer score, which is three out of three. And then the ratings is two out of three. So the offer score is the most important thing for them right now. And so I've seen things rank on the first page, without even trying by just adding WFS things that were ranked or, you know, much lower or higher, sorry, much higher down the thing. All of a sudden they just jump to the first page.
Carrie Miller:
So I think that's a huge benefit of that. Plus they have these little badges on the search pages, it'll say two day shipping or three day plus shipping or pickup in store. So if you don't have the two day shipping, I imagine that a lot of people aren't even clicking on your listing, and clicks actually do help with your ranking and the algorithm. So, you know, click clicking on your listing is not gonna happen. If you have three plus day shipping, it's just not attractive to most people. So there's a lot of great benefits to WFS. And so I've seen it just massively improve the ranking for us.
Bradley Sutton:
That I didn't know that. There I learned something. I didn't realize that just by itself improves your keyword ranking. I like that. Now, my question is about the process. I think most of our listeners are Amazon sellers and they're familiar with the FBA process. All right, I've got this product. I need to send it to Amazon. So first I gotta stick my FNSKU stickers on it. And then I set up a shipment in Amazon seller central, and sometimes it has me sent to one you know, warehouse in Amazon. Sometimes it has me sent to three, et cetera, et cetera. Like we're all familiar with that process. So how similar/different is that process to send things? You know, obviously, it's not the FNSKU. You know, so does Walmart have its own kind of FNSKU? Or does it go off of barcode? Talk a little bit about that either.
Tim Jordan:
So I'll say this, we could go through a list of several small nuances, but for all intents and purposes, it is exceptionally similar, like very, very, very similar. If you're familiar with sending in an FBA shipment, you could easily figure out the WFS inbound shipment portal in minutes. There's very, very little differences.
Carrie Miller:
Yeah. I mean, when you click to send in a shipment, there's actually a PDF that pops up. It's really easy to print out if you have those, I think it's Avery print labels. You can print out the UPC. That's pretty much all you need on your, your products is your UPC code and they usually choose the closest fulfillment center to you. So like for us, it was Chino. So it's really like an hour from me. So they usually try to choose those.
Bradley Sutton:
If only Amazon did that.
Carrie Miller:
I know. Yeah.
Bradley Sutton:
Here in California, they have me send all my inventory like Florida, New York, like, come on. Really?
Carrie Miller:
Yeah. I think it's actually much more efficient to be honest, based on that. I've seen them choose the best fulfillment centers and then they, you know, disperse it however the best.
Bradley Sutton:
And can you pay at Walmart for like UPS partnered rates, like UPS and FedEx kinda like Amazon? I always love that about Amazon.
Carrie Miller:
Yeah. So they have really good rates. So they'll choose their partner carriers and it's a lot less expensive from what I've been seeing. So they have really, really good rates. And you can do your own carriers if you want to, but I wouldn't recommend it. They have such great rates when you go in to send your inventory in it's amazing.
Bradley Sutton:
Nice. So, if I'm an Amazon seller and I've only been selling on Amazon, there's a likelihood that at some point when I produce my product, I switch to like on my label, I actually have my factory put on an FNSKU as like the barcode. So I don't have to label stuff. Now, if I've done that, and that's the inventory I'm gonna use for Walmart, does that mean I need to either at my 3PL or maybe have a separate set of inventory where it actually covers up that FNSKU and I use the UPC or is it okay that, that FNSKU is there and just somewhere on there, there's a UPC code or do I have to cover it up?
Tim Jordan:
So I would cover up the FNSKU because a lot of times on an FNSKU you will have, let me see if I have something sitting around here. Yeah. You'll have like a description. I'm not gonna zoom in and show you this product. FNSKU, you'll be copying my crap, but yeah. You'll have a yeah–, nobody would ever copy anybody's stuff, but yeah, you'll have a description, even if you don't have that description on, it's still Amazon specific and I would not sell something, especially through WFS that has that Amazon code. Cause someone's gonna look at it and go, this is weird. So yeah. Print you out a UPC and covered up. And my suggestion is go start migrating everything to a UPC code, all of your packaging, all of that stuff on future orders. Amazon used to be pretty lax about UPC codes, right? You could use the GTA in exemptions.
Tim Jordan:
You didn't have to have a GS1 registered bar code or UPC to your brand, but now Amazon's requiring that and we should all be upping our game. We should be maturing to the point where we're using GS1 registered to your brand UPCs anyways. So just start migrating it. And if I have 2000 users or something with an FNSKU printed from the factory and send that into FBA on my next order that I ship in, I can just convert the listing. I can just say, Hey, I'm gonna start using UPCs. Now you just open up a case in Amazon and do that. That way your single kind of inventory stock can be shipped in anywhere and not have to have separate labeling.
Bradley Sutton:
Okay. Makes sense. Now let's just say for whatever reason, I just don't have the means right now to do WFS or, you know, it's just too difficult for me to send inventory direct and, and I just have my own warehouse or third party warehouse, obviously, I can use them to, you know, "drop ship". You know, if I get orders or I can have some kind of integration, or of course, if I'm shipping myself orders that I get on Amazon or on Walmart, I can ship it myself, but correct me if I'm wrong, but you are no longer, or maybe you never were able to do use your Amazon FBA inventory to fulfill Walmart orders. Isn't that against Walmart's terms of service or am I getting confused?
Carrie Miller:
Yeah, it's definitely against service. You cannot drop ship from FBA. You'll get shut down and it'll be extremely difficult if not impossible to get back up again. So I highly recommend that you just do your own fulfillment. Don't go even anywhere near that. Even if it's, I know sometimes you can do like a blank box from Amazon, but there have been situations where there was a mistake and that Amazon box got shipped out. So, you really wanna make sure that you're not using Amazon at all for your fulfillment. There's a lot of other options for you to utilize if you want to.
Bradley Sutton:
All right, good to know. Now, before we get into our special announcement, we usually save this to the end, but let's do some rapid fire going back and forth here of our "TST", our 30-second tips. Let's make it Walmart centric and then we'll just go back and forth. This isn't a contest, but there will be winner, no that doesn't work. No this is not a contest. So just give your best, like 32nd tip for somebody either just starting on Walmart or maybe somebody who is already on Walmart.
Carrie Miller:
My hot tip, this is my favorite one is focus on your images, put all of your best selling points on your images because when you scroll right under there, there's your competitors right there. So you wanna make sure that you can sell your customers on your product within the first images and also your title. They could literally click add to cart on the search page because there's a little add to cart button. So your first image and your title could sell them. If they click further, you want those images to make them add it to your cart and not have to scroll because once they do that, they're gonna see all these other options and that you could lose this sale. So images are the most important thing. In my opinion, do those great infographics highlight your best selling points, use beautiful photos, crisp lifestyle images, infographics, everything to show your product in the best light.
Bradley Sutton:
Okay, that's a good one. Tim. What's yours?
Tim Jordan:
I like using Google. Google is something that everybody knows we should be using for e-commerce sales, but it's been tough to move people from Google to Amazon because Amazon doesn't play well with Google. But what we've seen is that the Walmart-Google relationship is so strong that a little bit of investment in SEO or Google search ads work exceptionally well for getting people to Walmart and converting. One thing we've noticed is that a little bit of ad spend on Walmart will create organic listings to rise within Walmart's search for specific keywords that you're running the ads on, and it ranks quickly on Google, so you can get that traffic to Walmart. So start thinking outside the box with Walmart because they are placing high priority and external traffic, external SEO, and external ads.
Bradley Sutton:
Okay. I like it too. Carry it back to you.
Carrie Miller:
Yeah. So in terms of a tip, I would say you can also do some search, find, buy type things. Am I allowed to say that?
Bradley Sutton:
Yeah. I mean, it's not against Walmart in terms of service. That was gonna be, my next question is as far as I know, there's nothing in Walmart in terms of service unlike Amazon now that that says that's, that's not, you know, appropriate or whatever.
Carrie Miller:
Okay, cool. Yeah. So search, find, buy. Work's great for Walmart. So it's all almost, you know, you really don't have to put the investment in that you would on Amazon, so you can get your products ranked pretty quickly and efficiently with search, find, buy still. So do it. Well, you can it's definitely a great resource to get ranked to the top of the search.
Bradley Sutton:
Cool. All right. Tim, one more from you now, this
Tim Jordan:
Is a tip slash warning for all of you, jabronis out there that keep doing this. Quit copying and pasting your Amazon listing attributes to your Walmart listing. The Walmart listing is supposed to be 100% different by design. If we look at the listing quality score and the listing guidelines, there are a lot of things that are actually opposite. So on Amazon, we might have long bullet points where the key features, the key attributes, kind of the bullet points of Walmart are supposed to be very short. They actually give us prime examples and say, Hey, here's a perfect example. And all of them are like six letters, or I'm sorry. Six words, not six letters, seven words, that's it. When we look at description, the description is supposed to be short to the point. They literally say, do not duplicate keywords. And I see so many pieces of software that have allowed people to go in and just "easily migrate your Amazon listings over to Walmart", and Walmart hates those listings. They look awful. They don't fit the algorithm. They don't fit the mold and frequently they don't even hit the terms of service. So my other tip is don't make that mistake actually figure out what the listing qualifications and parameters are. Get a unique, well written listing for Walmart, or you're not going to be able to rank.
Bradley Sutton:
Okay. I like it now. You know, hopefully, in the first 20 minutes here of this episode, we have people, Amazon sellers out there, hopefully, we're piquing their interest as far as selling on Walmart and that's the easiest thing. Anybody can just start on Walmart. There's nothing wrong with that. And there are sellers who are doing more on Walmart than Amazon. We know of Michael and his brother, and they actually launch Walmart only products all the time. And we can talk about that in another episode, but the easiest step is if you've already got your products and you're already selling on Amazon United States, it's a logical next step to start selling on Walmart. So that brings us to our special announcement. Now, if you notice here, I'm using a green screen, those of you who are watching on YouTube here, this green screen, you might recognize as the Helium 10 tequila room, which was the background for something that Mr. Jordan and I did a couple of years back called Project X. This is actually like a screen capture I use and I just edited us out. And now it's just me here on a green screen.
Tim Jordan:
How did you edit our giant heads outta that thing? Wouldn't there be like a giant blank space on that green screen image?
Bradley Sutton:
So anyway, the point is it's, we're not having something that's Project X, but what are we having that is live now, Tim?
Tim Jordan:
Well, let me start off by saying this. The reason Project X was so successful because it was not a course, it was not a webinar. It was an actual case study. Like we literally did it as went, and remember some of the most impactful things that I think happened in Project X, where, when you and I figured stuff out as we went. You know, like we didn't preplan a lot of stuff. We were teaching each other as we went. And essentially what we said is we need to do another you know, another case study, we need to show this live. And of course, you know, I'm not an employee for Helium 10. Somehow I get stuck into this stuff and it works. The idea was, let's do another one, for Walmart. But the problem is, is we couldn't use Bradley. One, we need someone that actually knows somebody about Walmart. And two frankly, Bradley, we just needed someone better looking than you. So we've course found Carrie here and now Carrie, we are announcing the launch of?
Carrie Miller:
Pride W
Tim Jordan:
Project W the Walmart
Bradley Sutton:
That's the official symbol? There we go. Project W.
Tim Jordan:
We were trying to like, come up with different. If you guys are watching video, we're doing all sorts of crazy stuff with our hands and trying to figure this out. Yeah. So Project W, it is another collaboration between helium 10 and myself and Private Label Legion for Walmart. Now, I will say this, this is not the size and scale and scope of Project X. I'm not saying it's not as important, but I'll tell you why Project X. We went through the process of finding a unique product that was, you know, in demand at low competition and starting basically from ground zero on how to sell on Amazon. Project W we will do that. Right. But right now, what we're focusing on is the most immediate need, which is a lot of you that are listening, Amazon sellers that need to make the migration.
Tim Jordan:
You've already got a product. You need to make the migration. You've already got inventory. You need to make the migration. Well, I shouldn't say migration expansion, right? Expand a Walmart. So in this case study, we specifically take existing products, which are the coffin shelf and the egg tray from Project X that we had inventory. We had the listings. We had the photos and made that migration. We talk about things like making sure that your listings are not just duplicated. We go through the application process, the getting approved process, the applying for PPC, and WFS we talk about all of that stuff. If you're existing, I won't even say an Amazon seller, but if you're a seller that already has inventory already has a product picked out. The reason this is important is we don't go through very initial product research. We're not saying, Hey, if you're a brand new seller and you wanna sell Walmart, this is how you–, no, that's coming in 2.0, but we do a lot of product research using like the great Walmart Helium 10 tools on which keywords use. And we found out some crazy stuff like, live is some of the keywords on Walmart are very different than the keywords on Amazon, or some of the high value keywords on Amazon were lower value on Walmart or search volume, swapped and chains. So it was pretty cool.
Bradley Sutton:
Yeah. Like how many episodes is this Carrie, where can people go to see this? And what else did you talk about on the show that Tim hasn't talked about yet?
Carrie Miller:
So Project W actually launched on February 10th. So it is really exciting. So many people have been asking for content, just how do I get started? What are the basics? I have no idea where to start. So we are guiding you through how to get started the easiest way possible, just like Tim was saying. So I think he covered it. We've got 12 episodes and they're really, really excellent with details about how to do things that a lot of people have questions about. So I hope everyone will take a look at our YouTube channel and watch those amazing videos we've created.
Bradley Sutton:
Yeah. So probably is there, is there like a link that people could go or the easiest thing is just going to YouTube type in Helium 10 Project W might be the best way or?
Carrie Miller:
helium10.com/projectw.
Bradley Sutton:
Oh, okay, cool.
Tim Jordan:
If you go to the Project W URL, the website, we actually have other resources for you, right? So we have show notes. We have other links, so you can definitely watch it on YouTube, but if you go to helium10.com/projectw there's actually more resources on those individual episode pages that you can have access to.
Bradley Sutton:
Now, Carrie speaking from personal experience, working on the case study and filming with Tim Jordan was quite an experience. You know, we had some hilarious, very funny moments on there. So, I wasn't there in the filming of any, like, I was there for like maybe half of episode one, I make a cameo in this, but other than that, I have no idea what went down. Tell me how was it working with Tim for the first time? Oh, it was fun.
Carrie Miller:
Oh, it was fun. I learned some Alabama speak, I guess you could say you would just, and they're on their actual recording. So you're gonna hear Tim say some amazing things.
Tim Jordan:
That's great.
Bradley Sutton:
What does that mean?
Tim Jordan:
Carrie, I thought you were gonna say filming with Tim. Jordan was like, camping was intense.
Bradley Sutton:
Oh my goodness.
Carrie Miller:
I mean, that's pretty much what it was with Tim. Lots of dad jokes.
Tim Jordan:
I will say it was probably edited out, but there were several times Carrie would look at me and go, are you serious? Like, did you really just say that? Or is my hair okay? Is my microphone okay?. Does this look alright? Do my shoes look okay with my shirt? I'm like, you can't even see your shoes on camera. You could be wearing Crocs right now and nobody would care. It was good. It was fun.
Carrie Miller:
I think we upped Tim's style on these episodes. You're gonna be surprised at how great some of the outfits we had Tim in.
Tim Jordan:
Look, that's a sore subject.
Bradley Sutton:
No more short shorts or?
Tim Jordan:
No more short shorts. No more flip-flops. Which, but like I will say this, you know, since Project X has been, what, two years, like Helium 10 has grown a lot, which means it's become, I don't know. I hate to say the word corporate, but it's become a little bit more organized in some areas were right. I mean, you can just jump on camera and do whatever we want it. There's actually people now that go, What? Guys, this is a terrible idea. You can't wear that. You can't do that. So yes, there was actually a dress code. And just to show the lack of trust that Helium 10 staff had in me, when I showed up to film on the first day, one of the staff members had actually bought me a wardrobe.
Bradley Sutton:
I was there that day. Yeah. You were not having it. What? This is not me. Well, what in the world is this?
Carrie Miller:
And guess what? I thought it was the greatest like I thought he looked great in the shirt that they got and Tim couldn't admit it, but everyone was complimenting Tim on his shirt.
Tim Jordan:
Y'all just trying to make me feel better.
Bradley Sutton:
Now I see Tim wearing that. And like other things, like I literally saw a video of you Tim like just a little bit ago. And I swear you're wearing that shirt. So it must have grown on you are,
Tim Jordan:
If you're talking about the Green Henley, you're full of crap. I did not wear it again.
Carrie Miller:
Whatever
Bradley Sutton:
No. I saw maybe somebody just repurposed that I saw either a video or a picture of you that had nothing to do with helium tin. And you were wearing that. I was like, oh, of Tim now likes it. Huh?
Tim Jordan:
No.
Carrie Miller:
It took Tim to it the next level, I think. So I have a feeling. He wears it all around town in Alabama.
Tim Jordan:
Yeah. I refuse to admit this.
Bradley Sutton:
I love it. I love it. All right. Back to more serious talk then. So, Hey, I'm sitting here listening to this episode, who is going to get the most benefit of it? Like, like what avatar would you say out there? Like, is this relevant to me, I'm a seven figure seller on Amazon. I'm just barely started on Amazon. That's me. What's the kind of persona that would get the most benefit of this new program that we have?
Tim Jordan:
I Would say it's an existing marketplace seller that has bandwidth for something new. Okay. I'm not saying that's size. I'm not saying it's beginning seller. I'm not saying it's an advanced seller. I'm saying it's something that's bandwidth with because, in this world of, you know, lots of opportunities, we kind of get shiny object syndrome. We chase a lot of different opportunities and the truth is we need to be good at what we're doing before we do the next thing. So if you're just trying to figure out Amazon and you've already started selling there, maybe put a pause for a second, get to a good resting place or a good place where you're kind of good and then move on. So don't get in and date with all this new stuff, the shiny objects at, but I know advanced sellers that are doing well by migrate.
Tim Jordan:
Well expanding. I keep saying migrating, I'm not saying leaving Amazon, but migrating Walmart. I know folks that were Shopify sellers for a number of years, they tried Amazon and they hated it. It didn't work. It was too competitive, but then found Walmart and they're doing great. So I don't think there's a specific avatar. I just think it's an existing market. For Project W, the content is specifically focused to an existing marketplace seller, cuz there's a lot of things we don't go into. We don't go into keyword theory and things like that. Cause if you're an existing marketplace seller, regardless of marketplace, you shouldn't understand that. So a marketplace seller that has bandwidth to take on a new project and who is able to dedicate the time to make that expansion work.
Bradley Sutton:
Okay. Now, we've had some Walmart tools for quite a while here at Helium 10. So, Carrie, can you just talk a little bit about which tools are there are. They're not every single tool we have for Walmart, but talk about the ones that we have had for a while and then the newest one that we just launched a few weeks ago. And then also let's talk about how people can find the Facebook group for Walmart sellers to get more help from.
Carrie Miller:
Okay. So we have Magnet for Walmart. And so when you actually go into helium 10 and you're on Magnet, there's a little dropdown for marketplaces. You need to click on that dropdown just to–, so everyone knows how to find these. You click on the dropdown and you choose Walmart for each one of these tools. Okay. So that's how you're gonna find them. So we've got Magnet, we've got Cerebro, we've got Profits. And my personal favorite, which is Xray, which shows you sales revenues and you know, your competitors, everything about your competitors that you need to know and analyze. And then our newest one, which I think is gonna be a game changer for PPC advertising is our Keyword Tracker. And the reason for that is because if you are ranking for a product organically and you start PPC ads on Walmart, you actually only show once for either one.
Carrie Miller:
So if you're advertising on a word with pay-per-click advertising, you're only gonna show up in your ad. So you actually have to stop your ad in order to see the rank, but it helps you to kind of not cannibalize, I guess, your PPC and keep track of your rank and your keywords on your sponsored inorganics. So Keyword Tracker is definitely a game changer there, they're all amazing, amazing tools. And we do demonstrate them throughout Project W so you'll see that. And we also have some extra learning videos that we're attaching on how to utilize those tools, but we also have Profits. So you can–, I don't think I mentioned you can analyze your profits on Walmart. Just like it's not as extensive yet as the Amazon version, but it is definitely a great version to get a bird's eye view of your profitability on Walmart. So you gotta connect your tokens to Walmart in order to do that. So I highly recommend that you just first thing, just go ahead and connect to your Walmart token to profits.
Bradley Sutton:
Okay. And then our Facebook group, how can they find it? And then talk about what you do on Wednesdays there.
Carrie Miller:
All right. The Facebook group is called winning with Walmart or Helium 10's winning with Walmart and on Wednesdays, I actually go live every Wednesday. I go live every Wednesday and I answer your questions. So I'll ask for them usually in, you know before I go live or throughout the week. So you can send them to me throughout the week or whenever can send me beginning, advance, whatever. There's always gonna be someone that's gonna benefit from, you know, your questions. So I love getting the questions. I had the most questions the last time I did this ever, and it was really exciting. There was so much good content in there. So the more everyone participates the better. So I highly recommend that you join this group, it's free to join and you'll have access to me directly every week. And maybe we can get a guest on there from Private Label Legion, maybe somehow.
Bradley Sutton:
A certain bearded individual there.
Carrie Miller:
Yeah, a certain individual.
Bradley Sutton:
Now Tim, you already kind of gave us a little preview of what already the second season of Project W is eventually gonna be and a little bit about how to just like maybe launch directly, like maybe don't have an Amazon product that you're not migrating, but moving or copying over to Walmart, but can you just give us a brief preview of how that process works? Like, Hey, what is involved in launching only on Walmart? Is it very similar to the Amazon process? Is it different? Give us a little preview of that season two.
Tim Jordan:
I'll correct you a little bit. And we talk about this in season one of Project W but you can't actually just start selling on Walmart, right? You need to be selling elsewhere. And this is one thing that Walmart does when you apply for an account is make sure that you're already a seller. They don't want a bunch of people just clogging up the system that are just kicking the tires to speak. There's a good Southern expression and not actually getting it, you know, having the experience or the follow-through to actually get it done. So as long as you're already an e-commerce seller, somewhere like eBay, Amazon Shopify, BigCommerce doesn't matter. So what Project W 2.0 is gonna be, is how to find a new product for Walmart. So not how to get in your entire e-commerce career from scratch on Walmart.
Tim Jordan:
But how to go to Walmart and figure out what is a good opportunity for that marketplace that you may not already be selling and what I think we're gonna find. And I've been doing this in my own personal business, is finding products that I would immediately dismiss on Amazon because there's supersaturated. Something like, but there's none on Walmart. Right. There's absolutely none. There's different categories in Walmart that are unlocked. They rank things differently. So there's a lot of unique opportunities. So I'm finding things to sell on Walmart that I would not sell on Amazon, but I start from scratch.
Bradley Sutton:
Okay. Good to know. Yeah. I know that part of the Walmart applying for an account, like one of the things is they wanna see like where you're already selling. So yeah, definitely you can't get started. But when I say get started, I mean, you know, like, Hey, you're already selling on Walmart and maybe you're already selling Amazon, or maybe you're not, doesn't matter. But you want to just like launch a product first on Walmart that I think that's super interesting, cuz I never would've imagined that that's even a thing, but I know it is a thing cause I've heard of people doing it. So, that's definitely gonna be something to look forward to. Now. I think one of the biggest questions that people have Carrie is, well, I'm interested. I wanna get ready for Project W let me get a head start and get, you know, sign up for my Walmart account. You know, talking about this process that Tim was just talking about. We actually have a special link that, that Helium 10 users can go to do you have that link, Carrie?
Carrie Miller:
Yeah, that link is h10.me/joinwalmart. And that's how you can go ahead and apply. And I highly recommend that you apply through this link because it's the only way that we'll even be able to assist you if there are already issues. Because you have applied through our link. If you don't, then we really can't help you in any way, so I'm not saying I'm not promising that we can help you for sure. But if we had a chance at helping, you'd have to apply through that link so that we have a connection somehow to your account.
Bradley Sutton:
So, Carrie, that's great to know. We actually have even more training coming out from interviewing different experts in the field of Walmart. And this is gonna be where, and approximately when will people have access to it.
Carrie Miller:
So we have been filming Freedom Ticket Walmart, which is really in-depth. So for advanced sellers, there's gonna be a lot of content for them too, as well as beginner sellers. You should be able to see that in the coming months, the next month or two we been filming it for the past, you know, month or two actually. So we've been working really hard on it and there's so much content, so much great content, and I'm really excited to share that as soon as we finish awesome editing it.
Bradley Sutton:
So those of you who are Helium 10 members, you have access to Freedom Ticket. There's nothing more to pay for this. You'll have it right there where you see your Amazon training. It'll be like in a bonus week. We can also put the Project W once in there too, just, just so more of you can see it all together. So look out for that maybe end of February, beginning of March, not sure exactly when, but be on the lookout for that. We'll make it an announcement. We're gonna see all of you guys in person at the upcoming Prosper Show. So guys check it out. prospershow.com, be on the lookout in your email. Usually, Helium 10 has some kind of discount for the Prosper Show, but we highly, highly recommend going there, not just to see Carrie and Tim, but if you're wanting to go just to get their autograph or something, that's totally okay too.
Bradley Sutton:
But go to learn, go to network. You know, Tim always has some great networking parties and events and Helium 10's gonna have a huge one as well. So that would be something to look forward to. Now Tim, if, if people want to reach out to you more, see what you do more, obviously we have AM/PM Podcast. Everybody, if you're listening to this podcast on whatever you're listening to right now, whatever you're on. Just, just pause this, go search AM/PM Podcast, and make sure to subscribe. Tim always has some great information, but if people wanna just like reach out to you, Tim, to ask more questions about Walmart or more about what you're doing, how can they find you in the interwebs?
Tim Jordan:
Yeah, you can find me on most social LinkedIn, Facebook, but really the best way to get involved is check out our content community, which is Private Label Legion. Really the best way to do that. Like the place to get all sorts of information and links and notification of new YouTube videos and all that good stuff is our free Facebook group, privatelabellegion.com. It's not a massive group because we don't let a lot of people in honestly like all the fake spot scammers, but we have an 83% active engagement rate in that Facebook group, which is like industry-leading as far as I know. So really huge. So private label Legion, we put on e-comm Walmart content in there. Me and Norm are always in there doing stuff. So, that's probably the best place to get in touch with me. Awesome.
Bradley Sutton:
Awesome. Well, Carrie and Tim, I have not personally watched all of or any of Project W yet. I kinda like wanted to watch it along with everybody else. Once it was out of zone, what I'm gonna do right now is I'm gonna go ahead and Netflix binge-watch the first six episodes, and then next week, those other six episodes are gonna come out and it'll be great to learn along with everybody else, what you guys are teaching on Project W so thank you very much for your hard work. I know that was like multiple trips out here and so much planning and, and forced wardrobe changes and whatnot. So we appreciate that. Hopefully, there was no medical emergencies with Carrie, like I had during Project X that Tim had to take care of. That's a side story right there, but thank you so much for the work you gave and it is gonna be great to see you guys in Vegas in a few weeks.
Tim Jordan:
All right.
Carrie Miller:
I'm excited.
---
Enjoy this episode? Be sure to check out our previous episodes for even more content to propel you to Amazon FBA Seller success! And don't forget to "Like" our Facebook page and subscribe to the podcast on iTunes, Spotify, or wherever you listen to our podcast.
Get snippets from all episodes by following Bradley on Instagram at @H10bradley
Want to absolutely start crushing it on Amazon? Here are few carefully curated resources to get you started: