#109 – Here's How Split Testing and Ad Funnels will Help Get Your Message Out
Episode 109 of the Serious Sellers Podcast hosts Bryan and Fernando, Helium 10 creatives who offer advertising tips on split testing and ad funnels.
Updated on: October 6, 2020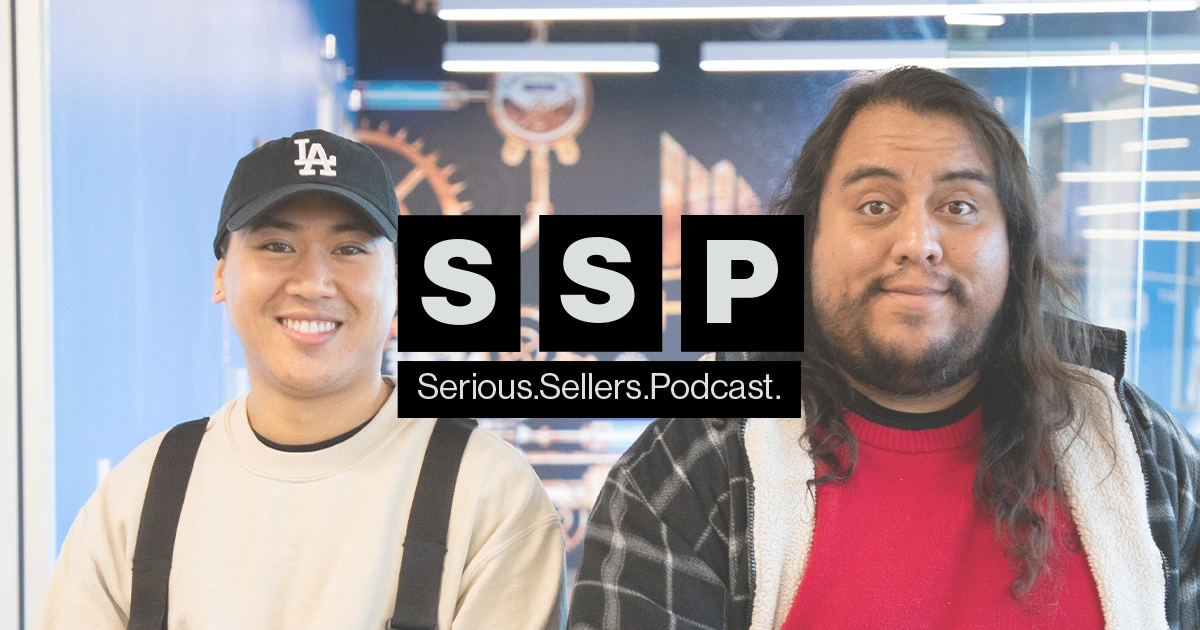 When a company has experienced as much rapid growth as Helium 10, a matter of months can make a big difference.
One of our guests today started with Helium 10 when it was a very small company, occupying a (temporarily) ridiculously large WeWork space in Orange County, California.
Our second guest was part of the relative avalanche of new hires that joined the Helium 10 team as we moved into our new office in the middle of a very cool part of Irvine, California.
Today on the Serious Sellers Podcast, Helium 10's Director of Training and Customer Success, Bradley Sutton welcomes Bryan and Fernando, two of our growing team of supremely talented employees.
Job descriptions are a funny thing, particularly with a company that blends the creative with the scientific as does Helium 10.
That's why there's so much overlap when it comes to the way that work gets done and it's also why Bryan and Fernando spend such a considerable amount of time working closely with each other.
Bryan, our lead digital marketing coordinator came to Helium 10 very early in our evolution after working with internet celebrity Ty Lopez, building his advertising funnels, sorting through email and coordinating his substantial social media efforts.
Fernando, a copywriter and increasingly, a video director, came approximately 17 months later with the influx of employees that has almost filled our new Irvine office.
Bryan and Fernando work closely together developing, split-testing and implementing advertising funnels to help make sure that as many people as possible are aware of Helium 10's eCommerce capabilities.
One of Helium 10's most used method to communicate our message as well as establish community, is the use of webinars.
For many companies, they're often poorly attended.
That's not the case with Helium 10's webinars. Being in a virtual "room" with over a thousand other Amazon sellers learning from some of the smartest people in the business, sharing stories of both success and struggle, is an empowering experience.
It's also an emotional experience and that's why Bryan says that creating an emotional connection with the advertising is so important.
That's why it's crucial that we throw the biggest net we can manage.
Bryan says that it all starts with a good, converting subject line.
But, how to choose?
Split-testing is the answer.
Bryan says that, "the team implements four or five different subject lines to get a sense for which one is converting."
Sound familiar?
Yep, it's just like selling on Amazon.
You can have the best product on the marketplace but, if no one sees it or makes a purchase, who will know?
We know we've got the best tools out there to help eCommerce sellers crush it on Amazon, that's why we're working so hard to get the message out.
Fernando doubles down and says that, "it's enormously important to split test landing pages to decide between images and video as well as using swipe files to keep your best ideas close at hand."
Listen in to hear more advertising tips from two of our talented team of Helium 10 employees, and if you're in the market for an exciting new job, get in touch at [email protected].
In episode 109 of the Serious Sellers Podcast, Bradley, Bryan, and Fernando discuss:
01:43 – Ty Lopez and Click Funnels
02:48 – Producing Comedy Shows in LA
04:12 – Why Webinars Aren't Dead
05:00 – A Good Subject-Line Helps Make Clicks Happen
06:15 – Split-Test Statistics
07:20 – Landing Pages and Strategies
08:40 – A 17 Page Product Welcome?
09:50 – If They Don't Know Your Business, They Need More Content
11:20 – How to Know When to Add Comedy
12:52 – Helium 10 is Still Expanding and Needs Great Team Members
13:40 – Fernando's 30 Second Tip
14:06 – Bryan's 30 Second Tip
Enjoy this episode? Be sure to check out our previous episodes for even more content to propel you to Amazon FBA Seller success! And don't forget to "Like" our Facebook page and subscribe to the podcast on iTunes, Google Play or wherever you listen to our podcast.
Want to absolutely start crushing it on Amazon? Here are few carefully curated resources to get you started: