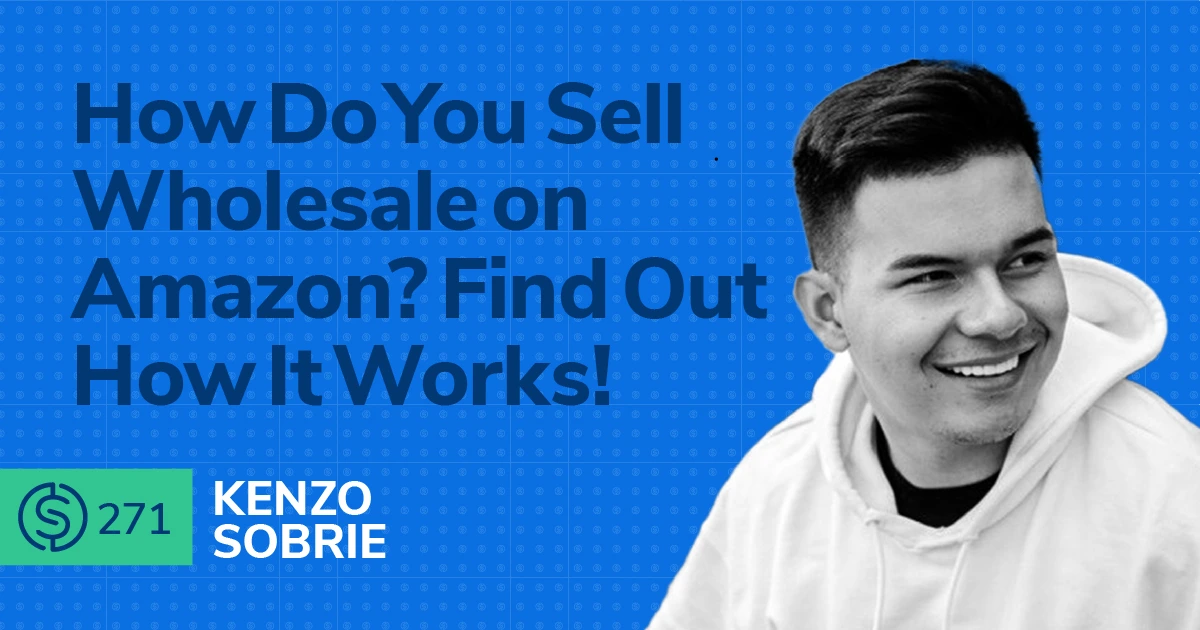 #271 – How Do You Sell Wholesale on Amazon? Find Out How It Works!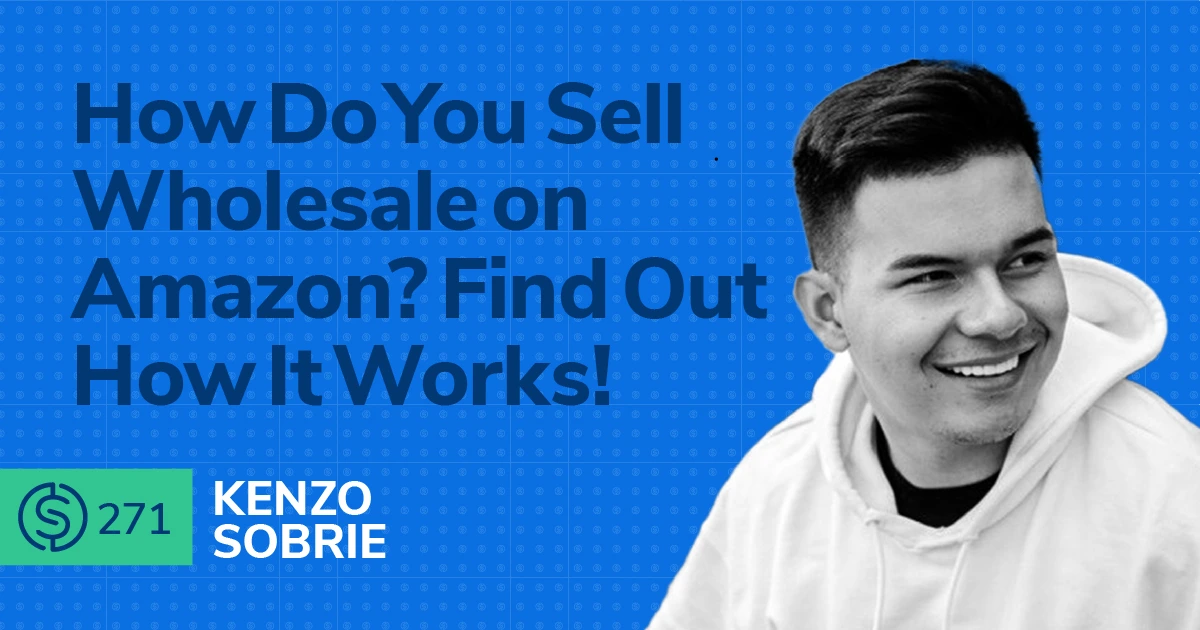 Here's one more story about why the Amazon selling ecosystem is fascinating. When it comes to e-commerce, there are so many different lanes that it's easier than you might imagine finding a way of doing business that suits your temperament, bank account and goals.
In this episode of the Serious Sellers Podcast, Helium 10's Director of Training and Chief Evangelist, Bradley Sutton welcomes Kenzo Sobrie, an Amazon seller who used wholesale to build a social following and e-commerce business that allowed him to make supercar buying a fun pastime. Kenzo amassed his first million while still in high-school and living at home, now he's coaching other Amazon sellers to follow in his footsteps.
With tips such as how to use Google Maps to find your next supplier and strategies to identify a great Amazon product, this is a conversation that has the potential to move your e-commerce business a few squares forward.
In episode 271 of the Serious Sellers Podcast, Bradley and Kenzo discuss:
02:30 – "How Do I Scale This Business?"
05:30 – Reinvesting and Growing a Business
06:30 – What is Kenzo's Wholesale FBA Method?
09:45 – Connections and Capital are What Matters
11:00 – Leveraging Your Supplier's Warehouse Facilities
14:30 – Possible Challenges with the Wholesale Model
19:10 – Helping Friends (and Making Millions) as a Wholesale Broker
21:00 – A Visit to Kenzo's Garage
23:10 – How Kenzo Justifies Fancy Cars
26:20 – Working with Multiple Stores and Shipping Limits
28:30 – How Does Kenzo Identify a Great Amazon Product?
30:30 – Why Kenzo Doesn't Mind Competing with Amazon
33:00 – Bradley's Experiment with Kenzo's Platform
36:30 – Leveraging Google Maps to Find Your Vendors
39:15 – How to Contact Kenzo
Transcript
Bradley Sutton:
Today, we're talking to an Amazon seller who specializes in the wholesale method of selling on Amazon. And this has been so lucrative for him. He even made his first million dollars before he turned 18. How cool is that? Pretty cool, I think.
Bradley Sutton:
Did you know that just because you have a keyword in your listing, that does not mean that you are automatically guaranteed to be searchable or as we say indexed for that keyword? Well, how can you know what you are indexed for or not? You can actually use Helium 10's Index Checker to check any keywords you want. For more information, go to h10.me/indexchecker.
Bradley Sutton:
Hello everybody. And welcome to another episode of the Serious Sellers Podcast by Helium 10. I am your host Bradley Sutton, and this is the show that's a completely BS-free, unscripted, and unrehearsed organic conversation about serious strategies for serious sellers of any level in the Amazon world. We've got a serious Amazon seller here. Kenzo, how's it going?
Kenzo:
I'm doing great. And yourself?
Bradley Sutton:
I'm doing just delightful. Now, this is actually not the first time you've been on the podcast. You were just hanging out with Melissa, I believe it was. And we're recording her on the podcast and you were cool enough to join, but we didn't get too much of your backstory on that episode. So I thought I'd invite you back by yourself here so we can get the full Kenzo story here. So, you started on e-commerce when you were like early on in high school, wasn't it?
Kenzo:
Correct, yeah. So, I mean, I've always been like in that entrepreneurial mindset, always trying to do anything to make an extra dollar or two. But I actually started by selling on eBay, right? So, I was actually in the whole reselling shoe market for a little while, realized it wasn't consistent. You couldn't always get the hottest sneakers. And that's what made the whole market. And then I got into dropshipping on eBay. Now, this was definitely a great intro for people that don't have capital to leverage. You don't need to buy the products until after it's sold. But it got to a point where I was working about 18 hours a day, 16 to 18 hours a day. And I had this very strict schedule. And I was just thinking to myself for literally a week straight 4:00 AM every single day when I'm packaging my orders. I'm like, how do I scale this business? Like I can't just create more hours in the day. And when one of my friends actually introduced me to Amazon FBA and they introduced me to the fact that Amazon handles the whole physical side of your business, right? The storage, the picking, the prep, the packaging, the whole nine yards, that was the breakthrough I really needed. That was the information I needed because I couldn't just make more hours in the day. I couldn't scale my business past what it was currently doing. And once I found out that all I needed to do is leverage vendors, which I already started building relationships with and leverage the capital I had already built up doing, manually fulfilling my wholesale orders on eBay is the transition I really needed. And the rest is really history. I mean, now we're here. We have three warehouses in the US and we're growing.
Bradley Sutton:
Cool. Cool. So how did it work with your eBay? Like what exactly? I mean, people understand what eBay is, people understand what dropshipping is, but like where you're doing retail, you're like just doing drop shipping from retail websites.
Kenzo:
Basically, there were three stages of my eBay venture, right? There was the first stage where I was flipping the high desirable sneakers, the Jordans, the Yeezys, so on and so forth. Then I transitioned into drop shipping, right? So I've been taking products from Jake sporting goods, home Depot, this website, that website, and I'm listing it on eBay for a higher price that I'm leveraging keywording and things that people are searching at eBay to find these items. And let's say something, sell it for $10 at Walmart, all this different $12 and 50 cents on eBay. And then I'll make my margin there, right? So the customer will buy it for me. I'll go to walmart.com. I'll check out as the customer with all their personal information and Walmart will ship the item directly to them. And then I would keep that small margin in between. Now I did this for a little while, but I realized you couldn't make a living off this in reality, unless you had like a crazy VA team, because the margins you're making are so slim because you're already buying it for a retail price and you're selling it for over market value, which you can only sell so many units doing that method. So then I was like, okay, well, I know what wholesale is. I know that people buy things in bulk and that's how I need to increase my margins. So I actually had a connection to a regional manager for this cosmetics company. And I was actually able to start purchasing items in bulk from them. And I use my rooms, my little warehouse was buying all these master case packs. And I was just fulfilling individual orders on eBay. But I was starting to–
Bradley Sutton:
How old were you, by the way, what we're talking about?
Kenzo:
I was 15 when I started dropshipping. And then right as I turned 16 is like right when I made the transition to wholesale.
Bradley Sutton:
That's awesome. So, then you said you build up some capital because when we talk about bulk orders, obviously you've got to drop some cash there. So, currently built it up through that.
Kenzo:
Like, don't get me wrong. It's not the type of book orders that you and I are doing today, but it was the thousand dollars here, the $500 there. And I just, I really played with that. And it was a whole process of building it up because like, okay, you make it, like, let's say you invest a thousand dollars, right. And you make a 20% ROI, so you profit $200. Okay. Well, now that $200, I want to go ahead and buy a label printer now, instead of using a regular inkjet printer and like having to tape on each regular piece of paper labeled. So like, I was investing this money, but the profits literally just went straight back into the business and making my workflow more productive. So I didn't really build up like an actual good rolling bankroll, until like, maybe I'd say six months or a year later. And that's like kind of when I made the transition over into Amazon. I hopped into Amazon with only $7,500. Now, that's probably more than what a lot of people have in their account, but in retrospect to what we've built things to now, like $7,500 to a few million definitely is not a bad return.
Bradley Sutton:
Oh yeah. For sure. For sure. Okay. So then let's just talk about your general method of selling on Amazon now, which is, people have different words for it. I think the term that most people like to use is kind of like the wholesale method, but obviously, this is different than private label. People understand what private label is. So, so just give us like a two, three minute presentation, I guess, on what wholesale sellers like yourself and those in your community are doing.
Kenzo:
Okay, cool. So, what I'm basically doing is what most people describe as wholesale FBA, right? So we're selling other third-party brands, things that you would see a big box stores like Tide, Clorox, Sharpie, so on and so forth, big brands that have already have established such a good presence with our daily lives. So they've already spent the millions and millions of dollars in marketing. The demand is already there. All I need to do is work through my vendor network to find products that are in demand and just source them for a cheaper price. So for example, let's say a gallon of Clorox bleach is selling for $5 on Amazon. All I need to do is go through my vendor list and figure out who has that product for a price that I need a source of that to be profitable, selling it on Amazon. So, honestly, I think that this is the best business model for any beginners seller that is interested in selling on Amazon to hop into just because you don't need to build a brand. You don't need to establish an online presence. You don't need to spend six months of product development, another six months in marketing and running ads and split testing. The thing is, all you need to do is source the product for a cheaper price than what it's selling for. And as long as you run your analytics correctly, the product's already in demand. So right as it hits Amazon, it's going to go ahead and start selling through.
Bradley Sutton:
Okay. Makes sense. And it's very true. People worry like, Aw, man, like how do I build a brand? And I need to do my social media, and I need to launch this product. I need to run PPC and stuff. And these are not bad things. Absolutely. If you're in private label, you've got to do these things and we don't want to scare people away and say, oh, these are impossible things that match. No, hundreds of thousands of sellers do it, but for newer people, if you don't want to have to have to worry about all that, you don't have to build a social media presence in order to sell Nike shoes. I mean, Nike has done that all for you. Now, just to give people an idea about the potential. Let's not talk about what you do on sales, but what about some of your students? What kind of gross revenue and then profit, because the profit might be sometimes a little bit less than private label, which is fine, but what's some of the numbers on some of your best students on what maybe they gross last year in 2020?
Kenzo:
So, we have students, we have a network of our 500 students, right? So there's people that got involved with just like a simple courses, people that took some personalized one-on-one training and there's results from people making an extra few hundred dollars a month to people grossing six figures a month. Right? So, I like just off the top of my head, I can think of Ali. And he came to a class, I believe it was end of 2019. And I remember within the first year, he sent a screenshot into the advanced FBA group chat, and he already hit a million dollars in gross revenue. Now, I'd probably say there's between 10 and 40 students that have already crossed that seven figure and gross revenue mark. And there's probably well over 200, 300 sellers that have crossed over that six figure mark. So, it all depends. Really the numbers produced is depending on two things, and these are the two most important things when it comes down to wholesale FBA, the first thing is connections. So, as long as you have vendors that can consistently supply you well, selling a profitable products, you're going to win. The second thing needed is as long as you have the capital to back those connections, right? Because you can have someone that can tell you every single, amazing product in the world at a super profitable price. If you don't have the money to go ahead and invest, you're not really going to get anywhere. So, those are the two things that really will make or break your business. If you don't have the vendors that won't supply you, those products that are going to perform on Amazon, you're not going to get far, even if you have millions of dollars to leverage. So, they kind of go hand in hand and you're going to need both of them. But overall, students, like I said, they could range from an extra few hundred dollars a month to an extra few thousand to six figures. So on and so forth. Now in talking profit margins, the rule of thumb that I like to teach is not to settle for anything less than a 25% return on investment. Now, this is higher than most dropshipping stores, but it tends to be lower than most private labels. So I'd say the average range of profit margins is going to be between a 25 and 35% return on investment.
Bradley Sutton:
Okay. Okay. Now, something you mentioned, you've got three warehouses now. I've got a warehouse, but there might be people out there who think like, wait a minute like I can't do wholesale. I don't have a warehouse. Talk a little bit about why. You don't necessarily have to have your own warehouse in order to do this business model on Amazon.
Kenzo:
Correct. Yeah. And you could speak for that too. I mean, yes, you do have your warehouse, but basically, what happens is a lot of vendors will actually allow you to leverage their fulfillment center. I mean their warehouse and you could actually forward your products directly over from the supplier's warehouse over into an Amazon fulfillment center because Amazon is handling the whole physical side of your business. They're going to go ahead and their story, your products, they're going to pick pack and ship your products. They're going to handle returns. They're going to handle most of your customer service as well. So, you don't need to have a physical location where you need to store these products. A lot of vendors will go ahead and allow you to afford the products over from their facility over into Amazon's as well.
Bradley Sutton:
Okay, cool. Cool. Now, you talked about the importance of finding good vendors and that's obviously the key. You can't just sit in your house and expect vendors to come to you and hit you up and say, Hey, would you like to sell my products? You've got to do the work. You don't need to give away all your secret strategies here, but what's some simple ways that somebody who wants to get into this business model, how can they go out and find a vendor who's willing to play ball? A lot of people I think have this idea that any, and every company are already selling on Amazon themselves, or they've got their whole distribution network in place. Like how in the world is, can even find somebody who'd be interested to sell me products that put on Amazon?
Kenzo:
100%. Well, I mean, obviously the most simple and generic way would just be by using Google, using a search engine, searching up the brand or the type of product you're interested in, whether it's electronics, HBA products, you could leverage Google. It's just about using the right key terms. So, something that I would personally search up is let's say I was looking for a Sharpie wholesaler. Well, the thing is anybody in the actual wholesale industry would not leverage that term wholesale. It's too broad. The type of people that would actually use that term are like moms that are looking for a deal for their kids for back to school or teachers that are trying to buy a book for their classes. Something that an actual seller like myself would search up would be something along the lines of Sharpie authorized distributor are Sharpie close out in liquidation. So, if you're going to use Google, you definitely want to leverage key terminology around the wholesale trade industry. Another great way to go ahead and find vendors and wholesale suppliers would be to use wholesale directories. Two off the top of my head that I can think of is top10wholesale.com. And then the second one would be wholesalecentral.com. Now, these are platforms that don't supply you products directly. They supply you list of suppliers. So you can open up one of these websites. You could go to their wholesale directory. Let's say I'm looking for office supplies. Because it's back to school time right about now. I'm going to go and get office supplies and they'll have a list of vendors and where they're located, who they are, what types of products that they supply directly to their website. And you could go ahead and inquire with them to see what products that they currently have available for you to go ahead and pick up.
Bradley Sutton:
Okay, cool. That's good to know. Now, we've been talking about, a lot of the positives and stuff about doing wholesale, but as everybody knows, no matter what form of selling you're doing on Amazon, private label, wholesale arbitrage, wherever there's, it's not all rainbows and unicorns, there's a lot of obstacles and things that you got to be careful of. So, we don't want to scare people away, but we got to show the reality. So, what would you say as far as the wholesale model, are the biggest pitfalls or things that people should be concerned about or be careful about? Like, I mean, that's the first thing that comes to my mind, especially as you're dealing with big brands is maybe issues with brand gating or brands who try and send you a cease and desist because they don't want you selling on their listing or like what are the top few things that you think need to make sure that they got their ducks in a row on?
Kenzo:
So, basically, the main thing that I would say is the biggest concern for me is you're not selling your own product, you're selling a third party's brand. So, the biggest thing that I would say is if you do not do your research, right, the issue of IP complaints. So, essentially some brands and some distributors will not allow you to sell their products on Amazon if you're not an authorized reseller. So, let's say you bought a close-out of some Logitech mic, for example, from, let's say, via trading, which is this huge liquidation company out here in Southern California. And you went to go sell it on Amazon, even though the product is a hundred percent authentic. If the brand doesn't recognize you as an authorized seller of the product, they could go ahead and remove your selling privileges for that listing on Amazon. And if you stack up too many of those, you're actually your Amazon account could be suspended as well. So, I'd say IP complaints are definitely the number one issue that I see. Another thing is oversaturation. So, because you have no jurisdiction over who else is sourcing these products, you come into the issue of, let's say you find a profitable, well selling product and you're selling it well,. the thing is there's thousands of other sellers looking for that exact same margins, those exact same sales per month. And if they find that product, obviously they're going to go ahead and start selling it themselves as well. So, obviously, it's accessibility since you don't have rights to the brand, unless you have an exclusive deal. Anyone else could hop on the listing, same as you, they have the same rights as you, and they could go ahead and sell it and its listings could become over saturated. And then the last thing, as you mentioned would be gatings right? So, sometimes it is hard to get approval and submit the correct documentation that Amazon requests, to sell specific brands and specific categories of products. So for example, if you want to sell topical products, which are things that are applied to the skin or body, you need a supply invoice from your distributor. Sometimes those invoices won't work, you'll need to submit a screenshot from the FDA's website and a bunch of other different paperwork that if you don't have, or you do not have the cash to get, it could be rather troublesome to go ahead and start selling on Amazon. But those I'd say would be like the three biggest issues that I run into selling on Amazon. But obviously, I believe that the upside is really knocks the downside out of the park.
Bradley Sutton:
Okay, cool. Cool. Let's just go back personal a little bit. Like when did you really start making it big? Like, was it before you were even 18? Did you make, did you gross your first million before you even turned 18?
Kenzo:
Yeah. That one I knocked out of the park. So, basically, I transitioned over to Amazon FBA with $7,500. I believe I was like 16, right? I did, I gross like $20,000 that first month, 25, the next and things just really picked up. I remember the load after that. I basically pulled some money from some other places. I kind of sold like a lot of like personal items. I was also still doing some side hustles and working construction. And basically, I remember getting my next load, which I split with someone, I put $20,000 up and he put $20,000 up and this was some shampoo and conditioner and that sold through very well. And it was just a matter of just flipping products, flipping products, flipping products. Now, I was killing it on Amazon for, I'd say about a year before I got into the wholesale and distribution side of things as well, because I realized that, Hey, what is one of the biggest issues that is posed as an Amazon wholesale seller as a wholesale retailer on Amazon. And the biggest issue was finding vendors that could consistently supply well selling and profitable products. And I wanted to provide a solution to that marketplace. So I actually started helping, you know, my friends that sold on Amazon as well, source products and took a fee. So that also really helped expedite me grossing my first million is because you I was selling on Amazon, but I was also reaping the benefits of basically becoming a wholesaler broker at the time as well. But yeah, it was just a matter of just stacking flip after flip, after flip, after flip and just multiplying those funds and just not really taking money out until everything was completely self-sustaining.
Bradley Sutton:
Yeah. So then let, I mean, I'm assuming 2020 was maybe your most lucrative year yet, like through all your own wholesale that you're doing and your other side hustles and everything like– approximately how much would you say your whole company grossed through last year?
Kenzo:
Last year, it's upwards. It's upwards of $5 million. It's like between six and seven. I don't want to give you wrong numbers.
Bradley Sutton:
Yeah. All right. Now, one thing that you were very passionate about and I am too, but I just don't have the means to completely get is about car. So how old were you when you got like your first car that you're like, Hey, this wasn't– this isn't like my parents helping me out. This is just my car. I paid fully by myself.
Kenzo:
So, my first like crazy car I'd say was a 2016 McLaren 650s, and I bought that before I even moved down to Los Angeles. I was still living with my parents at the time and I bought it and I was–
Bradley Sutton:
How much does a McLaren cost?
Kenzo:
I bought that for, I negotiated it down to 160,000,
Bradley Sutton:
Oh, such a deal. 16, 17 years old and buying a McLaren. I noticed that because I follow you on Instagram. You're like– you change cars like people change pants. How much, obviously you've been selling cars. It's not like you have 75 cars, but like how much would you say you've spent on exotic vehicles, like in the last year, and then name some of these cars.
Kenzo:
Last year? Oh, man. Well, it is, I'll say it's well over a million dollars. Just in the month of May, last year I bought four cars. I got a Porsche GT 3RS, which was the first car I actually put in my name because I was under the age of 18 when I bought my McLaren and my Jaguar. I had to put it under my friend's names. So I got my GT 3RS, which I didn't even really want. I just wanted to put a car in my name and started building my credit portfolio. That month I also bought a Porsche Cayman S and asked and I bought that originally for my mom. I ended up taking that one back cause she didn't want it. And then I bought a Mercedes SL 65 that month. That's the car my mom drives today. And then I also bought my Lamborghini events or SV that month as well. So, I bought those four cars that month and that alone was probably 600, $700,000. I bought a Ferrari of 12 last year. That was 220. I got my RSQA, that's another 160,000. Yeah, I got, I definitely got a lot. I definitely drove a lot of different cars last year.
Bradley Sutton:
What's your favorite that you've ever had?
Kenzo:
Oh, man. That's really an unfair question to ask. I honestly got, I'd probably say my Ferrari, it's a great combination of power with comfort with reliability. It just looks amazing, feels amazing overall. It's not like a Lamborghini. The Lamborghini I had was, it looks phenomenal, but driving that thing was something that I dreaded right. But first of all, problems right.
Bradley Sutton:
Now, how do you do it? Like, are you putting something down and then paying these on payments? Are you leasing them?
Kenzo:
So, there's a few ways that we do it. So I bought a few cars, at least a few cars personally for my business. Like my CPA's is pretty good. So, I'm able to write off a good amount of these, the amount of money I spend on these vehicles. Now, basically, I lease most of them, but the way that with the leasing company that I work with, the down payments that I actually put on these vehicles go towards equity in the vehicle. So, whenever I actually get out of these cars, I ended up actually getting money back. So I get the write off, but I also get money back. It does not make sense for anyone in the world to own an exotic car, unless you're either making millions and millions of dollars or you're someone like me and you make money off your social media presence and your excuses, I'm buying these vehicles for marketing, which they do attract a lot of attention to me, my brands, which results in obviously me promoting my educational company of selling on Amazon. So, that's the only reason I never able to justify buying these vehicles because if you're selling on Amazon, just selling on Amazon and you're buying exotic car after exotic car, I mean, it's not really doing anything for your business. When I go and put a hundred thousand dollar down payment on a Ferrari and I'll go ahead and I'll talk about two seminars, three seminars that I'll make 20, $30,000 each one. Okay, I get that right off. And I get to drive that car and I get to produce more money. So, unless you're making money off the marketing with it, it really doesn't make sense for anyone to own an exotic car. They're absolutely ridiculous.
Bradley Sutton:
Yeah. Cool. Well guys, out there, I've been saying this for years, like there's no right or wrong goal to have when you're selling on Amazon. Some people want it for a college fund. Some people want to make a thousand dollars a month extra just for some vacation funds. And then some people want to, Hey, if they want to get the Lamborghinis and Ferraris and things like that, there's like don't let– regardless of which category you fall into, don't let somebody hate on hate on your goals, but just like Kenzo. Here's Kenzo who actually does get into the exotic cars, but he's telling you guys if you're just selling on Amazon, and you want to do that, that's fine, but try and do it. If it means something else, like Kenzo, has a huge social media following and he does a lot of ads and stuff and it definitely gets people's attention out there. So, just regardless of what your goals are, make sure that you live within your means. If you're making like a hundred thousand dollars a year on Amazon probably shouldn't be going out and buying Porsche's and Ferrari's and stuff like that. So, just live within your means. All right, let's go back to some more strategy now. How do you get around all these crazy inventory restrictions? Last year, there was that limitation for, if it's the first time you're adding a product, like you can only do 200, and then now that's changed this year for certain sizes have restrictions. So, how were your students getting on this?
Kenzo:
It's honest to God like I've been structuring my buying around those regulations. So, the thing that changed the most was instead of buying 4,000 units of one SKU, it'd be 400 of this SKU, 400 of that SKU, 400 at that SKU. So, I basically changed my rules of buy to fit it more. I just, I remember back in the good old days where you were just able to buy 2000 units of this and send it all at once. But basically, the way that I changed, I just changed my rules of buying. We're buying a lot of more different SKUs, a lot more different categories. But also we are leveraging multiple stores, right. So right now I'm currently managing 13 stores with the help of my team. And so we're able to go ahead and break apart the 2000 unit PO there, the 3000 unit PO there into the different stores. So we never really run into that inventory limitation issue. But we still are posed the issue of, since you're not able to send in, more than X amount, the cost of transit to Amazon is still pretty high. So we have to be very strict on our rules of buying, just to make sure that our profit margins still going to be where we want to be after, including that freight cost of getting it into Amazon. Another thing too is we've actually been having to store a lot more products on hand, our turnaround time, last year and the year before was a lot quicker than what it is now, just because we'd go and receive everything prepping and get it all set out to Amazon at the Amazon store, absolutely everything. But now, since we are limited, we could only send it maybe 20, 30, 40% of that SKU that we currently have available if all the capital's allocated on the other stores. So, we'll have to go ahead and store the products in our warehouse. And that's when obviously a warehouse really comes into effect.
Bradley Sutton:
Okay, now let's say, we're going to talk in a little bit about how you actually provide inventory sometimes for your students to go ahead and purchase that you can get it for cheap, and then you can flip it to to the students who can then flip it on Amazon. But if we're talking about that, or if we're talking about somebody has found their own supplier or their own vendor, let's talk about how to look at like the Helium 10 tools in order to find out like, Hey, should I get in this? So what are the metrics that you're using– are you looking at the BSR history? Are you looking at the price history? What are things that people need to be looking at when they're on an Amazon page and trying to decide, should I pull the trigger on this bulk purchase?
Kenzo:
I look at absolutely everything. Basically, I use one tool to go ahead and find out how the product is moving. And thanks to Helium 10, we have the luxury of seeing exactly how products, product sales estimates are. So I'll go ahead, I'll look for the lowest plateau, which I consider a plateau seven days or longer, the lowest buy box plateau within the past three months, just to make sure that, Hey, I can match this price. I'm still profitable and not losing any money because it goes selling at that price in the past, what stopping it from dropping to there in the future. I go ahead and I check how many competitors on the listing, how much quantity that they have to see exactly who my true competition is because there could be a hundred sellers on a listing. Doesn't mean that they're all a hundred true competitors, right? So, I'm going to look for how many sellers are selling it prime as well as myself. And they're within 3% of that buy box price. So that's who I'll consider my true competition. I'll go ahead. I'll divide the amount of monthly sales that I'm finding out from using Helium 10 to figure out what my market share is expected to be. So, once I figure out that the item is selling, I figured out that the items plateau and make sure it's still profitable at that price. I make sure it's not oversaturated. Then from there, basically I just compare my minimum order quantity to the amount of units that I'm expected to sell monthly to see, okay, well, how much inventory do I want to go ahead and buy? How long is it going to take me to turn over? Is this return on investment worth my money being tied up for X amount of time? And after all that, then I go ahead and make the executive decision. Is this something I'm going to put my money into? Yes. Okay, cool. I'm going to submit my purchase order, get my products in, send it into Amazon and go ahead and sell through. Or, you know what, I think my money is better off and another product working with another vendor. I'm going to hold off and see what other opportunities are placed in the market.
Bradley Sutton:
How does it affect your decision-making on if Amazon itself is a seller?
Kenzo:
Well, there's a lot of people that swear by not competing with Amazon. I personally do not mind it, as long as I know I have like about a 10% safety net of where I can undercut Amazon and I'd still be profitable. Now, you could match Amazon on the buy box and you'll get a sale here and there, you won't really, obviously gets Amazon on its own platform. They're going to have an unfair, competitive advantage. But if I know that I have like about a 10% safety net, five to 10% safety net, whatever their lowest price was in the past three months, I'll go ahead and I'll still hop on it because I know that the product is still moving. My requirements do get a little bit higher. Like if I see Amazon's on a listing, I'll make sure that the listing is selling more than what I want on my average sales per month. But I won't shy away from it. As long as I know that I have that healthy margin there, that will basically help keep me insured.
Bradley Sutton:
If you're within 3% of the buy box on an Amazon sold product, I mean, I assume you don't always get the normal rotation as far as if it was all private label or wholesale, but do you still do that? Does Amazon still, in some situations give you the buy box?
Kenzo:
They won't give you like a, I don't know how to say this. They won't give you like a fair percentage of buy box. Like, let's say an item selling a thousand thousand units a month. Like, you'll probably get less than a hundred sales if you're matched in buy box. Like if they won't, if they don't need to give up buy box, they won't. But obviously, I mean, no one could really speak for how Amazon manages their listings rather than Amazon itself. So, I'm usually not pretty passive when it comes to selling just because I know they're not going to give up a decent percentage of the buy box, so I just want to sell through my inventory. So, I'm going to just go ahead and I'm going to be testing the waters. I'm going to be lowering my price in 25 cent increments to figure out okay, at what point is Amazon willing to up the buy box. So, I could just sell through my units and call it a day, but that's why I need to make sure I have that 10% margin.
Bradley Sutton:
Okay. Makes sense. Makes sense. Now, I usually don't like to always try and talk about a service if I haven't tried it or you don't have some kind of firsthand knowledge. So, I actually got into your program a couple of months ago, where you provide a list of products that we can buy. And I was like, you know what, here's a product I want to go ahead and buy. So I don't know how much I dropped. It was about five or $6,000. It was some gloves. And I remember the reason I picked it. It was the brand name was Dre. Dre health. I was like, thinking, this is Dr. Drei's company or what's going on here. But I bought these gloves. It was like 33 bucks. I saw it on Amazon. They were selling at the time for like, like 63, $64. So the profit margin wasn't that great. But the reason I pulled the trigger on this one was I noticed that the buy box was consistently fulfilled by merchant. Like it was just somebody shipping from your dropshipping needs or shipping it from their house. So like the shipping date was way in advance. So what I did when I launched these guys on Amazon, I sent, I obviously I shipped it from Kenzo's warehouse directly to Amazon, which by the way, I've sold millions of dollars on Amazon. I have never done a– I actually never have done like a pallet shipment. I always just send stuff directly from China to Amazon or I just use UPS and stuff, but this was my first ever palette shipment. And so, Kenzo had to hop on a call because I didn't know what the heck I was doing, but we got that all worked out and got to Amazon. I put it at $69 to start. And now here's the cool thing that the buy box still stayed with this other guy at like 63, $64. But I still was getting like five to 10 orders a day because Amazon has this new thing where it says, get it faster. And so like, even though this other guy had the buy box, it says that his date was like two weeks to get it. And then there's this big button that said, get it faster with my company. And so I was able to clear like about 20% profit, even after the Amazon fees and after the shipping and everything on this because I was able to have the higher price. So, guys, this method does work. I don't have enough money to buy a Ferrari, based on this $5,000 deal, but got me some nice spending money this month. So, how many students do you have in that program that I'm doing right now?
Kenzo:
Let me open up just in my FB beginners group chat and not everyone has joined. I'm not sure why. We have 592 members.
Bradley Sutton:
Wow. A lot of people are doing this guys. It's definitely cool. I liked having to– I pulled the trigger on this deal and then the next day, the order was already going to Amazon. I'm never going to stop doing private label, I'll tell you guys that you guys know, I love that stuff, but I just launched a product last week and I originally developed this like way back in January. It just took this long to actually get it from China and stuff. And so I kind of like this as to kind of keep some good, steady cash flow going. And at the time I actually didn't have the $6,000 in my bank account is I could pay Kenzo. What methods of payment do you accept? Do you remember that one that you recommended to me that I actually already use?
Kenzo:
The Plastiq.
Bradley Sutton:
Yes. Plastiq. I actually gave that as a tip recently. So, plastiq.com. I believe it allows you to actually kind of pay with a credit card and then it turns it into a wire transfer for a small fee. So that's how I was able to pay for this. But anyways, before we get into how people can contact you and stuff, we always have this part of the show. We call the TST or the 30second tip. So you don't have to say to 30 seconds, but what's a strategy or a key tip that you think is maybe somewhat unique to you, but it's highly actionable. It could be about wholesale. It could be about life hacks. It could be about buying cars. I mean, it could be about anything, but what's a strategy you can give to our listeners out there.
Kenzo:
Basically, it just comes down to vendors, as I say, this is the most important part of the business. Now I'm going to tell you guys my personal favorite way to find vendors. And honestly, this is the way that's yielded me most of my vendors that I do business with today, and that's actually by leveraging Google maps. Now, the reason I love Google maps is because you're able to find vendors, not only that are local to you, but you're able to find vendors that are offline. And you got to think about this. Everybody that's selling online, everybody that's in e-commerce, 99% of them. How are they looking for their vendors? They're looking for their vendors online. Well, you're able to find vendors that don't have any online presence, no website. You'll just see an address. You'll see their company name and a phone number using Google maps. And you don't need to worry about these vendors being oversaturated with online sellers, sourcing the exact same products from the exact same vendors as you for the exact same price. And just always being at a standstill, competing on all the same listings with all the same sellers. That was an issue I had when I used to work with big box [inaudible] distributors like Schaeffer, so on and so forth. So, leveraging Google maps just is one of my favorite ways to find vendors because wholesale is one of the oldest businesses out there. It's just buy low, sell high. And 90% of the individuals that are super, super, super big in wholesale are older gentlemen. I mean, you got to think about it. It's not an attractive business to get into you're in a dark warehouse, dust, and pallets around you. Everybody likes drop shipping. It's very appealing, travel wherever you want. Be on the beach, working on your store, rather than, handling this physical inventory and wholesale. So Google maps, all you need to do is search a wholesaler in whichever area that you currently reside in or wherever you want to find vendors. And you will be able to pull up a lot of local results that you will not be able to find anywhere else. Now, just another tip. The best four places to find vendors are going to be Miami, New York, San Francisco, as well as Los Angeles, just the four biggest ports where all inventory is imported in the US but that would be my tip for anybody that's actually trying to get into wholesale FBA.
Bradley Sutton:
That's really good. I mean, I actually tried that. I didn't do it because I just don't have the time. But I was just curious when I heard about that method from somebody on your team, I just look locally, like I live in a suburb of San Diego, it's called San Marcos. Most people have probably never even heard of this, it's a tiny town. And I was surprised there was actually like three or four manufacturers even here, locally that they probably, maybe aren't on Amazon and they're not being, they're not Nike or anything, but would have been, I definitely would have hit them up. So, you never know what's in your area or you just pick random places on the Google map and find wholesalers. So, that's a great tip. Now, if somebody wants to get into your program or contact you on the interwebs or check out your social media to see all those cool cars you have, how can they find you out there?
Kenzo:
Honestly, the best way would probably be through Instagram. Just my Instagram user is @knzo. Super short, super simple four letters, hard to forget. I'd say that would be the personally the best way. And then, if someone's actually inside a program, then we do our communication through telegram, which I feel like I'm very responsive in there.
Bradley Sutton:
Cool. Cool. All right. Well, Kenzo, thank you so much for joining us. We'd love to reach out to you may be in a year or so and see like what new cars you've got in your garage and how you've grown your business even further.
Kenzo:
Well, I really appreciate your time today, Bradley. I appreciate you having me on here and I hope you have a super blessed week.
Bradley Sutton:
Thank you.
---
Enjoy this episode? Be sure to check out our previous episodes for even more content to propel you to Amazon FBA Seller success! And don't forget to "Like" our Facebook page and subscribe to the podcast on iTunes, Google Podcast or wherever you listen to our podcast.
Want to absolutely start crushing it on Amazon? Here are few carefully curated resources to get you started:
Achieve More Results in Less Time
Accelerate the Growth of Your Business, Brand or Agency
Maximize your results and drive success faster with Helium 10's full suite of Amazon and Walmart solutions.