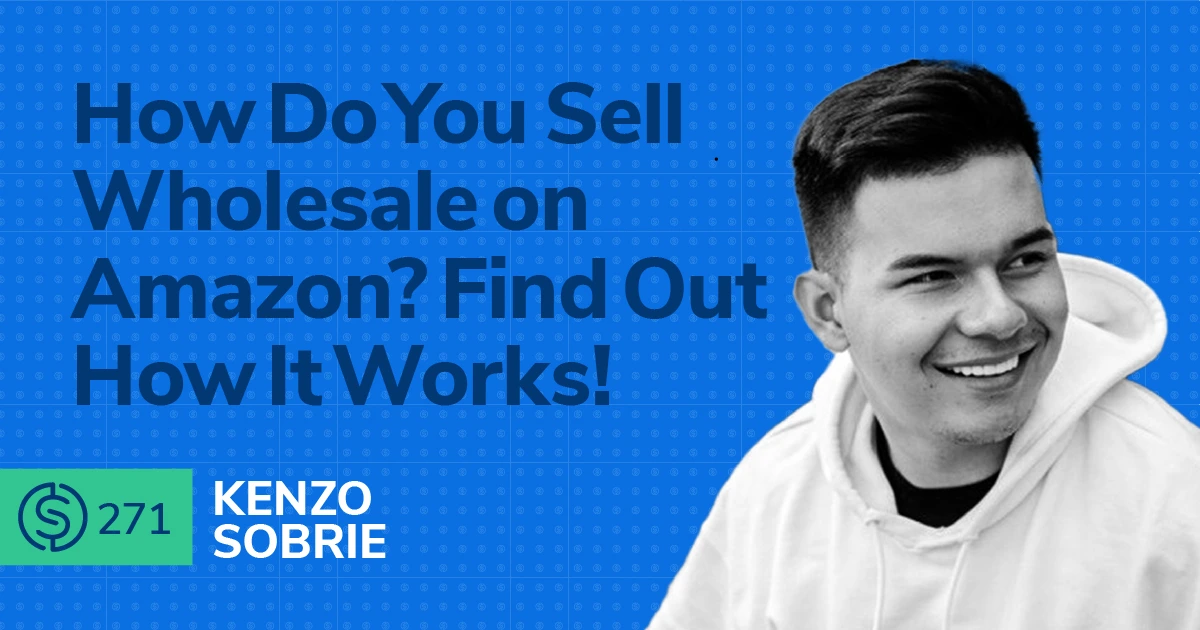 Posted on: August 14, 2021, By: Helium 10
#271 – How Do You Sell Wholesale on Amazon? Find Out How It Works!
There are so many ways to be successful selling on Amazon. This young entrepreneur made his first million dollars with wholesale before he turned 18!
Here's one more story about why the Amazon selling ecosystem is fascinating. When it comes to e-commerce, there are so many different lanes that it's easier than you might imagine finding a way of doing business that suits your temperament, bank account and goals.
In this episode of the Serious Sellers Podcast, Helium 10's Director of Training and Chief Evangelist, Bradley Sutton welcomes Kenzo Sobrie, an Amazon seller who used wholesale to build a social following and e-commerce business that allowed him to make supercar buying a fun pastime. Kenzo amassed his first million while still in high-school and living at home, now he's coaching other Amazon sellers to follow in his footsteps.
With tips such as how to use Google Maps to find your next supplier and strategies to identify a great Amazon product, this is a conversation that has the potential to move your e-commerce business a few squares forward.
In episode 271 of the Serious Sellers Podcast, Bradley and Kenzo discuss:
02:30 – "How Do I Scale This Business?"
05:30 – Reinvesting and Growing a Business
06:30 – What is Kenzo's Wholesale FBA Method?
09:45 – Connections and Capital are What Matters
11:00 – Leveraging Your Supplier's Warehouse Facilities
14:30 – Possible Challenges with the Wholesale Model
19:10 – Helping Friends (and Making Millions) as a Wholesale Broker
21:00 – A Visit to Kenzo's Garage
23:10 – How Kenzo Justifies Fancy Cars
26:20 – Working with Multiple Stores and Shipping Limits
28:30 – How Does Kenzo Identify a Great Amazon Product?
30:30 – Why Kenzo Doesn't Mind Competing with Amazon 
33:00 – Bradley's Experiment with Kenzo's Platform
36:30 – Leveraging Google Maps to Find Your Vendors
39:15 – How to Contact Kenzo
Enjoy this episode? Be sure to check out our previous episodes for even more content to propel you to Amazon FBA Seller success! And don't forget to "Like" our Facebook page and subscribe to the podcast on iTunes, Google Podcast or wherever you listen to our podcast.
Want to absolutely start crushing it on Amazon? Here are few carefully curated resources to get you started:

Latest posts by Helium 10
(see all)