#110 – Here's How eCommerce Sellers Can Build an Off-Amazon Presence and Level-Up their Business
Episode 110 of the Serious Sellers Podcast hosts Karen Waksman, an expert in helping eCommerce businesses sell products through major retailers.
Updated on: October 6, 2020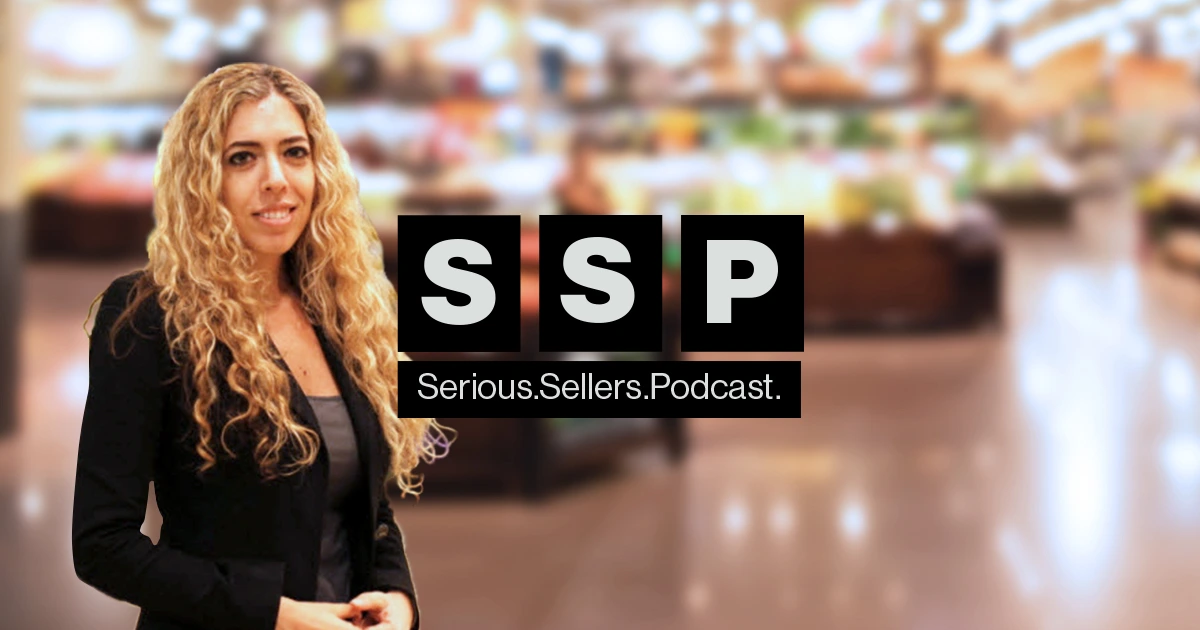 When it comes time to make a purchase in 2020, we pick up our smartphones.
Still, there's something about wandering through a nice modern shopping center to either see what's new and exciting or to take a closer look at a product that we're really interested in.
It feels like the difference between reading a real newspaper and reading online.
Often times the articles that are right next to the one you initially targeted, are even more interesting. With the pulled-back view of a real brick and mortar store or a newspaper, it's possible to see the bigger environment.
This episode's guest knows all about this.
Today on the Serious Sellers Podcast, Helium 10's Director of Training and Customer Success, Bradley Sutton speaks with Karen Waksman, the founder of Retail MBA.
Karen began her career as a manufacturer's rep, and over time became an author, speaker, and consultant for companies looking to get their products into major retailers.
After earning a degree in communications at school in Santa Barbara, Karen scratched a long-time itch and moved to New York City to work in retail.
She says that she can't say exactly what fascinated her about retail and the entire ecosystem.
She had come out of university during the dot-com boom in Silicon Valley and as she said, "played that game."
Inevitably, New York and retail were too big of a pull and she left the west coast and started her journey as a manufacturer's representative.
Now, she and her company, Retail MBA are helping eCommerce sellers make the pivot from online to brick and mortar.
With the size and overwhelming presence of Amazon being a constant source of conversation, it's sometimes easy to forget that online sales really only account for about ten percent of all retail sales.
It's one tiny slice of a very big pizza.
Karen says that early in the game, Amazon sellers should pick a product to sell with big-box stores already in the back of their minds.
She goes on to say that selling off of Amazon can do a great deal for your eCommerce business, including decreasing your manufacturing costs, driving up the "cool" factor and perhaps most importantly, dramatically increasing your Amazon's value in the event of a sale.
We always hear that eventually selling your Amazon business is the best way to make money on Amazon. One of the things that eCommerce business brokers always say is that an off-Amazon presence is key to leveling up your valuation.
By going into the product decision process with this idea already in place, you're possibly checking a very lucrative box for later use.
What's the right strategy to get your product into big-box stores?
How do you pay for this business pivot?
Karen has those answers for you.
Listen to this episode and you'll learn all that and much more.
In episode 110 of the Serious Sellers Podcast, Bradley and Karen discuss:
01:30 – Karen's Origin Story
02:45 – Then Came the Internet and the Dot-Com Era
03:30 – New York City and Retail Was Always a Fascination
05:25 – When to Start Expanding Your Presence Off of Amazon
06:20 – Pick a Product with Retail in Mind
08:00 – Building a Brand on Amazon
10:00 – What's the Strategy for Getting into the Lucrative Big Box Stores?
11:05 – Connecting with Product Buyers
12:45 – Selling Products Individually VS. Purchase Orders in the Thousands
14:00 – The Difference Between Jewelry and a Washing Machine
15:10 – The Powerful Push that Comes from Your Product's Visibility in Stores
16:25 – An Amazon Seller Pivots to Big Box Success
17:10 – Product Packaging Tips for Retail
18:05 – How to Reach Out to Karen
Enjoy this episode? Be sure to check out our previous episodes for even more content to propel you to Amazon FBA Seller success! And don't forget to "Like" our Facebook page and subscribe to the podcast on iTunes, Google Play or wherever you listen to our podcast.
Want to absolutely start crushing it on Amazon? Here are few carefully curated resources to get you started: