Episode 92 – Helium 10's New "Best Of" Podcast Series Takes a Closer Look at these Serious Sellers
Episode 92 of the Serious Sellers Podcast introduces the first installment of our "Best Of" Podcast Series.
Updated on: October 6, 2020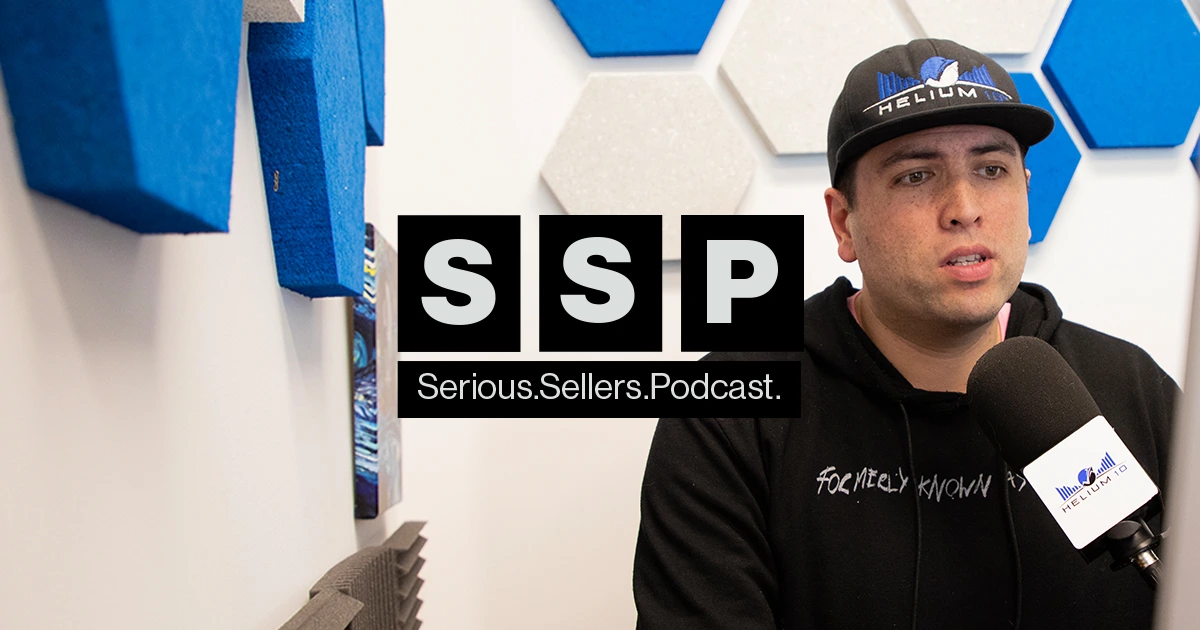 Selling on Amazon isn't just one thing.
Though the eCommerce giant possesses a form of socioeconomic gravitational influence that can only be compared to the sun, it's not all about Amazon.
Amazon might already account for approximately 50% of all online eCommerce, but still, what's left over isn't a small number.
To put it into different terms, it's as if Amazon is your principal keyword, and all the other online marketplaces are long-tail keywords that represent valuable niche markets.
It's also pretty clear that the spectrum of WHO exactly is selling online could not be any more varied.
If you've been following our blogposts for any time at all, you've seen an incredible mix of people competing (and collaborating) in the eCommerce ecosystem.
Lastly, it's not just that sellers come from all over the world, or that their financial constraints are so varied; the biggest differences lie in the reasons behind their making a go of it in what amounts to as modern day "gold rush."
Today, Helium 10 is rolling out a new podcast series.
It's going to focus on "Best Of" episodes from the Serious Sellers Podcast, our Helium 10 blogs, the AMA (the Ask Me Anything) series and our weekly news skit.
There's no better place to start than with Helium 10's Serious Sellers Podcast.
In my lead-in to this article I remarked upon the incredible diversity that's evident in both Amazon's seller marketplace and eCommerce in general.
The ideal way to demonstrate that is to listen to this "Best of" selection featuring advice and tips from four sellers, two of them specific to Amazon, one focused on Shopify and the last one who created Vancouver's largest swimwear brand selling strictly on Instagram.
See what I mean about diversity?
Here's what you can expect to hear on the podcast.
In the first episode, Elena Saris, a former criminal defense attorney who after suffering through a completely unmerited counterfeiting scare selling on Amazon decided that diversification made a lot of sense for eCommerce as well as for your stock portfolio.
She then made the move to Shopify and earned 750K on one product in just one quarter at a 35% profit.
Next up is Kevin Pasco who has had enormous success effectively swimming upstream on Amazon.
If you've been around Amazon, you know that one of the oft repeated clichés is that sellers need to avoid volatile high-risk categories such as supplements.
Well, it's also said that one of the best ways to make money on Amazon is to identify lucrative niches. What Kevin did was to simply flip the script and use the large margins in the category to fuel an aggressive launch that took him to 8-figures.
Then there's Kristina Mertens who after befriending a schoolmate at 13, followed him to Amazon and later becoming the Business Development Manager for his company, Sermondo.
At Sermondo she says that "companies, agencies and freelancers list their services in over 20 categories, while sellers looking for services search and compare those providers – all in one place."
Who doesn't need an eCommerce superstore?
Last, we'll listen to Selene Dior who at 21 already has the number one swimwear brand in Vancouver, and that's not the most astounding part of her success. Selene, like most young adults has a certain aptitude for social media.
So much so that 99 percent of the sales of her swimwear come directly from Instagram.
Kinda makes you think twice when you shake your head at the kids with their heads buried in their smartphones.
Listen in to this new podcast and see just HOW varied the eCommerce world really is. I think you'll see part of yourself in here somewhere.
In episode 92 of the Serious Sellers Podcast, Bradley presents the first Helium 10 "Best Of" Podcast:
01:09 – Elena Survives a Counterfeiting Scare and Learns a Lesson
03:00 – 6 Months on Amazon and Her Earnings had Already Matched Her Lawyer's Salary
03:53 – 750K on Shopify in the Fourth Quarter and at 35 Percent Profit
05:30 – Diversification isn't Just for the Stock Market
07:45 – Shrinking His Supply Chain Gave Kevin a Close-Up View of the Process
10:00 – On Amazon, Never Mind Brand Names, Key Words are King
11:16 – If You Get It Wrong, You'll Live to Fight Another Day
13:00 – Amazon Sellers the World Over Share the Same Concerns
14:40 – Kristina Says, "Treat Your Side-Hustle Like a Business"
16:28 – Working with Foreign Amazon Marketplaces
18:10 – The eCommerce Ecosystem Keeps Growing
19:26 – 99 Percent of Selene's Sales Come from Instagram
21:20 – Giveaways, Instagram-Style
24:25 – Keeping Influencers Engaged
Enjoy this episode? Be sure to check out our previous episodes for even more content to propel you to Amazon FBA Seller success! And don't forget to "Like" our Facebook page and subscribe to the podcast on iTunes, Google Play or wherever you listen to our podcast.
Want to absolutely start crushing it on Amazon? Here are few carefully curated resources to get you started: