#132 – Trademark Experts, Money Making Board Games and Four New Helium 10 Tools – Here's What You Might Have Missed
Episode 132 of the Serious Sellers Podcast features our "Best of" series with fresh commentary on some of last month's most popular blog posts.
Updated on: October 6, 2020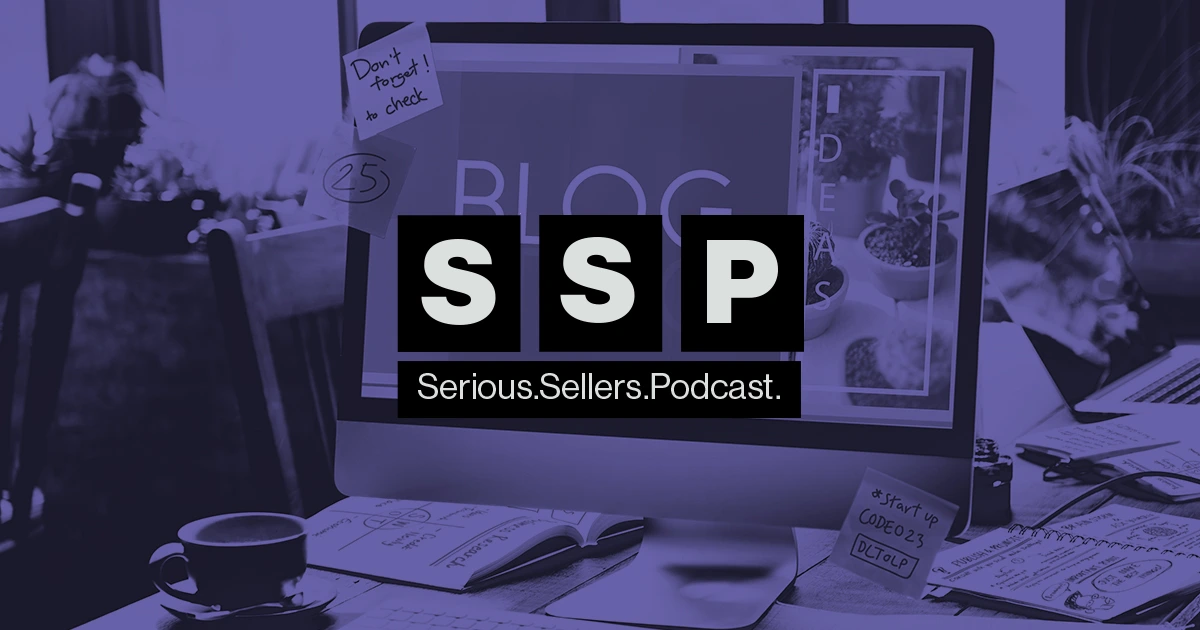 Maybe you've been busy with a new product launch, or simply researching keywords for an eCommerce idea that you just can't get out of your head. Whatever the reason, you might have missed this collection of Helium 10's blog posts from the last month.
Today on the Serious Sellers Podcast, Helium 10's Director of Training and Customer Success, Bradley Sutton presents another "Best Of Blogs" episode.
In it, Bradley takes us from a cool new advanced filter for our Cerebro keyword research tool that he literally "dreamed up," to a way to use your Amazon skills to assist you in creating a board game to sell online.
He also presents a story about why you need to know when to consult with a trademark expert and finishes with a blog post that highlights the exciting release of Helium 10's four new tools.
You don't want to miss this one.
In episode 132, Bradley presents another "Best of" edition of the Serious Sellers Podcast.
01:00 – Cerebro Just Keeps Getting Better
03:12 – Cerebro's Advanced Rank "Dream" Filter
04:30 – Looking Over the Shoulders of Great Amazon Sellers
05:15 – The Many Benefits of Trademarks
07:30 – Why Hiring a Trademark Expert Matters
09:00 – Board Games Are Hot Now
10:15 – Using Your Amazon Skill Set to Start the Process
12:30 – One of Helium 10's Biggest Announcements Yet
13:20 – We've Been Listening – Introducing the Helium 10 Mobile App
14:10 – Eliminate the Guesswork with Helium 10's New ADS Tool
14:50 – Helium 10's Market Tracker
15:30 – Drive Outside Traffic to Your Listings with Our New Portals Tool
17:00 – How to Take A Closer Look at Our Blog Posts
Enjoy this episode? Be sure to check out our previous episodes for even more content to propel you to Amazon FBA Seller success! And don't forget to "Like" our Facebook page and subscribe to the podcast on iTunes, Google Play or wherever you listen to our podcast.
Want to absolutely start crushing it on Amazon? Here are few carefully curated resources to get you started:
Transcript
Bradley: On today's Best Of blogs podcast. We're going to go over a new filter for Cerebro that can help with keyword research, the latest on trademarks and how somebody made tons of money developing a board game specifically for Amazon. How cool is that?
Bradley: This is the fourth installment of Helium 10's Best Of podcast series that features our written blog posts. We have great writers here at Helium 10 for our content team, but we also have the opportunity to feature guest posts from some of the smartest people out there in the eCommerce world. Now, here's a selection of some of your favorites from the last month and the first one is from one of our own content writers. It all starts with keywords. How many times have you heard that? I just typed in keywords for Amazon into Google search engine and it spit out 358 million results in just over a half a second, but I bet that not more than a handful of those results have to do with the particular way of finding keywords that this next post speaks about. In a blog post titled, "Cerebro's New Dream Filter Will Open Previously Unseen Keyword Doors."
Bradley: Helium 10's content writer, Chuck Kessler reveals a way of filtering for keywords that believe it or not, began with a dream that I had. Now before my dream, I had multiple discussions with a Helium 10 user about how to improve our Cerebro tool for product research. Now, as it turns out, you know what they were asking for, it really wasn't part of Helium 10's plan for the evolution of one of our most popular tools. Instead, it got me thinking though in a completely new direction. Now, shortly after my dream, during a meeting with Helium 10's product development team, I mentioned the part of the dream that I couldn't quite let go of. Five days later. Helium 10 Cerebro tool had a cool new way of filtering for keywords. With Cerebro, you can discover which keywords your competitors rank for to optimize your listing and catapult your sales and conversion rate with a simple reverse ASIN lookup.
Bradley: All you need to do is enter an ASIN uncover keywords for both organic and sponsored social results and to evaluate highly accurate keyword search volume. Cerebro also includes several advanced filters to fine tune your competitive keyword research. You can narrow or broaden your search, include or exclude specific phrases and capture long tail phrases with word count filters and many other options to further sharpen your focus. Now, because of that conversation I had had and the dream that followed, there is a new filter that has the potential to open up a door to expanded keyword research in a way that you haven't seen before. You're still going want to initiate your search with Cerebro. The same way that we've always encouraged you to do. Finding the best 10 to 20 keyword phrases is still going to be step one, start with a seed ASIN that represents your product.
Bradley: Then, put in five or six of the competitor's ASIN that most look and feel like your product. Filter for a minimum of 500 to a thousand search volume depending on the niche, and a competitor rank average between one and 25 and then filter for at least four ranking competitors. Once I hit apply, I ended up with 20 keywords. Now here's where the new filter is going to come in. In the Cerebro screen, when you take a look at the bottom right of the advanced filters, you're going to see a brand-new Advanced Rank Filter. One of the most interesting ways that this filter works is by allowing you to filter out sellers that might simply be doing a really bad job of optimizing for a potentially valuable keyword. Maybe they're not running PPC for it or they just haven't converted for an otherwise great keyword phrase.
Bradley: So, using the Advanced Rank Filter, now you can start by filtering for results that will show three ASINs in the top one to 25. The first thing we see is a very interesting keyword phrase, "travel pillow for airplanes." This hadn't appeared in the original list of keywords that I had done with that first step of keyword research. Why is that? Well, we see that one of the ASINs had a rank of 136 so that's why that phrase wouldn't have been in our initial list because if you take the competitor rank average, and one of them is ranked 136, it's most likely it's going to be outside of the top 25. So that one poorly ranked ASIN made the average score high enough that we missed it the first time. So this new technique allows you to make sure that one bad seller isn't causing you to miss out on a great keyword phrase, but the opposite could also be true.
Bradley: This is a perfect way to look over the shoulder of Amazon sellers who might just be a little bit better than you at optimizing for a particular keyword, just like the best athletes or artists, how they inspire and motivate each other to higher levels of expertise and creativity. E-commerce competitors can do the same thing. That's a great thing about our selling ecosystem. We all get better and continue to raise the bar.
Bradley: Next, in a post by Anita Mar called, "What Every Business Should Know About Trademarks," she starts off by saying that, "Many small businesses believe registering their business without trademarks is enough, but those who registered trademarks enjoy special protection." Let's hear this blog.
Anita Mar: Creativity is hard to find. Vicious business owners are roaming everywhere causing infringements of intellectual property rights. This is in search of the best creative works which they cash in on at the expense of ignorant designers and small businesses. It is not a coincidence, neither is it accidental. That is why businesses need to know about trademarks. Many small businesses believe registering their business is enough. However, those who have their trademarks registered enjoy protection and other rights for a long time. People believe trademarks could only be owned by tycoons, celebrities, and big businesses. Is that really true? It is not. Any type of legal entity can own a trademark. This includes individuals and businesses. No matter how big or small a business is, they have a right to own trademarks. Trademark is only one form of intellectual property. It is also important to take note of other types of intellectual property.
Anita Mar: They include patents, trade secrets, copyright. While a trademark is a symbol that identifies an enterprise from the rest, a patent is simply an ownership of rights to an invention. Once an idea or product has been patented, only the patent holder can make sales from the invention. A trade secret on the other hand is a unique style. An enterprise keeps private to gain business advantages. Copyrights offer protection to authorship. There is no limit to the number of trademarks you can have. This means you can register each product or service you sell under a different trademark, although at a price the more trademarks you registered, the more fees you will pay in application. Trademarks are jurisdictional. It means you only get protection in the country where you registered your trademark. Registering your trademark gives you legal grounds to sue infringers and enjoy absolute protection for the products and services that you sell.
Anita Mar: There comes a time when businesses stop using their trademarks. When it gets to that point, the courts interpret that as abandoning your rights. The consequence is other companies will be allowed to secure them. You will therefore lose your ownership of the trademarks. To reverse this, you will have to start using your trademark again and file a new trademark application. Should you hire a trademark professional to do the registration for me? Yes you should. Although you will have to pay professional fees to hire one. Trademark registration has its own pitfalls. Hiring a trademark professional will save you time and money. You can also do the registration yourself. The problem is you are likely going to make mistakes during the process. This will waste your time and costs you hiring a trademark professional, minimize his chances of making errors and losing money. Amazon sellers need to take full charge of your products and services as an Amazon seller. That is only possible if you are listed in the Amazon brand registry. That will happen if your trademark is registered. Trademark is an important subject that many overlook. There exists many misconceptions on the subject as a business. It is important to be well equipped with details about trademarks. It may mean more profits and protection to your brand.
Bradley: Now for some fun. In his post, titled, "How to Create An Original Board Game that Sells," by Helium 10's own writer, Brian, he had the pleasure of speaking with Dan Myers, the game making mentor and creator of the smash hit party game, "That's What She Said." Now, I'm going to go ahead and read this blog because there are some great nuggets for all of us out there. Passion projects are a bit like 30-foot-tall ice cream cones. Everyone wants one, but few know what to do with them before melt. Creating an original board game is an endeavor many aspire to complete. One that satisfies both the creative itch of an artist and the childlike competitiveness that lives within us all. It is an especially interesting time for the board game industry due to the coronavirus outbreak with more people than ever staying home. It would appear board game sales have spiked on Amazon.
Bradley: If you had been flirting with the idea of creating an original board game. The path ahead of you is wide open. While joining the ranks of classics like Monopoly or UNO may feel farfetched, remember that there have been plenty of Indy successes in the industry too. The following games started as independent projects and eventually broke through with mainstream success becoming modern day classics themselves. Such as, The Settlers of Catan, Cards Against Humanity, Pandemic, That's What She Said, and Ticket to Ride. When creating an original board game, always keep a notebook. Good ideas have a habit of striking when you least expect them. Dan, put this very technique into practice with what would later become $1 million idea. One thing that's interesting about game creation is how closely the technique mirrors the process an Amazon seller uses to find success in eCommerce. If you are at all interested in making money from your glorious creation, you have most likely thought about selling your board game on Amazon.
Bradley: Start developing your online business skill set early. You'll need to think about your back-end logistics, SKU management, PPC advertising, SEO optimization, and keeping up with Amazon's ranking algorithm. Next, you want to go to Amazon and pick three to five established games that you're familiar with. Start researching which keywords they're associated with. Don't know where to start. Helium 10 Cerebro is made for this very purpose and you can enter in an ASIN from a board game and get all of the keywords that that product is ranking for organically as well as in sponsored ads. Next, you're going to need to choose a theme. Are you going to go into Gothic, Viking, Holy warriors, cybernetic hacking with a 1980s flair? Let your personality shine. Your theme is simply the genre and feel of your game. However, don't discount what a compelling theme can do for gameplay.
Bradley: Just ask anyone who has played Risk, what world domination can do to friendships around the table. If you're interested in how competitive a theme is for your board game within the online marketplace, you're in, look on Black Box from Helium 10. It allows users to take a peek behind the curtain. Dan Meyer said that play testing the game is perhaps the most important part of creation. Which mechanics are helping or hurting your game? In the case of That's What She Said, Dan and his team had set out with the goal of eliminating boring or throw-away rounds during play. Gather a small group of trustworthy friends and have them play your game. Encourage brutal honesty. What is a game truly finished? You can patch a video game post-release. Board and card games do not have that luxury. Remember, making fun and games isn't always fun and games. If you're ready to make the leap from hobbyist to entrepreneur, you must understand how to leverage the tools that will get you there.
Bradley: Now pass Go and collect hopefully a lot more than $200!
Bradley: Last up today, let's do a recap of the blog post titled, "Are You Ready to Meet Four New Helium 10 Tools?" This was a huge announcement that we did just a couple of weeks ago. Now in this article, Helium 10 content writer Kai does a great job telling us about one of the biggest things that's happened at Helium 10 since our company was founded. In this post, Kai introduces our new Helium 10 Mobile App, Market Tracker, ADS for PPC, campaigns and Portals, your own landing page manager. Here's the article.
Bradley: 2020 is going to be Helium 10's biggest year yet. We're kicking off quarter two with four exciting additions to our existing and already cutting-edge tool suite. First, like many of you have been requesting and trust us, we heard you. We're finally rolling out a mobile app. Second, we're implementing a much smarter way to navigate and manage your PPC campaigns.
Bradley: Third, we're introducing a way to keep an eye on the bigger picture of your marketplace and finally we're bringing to you a tool that lets you create your own landing pages to allow you to track and capture invaluable customer insights.
Bradley: The Mobile App is designed for the Amazon seller on the go and we know that makes up a lot of you. Whether you're working from home, you're a mobile office or on the road to your next seller conference where the Helium 10 Mobile App, you can view your Amazon sales data at a glance like viewing the seller central sales summary in a visually streamlined user interface organized into cards. You can view daily, weekly and monthly sales by units and currency as well as individual customer orders. Swipe through the cards to see this info formatted into handy graphs and tables. For those of you who have expanded beyond your home base market, the Mobile App is multiple marketplace compatible. If you sell in multiple Amazon marketplace, you can link your MWS tokens to the app to view all of your data in one place.
Bradley: Helium 10's new ADS tool is designed for sellers who want to cut out the guesswork and get serious about their PPC campaigns manually. Combing through your campaigns to collect and target keywords is a chore, so is setting up your individual campaigns with different sets of keyword rules, bids, budgets and so on. The ADS tool will harvest keywords automatically based on search terms as well as suggest bids for keywords based on your specifications. The tool also goes beyond simple ACoS and looks at TACoS. The total advertising cost of sale tacos will provide you with a more realistic look at how much of your profits over both organic and paid sales are actually being allocated to ad spend.
Bradley: The new Helium 10 Market Tracker tool is for current Amazon sellers who want to analyze, track and monitor the markets they already sell in so that they can compare their performance relative to others in their space. Market Tracker is a tool for the existing seller who already has at least one product live on Amazon. You can use Market Tracker to build and track customize markets so that you can keep an eye on the plain field and redirect your strategy as conditions change. Create a set of rules for each of your personalized markets and track multiple ASINs and keyword searches with data aggregated in one place for easy viewing and navigation. more.
Bradley: The new Portals tool is for Amazon sellers who want to drive outside traffic to their listings, capture customer information and build brand loyalty portals. It does exactly what the name says. It creates landing pages that you can use to drive off Amazon traffic to your listings. That traffic can be directed from your social media ads with direct pixel integration from Facebook and Instagram, email marketing list, and sponsored ads from Google. Think of it as a top of the sales funnel tool. Portals brings customers to your customizable landing page, captures essential customer data through your installed pixel and then leads them to your product page on Amazon and email signup list and more. Enhance your customer experience, boost your listings rankings, gather essential customer data and build remarketing lists to bring your business and brand marketing capabilities to the next level.
Bradley: All four of the new tools will be available to all Platinum, Diamond and Elite members once released. We hope with these new tools you can work on building up your brands, fine tuning your audiences, and ultimately see your business flourish like never before. Well, that's it for today's episode.
Bradley: A steady stream of income from a side hustle is a pretty sexy way to imagine the Amazon selling lifestyle. More often, it involves a lot of hard work and attention to detail. Helium 10 is ready to support you in doing both. If you want to take a closer look at Helium 10's written content like these blog articles and others that didn't have time to mention, make sure to go to the blog page of Helium 10's website at, helium10.com/blog.
Bradley: Now guys, don't forget that regardless where you're listening to this podcast, whether it's on your iPhone or on Stitcher, on Spotify, that you hit the subscribe button so you can be notified every time we drop a new episode.